These Online Marketplaces Attract 1,000,000+ Visitors Every Month — Here's What We Learned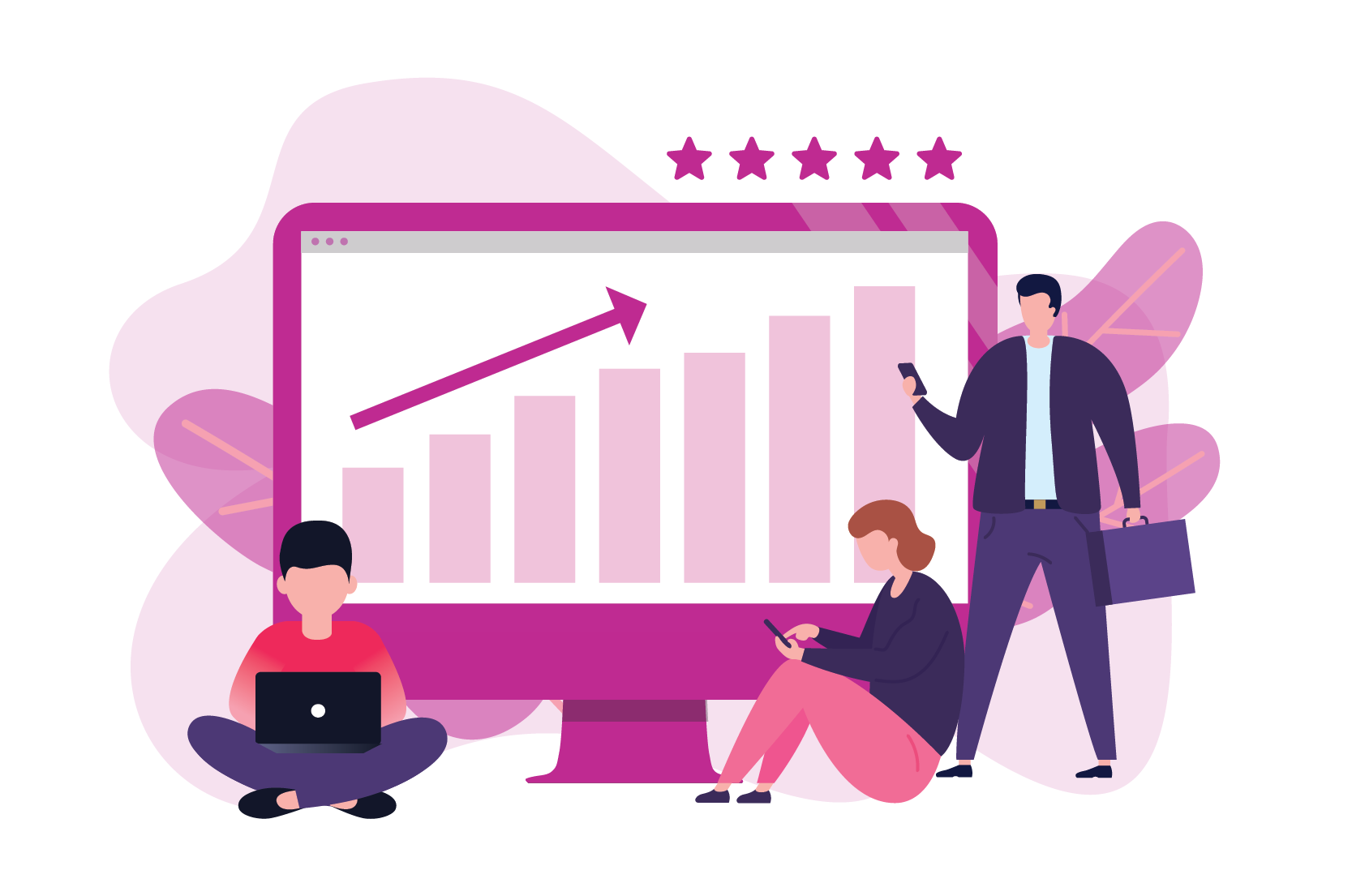 The smartphone has single-handedly disrupted traditional services. As companies — big or small — continue to leverage the technology, the way we do business today continues to evolve.
Let's take Uber as an example. The simple process of connecting drivers with passengers and allowing one to rate the other has created an undeniable shift in the transportation industry. The same goes for other disruptive apps, such as Spotify, Instagram, Tinder, Grubhub, and Freelancer to name a few. All of them have turned their respective industries inside out without any warning.
In other words, today's technological advancements have opened a plethora of opportunities for entrepreneurs and 'sidepreneurs' to sell their products and services online. As a result, numerous digital marketplaces have emerged in recent years, allowing service providers to market anything from singular product offerings to an expanded directory of services. Popular sites that may best exemplify this phenomenon include Amazon, eBay, and AliExpress — all of which have successfully established a global reach.
Australia has seen a fair share of these innovative digital marketplaces, which were mostly created with local businesses and consumers in mind. A number of these sites focus on services instead of retail, with the simple aim of eliminating the need for Aussies to scour the yellow pages and newspapers for tradespeople.
We will explore a few of these Australian-based sites that revolutionised the way Aussies search for service providers, starting off with Oneflare — one of Australia's local service marketplace pioneers whose business involves charging service providers for quotes and leads.
Company in Focus: Oneflare
The phrase "necessity is the mother of all inventions" couldn't be more true for Adam Dong. His idea of a one-stop shop app for service providers came after he had a hard time looking for a carpenter who would replace his carpets with floorboards. He realised then that a need for a dependable online platform that would help bring such services at the consumers' doorsteps existed.
Dong's frustration ultimately led him to co-found Oneflare in 2011 — the first platform in Australia to connect service providers with consumers. In just over four years since its founding, the company has achieved a milestone of $100 million in job requests. The company also boasts triple digits increase in revenue year after year. For instance, in 2015 alone, Oneflare had 70,000 registered service providers, 1.3 million unique visitors each month, and a whopping 300 percent increase in revenue compared to the year before.
Oneflare's level of growth in such a short amount of time has been incredible. Being essentially the first of its kind in Australia, the company filled the large gap in the market. However, like in any other successful start-ups, marketing has played a huge role in the company's success right from the very start. Founders made sure that people knew about Oneflare and what it could offer.
Currently, the company steadily receives more than a million unique visitors each month. It also enjoys over 2.8 million business-customer matches, with more than 12 million number of jobs posted weekly. Additionally, Oneflare now has a number of notable acquisitions, which include Renovate Forum, TidyMe, WOMO, and UrbanYou.
In this case study, we will explore:
How Oneflare drives traffic into their website.

How traffic gets converted to new users.
How Oneflare Works
According to CEO, Billy Tucker, Oneflare's overall mission is to help great service providers find the right customers at a cost that doesn't break the bank. Instead of investing in Google Adwords or traditional advertising, whose costs do not take into account the need to hire creative professionals, Oneflare pairs up businesses with customers in need of their services.
Oneflare targets two different types of users: customers and service providers. Customers refer to those who are looking for experts to fulfil their servicing needs. Meanwhile, service providers are those that offer the services the customers need. Oneflare's system works by allowing customers to enter a job request and receive quotes from high-quality service providers in their area. At the same time, service providers are given the ability to contact and offer quotes to customers.
To access Oneflare's features, customers and service providers must both first complete the initial step of signing up.
After creating an account, customers can create job listings and decide on which business best suits their needs. It should be noted that they are not burdened with any visible additional fees: signing up is completely free and the only costs involved are payments made for any services rendered.
On the other hand, service providers must purchase Oneflare Credits after signing up to quote on leads and contact customers. Since these credits are consumable, service providers should be mindful of their balance and manually 'top-up'. They can either pay depending on their budget or purchase one of Oneflare's credit packages.
Normally, a single credit is equivalent to $1, but packages include bonus credits depending on the amount being purchased. Some budget packages are as low as $20, but they expire quicker and have less credit bonuses than the regular ones.
The table below shows a comparison of Oneflare's packages, including costs, bonus credits, and expiration.
| | | | |
| --- | --- | --- | --- |
| Credits  | Cost | Bonus credits  | Expiration |
| 20  | $20 | 1 | 3 months |
| 50 | $50 | 3 | 3 months |
| 100 | $100 | 10 | 3 months |
| 200 | $200 | 30 | 6 months |
| 400 | $400 | 60 | 6 months |
| 600 | $600 | 90 | 6 months |
| 1,000 | $1,000 | 150 | 6 months |
| 1,500 | $1,500 | 225 | 6 months |
Alternatively, service providers can automate the top-up process, ensuring that their balance never runs out, and that potential leads are not missed. They can automatically select the threshold amount, as well as the next top-up schedule.
All in all, Oneflare applies a simple system that enables both service providers and customers to find each other. However, more risks are involved with businesses, as spending money on quotes and leads does not always guarantee customers. In some cases, hefty sums spent on quotes and leads often yields no results. This stresses the need for service providers to develop strategies, which is usually figured out after learning the ropes.
The Website
In this section, we will discuss the different types of messaging and mediums deployed by Oneflare to get their target users to sign-up.
Oneflare's website is its main asset in terms of acquiring sign-ups from both customers and service providers. As soon as you get into the homepage, you will see multiple call-to-action (CTA) buttons targeted to both user types.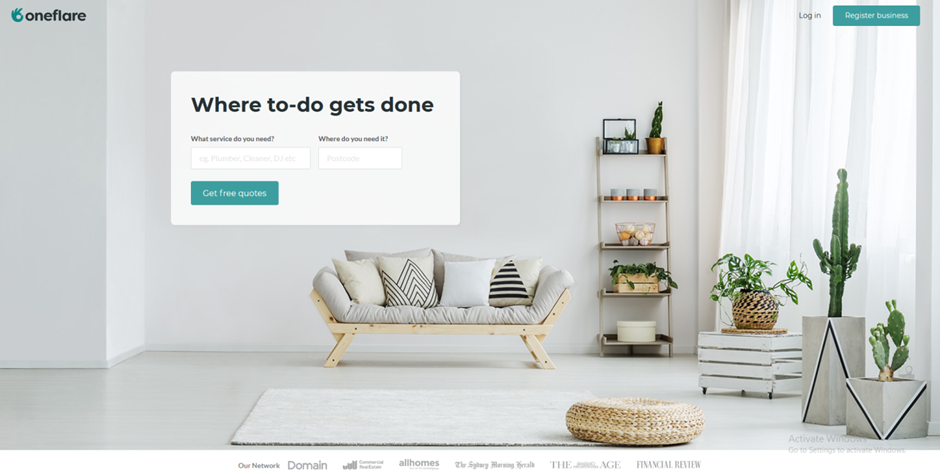 For service providers, a "Register Business" button appears on the page's upper right-hand corner, while a "Get Free Quotes" button shows on the page's centre part targeted towards customers. This feature has been recently added perhaps as a way to boost or maintain the number of leads the company provides to its registered service providers. This is a part of Oneflare's marketing strategy to ensure that all registered service providers would receive a handsome amount of leads, as well as show the non registered ones that the company is capable of providing the service it promises. 
Oneflare makes it easy for customers to explore their website as no immediate sign-up is required. On the homepage, customers just need to answer two questions: "What service do you need?" and "Where do you need it?" After answering both questions and clicking the "Get Free Quotes" button, users will encounter a few more questions, which will help in determining the exact service needed. 
This method of receiving quotes reduces the risk of customer drop-offs because filling up the questionnaires requires very little effort. 
Oneflare also breaks down the process in three easy steps as seen on their website. In the "How Oneflare works" section, three iconised categories explain the Oneflare process, which is as follows:
First, you need to inform Oneflare what kind of job you want done. 

Second, you'll be able to compare quotes from different service providers.

Finally, you can select the service provider that you think is the best fit for the job. 
Notably, once you browse down to this section, these two things show up: a dropdown bar that shows Oneflare's logo in the upper left hand corner, and a "Post a job" button in the upper right. These features serve as additional encouragement for users to post a job and, at the same time, expose users to the company's branding.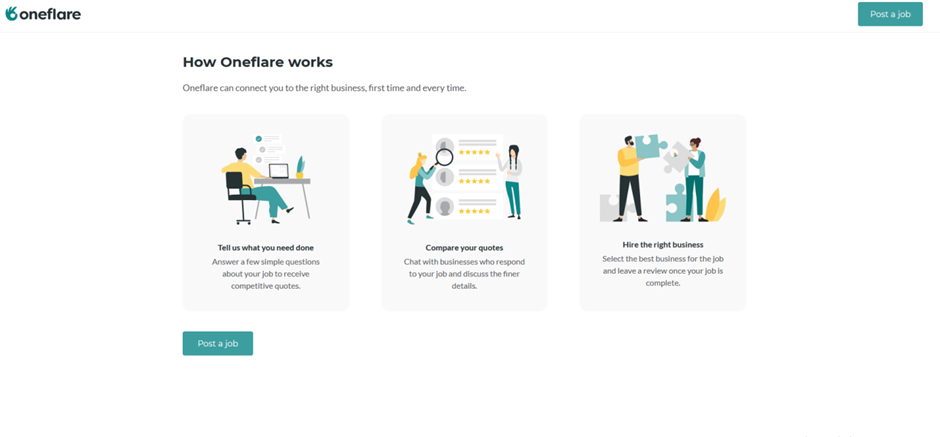 In the past, screenshots of legitimate reviews from satisfied users appeared after the "How Oneflare works" portion. The home page also featured an iconised list of benefits. However, all these details had been removed. Today, on the updated home page, a "Oneflare for Business" section follows the "How Oneflare works" portion. If you visit the site as a service provider, this section encourages you to register.
Registering as a business is also broken down into three simple steps.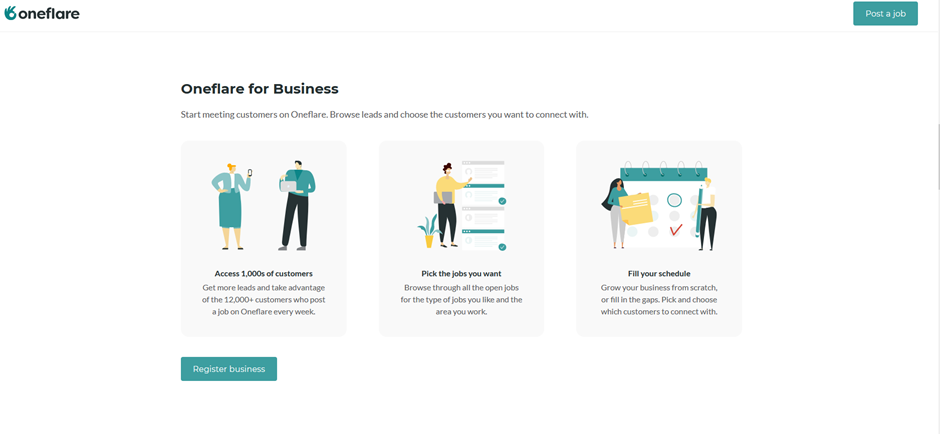 You'll also need to fill up a short form.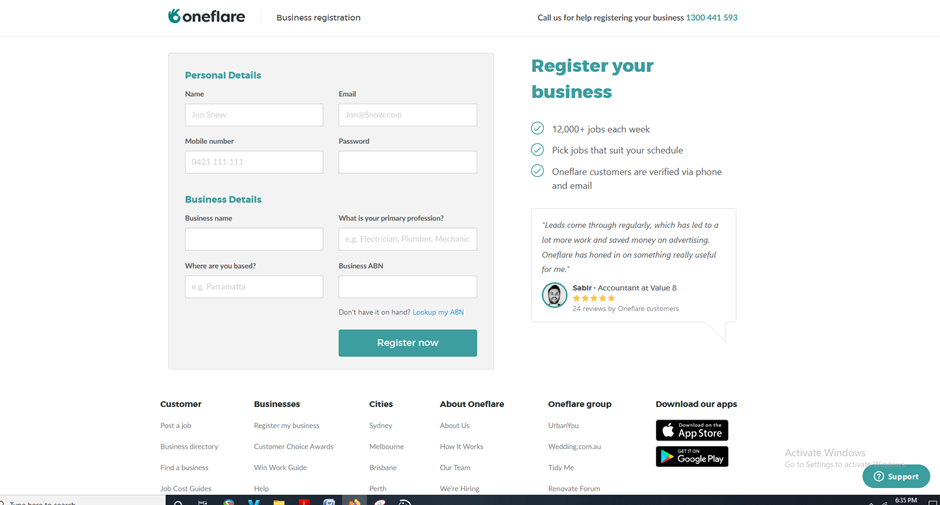 On the other hand, notice how the right side of the page motivates you — a service provider — to do the initial step of signing up. It tells you that Oneflare is bustling with job requests, and that each customer is legitimate. It also tells you that you are in control of your schedule and that many service providers before you were satisfied with the Oneflare platform.
Completing the registration does not give you immediate access to leads. A landing page will tell you that a member from their support team will contact you to discuss your special introductory offer. If you do not want to wait further, Oneflare will give you the option to call them immediately through the number provided to you after the sign-up.
The landing page also contains additional information that may motivate you to continue with Oneflare. They tell you that Oneflare has low internal competition, a high volume of jobs are available, and only high-valued jobs are available because service providers are filtered through verification.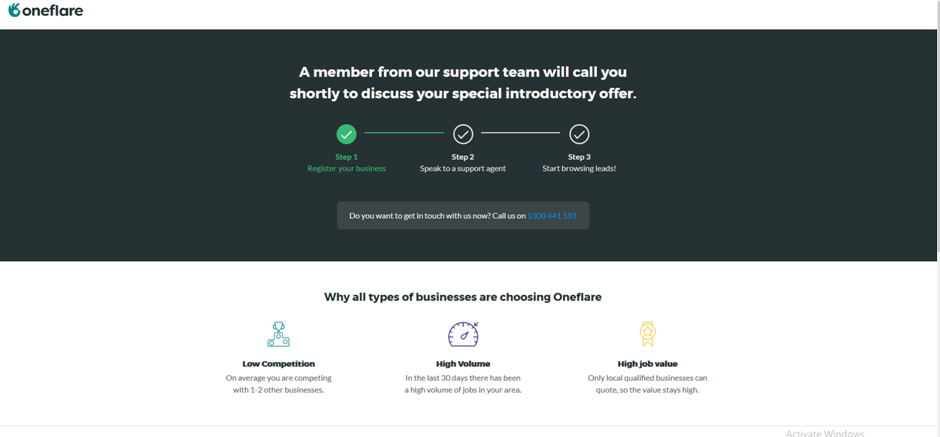 Once your business is verified and the registration is completed, leads for service requests will appear on the "leads" tab. You can now begin to scan through and pick various leads without having to pay a single thing.
Dominate the App Store.
Get the latest industry news first.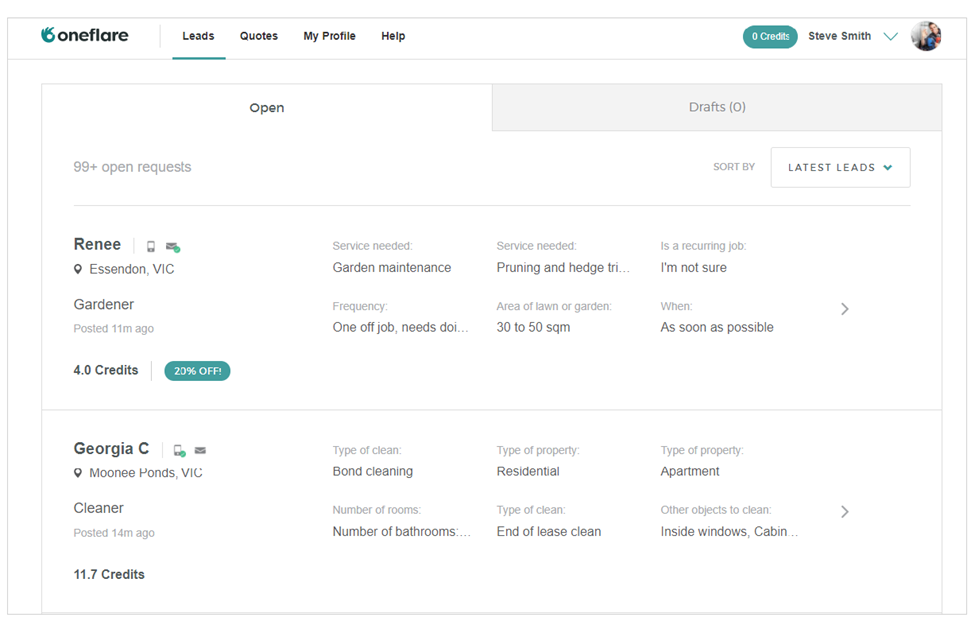 Afterward, you can decide whether or not to pursue a lead. The process remains anonymous until you decide to send a quote. This is where the fees come in, depending on your payment method of choice.
The App
Oneflare's App is merely a replication of their website. Both the website and the mobile application share the same features. As such, the app may compel customers to download it.
Additionally, the app's user experience may be more convenient than the website's, simply because users can book jobs and get quotes for services on-the-go.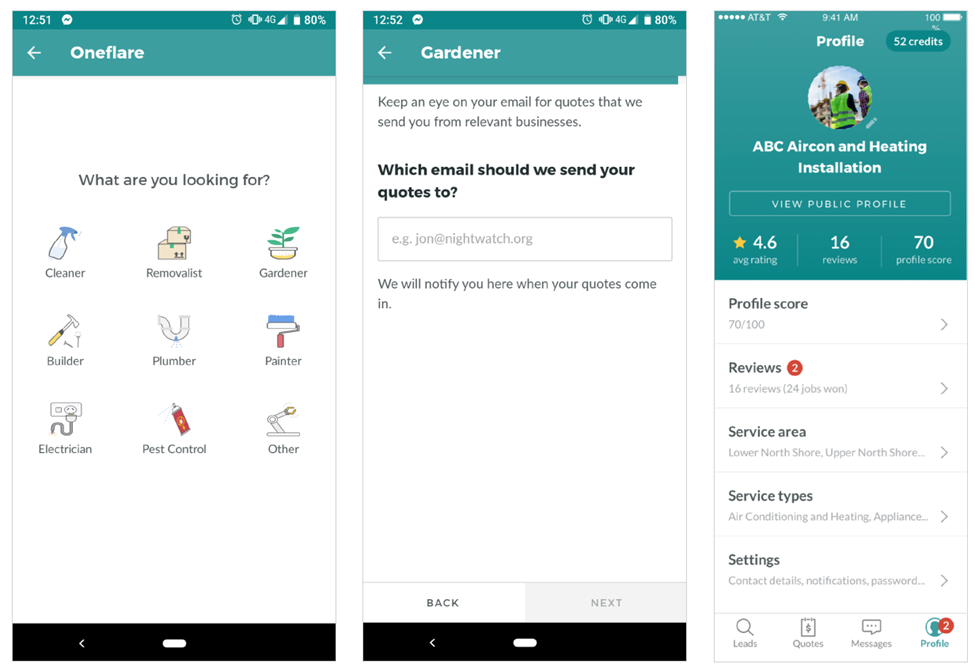 Marketing Strategy
So, how does Oneflare get its share of users? Oneflare's current strategy is all about volume. This means they need to constantly maximise their leads and registered service providers across multiple industries against their competitors.
To do this, Oneflare applies unique digital strategies and content for each industry, dedicated industry landing pages, location-specific listings, and targeted blog posts.
To date, Oneflare has over 300,000 web pages in their network.



Of course, those 300,000 web pages don't mean anything without the help of strategic content marketing and Search Engine Optimisation (SEO).
With organic keywords alone, Oneflare is able to gather 411,000 visitors.
To ensure their place on the first page of search engines, Oneflare has gathered a whopping 10.3 million backlinks, which lead back to their site. They have even bought out multiple domain names that, when clicked, redirect to their main website. For example:
http://www.rubbishremoval.com.au/
http://www.mechanics.com.au/
http://www.electrician.com.au/
http://www.homebuilders.com.au/
http://www.painters.com.au/
http://www.taxrefunds.com.au/
http://www.computerrepairs.com.au/
Other tactics, which got Oneflare in a little bit of trouble with Google, include buying old domain names and link building via comment spam. In the end, Oneflare had to acquire newer and cleaner backlinks, a move that resulted in significantly high rankings on keywords.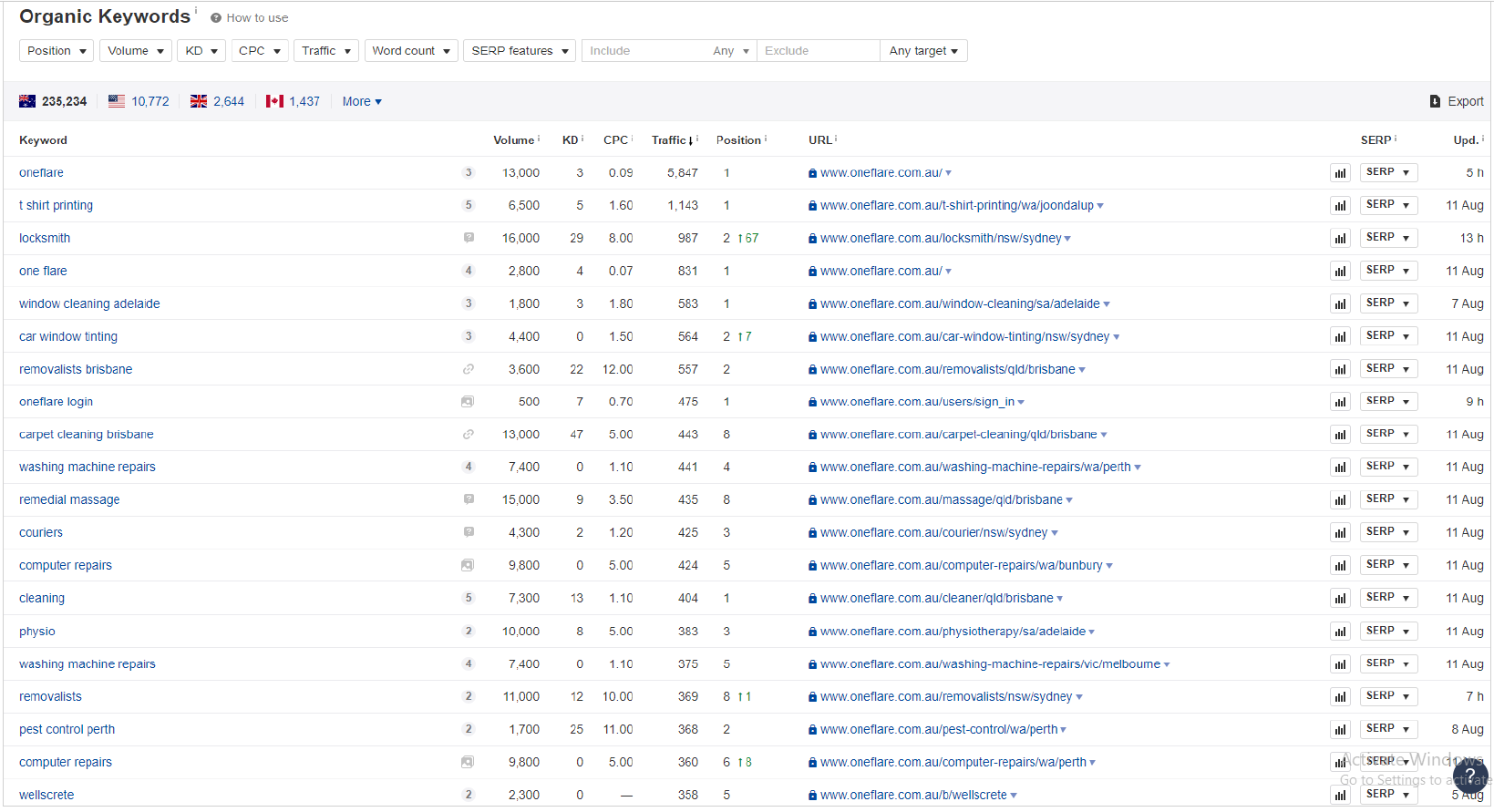 It's interesting to note that Oneflare's highest traffic value keyword is its brand name. This is indicative of a strong brand equity, where the brand itself has established a strong recognition for the service it provides.
This also means that consumers are going straight to Oneflare as opposed to competitors or the service providers themselves. Knowing this, Oneflare runs branded Google Ads with many of their business name variations, such as "oneflare", "oneflare for business," and even "one flair'. Because bidding competition for such keywords is relatively low with high volume, Oneflare keeps their cost per click affordable, even as low as $1.
Currently, Oneflare generates the most leads for t-shirt printing services, locksmiths, window cleaning, and car window tinting. In most cases, these are the keywords where Oneflare ranks within the top three of Google Search's results. This demonstrates the power of SEO in Oneflare's marketing strategy.
Interestingly, most key search results are accompanied by specific locations. For instance, someone from Brisbane will search "carpet cleaning Brisbane" or someone from Adelaide will search "catering Adelaide."
With this in mind, Oneflare uses a straightforward URL structure for their landing pages, accompanied by specific locations, to maximise visibility and generate large amounts of organic leads.

Oneflare has made sure that whenever a potential customer searches for a service followed by a specific location, they will appear on search.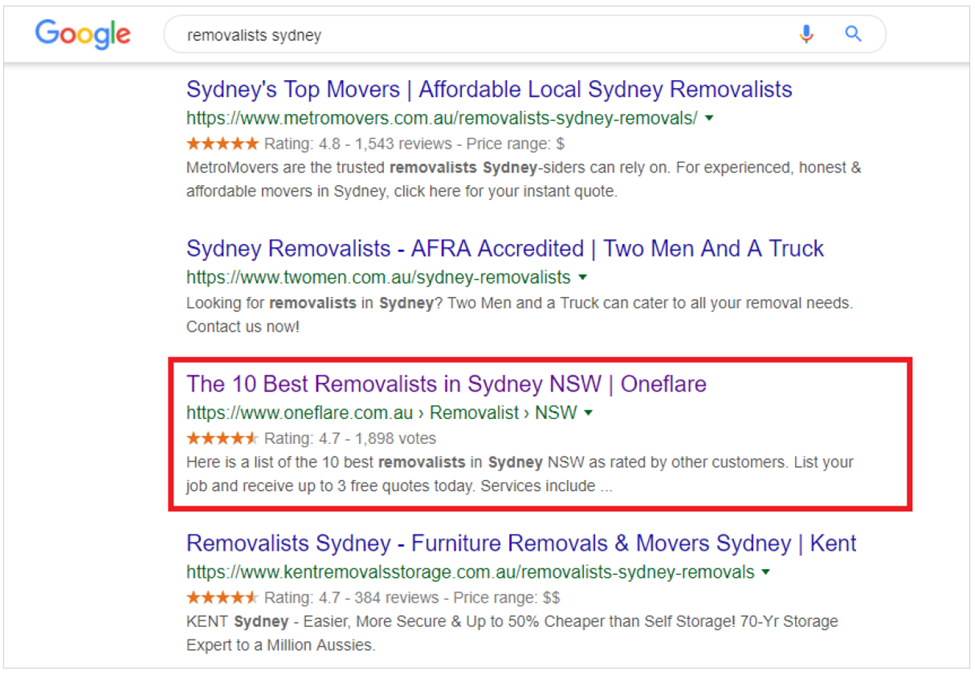 If, for example, someone searches "removalists Sydney," Oneflare's special landing page will appear on the first page with the title "Removalists Sydney."
Customers, after clicking on the link, are taken to a landing page specific to their search word. This landing page is consistent across all industries and jobs; it only changes based on what is being searched for.
To reaffirm that the service seeker is on the right page, the banner image is labelled according to the desired service plus location.
The next step is to key in the specific location or postcode to narrow down the search results.
Below this, Oneflare has added multiple links to guide the service seeker in their journey to finding the best business for their needs.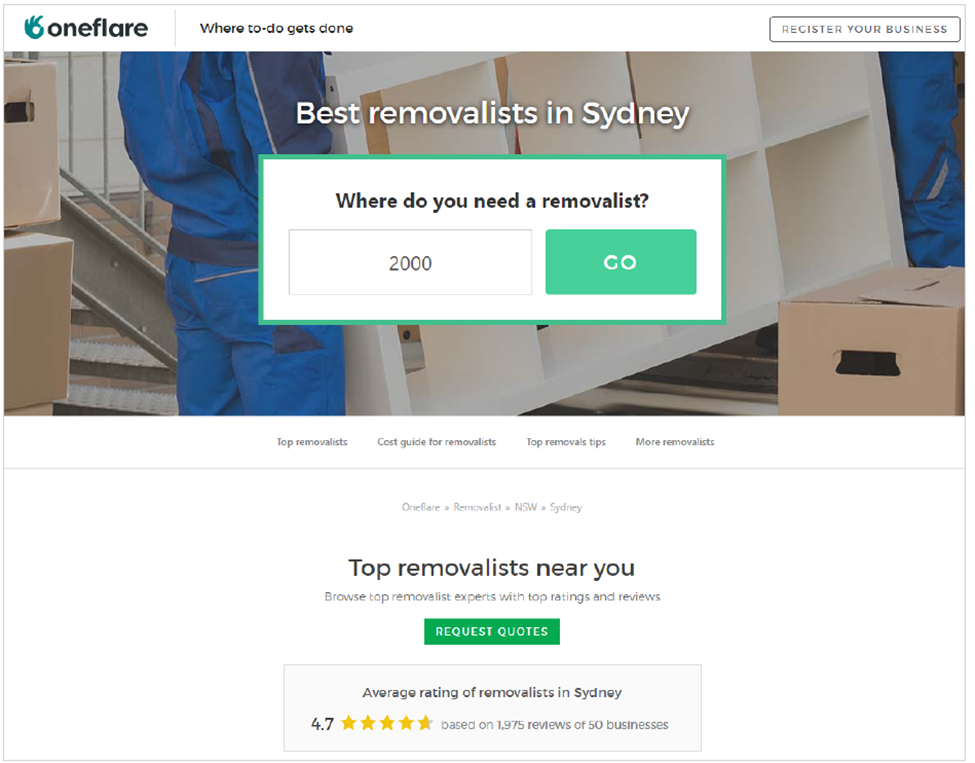 Links include a list of top service providers in the area, relevant blogs, and tips. Having this list builds trust and eliminates potential drop offs.
Service providers may also opt to be listed as a "featured business".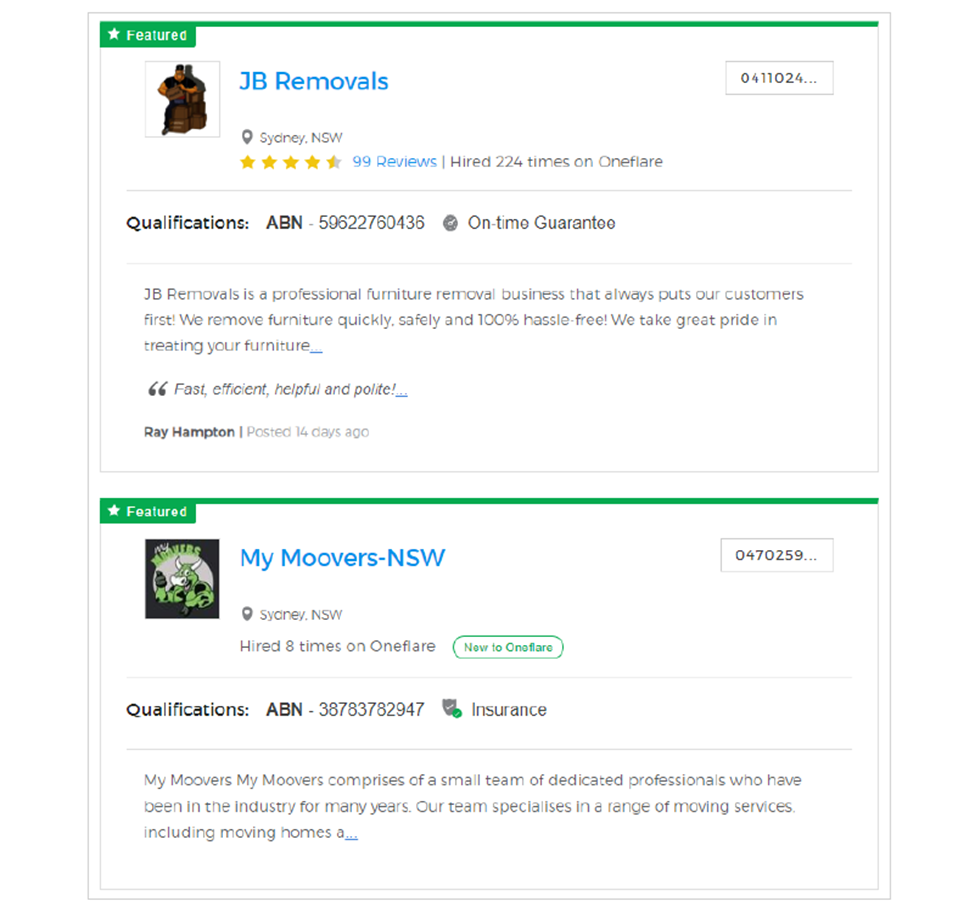 Oneflare also has, more or less, the same landing page structure for all industries. This allows Oneflare to produce new landing pages with minimal effort.


Eliminating Competition
Whenever Oneflare enters a new service or industry, they are open to acquiring other companies in that space.
An example of this would be TidyMe, a company that connected home owners to trusted cleaners. TidyMe is one of Australia's leading on-demand cleaning services platforms today.
Such a move by Oneflare easily eliminates tough competition and results in instant acquisition of existing customers and service providers.
To date, Oneflare has acquired, among others, Renovate Forum, Word of Mouth, and urbanyou.
Final Words
Oneflare's strategy of driving traffic to their websites and apps has evidently been a huge success. This is made possible by the company's heavy investment in SEO and the strategic use of URL structures and landing pages.
As a brand that has been around for a good 9 years, converting traffic into actual users is fairly simple since brand recognition is already there. This is seen through their highest traffic value keyword — their brand name.
But to further push users to sign up, Oneflare makes it a point to create pages that don't leave any questions unanswered. Website copy is clear and succinct, and they have made sure to create valuable content that will aid potential users in their search for trustworthy service providers.
Dominate the App Store.
Get the latest industry news first.