Clutch Names Appetiser Industry Leader in Mobile App Development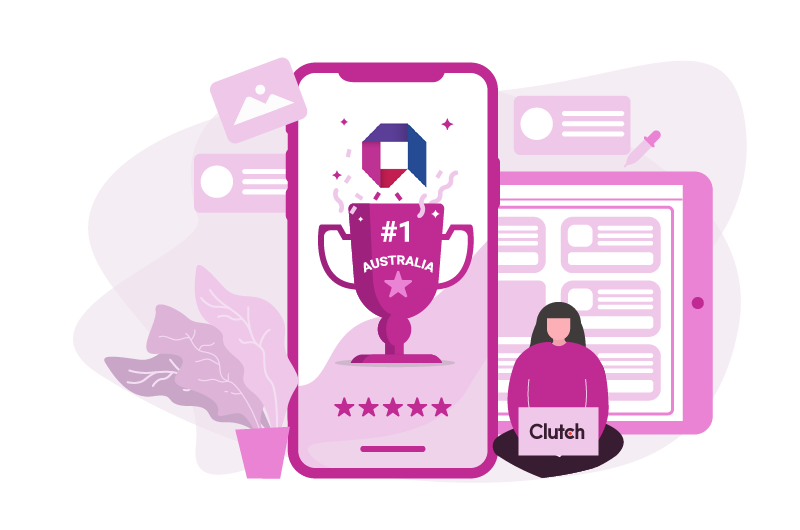 Recent trends have shown that both the creative and practical incorporation of mobile applications into the average person's lifestyle is continuing to expand at a rapid rate. The role of a mobile app developer is more important now than it has ever been, making it increasing difficult to set apart the diligent companies with proven expertise from their less effective counter parts.  
This issue is exactly what the Washington D.C. located company, Clutch is aiming to improve. Clutch is an established business to business review platform that helps firms across the globe connect with the best solution providers that they need in order to improve effectiveness and increase productivity. Their platform features formal, in depth reviews from former clients as well essential information about a company including their location, number of employees, typical prices, and service focus.  
Our company Appetiser, a team of mobile app developers focused on rapid agile development, is honored to announce that we have been ranked among the 2019 top mobile app developers in Australia.  
The research that our company was evaluated on was based on a holistic set of criteria, including our thought leadership, types of clientele, work portfolio, and especially our expertise. In addition, the client reviews are a great tool for our company to evaluate performance and to ensure that we are continually improving. With a 5-star rating and multiple flattering reviews, we have seen strong results from Clutch's extensive research process. Our team is excited with the positive comments so far and are excited to see what feedback awaits us in the future.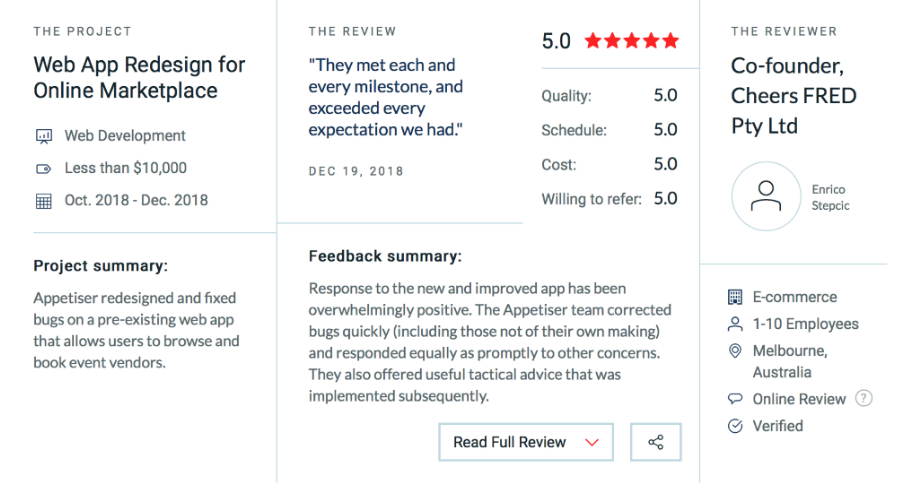 "We are honoured to be recognised by Clutch as a leader in app development. It's a great reward for the efforts we have taken to put our clients and the success of their apps above the profits of the business." – Michael MacRae, CEO at Appetiser Pty Ltd. 
Dominate the App Store.
Get the latest industry news first.
The dedication to our clients and commitment to producing quality results can also be verified through Clutch's sister sites, "The Manifest" and "Visual Objects". 
The manifest is a valuable tool for helping companies find the perfect fitting business to successfully accomplish a goal. The site includes survey data on consumer and business priorities as well as how-to guides for hiring third party business, building a brand and increasing market share. They use hard data, expert insights, and actionable advice to deliver practical business wisdom and vouch for effective, results-oriented companies. Our team is delighted to share that we have been ranked the 13th best iOS developers  in Australia in the 2019 manifest rankings.  
Visual objects is a similar site, however instead of focusing on spreading industry advice and guidance, visual objects allows you to evaluate a company first hand by providing a visual catalogue of prior creative projects. Having the ability to see examples of the quality and caliber of work that a company can deliver makes it easy to find the right design partner for your business needs. We are excited to announce that in the visual objects 2019 rankings we have been listed among the top web developers in Australia. There are other mobile app development lists that we aim to be part of. Another list we aim to be in is Designrush's list of mobile app design companies. 
We take a great deal of pride in these recognitions and would like to share our appreciate to every person who helped our company grow to the position that it is in today. We have great faith in our dedicated employees and know that our company will continue to improve and serve our clients to the best of our abilities. We could not have done this alone and we are excited to see what challenges we will tackle in the future! 
Director & Founder. I build and grow ideas. With a heavy focus on business strategy and automation, I am focusing on the interception of technology, marketing and design.
Dominate the App Store.
Get the latest industry news first.