Global Mobile App Ad Spending Predicted To Hit $64B By 2020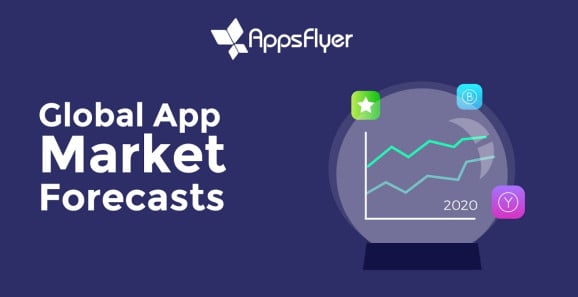 According to a new market study released by AppsFlyer, the app advertising market is forecasted to grow at a rapid pace in the coming years, growing around 136% from $27.1 billion back in 2017 to $64.1 billion in 2020.
The market research report is projecting that mobile app developers will increase their marketing spend to grow at an average year-over-year rate of 34%. This rapid growth is forecasted to eventually decrease within a few years as the market matures.  However, this will be sustained by increases in media costs, mobile usage, number of paid campaigns, apps available, and overall mobile users.
In one of the world's most predominant app markets, North America, app install and ad spend growth is forecasted to double by 2020 and hit $12.9 billion. Just like global projections, the average year-over-year rate change in North America will reach around 21%.
Organic app installs or non-organic app installs?
While the growth of app installs will primarily be driven by marketing, it will still play a significant role in the coming years, as the growth rate is not expected to match the rise in media costs. AppsFlyer's data shows global non-organic app installs will grow by 110% into 2020, while in North America non-organic installs will increase by 73%. While both the ad spend and growth rates of non-organic installs expected to maintain the same ratio through 2020, marketers will have to be increasingly aggressive and employ more efficient marketing efforts to counter rising media costs.
According to the Head of Content & Mobile Insights at AppsFlyer, Shani Rosenfelder:
Dominate the App Store.
Get the latest industry news first.
 "AppsFlyer's App Install Predictions report underscores the growing competition in the global mobile ecosystem. In the increasingly crowded mobile landscape, what will separate the best from the rest is intelligent use of high-quality data to inform marketing decisions, and innovative approaches to measuring and enhancing campaigns that drive installs and valuable users."
What's driving the growth in mobile apps
The report also includes why AppsFlyer  is expecting the growth still yet to come, led by the following factors.
Gaming and Shopping apps are leading the pack, making up roughly 44% of all non-organic installs combined.
Gaming claims around 40% of the total app install pie, there is particularly staggering growth. Between 2016 and 2018, the share of gaming non-organic installs in the pie grew by 26%, jumping from 27% to 34%.
New hardware will continue to grow gamer engagement and immersive experiences.
Shopping apps play a crucial role in connecting users between offline (in-store) and online (web, mobile web, and apps) channels, especially considering the growing use of mobile apps in making purchases.
Netflix, HBO, Hulu, and Spotify, video streaming apps are growing too.
Report methodology
AppsFlyer's technology is found on 98 percent of the world's smartphones. AppsFlyer used 5 different statistical models in order to come up with these projections.  And the data for this market research report primarily came from AppsFlyer's own data, with 35 billion installs, $10 billion in ad spend, and 70,000 apps in the sample. Along with their own data, they also included 3rd party mobile attribution market share data, CPI prediction per region, number of apps in the app stores, and the number of installs.
Dominate the App Store.
Get the latest industry news first.