App Store Optimization: Rank High on iOS and Android App Stores
The app store is a fiercely competitive marketplace.
According to Statista, as of the third quarter of 2022, there were more than 3.55 million Android apps in the Google Play Store and about 1.6 million iOS apps in the Apple App Store.
To succeed as an app publisher, it's not enough to just create quality products. You must also invest time and resources to boost your app's visibility, particularly in major app stores.
This can be daunting when the Apple App Store and the Google Play Store use complex algorithms to determine an app's search ranking.
But it doesn't mean that if it's difficult, it can't be done.
There are a few key strategies you can do to help improve your app's ranking. However, to execute them correctly, you must first understand how app store optimization works.
This guide will help you do just that.
Continue reading to learn about the ins and outs of the hyper-competitive app marketplace. The insights you'll gain will surely come in handy as you draw your app optimization strategy.
App Store Optimization: A Quick Guide to Ranking High on the iOS and Android App Stores
What is app store optimization?
App store optimization (ASO) is the process of optimizing mobile apps to achieve a higher rank in the Google Play or Apple App Store search results. In other words, it's how you ensure that your app is visible to as many people as possible and attract organic app downloads.
How app store optimization works
App store optimization is often called app store SEO because it follows the basic principles of search engine optimization.
Apple's App Store and Google's Play Store use algorithms to determine the apps to feature on their platforms. However, just like the Google search engine, neither platform has disclosed the intricacies of its app store algorithm.
But even though it's impossible to crack the big app store algorithm mystery, it's possible to deduce the key factors influencing the app store rankings.
We'll take a closer look at each of these factors, but first, let's find out the key differences between the two biggest app stores today.
Google Play Store and Apple App Store: What's the difference?
There are a number of app stores out there, but the two most popular are the Google Play Store and the Apple App Store. Both stores have a huge audience, but there are some important differences.
| App Store | | |
| --- | --- | --- |
| Audiences | iOS users | Android users |
| Keyword indexing | Relevance based | Popularity based |
| Listing process | Open to anyone | Subject for review |
Logo Source: FREE PNG LOGOS
Audiences
One major difference between the Google Play Store and the Apple App Store is their audiences. The App Store is used mainly by iOS users, while the Play Store is used primarily by Android users.
Keyword indexing
App keywords are indexed in the Google Play Store based on their relevance to other apps. This means that if you want your app to be found by users searching for specific keywords, you need to ensure that your app is relevant to those keywords.
In the Apple App Store, on the other hand, app keywords are indexed based on their popularity. This means that if you want your app to be found by users searching for specific keywords, you need to ensure that your app is popular for those keywords.
App store listing process
Another difference between the two stores is the way they handle app submissions.
Anyone can submit an iOS app for listing in the Google Play Store. Meanwhile, in the Apple App Store, Android apps must go through a review process before they can be listed.
The review process can take several days or weeks, so if you're in a hurry to get your app listed, the Google Play Store is probably a better option.
Ultimately, there's no right or wrong answer when choosing between the Google Play Store and the Apple App Store. The best decision will depend on your specific app and your goals for marketing and distribution.
Speaking of marketing, one of our founders, Michael MacRae, shared some Powerful App Marketing Strategies to Drive Installs in this article. It's definitely worth checking out!
Key app store optimization factors to consider
Now that you know the differences between the two major app stores, let's discuss the key factors that affect the ASO rankings of both iOS and Android apps.
#1 Keyword
One of the most important things to do to boost app store rankings is to search for relevant keywords to use on your app's title, description, and metadata. This process allows you to determine the words and phrases potential users will likely use when searching for apps like yours.
There are several ways to approach keyword research, but one of the most effective is to use app store optimization tools. These tools allow you to track the keyword usage of both the Google Play Store and the Apple App Store, giving valuable insights into which words and phrases are most popular with mobile users.
Additionally, the app store optimization tools can help you track your app's ranking in the app stores and identify opportunities for improvement.
#2 App name, title, and subtitle
The app stores are full of millions of apps. To make yours stand out from the crowd, consider your app's name, title, and subtitle carefully. These are among the first elements potential users see on your app store listing.
A well-chosen app name, title, and subtitle can help boost your ASO ranking, making it more likely to be found by potential customers.
But how do you choose the perfect name, title, and subtitle for your app?
Here are some best practices suggested by our app developers:
🚀 Choose a catchy name. As with any product name, your app's name must grab your users' attention. A name that's easy to remember and pronounce is also more likely to stick in someone's mind.
🚀 Consider your app's content. Make sure your app's name accurately reflects your app's content or purpose. For example, don't include the word "game" if your app isn't a mobile game.
🚀 Optimize your app title and subtitle. Use a descriptive and keyword-rich title and subtitle to boost ranking on search results.
🚀 Keep it short and sweet. The Apple App Store only allows up to 30 characters for the app title and subtitle. The Google Play Store also allows up to 30 characters for the title, but instead of a subtitle, Google Play features an optional short description with up to 80 characters. Anything that exceeds these limits will be truncated.
Let's take a look at how MUCUDU, a social bar app and one of our new app development partners, impressively featured their app on the App Store.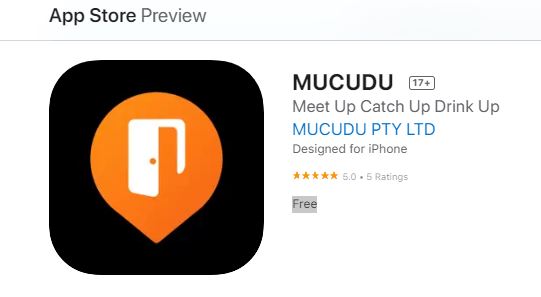 Source: Apple App Store
MUCUDU chose an intriguing app name — an abbreviation that stands for what the app offers: Meet Up Catch Up Drink. Using just six letters, MUCUDU sums up pretty much everything the users can expect from the app.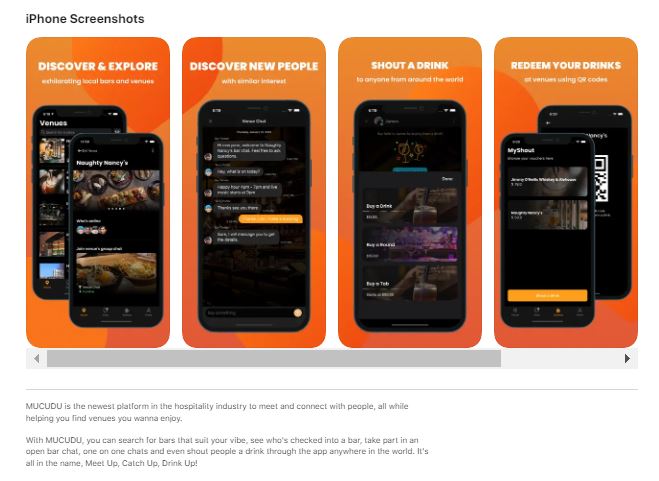 Source: Apple App Store
MUCUDU's app store page also features quality screenshots that are combined with short, actionable copy, giving users clear insights into the experience and benefits that await them.
How do we know it's effective?
Early in the app's launch, MUCUDU gained 1,000 early adopters and recorded quarter-on-quarter revenue growth. They also secured multiple partnerships with prominent brands, including LION, one of Australia's biggest beverage companies.
For a startup with first-time founders, MUCUDU's achievements are nothing short of amazing.
Check out the MUCUDU case study to learn more about the startup's successful app development journey.
Dominate the App Store.
Get the latest industry news first.
#3 App Description
Another important ASO factor to consider is your app's description.
The app description is a short paragraph featured on your app store page telling users about your app. It's one of the first things potential users see when they find your app in the app stores.
As such, crafting a strong app description is essential to make a good impression. Your goal when writing your app's description should be to persuade users to download it by highlighting its best features.
Here are some tried-and-proven tips our app developers often suggest to our partners when crafting app descriptions:
🚀 Use keyword-rich phrases. Including keywords in your app description will help your app appear in more search results, making it more likely to be downloaded.
🚀 Be clear and concise. You only have a limited amount of space to work with, so it's crucial to be concise and to focus on the most important information. Users, too, don't want to read a novel. They just want a quick overview of what your app does and why they should download it.
🚀 Include a call to action. Tell your users what to do once they've read your description. In other words, encourage users to download your app!
One mobile app that exemplifies a great app store description is Vello, a social app connecting celebrities and followers and among Appetiser's app development partners.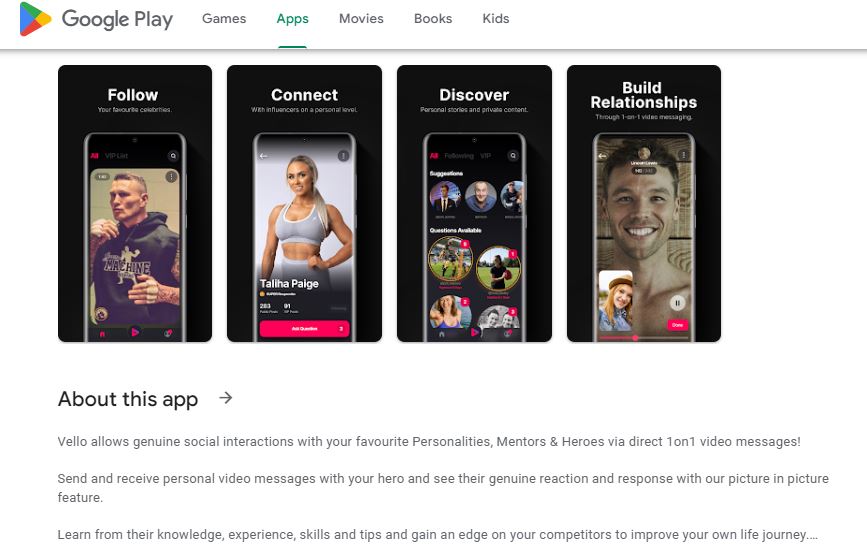 Source: Google Play Store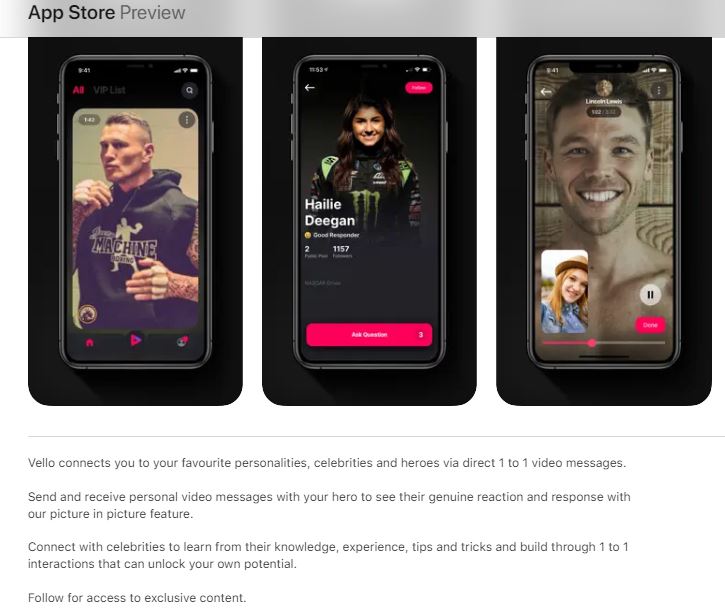 Source: Apple App Store
In both Google Play and the App Store, Vello has featured an optimized description that tells users the benefit of using the app clearly and concisely.
The impact?
A startup app that managed to build a database of over 1,000 high-profile celebrities and a fan base of over 150 million!
Find out more about the thrilling app success journey of Vello.
#4 Visuals
Most users decide whether or not to download mobile apps based on their appearance. That's why it's important to include appealing visuals, such as app screenshots, icons, or preview videos, on your app store page.
Aside from ensuring that your visuals meet Apple App Store's or Google Play Store's specifications and guidelines, there are a few other techniques you can use to increase your app's visibility and maximize your chances of conversion.
Here are some proven tips for choosing app icons, screenshots, and preview videos:
🚀 Ensure your app icon is unique. With millions of apps in the app stores, setting your app icon apart from the rest is imperative. Experiment with bold, more saturated colors that align your branding to make your icon stand out.
🚀 Highlight your app's key features. Your app's screenshots should give potential users a glimpse of what using your app is like. Showcase your app's key features and any user interface elements that are particularly well-designed.
🚀 Keep your preview video informative and engaging. Some mobile app users would rather watch your preview video than read your app description. Make sure it gives your potential users a glimpse of what using your app is like.
#5 Reviews and Ratings
Google Play Store and Apple App Store take app reviews and ratings into account when determining app store rankings. This means that if your app has many positive reviews and good ratings, it will likely be featured more prominently.
Reviews and ratings also give potential users valuable insights into the quality of your app and help sway their decision to download and keep it.
Take a look at the following data:

Source: Apptentive
Our takeaway?
It's important to actively encourage your users to leave ratings and reviews on your app's page in the app stores.
There are different ways to do this, but some that have worked for many of our mobile app partners are the following:
🚀 Include links in the app. Make leaving app reviews and ratings easy for your users by providing links directly from the app.
🚀 Offer incentives. Providing rewards, such as discounts or bonus content, can encourage users to leave reviews and ratings.
🚀 Encourage positive reviews on other platforms. Include a call to action that links to your app, asking people to rate and review your app on your website or social media pages.
🚨One crucial reminder, though.
Before you plan out your review and rating campaign, take care of business first. Make sure that your mobile app is indeed worthy of positive feedback. This means ensuring your app is engaging and offers a delightful user experience.
Remember, no matter how robust your campaign or attractive your incentive may be, users will likely leave a negative rating if your app fails to deliver what it promises.
Optimize continuously to maximize success
App store optimization is a complex and ever-changing process, but it's essential to ensure potential users see your app.
Following the tips in this guide can give your app a fighting chance of being found and downloaded by people who will love using it — increasing the likelihood of app conversion and growth.
If you're looking for an app development partner with an impressive track record of client success, give Appetiser a shot.
We are a digital agency built by entrepreneurs who want to push the boundaries of what an app development partner can be. Through design excellence, open collaboration, and tech perfection, we've empowered numerous partners to achieve:
🏆 $100 million+ app revenue
🏆 $20 million+ capital raised
🏆 11 million+ users
Best of all, we've helped our partners make an incredible impact through technology! This is how we measure success.
Contact us today!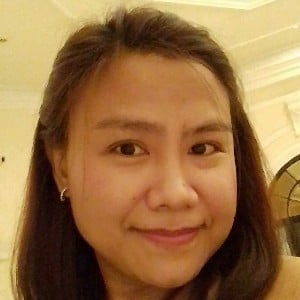 Jane Eslabra is a Content Marketing Specialist at Appetiser Apps. She has 14+ years of experience producing traditional and digital content. When she's not busy being a wordsmith, she's out swimming, taking a long walk, or trying new activities that will keep her eyes away from the screen and her body moving.
Dominate the App Store.
Get the latest industry news first.