User-Centric E-Commerce App Design: 6 Top Considerations for a Successful Mobile Shopping App
Are you a startup business owner looking to make waves in the digital world? If so, one of the crucial aspects you should pay attention to is your e-commerce app design.
With about 12 million to 24 million e-commerce sites globally, consumers are spoiled with options. They expect a knockout user experience and will quickly leave an app that fails to meet their needs or expectations.
Studies show that:
What do these figures suggest? Simply put, your web or mobile app design is crucial to the success of your e-commerce business.
A well-designed e-commerce app with features that provide an enjoyable user experience (UX) can give your business the edge it needs to thrive in a hyper-competitive e-commerce landscape.
But what does a UX-centric shopping app design look like?
Read on to find out the top things you need to consider to boost e-commerce app success.
E-Commerce App Design: 6 Key Considerations for a Successful Mobile App Store
#1 Intuitive navigation patterns
If users don't have the patience to wait for an e-commerce site to load for more than 3 seconds, chances are, they won't spend time learning how to navigate an e-commerce mobile app either.
This is why incorporating clear, intuitive navigation patterns into your e-commerce UI design is essential.
Creating intuitive navigation involves strategically using and placing app components to guide users through a natural and instinctive experience.
In other words, it's designing your shopping app in a way that users simply know how to find their way around it.
But how exactly do you execute it?
Here are some best practices our designers often consider when working on e-commerce platforms:
Including product categories, subcategories, and filters
Adding a search feature
Using universally recognizable elements, such as shopping cart 🛒or contact 📞 icons
Adding relevant and descriptive labels in menus
Giving users feedback after their actions
#2 Clear visual hierarchy
Effective e-commerce app design relies on a logical hierarchy of visual elements, such as icon shapes and colors, fonts, size, layout, and images. An organized app interface allows users to find their desired items easily and quickly, ensuring an effortless shopping experience.
Clear visual hierarchy also eliminates long explanations since every element on e-commerce websites can be easily understood in one glance.
To meet this requirement, our app designers often suggest that our e-commerce partners arrange their products in the following order:
Categories
Sub-categories
Products
By doing so, users can quickly find items and process orders, encouraging them to keep returning whenever to your shopping app when they need something.
An example of an e-commerce business that got this principle right is MyDeal, a platform that connects retailers and customers and one of our Appetiser's app development partners.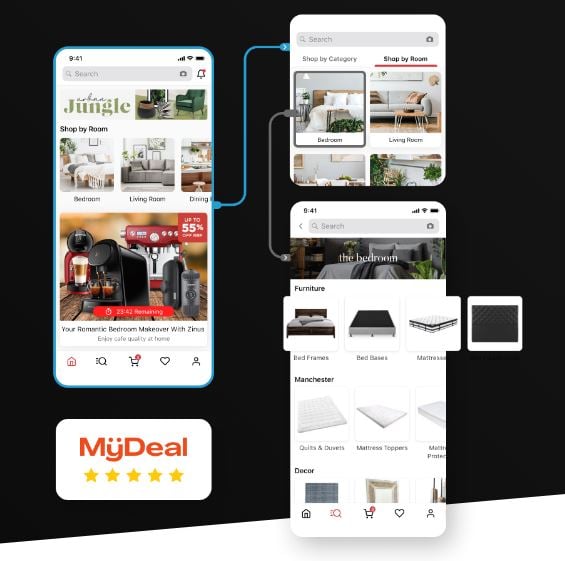 After two unsuccessful startups, MyDeal founder Sean Senvirtne tapped Appetiser to help him explore new markets.
Blending our teams' expertise in UX and UI design with Sean's app vision, we've built a beautifully designed and highly organized mobile app well-loved by 883,000 and counting active users — and sits above Uniqlo, Asos, Wish, H&M, and Groupon in the app stores.
Find out more about this ecommerce company's inspiring journey by reading the MyDeal case study.
#3 Simple and consistent user interface
In our experience, less is more when it comes to e-commerce app design and interface. According to a JungleScout study, convenience is the third-leading reason consumers shop online.
Adding too many elements to your platform can confuse users and cause inconvenience, especially if you have a huge catalog.
On the flip side, a streamlined design featuring concise text, clear imagery, and necessary functions ensures that users understand how to use your e-commerce app quickly and efficiently.
Take Amazon, for example.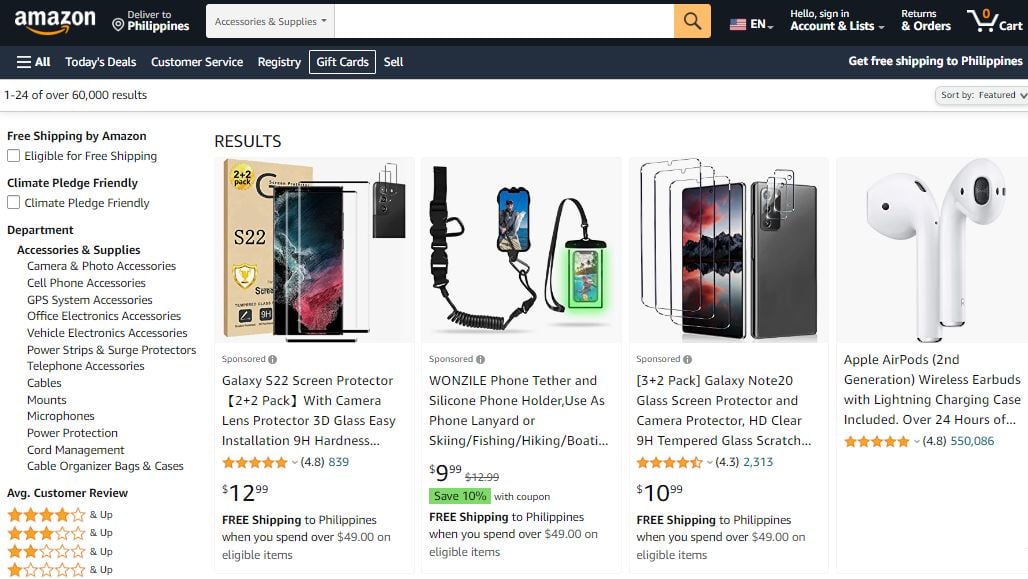 Source: Amazon
Amazon has more than 12 million items in its inventory. This even excludes products posted on its marketplace. And yet, the retail giant continues to be the most visited e-commerce platform in the world, with nearly 2.5 billion visits monthly.
It's secret?
A simple and consistent UX-UI design that works to make users' shopping experience as convenient and streamlined as possible. With its clean visuals, easy-to-understand layout, and organized product categories, Amazon helps its users easily navigate its vast app marketplace.
But if you think its founder got all these right the first time, think again.
💡 Fun fact: Did you know that Amazon started as a small bookstore out of Jeff Bozo's home garage? Today, as you may already know, the brand sells nearly everything.
That's another reason to keep your e-commerce app simple.
Creating a simple and reliable e-commerce user interface is also more cost-efficient and requires a shorter development timeframe.
And the earlier you get your app to market, the faster you can start gaining revenue and gain valuable feedback to iterate your platform according to the needs of your market.
This is why at Appetiser, we always recommend our app development partners start lean with a minimum viable product (MVP).
Build something with enough quality features and functionalities to launch your app fast and test market viability — at a fraction of the cost.
For more insights, check out this article on how to start to lean with an MVP. 
#4 Appropriate element layout
Have you ever heard of the "eye-level, buy level" principle?
Dominate the App Store.
Get the latest industry news first.
It means that in a physical store such as a grocery shop, products placed within customers' line of sight and are within their reach have higher chances of being purchased.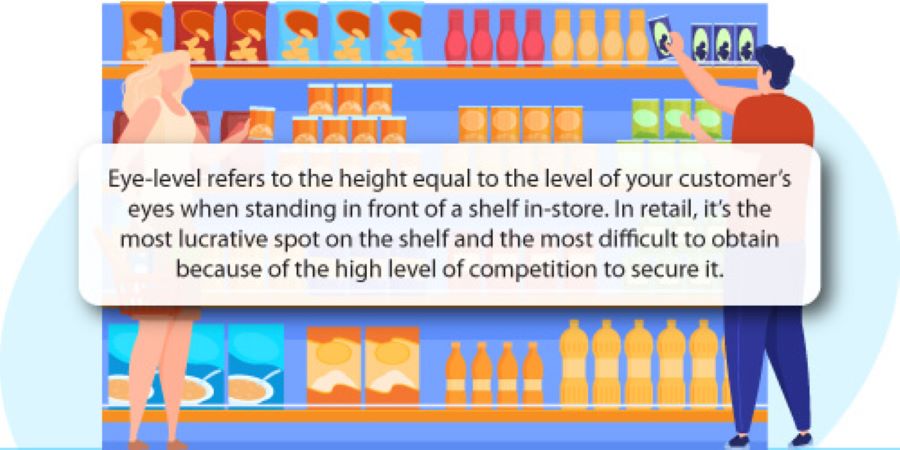 Source: DotActiv
On some level, the same principle applies to e-commerce UX design. But instead of focusing on the users' line of sight, you pay attention to the users' thumbs and hands.
You need to consider what app developers call the "thumb-friendly screen zones." It means deliberately placing key elements of your e-commerce app, such as menus, buttons, and search bars, within reach of users' thumbs.
Thumb-friendly screen zones: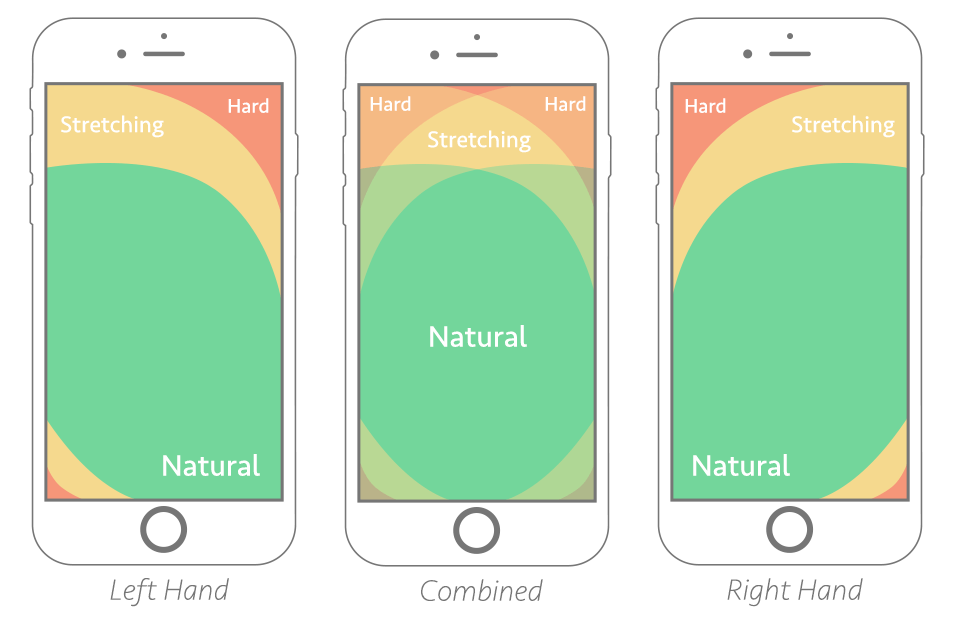 Source: Smashing Magazine
Another factor to consider when designing your app layout is how different mobile app users hold and interact with their smartphones.
Different ways users hold smartphones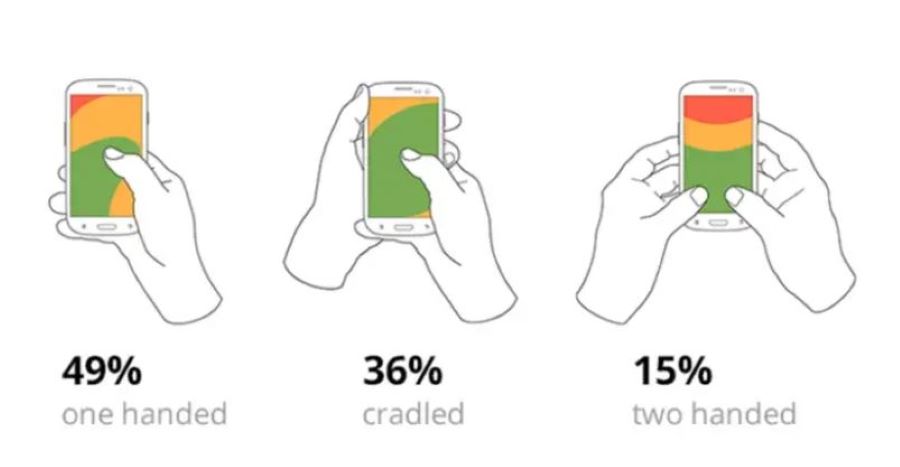 Source: Bootcamp
Using one hand. Holding the smartphone in one hand while using the same hand's thumb to navigate.
Using two hands. Holding the smartphone in one hand while using the other hand's forefinger to navigate.
Mix. A combination of the first two items.
Indeed, the success of your mobile e-commerce app is in the hands of your users — literally. By designing your platform to accommodate the factors mentioned above, you can prevent customer frustration and boost engagement and sales.
#5 Seamless login and checkout
A seamless login and checkout process can distinguish between converting a visitor into a customer or one abandoning a cart.
According to a study by Baymard Institute, asking shoppers to create accounts and long or complicated checkout processes are among the top reasons for cart abandonment.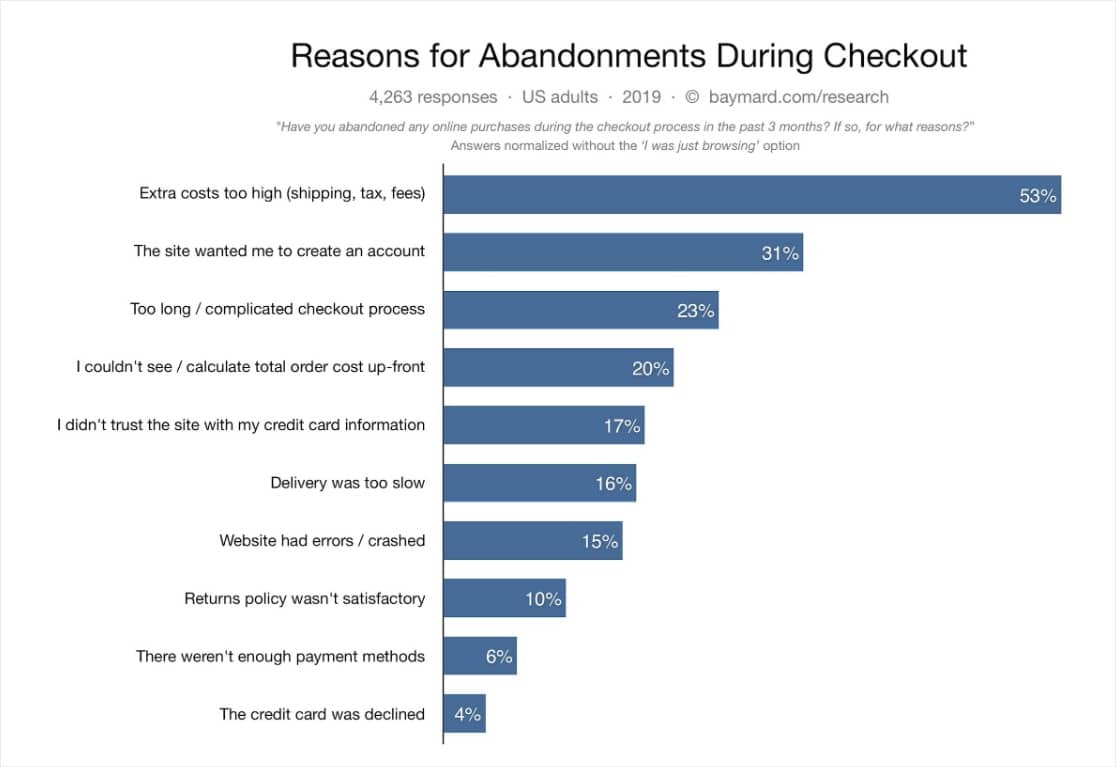 Source: Baymard Institute
To increase e-commerce app success, you need to ensure that login and checkout processes maintain the shopping experience flow.
Here are some key tips from our designers to help ensure your e-commerce app design runs smoothly:
Keep sign-in forms as short as possible; avoid additional fields that aren't essential for authentication.
Use accurate error messages that explain why the login was unsuccessful.
Offer single-step sign-on using customers' existing Google or social media profiles.
Provide a 'remember me' feature for easy login
At checkout, display purchase totals so customers know exactly what they're paying for.
Implementing these tips will make your e-commerce apps more user-friendly, helping you increase conversions and make the most of every customer.
It worked for one of our partners, Construction Zone 1, so I'm confident it will also work for you.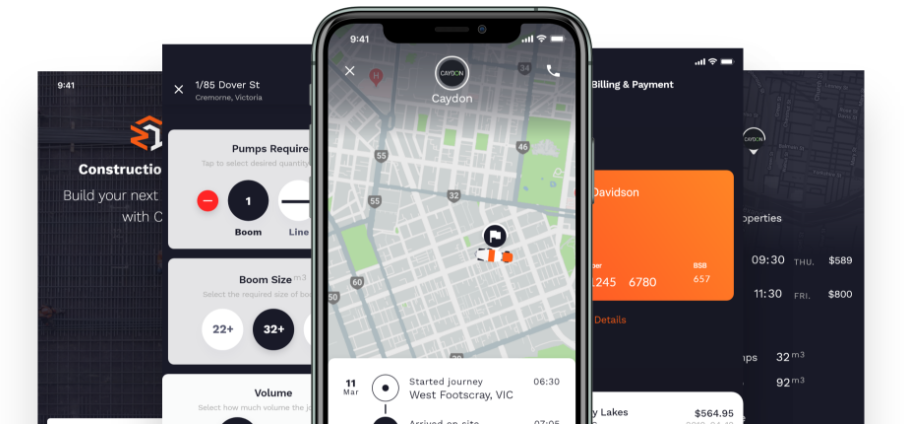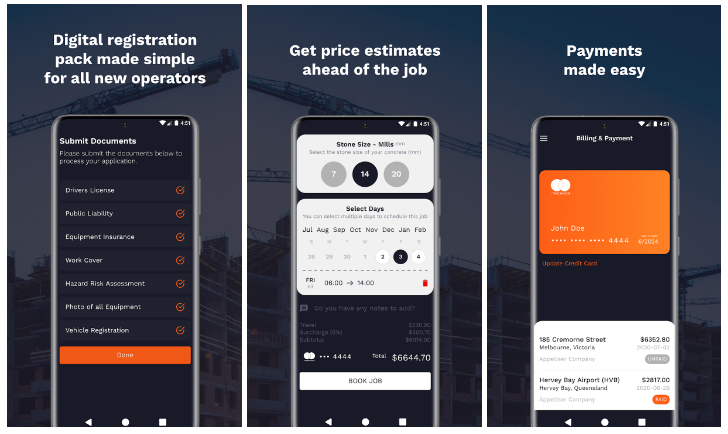 To realize its vision of providing users with fast and convenient platform to find reliable pump operators, Construction Zone 1 worked with our award-winning design team to build an app that allows users to get things done in a few simple steps.
All users have to do is enter their location, select volume, and start pumping.
Check out the Construction Zone 1 case study to learn more about our role in the company's development.
#6 Multiple and secured payment options
According to Statista, approximately 15 million data were exposed worldwide through data breaches in the third quarter of 2022.
It is not surprising to learn that while users want the convenience of selecting the payment method right for them, they also want to ensure their information is kept safe.
As such, multiple and secure payment options have become among the key elements to consider when crafting an e-commerce app design.
Allowing customers to choose from various payment options and requiring secure authorization procedures can help make them feel more confident in making purchases through your e-commerce app.
Ensuring that these elements are part of your web or mobile app design provides your users with peace of mind, leading to greater customer satisfaction and loyalty.
User experience and loyalty go hand in hand
A well-designed and user-friendly app can go a long way in boosting sales and customer loyalty. By ensuring that your e-commerce app is intuitive, visually appealing, and secure, you can make the mobile shopping experience enjoyable for both first-time users and diehard fans of your brand.
If you're looking for a partner to design and develop a quality, user-centric e-commerce web or mobile platform, Appetiser is the right choice:
We are:
🏆 Clutch's Top Australian Mobile Design Company for two straight years.
🏆 #7 Globally in UpLab's Designer Ranking
🏆 Design Lab's #4 App Design Agency in the World 2019
Most importantly, we know that design excellence is the foundation of our partners and our company's success.
Reach out to us today. Together, let's make an impact with technology.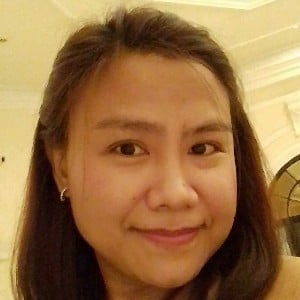 Jane Eslabra is a Content Marketing Specialist at Appetiser Apps. She has 14+ years of experience producing traditional and digital content. When she's not busy being a wordsmith, she's out swimming, taking a long walk, or trying new activities that will keep her eyes away from the screen and her body moving.
Dominate the App Store.
Get the latest industry news first.