5 Tips for Effective Mobile App Customer Service
Time is the currency of stellar customer service.
Why? Forrester Research tells us 77% of customers say valuing their time is the most important thing a company can do regarding customer service.
To ensure you're offering the best mobile app customer support, you must learn how to give users the five-star experience they deserve—especially on mobile apps.
Check out these five tips for effective mobile app customer service to increase customer satisfaction and your bottomline.
1. Be Proactive in Issue Resolution
Issue resolution identifies, tracks, and resolves customer issues or complaints to deliver high customer satisfaction.
To truly offer stellar mobile app customer support, you must be proactive. And this means anticipating and addressing potential issues even before they escalate to bigger problems.
Start with monitoring app reviews and feedback regularly. This will help you identify common issues and pain points that mobile users are experiencing. You can then address these concerns through the following:
✅ App updates
✅ Contacting users directly
✅ Responding to their reviews on the App Store or Google Play Store
To understand proactive issue resolution in the flesh, let's look at an example.
Say your app is experiencing a bug that's causing crashes for some users. Proactively identifying the issue and quickly releasing a fix can prevent frustrated users from leaving negative reviews or uninstalling the app.
Grill'd knows better. They're a good example. Because before working with us, users left negative feedback on their iOS app due to crashes and bugs.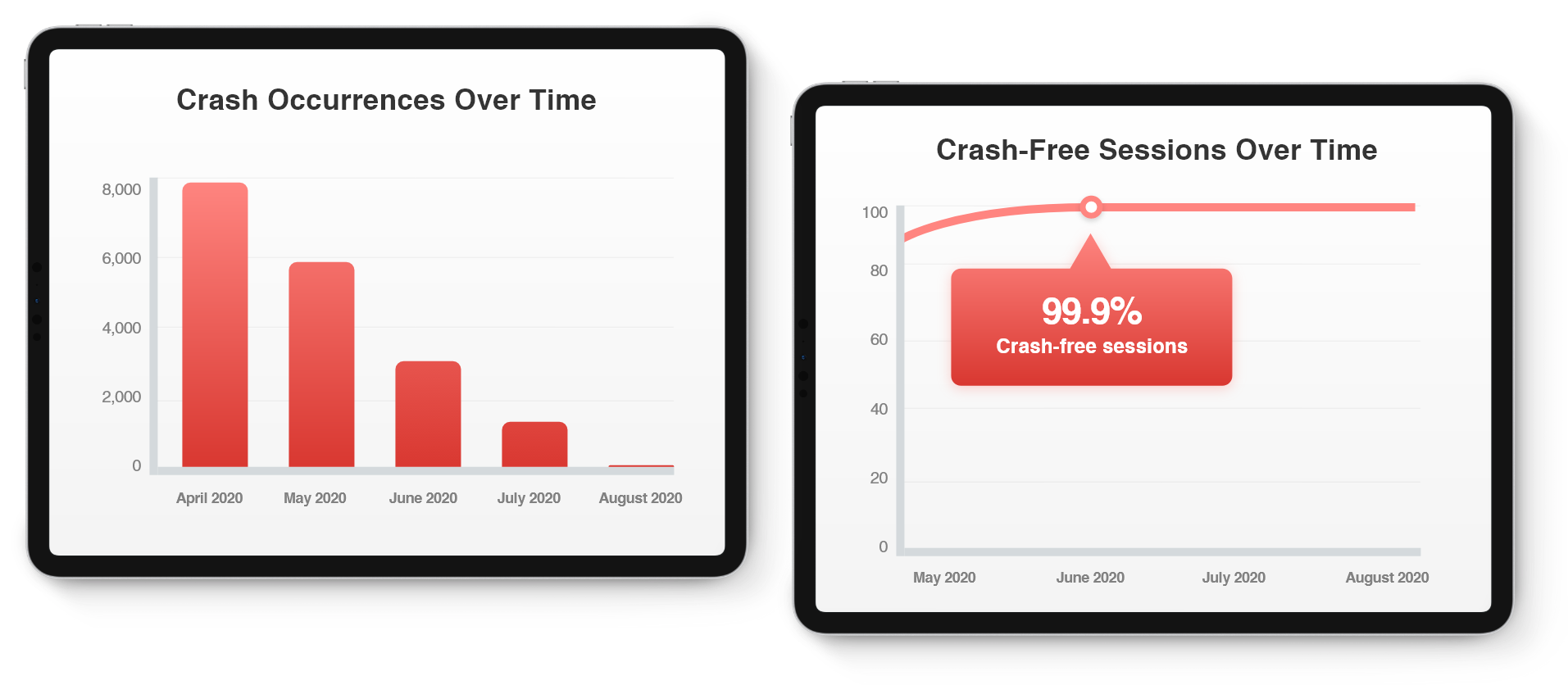 The company approached us with an unstable app riddled with software issues. Despite the failed attempts of three previous developers, our app developers team worked tirelessly and achieved a 99.8% crash-free app that boasts a super smooth online ordering experience in just six months.
Since the relaunch of Grill'd's app, order numbers have surged ten times, and load times have reduced by 83%. Additionally, the app rating on the App Store has doubled.
You can read the Grill'd case study and learn more about their journey with our team.
Overall, always listen to the clamor of your users. Then if you want to take it one step further, do the next tip.
2. Personalize Your Customer Interaction
Personalization refers to tailoring customer interactions to meet the individual needs and preferences of mobile app users. It involves using customer data to deliver customized experiences that are relevant, engaging, and helpful.
Personalization can take many forms, including:
Customized content
Personalized recommendations
Targeted marketing messages
In mobile app customer service, you can achieve personalization through user data, such as location, search history, purchase history, and user behavior patterns.
Collecting and analyzing this information can gain insights into the following:
❤️ What your customers want
📱 How they prefer to interact with your mobile applications
📞 Where they might need additional mobile app support
The first step to personalizing your customer interaction is to collect user data. You can do this through the following:
In-app surveys
User feedback forms
Chatbots are one of the best ways to implement personalized interactions. In fact, 77% of customers under age 25 find them helpful.
Once you have collected the data, you can segment your engaged users based on specific criteria such as location, usage frequency, and purchase history.
Next, you can tailor your communication to each user segment.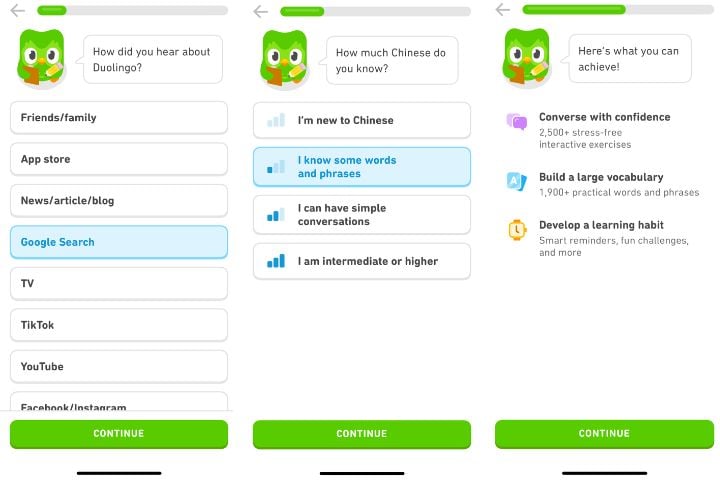 Source: Duolingo
For instance, Duolingo, the learning language mobile app, will prompt new users with questions to ensure it provides the exact content to the student.
Based on the collected data, its chatbot Duo will walk through the new user to learn the preferred language based on their answers.
The seamless interaction makes the mobile app user more motivated to learn the course. It doesn't make the learning experience overwhelming, and the user has everything it needs to use the mobile app.
3. Create a Multi-Channel Communication Strategy
A multi-channel communication strategy is a great customer service approach involving several communication channels and platforms to connect with your customers.
You engage with your customers using different channels such as email, in-app messaging, social media, and phone calls.
To create an effective multi-channel communication platform, consider your users' preferred communication channels and incorporate them into your customer relationship management strategy. Consider these options:
In app messaging
In-app support lets you contact customer service or support teams directly within the mobile application, bypassing the need to go to other channels.
Our product strategy experts have encountered one stellar example of in-app messaging support in their quest to develop our apps as user-friendly as possible, like HelpStack, an open-source framework providing complete code access to developers for customization.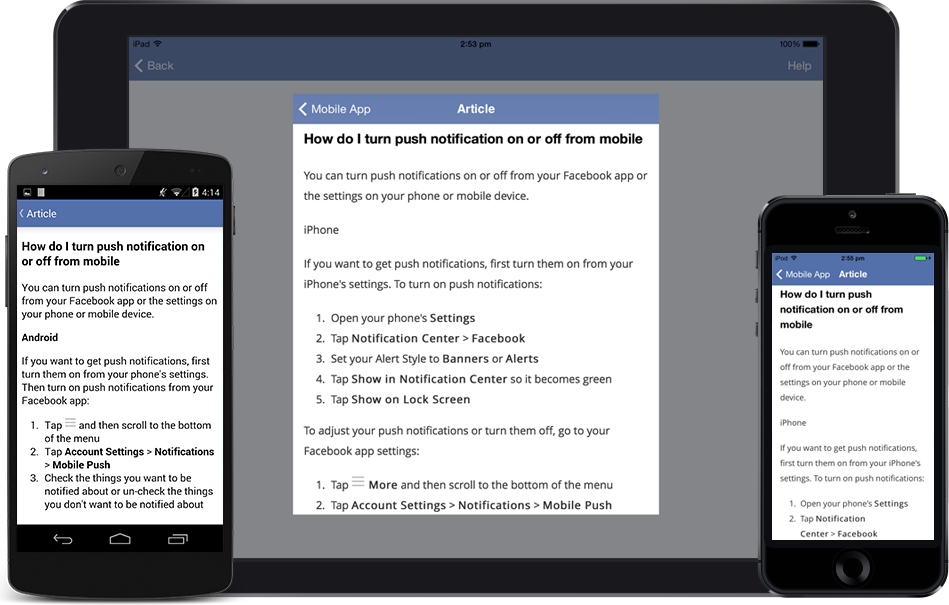 Source: HelpStack
SMS Chatbots
SMS chatbots provide fast and personalized customer service, making businesses efficient. Analysis by AI promptly suggests pre-programmed responses or provides direction to the relevant support's communication channel.
For example, ​​Best Buy's SMS chatbot offers easy customer support via SMS, streamlining support requests and facilitating contact with their team.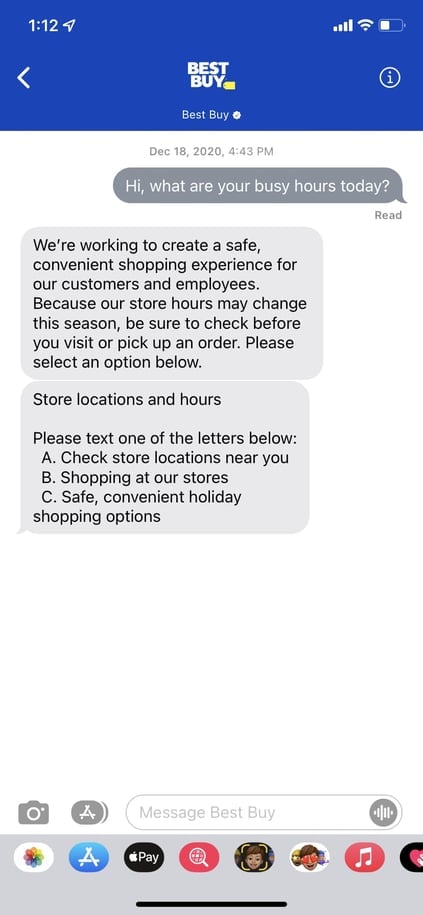 Source: HubSpot
Email
Email support is a customer service channel where users send emails to a designated address and receive timely responses from agents. It streamlines issues and enables efficient problem prioritization.
Take note though, that the average response time via email is 12 hours. If your target audience is millennials, they will wait for 60 minutes to see if there's a response. So, keep these response times in mind when organizing your email customer service team.
Live chat
Live chat is a fast and convenient customer mobile app support tool that allows users to ask questions, raise concerns, and receive immediate help in real time via a website or mobile app, eliminating the need to wait for a response like an email or phone support.
TTEC, a customer strategist company, researched various brands and found that 81% offered a live chat option via a mobile device.
Interestingly, brands that use mobile live chat support have 100% resolved issues.
Dominate the App Store.
Get the latest industry news first.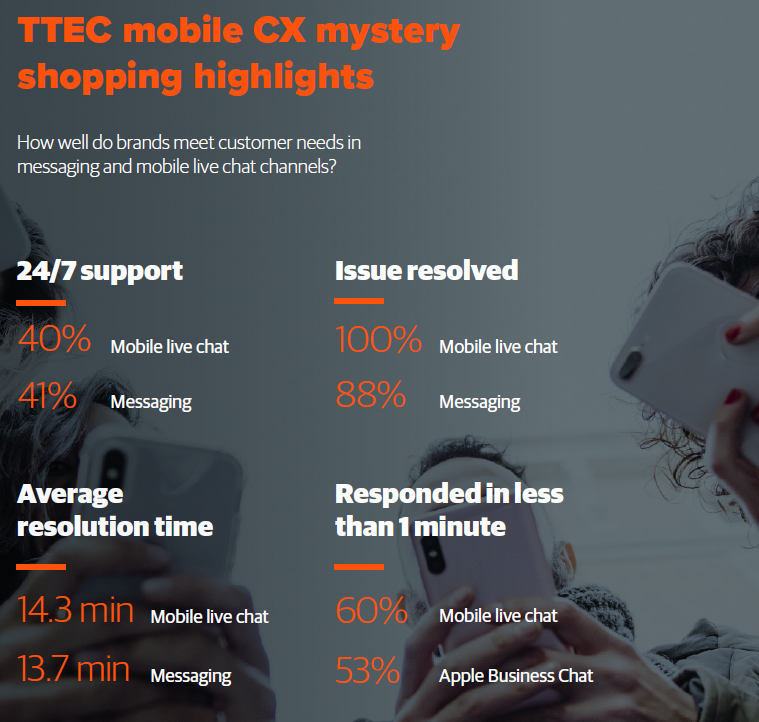 Source: TTEC
Phone support
Phone support is also popular among customers uncomfortable using digital channels like email or chat. Some people prefer to speak directly to a customer service representative as it allows them to vent their frustrations. They find it easier to communicate their concerns over mobile devices.
According to CGS, live phone support is still the most preferred support option, with 69% of customers preferring it to other modes of customer assistance.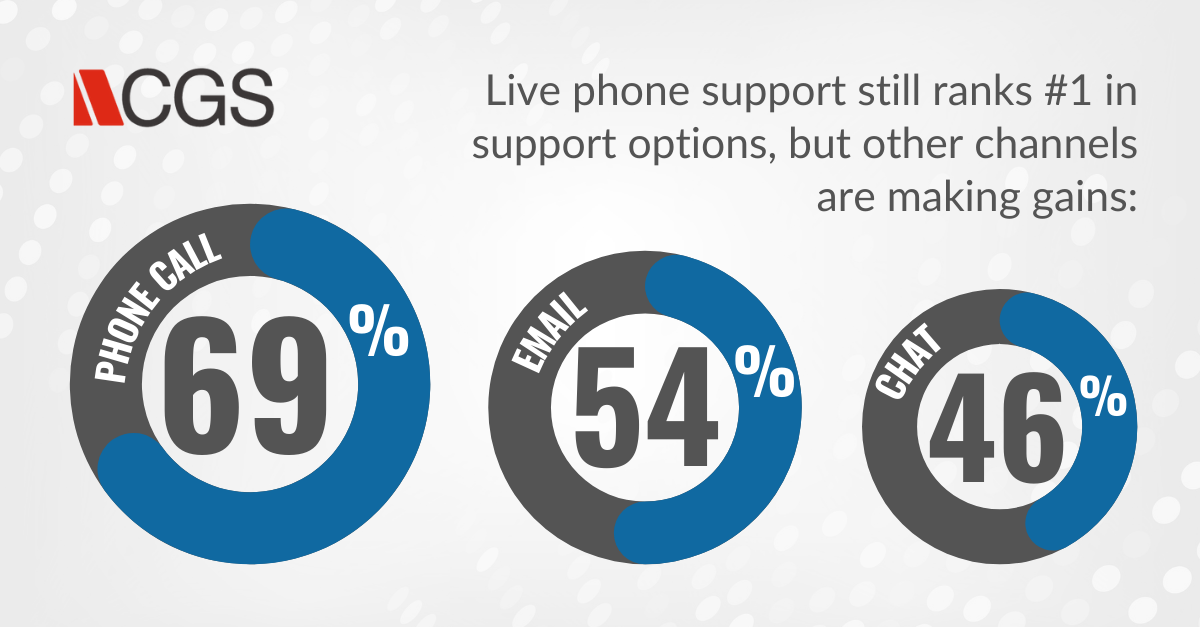 Source: CGS
In-app Frequently Asked Questions (FAQs)
In-app FAQs offer users quick and easy access to concise, pre-written answers regarding the most common questions and issues when using a mobile app. This serves as a self-service solution for customer support, reducing repetitive inquiries and allowing users to find information independently.
Most brands will often bundle email or live chat with phone support in their customer service, especially if the nature of the business requires urgent responses.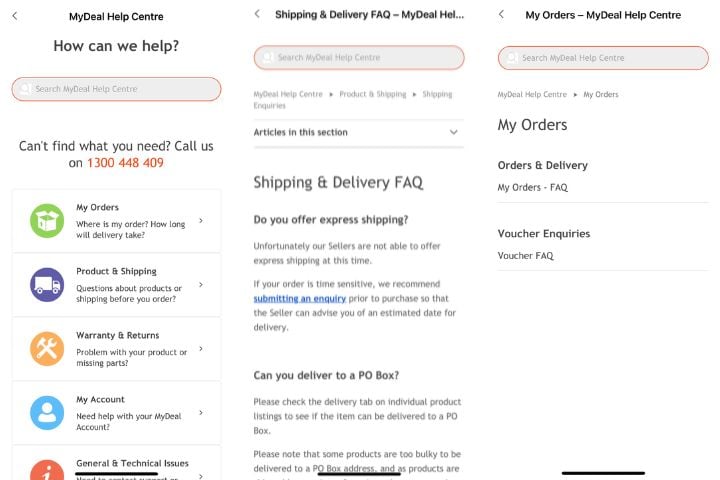 Source: MyDeal
Take MyDeal as an example. MyDeal's founder, Sean Senvirtne, overcame a failed startup by bootstrapping his vision. He partnered with Appetiser in 2020 to develop an app for a seamless shopping experience for over 883,000 active customers.
The MyDeal app helped Sean and his e-commerce company outdo more prominent brands like H&M and IKEA, leading to a successful IPO in the same year. In fact, Woolworths has acquired 80.2% of Sean's company since September 2022, valuing it at $243 million.
As an ecommerce company, MyDeal ensures that customers can contact them immediately. They incorporated an app HelpCenter FAQ so customers can search for anything they need about shipping and returns, warranty, and other sales-related queries.
They also included a direct link to their phone line for those who prefer live phone support.
You may also read MyDeal's case study here and learn about their success story with us.
4. Maintain 24/7 Rule on Customer Support
One key strategy to consider is implementing the 24/7 rule. It means your customer support team is available to help users at any time of the day or night – all year round.
To achieve seamless customer experience, consider outsourcing some of your customer service needs to remote workers or a specialized support team. You can also leverage chatbots or AI-powered tools to provide automated help and support.
If your customers are in different time zones, follow these practical tips:
Know your time zones and understand cultural differences.
Establish time zone rules.
Use asynchronous communication like email and discussion forums as much as possible.
Schedule meetings that work for everyone, if possible.
Consider creating a buddy system with a designated point of contact in each time zone.
Don't forget to use tools such as time zone converters and scheduling apps to help manage communication and meetings.
Implementing the 24/7 rule boosts customer satisfaction by providing timely assistance whenever your users need it. It can also lead to customer loyalty and positive reviews, ultimately improving your bottom line.
You can clearly see the advantage of the 24/7 rule in a service involving a food delivery app. If a customer has an issue with their order late at night, they can contact the app's support team and get a quick resolution, even outside regular business hours.
This responsiveness can make a huge difference in customer satisfaction and retention. In fact, 89% of companies believe that excellent customer service plays a critical role in customer retention.
Remember, even just one disgruntled customer can spread negative comments about their experience – which can ruin the brand's reputation, especially if reviews are online.
As Jeff Bezos once said, "You earn reputation by trying to do hard things well."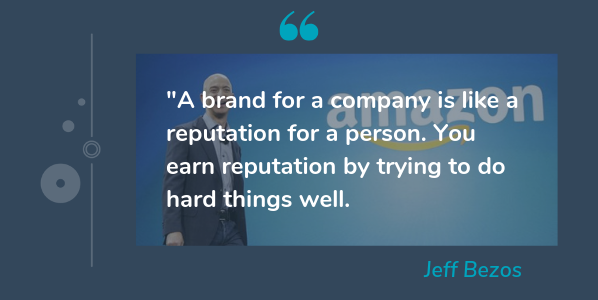 Source: Hubspot
Now you've learned the right tools and strategy for providing top-notch mobile app customer service. Measuring customer service performance is the next big step to ensuring customer satisfaction.
5. Monitor Key Metrics to Measure Success
Keeping track of different data points and analyzing the information helps you see how customers engage with your mobile app.
Analyzing metrics will enable you to identify where your service is lacking and what you need to improve to enhance customer satisfaction.
1. First Response Time
First Response Time or First Reply Time (FRT) measures the average time between a customer inquiry or support request and an agent's first response. This metric reveals how quickly customers receive support.
FRT is a key metric for evaluating customer satisfaction and support team effectiveness.
According to Hubspot, 33% of customers are frustrated when you put them on hold or have them wait. But faster FRT translates to better customer experience and high satisfaction.
2. Average Resolution Time
Average Resolution Time (ART) is a customer service metric that measures support agents' average resolution time for all opened tickets in a given time frame.
When we say resolution time, it's the duration it takes for customer service to resolve an issue after a ticket is opened, which primarily records customer interactions with support staff.
That means the clock starts ticking from the moment a customer interaction is created and stops when the interaction is marked as "resolved."
A good ART is typically within 5 minutes, making customers happy to wait for a helpful response.
According to a study of 1000 companies, the average customer support ticket resolution time is three days and 10 hours.
3. Ticket volume
Ticket volume in customer service measures the number of customer inquiries or issues a support team receives in a given period.
It helps understand a support team's workload and identify improvement areas by tracking customer requests.
4. Ticket Resolution
Ticket resolution rate measures how efficient customer service agents solve inquiries by dividing resolved tickets over a given timeframe by the total received and expressing the result as a percentage.
5. Customer Satisfaction Score
Customer Satisfaction Score (CSAT) measures the degree of customer satisfaction with a product, service, or experience. It is usually expressed as a numerical score and is commonly used to indicate customers' satisfaction with a company's products or services.
CSAT is a customer experience metric that helps businesses understand how well they meet customer needs and expectations. It's also a Key Performance Indicator (KPI) that monitors customer satisfaction, which you can compare against industry standards over time.
Happy Customers Yield High Customer Satisfaction
To sum it up, the key to achieving high customer satisfaction starts with proactively resolving customer issues. Try personalizing your customer interactions and build a multi-channel communication strategy for further engagement.
This demonstrates to your customers that you are available during any hour of the day round the clock, as it is a surefire way to make them feel valued. All these efforts should be measured through key metrics such as response times and average efficiency.
If executed properly, the strategies I discussed will create happy customers and a successful business.
At Appetiser, we understand just how hard it can be to implement these strategies, but we're here to help you every step of the way.
Whether you're considering building mobile apps for growth or using them to improve your customer service, our app development services are equipped with cutting-edge technology and a team of industry professionals to help you achieve your goals.
If you like what you've read, hit us up!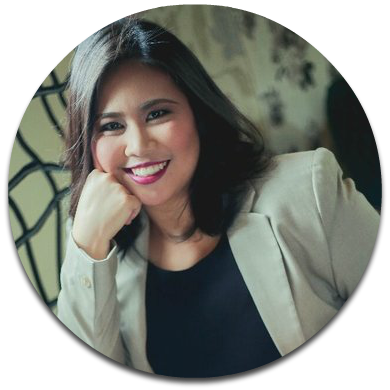 Maria Krisette Lim is a Content Marketing Specialist at Appetiser Apps. She has more than 12 years experience in producing content on the web and print ads. Krisette has a BSBA degree major in Business Management and Entrepreneurship. When she's not tinkering with words and punctuation, she's either curled up with a book while sipping hot tea, playing with her toddler or tinkering website builders.
Dominate the App Store.
Get the latest industry news first.