The 10 Best Ecommerce App Development Companies in 2023
Buying stuff online used to be just a flight of fancy.
While purchasing online is quite ordinary nowadays, making this possible is not that simple. Without ecommerce app development companies, all of us would have to go out to get what we need.
To pay tribute to these ecommerce app developers, we at Appetiser sifted through numerous client feedback and reviews. After intensive research, we determined the world's best ecommerce app development companies. Read this article to learn more about these exemplary tech firms.
But first, what defines an ecommerce app development company?
What is an ecommerce app development company?
An ecommerce app development company is a business that has built programs to enable online market transactions. This type of company allows people and organizations to buy and sell goods and services, AND/OR transmit funds or data. Examples of data transmitted in e-commerce transactions include any of the following:
Receipts, invoices, and other similar documents
Information from remote devices like factory equipment status, warehouse inventory levels, etc.
Now that you have a better idea about the ecommerce app development business, it's time to get to know the industry's champions.
The 10 Most Trusted Ecommerce App Development Companies in the World
Here are some top ecommerce app developers that have garnered numerous positive reviews from international clients:
#1 Appetiser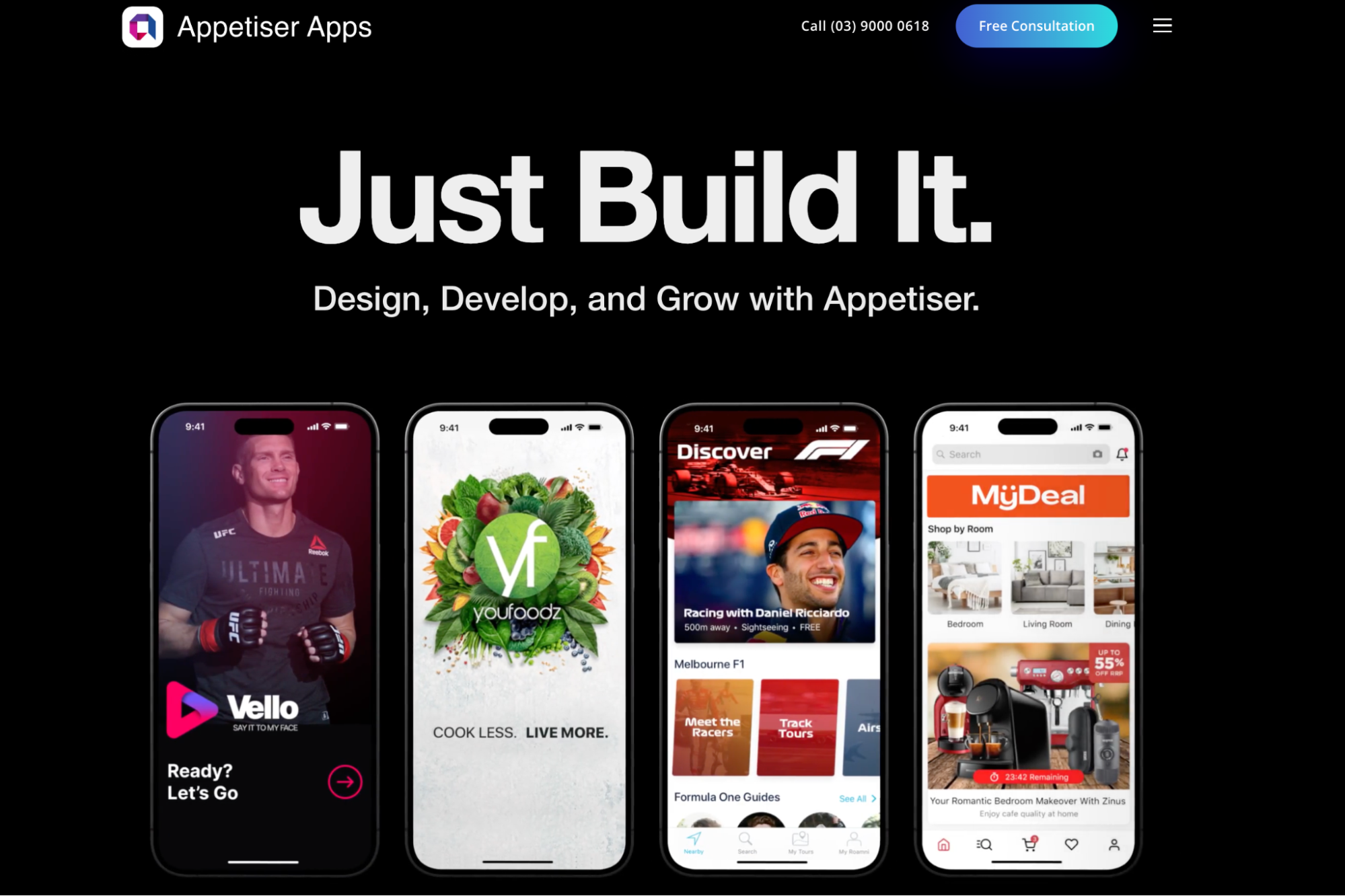 Year Founded:
2016
Country of Origin:
Australia
Company Overview:
Appetiser is an app development company that builds apps for e-commerce and many other industries. To date, the agency's web and mobile apps have garnered around 5 million downloads.
The company has earned awards from reputable establishments like Clutch and DesignRush. These awards show that Appetiser is an industry top dog in Australia and a globally competitive app designer.
Among Appetiser's most prominent clients include the Salvation Army and Roamni, which became a partner of Formula 1.
Founded by RMIT alumni Michael MacRae and Jamie Shostak, Appetiser mixes business savvy with technical expertise in building high-quality apps relatively quickly. Due to the duo's synergy of skills and vision, the company can communicate on the level with clients while producing technically sound apps.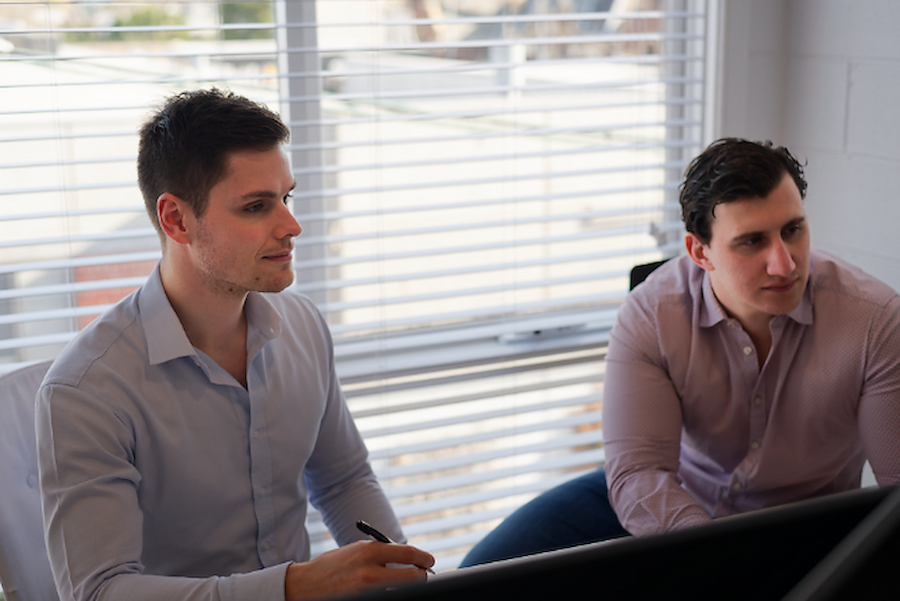 Source: RMIT University
Ecommerce app project:
MyDeal partnered with Appetiser in the former's bid to leverage mobile commerce app development for growth. Read this case study to discover how Appetiser's smartphone app helped the e-commerce business increase gross sales and land multimillion-dollar investments.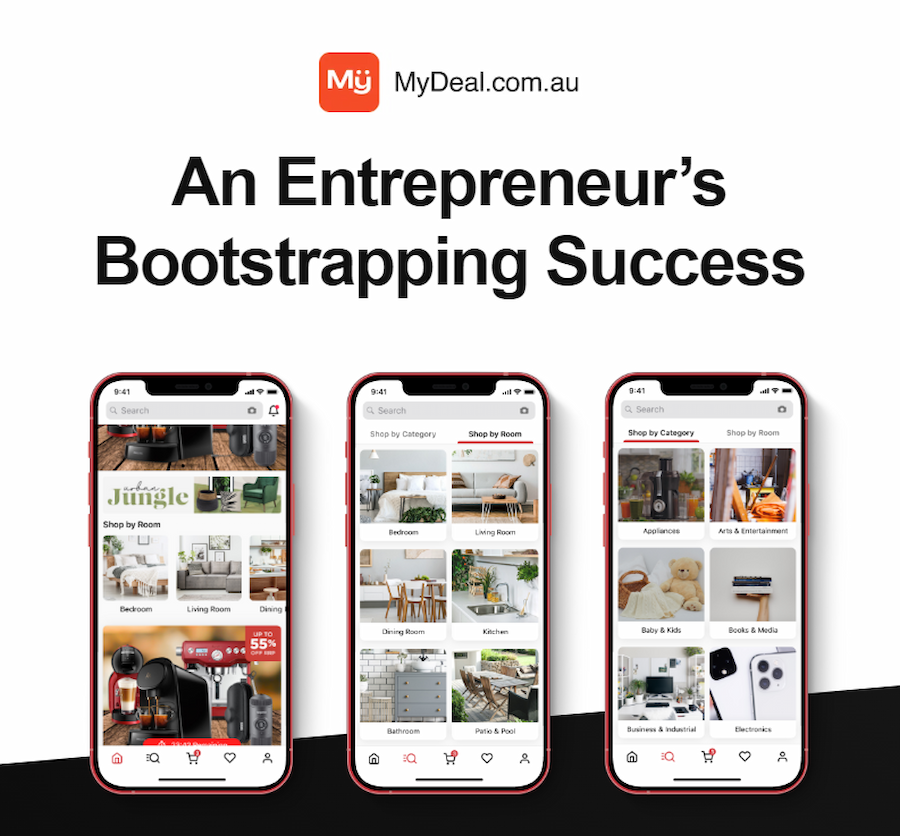 Appetiser doesn't deal solely with titans like MyDeal. The company also serves organizations of various sizes that aim to grow through app design and development. Book a free consultation to learn more.
#2 Dedicated Developers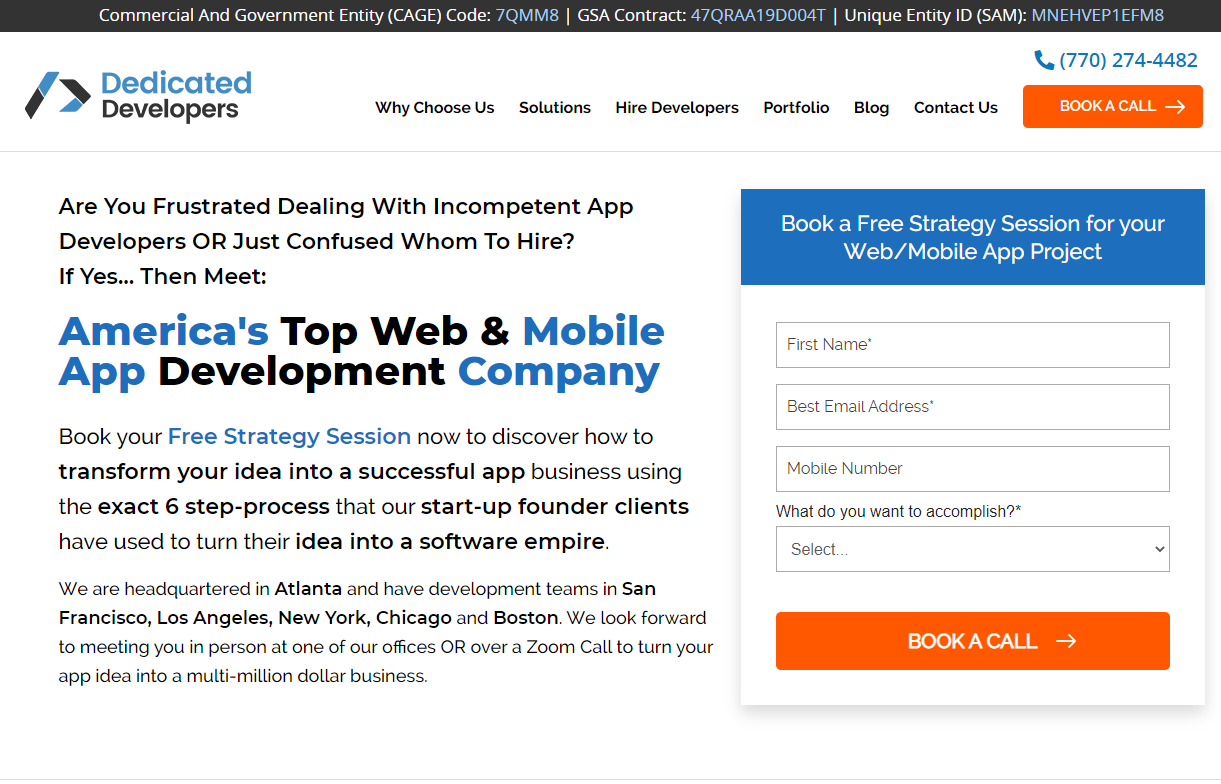 Source: Dedicated Developers
Year Founded:
2007
Country of Origin:
United States
Company Overview:
Dedicated Developers is an ecommerce application development company that has won many awards in America. It counts Dell and the U.S. Federal Government as its clients. The company also serves clients from around ten other countries.
Aside from developing ecommerce apps, the company also delves into building apps for wearables and the Internet of Things.
Ecommerce app project:
Dedicated Developers built an online platform to help GymSource scale. Through this solution, more customers gained access to fitness equipment and advice on setting up exercise rooms.
#3 SolveIt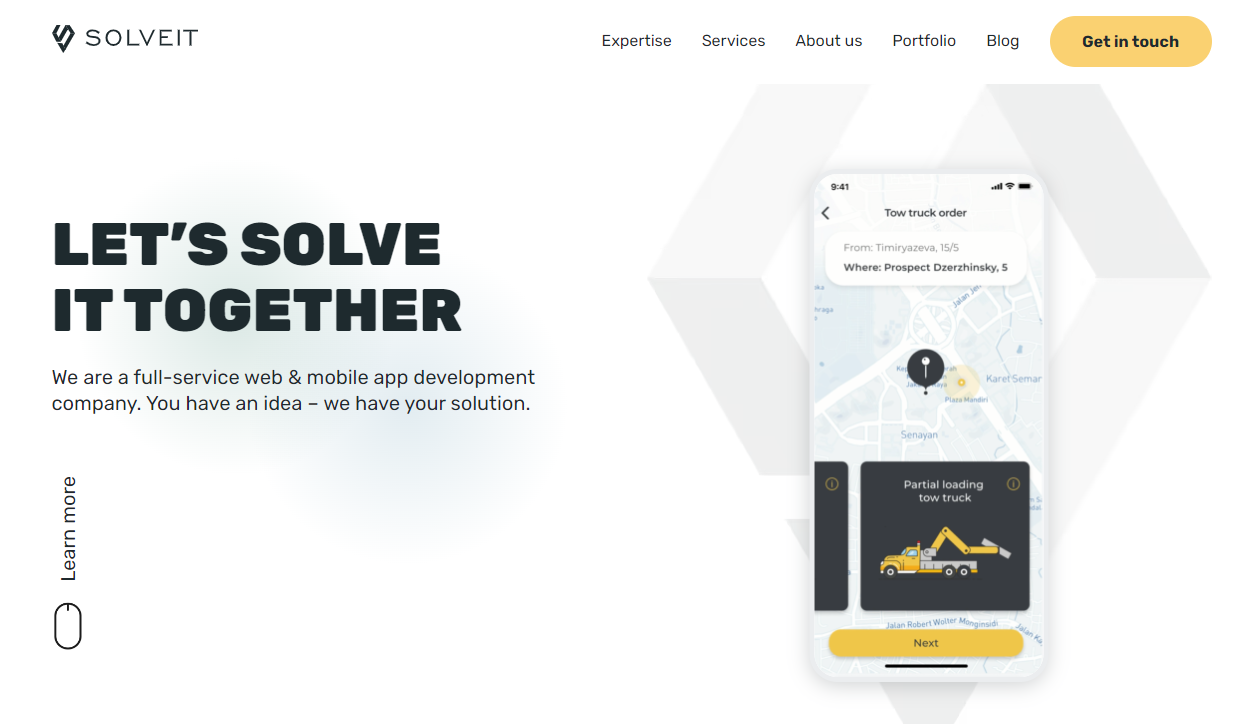 Source: SolveIt
Year Founded:
2016
Country of Origin:
Poland
Company Overview:
SolveIt is an IT solutions provider that services clients of different sizes. Most of the company's clients are startups and medium-scale businesses from Europe and North America.
Beyond e-commerce app development services, the company is also adept at technology consulting and audit.
Ecommerce app project:
The company has developed an ecommerce mobile app for Natural Health, an online eco-products store. The app's content is multilingual.
#4 Dinarys GmbH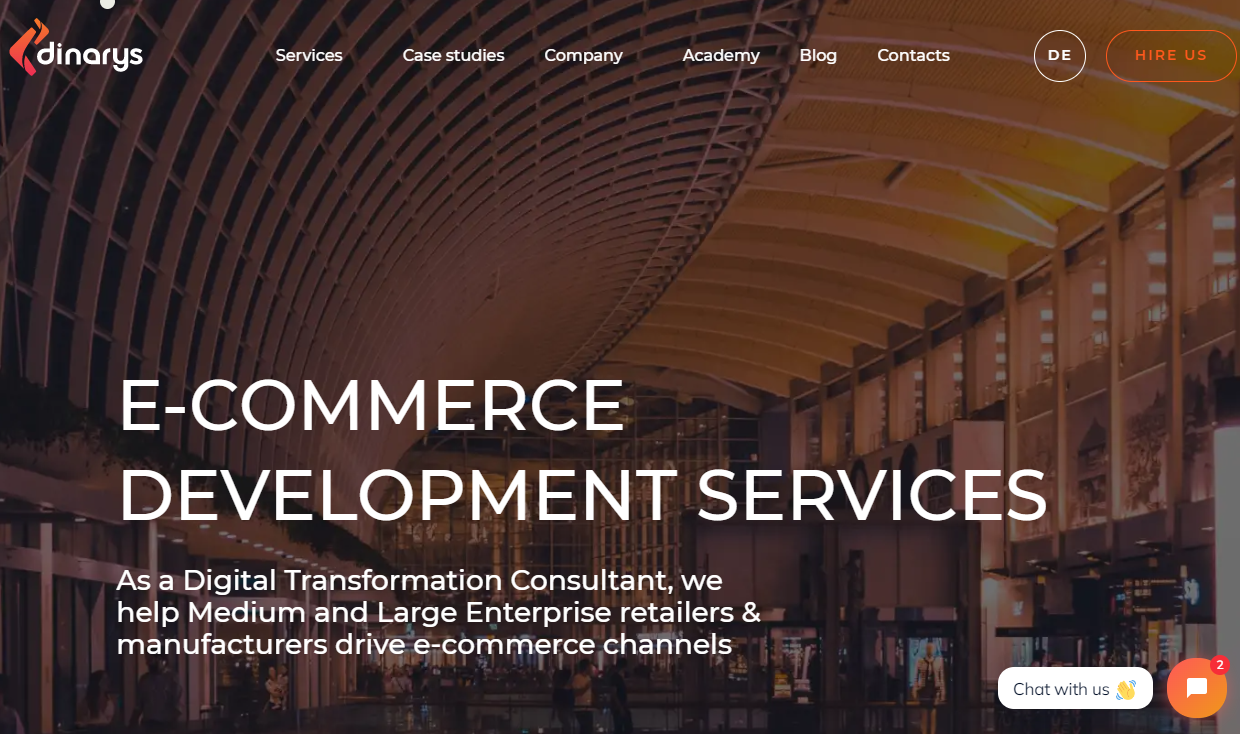 Source: Dinarys
Year Founded:
2014
Country of Origin:
Germany
Company Overview:
Dinarys is a digital agency that builds software solutions like websites and mobile applications. The agency also offers enterprise resource planning (ERP) integration and UX audit services.
Dinary's clientele includes medium-sized retailers and big brands.
Ecommerce app project:
The German ecommerce app development company developed a native app for Foxtrot. This application enabled the Ukrainian electronics retailer to grow its customer base.
#5 Ptolemay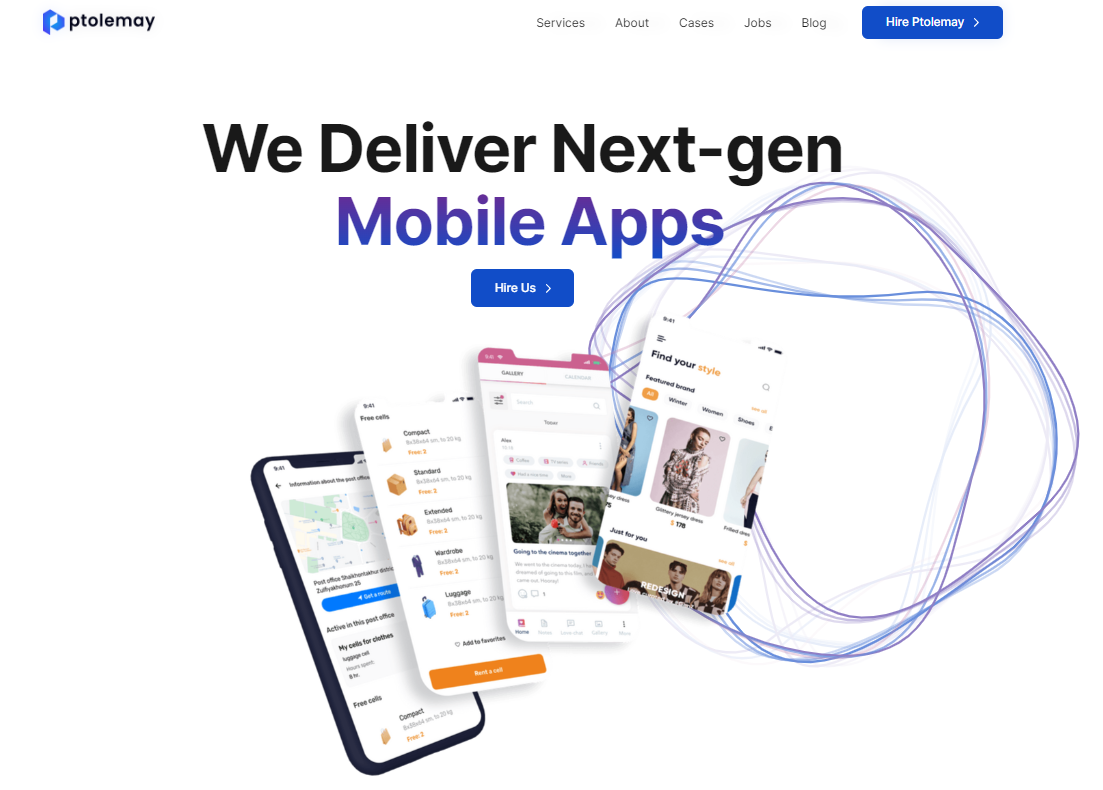 Source: Ptolemay
Year Founded:
2020
Country of Origin:
United States
Company Overview:
Ptolemay is a tech company that provides IT development and strategic consulting services.
This business also helps clients with projects involving the following:
Ecommerce app project:
Ptolemay has developed a mobile app for Sezane, an online shopping company. The app gives customers a more precise browsing experience and secure payment processing.
#6 Sombra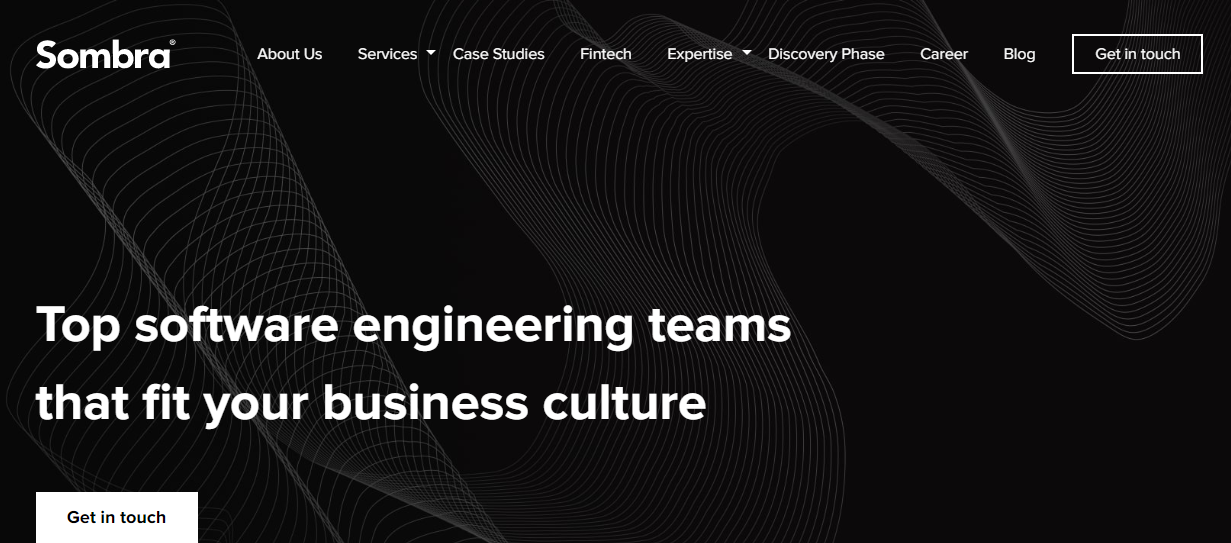 Dominate the App Store.
Get the latest industry news first.
Source: Sombra
Year Founded:
2013
Country of Origin:
Ukraine
Company Overview:
Sombra is a software development company that also offers business consultancy services.
On the tech side, it offers custom software development, product design, and quality assurance. Sombra also comes up with cloud computing solutions.
Consultancy-wise, the company provides human resource services that enhance client competitiveness.
Many of Sombra's clients are in North America and the United Kingdom.
Ecommerce app project:
Sombra's e-commerce solution has empowered a British startup to link merchants with lenders. This solution allows sellers to get paid in full at once, even if buyers pay in installments.
#7 Enozom Software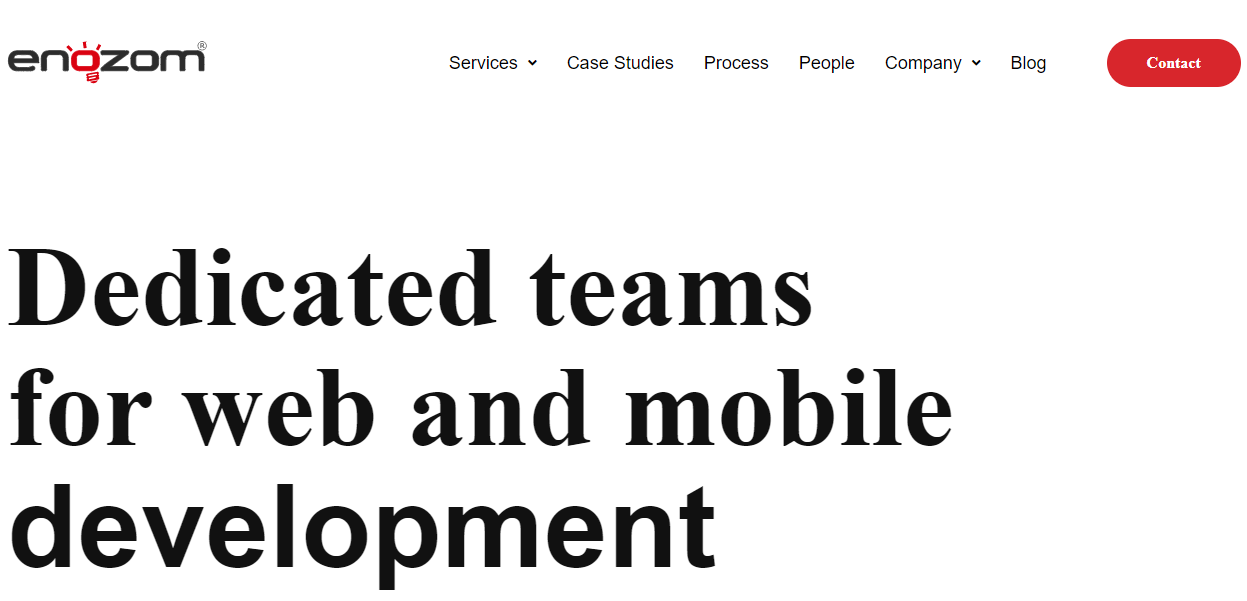 Source: Enozom Software
Year Founded:
2012
Country of Origin:
Egypt
Company Overview:
Enozom is an IT company that offers software development and consultancy services.
The company is involved with ecommerce mobile app development and building apps for other sectors like healthcare, construction, and finance. Aside from app development, the Egyptian tech firm is also into website development and UX design.
On the tech consultancy side, Enozom provides clients with end-to-end testers who check software quality and integrity.
The company's products and services reach the Middle Eastern, North American, and European markets.
Ecommerce app project:
Enozom was instrumental in providing a commercial venue for Middle Eastern artists through a website called Arab Art. Aspiring and acclaimed Arab painters can directly sell to a global audience through this platform.
#8 Softblues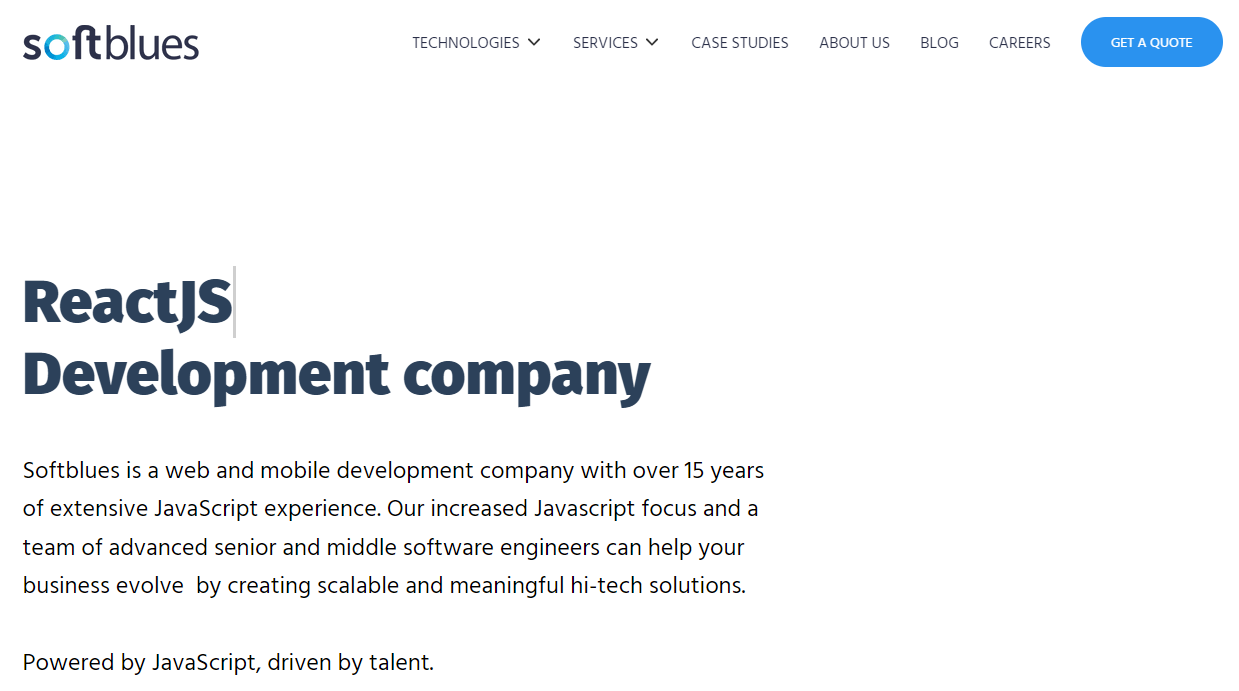 Source: Softblues
Year Founded:
2006
Country of Origin:
United Kingdom
Company Overview:
SoftBlues is an IT solutions company that provides software development and staff augmentation services. It has offices in North America and Europe.
The UK-based company has completed numerous projects for both startups and enterprise clients. Many of these projects involve web and mobile app development as well as business automation. SoftBlues' clientele includes businesses in the e-commerce and agritech sectors.
Aside from tech solutions, SoftBlues helps organizations find and onboard talent for their projects.
Ecommerce app project:
SoftBlues helped fashion retailer Virtusize size up its business performance and competitors through a data analytics solution.
#9 Codup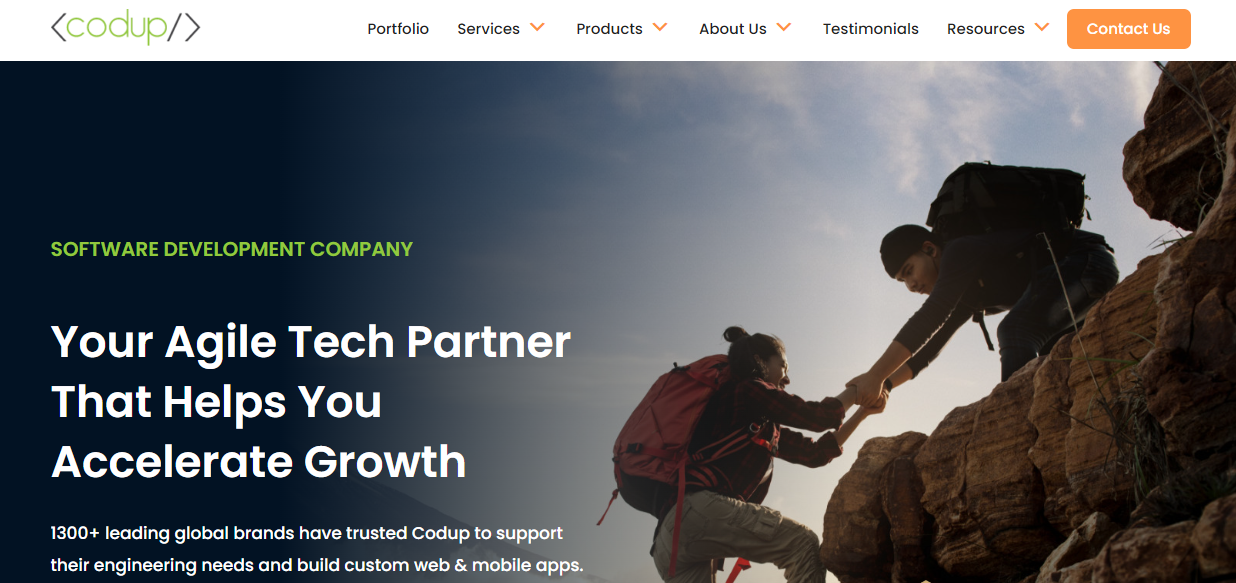 Source: Codup
Year Founded:
2012
Country of Origin:
Pakistan
Company Overview:
Codup is an award-winning tech company with a composite talent pool of tech personnel and business experts.
The Pakistani-founded company goes beyond providing ecommerce app development services. Through its in-house staff or outsourcing services, Codup helps clients achieve their business goals through:
Mobile and web app development
Digital transformation
Product development
Among the company's international clients are Unilever and Dyson.
Ecommerce app project:
Codup designed an inventory management system for online toy retailer Quadro. Through the tech company's unique solution, Quadro cut costs by efficiently allocating its boxes for shipping.
#10 RichestSoft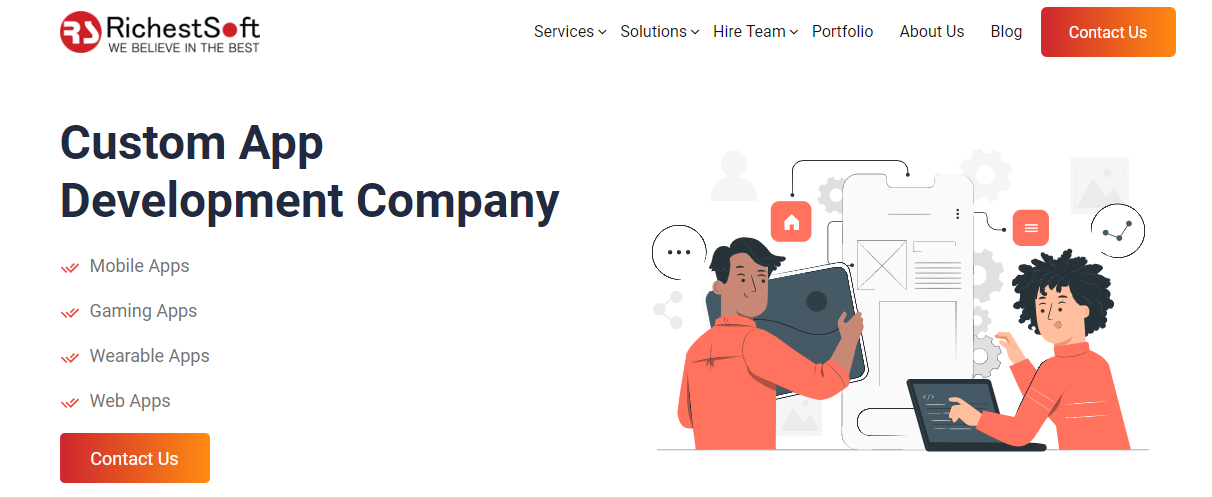 Source: RichestSoft
Year Founded:
2009
Country of Origin:
India
Company Overview:
RichestSoft is a digital services company that offers comprehensive business solutions to clients.
The tech firm implements blockchain and ecommerce solutions and creates web and mobile apps. Beyond product development, RichestSoft also delves into digital marketing to help clients gain brand exposure and increase conversion.
Ecommerce app project:
RichestSoft helped develop the USnaPP app, a multi-vendor marketplace solution. This piece of software has enabled multiple vendors in Nigeria to easily sell their products online using their smartphones.
The e-mazing world of ecommerce app development
The ecommerce software development companies that made it to our top ten list have the industry's most talented app experts.
What makes these tech firms amazing is they offer businesses the opportunity to focus on ideation and core operations and let go of much of the technicalities inherent in app development.
We at Appetiser also offer technical expertise in app development, plus something extra.
Our product strategy experts have transformed many ideas into successful apps that bring growth and positive impact. We have also been able to launch apps 50% faster than average thanks to our proprietary Appetiser Baseplate.
Whether you have a new ecommerce business idea that could beat Amazon or you simply want to scale your operations, contact us so we can talk about maximizing your success through high-quality web and mobile apps.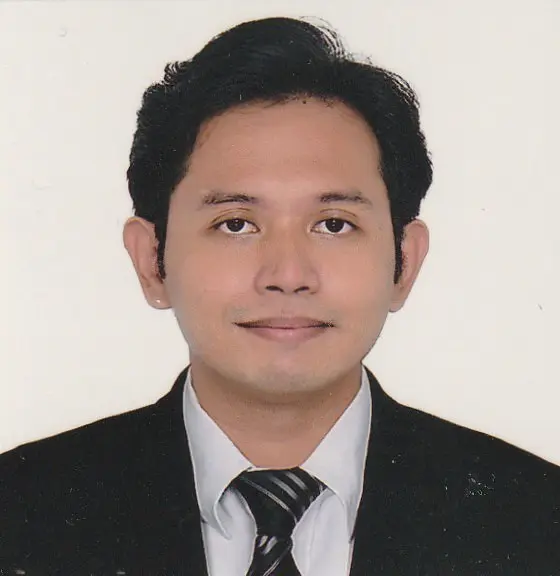 Jesus Carmelo Arguelles, aka Mel, is a Content Marketing Specialist by profession. Though he holds a bachelor's degree in business administration, he also took courses in fields like computer troubleshooting and data analytics. He also has a wealth of experience in content writing, marketing, education, and customer support. Outside office hours, he finds deep joy in reading, traveling, and photography.
Dominate the App Store.
Get the latest industry news first.