10+ Best Healthcare App Development Companies in 2023
The cream rises to the top, even during a cataclysmic event like COVID-19.
Not to relive this awful nightmare, but the pandemic has been instrumental in the giant leaps of the healthcare sector.
For instance, people broke free from the double chains of lockdowns and weak bodies through innovative fitness apps. On the other hand, many sick people could consult their doctors in the comfort of their homes through innovations in telehealth.
Many app development companies have devoted part of their resources to improving access to quality healthcare. These heroes of innovation have ensured the public stay happy and healthy despite grim realities like the pandemic.
The healthcare innovations of these companies are also valuable sources of inspiration for anyone seeking business ideas in this vital industry.
That is why we at Appetiser thought it appropriate to pay tribute to these companies. We have ranked them based on extensive research regarding their clients.
Let's dig in and get to know more about these businesses. But before that, let's first define a healthcare app development company.
What is a healthcare app development company?
A healthcare app development company is a duly-registered business that has, at some point, developed mobile apps that help people:
Get quick access to quality medicines or treatment
Effectively maintain the strength of their minds and bodies
One unique example of a healthcare app is Barbcare. This mobile application provides real-time updates to the relatives of aged care facility patients. You can read the Barbcare case study to learn how this app has changed the face of aged care.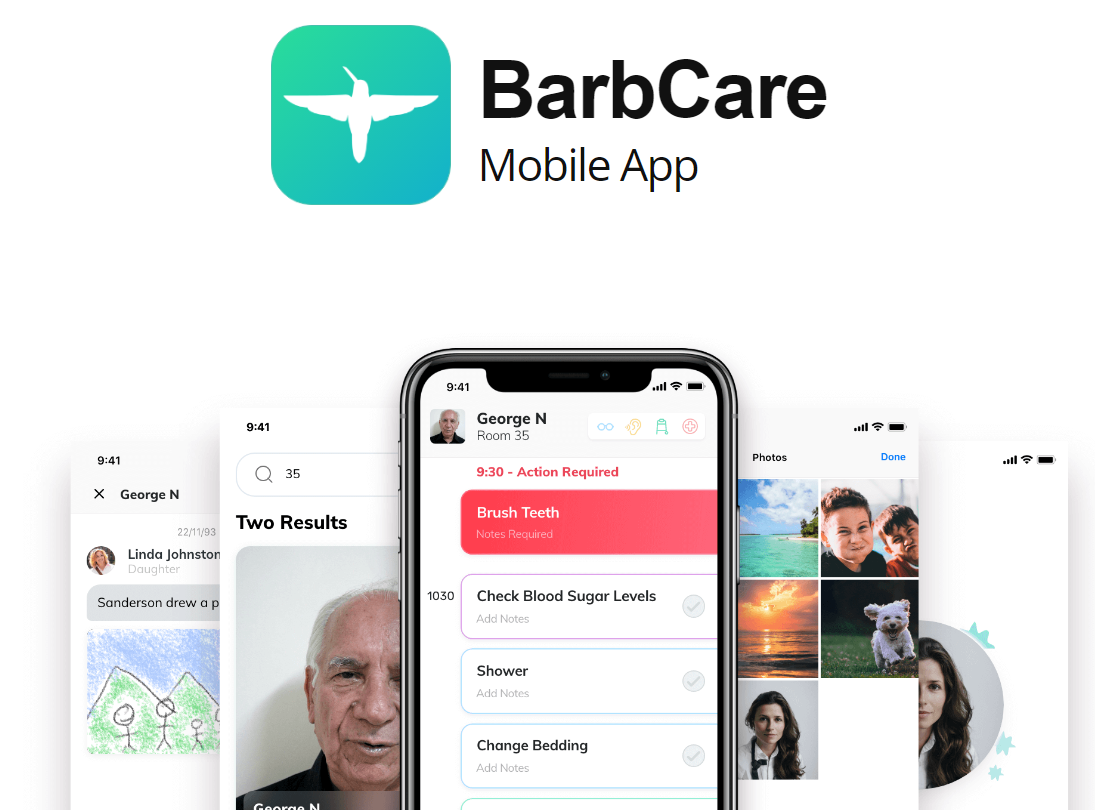 The 10 Most Highly Rated Healthcare App Development Companies in the World
Based on our extensive digging of client ratings and feedback, we have determined the ten most impactful health app companies and their key innovations in the healthcare sector.
Let's look at each one and see how they have changed how people stay healthy.
#1 Appetiser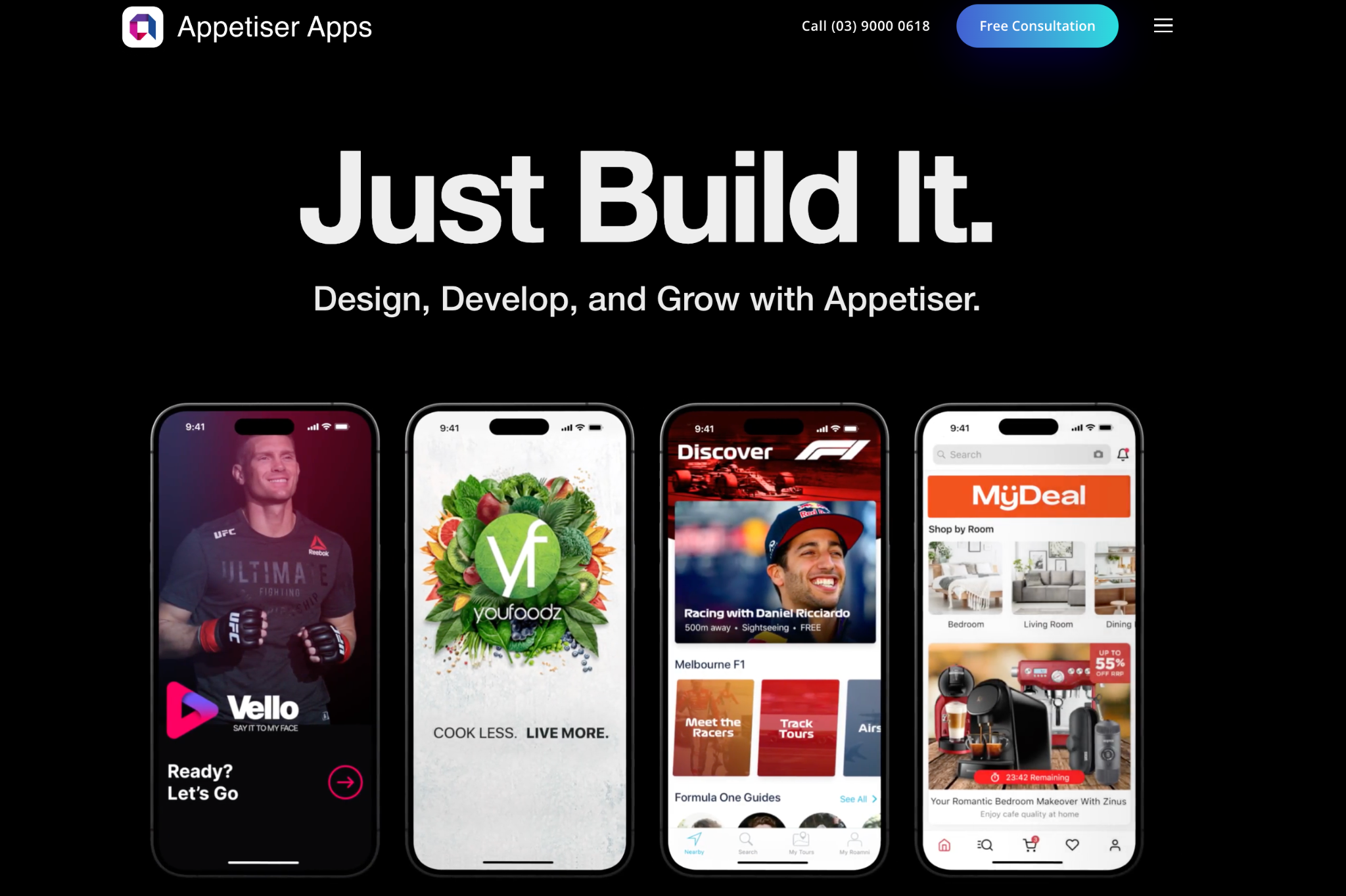 Year Founded:
2016
Country of Origin:
Australia
Company Overview:
Appetiser is an app development company that has helped build businesses that have earned a total of over $3.5 billion in revenues. The web and mobile applications developed by the company have garnered a little over 5 million downloads as of writing.
The success of the company comes from the synergy of technically-competent developers AND product strategists. These product success experts ensure that individual and corporate clients get all the support they need to bring their apps to market successfully. Aside from these, the Appetiser Baseplate, a cost-effective way of building apps, enables the company to launch apps into the open market 50% faster than average.
This holistic approach to client success has been instrumental in Appetiser's earning of Australia's top mobile app developer award from Clutch, a highly-respected rating platform. The app development company has enjoyed this honor for two years in a row. Appetiser has also garnered accolades from DesignRush, placing it among the world's ten most excellent app designers.
Appetiser was established by two Australian visionaries who are at the top of their games in both marketing and app development. Jamie Shostak and Michael MacRae's passion and complementary skills have enabled Appetiser to make an impact in the app development industry and help those in need.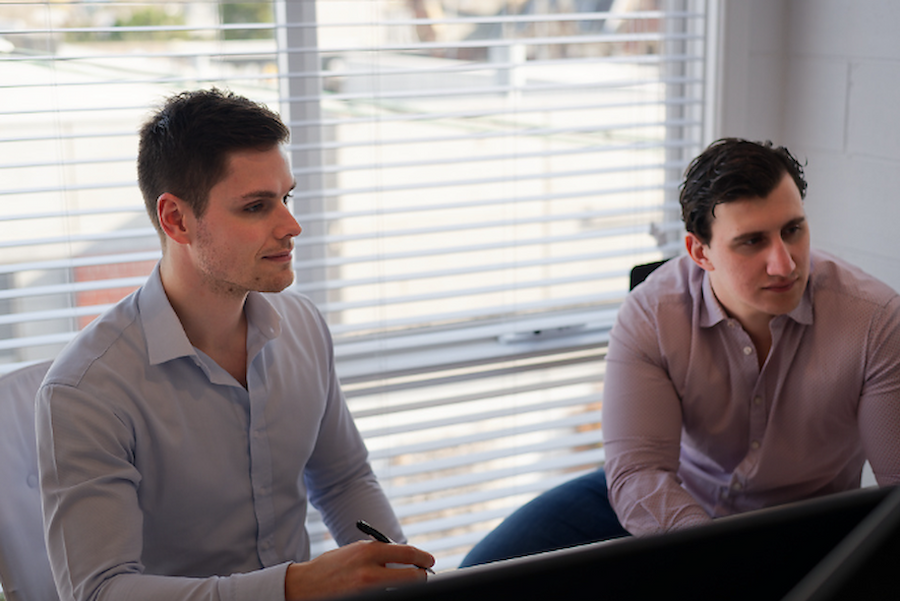 Source: RMIT University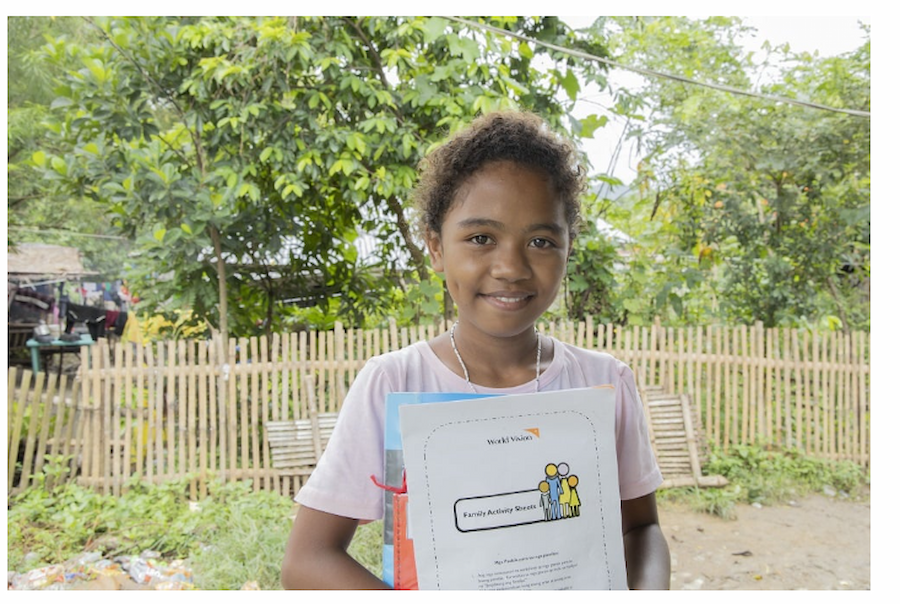 Healthcare app project:
Aside from Barbcare, Appetiser also created an app called EvrSo. Part social network, part mobile health app, EvrSo fosters an inspiring community of people who want to live healthily. To learn more, read the case study on how EvrSo helps people motivate each other to pursue wholesome goals.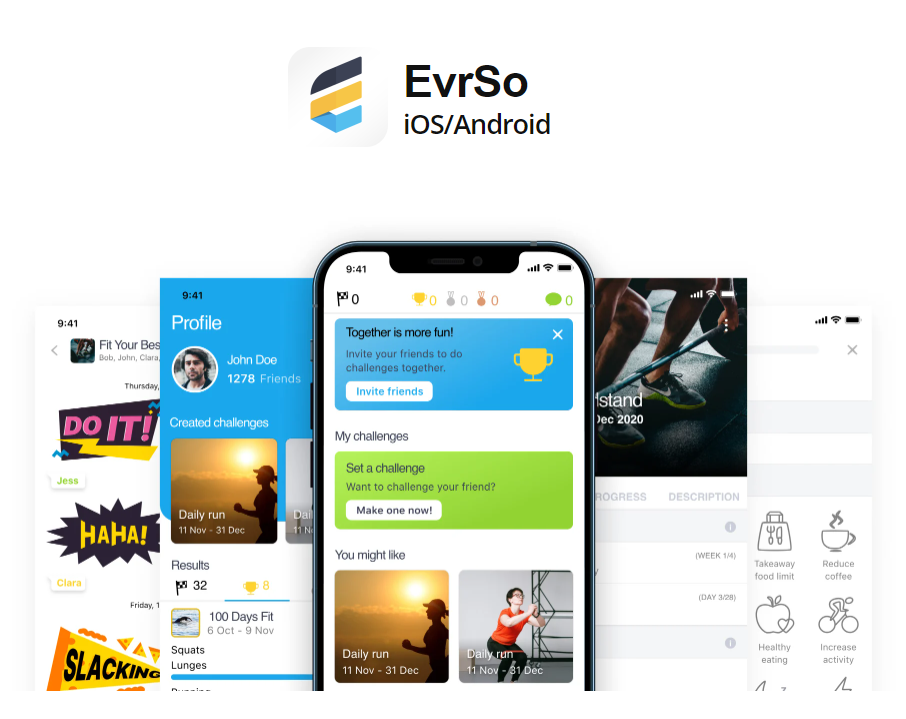 #2 Atta Systems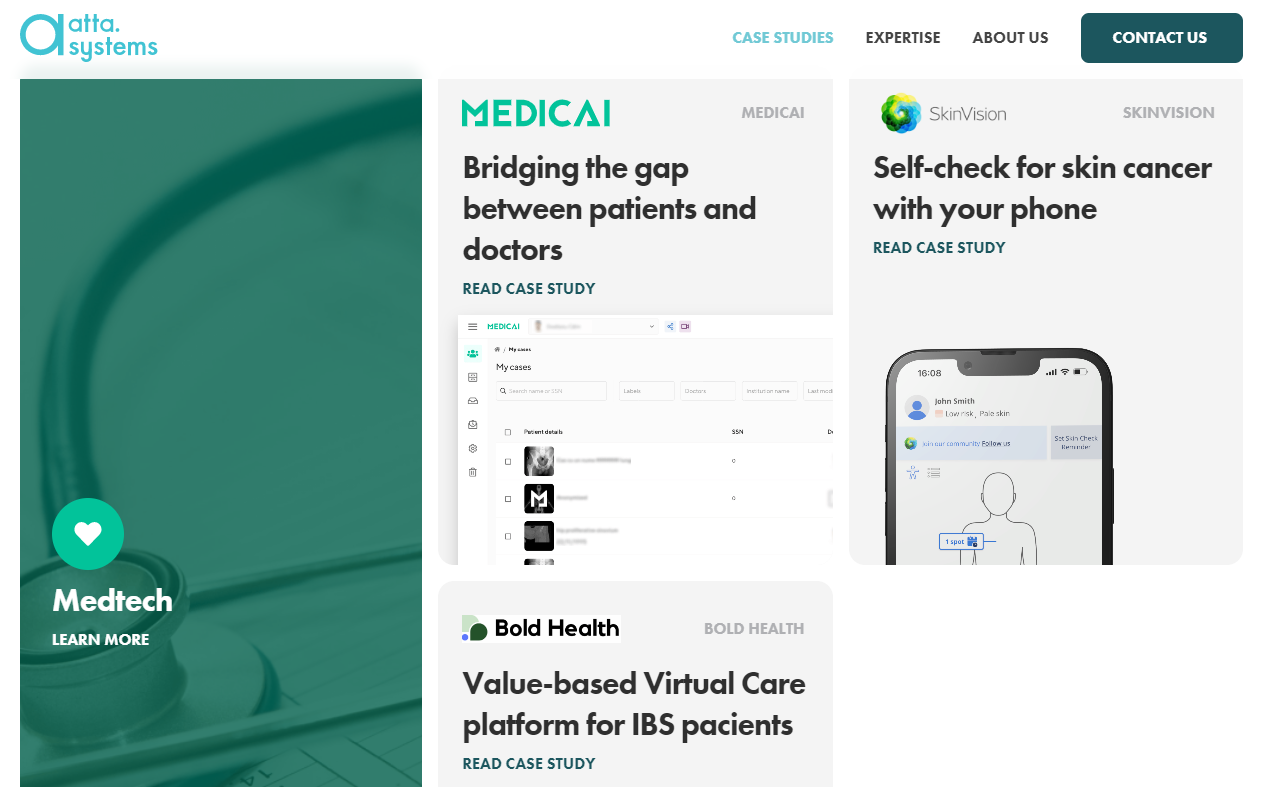 Source: Atta Systems
Year Founded:
2015
Country of Origin:
Romania
Company Overview:
Atta Systems has enjoyed high ratings from clients worldwide, placing it among the world's top healthcare app developers.
The Eastern European company has helped design and develop educational and media apps, as well as applications for the healthcare industry.
Healthcare app project:
Among Atta Systems' most notable innovations in this space is its app for Medicai. This healthcare business leverages artificial intelligence for medical image processing.
#3 Exyte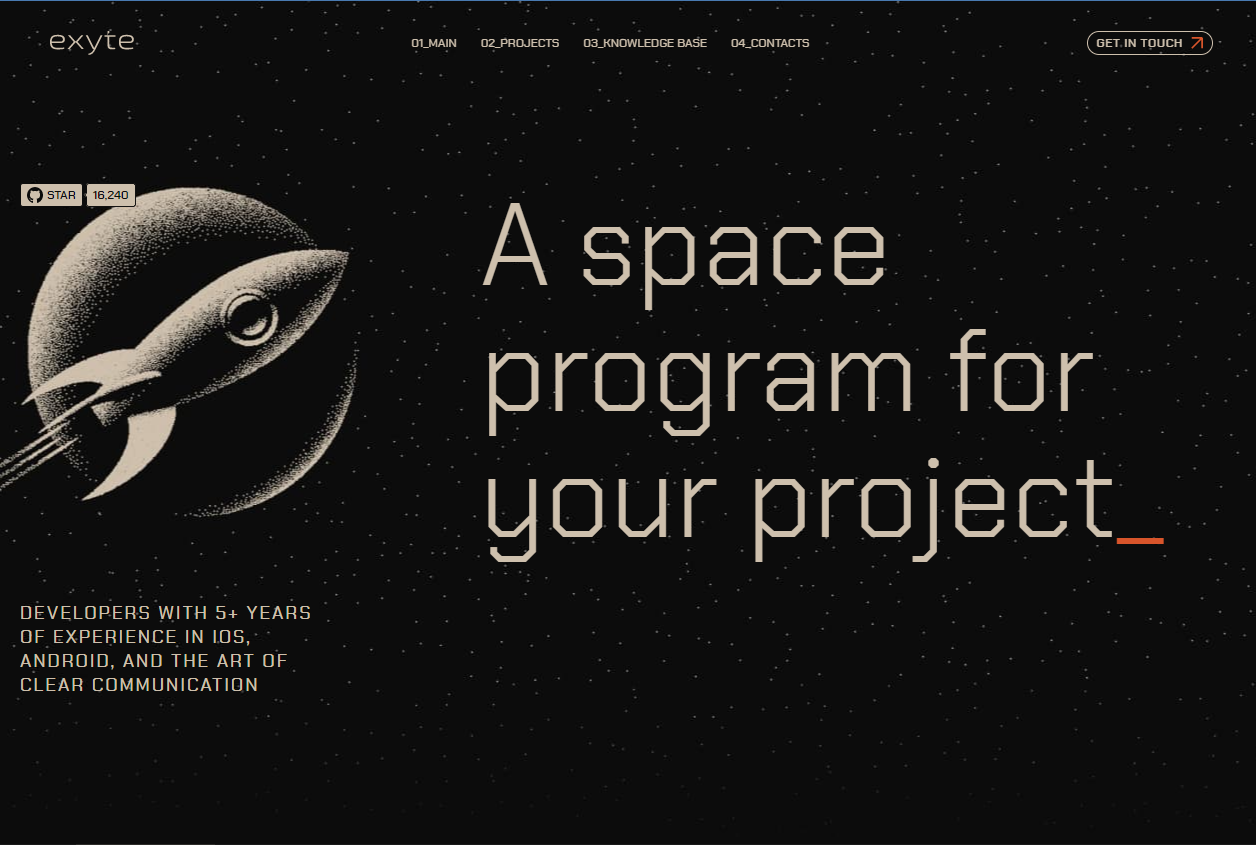 Source: Exyte
Year Founded:
2014
Country of Origin:
United States
Company Overview:
Exyte is an American tech company that has produced healthcare apps, as well as applications for education and financial services.
The company has completed more than 50 projects involving app development, augmented reality, and blockchain.
Healthcare app project:
Among the many healthcare apps this company has developed is GuruPrepCoach. This app helps people stay fit and eat healthy through direct communication with expert coaches.
#4 MindSea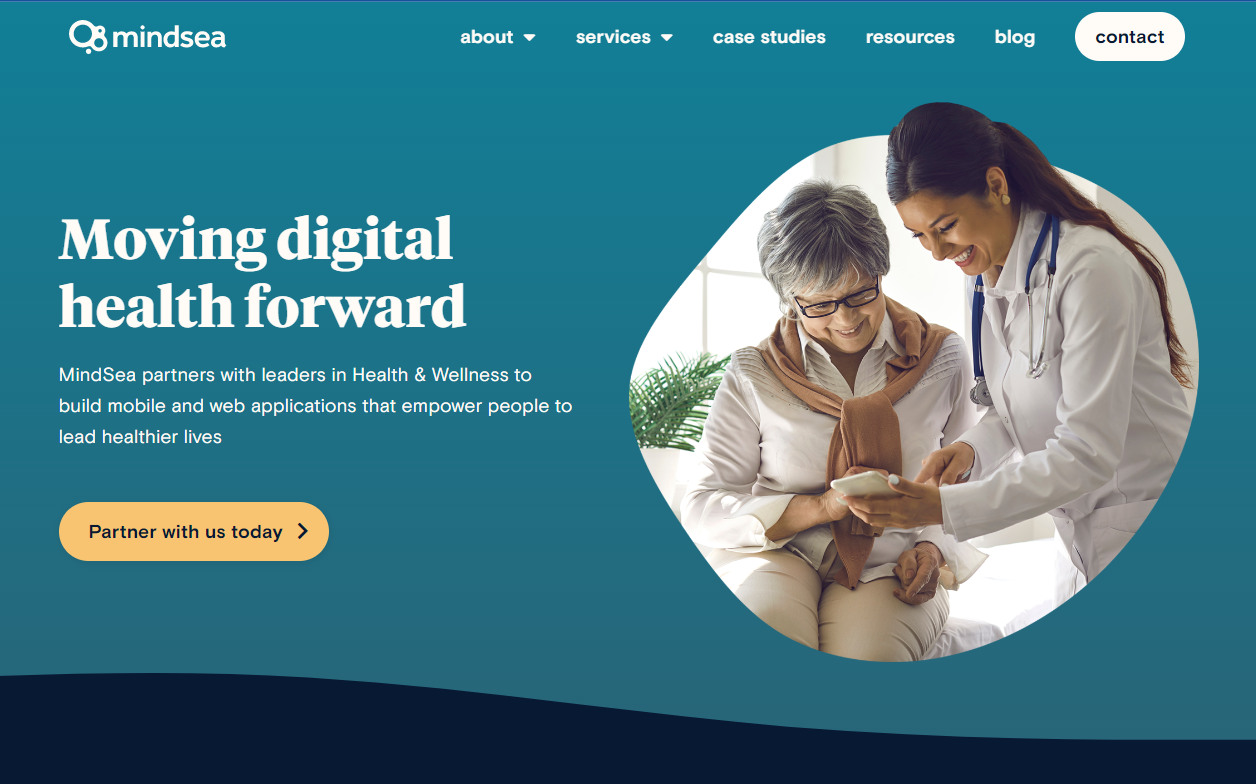 Source: MindSea
Year Founded:
2007
Country of Origin:
Canada
Company Overview:
Digital solutions provider MindSea has worked in various tech fields. UI/UX design and research, mobile and web app development, and server deployment are among the company's diverse offerings.
The company also prides itself in being HIPAA compliant, ensuring the security of its app users' medical records. MindSea also adheres to other international data privacy laws.
Healthcare app project:
One of MindSea's unique software development projects is PsychScope. The mobile app helps its users combat depression through gamification and quality resources.
#5 Apzumi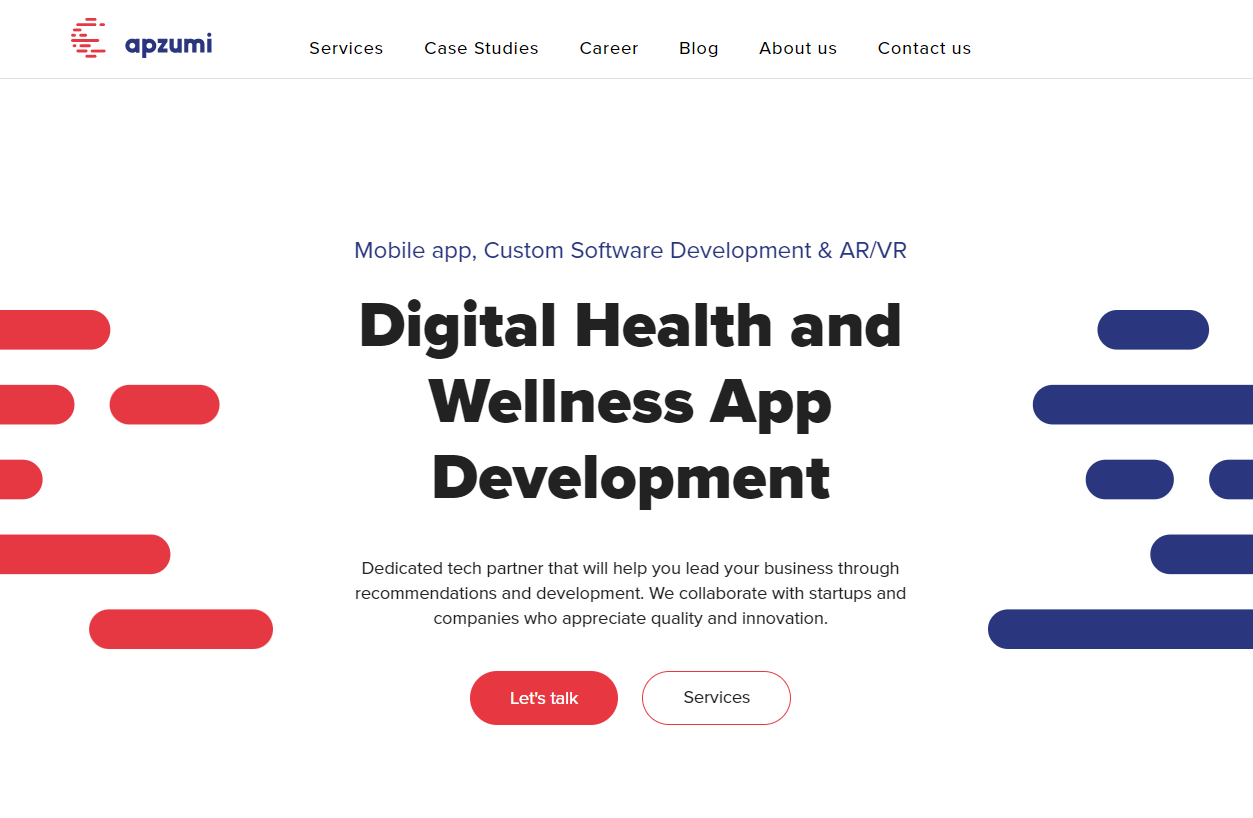 Source: Apzumi
Year Founded:
2013
Country of Origin:
Poland
Company Overview:
Tech company Apzumi has a diverse client portfolio comprising European international agencies, American universities, and German automakers. It has also helped develop apps for small businesses.
Dominate the App Store.
Get the latest industry news first.
Aside from mobile app development, Apzumi offers augmented reality (AR) and virtual reality (VR) solutions.
Healthcare app project:
As far as mobile health applications go, Apzumi's Truemedic app is probably among the most innovative. The application can control medical devices and collect data from them.
#6 Launchpad App Development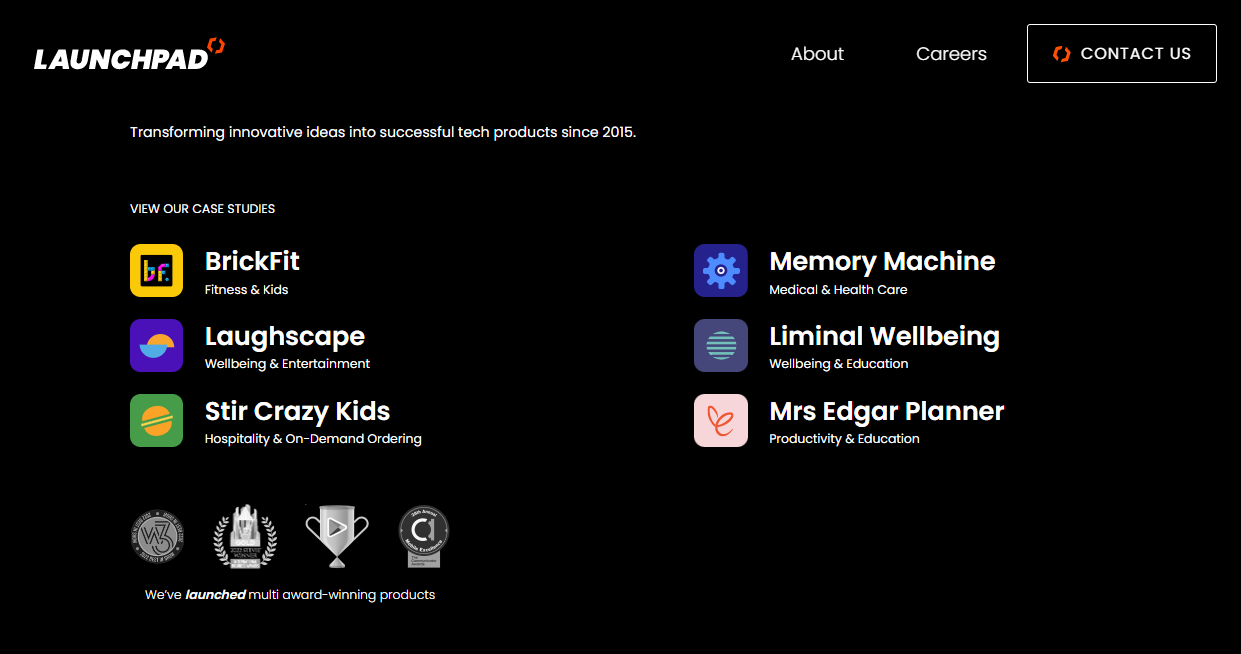 Source: Launchpadapps.co
Year Founded:
2015
Country of Origin:
Australia
Company Overview:
Launchpad is another Australian tech company that has been the launching pad of many successful healthcare apps. The likes of Google and the Daily Telegraph have also noted the company's education, entertainment, and hospitality apps.
This healthcare mobile app development company has produced unconventional apps like Laughscape. This software solution leverages the talent of comedic entertainers to help people relax and sleep.
Speaking of entertainers, one of our clients is particularly passionate about making celebrities more reachable. Check out our case study to learn how Vello connects fans with their idols through direct messaging and other unique methods.
Healthcare app project:
To help address childhood obesity, Launchpad helped BrickFit launch an app that rewards children with Lego build instructions after completing prescribed physical activities.
#7 BeKey LLC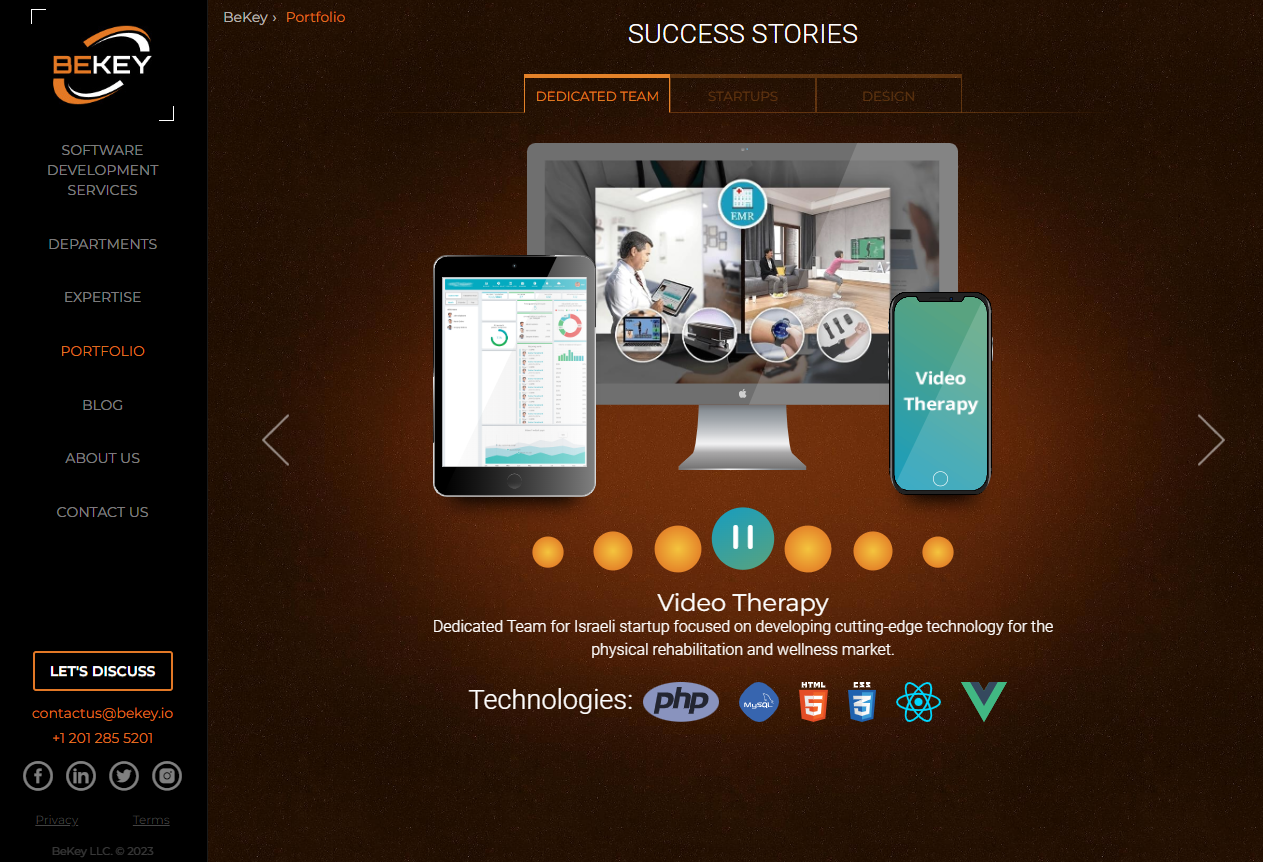 Source: BeKey.io
Year Founded:
2016
Country of Origin:
Israel
Company Overview:
BeKey is a digital solutions provider that goes beyond mobile app development for healthcare. The company also prides itself on providing round-the-clock cybersecurity services to protect its clients' data and IT infrastructure.
The Israeli tech company has also delved into fields like e-commerce, digital marketing, the Internet of Things, and business automation.
Healthcare app project:
BeKey's status as a premier medical app development company is partly cemented by its work with a client called Video Therapy. Through BeKey's hardware and software integrations, the startup has empowered healthcare professionals to improve the health outcomes of patients who are far away.
#8 Neoteric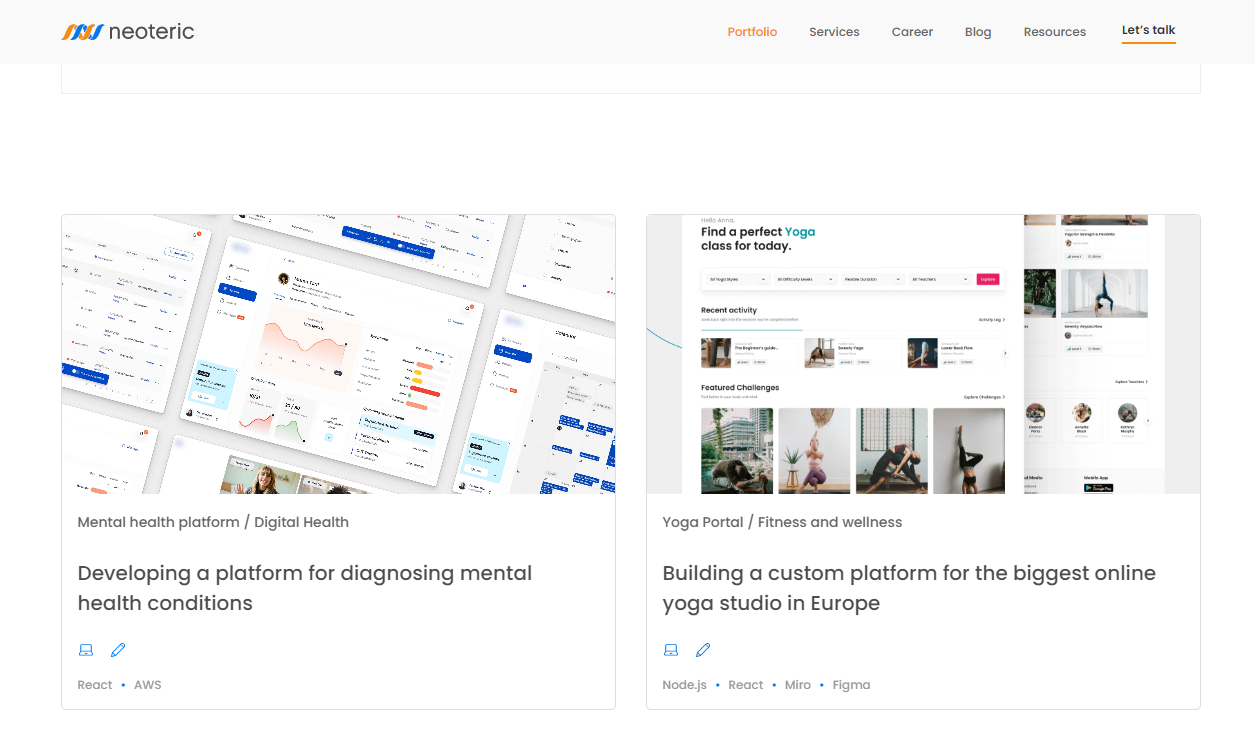 Source: Neoteric.eu
Year Founded:
2005
Country of Origin:
Poland
Company Overview:
Tech company Neoteric has delved into industries other than healthcare app development services. The company also offers digital transformation, workflow analysis, and web app development solutions.
Many of the company's projects have been funded by the European Union. Neoteric also counts the World Bank as one of its clients.
Healthcare app project:
Portal Yogi is one of the many yoga communities that moved online due to the pandemic. Neoteric was able to help the community set up an online platform where members can attend classes on yoga, pilates, and meditation.
#9 Softermii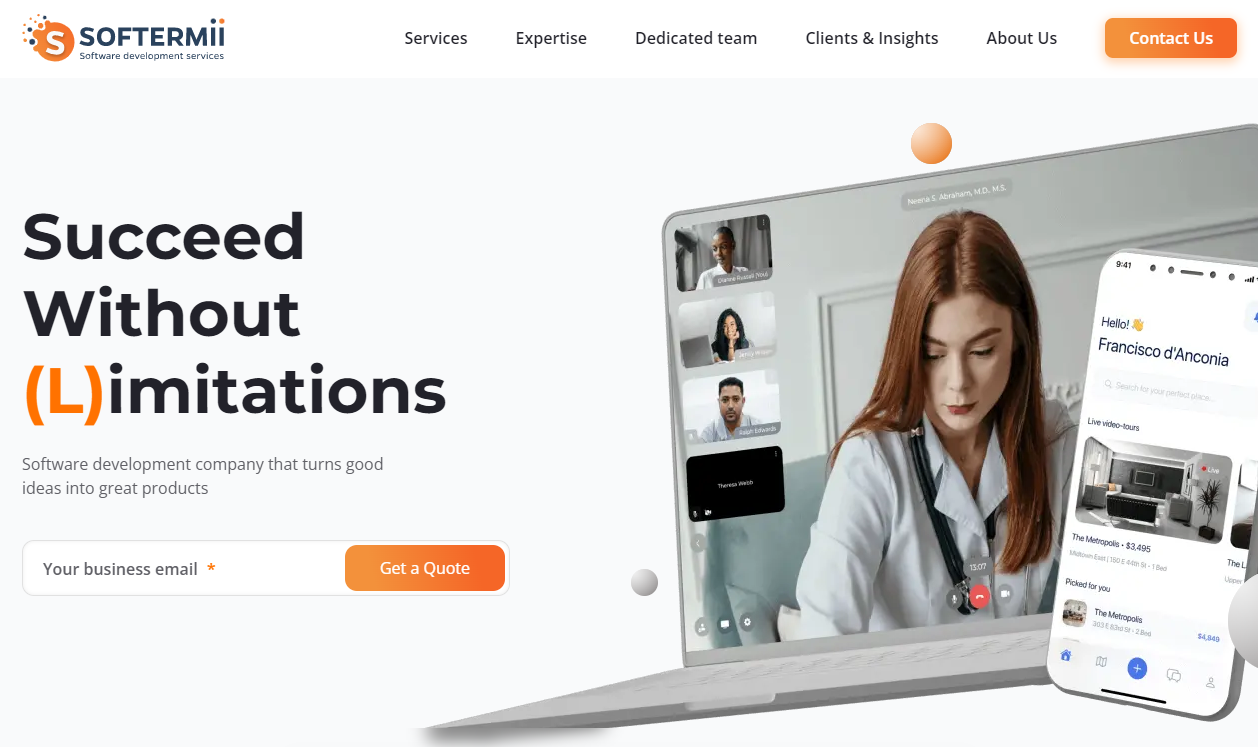 Source: Softermii
Year Founded:
2014
Country of Origin:
United States
Company Overview:
Softermii is a California-based company that mostly services clients with large-scale projects. As of writing, the company does not focus as much on small business endeavors.
This American tech business develops medical apps for healthcare organizations. It could also build websites, provide cybersecurity services, and create mobile apps.
Softermii could build apps from scratch or improve existing ones, much like what we did for our client Grill'd. Discover how we turned the restaurant chain's app from 1-star to 99.9% crash-free by reading our case study.
Healthcare app project:
Softermii developed the MediConnect app to connect two groups via a mobile app: healthcare professionals and medical product companies.
Through a phone-based interface, doctors don't have to do much independent research to find products like medical devices, patient analytics tools, etc.
#10 Deligence Technologies Inc.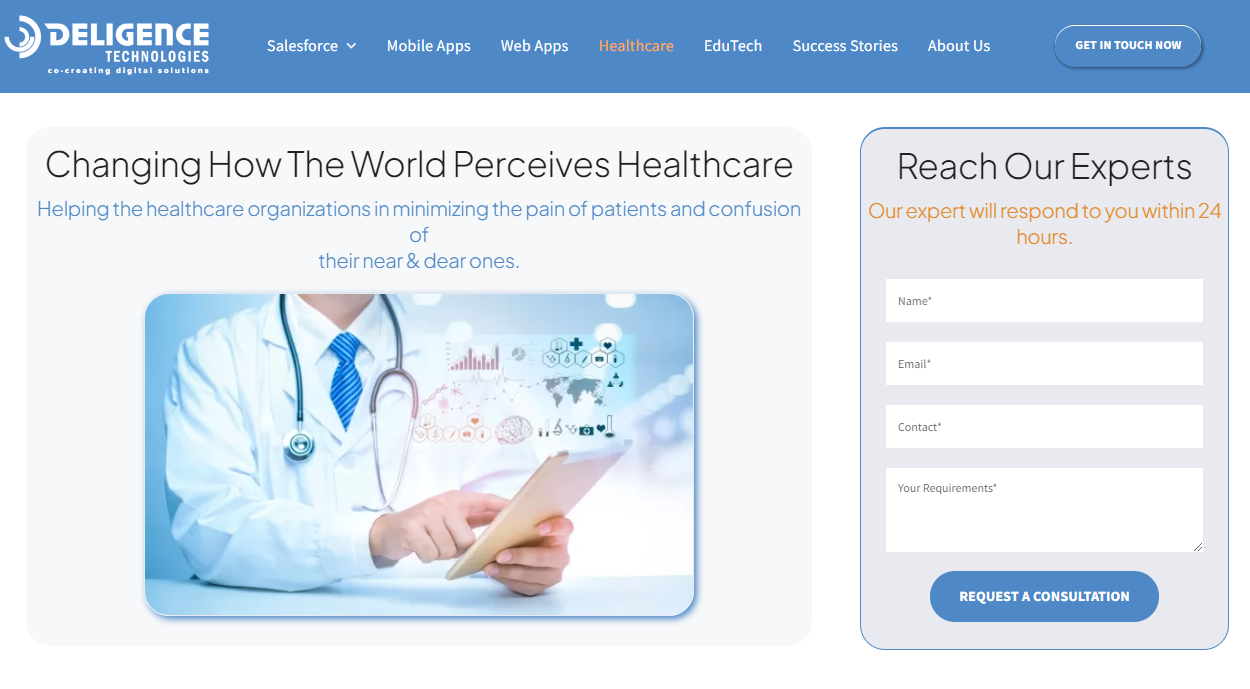 Source: Deligence.com
Year Founded:
2014
Country of Origin:
India
Company Overview:
Deligence is slightly different from other medical app developers due to its diversity of industries and workplace culture. Aside from developing software for healthcare, the company also builds apps for customer relationship management and educational technology.
The Indian company prides itself on its Great Place to Work certification, a sign of positive company culture.
We also have a similarly empowering work environment. Check out this article on how Appetiser pampers its employees with awesome perks to learn more.
Healthcare app project:
One of Deligence's most innovative healthcare apps is Cure-o-Tour. This web application helps people needing treatment find reasonably-priced medical care from healthcare providers across the globe.
Health is wealth
Aside from the traditional meaning of this age-old saying, these three words could also mean there is wealth in healthcare. The top companies that developed apps in this space have become wealthy in many ways. They have earned millions from their groundbreaking projects and enabled millions to stay sound in mind and body.
That is why whether your dream is to make millions or help millions, developing apps is one of the best ways you could proceed.
And don't worry if you don't have the technical know-how. We've got that covered, along with expertise in marketing and other app business matters. Our product strategists have empowered our clients to move from zero to multimillion relatively quickly.
In life, it's healthy to ask questions. Often, it's also free. So book us for a free consultation. Let's have a healthy conversation about how you can use apps to reach your goals.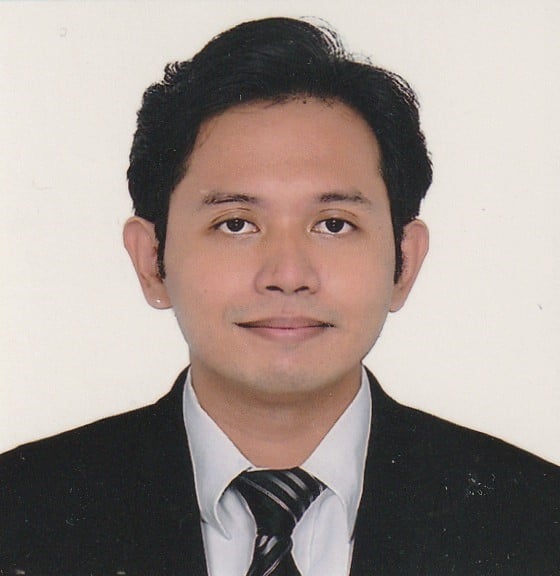 Jesus Carmelo Arguelles, aka Mel, is a Content Marketing Specialist by profession. Though he holds a bachelor's degree in business administration, he also took courses in fields like computer troubleshooting and data analytics. He also has a wealth of experience in content writing, marketing, education, and customer support. Outside office hours, he finds deep joy in reading, traveling, and photography.
Dominate the App Store.
Get the latest industry news first.