Facebook Provides More Data Transparency for Users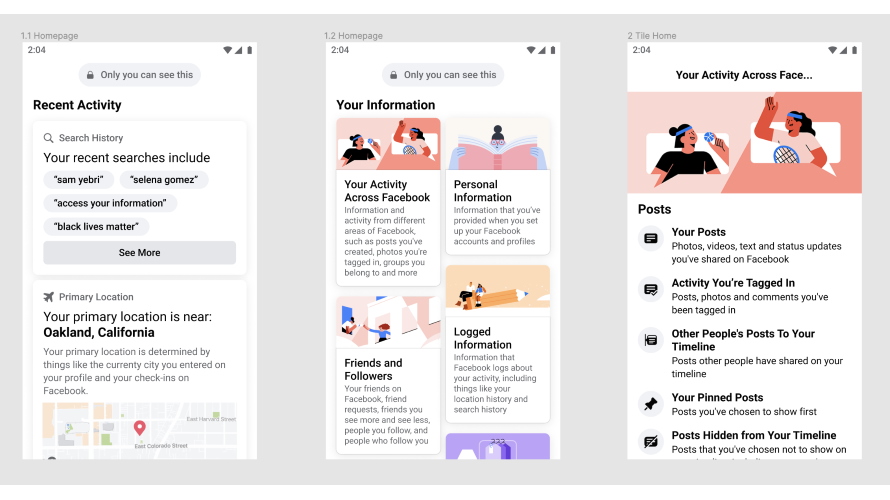 Facebook rolls out an updated version of its "Access Your Information" tool to make it easier to navigate as well as to provide transparency about the user data Facebook collects.
This launch comes fresh off the news about the decline of Whatsapp users due to changes in the messaging app's privacy terms. Users were informed via an in-app notification that certain data points such as the user's profile status and login activity will be shared with third parties like Facebook, primarily for ad targeting. Users will have but to approve this or lose Whatsapp by February 8 this year.
Before the update, the "Access Your Information" tool only provided two general categories of data, "Your Information" and "Information About You." The updated version is more granular and breaks down user information into eight categories:
Your Activity Across Facebook
Friends and Followers
Preferences
Personal Information
Logged Information
Ads Information
Apps and Websites Off Of Facebook
Security and Login Information
Within these eight categories, users can drill down to even more specific subcategories. Facebook even added a search feature to make it easy to find specific information. For example, you can simply type in the word "location" to reveal your check-in history on Facebook.
The tool also has links to download your historical information, or completely delete any information you don't want Facebook to track.
This change is part of Facebook's campaign to combat Apple's IDFA update. With more advanced transparency tools, the social media giant hopes to ease worries about the data it collects so that Facebook users won't switch off data tracking.
The new tool is available today on iOS and Android, with an expansion to other platforms to come.
Article originally appeared on Techcrunch
The header image is from Facebook
Dominate the App Store.
Get the latest industry news first.