How to Find App Developers: 5 Green Flags to Look for in a Potential Development Partner
Having a powerful and user-friendly web or mobile app is among the key ingredients for business success in today's digital and data-driven world. With internet users increasing rapidly, access to these digital technologies empowers brands with an exponential competitive advantage.
Take a look at the following data.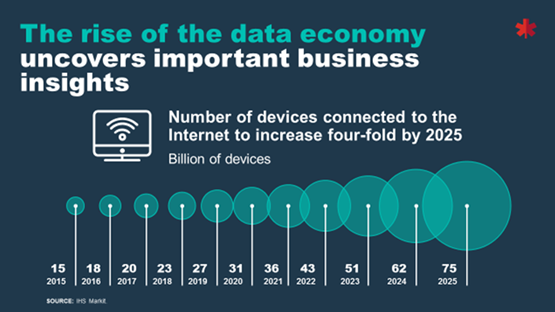 Source: BDC
However, the journey from ideation to a quality, UX-centric app requires the expertise and skills of a reliable web or mobile app development partner. Choosing the right team can be a make-or-break decision for your project.
With so many options available, it's crucial to identify the green flags that signify a potential development partner's competence, commitment, and compatibility with your goals.
In this blog post, I will explore five essential green flags to look for when searching for app developers. These indicators will help you separate outstanding developers from the average, ensuring you embark on a fruitful and rewarding collaboration.
So, if you're ready to discover the qualities that set exceptional app developers apart, fasten your seatbelt and dive into the world of finding the perfect development partner for your app project.
Find App Developer: 5 Best Traits to Spot When Hiring App Developers
Looking to partner with the best app developers? Whether you're considering collaborating with full-time or freelance app developers, take some time to assess if they have the following traits:
#1 Efficient and client-focused development approach
How your web app or mobile app developer approaches development can significantly impact the success of your project.
When searching for an app developer, looking for professionals who adopt an efficient development approach that centers on your needs and goals is crucial. This approach emphasizes the importance of delivering high-quality apps within agreed timelines while prioritizing your needs and satisfaction.
At Appetiser, our approach to design and development is centered on providing flexibility without locking our clients into any commitments. We follow the Kanban development process, which allows us to develop features and functionalities that directly contribute to achieving a more effective and purposeful app.
Kanban is an agile methodology that has gained popularity in the software development industry for its flexibility, adaptability, and iterative nature. It also promotes collaboration and transparency between the developer and the client, fostering a more dynamic and efficient process. It involves:
Sprints. We break down your project into smaller, manageable tasks known as sprints, allowing for continuous improvement and feedback. This iterative approach enables our app developers to quickly adapt to changing requirements, address issues promptly, and make adjustments as needed.
Rapid prototyping and user feedback. Our web and mobile app developers understand the value of creating prototypes or minimum viable products (MVPs) early in development. This allows for testing and gathering user feedback, ensuring that the final app meets the needs and expectations of your target audience.
Continuous improvement and iteration. Instead of waiting until the end of the development cycle to assess the app's viability, our developers consistently evaluate our web and mobile app development projects' progress, functionality, and user experience.
They make incremental improvements and address any issues or bottlenecks encountered along the way. This iterative approach minimizes the risk of project failure and allows for more efficient resource allocation, ultimately leading to a higher-quality end product.
I encourage you to also check out this comprehensive guide to our app development process to learn more about how we ensure project success at Appetiser.
#2 Impressive client success stories and testimonials
Research is crucial when looking for app developers. It empowers you with valuable information about potential app developers, including their expertise, experience, portfolio, and client testimonials.
By delving into their past web or mobile app development projects, you can assess the quality of their work and determine if they have relevant experience in building apps similar to your envisioned product. This step helps you gauge their capabilities and ensures they possess the technical skills to bring your app idea to life.
To evaluate the reputation and credibility of app developers, explore their online presence, such as their website, social media platforms, and online reviews. Look for indications of their reliability, commitment to deadlines, and ability to communicate effectively throughout the development lifecycle.
A web or mobile app development company that has produced apps with millions of users, and generated billions of revenue is a great indicator of a reliable partner.
How does Appetiser fare in this area? Here are some stats reflecting our clients' success so far:
👩🏻‍💻 11.5m million users
💰 $3.5bn in startup valuations
💁🏻 1 in 10 Australians has experienced our clients' tech
🏦 $20m+ in capital raised by our clients
If you want to know how you can be among our satisfied and successful clients, hit us up for a free consultation.
#3 Top-notch talents, technical expertise, and experience
When it comes to app development, technical expertise is paramount. Hire app developers with proficiency in the programming languages and frameworks required for your app development project.
Dominate the App Store.
Get the latest industry news first.
Consider their experience with relevant technologies and platforms, ensuring they are up-to-date with industry trends. Also, take some time to assess their human resources.
At Appetiser, we take pride in having the most exceptional engineering talent worldwide — belonging to the global top 1%. Our team comprises individuals who have previously worked at renowned companies like Samsung, Google, and Apple. We also have product managers who were founding members of thriving startups and successful Silicon Valley entrepreneurs.
While some developers may be modest about their achievements, our team boasts an impressive track record with over 11 technical patents. We have also been recognized by reputable organizations in our industry, including:
🏅 Clutch: Top Australian App Design Company (2 years in a row!)
🏅 UpLabs: #1 designer in Australia; #7 in the world, no other AU company in the top 100
🏅 Design Rush: #4 app design agency in the world 2019
#4 Excellent communication and collaboration skills
Effective communication and collaboration are key factors in the success of any app development project. Look for responsive developers who are clear in their communication and ability to understand your project requirements.
Conduct interviews to evaluate their technical and soft skills. Ask questions about their project management methodologies, preferred communication channels, and their ability to work collaboratively with your team.
A developer who can effectively communicate and collaborate will ensure a smoother development process. Take it from MUCUDU, a unique social app made by and for the people in the hospitality industry.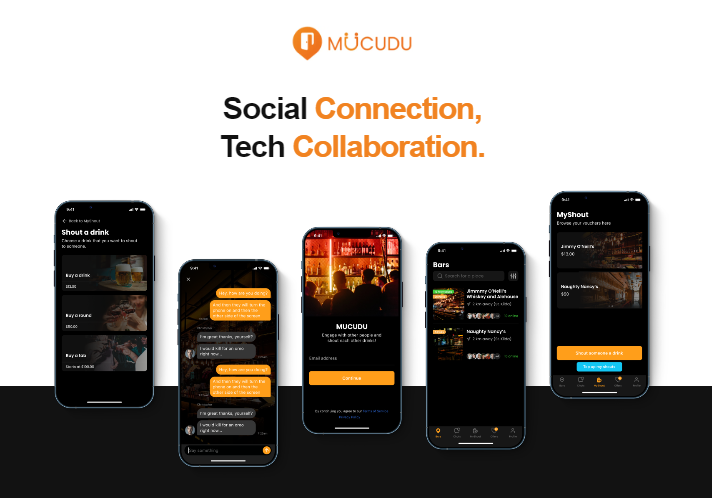 The app's founders lacked a technical background, and upon initiating this project, they quickly recognized the necessity of seeking Appetiser's expert assistance. At every juncture of our partnership, teamwork and open communication were pivotal in propelling the project forward.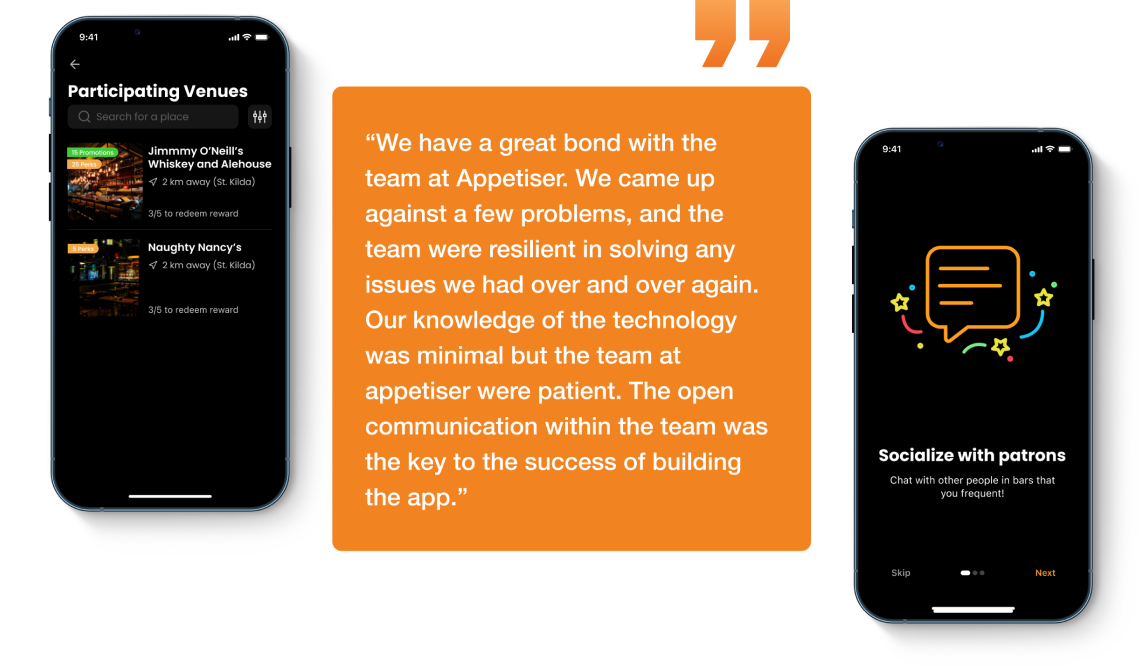 The result? A startup app that has generated 1,000 early adopters and enjoyed sustained quarterly revenue growth. MUCUDU also gained exciting partnerships — including Australia's giant beverage brand, LION.
Read MUCUDU's case study to learn more about their journey to app success.
#5 Growth-focused company culture
When seeking an app developer, it is advantageous to prioritize organizations that possess a growth-focused company culture. These are providers that foster continuous improvement, innovation, and professional development.
A growth-focused company culture encourages employees to explore new ideas, take calculated risks, and learn from successes and failures. It cultivates an environment where individuals are motivated to expand their skill sets, tackle challenges, and adapt to changing technologies and market demands.
By aligning with a growth-focused company culture, you increase the likelihood of finding a web or mobile developer who is skilled, experienced, and driven to push boundaries, deliver exceptional results, and contribute to the long-term success of your project.
This is why, at Appetiser, we strive to ensure that our people, project strategies, and processes align with our virtues.
Appetiser Virtues
The following virtues serve as our internal guidelines, motivating our team to strive for personal excellence and foster a culture characterized by continuous growth, unity, and mutual respect:
Be Better Tomorrow Than Today. We strive to grow each day and never settle. We invest in our education, mental health, physical well-being, team, experiments, and even in the people around us.
Direct, Respectful, and Fair. Our commitment to being straightforward yet respectful and equitable has enabled us to thrive in the fast-paced environment of Appetiser. Simultaneously, it has allowed us to cultivate a culture centered around feedback and pursuing excellence.
Passion Breeds Dedication and Results. Our passion for our team, impact, products, standards, and Appetiser fuels our dedication to our mission and drives us to achieve results.
Empower Your Team. We challenge each other to be as successful as possible. As a team, we collectively support one another in carrying out our responsibilities and advancing together.
Think Big, Become the Best. The sole purpose of constant advancement drives each initiative, experiment, or change in direction at Appetiser. We adopt a method of making small, incremental improvements, never ceasing our pursuit of progress.
The right people play a vital role in your mobile apps' success
Finding the right app developers for your project requires careful consideration and thorough research. Following the best practices and tips outlined in this blog, you'll be better equipped to identify competent app developers who align with your project goals.
And once you're ready to hire mobile app developers who meet all the green flags listed above, contact us at Appetiser.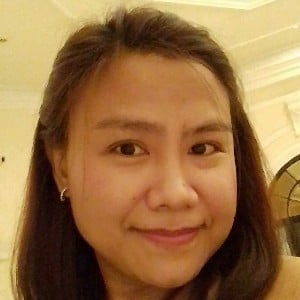 Jane Eslabra is a Content Marketing Specialist at Appetiser Apps. She has 14+ years of experience producing traditional and digital content. When she's not busy being a wordsmith, she's out swimming, taking a long walk, or trying new activities that will keep her eyes away from the screen and her body moving.
Dominate the App Store.
Get the latest industry news first.