How to Make a Successful App in 2023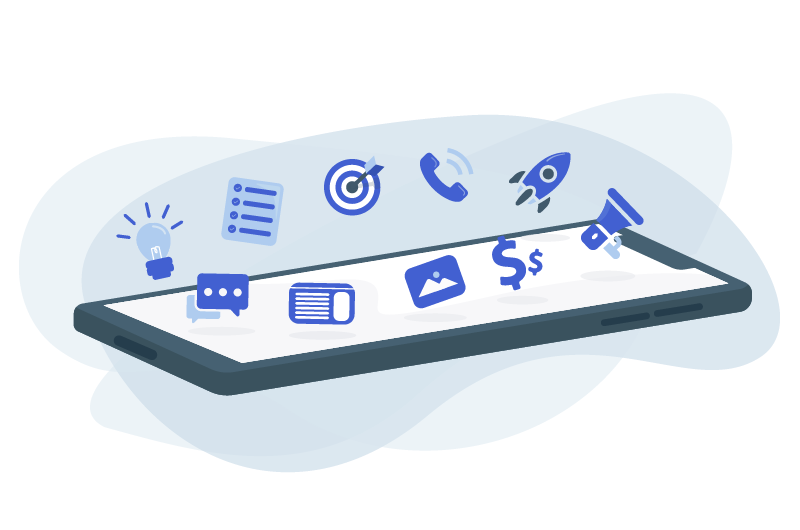 You shouldn't build an app.
Until… you understand that an app isn't just the icon you see on your smartphone's screen.
Apps are mobile-based technology businesses with the potential to impact millions of people worldwide and generate hundreds of millions of dollars in revenue.
However, developing an app takes time, skill, and expertise — and this endeavor doesn't come cheap. You can't expect to create a successful app if you're unwilling to invest the necessary resources.
But if you acknowledge, accept, and embrace these commitments and have a great app idea, congratulations!
Let me be the first to welcome you to one of the world's fastest-growing and evolving technology industries. It's an exciting time to create a new mobile-based technology business that can impact millions worldwide.
But as you may already know, building a business can be a long and difficult process, especially if you are fresh to the app development world.
It's quite understandable to feel overwhelmed and have hundreds of questions at this point.
To help you, I've put together this article to answer your questions and lay out the path toward building a successful mobile app.
Let's dive in!
10 Steps on How to Make a Successful App
1.) Know your goals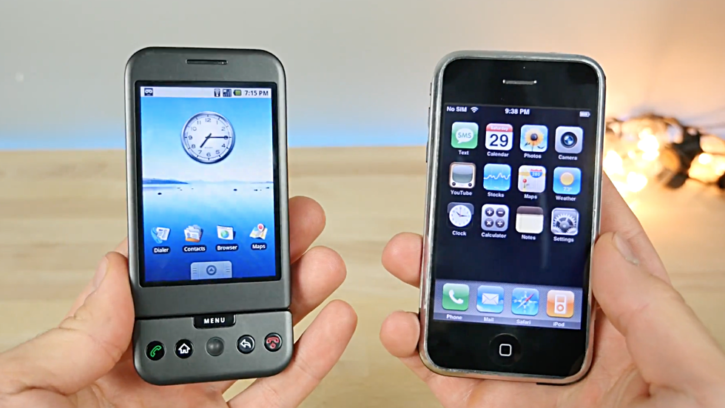 The original Apple and Android smartphones.
Source: wccftech
Apple launched the original smartphone in 2007. We didn't know it then, but that momentous event marked the inception of a new industry — mobile apps.
The first set of breakout mobile apps were really simple apps. But, quite frankly, many of the initial apps to hit the Apple App Store were gimmicky and resembled hobby-like projects.
You might remember some of them — the on–screen piano app, the flashlight app, the fingerprint scanner app, or even that one app that simulated drinking a beer.
Of course, there were some exceptions. Apps like Shazam, Facebook, and Evernote were among the standouts.
Mobile apps are far from gimmick status in today's matured app development market.
Sensor Tower projects the global mobile app user spending on the App Store and Google Play to reach $156 billion in 2023.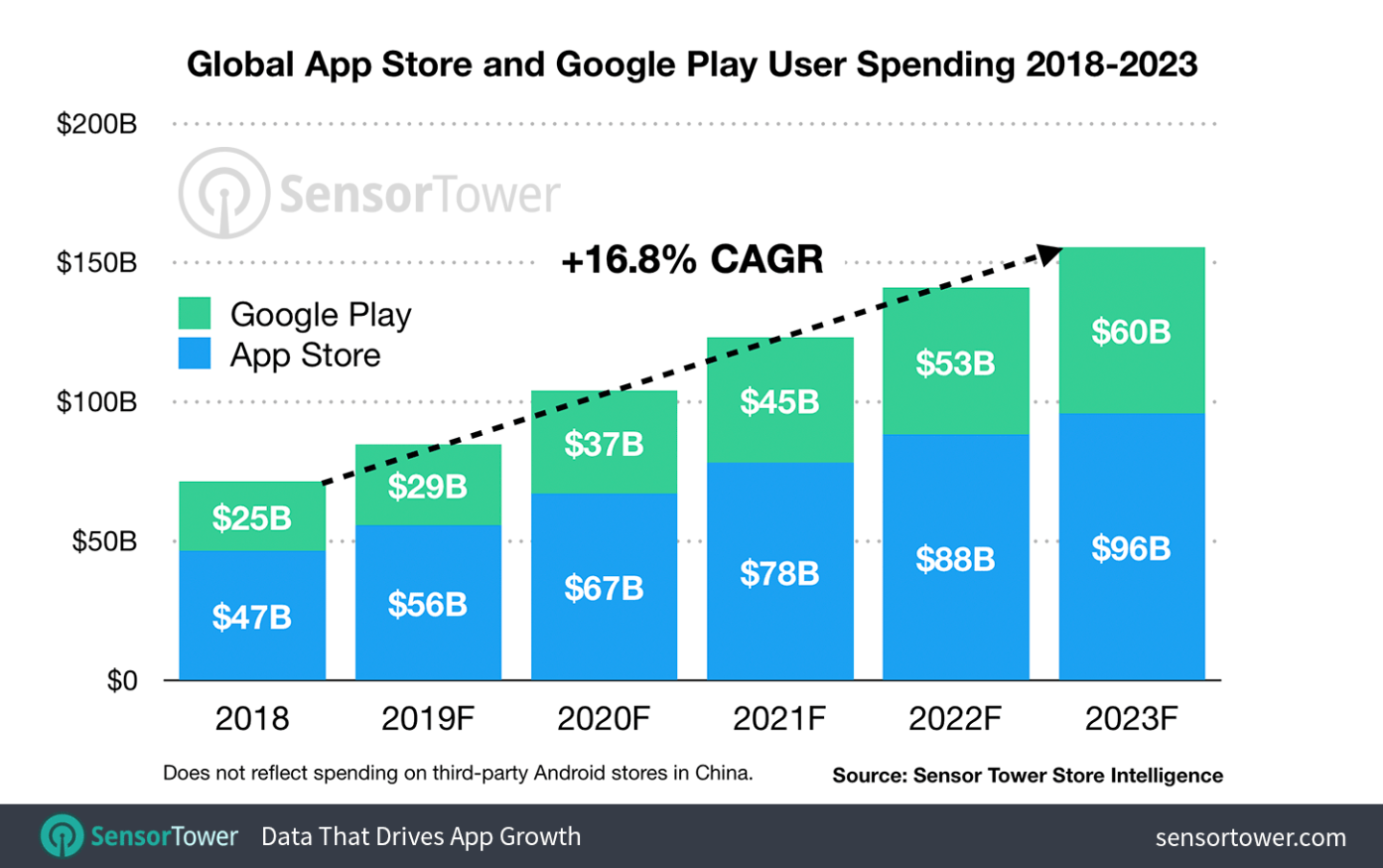 Source: Sensor Tower
Apps like Evernote, Uber, Airbnb, Spotify, and many others are worth billions and billions of dollars.
My point is….
Mobile apps are legitimate technology businesses.
And business is booming.
But before you move any further with your app idea, you must first acknowledge your goals.
Are you creating a mobile app for fun? Or are you starting a legitimate technology business to generate income?
There's no right or wrong answer.
But it does pay to know your objective to plan your next steps successfully.
For instance, if your app is a hobby project or personal challenge, it's best to start learning the principles of coding and user experience-driven design.
And suppose you are planning to create a legitimate technology business or convert an established business into a mobile app. In that case, it's wise to explore a partnership with an experienced development partner.
But before you dive into either of these two options, there are a few things you need to consider first. I'll discuss these in the next items, so continue reading to learn more.
2.) App idea validation
Determining the success of an idea isn't an exact science.
Who would have thought an app that makes images disappear after 3 seconds could be a billion-dollar business?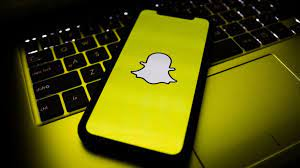 Source: BBC
On the other side of the coin, plenty of far more promising apps have quietly faded out of existence.
While the success of an idea can be attributed to many factors, all successful mobile apps share things in common.
They all figured out their answers to the following questions:
📱 1. What problem does your app solve?
Successful apps offer a solution to common problems. In other words, they give their target audience undeniable value in one shape or form.
Rarely, prospective users will actively discover or download an app that doesn't directly help or assist them with a specific problem.
Think about it. If no problem is being constantly solved or improved, why would the user keep using your app?
Most successful apps have traditionally helped users save time, reduce effort, add convenience, or connect with others. Even games solve problems associated with boredom, stress, and loneliness.
📱 2. Who will use your app?
Apps are only useful with a user base.
It's, therefore, crucial to consider the people who will most likely be interested in using your product. In other words, figure out who your target market is.
It's helpful to narrow down and define your target users as much as possible before building your app and executing marketing strategies to advertise it.
Consider your target audiences' industry, occupation, income, age, and location. Then, find the commonalities or patterns that connect your target users. Finally, use these insights to determine what your app should do and how it should feel.
📱 3. How can I make money from my app?
Apps can take a lot of time and resources to build.
Development cost is largely determined by the number of features, integrations, and compatibility requirements in the project scope. Like any other business, there are also operating costs to consider.
Fortunately, apps can generate income through a variety of monetization methods. These include:
Monthly subscriptions
Single-purchase fees
In-app purchases
Commissions
Affiliate links
It's up to you to strategically choose the right monetization model for your app. Just make sure that you take the time to research your target users to know which they will participate in.
3.) App research
To be the best, you have to beat the best.
The global mobile application market capped 2022 with a USD 206.85 billion value. This size is expected to grow at a compound annual growth rate (CAGR) of 13.8% from 2023 to 2030.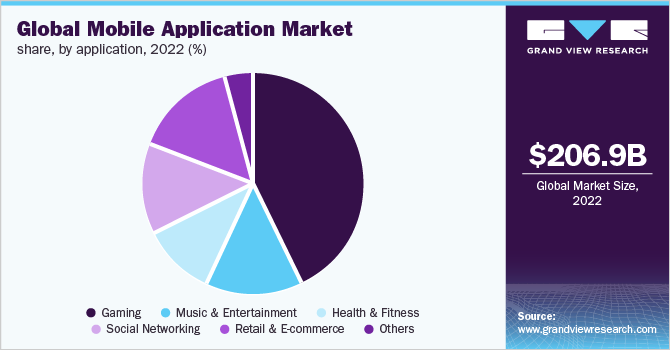 Source: Grand View Research
At this mature stage of the mobile app market, your product will likely have at least one competitor.
Therefore, it's more than worthwhile to take a minute to research the products and strategies that your competitors are using. After all, they have been around the block a couple of times.
Acknowledge that they have probably figured out what works and what doesn't for the most part.
In saying that, it doesn't necessarily mean your app can't provide a better experience or fill a hole in the market. Doing a little snooping and investigative research can help you position your app better to boost your chance of success.
For example, your competitors are missing key functionality that your users want or aren't servicing a particular subset of users. They may even be ineffectively marketing their products.
These are all opportunities to create a strong challenger app and overtake your competitors.
On the flip side, you may also discover the aspects that are growing your competitor's business like design style, functionality, or operating processes. You may consider implementing these elements into your product, too.
When your app idea is a niche, it's possible to borrow or lend concepts from apps in completely different niches.
Picking and choosing or combining successful characteristics from other apps in the market can also revolutionize or differentiate your product from others.
Case in point: Hungry Jacks.
The Australian fast food restaurant borrowed a 'gamification' feature from the mobile gaming industry to facilitate a loyal customer base and increase repeat sales.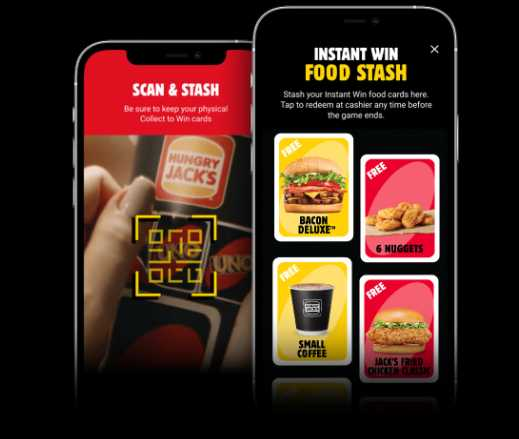 Source: Food&Drink Business
My point is you'll never know where the next big idea will come from. But, your research could lead you to breakthrough concepts that elevate you to industry leadership status.
4.) Contact an app developer
Even if your app is a hobby project, contacting an app developer is in your best interest.
Allow me to explain why.
Any app developer worth their salt will offer you a free strategy consultation protected by a non-disclosure agreement. A non-disclosure agreement means that your intellectual property is legally protected from theft and allows you to communicate your idea freely.
An app developer can help you quickly run through your idea, consolidate functionality, and define business strategy before you decide to move forward and build your app. Plus, you will receive an estimate of the cost of developing your app.
This advice won't cost you a thing, and it's risk-free.
However, not all app developers operate similarly or deliver the same quality of advice and work.
To ensure that you work with a capable, reliable, and ethical partner, consider the following tips when choosing a potential app developer:
🛑 Don't pick an app developer not operated by a Chief Technical Officer (CTO) with personal experience designing, building, and operating an app-based technology business.
🛑 Don't pick an app developer who doesn't employ and manage their own internal engineering team. If they don't, they simply outsource projects to the lowest bidder.
🛑 Don't pick an app developer who locks you into an upfront payment or contract. With a truly agile app development process, there is no need to risk your entire investment. Unfortunately, far too many entrepreneurs have fallen into this trap.
Choose an app developer that operates in an ethical and evolved approach, such as Appetiser:
✅ Our Co-Founder and CTO, Michael MacRae, has successfully designed, coded, and operated his own successful apps, which have garnered millions of downloads and generated thousands of dollars in daily revenue.
✅ We have spent years accumulating our own internal design and development teams. Many of our members have previously worked for technology giants like Samsung, Google, and Kyocera.

✅ We work with our clients on a milestone-to-milestone basis with no lock-in contracts. This negates the need for large upfront investments and unnecessary project risk. If you are unhappy with our work, you can leave at any time with your project in hand. Our design and development stages are also separate, so we must continuously compete for your business.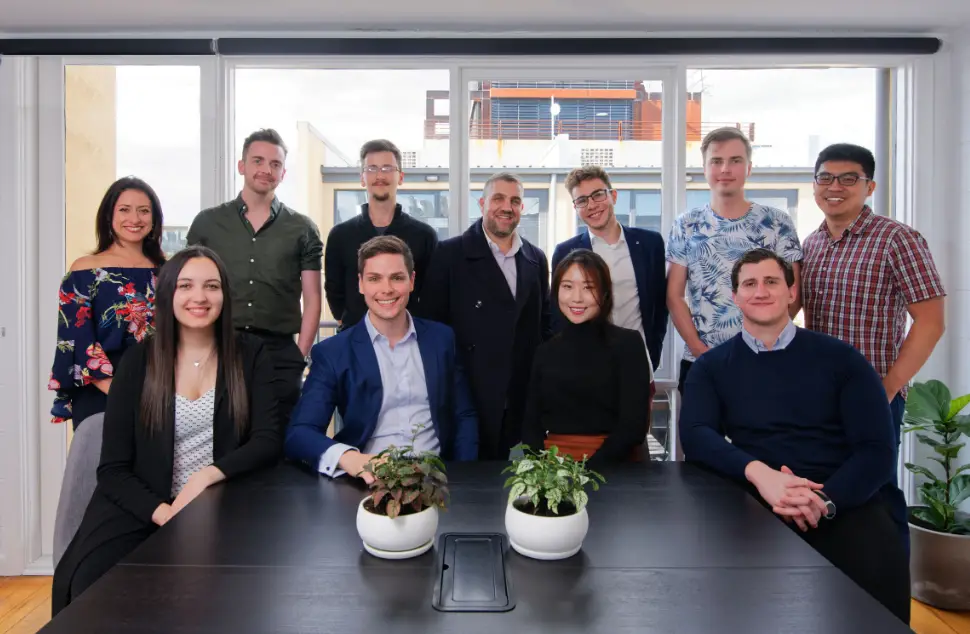 Appetiser Team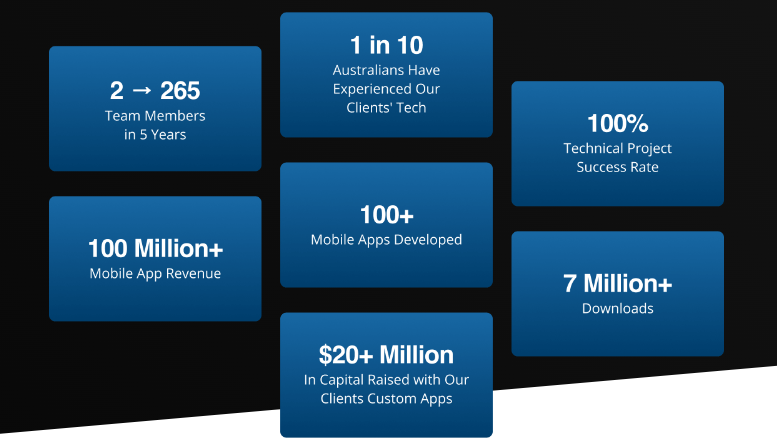 Appetiser difference
When approaching a developer to build your project, see how they compare against these criteria. Discontinue your relationship as soon as possible if you are ever in doubt.
5.) App development cost, funding, and investment
Even if you are creating an app as a hobby, you will likely need to spend some funds to pay for design elements, software subscriptions, or even to pay an expert to code rather-complicated features.
The most common methods of funding mobile app development are self-funding, investing business capital, and partnering with an external investor.
Estimating the cost of developing a mobile app isn't a straightforward process.
All apps are different.
Google Maps is not Netflix.
Each app requires a unique set of functionality requirements, design styles, integrations, and platform compatibility to operate optimally. Therefore, the time, resources, and skills necessary to build them also differ.
An ethical app developer will give you an estimated cost for your project AFTER gaining a holistic understanding of your app idea to specify the necessary technical requirements.
From there, you will understand the cost and the best path forward required to build your app.
But what if the ballpark figure you get is beyond your current capabilities?
It doesn't necessarily mean your project can't be created. There are many ways technology businesses can raise funds for development.
Some of the best practices that have worked for many of our successful app partners are the following:
✅ Approach an investor or venture capitalist for funding
✅ Apply for a business or startup grant
✅ Partner with an existing business in the same industry
✅ Search for a co-founder with access to funds
✅ Raise funds with a Kickstarter or GoFundMe
🚨 Take note, however, that the tips mentioned above may only work if you have convincing proof of concept for your app idea.
You are also far more likely to receive funding if you are willing to devote your time, money, and energy to your project.
A great way to do this is to document your idea, conduct market research, define project functionality, and outline a viable business strategy.
It's also even more attractive to demonstrate some preliminary design work, like an interactive prototype, to visually showcase what your app will look like.
This is precisely the path Roamni, one of our app development partners, pursued to secure project funding.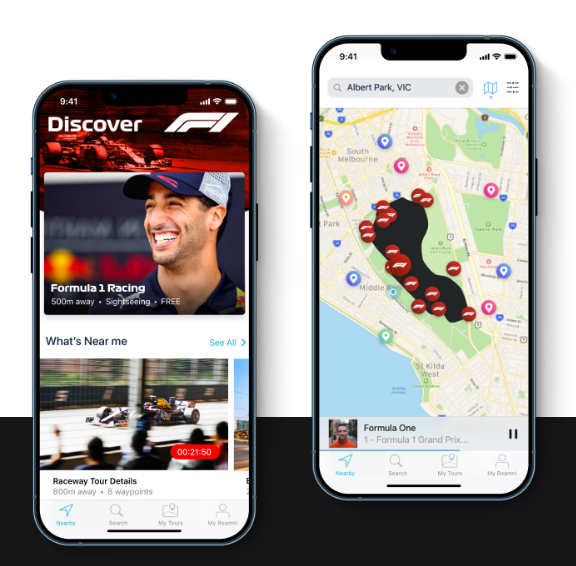 In 6 short weeks, we've built Roamni a design that highlights what makes their app unique and provides a clear picture of their concept in action.
The resulting prototype has become the app's most powerful tool for success! The startup is now valued at over $5,000,000 and is the official partner of Formula 1.
Do you want to pursue the same path? Check out Roamni's journey to app success to gain inspiration and insights.
6.) App design process
There are two primary paths to designing your app.
You can either manage the design and development of your project yourself or partner with an experienced app developer, like Appetiser.
With a wealth of online information, it's much easier nowadays to research the steps for designing a mobile or web application.
But before you take the DIY approach, remember that experts have years of experience in design principles and user flow. And skill and experience always result in a higher-quality product.
If you are serious about building your mobile app-based technology business, it's best to leverage the services of an expert team to create a quality product to compete in the market.
Taking this route will also give you the luxury of time to focus on the growth-enhancing side of the business, such as pursuing a partnership or developing the best marketing strategy.
Similarly, if you are seriously attempting to acquire funding from external investors, you should leverage the services of an expert team to create an excellent prototype of your product.
Having a well-designed early model of your product not only communicates your vision — it also conveys your willingness to make your project a reality.
Investors, in turn, are far more likely to fund your project as you have established your competence in entrepreneurship and decreased your risk of failure.
But what are the processes involved in app design? Let's have a look.
1. Basic sketches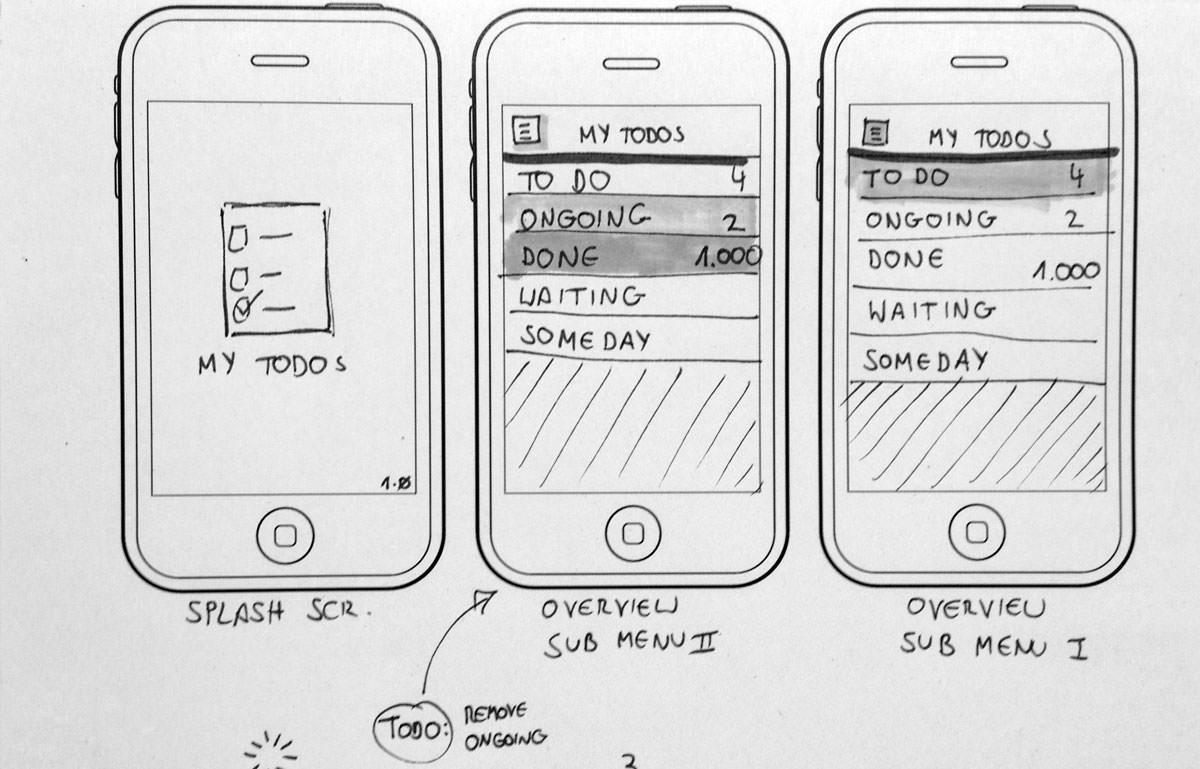 Source: Smashing Magazine
It's not necessary to definitively design your app as a finished product. Just as a concreter lays down steel rebar before pouring concrete, an app designer also creates a design skeleton first.
As such, the first stage of the design process is to brainstorm how your app may look through sketching.
Your designer will use different design styles to determine the most suitable look for your app. They will also create multiple sketches of your app icon, logo, colors, and layout that underpin your product.
"During the sketch phase, the designer focuses on the general idea and the main sections of the product. The designer should share a presentation to check that they are aligned with the client."
— Lukas Hernandez, Product Designer, Appetiser Apps
2. Wireframes
Wireframes serve as a blueprint for how users interact with your app to complete all necessary functions and tasks. It's important to create wireframes first to determine user flow.
No matter how great your product looks, it will fail if it doesn't flow logically or naturally.
Users quickly become frustrated and annoyed when tasks take too long to complete, are in a strange order, or are downright confusing.
That's why, at Appetiser, we wireframe user flow first, then add a stunning design after.
During wireframing, our designers create a flowchart of your app's functionality. Then, we map out each feature or task within your app into a logical series of steps.
For instance, to create a user account, the user needs to:
1. Enter an email address and a new username on one screen.
2. On the next screen, they can add a profile image.
3. They can fill out account details on the screen after that.
A flow chart is the easiest way to lay out these steps, which will later be designed into a series of wireframes.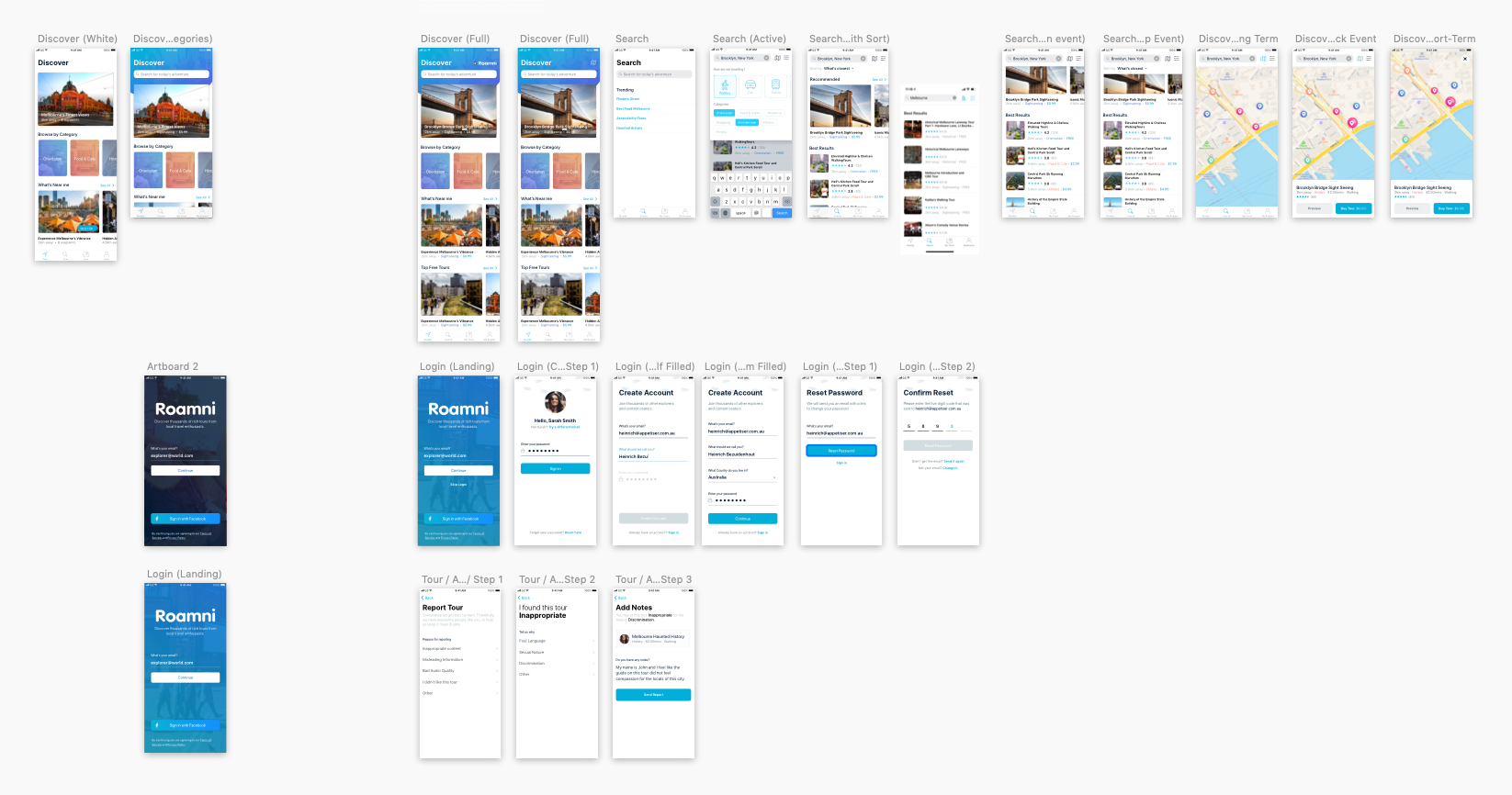 This strategy allows our UX designers to notice and scrap redundant or unnecessary elements polishing and perfecting designs, saving our clients a great deal of time and money and ensuring a great experience for their end users.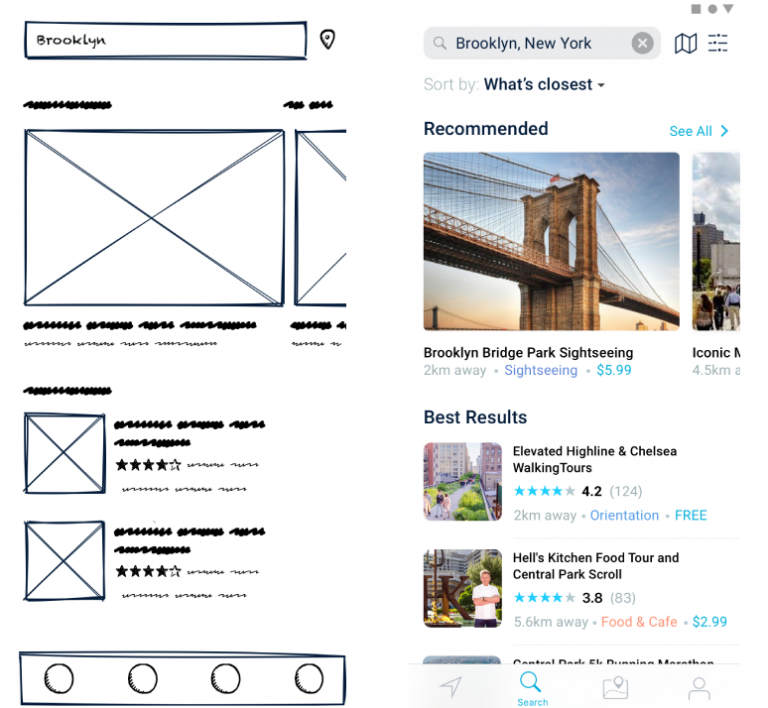 Many intricacies and subtleties are involved in building great user experience and flow. Here are a few guiding principles shared by our design team:
✅ Create a specific purpose or mission for the user to achieve on each screen.
✅ Implement a hierarchy of action for each screen. Show the most important action first.
✅ Consider the path of least resistance for the user to follow.
✅ Avoid unnecessary pathways, screens, steps, or menus.
After the wireframing process, you should have a blueprint of the entire scope of your app, outlining layouts of all functions, features, and tasks.
It's worth getting a second opinion to evaluate your wireframes to double-check if everything makes sense and if there aren't any unnecessary features or screens.
3. Finished designs
The next step of the design process is to add higher-fidelity designs to your wireframes. A designer usually starts this process by rolling out the visual brand guidelines defined in the initial sketching phase.
Dominate the App Store.
Get the latest industry news first.
Then, they will start an iterative process of continuous refinement focusing on a variety of factors, such as:
🎨 Assigning a visual hierarchy to the design, so the user sees the most important information first and instantly knows how to proceed to the next task or content.
🎨 Weaving together a natural flow across each screen. The human eye is naturally trained to find errors in patterns, like things that look out of place or completely alien. A great design eliminates these discrepancies as much as possible, so everything feels exactly where it is supposed to be.
🎨 Presenting information in an easy-to-digest format and layout. For instance, using the most appropriate font, size, and color choice to ensure background imagery doesn't impede readability or applying the correct screen real estate to the most important information first.
🎨 Applying a memorable, unique, aesthetic visual brand identity to the final product. If the app is an extension of an established business, the visual brand needs to reflect it.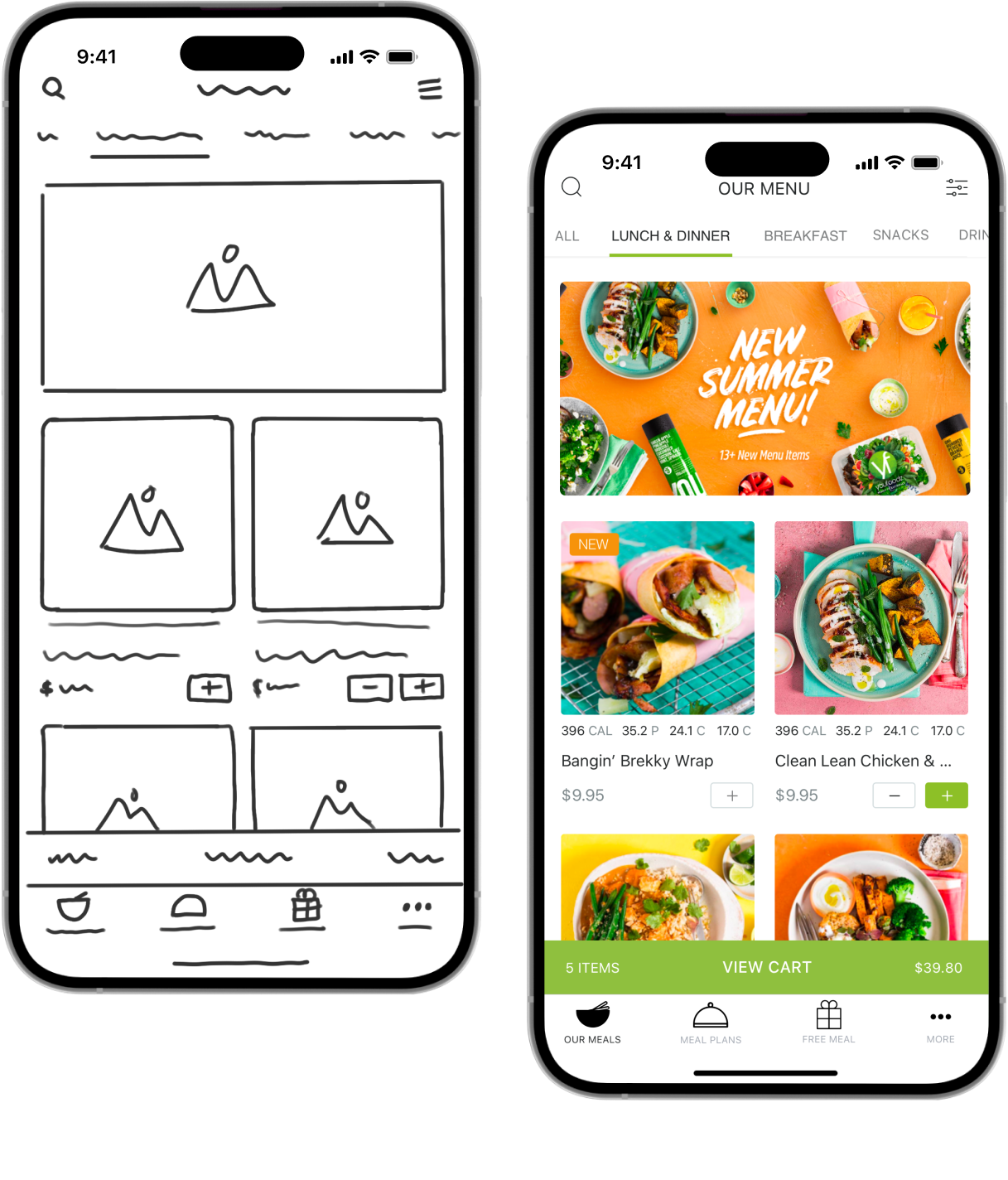 The final design stage can take considerable time to complete and perfect.
And in truth, the design process never truly stops.
It's a continuous process of iteration based on user feedback, analytics, branding, or even the latest trends.
Most apps have multiple competitors; often, those that offer excellent design and ease of use stand head and shoulders above the competition. So, taking a lot of time to perfect your app's designs is completely justified, especially if it's your first time designing UX.
Of course, with an experienced design and development partner like Appetiser, you can accomplish this stage faster and more efficiently.
If you are in the market for some design inspiration, take a look at our portfolio on Dribble.
4. Interactive prototype
The final step of the design process is to create an interactive prototype.
An interactive prototype is an animated version of your finished designs that mimic the functionality of your app.
For instance, a viewer can click a 'purchase' button on the interactive prototype which will then take them to the 'process payment' screen. At this point, the payment functionality doesn't have to register on a technological level.
7. App development
An interactive prototype is important for multiple reasons.
First, it's an initial testing ground for your finished app.
Its purpose is to give users a greater sense of the look and feel of your app. And there's really no better way to experience an app until you have held it in your hands.
An interactive prototype allows the designer and test subjects to gauge the design, flow, and value of your entire app.
Based on relevant feedback, the designer can revisit the finished design and tweak the design or user flow before the product launch. A data-driven approach to design can be implemented to track the precise way test users interact with the prototype to achieve this.
Additionally, an interactive prototype is essential in securing external investment from venture capitalists, business partners, incubators, and grants.
Investors want to decrease their investment risk as much as possible while increasing their potential return on investment.
A prototype is a visual demonstration of your product that can be used to create an effective and dynamic pitch. It also inspires confidence through means of proof of concept. Remember that you are competing against others for access to a finite amount of funds when pitching to an external investor.
A well-executed interactive prototype is essential to increase your chances of attaining external investment.
Take, for example, Vello.
Football legend, Ben Dixon, came to us with an idea — to build a social app that will give fans and celebrities a platform to connect.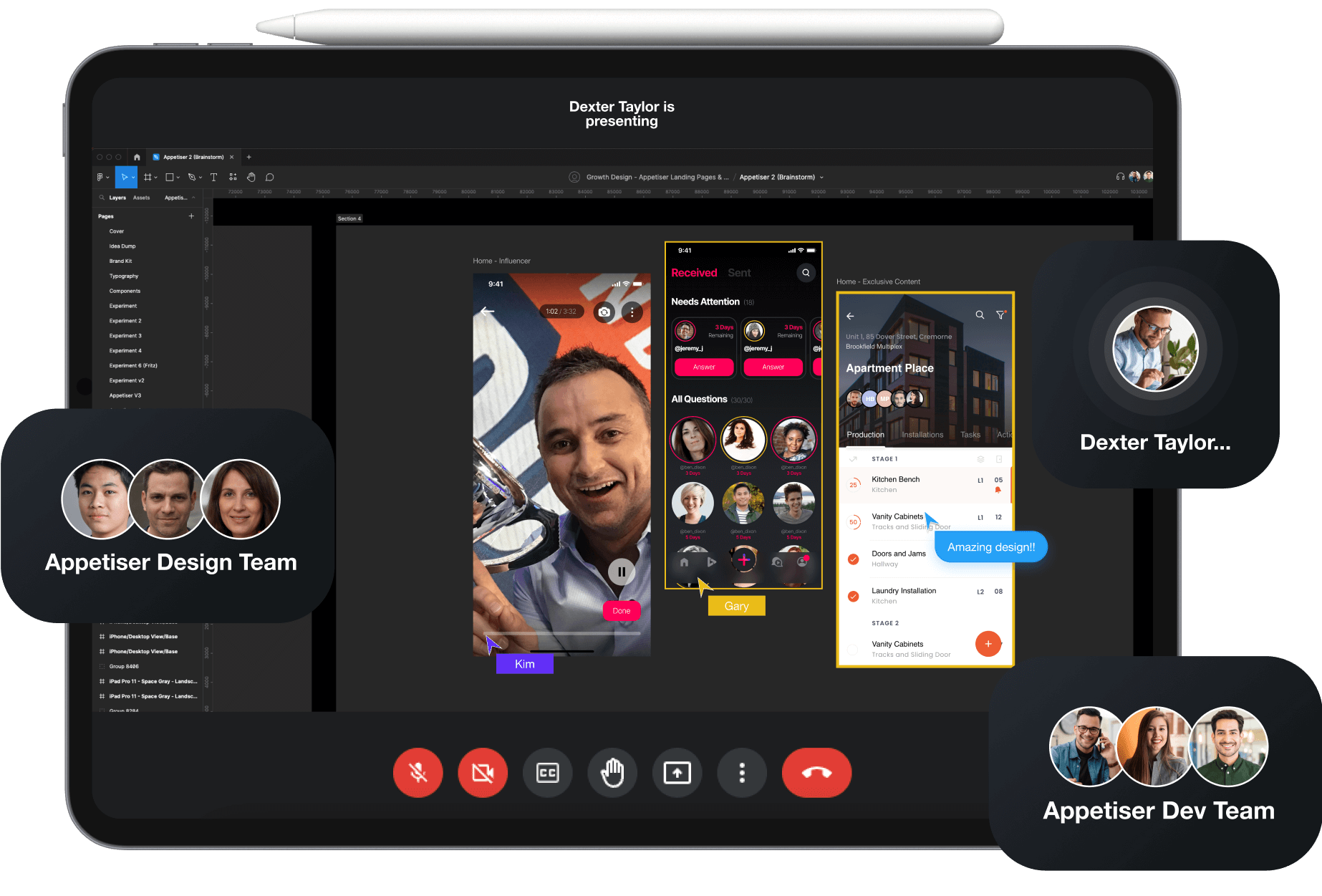 To help Ben convey the true potential of his app concept, we built him an interactive prototype of the highest quality.
The result?
Our design helped Ben get investors — including prominent personalities — onboard and raised more than $1 million for Vello.

7. App development
Your app is getting closer to an official launch on the app stores! It's an exciting moment in your web or mobile app development journey.
However, there's still a considerable amount of work to be done.
The development stage focuses on adding the back-end codebase to your polished app designs. In other words, it focuses on making your app functional, stable, secure, and responsive.
And depending on whether you chose the route of building your own app or working with professional app developers like us, this stage of your app journey will look different.
If you choose to explore the second option, expect each developer you can consider tapping to have different approaches, too.
At Appetiser, we operate using an agile development methodology.

Source: EOIIN Connect
Agile development is commonly broken up into a series of milestones called sprints. Each sprint usually lasts 4 weeks and focuses on building a particular set of features.
For instance, the developers will create an app's login process and profile functionality for the next 2 weeks and then build out the dashboard and timeline for the next two weeks after that.
Our clients are charged at the start of each milestone and receive all assets after the milestone. The entire app will eventually be built over the course of 3 to 6 months, depending on the degree of difficulty and features required.
One of the advantages of building an app through a development partner is that you can focus on business development tasks, such as formulating a winning pre-launch app marketing strategy, gathering contracts, or pursuing partnerships.
Such luxury is obviously unavailable if you decide to program your own app.
Managing the entire app development process can quickly become overwhelming, especially for a first-time programmer. But it's still possible with the relevant knowledge and tools.
The programmer must first consider the app type they want to build.
There are three primary types of mobile apps – a Native App, a Progressive Web App, and a Hybrid App. Each app format offers a particular set of functionality, performance, and budget requirements.
Let's take a look at some of the key differences.
Types of apps
📱Native apps
Native apps generally cost the most to build as they provide the best user experience and performance to the user. Everything typically works faster, smoother, and reliably on a native app.
📱 Progressive Web Apps
Progressive Web Apps are essentially websites posing as mobile apps. Although responsive, progressive web apps often pale in comparison in terms of performance to native apps. They are, however, frequently the most cost-efficient apps to build.
📱 Hybrid apps
Hybrid apps are a middle ground between a native and a progressive app. They offer decent performance and stability but also come with their own set of downsides. For instance, they require far more maintenance than a native app.
We have an article that offers an in-depth comparison of the different types of apps. Check it out here.
Whether you choose to build a Hybrid, Native, or Progressive Web App, you must first learn the right skills, tools, and relevant programming languages. Fortunately, a wealth of resources is available on skill-sharing platforms like Udemy, Skillshare, and CodeCademy.
However, don't forget that self-studying involves a learning curve — and it takes a considerable amount of time before you can put what you've learned into practice.
Several app-building platforms require little coding experience to create.
However, we have found these tools aren't capable of providing you with a custom solution that succeeds at complex compatibility and functionality.
Many of these platforms use a drag-and-drop template style, which can have mediocre results. Ultimately, it may mean your app might not stand out from competitors or effectively win users.
Building an app yourself also means you are losing out on the experience and advice of an experienced app developer. Ultimately, this could lead to your app not being as successful as it could have been had a developer built it.
Regardless of how you develop your app, you can follow how an app developer approaches a new project.
First up, build out the app's core functionalities.
For instance, if your app is a podcast hosting platform, you would naturally start building out the functionalities related to uploading an audio file, playing an audio file, and searching for a podcast.
These are the primary features that convey the most value to the users. Therefore, it's worth spending the most time perfecting these functions.
After the core functionalities are built, it's time to add the additional functionalities and features.
Borrowing the podcast app analogy once more, the next features to build may include a user profile system, a review and comment section, or a way to add a podcast to a playlist.
While working through this development priority, you should also do light testing and bug correction.
But it's important to enter a dedicated testing phase before launching your newly created app.
8.) App Testing
Nobody likes to use an app that doesn't work.
Every bug and glitch your app has will turn your users away faster than you can imagine, just like what Grill'd experienced.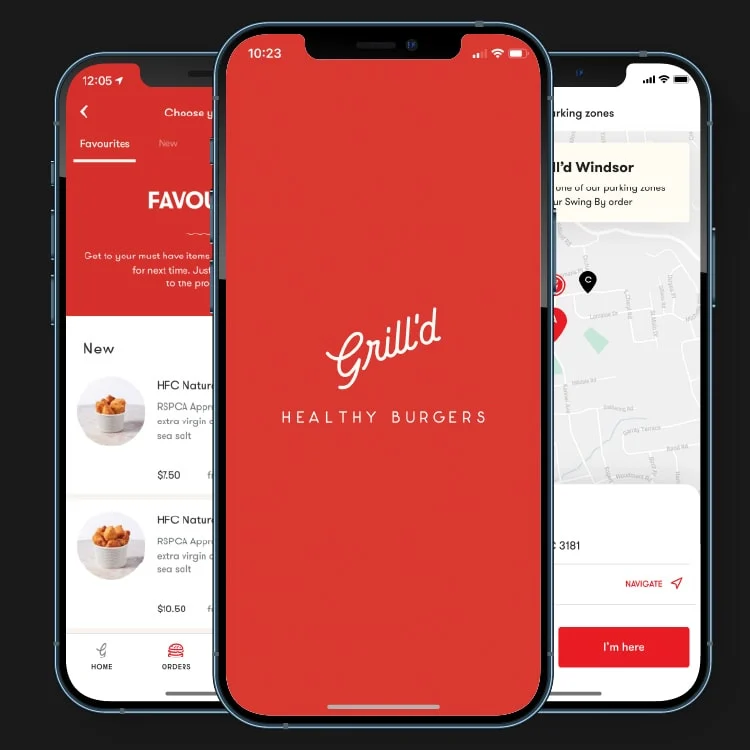 Before turning to Appetiser, Grill'd was an unstable app suffering from multiple software issues costing them a high customer churn rate. Three other development companies couldn't provide a fix — until our team entered the picture.
Our developers worked tirelessly for 6 months to turn the buggy, crash-prone app into a 99.9% crash-free mobile application that saw a 10x increase in orders! The exciting transition of the Grill'd app from defective to effective is concrete proof of the value of testing in the success of app businesses.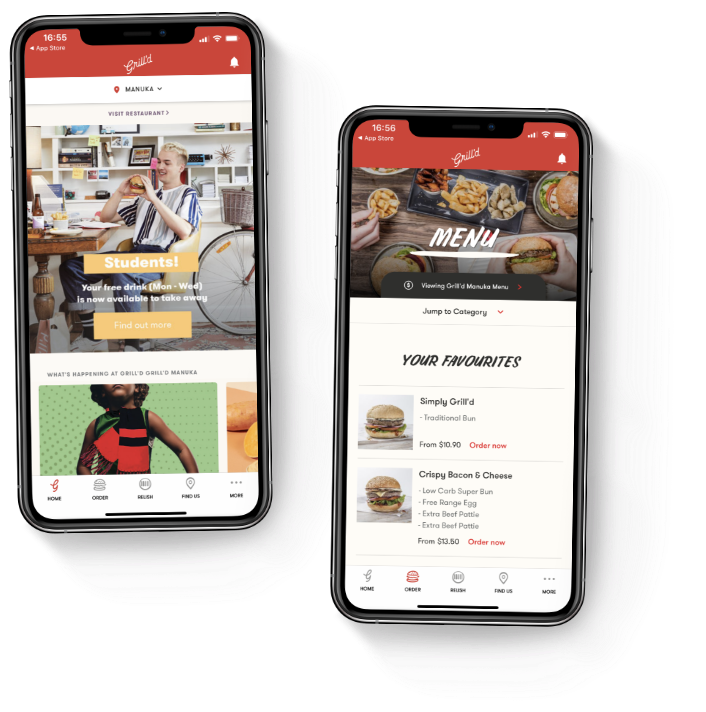 But technically speaking, it's crucial to conduct testing to identify and iron out as many errors, bugs, and glitches as possible.
You will need to test your app for the following problems:
✅ Usability
✅ Compatibility
✅ Security
✅ Interface
✅ Stress
✅ Performance
✅ Reliability
Bug testing in a laboratory setting is one form of testing, but testing your app out in the field is an entirely different beast.
We recommend getting your app in the hands of as many test users and devices as possible to test for these errors. Tools such as Apple's TestFlight or Android's Fabric are useful to facilitate pre-launch user testing.
Ask your test users to perform regular tasks from start to finish and see how the app responds.
Don't babysit or guide your test users through the process either — allow them to act freely, follow the wrong prompts, enter the wrong inputs, and get confused. You need this to gather organic data to make informed decisions.
Your development team will also try and break your app through a series of technical tests to see how it reacts to abuse and irregular commands — for instance, adding strange symbols to text fields or trying to upload unsupported files.
After finding as many bugs and errors as possible, your development team will program as many safety nets in your codebase as possible.
The more testing, breaking, and fixing you do, the more robust and reliable your app will be. It will also save you time and money by identifying and solving problems before launch.
Consequently, the testing phase may last considerably longer as you go back and forth between testing and fixing bugs. And this is okay.
Think of it this way. The more meticulous you are in ensuring the quality of your product, the better your app's reputation and usability.
Remember, it's best to sort out all potential issues before you launch to the real market, where consequences hold far greater weight.
9.) App launch
As soon as you are confident that as many bugs have been ironed out as possible, it's time to proceed to the launch stage!
It's the most exciting time of your project.
But there is no time to rest yet.
A few steps need to be completed before you can launch your app.
Hosting your app on the Apple App Store or Google Play Store involves a few costs and processes to follow.
How to Submit an App to the Apple App Store:
1️⃣ To launch an app on the Apple App Store, you need an official Apple Developer Membership at a yearly cost of 99 USD.
2️⃣ Your app will then need to be reviewed by Apple to ensure it's in line with their guidelines.
3️⃣ Once your app has passed through the review phase, you will need to prepare for launch. This stage involves adding details, like an app icon, preview images, descriptions, category, and keywords so users can find your app.
4️⃣ Then, it's time to launch your app to market!
How to Submit an App to the Google Play Store:
1️⃣ To launch an app on the Google Play Store, a Google Play Developer account is required. A one-time fee of 25 USD must also be paid.
2️⃣ You must then accept Google's Distribution Agreement to ensure your app complies with quality and community standards on the Google Play Store.
3️⃣ Then, you will go through the process of adding app details, like an app icon, preview images, descriptions, category, and keywords so users can search and find your app.
4️⃣ Afterward, your app is ready for launch!
Depending on your app's functionality, there could also be monthly subscription costs for server hosting, SMS communication systems, and third-party APIs. These are essentially your monthly overheads (similar to an electricity bill for a brick-and-mortar business but far cheaper).
After launching, it's important to connect your app with an analytic tool to continuously monitor its financial and functional performance. There are dozens of tools that you can integrate into your app for this.
Check out our article The Most Powerful Mobile App Analytic Tools & Which to Use to see some comparisons.
10.) App marketing
It's pretty rare that a launch in itself will attract your intended users. So, the next step is to deploy a marketing strategy to attract and retain users.
Many entrepreneurs make the mistake of thinking that app marketing is the same as traditional digital marketing.
Yes, there are a lot of similarities.
But the key difference is that app marketing not only aims to acquire new users but also focuses on retaining long-term users.
It's far easier and more cost-effective to retain a user than it is to acquire a new one. Plus, the longer a user engages in your app, the higher the chance they have of organically attracting more users to your app.
An app marketing campaign that attracts thousands of users who only use an app for a single day isn't an effective one.
So, what is the correct way of conducting an app marketing campaign?
The best way of approaching app marketing is to divide strategies according to the customer journey funnel.
The App User Journey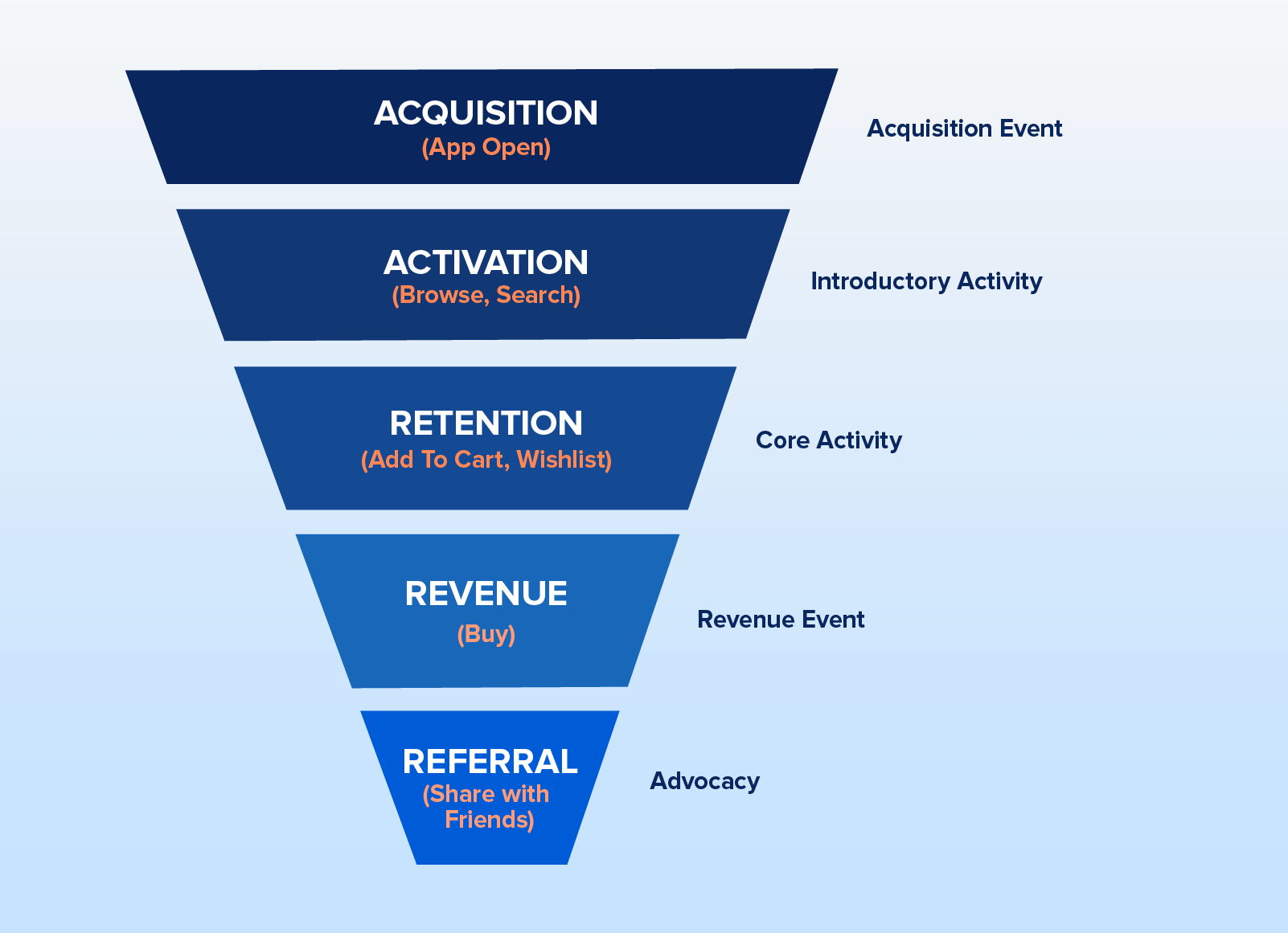 Source: CleverTap
1. Awareness
The awareness stage can be thought of as a potential user's introduction to your app.
A user needs to be exposed to your app and understand what it can do before deciding to download your web, iOS, or Android app for the first time.
As such, the following app marketing activities can be deployed to create awareness for your app:
🚀 App Store Optimization
🚀 Social Media Engagement
🚀 Public Relations
🚀 Influencer Marketing
🚀 Search Engine Optimization
🚀 Content Marketing
🚀 Cold Calling
2. Activation
An individual now has an awareness of your app and its potential benefits. So now it's time to persuade them to download it for the first time. The strategies which can be deployed include:
🚀 Paid Social Media Advertising and Retargeting
🚀 Email Campaigns
🚀 Search Engine Marketing
🚀 App Store Marketing
3. Conversion
Congratulations, you have an app user!
But, you also have bills to pay and revenue to generate.
Therefore, it's time to see if they are interested in dipping their toes into your pricing model.
🚀 Push Notifications
🚀 Email Marketing
🚀 Social Media Advertising and Retargeting
4. Referral
Your users have been paying to use your app for several weeks.
It's safe to say that they are finding some serious value from your service. Therefore, they are likely to tell their friends, family and colleagues about your product.
Your business can encourage these actions by engaging these tactics:
🚀 Community Engagement
🚀 Reviews
🚀 Referral Reward Programs
🚀 Affiliate Marketing Programs
5. Retention
It's not enough to assume or expect your customers will stay loyal to your service.
Reward systems, customer support, and meaningful engagement can help to create long-lasting relationships.
Here are a few strategies app businesses can adopt continuously engage existing and lapsed users:
🚀 Push notifications
🚀 Email newsletters
🚀 Forums
🚀 Community events
🚀 Loyalty programs
🚀 Content marketing
One of Appetiser's leaders has written an in-depth guide on powerful app marketing strategies, in case you want to go deeper into this subject.
App development isn't a sprint but a marathon
While it's possible to create an app from scratch yourself, there can definitely be a steep learning curve and multiple areas of expertise to master.
In this day and age, apps are no longer novelty projects but are legitimate technology businesses driving close to $100 billion annually.
It's truly best to leverage the experience and expertise of an app developer if you are absolutely serious about building your app idea into a profitable business.
We offer a free strategy session to individuals who are serious about their app idea.
This is the exact path Roamni blazed. And today, they are worth over $5,000,000. Many other mobile app startups share similar stories of app success.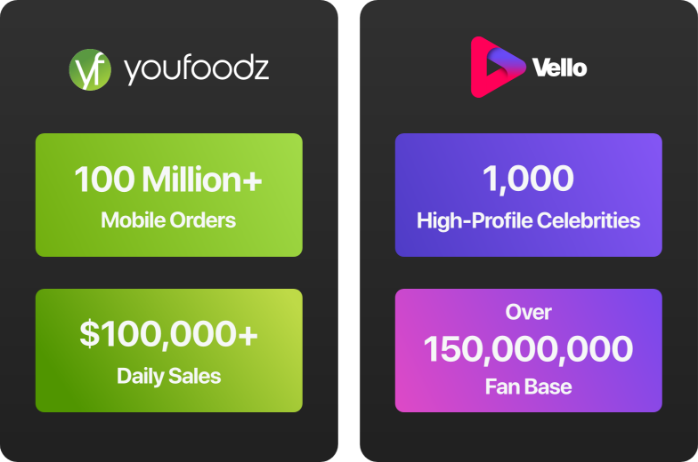 If you're interested in our mobile or web app development services, set up a strategy session with our product success experts today!
Director & Founder. I build and grow ideas. With a heavy focus on business strategy and automation, I am focusing on the interception of technology, marketing and design.
Dominate the App Store.
Get the latest industry news first.