UX Design for Apps: 5 Key Insights Every Startup Should Know
User experience (UX) design is critical for any business with an app, a mobile website, or any other digital platform.
For web and mobile apps, UX design can spell the difference between user retention and churn and revenue and loss.
An Amazon Web Services study found that 88% of consumers are less likely to return to a site with bad UX. Meanwhile, an AppDynamics survey revealed that 90% of users have stopped using an app because of poor performance.
If these figures aren't enough to convince you of the power of a good web or mobile UX design, perhaps this would:
According to Forrester, the ROI on UX investments is 9,900%.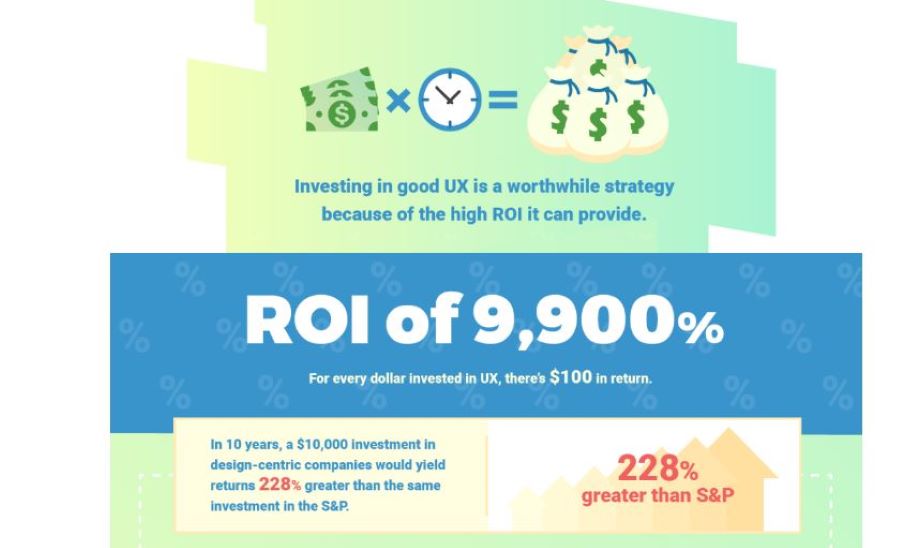 Source: WebFX
However, designing a great user experience is easier said than done. There are a lot of factors to consider, and it can be difficult to know where to start.
So, before you reach deep into your pocket and go all in on crafting a mobile or web UX design, take some time to read this article. It'll arm you with the insights you need to know to create a successful app with positive user experiences.
Let's get started!
What is UX design?
UX design is a critical component of any online or offline experience. It encompasses everything, from the overall look and feel of a web or mobile app to how easy it is to use. A good UX design comes from understanding your app users' wants and needs and meeting them efficiently.
UX Design for Apps: 5 Key Insights to Boost Startup Project Success
#1 You are not your users
Designing app UX is about architecting an experience that's optimized to meet your web or mobile app users where they are — and not where you think they are.
Innovators (and humans in general) are prone to "the curse of knowledge" or the tendency to assume that other people share your perceptions, views, and beliefs. But relying on what you think you know about your web or mobile users can lead to poor and costly decisions.
Take what happened to Google Buzz, for example.
Once upon a time, Google tried its hands at a social media venture. They created Google Buzz to compete with existing social networking brands like Facebook and Twitter. But the app failed to gain significant traction and was discontinued barely two years after its inception.
One of the main reasons was poor UX design. Many users found the interface confusing and difficult to navigate. The constant stream of updates was also overwhelming for most users.
Yes, the tech giant ran a test and gained positive responses from, mind you, 20,000 people! The problem was that those people were all Google employees.
TL;DR – Google Buzz failed to make a buzz because it lacked insights from real users.
This is why at Appetiser, we always educate our partners about the importance of starting lean with a minimum viable product (MVP) at Appetiser.
Build something "good enough" to get useful feedback as early and cost-efficiently as possible. This allows you to make sound decisions that are based on user research and backed by solid data.
To better understand and take advantage of MVPs, check out our insightful guide on how to start lean with MVP app development.
#2 The simplest is often the best
UX design is about creating a great user experience, but sadly, many startup mobile apps fail to deliver on this front.
Why? Because they focus too much on adding bells and whistles instead of streamlining the user experience.
Let me further explain this point using a familiar scenario as an example.
Imagine going to a restaurant with a beautiful ambiance but bland food. Would you give the place a five-star rating on Yelp?
Likely not.
The same logic applies to web and mobile UX design.
Users expect your app to, first and foremost, deliver what it promises to accomplish. Often, the best way to achieve that is by keeping the user interface and UX design simple.
Until you've satisfied your web or mobile users' unique requirements, avoid adding unnecessary components and focus on improving navigation patterns, user flow, and other key features.
In our experience, UX designs with too many components tend to overwhelm users. Mobile app users, in particular, tend to get annoyed seeing too many elements on their small screens.
Complex features also tend to make apps freeze and more difficult to use — two of the top reasons why users uninstall apps.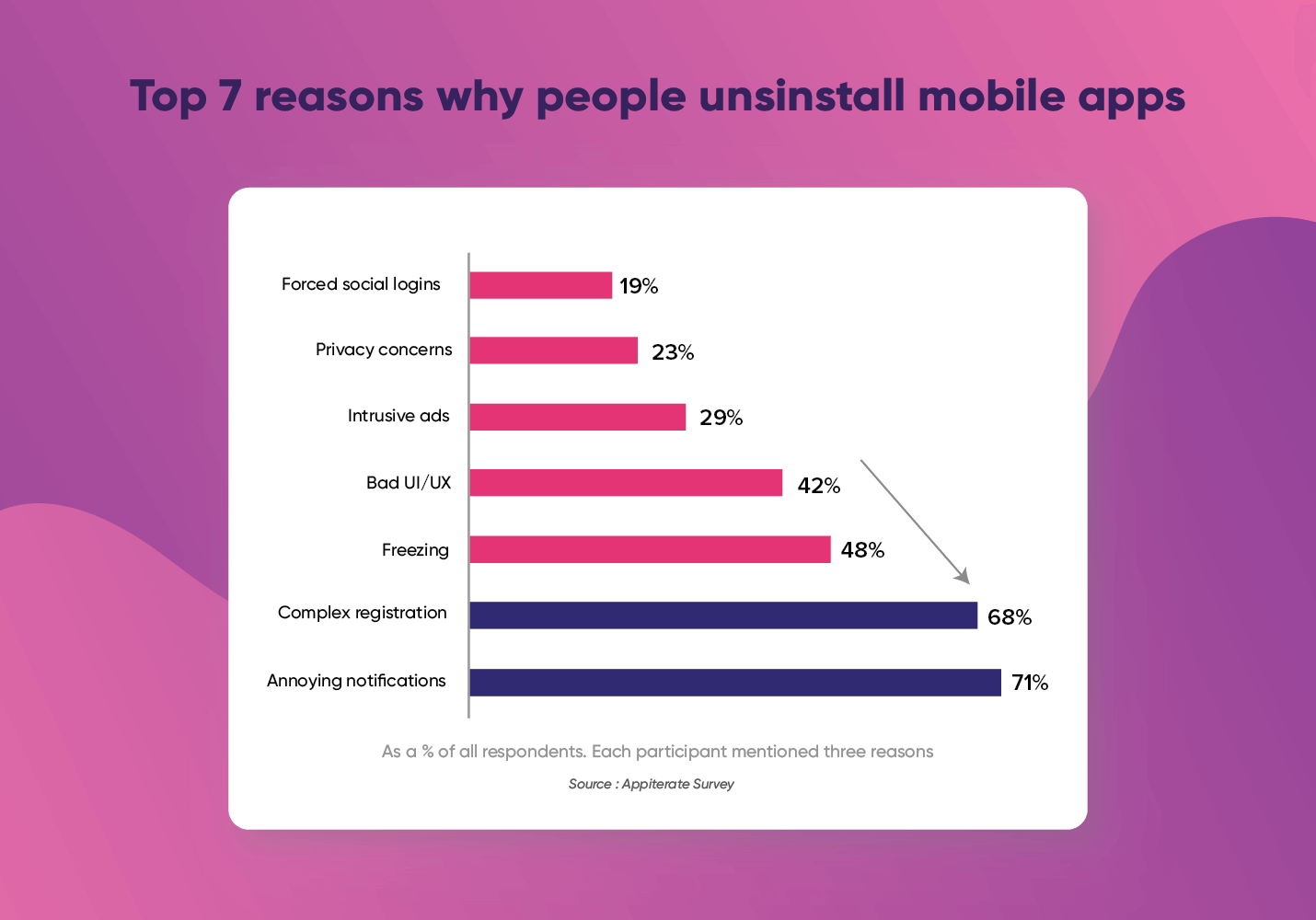 Source: Page Flows
From a business perspective, including as many features as possible is also a risky move that often leads to delays and budget overruns.
This is another reason why our design process always starts with a minimum viable product.
A fully featured custom mobile app can cost up to $300,000 and take more than 9 months to develop. Whereas with an MVP, you can get value-heavy and tangible results within 6 to 8 weeks and at a fraction of the development cost.
This was how Appetiser turned Roamni into a multi-million dollar and world-renowned brand.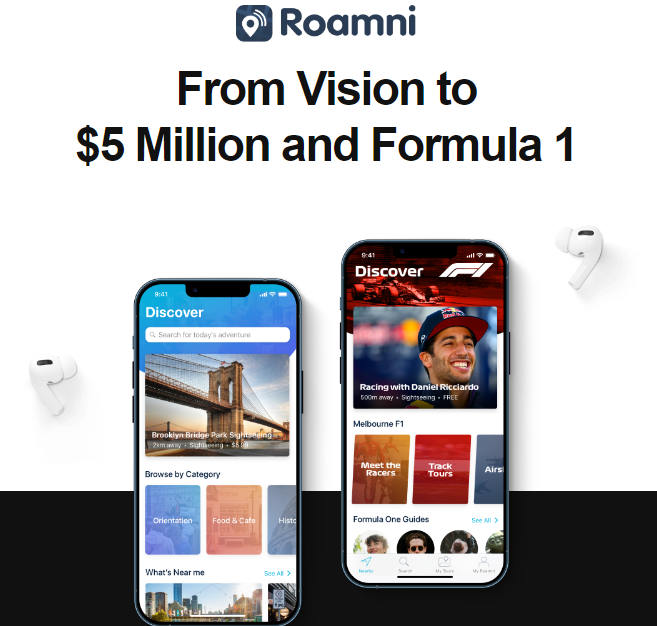 In six short weeks, we've transformed the mobile app founders' vision into a world-class design that earned them millions of dollars and official partnerships with Formula 1 and the Australian Grand Prix!
Discover how mobile app design launched this startup from idea to the fast lane by reading the Roamni case study.
#3 Perfection leads to inaction
Never taking action is the biggest killer for entrepreneurs.
Of course, you want your web or mobile app to be "perfect" and wow your target users during the launch. But in our experience, this rarely happens.
The UX design process is iterative. You can't perfectly anticipate how users interact with your web or mobile app unless you let them get their hands on it.
Even if your web app or mobile app design passes user testing with flying colors, it'll likely still have to undergo several rounds of iterations later on.
That's just how it is for all apps, be it mobile, web, or desktop versions. Even the biggest and most established brands are constantly testing and iterating to improve the user experience.
Dominate the App Store.
Get the latest industry news first.
Remember, user needs and preferences are always changing. If you want your web or mobile app to remain relevant, you must allow it to evolve with the users.
So, let go of perfection and take a step forward! Our team of web and mobile UX design experts can make the process less intimidating and risky for you.
No matter the size of your business, we always start with the design stage. We build you a world-class web or mobile app design ready for development.
This allows you to take a small step toward achieving your vision rather than getting stuck in a cycle of constant revision without making real progress.
Even if you don't move ahead with Appetiser, you'll have an iterative design that you can use to gain user feedback or investor funding.
In other words, you win no matter the direction you take after.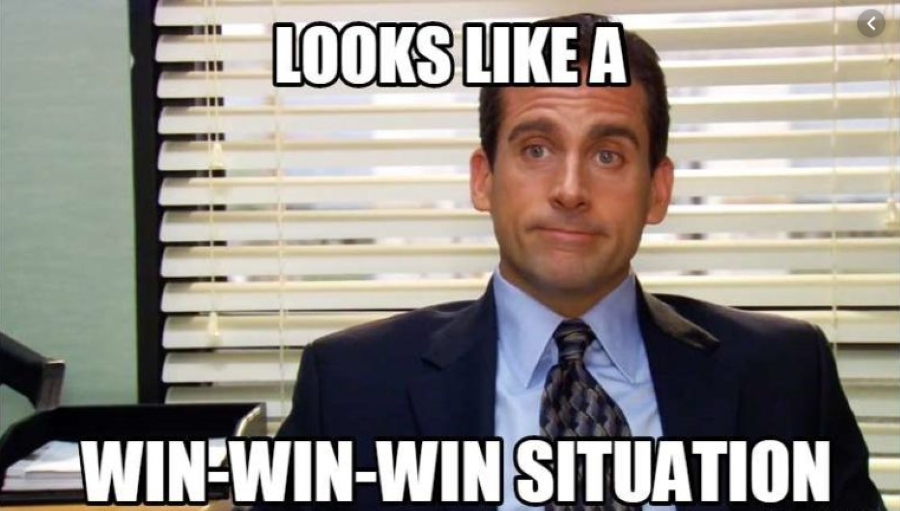 Source: FINEOS
Is this something you want to get involved in? Hit us up, and together, let's build something awesome.
#4 Navigation is a conversation
Another key user experience insight to remember is that navigation is a conversation between the UX designers and the users.
This means that your web or mobile app UX design should make users feel guided by invisible hands. In other words, app navigation must be self-evident.
How does this work?
Just as we use verbal cues to guide a conversation, UX web or mobile designers use visual cues to guide users through a digital interface. However, this isn't something that's learned overnight.
To create a successful user experience, a UX designer must know how to properly and intuitively use icons, buttons, patterns, and other visual design components to serve as user cues.
It takes a lot of experience and trial and error to learn to step into app users' shoes, understand their needs, and design an app UX journey that'll accomplish users' goals.
This is why we created the Appetiser baseplate.
The Appetiser baseplate is a unique framework that gives our mobile and web design experts a solid starting point for creating a good app UX.
They use the baseplate for navigation and design elements that are constant on almost every web or mobile design project. These include login and contact pages, forgot password option, and other flows.
In creating the baseplate, we take into account all the learnings we have gained from UX research, previous projects, and years of experience designing and developing web and mobile applications.
The result is a data-driven framework that reduces our design and development timeframe by 50% — while ensuring excellent quality.
#5 Not all app UX designers are equal
UX design is a relatively new field, and it's constantly evolving. As such, not all UX designers are the same.
Some designers focus on specific areas, such as mobile app UX, while others have broader expertise. Others may have experience with specific mobile UX software or tools but need a deeper understanding of what most users prefer and expect.
The best UX designers have a strong understanding of UX design principles, keep up with the latest user experience trends, and, most importantly, know how to apply them to create a great user experience.
But you might think anyone can claim to do all that. And I agree!
That's why it's important to do your research.
When choosing a web or mobile UX design partner, look for one that can back their claims with proven statistics, recognitions, and, most importantly, client success stories.
Speaking of success, allow me to flex Appetiser a little bit more.
The Appetiser Difference:
👩🏻‍💻 11.5m million users
🤳🏻 7m+ downloads
💰 $3.5bn in revenue generated
💁🏻 1 in 10 Australians has experienced our clients' tech
🏦 $20m+ in capital raised by our clients
Appetiser was recognized as:
🏅 Clutch: Top Australian App Design Company (for two years in a row!)
🏅 UpLabs: #1 Designer in Australia; #7 in the world
🏅 Design Rush: #4 app design agency in the world 2019
How do we do it?
At Appetiser, we've focused on hiring the top 1% of developers globally, including former Samsung, Google, and Apple engineers. This is one of the reasons why we have the most success stories than anyone else in Australia.
Out of functional prototypes, we've helped clients like Vello and GoodEmpire raised millions of dollars. We've also helped brands like Youfoodz, MyDeal, and Pointsbet complete complex projects — that now generate billions of revenue — in under six months!
These are just some of our clients' inspiring success stories. Discover more when you visit our portfolio.
Good UX design is good business
Your web or mobile design is a powerful tool to communicate your brand's story, engage your users, and boost conversions. But to achieve all that, you must ensure that user experience (UX) is always front and center.
Keep that in mind, and you'll be on your way to creating a well-designed web or mobile app that meets your users' needs.
Need help crafting an ideal web or mobile app user experience?
If you need help getting started or want the experts' feedback, reach out to our UX and UI design professionals at Appetiser Apps. Our team is always happy to help deliver successful results for your startup.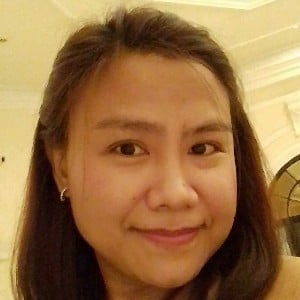 Jane Eslabra is a Content Marketing Specialist at Appetiser Apps. She has 14+ years of experience producing traditional and digital content. When she's not busy being a wordsmith, she's out swimming, taking a long walk, or trying new activities that will keep her eyes away from the screen and her body moving.
Dominate the App Store.
Get the latest industry news first.