10 Best Minimum Viable Product Examples (+ 8 Strategies)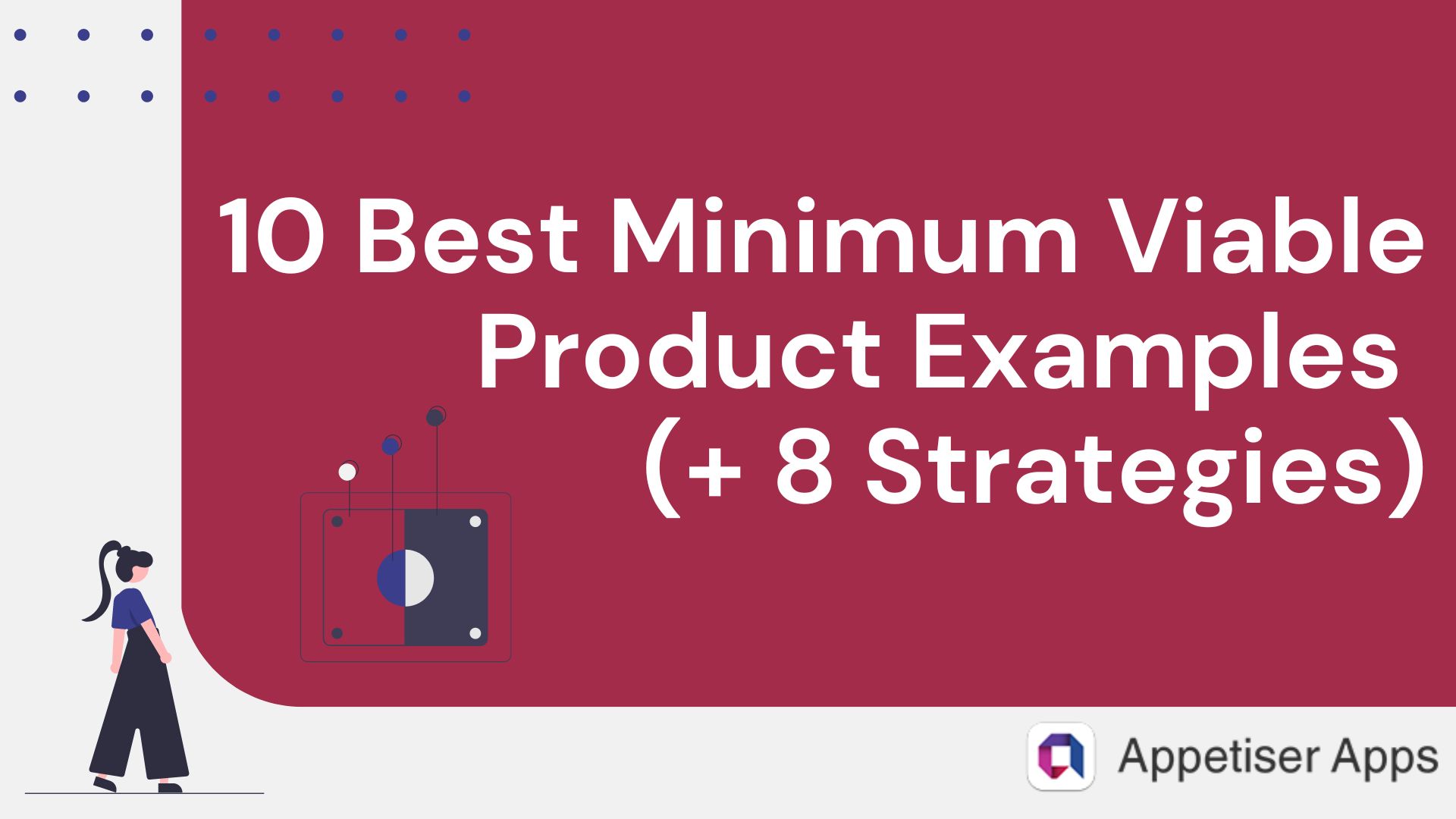 Did you know, according to most statistics, up to 90% of startups fail?
These startups build and launch a final product without checking whether it's a viable solution for their target audience. They make the mistake of assuming people care enough about their problem to pay for a solution to it.
That's where they went wrong.
You need to create a minimum viable product (MVP) to test user reactions to your solution. It's how your business will survive (and thrive). Many of the bigshot companies today built an MVP ​​concept before getting insightful customer feedback to justify their business idea.
In this post, we'll discuss a few brilliant minimum viable product examples and the common strategies leaders use to make their businesses successful.
What Is a Minimum Viable Product (MVP)?
A minimum viable product (MVP) involves creating the first form of a product with just the core components needed to perform its core functionality.
Think of it like this: Minimum means limited features, and Viable means they are enough for the product to function properly.
MVP product development doesn't have to be complicated. It should:
serve a target audience
solve a primary issue
present a better understanding of what to build
eliminate the risk of adding undesirable features, thereby spending less money on development
In a nutshell, an MVP product is released to users to test features and get feedback for further improvement. Founders use it to assess how their target audience feels about an idea. If the idea has potential, they then develop the next version using the collected feedback.
The Purpose of Minimum Viable Product and the Basics You Need
An MVP's purpose is to bring your product to the market as quickly as possible without exceeding your budget. It enables you to:
discover your target market,
test and validate your product, and
figure out what you'll need for future developments.
Your minimum viable product should have the must-haves features—features that make your idea come alive.
Let us explain—suppose you're starting an app business and want to create an MVP for, say, a flower delivery app. In this case, your core features would be a simple log-in/signup page, a flower catalog, delivery settings, and a payment page for users to place orders.
Get it?
Besides validating your app idea, an MVP also saves you from investing the additional time and resources you would've otherwise committed to a product that may not succeed.
The 8 Minimum Viable Product Types and Strategies
Before we look at MVP examples of companies, let us first understand the different MVPs and how they work.
1. Product Design
Product design as a minimum viable product is particularly valuable for software, mobile apps, and tech tools.
You can implement MVP in various ways, like a sketch (simple design done by hand or with a tool), a wireframe (shows the location of system elements, user experience, hierarchy, and navigation), or a mockup (demonstrates precisely how your product will work.).
If you want to build a dedicated audience for your solution faster, then product design as an MVP is your best bet.
2. Landing Pages
A good landing page provides vital information concerning the product, along with links to request more information. It's a common app marketing strategy to quickly gauge interest in a new product or service.
If there's an instance where few (or no visitors) click the links on the landing page, there's no need to continue with the product's development. But before that, you'll need an attractive and professional-looking landing page. Hire a graphic designer to create one or use a landing page builder for best results.
3. Demo Videos
A demo video describes what a product does in detail.
It's like an explainer video that shows how your product works, what functions it'll have, and what user needs it'll address. It lets you ask your targeted audience if the solution you want to provide meets their needs.
Demo videos are also a great example of representing your minimum viable product through content. Making a video to present your product idea to potential users and investors stops you from spending money irrationally before validating your business concept.
4. Piecemeal MVP
The piecemeal minimum viable product allows you to test your idea using existing tools and services in your project.
Here, you piece together components and pieces from your project to deliver a new user experience. You show the users one critical function that solves a fundamental problem. We recommend using the piecemeal MVP when introducing an idea on a tight budget.
5. Wizard of Oz
This concept was derived from the "Wizard of Oz" story, where the scary green head was an old man hiding behind a curtain.
Like the story, an app with this MVP strategy looks completely functional from the outside. But in reality, everything is operated manually by humans or "wizards" behind the curtain. This type of minimum viable product is also called "Manual-First MVPs" and is ideal for service-based startups.
6. Concierge
Concierge MVP is almost like the Wizard of Oz MVP but instead of making the user believe everything is automated, you let them know it takes a human to work (called a "concierge").
You first provide services manually, followed by collecting user feedback on the service. Based on the feedback, you then work on automating your processes. This strategy is best for testing if an app is relevant to the market needs.
7. Crowdfunding
This is a collection of minimum viable products by crowdfunding platforms. The essence of an app prototype crowdfunding platform is to enable you to receive donations before the release of the app or product.
Founders use crowdfunding to explore the place of their final product in the marketplace through people's contributions on these platforms.
8. Software Prototypes
Creating a software prototype is the most common type of MVP. It's the first working product version to test your app's viability.
If you have done some testing before and have support from the market, then a software prototype is a good choice.
10 Real-Life Minimum Viable Product Examples for Inspiration
What factors should you focus on when creating a ​​minimum viable product?
Here are some of the best minimum viable product examples that eventually became successful businesses.
1. Dropbox
Video Embed: https://youtu.be/qxFLfY7_Gqw
Dropbox founders had a great idea to create online storage for files. They wanted people to get a feel of the app before the actual development process.
Instead of investing and building the hardware right away, they started as a demo video MVP. The simple video explained how the first iteration of their product would look and work.
It turned out to be a massive success as the number of signups increased overnight—all without an actual product in place! The experience of seeing the video was enough to sell the idea and collect feedback validating their product.
2. Buffer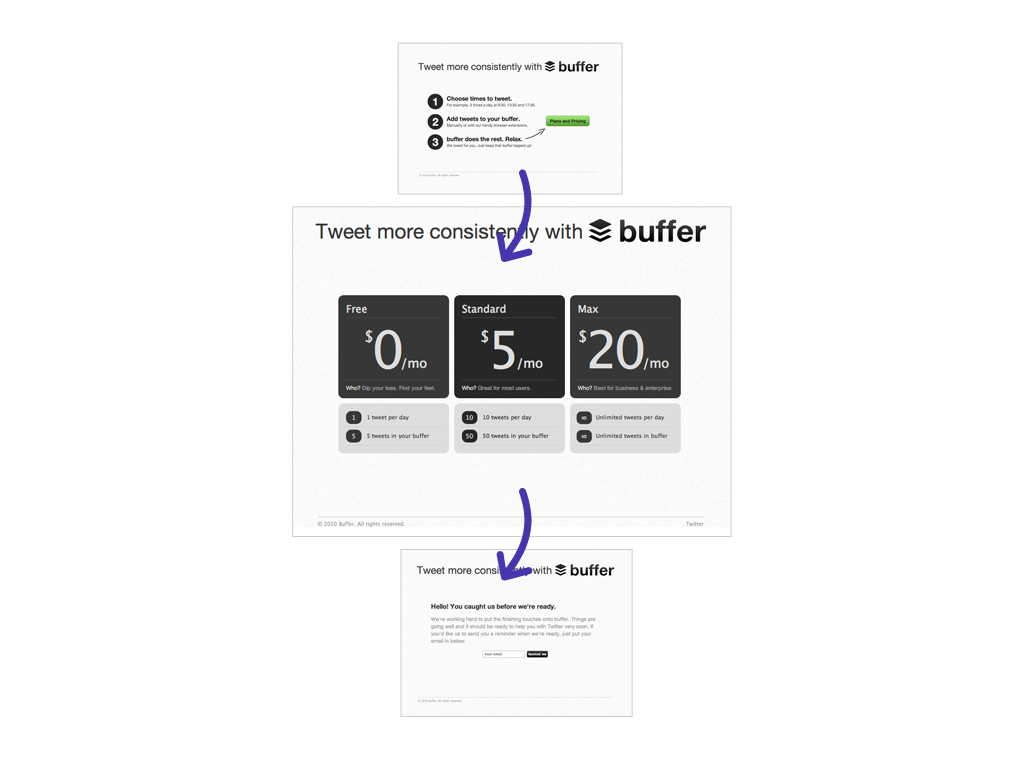 Image Source: MLSDev
Buffer started as a series of landing pages before transforming into an app for scheduling social media posts.
Founder Joel Gascoigne created a landing page with just enough information describing what Buffer did. He wanted to gauge people's interest before making it a profitable venture. He then promoted the first landing page on social media and asked viewers to fill up the signup form.
The positive response from the signups encouraged him to create another landing page with pricing information to understand how much people were willing to pay for the app. With many people signing up for the paid plans, it was clear Buffer had potential and the rest is history.
3. Zappos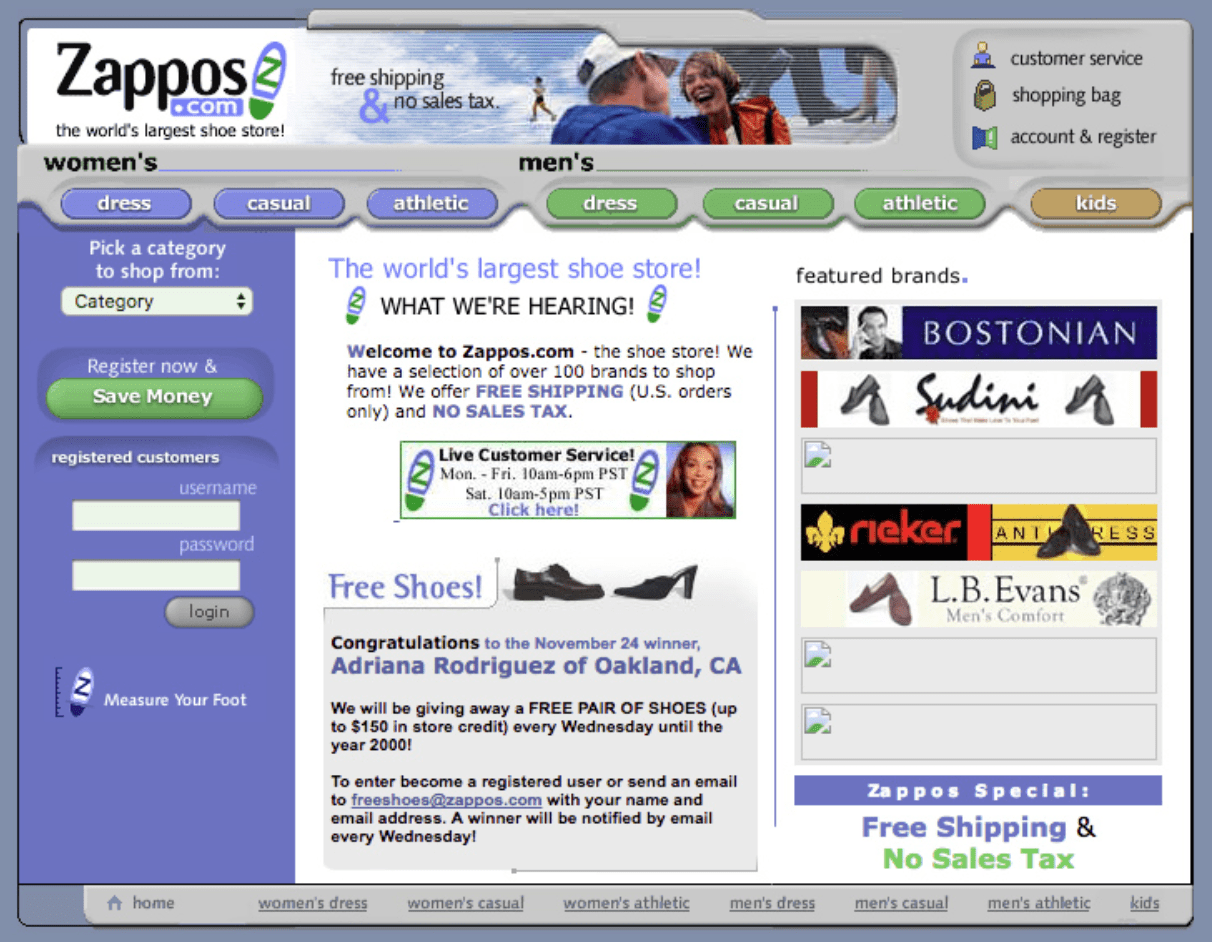 Image Source: Altar
Dominate the App Store.
Get the latest industry news first.
Zappos is a famous example of the Wizard of Oz minimum viable product strategy.
Back in 1999, founder Nick Swinmurn tested the hypothesis that people were ready to buy shoes online before trying them out. He went to local shops, took pictures of shoes he wanted to sell, and placed them on his website, Shoesite.com. If anyone placed an order, he would go to the store, buy the pair and ship it over.
When people started making purchases, Swinmurn discovered consumers liked this model a lot. This prompted him to develop his website, rebranding it as Zappos. It became a huge success and was later acquired by Amazon in 2009 for a cool $1.2 billion.
4. Airbnb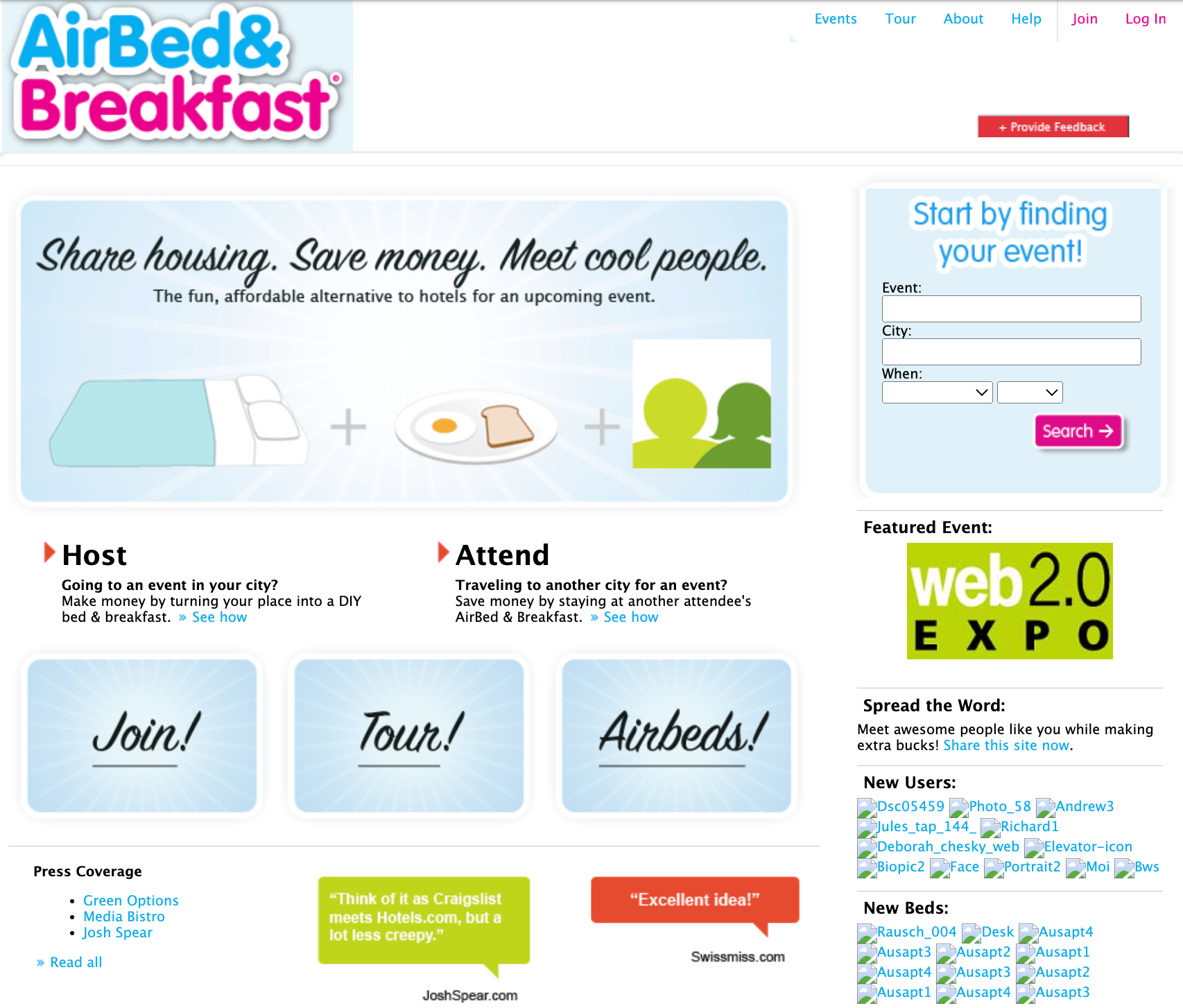 Image Source: Wayback Machine
Airbnb first started as a concierge minimum viable product.
After moving to San Francisco, product designers Brian Chesky and Joe Gebbia of Airbnb realized their loft apartment rent was too steep for them. That's when they came up with a solution: opening up their apartment for short-term rental to attendees of a nearby conference to earn extra income.
They created an MVP of nothing more than a website, uploaded photos of their apartment, and found paying guests almost immediately. Their initial goal was to make some extra cash, but they quickly realized there was a market for people who wanted to rent out their homes.
From there, the platform grew and is now a roaring success.
5. Foursquare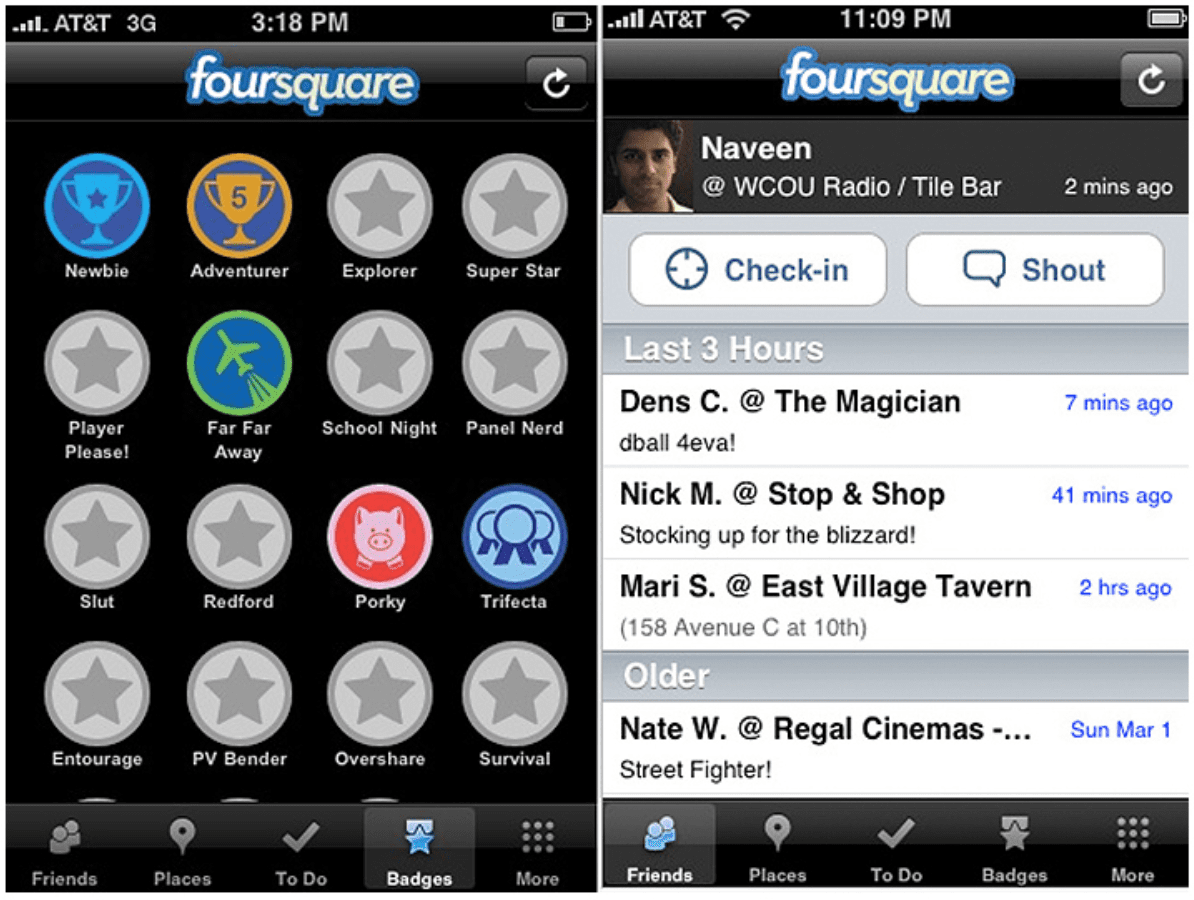 Image Source: Altar
Foursquare is a location-based social network that started with just one feature: users could check in at different locations.
It had a process that rewarded people with badges based on the amount and type of check-ins. As its user base grew, they added recommendations, city guides, and other features.
Today, Foursquare has become a full-fledged city guide with over nine billion monthly visits from 500M unique devices.
6. Groupon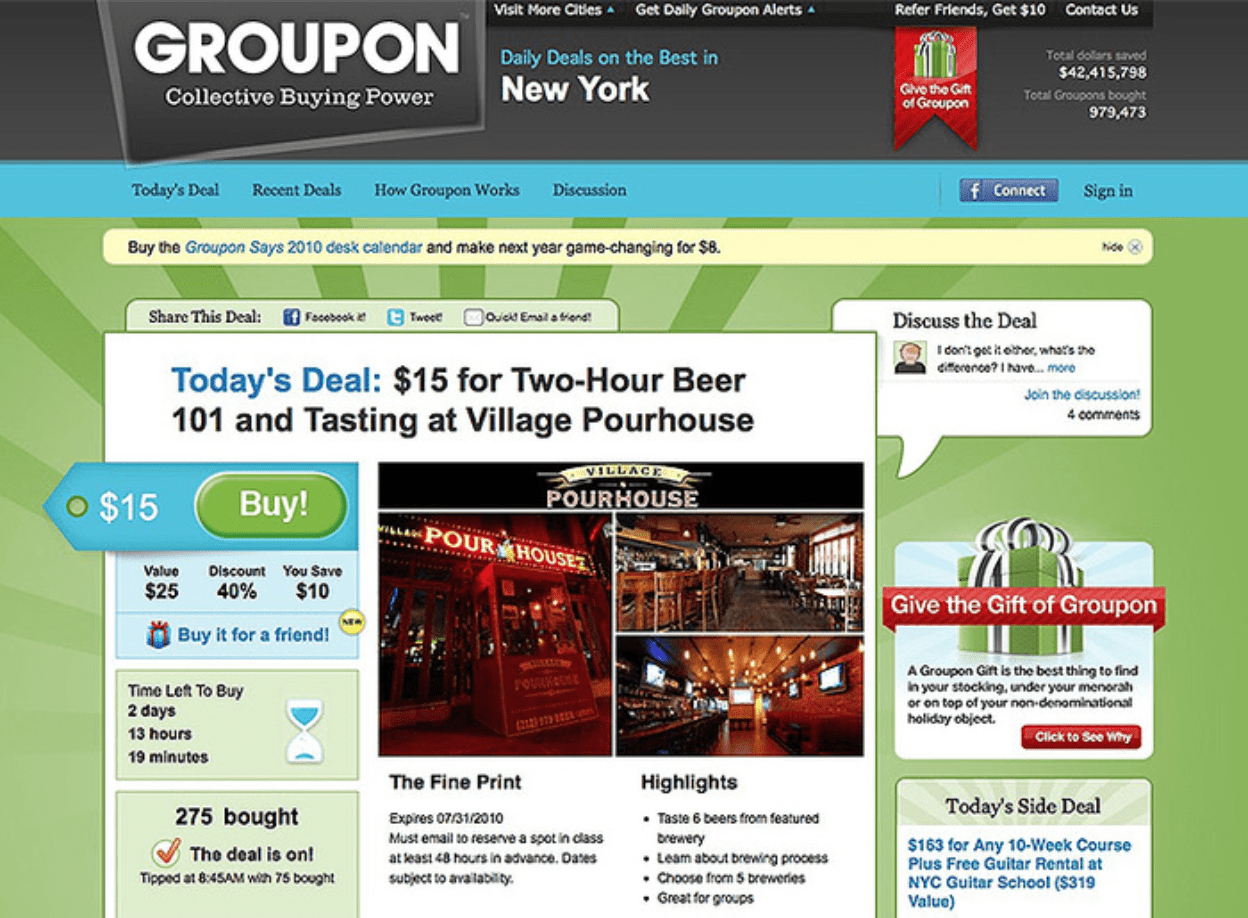 Image Source: Altar
Groupon began as a piecemeal minimum viable product that promoted the services of local businesses. It was presented as a marketplace with exclusive offers and deals from local restaurants, agencies, and retailers, among others.
At first, the founders couldn't build their content management system (CMS) and used WordPress to post daily deals as blog posts. This allowed them to test their model without spending resources on back-end infrastructure.
7. Uber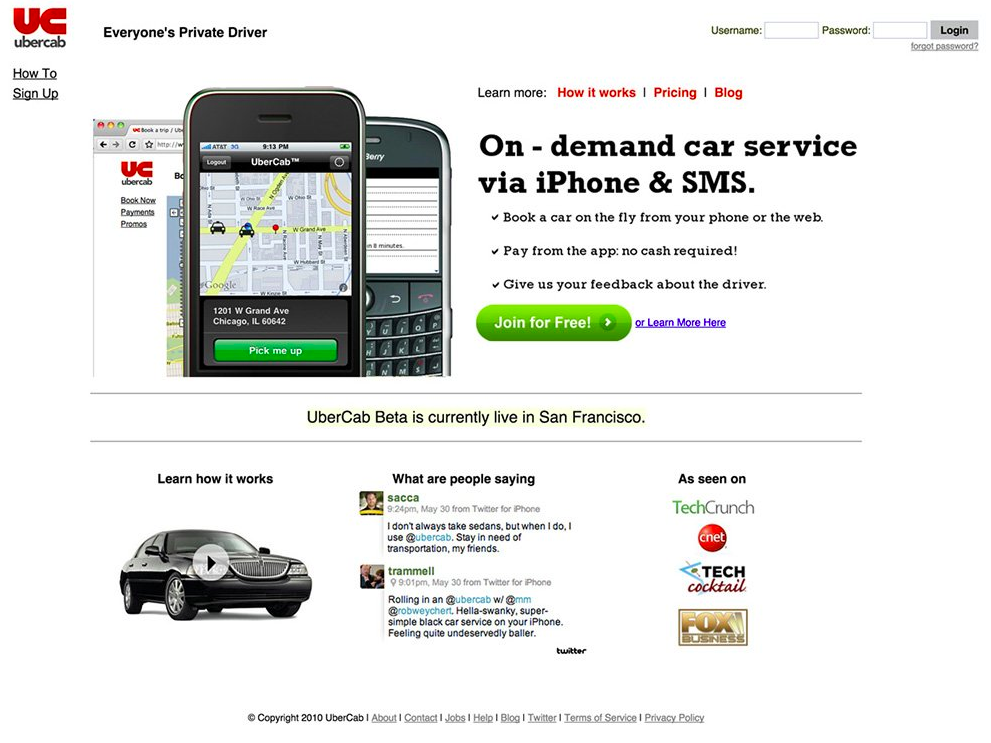 Image Source: Medium
Uber launched in 2009 as an MVP app called "Ubercab" that only worked on iPhones and SMS in one location, San Francisco. The original idea from the founders was to pair drivers with people who wanted a ride.
The MVP helped them test their ride-sharing idea in the market. As their user base grew, they added more features like GPS integration, real-time driver tracking, ratings and reviews, and more.
The end result? Uber is now the #1 ride-sharing app in the world.
8. AngelList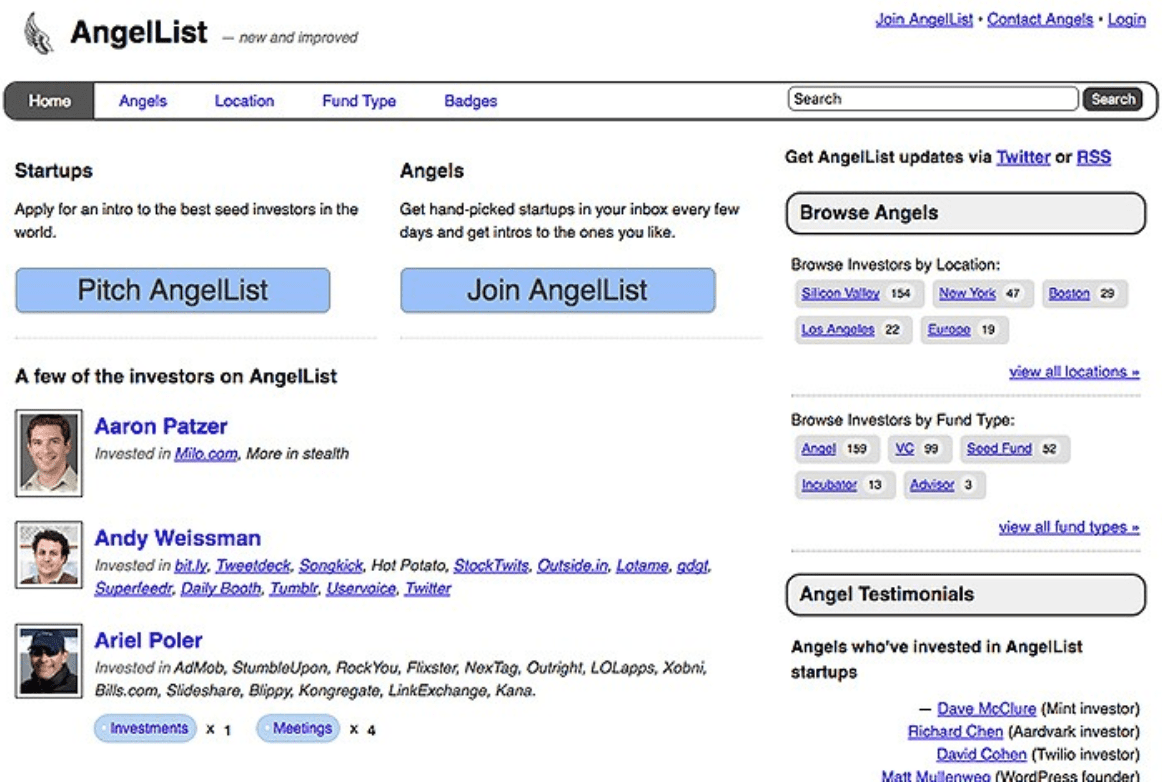 Image Source: Altar
AngelList had a simple aim: help startups connect with investors and raise capital.
It started small, using its team's contacts to connect founders and investors. The site only scaled when they saw their vision had potential. AngelList has since expanded to over 10 million users and has almost $1.8 billion in assets under management (AUM).
9. Amazon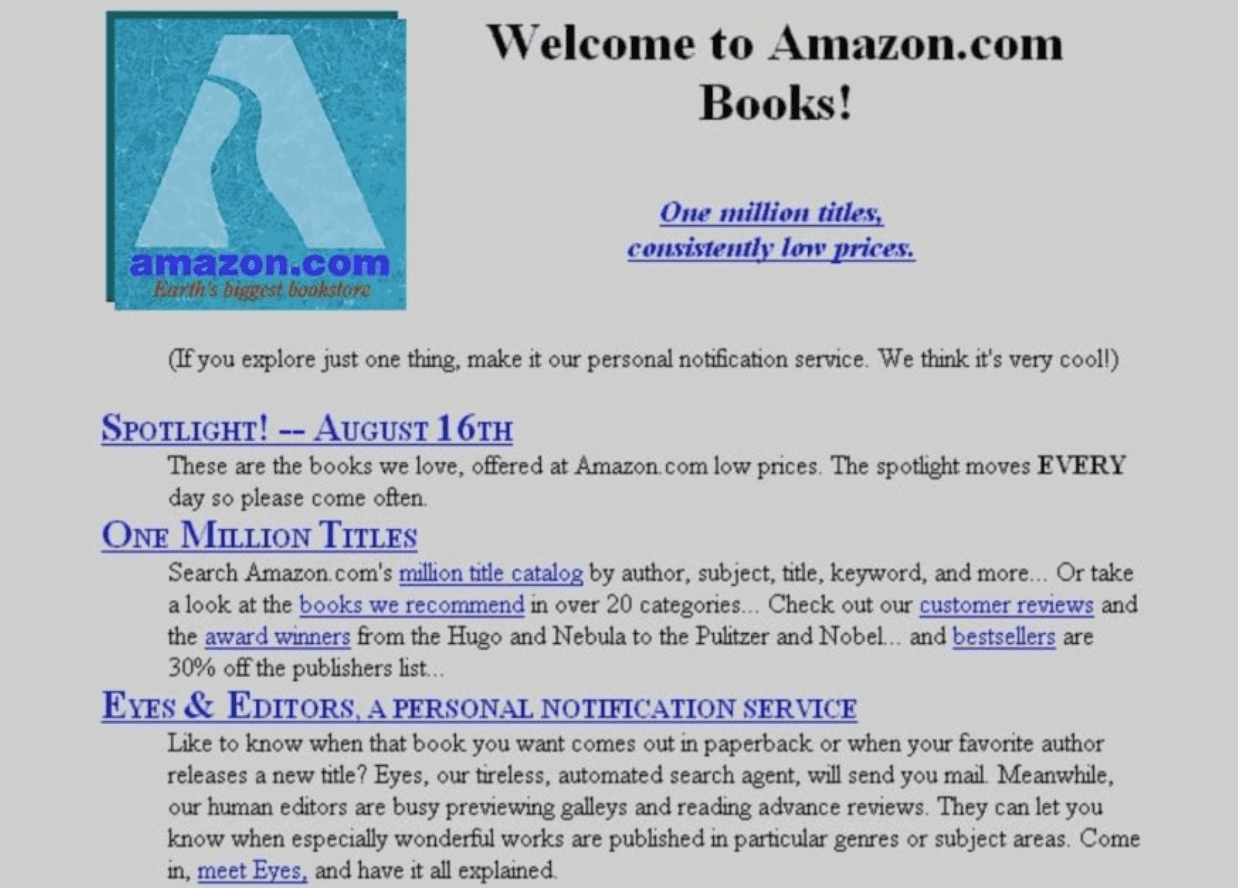 Image Source: Altar
Amazon is one of the most popular MVP examples. Currently, it's the gold standard in the e-commerce niche, generating nearly $470 billion and catering to the global market.
It's common knowledge that the e-commerce giant began as an online bookstore. When Jeff Bezos started his company, he bought books from distributors and shipped them to customers that placed orders online. He did this to test whether people would buy books on the internet.
The initial website was built with a basic design with only the core features to reduce product development costs. Seeing the volume of book sales, Bezos kept adding more books to the store and acquired warehouses eventually blossoming into the mammoth of a platform it is.
10. Spotify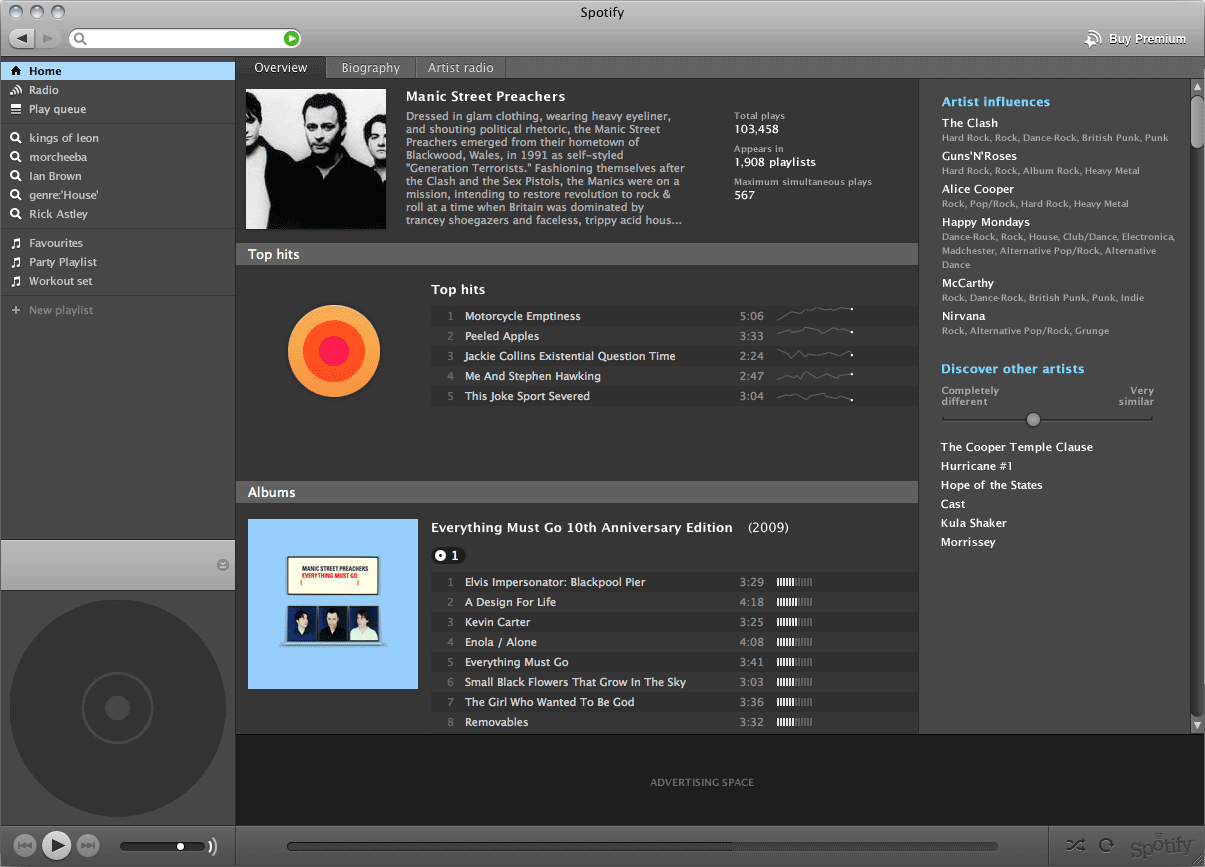 Image Source: Stfalcon
In the 2000s, people downloaded music through pirate sites. Naturally, these sites faced strict regulations and were shut down.
It was then that Spotify co-founders Daniel Ek and Martin Lorentzon decided to offer a music streaming service legally. They developed an MVP and tested it with family and friends before presenting it to a larger audience.
Today, Spotify is an on-demand service to stream music, video, and podcasts with over 422 million users.
Create an MVP to be the MVP in the long run
From these examples, it's easy to see why most startups go the MVP route to deliver their products to the market.
A minimum viable product is a super effective way to test your idea and know what customers think about the solution you're providing—collect valuable feedback to improve. This way, you can always pivot and restrategize before you waste a large number of financial resources on further developments.
Bear in mind that the type of MVP you choose to work on will depend on factors like the kind of product or service you're offering and your financial resources.
If you're ready to build and launch your app, Appetiser Apps offers full service app development services. From strategy to design and development, we will be your full-journey partner and ensure that your startup has the keys to app success. Contact us for a free consultation today!
Author Bio
Rana Bano is a one-part B2B content writer and one-part content strategist. She uses these parts to help SaaS brands tell their story, aiming to encourage user engagement and drive traffic.
Dominate the App Store.
Get the latest industry news first.