Google acquires "Where is my Train" developer Sigmoid Labs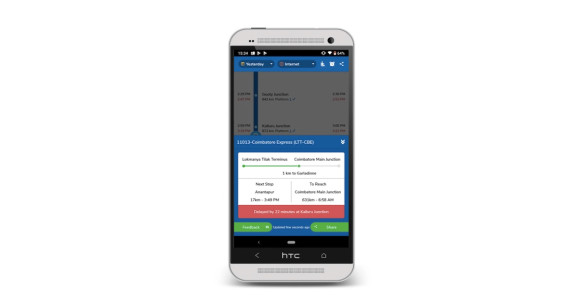 Google has announced that it acquired Bangalore-based Sigmoid Labs, the company behind popular Indian travel app "Where is my Train". Sigmoid Labs will be joining the company and will continue to work and provide services to the app.
"We are excited that they're joining Google and will be part of a team that will continue to build on the current offering and more," a spokesperson said.
"Where is my Train" is a popular travel app that helps users track trains across India. Where the Indian Railways is estimated to operate over 14,000 trains across the country every day and serves around 30 million passengers. Where is my Train has been downloaded over 10 million times and currently ranks No. 1 in travel and location apps category.
Where is my Train stands out from the multitude of train apps available in India because it allows users to find information without the need for GPS or data. Instead, the company said it relies on information sourced by triangulating signals from cell towers.
"We can think of no better place to help us achieve our mission, and we're excited to join Google to help bring technology and information into more people's hands," – According to a statement from Sigmoid Labs.
Sigmoid Labs was cofounded in 2016 by former TiVo employees Arun Kumar Nagarajan, Ahmed Nizam Mohaideen, Balasubramoniam Rajendran, Sashikumar Venkataraman, and Meenakshi Sundaram.
Due slowed growth in new users slows in developed markets, Google and other Silicon Valley companies are now targeting emerging markets like India and Indonesia. Just this year, the Google concluded the rollout of free Wi-Fi in 400 railway stations in India. The project, which is part of Google Station, is currently serving 8 million train commuters in India. And the acquisition of the app is another evidence of Google's aggressive play in emerging markets.
Image source: Venturebeat
Dominate the App Store.
Get the latest industry news first.