According to a new report by app store intelligence firm Sensor Tower, mobile app spending on both iOS and Google Play will grow by 120% and will reach a whopping $156 billion dollars in revenue by 2023 worldwide.
The forecast estimates that in the next 5 years, iOS and Google Play will more than double their revenues. Countries like China, U.S. and Japan will be lead the way in iOS app expenditure, while Google Play spending will be led by the U.S., South Korea and Japan.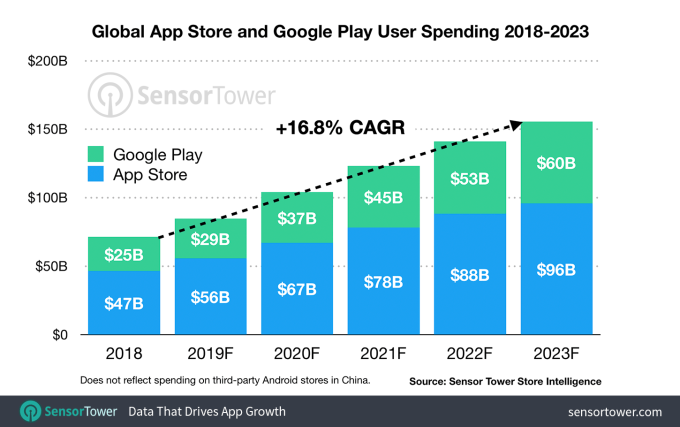 According to the report, Apple is expected to see consumer spending reaching $496 billion worldwide. That's a 104% increase compared to the $47 billion they achieved in 2018. Meanwhile, consumer spend on Google Play is forecasted to increase by 140% and reach $60 billion in total revenue. According to Sensor Tower, iOS is expected to account for nearly 62 percent of all revenue generated by the two platforms.
The study also indicates significant growth for emerging markets. For example by 2023, it is anticipated that app spending on iOS in Africa will grow by 296% ($420 million) and in Latin America by 239% ($2.4 billion). As for Google Play, Latin America is expecting to grow by 408% ($2.8 billion) and Africa by 296% ($430 million).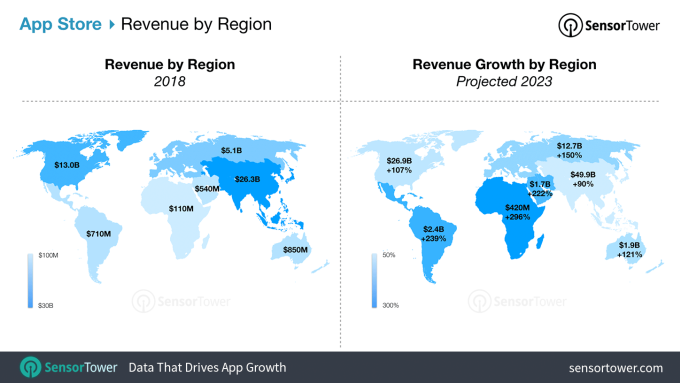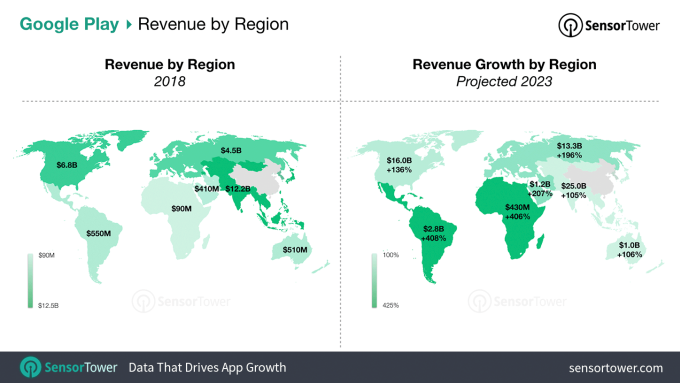 What about Australia? iOS spending is expected to grow to $1.9 billion while Google Play is projected to reach $1 billion by 2023.
However, according to Senser Tower, the U.S. is projected to reach $40 billion in total app spend between both platforms. This would mean a 110% growth from 2018's $19 billion total. Revenue from iOS is estimated to account for $25 billion while Google Play store will account for $15 billion.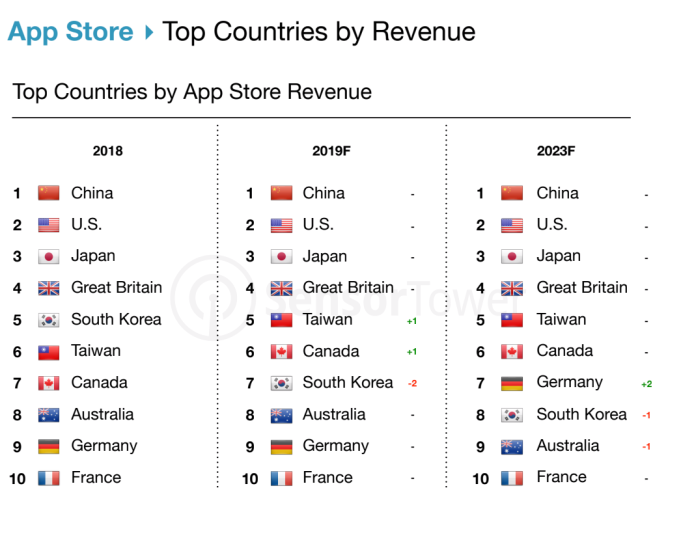 Taiwan is projected to become one of the top-five countries for app spend on the Apple Store by 2023 with expected revenue of $2.1 billion. Then U.S. is expected overtake Japan in terms of Google Play revenue in 2019. Google Play revenue in Japan largely benefited from popular games like Monster Strike and Fate/Grand Order, and the study found that the downloads will slow down this year.
The report by Sensor Tower also found that China's revenue was significantly impacted by the game-licensing freeze but it is expected that they will recover with the renewal of mobile game licensing.  This change has stalled China's market growth and in the next few years, the U.S. is projected to reach China's levels.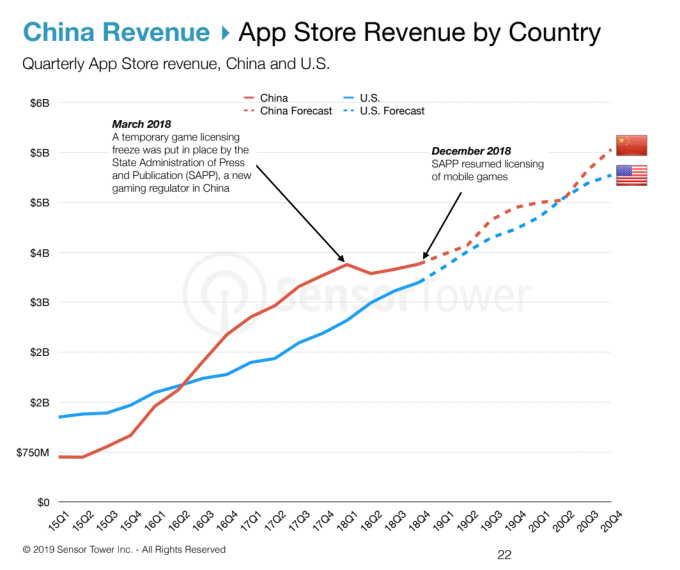 Another interesting finding is that by 2023, revenue growth on subscriptions and Entertainment (streaming apps) is expected to outgrow revenue from games. App spending on non-game apps is projected to grow by 24% while games are only projected to grow by 10%, this will result in non-game apps to account for 40% ($38.8 Billion) in iOS revenue.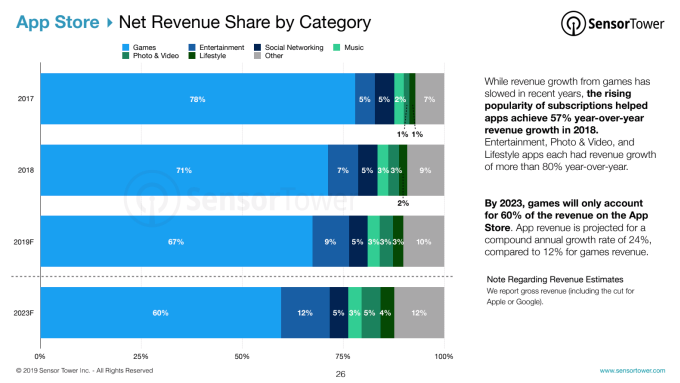 However on Google Play, games will continue to have the largest app revenue share with an expected 3% drop. So instead of the revenue share of 89% as in 2017, Sense Tower forecasts that the revenue share will drop to 86%.
You can view the full report on the Sensor Tower website.
Image Credits: Sensortower, PYMNTS