Snap Challenges TikTok with a Million Dollar Imitation Strategy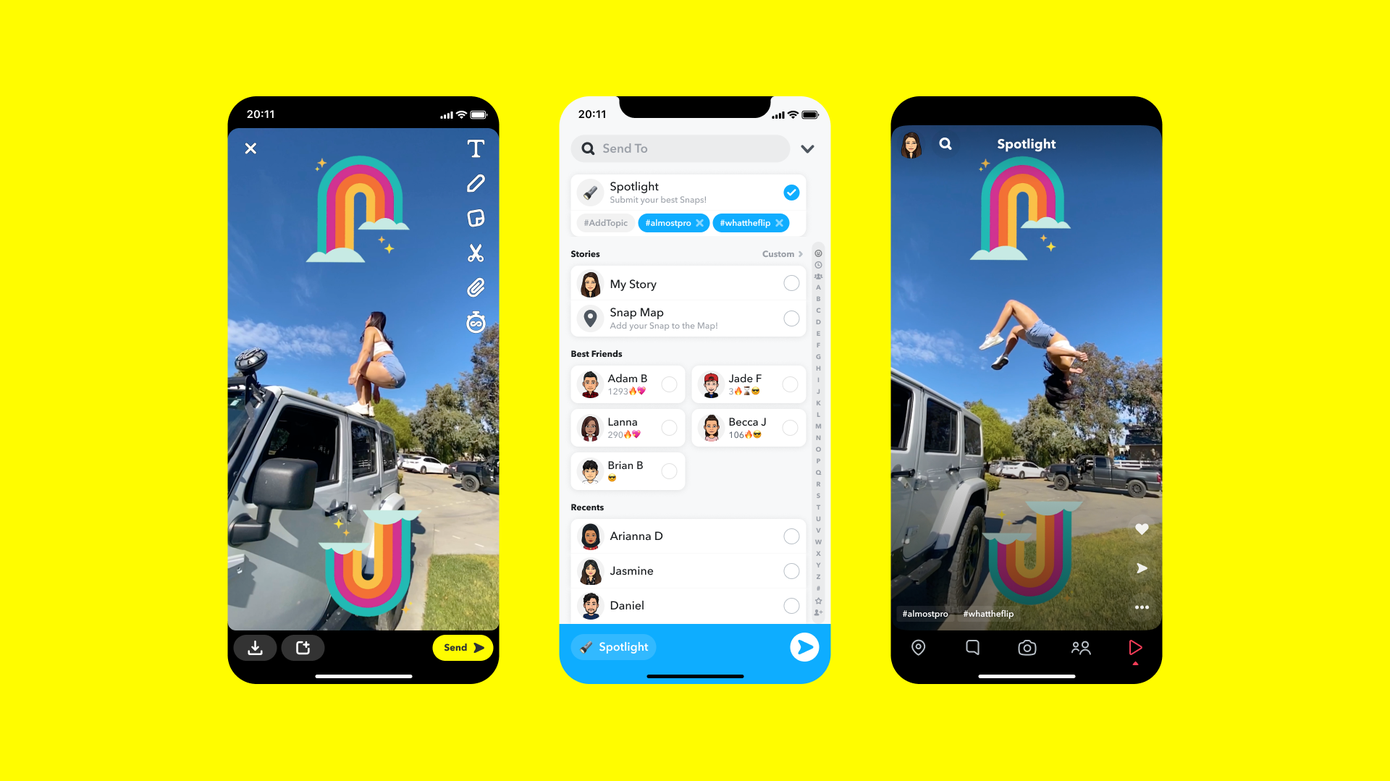 Snap officially launched Spotlight, a dedicated in-app feature for users to watch and scroll through short, entertaining and highly-shareable videos. Sound familiar? The vertical-feed is almost identical to TikTok and the newly-released Instagram Reels where addictive user-generated videos are put front-and-centre.
Shining a light on the best snaps
With Spotlight, users can create short clips up to 60 seconds in length and edit them with captions, sounds, and augmented reality filters or lenses. These videos are then delivered through algorithms that work to surface the most engaging Snaps to display to each user on a personalised basis – similar to TikTok's For You feature.
Snapchat's algorithm considers a combination of factors when curating content. It evaluates how long people spend watching a certain video and how many likes or shares it receives. The algorithm also considers negative factors like how quickly Snap users skip a video. In time, Spotlight will become tailored based on a user's interactions, preferences and favourites.
On their blog, Snapchat emphasises that Spotlight is an entertainment platform and not a place for news or overly political content. Before content is shown in Spotlight, it gets reviewed to ensure it's both appropriate and entertaining.
Priority in privacy
A key difference between Spotlight and TikTok is Snap's commitment to the privacy of their community. Since anyone can submit to Spotlight — including private users —profiles won't be displayed in Spotlight without the user's permission.
Another privacy measure is that there are no comments in Spotlight. Users can forward snaps they see in Spotlight to friends both on and off Snapchat; however, there's no way to discuss the content on the snap itself, or send private creators a direct message. Early users see this as a welcome change from the toxicity that's often present in TikTok and Instagram comments.
Dominate the App Store.
Get the latest industry news first.
Playing catch-up
Despite being late in the game, Snap is heavily invested in promoting Spotlight to catch up with competitors. Snapchatters who contribute to Spotlight stand a chance to earn a cut from a pot of more than $1 million every day.
To earn on Spotlight, Snapchatters have to contribute viral content – the more views, the more a video is worth. Earnings are determined by a "proprietary formula which rewards Snapchatters primarily based on the total number of unique video views a Snap gets in a given day (calculated using Pacific Time) as compared to the performance of other Snaps that day."
A spokesperson for Snap said that high-value payouts will be a significant portion of the pot and that each payout will be a minimum of $250. The payments are only for people over 16 years old and Snap committed to $1 million per day through the end of the year, and possibly beyond.
Snap's Spotlight is an example of imitation as a strategy. For creators after the cash, time to put your thinking Snaps on.
Spotlight is available starting in the US, Canada, Australia, New Zealand, the UK, Ireland, Norway, Sweden, Denmark, Germany, and France, with more countries coming soon.
Originally posted on TechCrunch.
Hero image source from Snap.
Dominate the App Store.
Get the latest industry news first.