Android App Design: 10 Stunning Examples to Inspire Your Project
The number of Android apps continues to grow, signifying an ever-intensifying competition in the market. As of 2023, there are approximately 2.59 million apps available on the Google Play Store, and thousands more are added daily.

Source: 42matters
Having a thoughtfully designed app isn't just a nice-to-have — it's a strategic necessity. It distinguishes an app that simply exists from one that excels, effectively attracting and retaining users' attention in a market flooded with alternatives.
If you're looking for exciting ideas for your project, you're in the right place. In this blog, I've listed the 10 app designs that have captured the attention of our designers at Appetiser, a team recognized as Uplab's #1 designer in Australia and #6 in the world.
Read on to spark your creativity and find inspiration for your Android development project.
10 Best Android App Design Inspirations
1. Youfoodz: A Feast for the Eyes and the Tastebuds
Category: Foodservice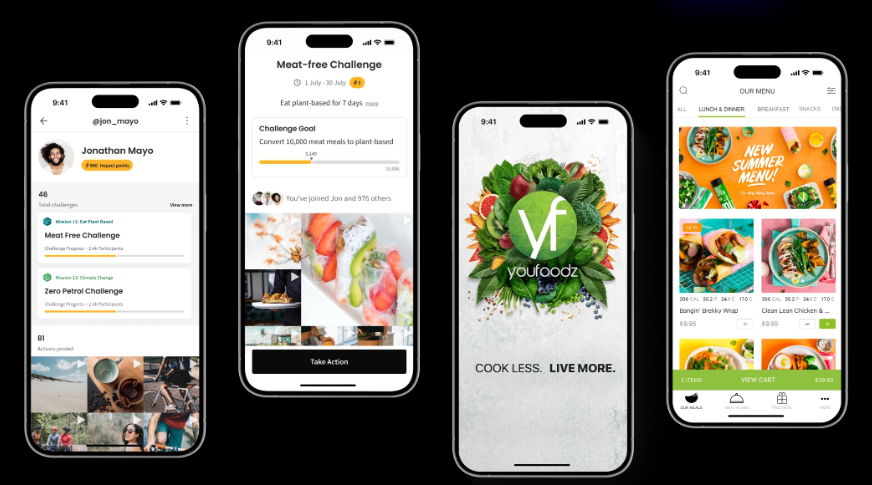 Youfoodz is an Australian-based food delivery service known for offering a wide range of healthy and convenient meal options. The app is recognized as Australia's #1 Healthy Food Delivery Service, and it's not hard to see why.
Key Design Features and Innovations
The mobile app is a standout with its user-friendly design, giving users a visually appealing and easy-to-navigate platform to explore a wide range of delicious food choices. Its seamless integration of personalized recommendations ensures that users can effortlessly discover new and delightful culinary experiences tailored to their preferences.
What We Like About It
Among the things that we love about Youfoodz is its restaurant discovery feature, which lets you read reviews and check out menus, helping you make informed dining decisions. The app also goes the extra mile by personalizing user experience, suggesting new dishes based on what you've enjoyed in the past.
And here's the icing on the cake: Youfoodz keeps you in the loop with real-time order tracking, so you always know where your meal is. They've also got you covered with flexible payment options to suit your preferences.
Do you want to know how this delightful design came to life? Check out Youfoodz's case study.
2. Duolingo: Gamifying Language Learning
Category: Education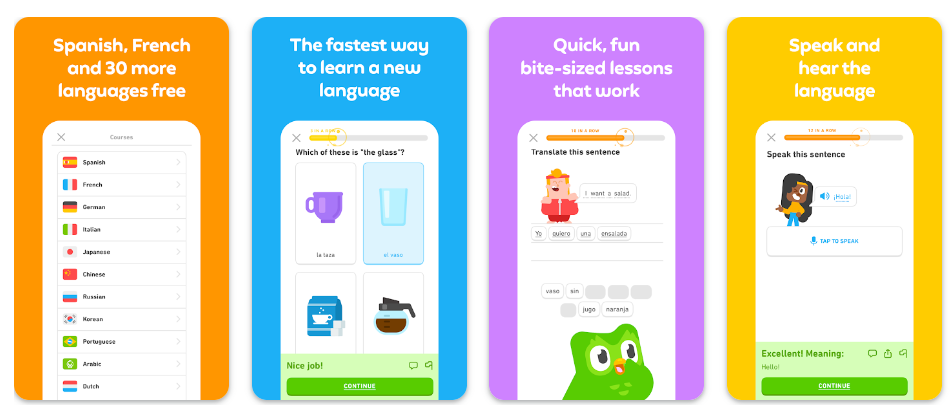 Source: Duolingo
Duolingo is a popular language-learning platform that offers a variety of courses in numerous languages. It has gained popularity for its innovative and effective approach to language learning.
Key Design Features and Innovations
The app gamifies language learning, incorporating elements like daily streaks, points, and level progression. Its iconic owl mascot, Duo, motivates users to complete daily lessons and maintain their streaks.
What We Like About It
Duolingo's success lies in its focus on user engagement and consistent design patterns. The app design ensures that users feel a sense of progression, whether they're beginners or advanced learners. Learners are encouraged to interact with the app continuously by creating a sense of accomplishment and motivation.
Additionally, Duolingo's adaptive learning system tailors lessons to individual users, with Duo occasionally popping up to offer hints or feedback. This dynamic interaction makes learning feel more personalized and interactive.
3. MyDeal: Style Meets Ease
Category: E-commerce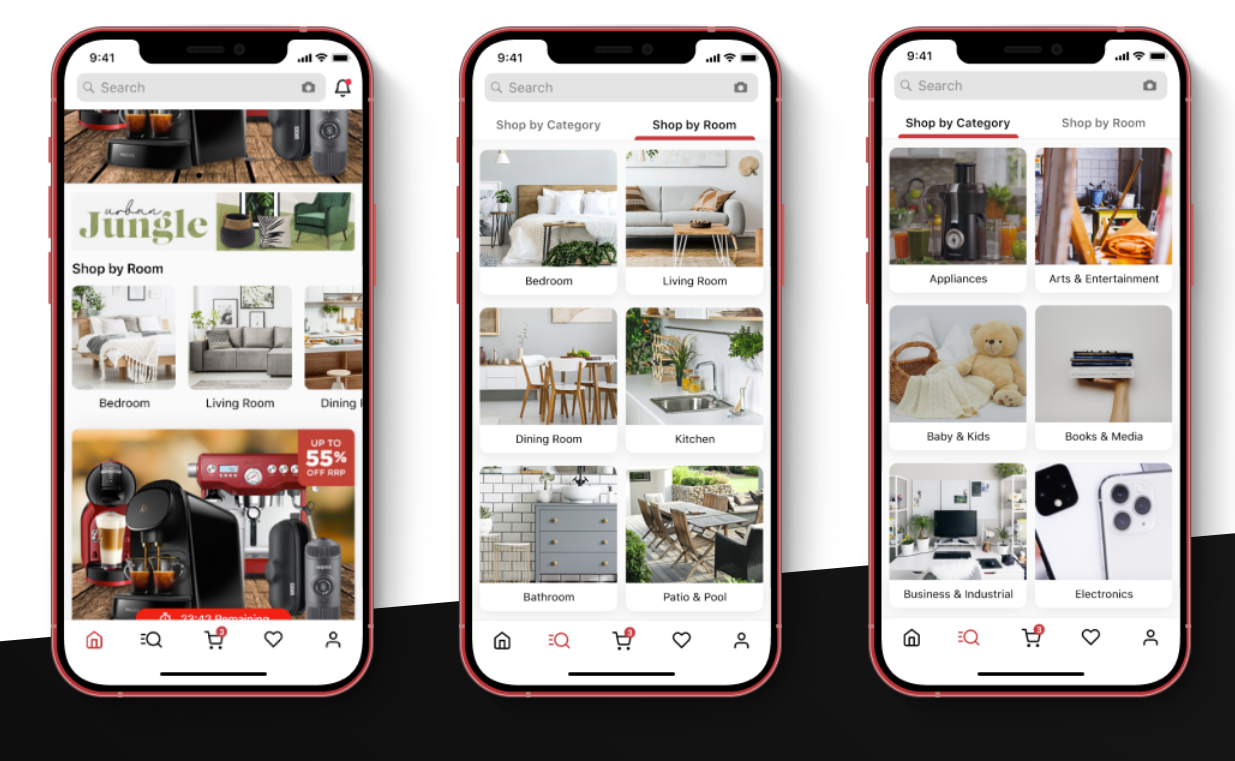 The MyDeal app is a prominent Australian e-commerce platform that specializes in providing consumers with a wide range of products, from furniture and homewares to electronics and fashion.
Key Design Features and Innovations
Deals, discounts, and promotions are at the forefront of the Android app's design. The app makes it super easy for users to spot and grab the best offers and savings, making it a go-to destination for value-conscious shoppers.
What We Like About It
MyDeal has succeeded in creating an app that not only simplifies the online shopping process but also enhances it with a visually appealing and user-centric design. It stands out as a convenient and trustworthy e-commerce platform for users seeking a diverse range of products in the Australian market.
But what really makes MyDeal special is that they've nailed the art of simplifying online shopping. Their app isn't just functional — it's easy on the eyes and super user-friendly. It's the kind of place where you can browse and buy with confidence, knowing you're getting a top-notch e-commerce experience.
Check out MyDeal's case study to learn about its founder's bootstrapping journey to success.
4. Canva: Design Made Easy
Category: Design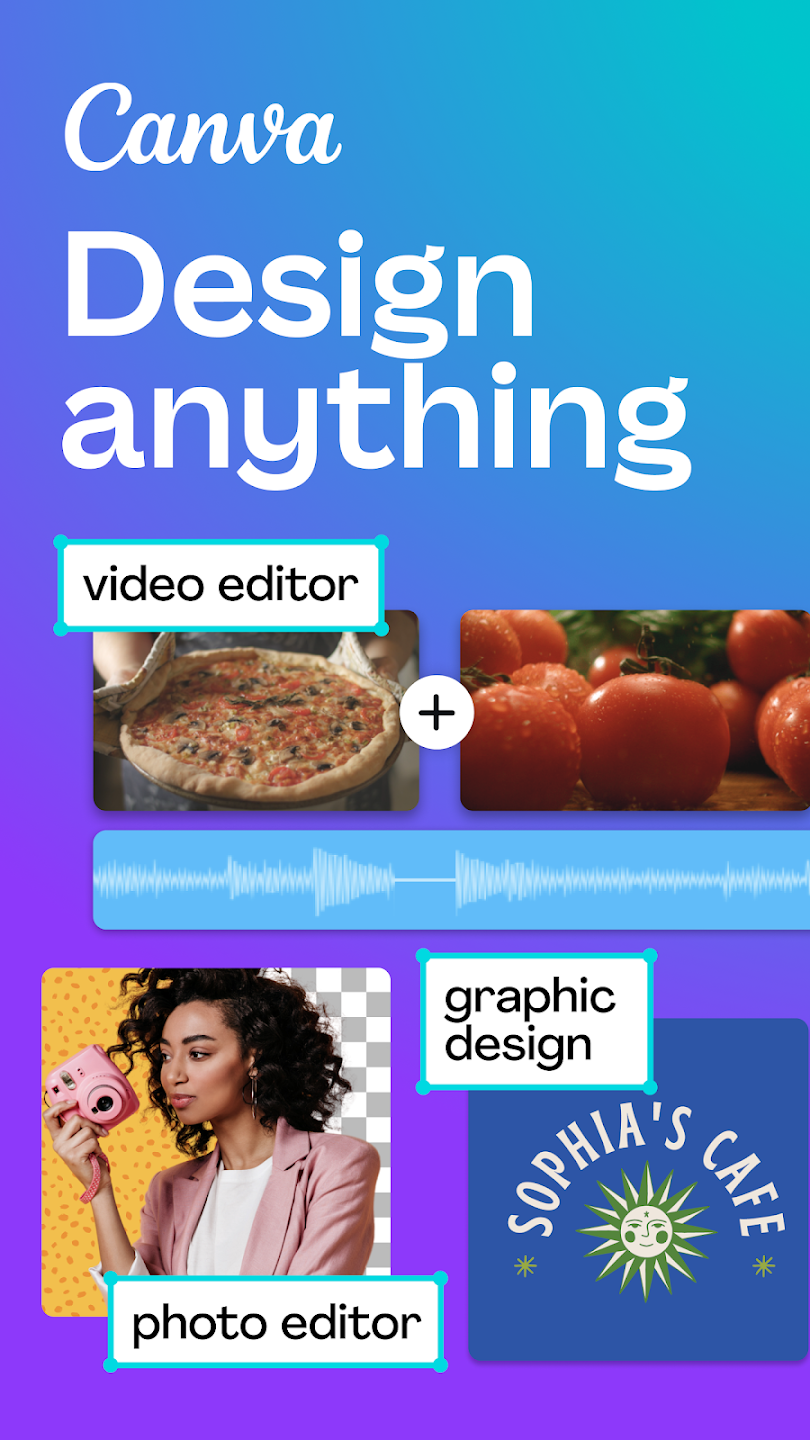 Source: Canva
Canva is an online graphic design platform that allows users to create a variety of visual content, such as social media graphics, presentations, posters, flyers, and more.
Key Design Features and Innovations
The app has gained popularity for its simplicity and versatility, enabling users to create visually appealing content for various purposes. It simplifies the design process by allowing users to drag and drop elements onto the canvas while allowing design team members to gather feedback and work together on projects in real-time.
What We Like About It
The secret to Canva's success lies in its user-friendly, drag-and-drop interface that makes graphic design accessible to people of all skill levels, from beginners to professional designers. Individuals, businesses, and organizations often use it to produce professional-looking designs without the need for extensive design skills or software.
Another thing that we appreciate about Canva is its sleek and organized layout. The platform provides a vast library of design templates, graphics, and fonts, all neatly categorized and readily accessible. The app's design elements are conveniently arranged, allowing you to drag and drop, resize, and customize elements with ease.
5. Trello: Keeping Productivity Simple
Category: Productivity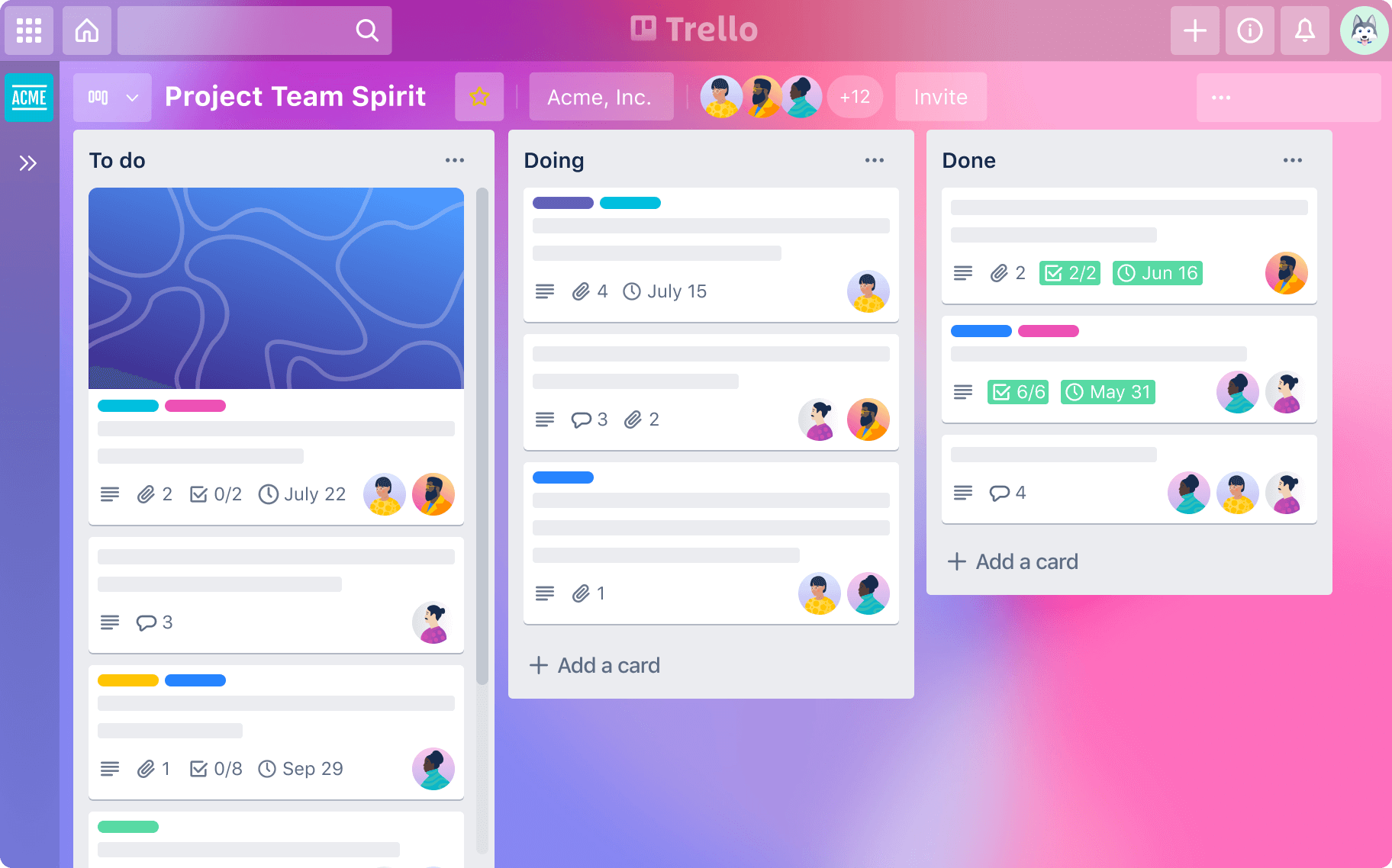 Source: Trello
Trello is a project management and collaboration tool that employs a visual system of boards, lists, and cards to streamline project organization.
Key Design Features and Innovations
Trello is inspired by the Kanban method, a system initially used in manufacturing to boost workflow efficiency. Here's how it works: You set up boards for your projects, lists to break down stages or categories within those projects, and cards for individual tasks.
What We Like About It
What makes Trello stand out in our book is its user-friendly design. It's all about empowering users to manage projects and tasks with ease. The straightforward layout makes it a cinch to grasp what's happening with your ongoing projects. You can create task cards, set deadlines, and assign responsibilities, ensuring that nothing slips through the cracks.
6. Spotify: Harmonizing Aesthetics With Functionality
Category: Music
Dominate the App Store.
Get the latest industry news first.
Source: Spotify
Spotify is a widely recognized digital music streaming service that offers users access to a vast catalog of songs, podcasts, and other audio content from around the world. Founded in Sweden in 2006, the app has become one of the most popular and influential music platforms globally.
Key Design Features and Innovations
Spotify brings together the user's playlists and music recommendations in one interface. You can even make playlists with your friends and share songs.
What We Like About It
Among the reasons we see behind the success of Spotify are its meticulously organized content, intuitive navigation, and hyper-personalization. The app's design provides users with a seamless experience to search for, organize, and play their favorite songs and playlists.
And here's the cool part: you can find all kinds of interesting podcasts on different subjects right alongside the music. It's like having everything you want to listen to, all in one place.
7. Vello: Designed to Inspire Genuine Connections
Category: Social networking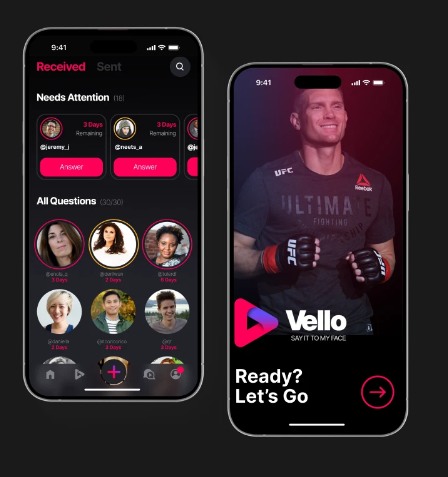 Vello is a pioneering social app that provides celebrities and their biggest fans with a safe and bully-free platform to connect. It is the brainchild of football legend Ben Dixon.
Key Design Features and Innovations
One of Vello's standout features is the integration of one-on-one video messaging with Personalities, Mentors, and Heroes. The picture-in-picture feature also adds authenticity to conversations by allowing users to see their hero's real-time reactions.
What We Like About It
Vello's app design really nails it with its user-friendly approach and cool functionalities. It lets you have one-on-one video chats with Personalities, Mentors, and Heroes. What's even nicer is that amid the cutting-edge features, Vello keeps things simple and easy to use.
You won't get lost in a maze of buttons and menus. It's all about having straightforward one-on-one talks with your favorite influencers, which gives it a unique and personal vibe. That's what makes Vello stand out as a platform for truly authentic social interactions.
Take a look at Vello's case study to find out how such an amazing app design was created.
8. Slack: Designed for Seamless Collaboration
Category: Communication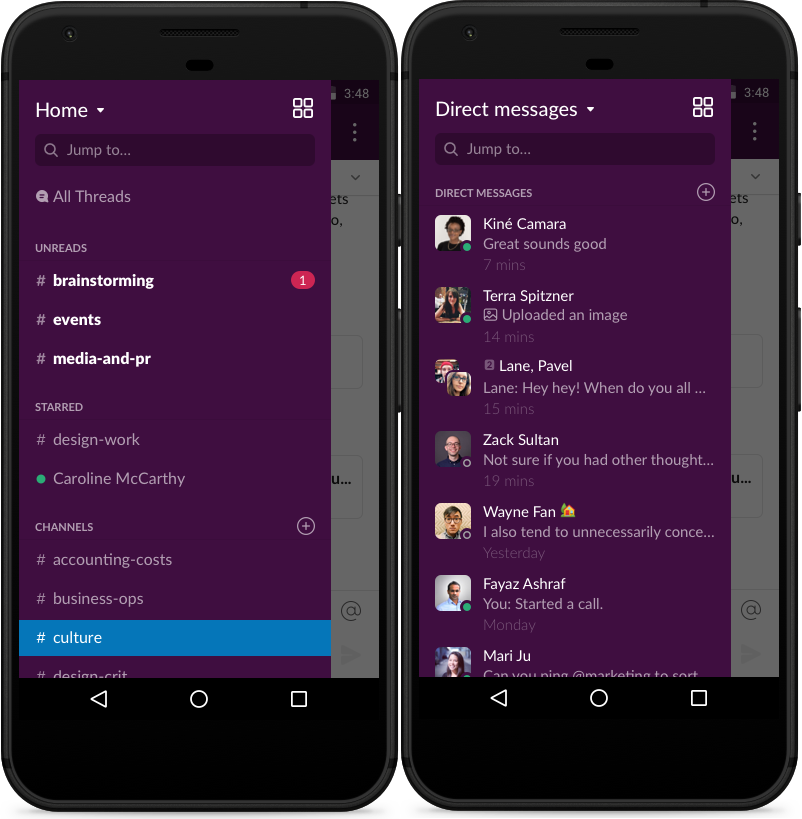 Source: Slack
Slack is a business communication platform designed to facilitate collaboration and communication within teams and organizations.
Key Design Features and Innovations
The app allows users to create channels for different projects, departments, or topics. It provides real-time messaging capabilities, direct messaging, group messaging, and threaded conversations. Team members can send messages, share files, integrate with various apps, and more.
What We Like About It
What makes Slack's app design stand out is its focus on simplifying workplace communication. The app provides a clean, organized UI design that's intuitive and easy to navigate, allowing users to quickly access messages and files.
Slack's thoughtful design ensures that users can seamlessly switch between channels, making it effortless to stay updated on various aspects of their work.
9. Telegram: Crafting Connectivity With Distinctive Design
Category: Messaging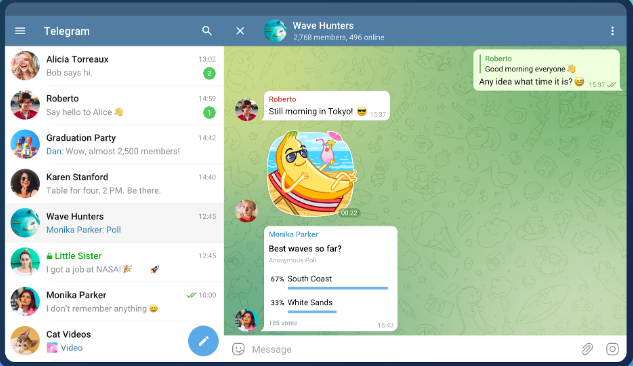 Source: Telegram
Telegram is a messaging app that has gained significant popularity due to its emphasis on providing users with a simple, fast, and secure messaging experience. It has garnered over 800 million active users and ranked among the top 10 most downloaded apps worldwide.
Key Design Features and Innovations
At its core, Telegram emphasizes pure instant messaging, allowing users to send messages, photos, videos, and various files in real time. It prides itself on its speed, claiming to be the fastest messaging app on the market. This speed is achieved through a unique distributed network of data centers situated across the globe, ensuring rapid message delivery.
What We Like About It
Telegram's design excels in achieving a harmonious blend of elegance and efficiency. Its user-friendly interface and uncluttered, visually appealing layout promote an intuitive and serene user experience.
Most importantly, its commitment to security is a defining feature. It offers end-to-end encryption for secret chats, enhancing user privacy. These secret chats are also self-destructing, ensuring that messages are not accessible to unauthorized users after a specified time.
10: Snapseed: Picture-Perfect Design
Category: Photo editing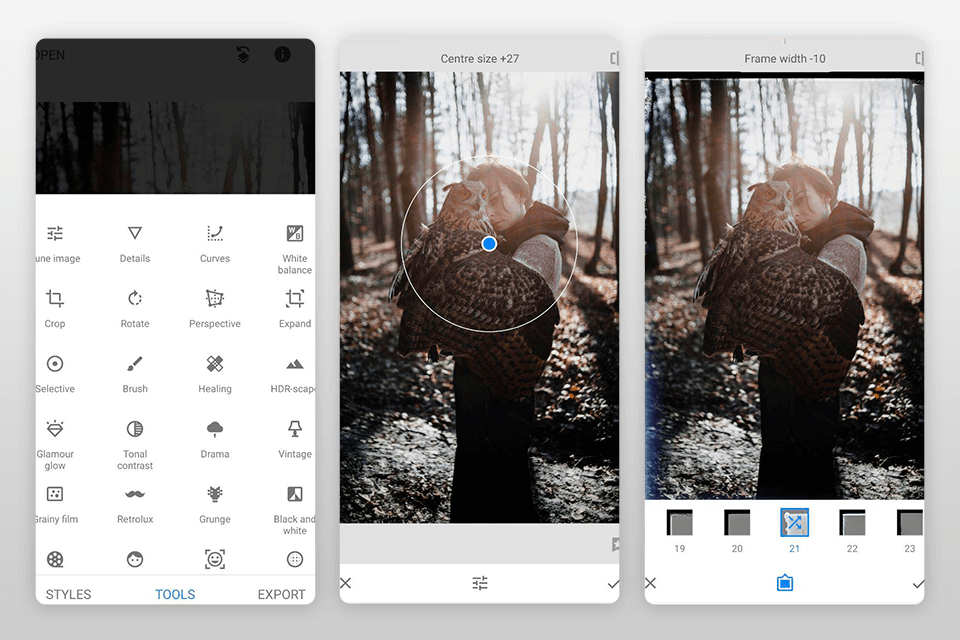 Source: Snapseed
Snapseed is a photo editing app developed by Google. It offers an array of features and innovations that make it a popular choice for mobile photographers.
Key Design Features and Innovations
One of its standout features is the variety of editing tools it offers. From basic adjustments like brightness and contrast to more advanced tools like curves and selective editing, Snapseed provides a wide range of options for enhancing photos.
Selective editing is another standout feature. It allows you to pinpoint specific areas of your image for adjustments, ensuring precision in your edits.
What We Like About It
The brilliance of Snapseed's design lies in its ability to provide a wide array of photo editing tools without overwhelming the user. The editing tools are easily accessible, and their operation is as smooth as a brushstroke on a canvas. This balance between comprehensive features and a clutter-free interface ensures that enhancing images is a hassle-free and creative process.
Successful mobile app design goes beyond aesthetics
What do the 10 apps above have in common? They all prove that design isn't just about aesthetics — it's about shaping user experience.
Successful Android app design should seamlessly blend functionality and style, creating an environment where users not only enjoy what they see but also find it easy and rewarding to interact with. In our experience, these are achieved through a combination of meticulous attention to detail, an intuitive user interface, and a deep understanding of the user's journey.
It's all about finding that perfect balance, and we're here to make it happen. Our app design team ranked #6 in the world, and that's something no other Australian company has achieved.
Strive for excellence in your app design. Schedule a consultation with us today.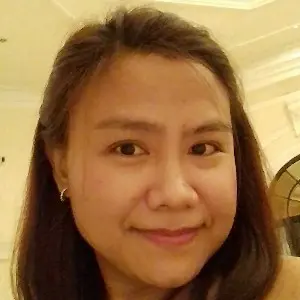 Jane Eslabra is a Content Marketing Specialist at Appetiser Apps. She has 14+ years of experience producing traditional and digital content. When she's not busy being a wordsmith, she's out swimming, taking a long walk, or trying new activities that will keep her eyes away from the screen and her body moving.
Dominate the App Store.
Get the latest industry news first.