8 Best Ecommerce Apps to Copy in 2023
The future is mobile.
The number of mobile users is projected to increase to 8 billion smartphone users by 2028. Surprisingly, world population estimates in 2022 equal that figure.
If you have an online store, having an ecommerce app makes a world of difference. And if you don't, now is the time to consider setting up one.
Whether you're just considering ecommerce or need to increase customers for your online store, this article has you covered. I've listed eight of the best ecommerce apps from which you can get inspiration and insights.
But before we get into our top eight, let me define what ecommerce apps are to provide better context.
What are ecommerce apps?
Ecommerce apps allow customers to purchase items from an online store using their mobile devices. These mobile apps benefit business owners and customers by providing a dedicated space for engagement and personalized experiences.
Apps for e-commerce are different from social commerce, where sales occur through social media platforms like Facebook or Instagram. Ecommerce, or electronic commerce, involves transactions over the Internet, such as customers purchasing products or services from virtual stores.
When customized and built accordingly, mobile ecommerce apps may also contain app analytics and marketing tools that help increase customer loyalty and provide you the data for improvement. Better data analysis and marketing are just some of the benefits you could learn about in our in-depth guide on the mobile commerce industry.
8 Best Ecommerce Apps
There are two ways to see competitors. You can either hate them or LEARN from them.
Our product strategists advise our clients to study rival apps so they can learn from the strengths and weaknesses of their competitors. Learning from competitors helped our clients understand what makes a good app.
Perhaps, the unique features of the ecommerce apps below could also help you develop your own mobile commerce app or find insights to scale your online business.
Here are some excellent apps our product experts have encountered in the course of their careers:
#1 MyDeal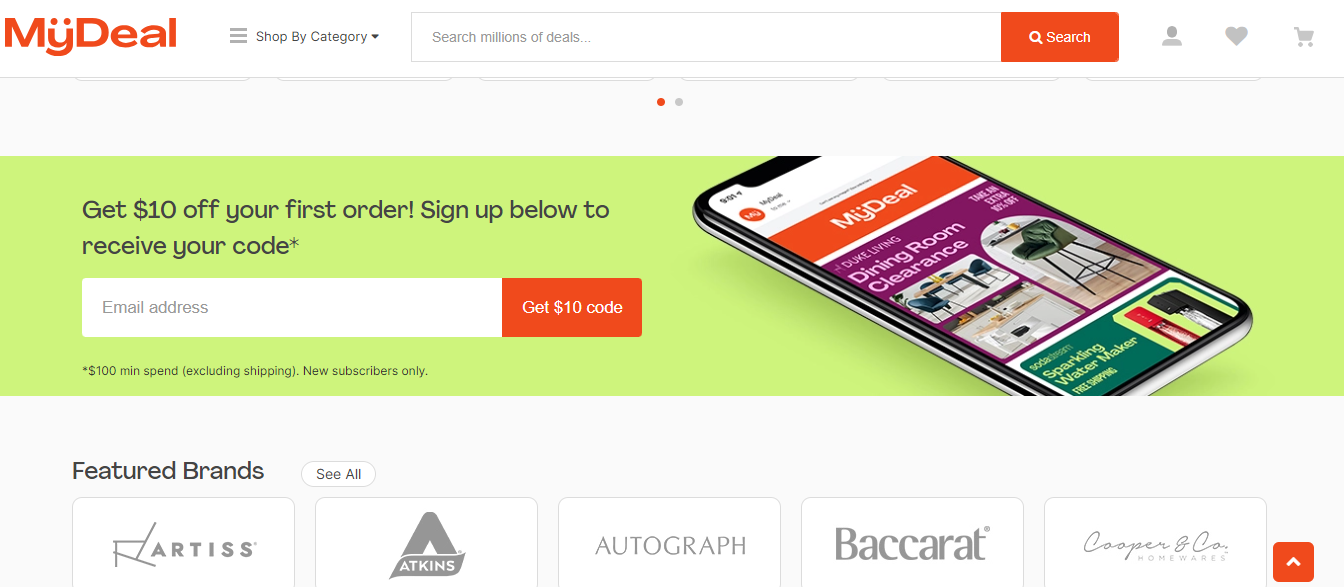 Source: MyDeal Official Website
Company information:
MyDeal was founded in 2012 by entrepreneur Sean Senvirtne to allow Australian small-to-medium businesses to sell their products online. He said that many of these retailers had little to zero knowledge of the technical aspect of selling over the Internet.
Ecommerce websites had had their dominance until smartphones came into the picture. At that point, mobile commerce statistics revealed that more and more people wanted to buy products online using phone- or tablet-based apps.
To remain relevant in the ecommerce space, Sean enlisted our help to augment his website with a mobile ecommerce app to take advantage of the increasing number of mobile-based customers.
Our partnership with Sean paid dividends, quite literally. After the app's launch, MyDeal was acquired by retail giant Woolworths for around $200 million in 2022.
As of today, the company that Sean founded is still selling products such as:
Home improvement goods
Books
Cosmetics
Toys
Consumer electronics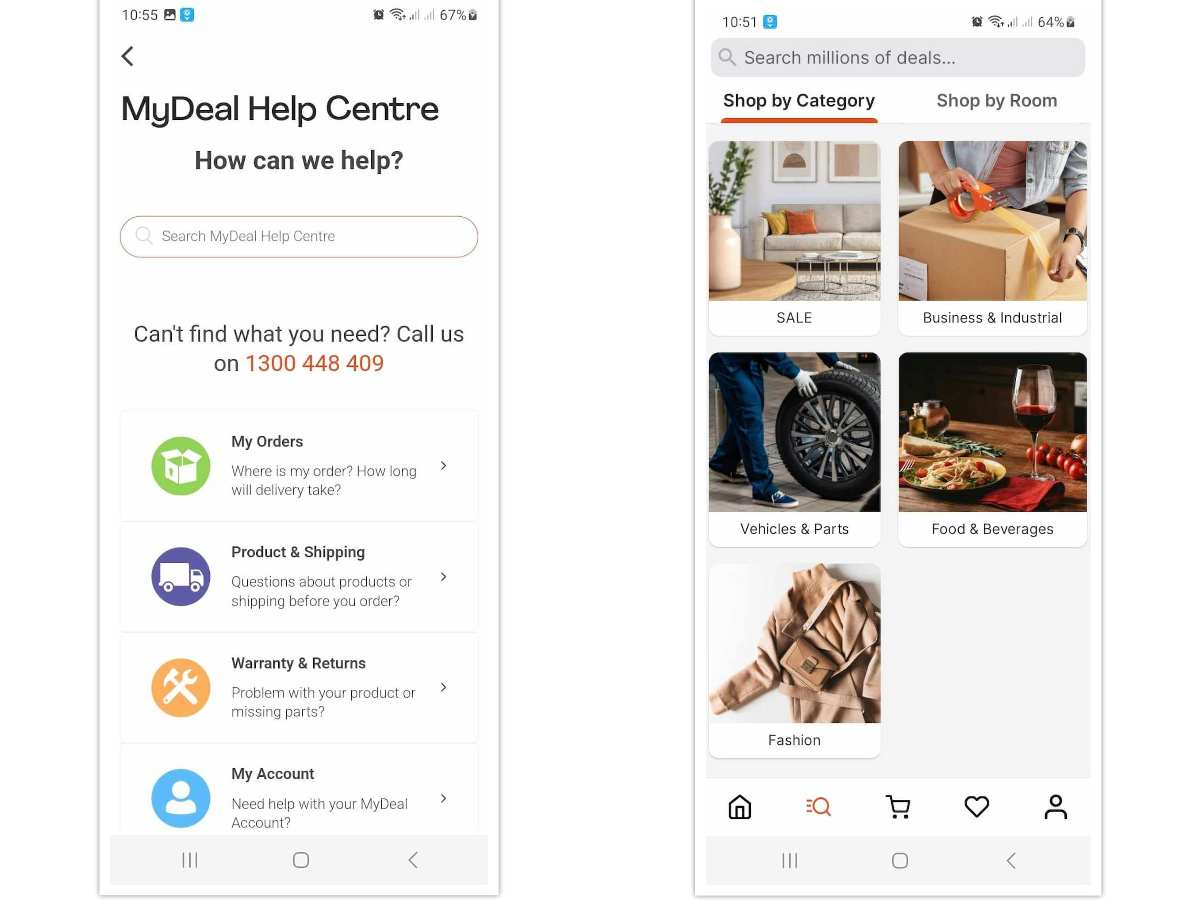 Source: MyDeal mobile app
Check out the MyDeal case study to learn how else we contributed to the growth of this ecommerce business.
Innovative app features:
First, the MyDeal app stands out with its focus on quality customer service. The company prioritizes customer engagement and support by offering immediate assistance through its in-app HelpCenter FAQ. Additionally, the mobile application enables access to a line for those who prefer live phone support.
Lastly, the app follows best practices in user experience (UX) design by ensuring users can:
Easily search for information regarding shipping, returns, warranty, etc.
Enjoy a decluttered layout through the intelligent placement of umbrella categories and more detailed information in separate frames
Filter products effortlessly based on categories like popularity, price, and ratings
Source: MyDeal YouTube Channel
Runs on:
#2 Youfoodz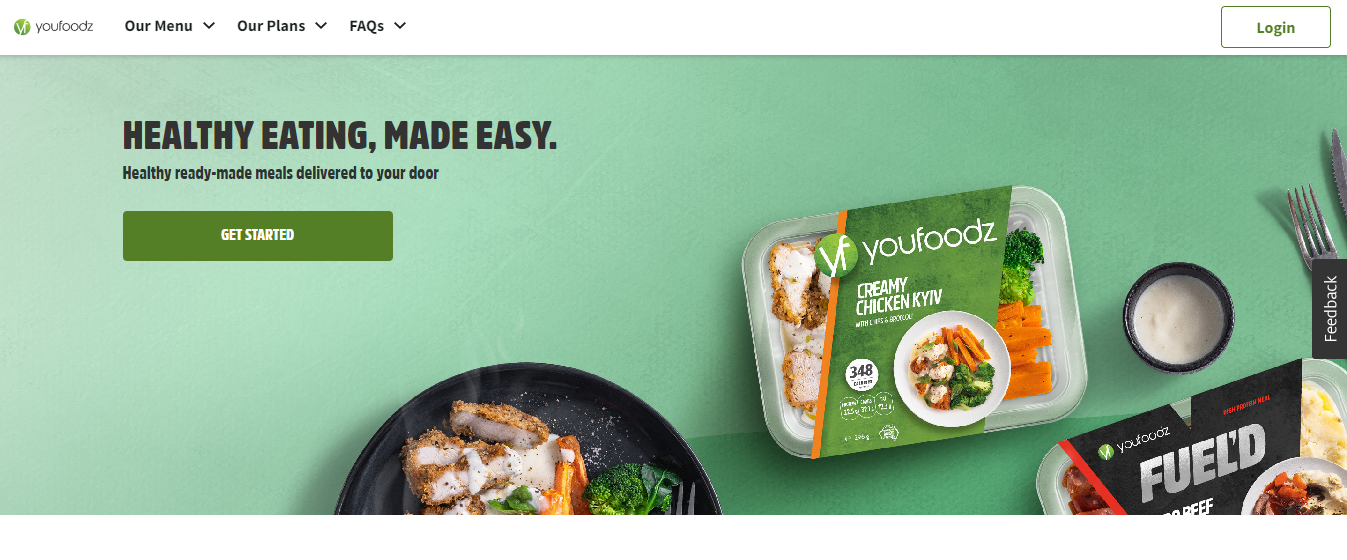 Source: Youfoodz Official Website
Company information:
Youfoodz is a unique enterprise among e-commerce businesses due to its wholesome mission: providing people with fresh and nutritious meals at their doorstep. The company engages in both the production and delivery of healthy food options.
Customers enjoy a variety of healthy meals that include high-protein packages, dairy-free alternatives, and vegan options. Despite the company's departure from the traditional fast-food delivery model, it has garnered awards like Australia's Most Popular Delivery Service.
The food company was founded in 2012 by Australian entrepreneur Lance Giles. Youfoodz was eventually acquired by Germany-based meal kit giant HelloFresh in 2021 for around $100 million.
Innovative app features:
The mobile app we built for Youfoodz strikes the optimal balance between offering customer convenience and ensuring the company's business growth.
The application was designed to make ordering as easy and worry-free as possible through the following features:
One-touch payment
Real-time order updates
Storage of customer information for easier logins
Aside from all these, our app ensures user retention through the following capabilities: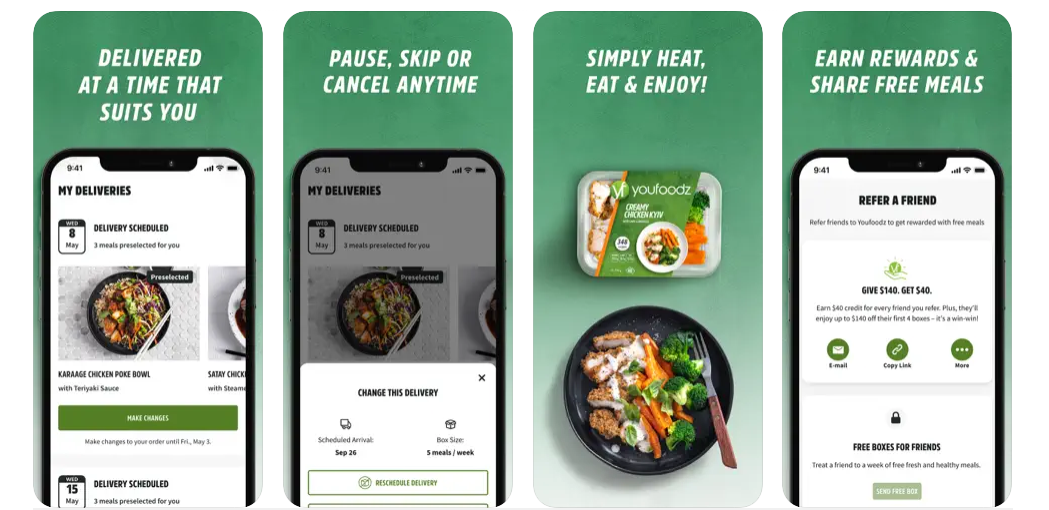 Source: The Apple App Store
To know the full story of our app development collaboration with this meal prep company, check out this Youfoodz case study.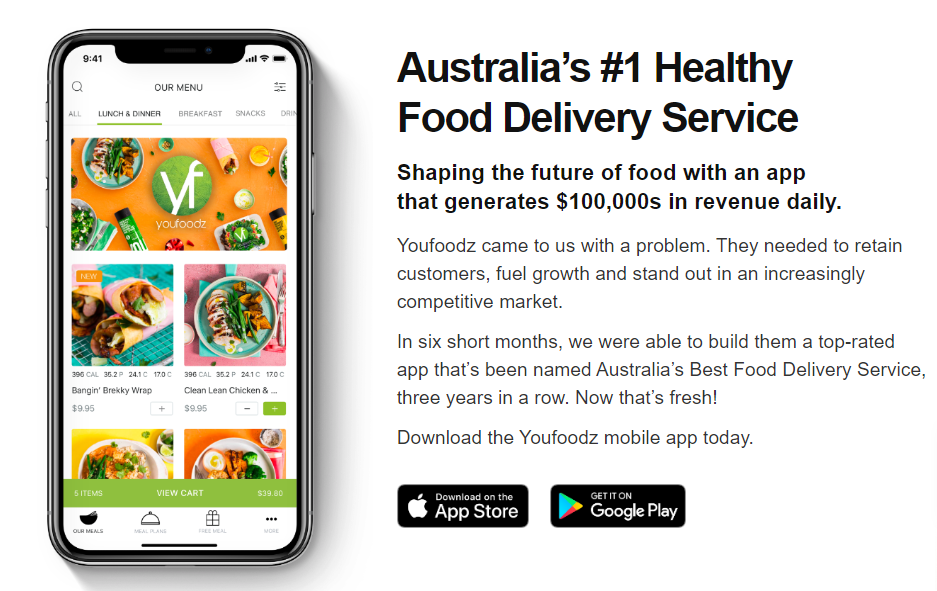 Runs on:
#3 Amazon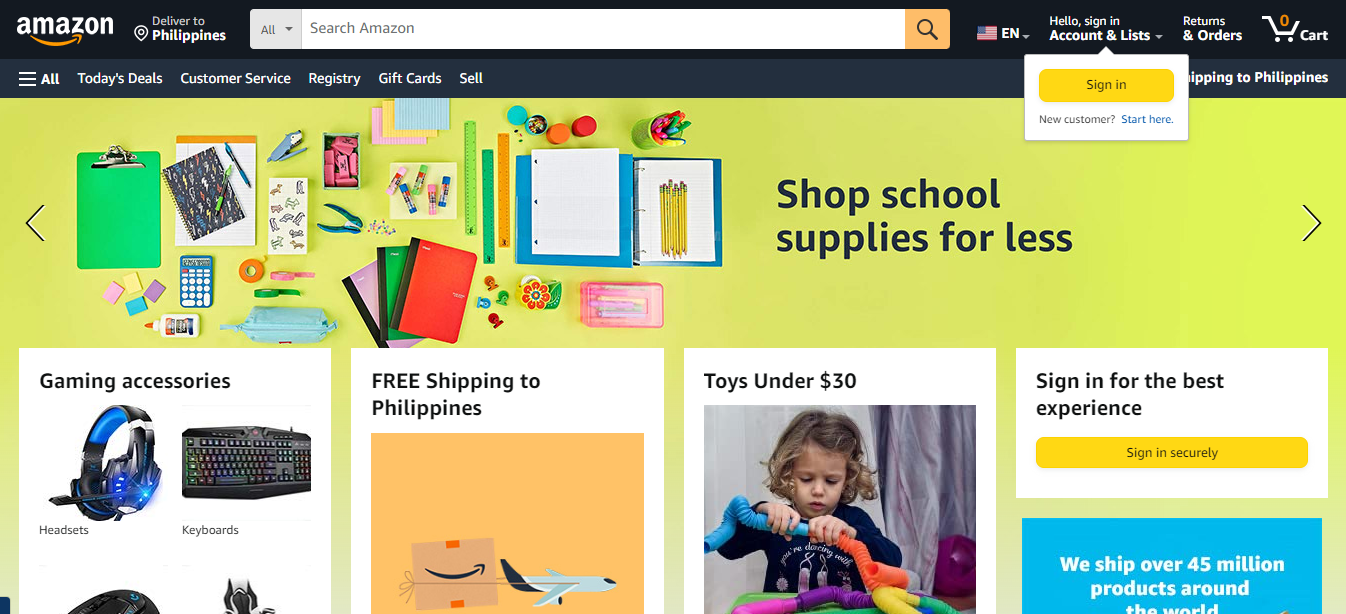 Source: Amazon Official Website
Company information:
Amazon is both a retailer and a tech company. Aside from its online retail shopping services, the company provides value in the global computing and storage industries.
Founded by Jeffrey P. Bezos in 1994, Amazon is headquartered in Seattle, WA.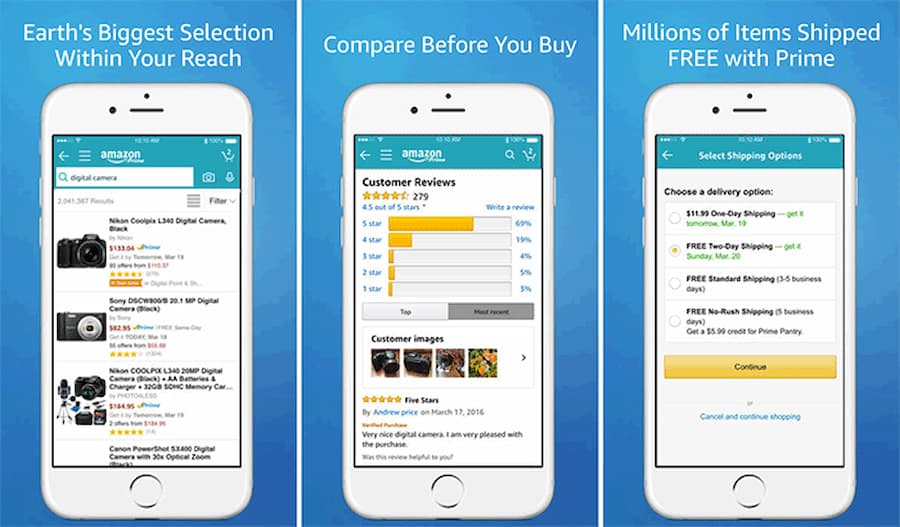 Source: NWTC Students Eagle Digital Blog
Innovative app features:
The Amazon mobile app provides a fast, secure shopping experience with real-time tracking and delivery notifications.
It also showcases user-centric design through the following features:
Good organization of information, such as essential product details, reviews, and recommendations
Product images with 360-degree views, enabling users to browse items well
App categories and sidebars that ensure seamless browsing and quick access to user profiles
Runs on:
#4 Walmart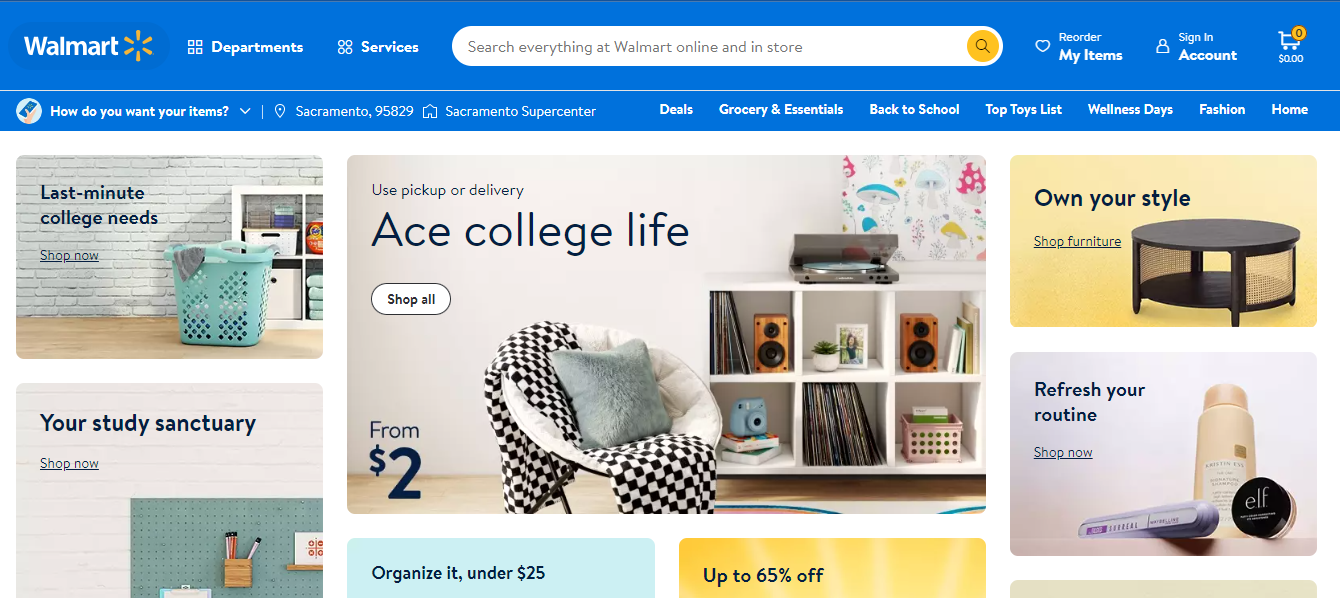 Source: Walmart Official Website
Company information:
Walmart is another global retail giant that made it to our list.
The company operates consumer product stores, a global retail business, and membership-only warehouse clubs through its respective business segments – Walmart U.S., Walmart International, and Sam's Club.
Dominate the App Store.
Get the latest industry news first.
Founded in 1962 by Sam Walton, Walmart has expanded from a mainly rural-based grocer to a dominant force in the retail industry.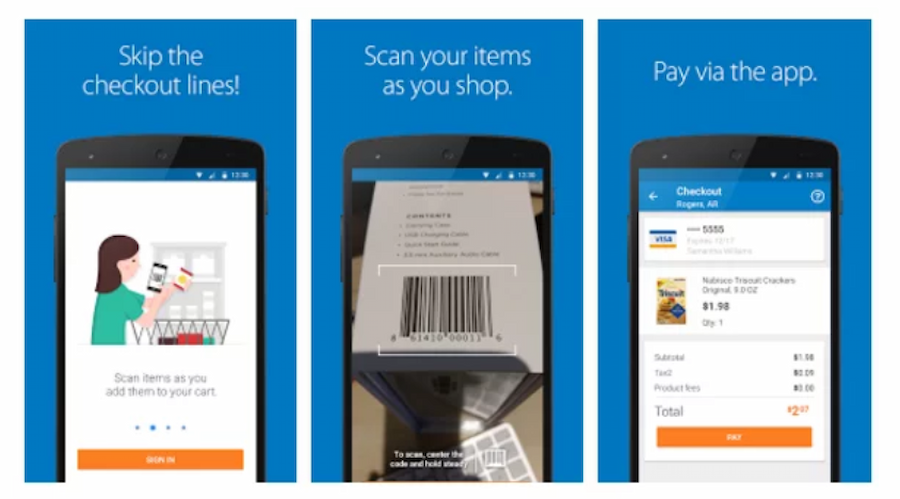 Source: Android Authority
Innovative app features:
Walmart is the classic example of a giant not resting on its laurels. You could take a page out of the company's playbook when it went for retail app development despite its relatively secure position. The retailer's departure from its comfort zone paid dividends.
The Walmart app for mobile devices offers a convenient and responsive shopping experience. It allows customers to schedule pickups, arrange deliveries, and browse merchandise easily.
Other special features of the mobile application include:
Capability to scan barcodes for prices
Store layout map for on-site shoppers
Location tab to check product availability in nearby stores
Push notifications for sales
Push notifications are good tools that enable apps to improve customer or user engagement. This type of marketing enables app owners to send their customers information like promos, even when these buyers are neither using their ecommerce apps nor accessing any website.
Runs on:
#5 Sephora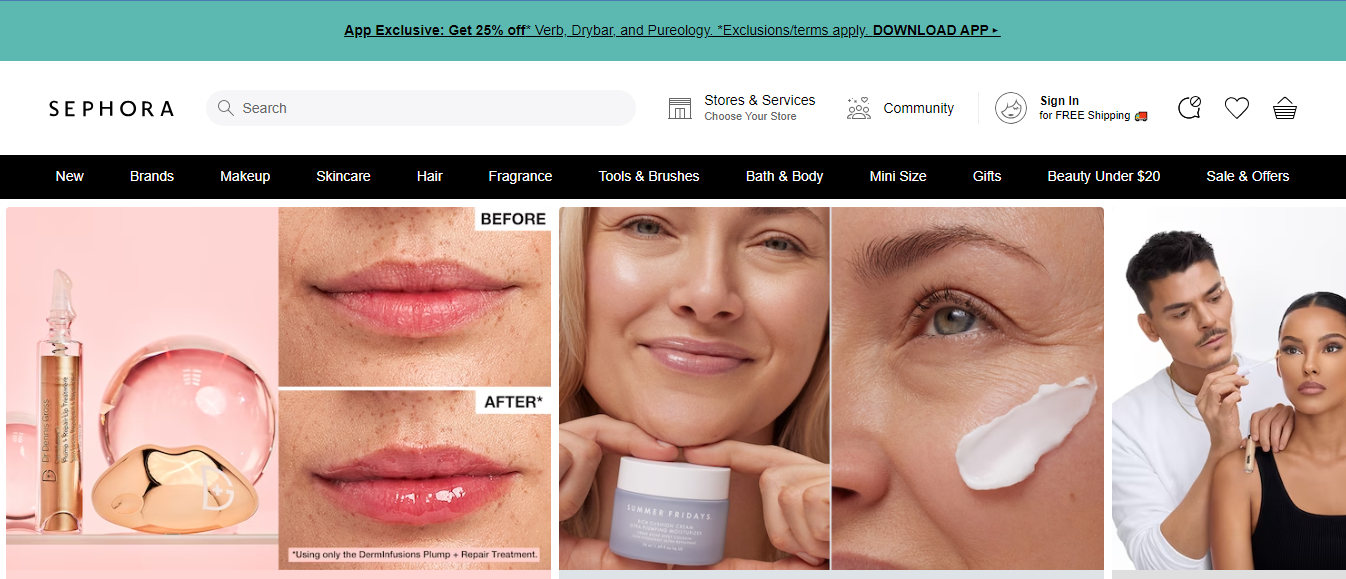 Source: Sephora Official Website
Company information:
Sephora is a renowned international cosmetics and beauty retailer. The company owns and operates approximately 1,750 retail stores in 30 countries.
The company has achieved remarkable success through its digital transformation, mainly driven by the Sephora app. This mobile tactic has allowed Sephora to introduce various innovative digital experiences, enhancing the overall customer experience. Shoppers can use the app or go on-site to buy what they want.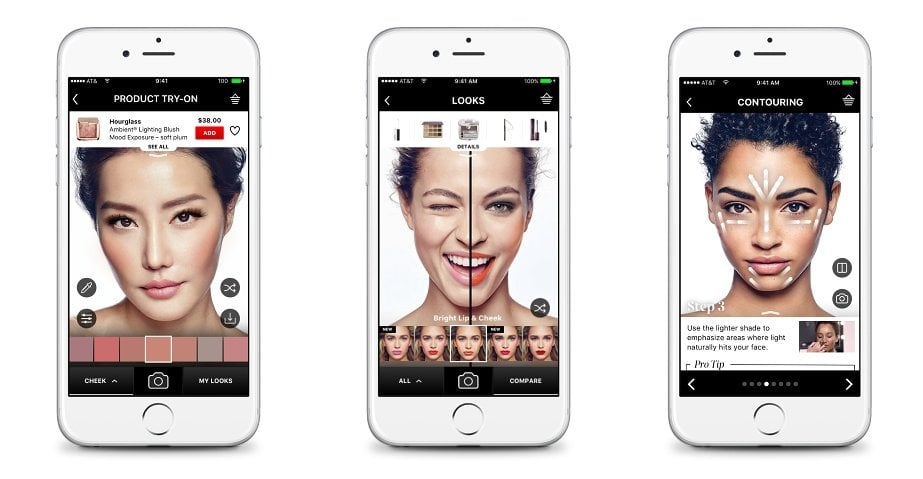 Source: Global Cosmetics News
Innovative app features:
The Sephora app has good features for effective marketing. Sales specials exclusively for app users encourage widespread user engagement with the app. The application also sends personalized alerts about in-store offers.
The cosmetic retailer's user-friendly app also offers other bells and whistles that enhance the shopping experience. Among these features are:
Ratings and reviews information through product scanning
Augmented reality-powered Visual Artist, which allows users to try on makeup virtually (check out the image below)
To learn more about augmented reality and other avant-garde business developments, browse our article on the hottest tech startup ideas.
Runs on:
#6 Warby Parker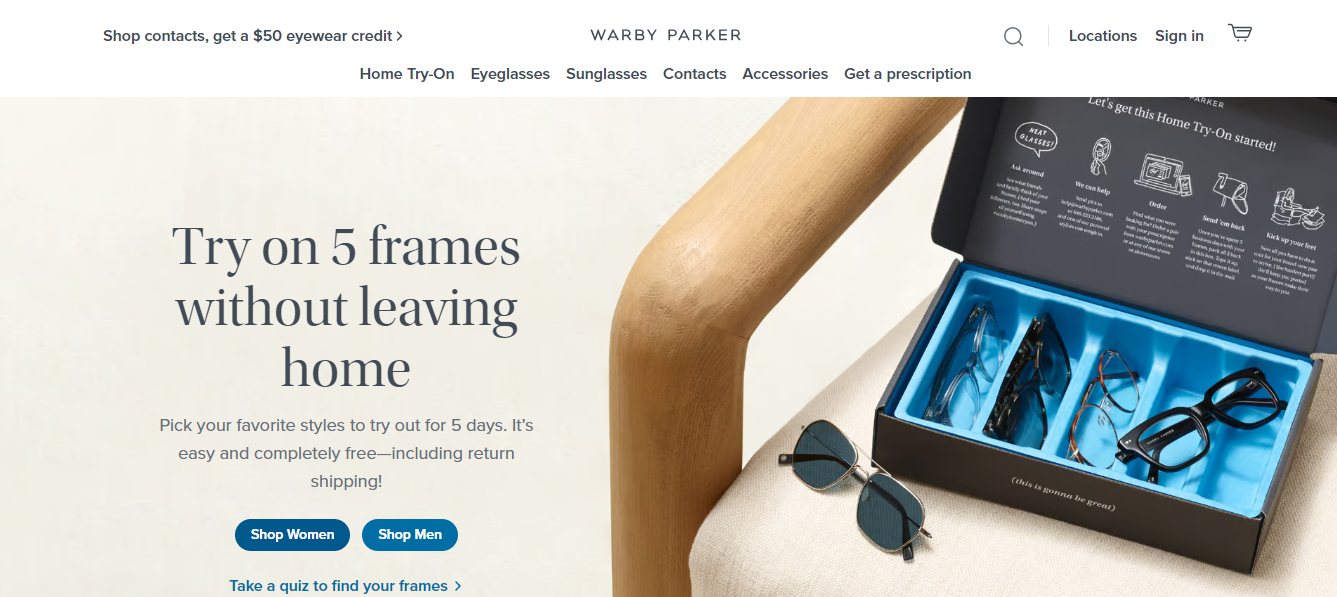 Source: Warby Parker Official Website
Company information:
Warby Parker is an ecommerce store specializing in prescription glasses.
Aside from its extensive eyewear collection, Warby Parker Inc. also provides a range of eyewear products and accessories. Such items include light-responsive lenses, blue-light-filtering lenses, contact lenses, cases, and lens kits. These products are available through their retail stores, website, and mobile app.
Warby Parker Inc. also offers eye exams and vision tests as add-on offerings. The company was founded in 2009 and headquartered in New York, New York.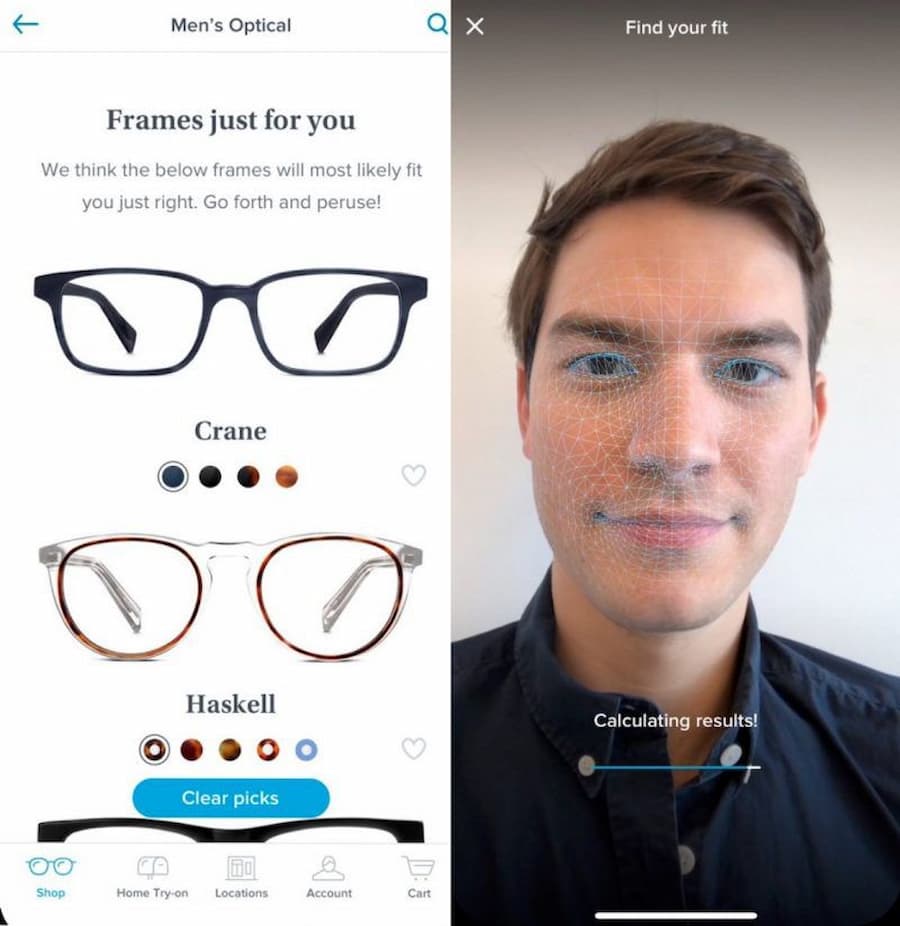 Source: MacRumors.com
Innovative app features:
Warby Parker's mobile app offers the following special features to enhance the eyewear shopping experience:
The Virtual Try-On tool, which allows customers to preview how glasses will look on their faces before making a purchase
Search filters according to frame shape, dimensions, color, and other stylistic elements
Eyewear recommendations based on users' facial features
Runs on:
#7 Nike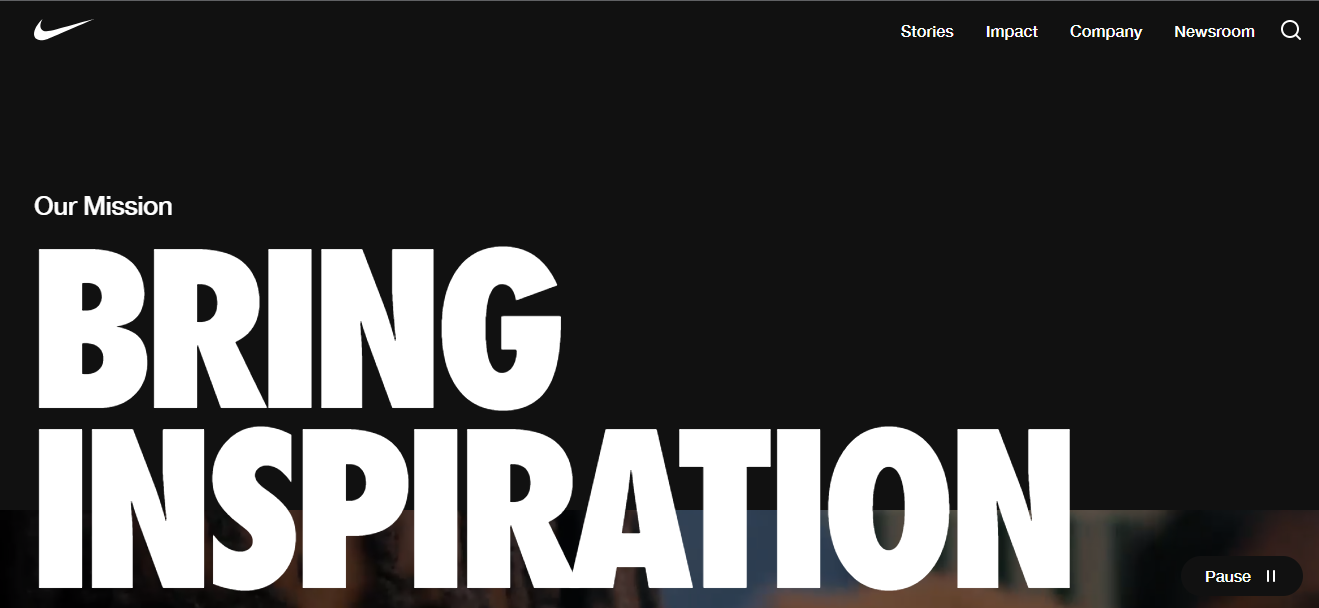 Source: Nike Official Website
Company information:
Nike, Inc. is an American multinational company that designs, manufactures, and markets apparel, footwear, accessories, equipment, and services globally.
The company had been known mainly as a brick-and-mortar establishment since its founding in 1964. To diversify its sales channels and enhance customer experience, it has created and managed an app since 2006.
Nike was known as Blue Ribbon Sports when it was established. The company was later renamed Nike, Inc. in 1971, inspired by the Greek goddess of victory. Its headquarters is located in Beaverton, Oregon, U.S.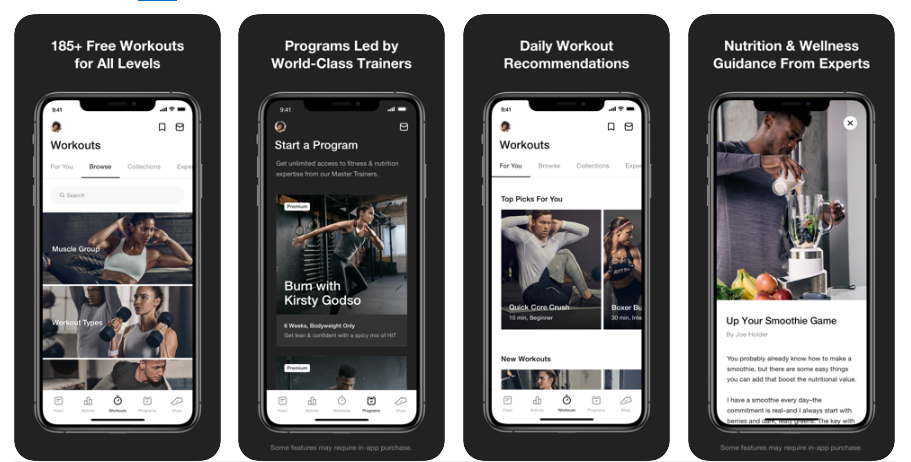 Source: Mobile Marketing Reads
Innovative app features:
If you're seriously considering shopping app development "Nike style," keep in mind that your customers may want something a little extra on top of the average "add to cart" feature.
One striking feature of the Nike app is its unique content. The mobile application contains resources for sports enthusiasts, including engaging stories, training tips, and style advice from Nike experts and coaches.
The app also does well in the area of customer service and user experience design through the following features:
Personalized daily recommendations
Item reservation for in-store stocks
Barcode scanner that provides information like product details and available alternatives
Availability monitoring for both in-store and online products
Features like availability monitoring and item reservation work together to help Nike stay on top of its merchandise. This cutting-edge inventory management technology is just one of the many tools online merchants need to keep their businesses running smoothly. For other similar pieces of software, check out our guide on the best retail apps to run your store efficiently.
Runs on:
#8 JOANN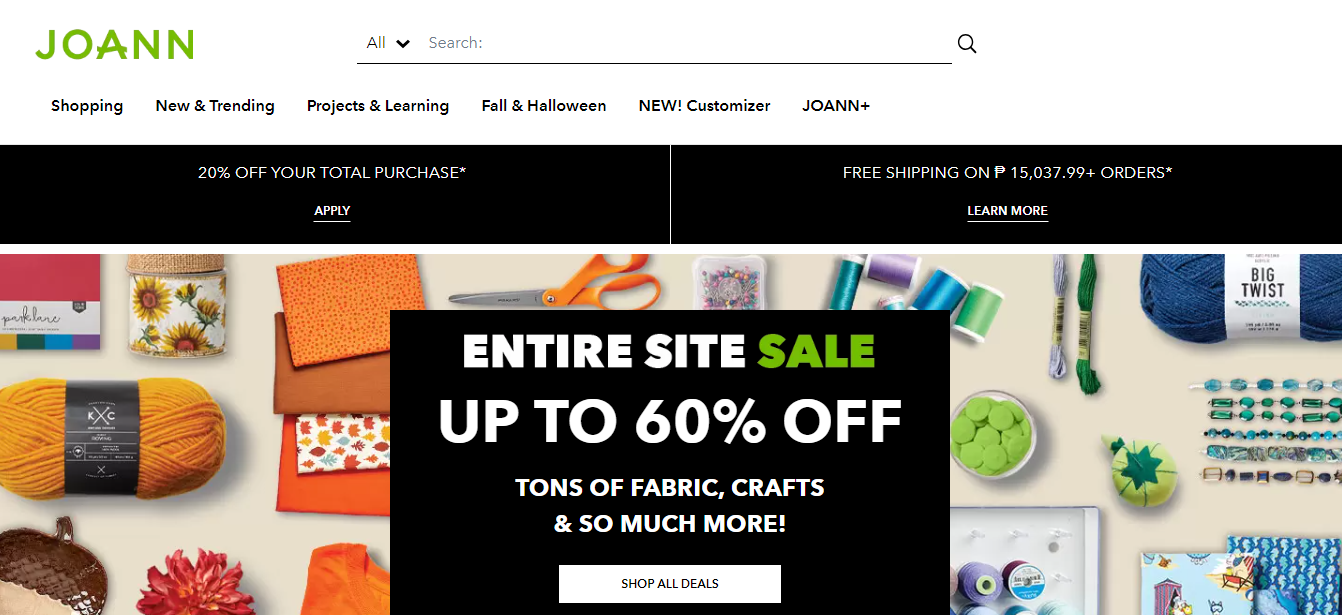 Source: JOANN Official Website
Company information:
JOANN Fabric and Craft Stores, founded in 1943, is the largest fabric and craft retailer in the U.S. The company has around 850 stores across 49 states.
They offer a wide range of sewing, fabric, arts, and crafts products. Not only focusing on product quality, the company has also improved the customer experience aspects of its operations through mobile app enhancements and on-site improvements.
Headquartered in Hudson, Ohio, JOANN Inc. serves customers through its retail stores, website, and mobile app.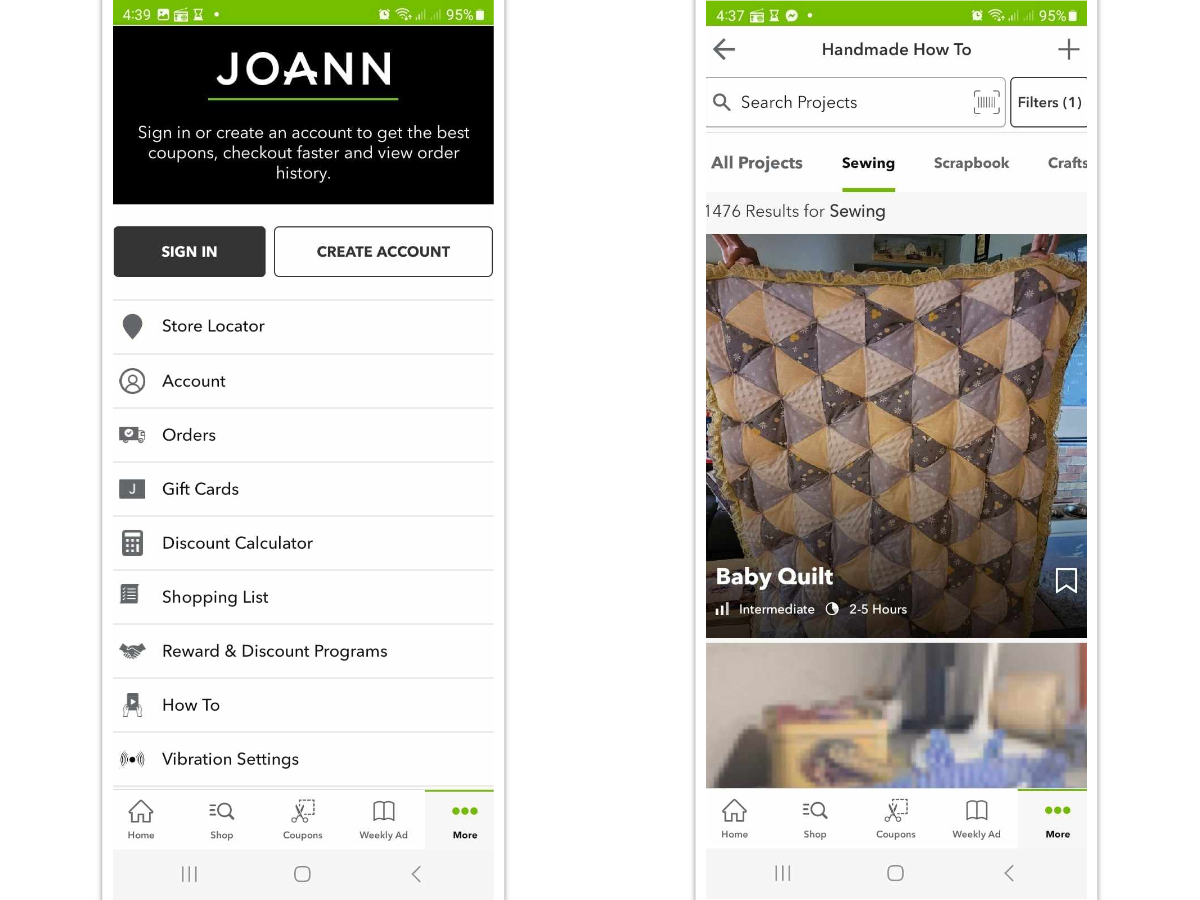 Source: JOANN Mobile App
Innovative app features:
Like Nike, JOANN offers unique content in the form of do-it-yourself (DIY) projects uploaded by users.
Other app features that provide a seamless on-site and online shopping experience include:
A geofencing system that offers online alternatives in case a store doesn't have certain items
Loyalty card functionality that enables customers to use points to purchase items
A notification system that allows buyers to relay their preferences even before they set foot in stores
Runs on:
Expand your world through ecommerce apps
The eight exemplary ecommerce apps in this blog show the sky is the limit when it comes to improving the experience of online and on-site retail customers.
If you're dreaming of making it big in business, you could use these excellent apps to inspire you to develop your own app idea. Recent research suggests that about 70% of millennials prefer to spend on stuff online. The study also reveals that millennials are among the most affluent demographic groups.
Ecommerce app development need not be a journey you embark on alone. Having by your side an app agency that belongs among the world's top ecommerce app development companies would serve you best.
Book a free consultation with us and get valuable "idea-to-growth" insights from our globally competitive and friendly product strategists.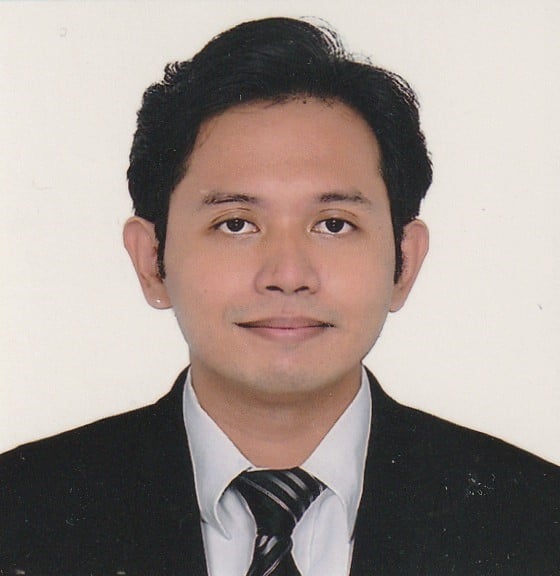 Jesus Carmelo Arguelles, aka Mel, is a Content Marketing Specialist by profession. Though he holds a bachelor's degree in business administration, he also took courses in fields like computer troubleshooting and data analytics. He also has a wealth of experience in content writing, marketing, education, and customer support. Outside office hours, he finds deep joy in reading, traveling, and photography.
Dominate the App Store.
Get the latest industry news first.