Android vs. iOS Development: Which Suits Your Drive to Thrive?
Mobile apps make social mobility and growth possible.
Global income on app-based advertising alone amounted to around $340 billion in 2023. This doesn't include earnings from in-app purchases and subscriptions.
Since many apps generate income even if users don't pay, visionaries and entrepreneurs from almost all backgrounds are getting into mobile app development.
Now one crucial aspect of developing mobile apps is compatibility with operating systems. In the mobile software industry, developer camps are mostly split between the Android and iOS operating systems. After all, most of the world's mobile devices run either of the two.
In this article, we'll clear the fog of the Android vs. iOS development dilemma. Read on to discover which development path best suits your growth and expansion needs.
Android vs. iOS Development: 5 Fine Points to Ponder
Android and iOS have their own peculiarities and traits.
To help you decide which is ideal for your app, consider the following factors:
Fragmentation
Development tools
Market reach
Publishing process
Potential ROI
Let's take a closer look at each factors that tell them apart:
1. Fragmentation
Fragmentation refers to the phenomenon where an operating system is deployed across a wide range of devices with varying hardware specifications, screen sizes, resolutions, and software versions.
Unlike iOS, which is limited to Apple devices with a controlled ecosystem, Android is used by multiple manufacturers who customize the operating system to suit their devices. This means Android is more fragmented in terms of hardware capabilities, software versions, and user experiences compared to the iOS operating system.
Due to fragmentation, Android developers generally have difficulty:
Developing app features that handle the quirks of different phone brands
Testing apps to ensure their compatibility with a greater diversity of phones or other form factors
However, iOS app development is limited to building apps for iPhones and iPads. Android app development's advantage lies in its compatibility with a wider variety of Android devices like wearables, streaming gadgets, smart TVs, etc.
Overall, fragmentation is a double-edged sword. It's an advantage or disadvantage, depending on where you look. But everything being equal, fragmentation adds time and cost to many Android app development projects.
But when you get to know our Android app developers, you'll discover they can launch mobile apps 50% faster than average. Our iOS developers are not bad shots either when targeting tight app launch deadlines. Book a free consultation with us to discover how our app experts could build or improve your business.
2. Development tools
Developers can only use certain types of tools when building and testing mobile apps. What equipment they can use depends on their preferred integrated development environment (IDE).
Basically, an integrated development environment (IDE) is a type of software that allows developers to build and test mobile apps in one user interface. Think of IDE as one comprehensive "app development toolbox" in contrast to separately installed app building and testing tools.
The main IDE for Android developers is Android Studio. Meanwhile, iOS developers primarily use Xcode.
Typically, Android developers can develop on Windows, Linux, or Mac. However, Android Studio may still require a beefy computer to function well.
Those creating apps for iOS, meanwhile, can only use Mac laptops and desktops to run Xcode. Of course, this discounts the use of virtual machines and other special technologies.
Now that we've compared the technical aspects of Android vs. iOS development, it's time to analyze their business aspects. We'll start with marketing and eventually discuss the income-generating aspect.
3. Market reach
Apps don't always have to "aim for world domination" from the get-go.
In fact, our Sticky-Beek app has succeeded in providing users with valuable local information like nearby businesses and happenings.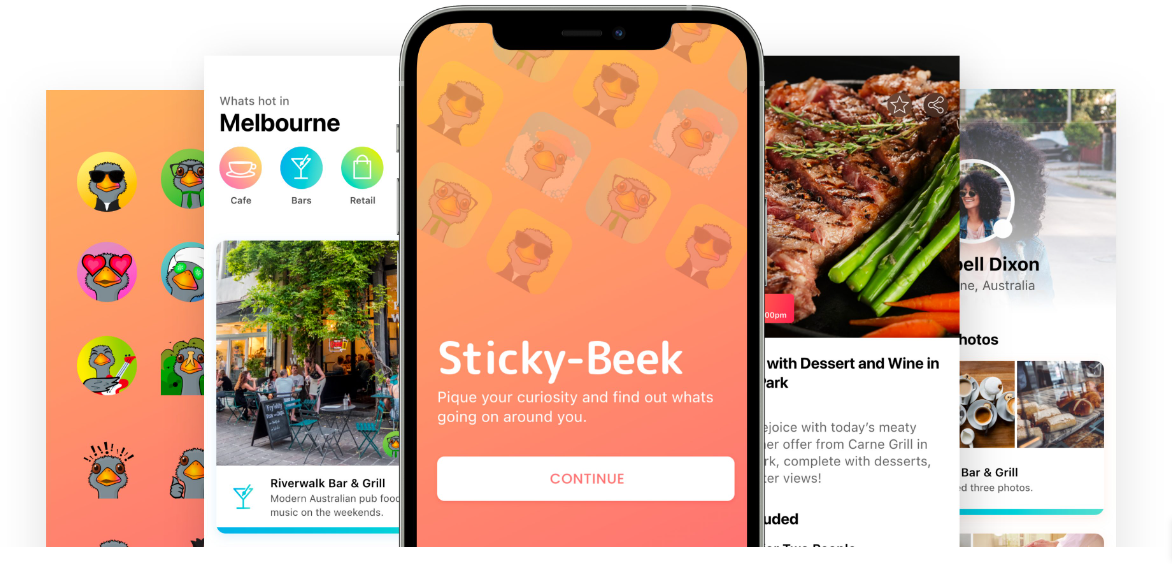 Eventually, you might consider aiming for a global reach after initial MVP app development. If your aim is to conquer the world with your app, Android app development is the way to go. As of writing, people in 190 countries use Android apps. Users of the iOS apps, meanwhile, can be found in just 175 countries.
If you have specific geographical preferences, Statista has broken down which apps are popular in selected countries. Check out their diagram below: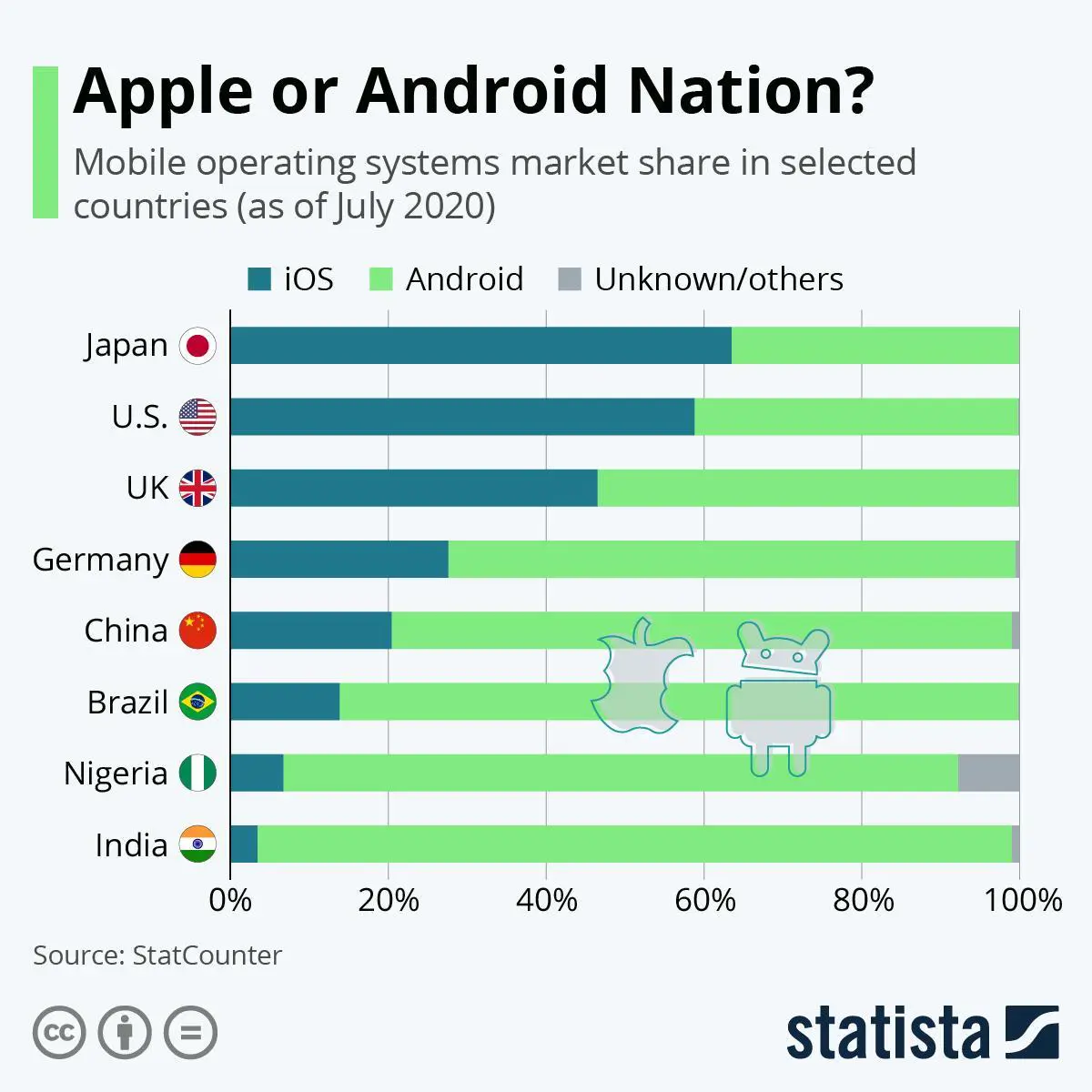 Source: Statista
If you can't decide whether to go local or global with your app, book a free consultation with us to gain valuable insights on this matter.
The "where" of app marketing is not purely geographical. The next section discusses other areas where the Android and iOS development paths diverge.
Dominate the App Store.
Get the latest industry news first.
4. Publishing process
Publishing is essentially all about enabling users to download or use your app.
Android and iOS development each has its own benefits and challenges in terms of app publishing.
There are two main channels where Android and iOS developers can make their apps available for download or use. These are:
The official app stores (i.e., Google Play and Apple App Store)
Alternative publishing channels
The official app stores
Once you've finished developing and testing your app, you can publish it either on Google Play Store (for Android apps) or the Apple App Store (for iOS apps).
As of writing, it is relatively easier to publish on Google Play than on the App Store. Google's approval process is less stringent compared to the Apple App Store. Apps can be launched within a few hours on Google Play, while Apple's approval can take days.
In the long run, publishing on the App Store can also be more expensive than doing the same on Google Play. Currently, iOS developers must subscribe to an App Store program costing $99 annually. Android developers, meanwhile, only have to pay Google Play $25 once, with no recurring fees.
Our developers recommend balancing costs and benefits when choosing between the two main app stores. The less stringent and low-cost Google Play policy may initially seem attractive. However, given that Google is less strict with quality control than Apple, you must ensure your app has no bugs or defects. Less quality control also means tighter competition.
Aside from ensuring the quality of your app, making sure it's easily discovered on the app stores also helps app marketing efforts. Check out our article on app store optimization to see what we mean.
Alternative publishing channels
Users can download Android apps from alternative app stores such as Amazon Appstore, Samsung Galaxy Store, and Huawei AppGallery. Meanwhile, Apple has a tight grip on its iOS apps, which can only be downloaded from the lone App Store.
However, what iOS apps lack in potential user headcount, they make up with quality publishing networks.
Developers gunning for the Google Play Store have the option to release apps on the Amazon App Store, which reaches users in over 200 countries. This provides a wider potential user base.
Meanwhile, iOS offers means to publish apps within a company or a selected group of individuals. There are also specific programs, like the iOS Developer University program, to introduce apps to educational institutions securely.
To summarize, the table below shows how Android development stacks up against its iOS counterpart in terms of different publishing channels.
Android development
iOS development
Google Play
One-time fee
Not applicable
App Store
Not applicable
Annual subscription fee
Other publishing channels
High user volume from online platforms like Amazon Appstore, Samsung Galaxy Store, Huawei AppGallery, F-Droid, Etc.
High-value users from

intra-company deals
We're done analyzing the app marketing aspect of the Android vs. iOS development matchup. Now it's time to learn how each development path compares in terms of revenue generation.
5. Potential ROI
Caveat: The "revenue tides" can change quickly in the tech world. Therefore, app business models must adapt to market and competitor landscape changes to maintain sustainable incomes.
But as of Q1 2022, the Apple App Store earned a little over $100 billion, around twice as much as Google Play for the same period. Apple enjoys this advantage despite the Play Store's superior user headcount.
How so?
It turns out App Store users tend to spend more per transaction than those on Google Play. In other words, the return on investment for each iOS app on the App Store tends to be greater than a similar Android app on Google Play.
It doesn't mean, though, that Android development doesn't pay. Instead, it's more a question of which pays more for every dollar spent on mobile app development.
Android vs. iOS development: Different strokes for different folks
Mobile apps have become businesses and tools for scaling tech and non-tech enterprises.
That's why, to get the most out of mobile app development, it's crucial to see the Android vs. iOS development dilemma in light of your growth needs.
Selecting the ideal development path boils down to your cost-benefit priorities, marketing preferences, and the skill level of your app developers.
Evaluating these factors could take your precious time and energy. But there is a more efficient way to go about mobile app development.
At Appetiser, we have seasoned app developers who are equally skilled in Android and iOS development. Our product strategy experts, meanwhile, got the business and marketing side of app design and development covered.
Book a free consultation with us today and we'll help you choose the right app development path that leads to sustainable success.
Dominate the App Store.
Get the latest industry news first.