App Marketing Costs Breakdown: What to Expect
I can just imagine you want exact figures as we delve into app marketing cost breakdown. Expect ballpark estimates and average marketing expenses, as there are several factors to consider, like per project or package, fixed, or per hour rate in each app marketing strategy.
After all, for your mobile app to gain visibility, it needs targeted strategies designed explicitly with user engagement in mind.
A concrete plan is indispensable to make this happen in a crowded marketplace, and 68% of mobile app companies have a long-term, fully documented mobile launch strategy.


Source: The Manifest
This comprehensive breakdown of mobile app marketing costs covers each stage of your mobile app from pre-launch to post-launch.
Why should you have an app marketing budget?
Having an app without a mobile app marketing budget is like having a nice Porsche without fuel.
It's impossible to move forward. If you've invested time and resources in app development costs, it's vital to allocate funds for marketing, too.
Picture this: there are over 8.93 million apps available for download today. Without a dedicated budget for mobile app marketing, your app will go unnoticed.
In today's fiercely competitive app marketplace, merely listing your app in the app stores is not enough. You must actively promote it to capture the attention of potential users. Otherwise, your app will drown in the sea of countless competitors.
With a solid mobile app marketing budget, you can:
📣 Target your mobile app promotion exclusively to your desired audience. This encompasses various strategies such as social media ads, pay-per-click campaigns, influencer marketing, and more.
📣 Deep dive into analytics and measurement tools to track your app's performance. You can continually optimize your app marketing campaign or strategy and drive better results by measuring key metrics like retention rate, user engagement, and lifetime value.
📣 Experiment with different marketing channels and tactics. By trying out new strategies, even possibly working with an app marketing agency, you continually refine your approach and maximize your app ROI over time.
Overall, with budgeted app marketing costs, you can spread out your financial resources in three stages: pre-launch, launch, and post-launch.
So, let's get into the numbers in the next section.
How much does app marketing cost?
Pre-launch stage
The pre-launch stage in app development and marketing is a critical phase that occurs before the official app store launch. This pivotal stage involves key activities to ensure the app's success upon release.
Pre-launch stage
Cost
App Market Research
$5,000 – $15,000
App Store Optimization
Up to $1,000 per month

$10,000 to $40,000 per year

App Beta Testing
$2,500 to $10,000 or more
App Public Relations Outreach

Per Hour
Low-tier marketing agency
Top-notch firm's retainer fee

$100 – $300

$2,000 – $5,000

$20,000 – $50,000 per month

Influencer Marketing
$10,000 – $500,000 per year
Social Media and Other Assets
$0.94 per click and $12.07 per 1,000 impressions

$1.07 per like

$5.47 per download on average

Website
$9.99 per month on a website builder; $120 upfront costs

$6,000 or more (with a developer) and $1,000 ongoing costs annually or more
1. App market research costs: $5,000 to $15,000
App market research involves gathering, analyzing, and interpreting information about your product and customers. It includes understanding the target market, competitors, industry, and current trends.
This knowledge is vital to making informed decisions for your mobile app advertising and marketing strategies. Decisions backed by research ensure that every dollar spent on marketing actually yields revenue.
💰 On average, market research costs can range from $5,000 to $15,000, depending on the complexity and scope of your data collection.
How do you market research an app?
The cost of market research can vary depending on the data you want to collect and the amount of time and effort involved. Either way, you can go for primary or secondary research to get started.
🚀 Primary research involves collecting targeted original data through interviews, polls, A/B testing, focus groups, and personal interactions. An example would be a survey form for fitness enthusiasts and gym buffs if you're building a fitness app. It helps evaluate market demand and create effective app marketing strategies. However, it can be time-consuming and costly.
🚀 Secondary research includes leveraging existing data sources such as industry reports, competitor analysis, and market trends. This comprehensive approach allows a deeper understanding of the broader market context and insights into industry trends. Most of these data can be extracted from quality research sources like Statista, McKinsey and Company, and Insider Intelligence.
App market research may seem like a significant investment, but the insights you glean will help you better allocate your funds to maximize impact.
2. App Store Optimization (ASO) costs: up to $1,000 per month and $10,000 to $40,000 per year
App Store Optimization (ASO) involves optimizing your app to rank higher in the app store's search results. The goal is to increase the app downloads organically. It's often compared to search engine optimization (SEO), but the strategies are tailor-made for app stores like Google Play Store, Apple App Store, and Microsoft Store.
💰 The cost for ASO services is up to $1,000 per month, while ASO tools have prices of about $20,000 to $40,000 per year for a more comprehensive package.
The cost of ASO varies depending on several factors like the app store, competition, target market, and the level of optimization needed. It depends on what medium or approach you would like to use, like the examples below.
In-house expertise. Doing in-house ASO can be free if you have the skills and resources. However, it demands a substantial time investment and an intricate grasp of ASO strategies and tactics. It's kind of like leaning toward a more Do-It-Yourself approach.
ASO tools. These tools can be either free or offered through subscription plans for an annual cost that ranges from $20,00 to $40,000, like Sensor Tower. For monthly plans, around $160 to $250 per month if you look at ASOmobile as your reference. These are just ballpark estimates, and actual costs vary with other tools and service providers. Free tools may have limited functionalities compared to their paid counterparts.
ASO agencies. Engaging the services of an ASO agency brings comprehensive and professional support to your goals. Monthly rates for ASO agency services can range from $1,000 to over $10,000, depending on whether it's a basic, advanced, or comprehensive package.
Dedicated app growth manager. For large teams and companies, you may also consider working with an app growth manager from an agency on a full scale. It will cost you about $879 per month, which includes access to tools for app tracking.
ASO is necessary if you aim to drive more app downloads consistently and exponentially. Otherwise, your app will likely get lost among millions of other mobile apps in the app stores.
3. App beta testing costs: $2,500 to $10,000 or more
During app beta testing, a nearly finished product is released to a group of selected users in a real-world environment. The goal is to uncover bugs, usability issues, and other problems missed in earlier stages of development.
Beta testers, who represent the product's target audience, use the software in real-world scenarios to provide feedback on its performance, functionality, and overall user experience.
There are two types of beta testing: internal and external.
🚀 Internal testing is conducted within the development team or company
🚀 External testing involves beta testers from outside the company
💰 External beta testing costs can range from $2,500 to $10,000 or more. For instance, BetaTesting.com offers custom tests costing over $10,000. They also charge a service fee ranging from 4% to 35% of the cost of incentives paid to participants, depending on the plan.
Some testing providers offer free services, but you may not receive in-depth feedback from your users. Here are a few platforms and sites to check if you choose this route:
Beta Family: A crowd-testing community for iOS and Android app beta testing. The platform connects you with real users who provide honest, invaluable feedback on the user experience.
TestFairy: A mobile beta testing platform that is compatible with both iOS and Android. After you upload your APK, the platform allows you to export your mailing list and send them an invitation to test your app.
Beta directories: A beta testing platform serves as a conduit for real users to experience a product within a production environment before its official release. Submitting your app on Betabound and Beta Family can help you find beta testers.
Social media: Facebook, Twitter, and LinkedIn are among the many social platforms that can help you connect with potential beta testers. You can also use relevant hashtags or join groups related to your product to attract testers.
Personal network: Using your existing group of close contacts is a highly effective method for finding beta testers. Start by reaching out to friends and family, who can provide honest feedback and are more likely to be willing to test your product. Willing testers could produce more insights that could improve your app.
Online communities: Online communities like Reddit, and Quora are great places to find beta testers. You can post about your app in relevant threads or answer questions related to your app to attract potential testers.
Of course, paid services provide higher quality assurance, so expect more comprehensive feedback.
4. App public relations outreach costs: $100 – $300 per hour or $2,000 to $50,000 monthly retainer fee
App PR outreach costs refer to the expenses associated with hiring a PR or marketing agency to pitch your app to online publications via press releases, direct communication, and other channels. This strategy enhances visibility among your target audience, bolsters credibility, and creates a buzz.
💰 App PR outreach costs $100 – $300 per hour, depending on the project scope. Meanwhile, be ready to shell out about $2,000 – $5,000 on a low-tier marketing agency. Top-notch firms cost about $20,000 – $50,000 for their monthly retainer fee.
These are just estimates, as actual costs vary depending on the services that agencies offer to drive more awareness, which ideally will result in more app downloads.
Here are some of the most common PR initiatives and what they do to promote your app.
Press releases: Draft and circulate press releases to announce app launches or important updates. These releases specifically target relevant media outlets, aiming to generate excitement and raise awareness for the mobile app.
Influencer partnerships: Frequently team up with influential content creators possessing a sizable and engaged audience that aligns with the app's target market. These partnerships encompass various collaborations, including organic social media endorsements, user-generated content for advertising campaigns, and sponsored blog posts.
Outreach to bloggers and publications: Connect with bloggers, publications, and influencers to secure honest reviews and valuable backlinks. This enhances app visibility while adding a sense of credibility.
Content marketing: Develop a solid content marketing strategy to build awareness and trust with the target audience. This could involve creating blog posts, articles, and videos highlighting the app's features and the problems it solves.
These initiatives can actually be done by your team. However, with gargantuan tasks that ideally should be done simultaneously, having an extra set of hands will drive your campaigns to the next level.
5. Influencer marketing costs: $10,000 up to $500,000 per year
Partnering with influencers – individuals with substantial social media followings – can be a game-changer for marketing your app. Through sponsored posts or content, these influencers can reach a highly engaged and targeted audience, likely to be genuinely interested in what your app has to offer.
💰 Influencer marketing costs depend on the influencer's reach, engagement rate, and platform, but roughly it's $10,000 up to $500,000 a year.
When enlisting the help of influencers, make sure to select the right ones who align with your brand values and have the ability to genuinely endorse your app, establish credibility, and generate buzz. Any misalignment between your influencer and app could make your marketing campaign less effective.
The cost of influencer marketing is substantially high, but influencer endorsements drive higher sales and conversion rates. Statistics show that 61% of consumers trust influencer recommendations, surpassing the 38% who trust brand-produced content. And even 60% of surveyed marketers believed that influencer marketing is better than traditional advertising.
Here are some of the influencers and ambassadors who were "influential" in making successful apps go viral.
Pokémon Go leveraged influencer marketing, collaborating with renowned YouTubers MatPat and Ali-A. This calculated strategy generated a whirlwind of excitement and anticipation, resulting in unprecedented downloads and revenue.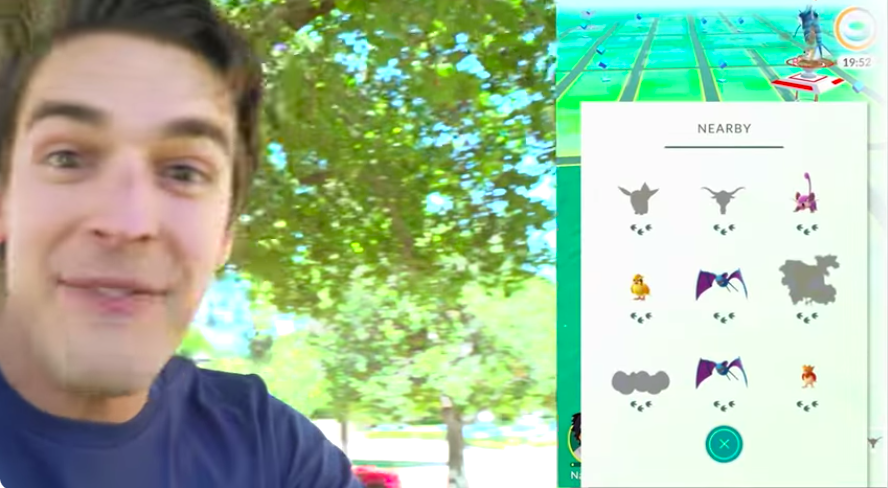 Source: YouTube
HelloFresh app launched a campaign called "#RefreshWithHelloFresh" in 2019 in collaboration with 15 micro-influencers and the celebrity Davina McCall. The campaign was aimed at the UK market and involved a 21-day challenge where the influencers tried out various HelloFresh recipes.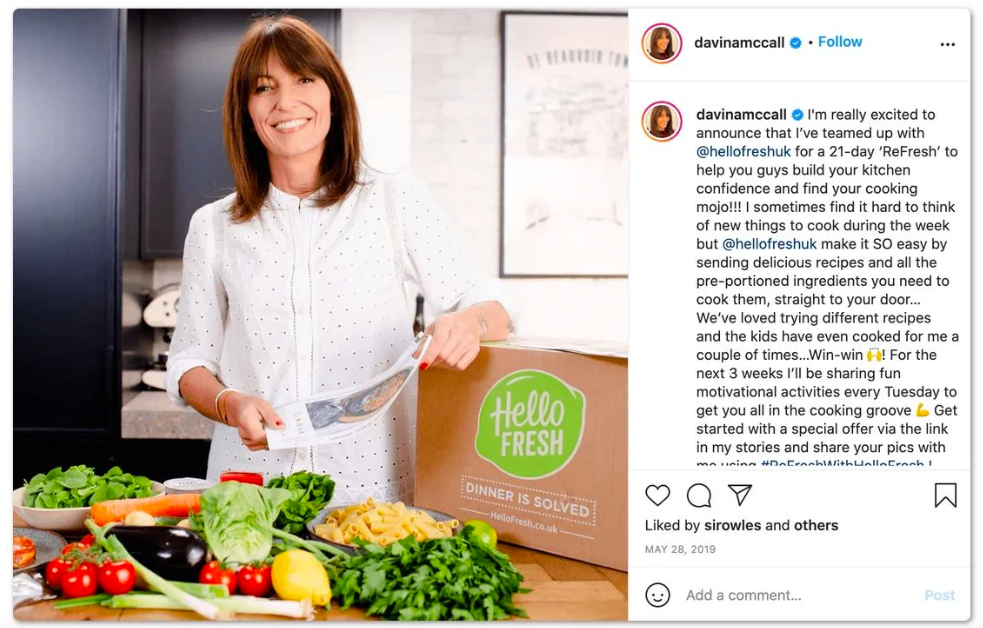 Source: Heepsy
Overall, influencer marketing is shaping the future of advertising, and 67% of brands are willing to allocate more budget in the next 12 months.
Dominate the App Store.
Get the latest industry news first.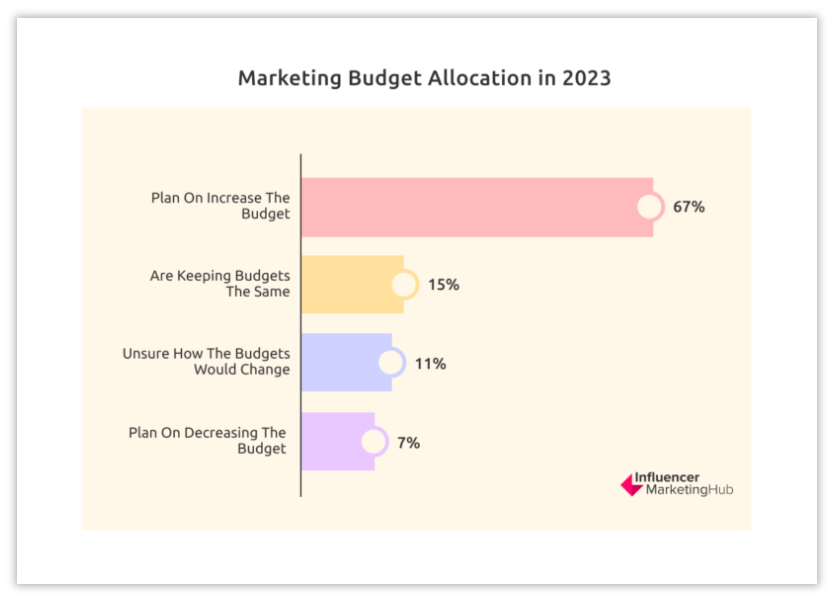 Source: Influencer Marketing Hub
6. Viral marketing costs
Viral marketing creates a buzz around your app through social media shares, word-of-mouth, and other organic methods.
The goal is to get people talking about your app and sharing it with their networks, which can lead to exponential growth in user acquisition.
Viral marketing costs are generally lower than traditional advertising campaigns, as they rely on consumers sharing the content. There's no ballpark estimate for this kind of marketing, as it's free to ignite a viral post.
But for it to become viral, you must pay for social media advertisements like Facebook, Instagram, or YouTube ads. The amount may vary, depending on the channel you use.
7. Social media and other app promo assets: $0.94 per click and $12.07 per 1,000 impressions
Social media and other app promo assets include Facebook, Instagram, LinkedIn, YouTube, and other channels.
App promotion assets refer to the materials you need to promote your apps, such as videos, creatives, screenshots, icons, and app descriptions.
All these are set to drum up buzz and attract users.
A basic social media presence might not cost anything at all. But running highly targeted ad campaigns can quickly rack up expenses.
💰 Roughly, the average cost of a Facebook ad in 2023 is approximately $0.94 per click and $12.07 per 1,000 impressions. If you focused on earning likes or app downloads, the ballpark is about $1.07 per like and $5.47 per download on average.
8. Website: $9.99 per month; hiring developers and designers from $6,000 or more
A website acts as your mobile app's virtual storefront, allowing potential users to explore its features, benefits, and aesthetic appeal. It is a platform to showcase the user interface, captivating and enticing potential users.
🚀 There are two ways you can build one: website builder and custom website development.
A website builder offers a significant advantage: the ability to quickly and affordably create a professional website, even without coding or programming expertise. If you're starting lean, you can go for a decent website builder that will cost $9.99 per month billed annually, a custom domain name is not yet included.
Expect to pay more than $120 upfront and $10 monthly to maintain a website with a limited budget. Domains usually cost around $8 for the first year, but some providers require you to pay upfront for the first two to three years to get the discounted price.
💰With custom web development, the price is quite higher than the former. Hiring designers or app developers could raise the upfront cost starting from $6,000 or more, with an ongoing cost of $1,000 annually or more.
Once all these elements in the pre-launch stage have been established, it's high time to consider the next stage.
Launch and post-launch stages
The pre-launch stage does require heavy legwork. But once this is settled, the shift to the launch and post-launch stages becomes more fluid since you have already set the foundations.
Launch and Post-Launch Stages
Cost
Cost-Per-Install
Varies by country, platform, and unit

iOS ($2.37 (average in the US; $0.98 in China; $0.22 in Brazil)
Android ($0.44)

Global average

Cost-Per-Action
North America – $$32.52

Asia-Pacific – $6.72

Push Notifications
$9 – $1,200 per month
During the launch stage, you release your app to the world, and in the post-launch stage, you promote and maintain your app's growth. Now, let us delve into a crucial facet of app marketing costs – cost-per-install.
1. Cost-per-install: $2.24 as the average global
Cost-per-install, or CPI, is a vital metric for marketers. It measures the effectiveness of paid advertisements in acquiring new app users and complements the Average Revenue per User (ARPU) to ensure the revenue exceeds acquisition costs.
Cost per install varies by country, platform, and ad unit. For example, iOS has an average cost of $2.37 in the US, $0.98 in China, and $0.22 in Brazil, with Android at $0.44 and iOS at $0.86. The average global cost per install is $2.24, considering all regions, platforms, and devices.
Calculating CPI is straightforward: divide your total ad spend by the number of installs. For instance, if you invested $10,000 in mobile ads and gained 3,500 installs, your campaign's CPI would be $2.85. It's feasible to give a rough estimate of the marketing budget by knowing how much each install costs.
Now here's where you need to be critical in your strategy. Although there's already a provided estimated average cost globally – (each region has a different CPI), you have full control of how much you want to allocate for ad spending. There's no one-size-fits-all price point.
Is there an ideal CPI for mobile apps? No. It depends on how much you're willing to spend.
But there are key several factors that will influence your efforts and budget.
🚀 Device platform. Android and iOS apps differ in their ability to generate CPIs. Research suggests that Apple users worldwide exhibit a greater propensity to spend on in-app purchases than Google users, resulting in a higher average cost per install.
🚀 Advertising networks. Media sources offer varying advertisement rates. For instance, the CPI on in-app ad networks may differ from that on social media or search channels.
🚀 Genre and category. The app's category and genre greatly impact the overall CPI. Mobile games, for instance, typically exhibit higher CPIs than other app categories. Additionally, specific gaming genres, such as social casino game apps, can command above-average CPI – worldwide, it's at $7.31.
🚀 Geographic location. The CPI price may vary based on the country. The socio-economic standard of the population can influence the price, with more affluent countries typically having a higher cost.
🚀 Ad formats and sizes. Different ad formats, such as banners, interstitials, or rewarded videos, can influence the CPI. Some ad formats may be more effective in driving installs, leading to higher costs. For instance, 76% of US gamers prefer rewarded video ads over interstitials, making them the most effective formats.
With these in mind, it's worth mentioning that CPI isn't just the only metric you need to make a successful app marketing campaign.
Let's move on to the next cost you need to factor in.
2. Cost-per-action: $6.72 – $32.52
Cost-per-action or CPA is an advertising pricing model where advertisers pay for specific user actions, such as app downloads or subscribing to a service. This approach allows for cost mitigation in marketing expenses, as you only pay for successful conversions.
For example, getting someone to install your app may cost less than getting someone to purchase within your app. Additionally, if you're in a highly competitive industry, the cost per action may be higher as more bidders are vying for ad space.
It's important to note that the cost of CPA can vary depending on various factors, including the action itself and the level of competition.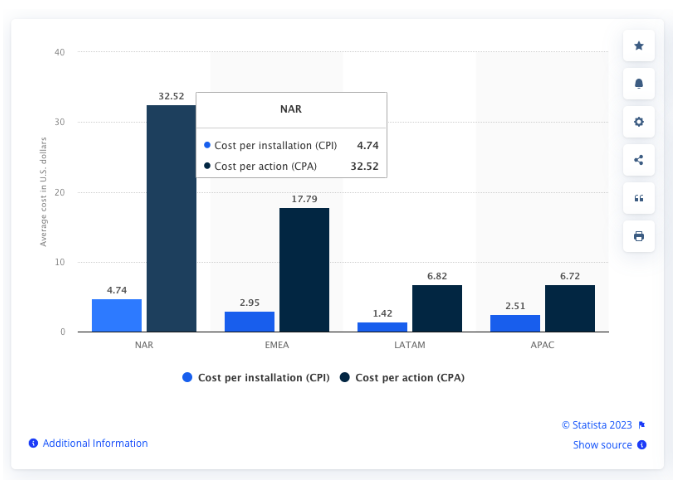 Source: Statista
💰 For mobile shopping apps, the cost per action (CPA) varies by region. North America has the highest CPA at $32.52, and Asia-Pacific has the lowest CPA at $6.72.
Moving on to another cost factor in app marketing: push notifications platforms.
3. Push notification platforms cost: $9 to $1,200 per month or more
A push notification platform allows you to send targeted notifications to your app users, even when they're not actively using it.
These notifications can be personalized, such as sending a message to a user who has left items in their cart or promoting a sale based on their previous purchase history. They can also be general, such as notifying all users of a new app update or introducing a new feature.
💰 The costs of the push notification platforms vary depending on the number of users, API access, and advanced features. Service providers charge you monthly rates, ranging from $9 to $1,200.
Here are some of the platforms and providers I've come across that offer those price points – from the cheapest to the most expensive ones billed monthly.
Push notifications are crucial in keeping users engaged and connected to your app. When properly executed, they have the potential to enhance customer retention by 20%, and when timed optimally, they can boost retention rates by up to sevenfold.
📲 For a deeper dive into this topic, read our article on push notifications and their advantages.
Create your product growth strategy with us
If you're ready to launch an awesome app – budgeting and planning out your app marketing strategy beforehand can give you great returns.
Crafting the ideal growth plan for your mobile application is vital as it clarifies how far-reaching your business growth should be.
To achieve this, Appetiser offers a comprehensive approach to mapping out the ideal growth strategy of your iOS, Android, and web apps, from ideation to post-launch support.
Whether it's shaping your strategy for market entry or developing a perfect multi-device experience, we're your partners in success.
Just give us a call, and leave the rest to us.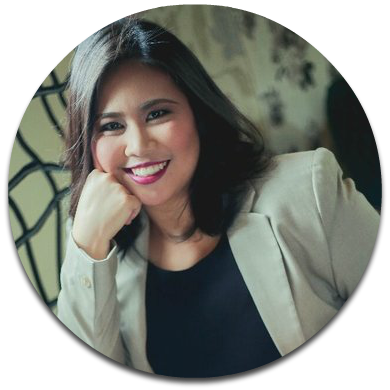 Maria Krisette Lim is a Content Marketing Specialist at Appetiser Apps. She has more than 12 years experience in producing content on the web and print ads. Krisette has a BSBA degree major in Business Management and Entrepreneurship. When she's not tinkering with words and punctuation, she's either curled up with a book while sipping hot tea, playing with her toddler or tinkering website builders.
Dominate the App Store.
Get the latest industry news first.