Customer Experience Automation: 6 Powerful Ways Brands Use It
Do you want to give your mobile app users the absolute best customer experience they've ever had?
Welcome to the new world of customer experience automation.
Leveraging automated processes through artificial intelligence and machine learning can improve customer app retention and satisfaction.
In fact, if you're not using automation, it's high time to do so because 65% of customers expect at least part of their customer journey to be automated.
In this blog post, we'll explore six powerful ways brands use customer experience automation to deliver customer interactions and overall experience to the next level.
What is customer experience automation (CXA)?
Customer Experience Automation (CXA) uses technology to streamline and improve the customer journey across all touchpoints and interactions with a brand. It is a system that enables companies to deliver personalized, consistent, and efficient customer experiences through automated processes.
Automation, in this context, refers to using software systems to handle routine and repetitive tasks. This can include taking customer inquiries and troubleshooting issues, sending targeted marketing messages, and conducting surveys.
Main functions of CXA
✅ Provide a seamless and delightful customer experience at every stage of the entire customer lifecycle, whether they are first-time users or loyal brand evangelists
✅ Allow companies to understand and anticipate customer needs
✅ Offer quick and effective responses to their queries and concerns
✅ Deliver personalized communications and recommendations from collected customer customer data
In other words, CXA helps businesses build stronger relationships with their customers, encourage loyalty, and ultimately, drive revenue growth.
How brands embrace customer experience automation to drive engagement
While the concept behind customer experience automation is groundbreaking, it's through practical use that you truly see how powerful it can be. So, let's move on from theory to concrete examples.
1. YouFoodz app: push notifications for seamless food delivery
One great example of a brand using customer experience automation to improve engagement is YouFoodz. This healthy food delivery service is shaping how customers order healthy food through its mobile app. It's listed on the Australian Stock Exchange valued at $200 million. So what's their secret?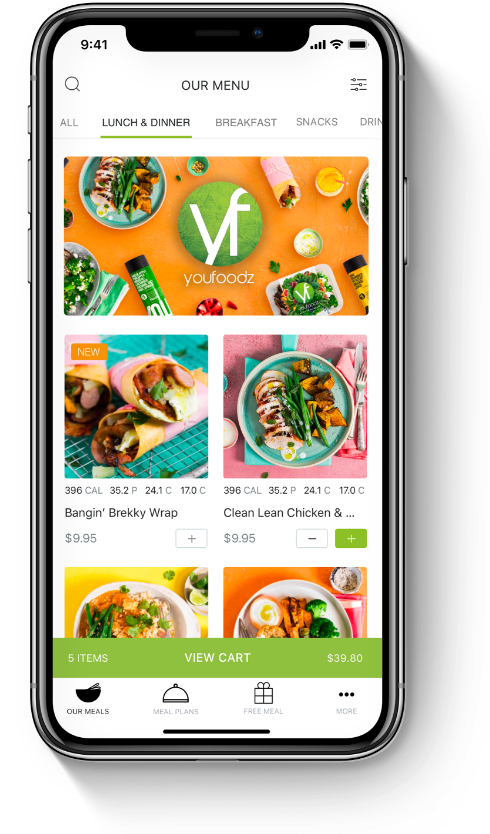 With push notifications, they keep their customers informed about their order status and delivery times. The goal is to cut the time spent on ordering, and their mobile app's rich features resulted in seamless and accurate processing of orders.
Its customer experience automation approach lets customers put multiple meals in a single cart, provides real-time updates on orders, and saves your info for easy logins in the future.
YouFoodz's adept use of customer experience automation teaches us that by proactively keeping your customers informed and updated, brands can save time and build trust with them, increasing customer satisfaction. Giving accurate and relevant information tailored to your customers' needs will make them happy, satisfied, and loyal.
By ensuring transparency and reducing uncertainty on orders, YouFoodz has been named Australia's Best Food Delivery Service three years in a row.
🏆 Do you want to know more about their success story? Be inspired by our YouFoodz case study and learn how they have generated $100,000 in revenue daily.
2. MyDeal app: well-defined FAQs for online shoppers
In today's fast-paced culture, consumers want to shop easily and conveniently. Enter MyDeal app, a mobile app designed to give online shoppers a hassle-free shopping experience. This app is an all-in-one platform that allows users to browse, shop, and pay for their purchases.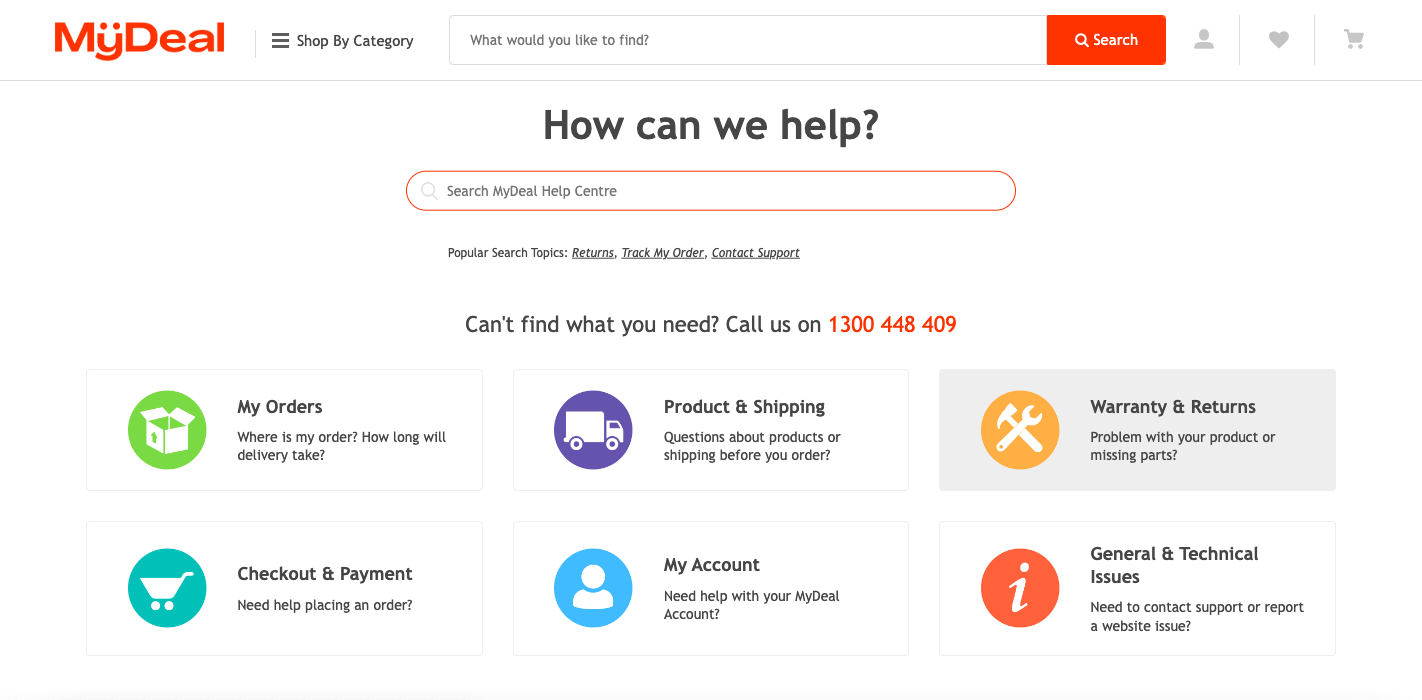 Source: MyDeal
So, what makes the MyDeal app stand out when it comes to automation? The answer is simple — well-defined FAQs. MyDeal app has mastered the art of creating an extensive and informative FAQ section, a good example of a mobile app customer service that caters to all their customer's questions and concerns.
We can learn from this example that FAQs provide questions and answers that can help customers find the information they need without having to talk to a support representative. With this self-service approach, MyDeal provides fast and reliable assistance while relieving your support staff workload.
This approach also proves that 81% of customers still want to figure out or resolve their problems without contacting a representative.
🏆 If you want to know more about MyDeal's success story and how Appetiser has helped the brand increase its gross sales by 111.1%, read their case study.
3. Amazed: integrated chatbot for visitors' queries
Next, if consumers are looking for an exciting adventure or a unique experience that will stay with them for life, then Amazed – powered by MyDeal – delivers it. The web app marketplace has thousands of unforgettable experiences for travelers and locals alike.
Think of it as the Airbnb of activities in a specific region. But, of course, much more curated and personalized. Users can book an activity and purchase it right off the bat. After that, they can leave a review about the service and host.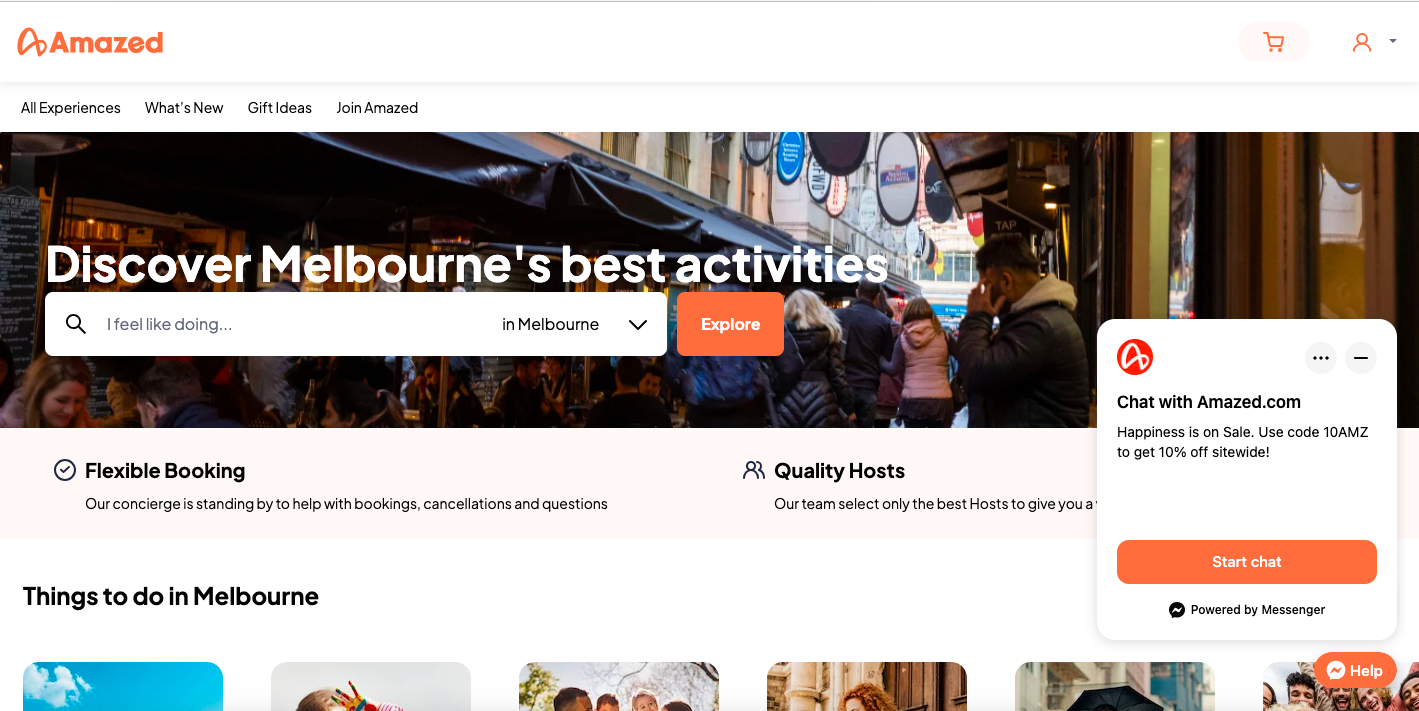 Source: Amazed
Amazed customer experience automation is a no-brainer. It's pretty simple. There's a Facebook Messenger chatbot on the bottom right of the website. It has a premade caption that provides a promo code for the visitor — it's an excellent way to entice bookings as well and prompts faster customer communications.
Our key takeaway from Amazed customer experience automation is that chatbots simulate conversation with human users and provide a seamless and efficient way to engage with customers 24/7.
Visitors can find everything they need by clicking the question, and a predefined answer will pop out.
Originally, Amazed was launched in Australia and has partnered with more than 200 hosts and service providers. It's now bound to expand in New Zealand, the United States, and the United Kingdom.
🏆 Amazed's adventure with Appetiser shows it's possible to translate a founder's vision into a functional web app marketplace that people love.
4. Disney's magic band: automated omnichannel experience
If you've ever wondered how Disney makes every visitor feel like royalty, you need to take a closer look at their magic bands — the ultimate tool of customer experience automation. Nothing else in the world can compare to Disney's seamless omnichannel experience.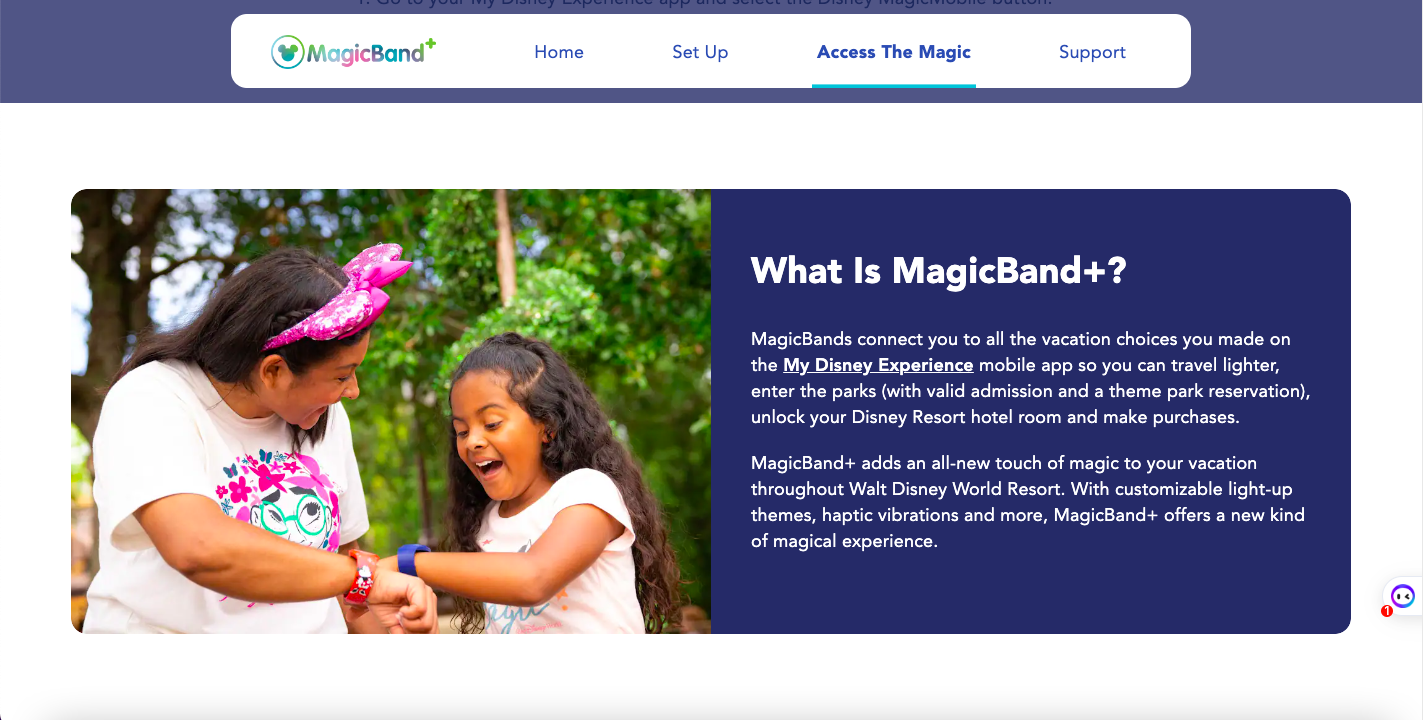 Dominate the App Store.
Get the latest industry news first.
Source: Disney
So, what exactly is this Magic Band? It's a wearable rubber bracelet for all of Disney's guests. The Magic Band contains radio frequency identification (RFID) technology, allowing it to communicate with sensors throughout every Disney World property.
But what does the Magic Band do?
💯 Everything!
It serves as your park admission ticket, photo storage, hotel room key, ride reservations access, and even mobile payment tool. In short, it is your all-in-one tool for an automated omnichannel guest experience.
This approach is a prime example of how companies can use automation to revolutionize customer experience while reducing operational costs and ensuring visitors will remember it as the happiest place on earth.
🏆 The wearable band collects and provides vast customer data, allowing them to create stellar customer engagement, making the entire Disney experience more meaningful for guests. This shows that customers, as long as they have an elevated experience, are more likely and willing to share personal data.
5. L'Oreal Paris: enhanced virtual try-on and shopping
The L'Oreal app is a virtual beauty advisor aiming to make the shopping experience more personalized, convenient, and fun. It offers a range of features, including a virtual try-on tool that allows customers to see how a particular makeup product would look on their faces before buying it.
Source: L'Oreal Paris
The app uses augmented reality technology, enabling users to see themselves in a live video feed with the makeup products overlaid on their faces in real-time.
But that's not all.
The app also provides personalized product recommendations based on a user's skin tone, type, and other preferences.
It offers tutorials, how-to guides, and expert advice from L'Oreal's team of makeup artists and beauty advisors. Customers can also use the app to book appointments, browse products, and shop directly from their mobile devices.
What can we learn from L'Oreal's CXA approach?
In a nutshell, L'Oreal's app is truly unique, using automation to transform the retail experience. No more expert advice is needed — all the beauty info you require is now available at your fingertips.
🏆 With its virtual try-on feature and personalized makeup looks, L'Oreal's app eliminates the guesswork — this is CXA in action, making products accessible to everyone throughout the entire customer journey.
6. Ritz-Carlton mobile app: improved check-in experience
The Ritz-Carlton mobile app has completely revolutionized the check-in experience for guests. Upon arrival, guests can simply open the app on their smartphone and check in without waiting in line.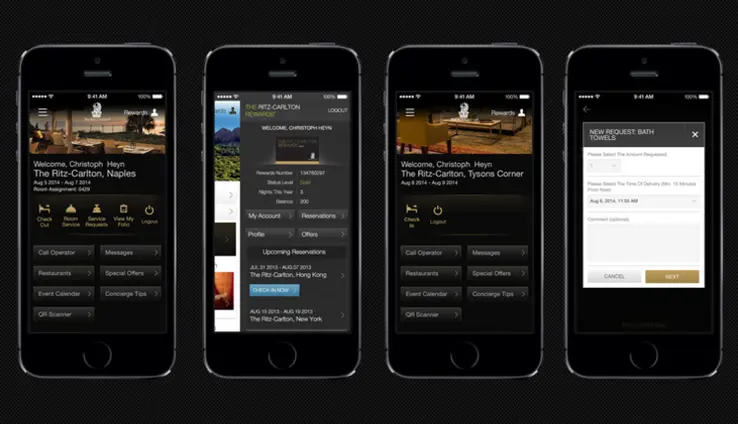 Source: Hospitality-on
But the app doesn't stop there. It goes above and beyond with its plethora of guest-centric features, elevating guests' stays to new heights of convenience and luxury. Guests can order room service, request housekeeping, book dinner reservations, or schedule spa treatments effortlessly using the app.
Its unique automation features set the Ritz-Carlton mobile app apart from other hotel apps. It collects data from guests, such as their preferences, interests, and past booking history, and uses that information to personalize their experience.
For example, if a guest has previously booked a spa treatment, the app will recommend similar treatments for their upcoming stay. If a guest prefers certain types of cuisine, the app will suggest local restaurants that serve those dishes.
🏆 This level of automation in the hotel industry is unprecedented and is a game-changer in guest experience. It's no wonder why the Ritz-Carlton is known for its exceptional service — they're constantly pushing the boundaries of what's possible in the hospitality industry.
Elevate customer experience with an MVP app
The potential of customer experience automation is rapidly growing, and one of the most attractive ways to implement it is through mobile apps.
With companies like MyDeal, Amazed, Disney, L'Oreal, and Ritz Carlton all taking advantage of CXA, there's no shortage of ideas that can be brought to life with this kind of application.
That's why starting your own MVP (minimum viable product) app can be so beneficial. There's no better way to start bringing your ideas into the world than by structuring an initial project as you see fit and impressively risk-free.
An MVP app is essentially developed with the minimum set of functional features for its users. The goal is to test the hypothesis behind the product or service, gather customer feedback, and iterate based on the feedback received.
If you need help getting started on such a project, Appetiser is here to ensure your vision comes to fruition.
We're ready to take care of every part of your MVP from the ground up and deliver real value.
So if that sparks an idea, don't hesitate to contact us today, and let's start spitballing concepts together.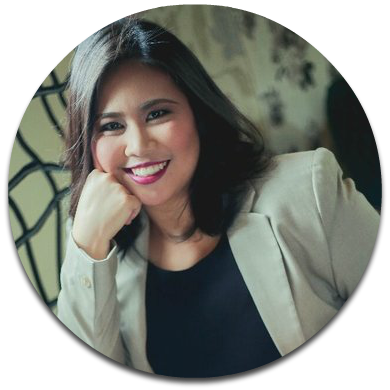 Maria Krisette Lim is a Content Marketing Specialist at Appetiser Apps. She has more than 12 years experience in producing content on the web and print ads. Krisette has a BSBA degree major in Business Management and Entrepreneurship. When she's not tinkering with words and punctuation, she's either curled up with a book while sipping hot tea, playing with her toddler or tinkering website builders.
Dominate the App Store.
Get the latest industry news first.