5 Best Mobile App Retention Tactics Used by the Biggest Brands
Let's get one thing out in the open.
Mobile app retention is not a walk in the park.
Many downloaded apps end up as another unused icon on most cell phone screens — until app users decide to free up their phone's memory and hit "uninstall."
This is a hard pill to swallow for app developers who often invest substantial resources to develop a good mobile app. But even the most popular apps in the Google Play store or Apple App store have had a fair share of this harsh reality.
Don't believe me? Just take a look at the following statistics: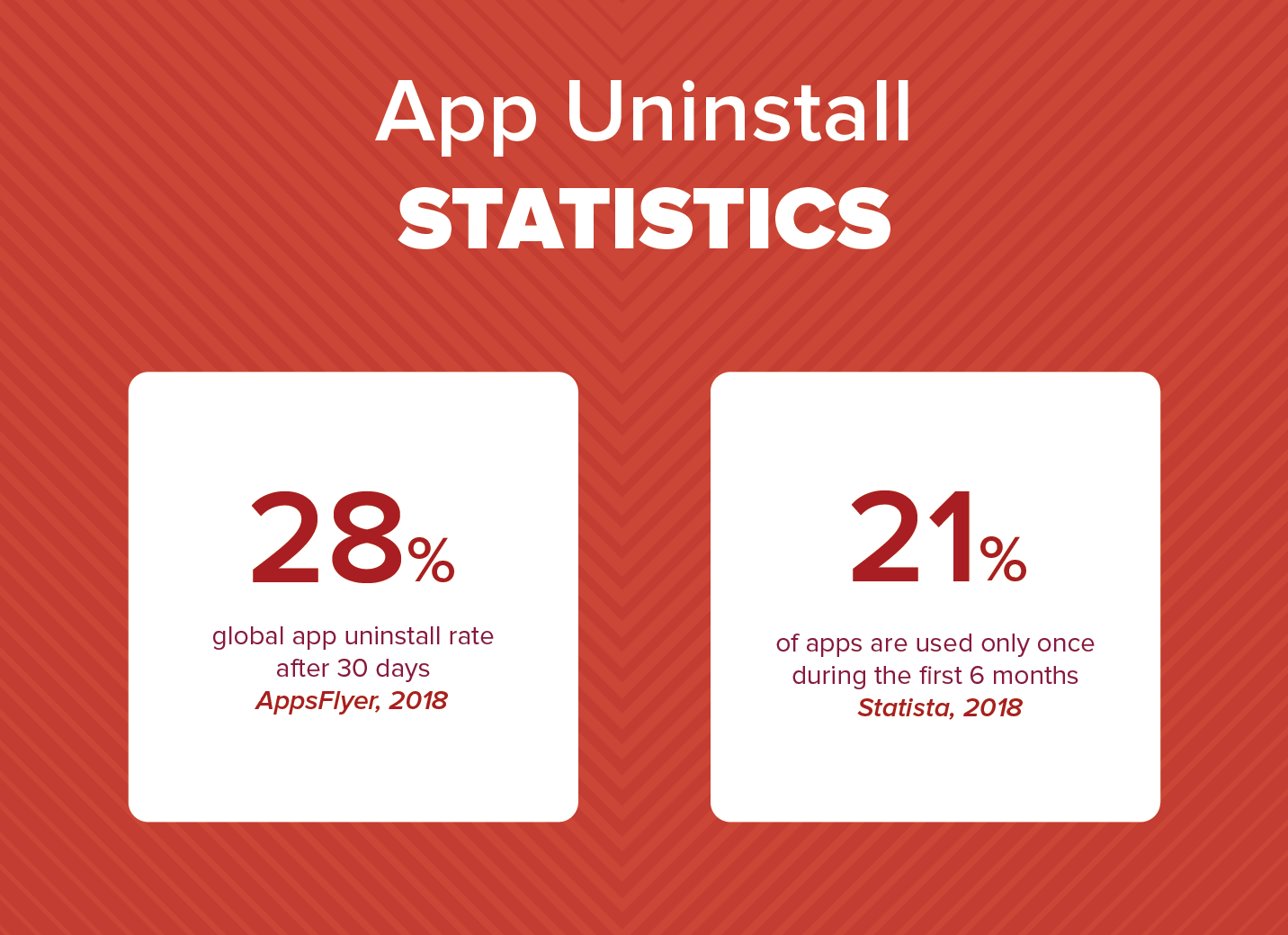 Source: CleverTap
Fortunately, there are things you can do to boost retention. And I'm more than glad to share them with you.
I've rounded up five of the best user retention tactics used by some of the biggest mobile apps today. Read on to gain inspiration for your next user retention campaign.
What is app retention?
App retention is your mobile app's ability to retain the number of active users within specific days, weeks, or months. By monitoring how many users keep or uninstall your mobile app, you can craft the appropriate retention strategies to prevent customer churn, increase user loyalty, and enhance revenue potential.
What's a good app retention rate?
Most app categories have an average retention rate of 5.7% by Day 30. iOS apps have it at 4.13%, while Android apps have it at 2.59%. Generally, anything higher than these figures can be considered a good app retention rate.
However, there is really no specific benchmark. Every business is unique, so what constitutes a good app retention rate may vary based on the nature of one's mobile app, business, or industry.
That said, there are tried-and-tested mobile app retention tactics that apply to nearly all apps and industries.
Let's have a closer look at some of them.
5 Tried-and-Proven Mobile App Retention Tactics to Inspire Your Next Campaign
#1 Smash user onboarding
Onboarding can make or break your app. It is your single most crucial opportunity to make a first and lasting impression on your users.
Poor onboarding experience leads to low user engagement and high churn rates. On the other hand, successful onboarding drives user engagement, retention, and loyalty.
This is something that MyFitnessPal, a weight loss and fitness app, has got right.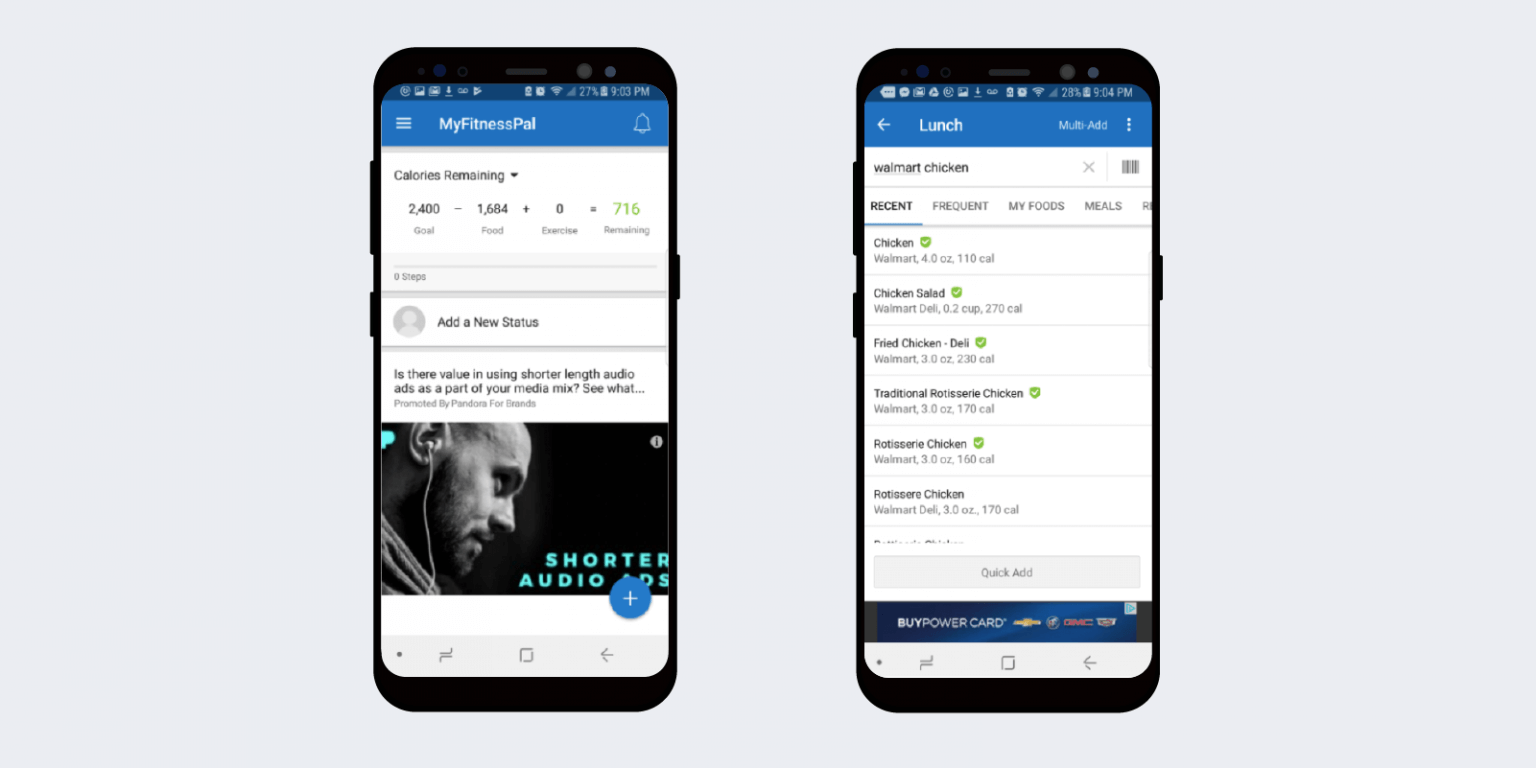 Source: CleverTap
MyFitnessPal starts the onboarding process by asking its users to log the food they have eaten. Afterward, it automatically shows the users' calorie intake, encouraging them to further interact with the mobile app.
From the start and with just a single step, MyFitnessPal met several crucial aspects of user onboarding. It communicated the app's value, provided a personalized experience, and drove user engagement.
Our takeaway? Simple, on-point, and interactive onboarding can spell the difference between user retention and churn.
Here are other things to remember to craft a smashing onboarding experience:
Keep the sign-up process short. Mobile users don't like filling out numerous fields. If possible, allow single-step registration using existing social media profiles or simply allow guest users.
Make tutorials engaging. Users tend to lose focus quickly. Consider using interactive walkthroughs, video tutorials, or games to keep users engaged.
Cap the onboarding with a killer call-to-action. This will prompt users to take the next step. Be proactive in driving constant mobile app engagement to retain users.
#2 Personalize user experiences
Users reward mobile apps that get personalization right. According to a study by McKinsey, 76% of consumers are more likely to patronize brands that treat them as individuals and demonstrate knowledge of their interests.
They are also more likely to recommend brands that offer a personalized experience to friends and family.
On the flip side, mobile apps that do not offer relevant experiences are likely to frustrate and lose their users.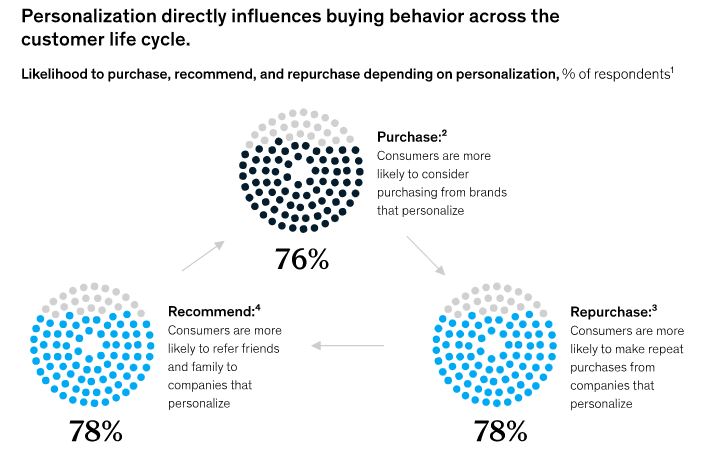 Source: McKinsey & Company
#3 Use push notifications wisely
Mobile users have a love-hate relationship with push notifications. Despite having a 90% open rate, push notifications are responsible for driving 71% of app uninstalls. But when used wisely, push notifications can be among your most powerful app retention arsenals.
But how do you make push notifications work to your advantage?
Let's take inspiration from what the dating app Tinder did right in this example: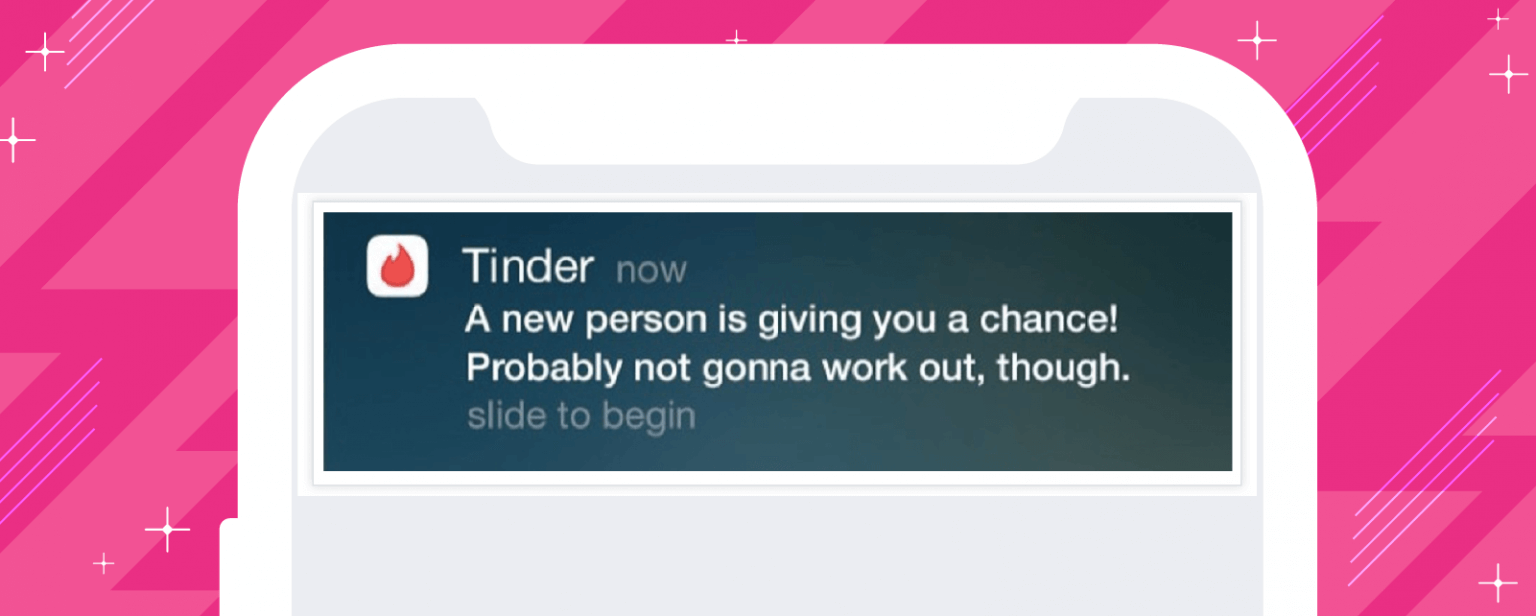 Source: CleverTap
Of course, not all apps can get away with such a snarky copy. But since it's from Tinder, it makes a good case in point for this crucial insight:
Effective use of push notifications starts with knowing your target users.
With the highest percentage of its users belonging to the 18 to 24 age bracket, Tinder wisely used humor to catch the attention of its young and adventurous market. It also did an excellent job of crafting a message that sparks one's curiosity, which is an effective way to prompt users to take action.
When you have enough insights about your new and existing users, it's easier to design timely and relevant campaigns that can dramatically increase your app retention rates.
Here are other best practices to consider as you navigate the tricky push notification waters:
Think out of the box. You have a small window and a few characters to play on to lure users into opening your message. Be creative and find ways to maximize what you have.
Take the user journey into account. Know where your target users are in their journey. Send push notifications to optimize their app experience and guide them to take the next steps.
Offer something valuable. Be it a piece of relevant information, a reward, or a discount, users often respond positively when they get something.
#4 Spice things up through gamification
As of 2021, the global gamification market size was valued at $10.5 billion. Industry analysts expect it to grow exponentially and reach $96.8 billion by 2030.
Dominate the App Store.
Get the latest industry news first.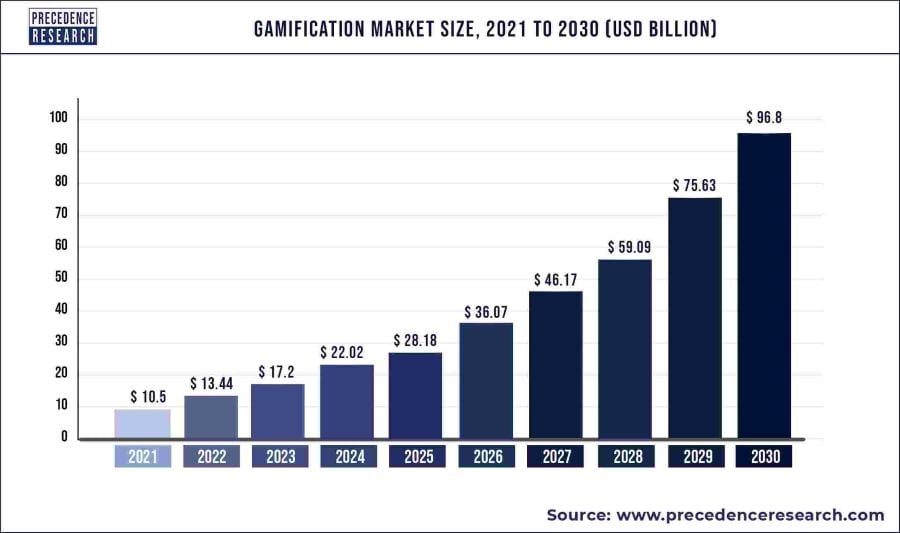 Source: Precedence Research
What do these figures indicate? Simply put, gamification works. And the best part is you don't have to own a gaming app to capitalize on this reality.
Take, for example, what the task management app Todoist did to increase app retention.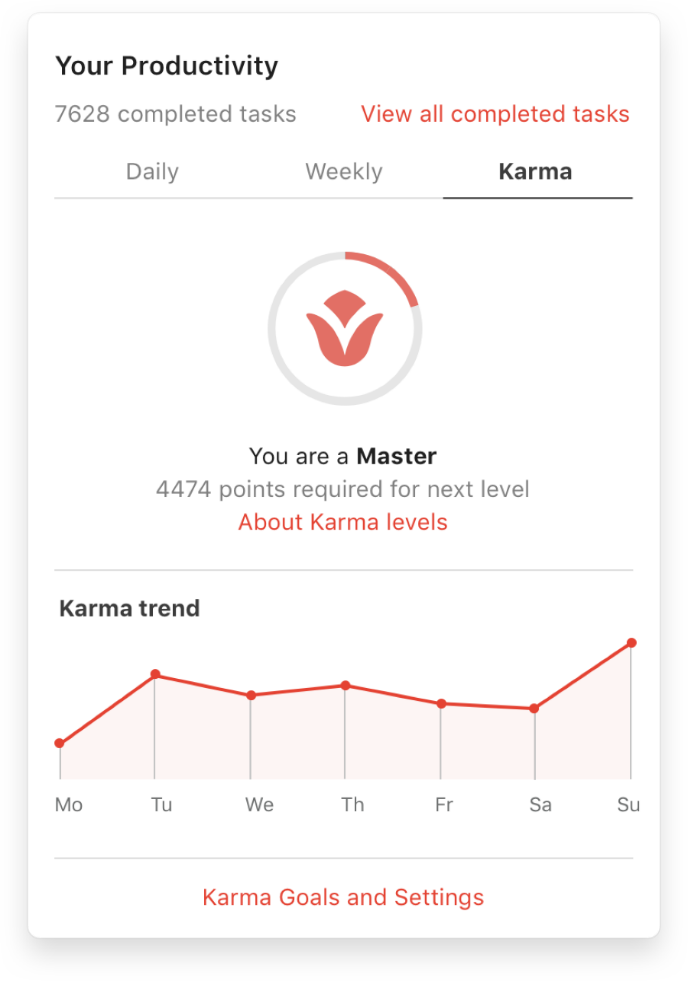 Source: Todoist
Todoist created a point-based reward system. Every task completed by its mobile users has equivalent karma points. Likewise, every task missed has equivalent negative karma points.
To drive continuous user engagement, the mobile app also created levels that users can unlock when they reach a certain number of karma points.
Todoist pulled off a smart retention strategy by capitalizing on people's competitive nature and desire for a sense of accomplishment. This is something that you can replicate as you draw your mobile app retention strategies.
To further motivate more users to interact with your app, keep the following gamification tips in mind:
Incentivize users. Everyone loves freebies. Keep active users excited by offering tokens and other forms of rewards.
Use leaderboards and badges. This can fuel your users' competitive side and promote habitual app usage.
Enable cross-platform sharing. People love to share their accomplishments. Allow your mobile users to seamlessly share their progress on Facebook, Instagram, and other channels.
#5 Keep email marketing on point
Despite the advent of social media and other communication platforms, email marketing remains the most efficient and cost-effective app engagement and retention tool.
According to Statista, the number of global e-mail users continues to grow and is estimated to reach 4.6 billion by 2025.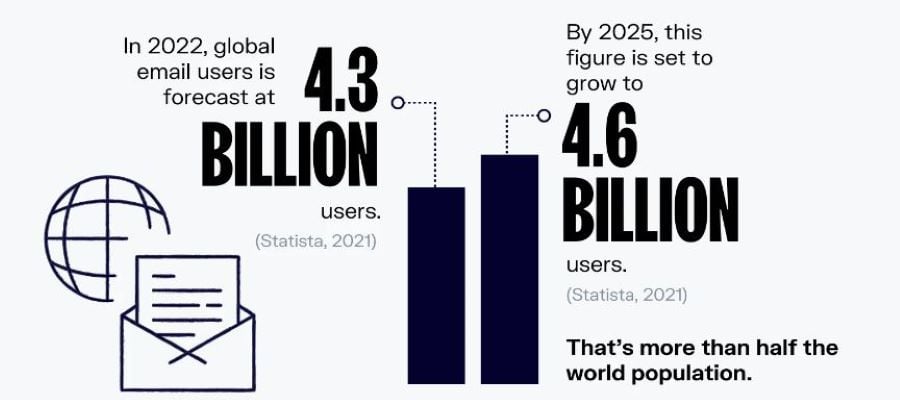 Source: Oberlo
But with so many things fighting for mobile app users' time and attention, getting emails opened, let alone read, remains a challenge for most app marketers.
How do you make yours stand out in your users' inboxes?
Perhaps, you can learn a thing or two from Uber.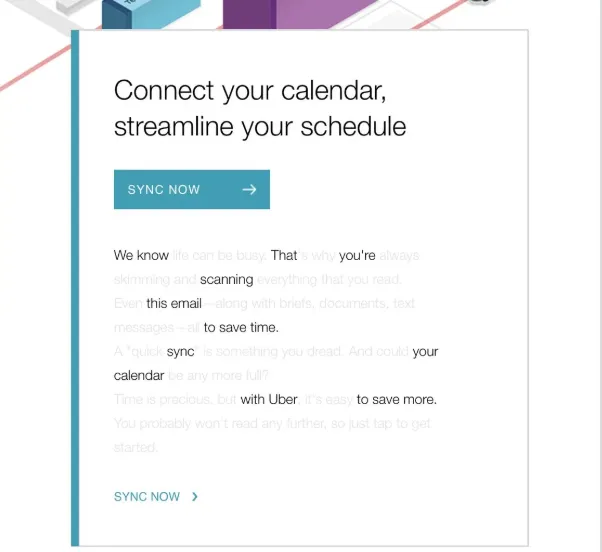 Source: Nexcess
In the example above, Uber communicates that it knows and understands its mobile app users — and does so cleverly. That's one point for personalization and another for grabbing the audience's attention.
The message was also bookended with clear call-to-actions, giving Uber another point for promoting continuous mobile app engagement.
When used appropriately, email marketing can complement any app retention strategy. You can use emails to thank valuable users, promote referral programs, retarget inactive users, and accomplish many other mobile app engagement initiatives.
To make your email marketing campaign even more effective in boosting app retention, consider the following tips:
Use attention-grabbing subject lines. Email subject lines are the first things users see. Make it irresistible.
Address users by name. This boosts email open rates by as much as 35%!
Keep readability in mind. Reading your email should be as effortless as possible for your audience. Write short paragraphs and leave white space in between to avoid straining your readers' eyes.
Want more powerful app marketing tips? Check out this article written by our CEO and director, Michael MacRae.
Loyal users are made, not found
If you're simply waiting for users to interact organically with your app, you're putting your app retention rate and profitability on the line.
Remember, user loyalty is earned — and this is something you need to do constantly and consistently. With so many options available at their disposal, even your most loyal daily active users can be gone in a snap.
You must stay proactive in keeping your users engaged and promote mobile app usage at every stage of the user journey. This is the key to a successful app retention strategy.
Don't let fear hold you back
If you're a new app developer, we hope that having these insights won't stop you from moving forward with your goal.
Yes! Risks exist. We're not gonna sugarcoat that fact. But there is an effective way to mitigate them: by starting lean.
Hear us out.
At Appetiser Apps, we always start with a minimum viable product. When you partner with us, you get a world-class app design that's ready for programming — at a fraction of the cost of development.
You can use the fully clickable and interactive design to gain valuable user feedback or secure funding from investors. We've had partners who have successfully done this, raising more than a million dollar through crowdfunding.
Want to read their inspiring stories? Click on these links:
If you like what you've read, hit us up! Together, let's work on turning your vision into an awesome reality.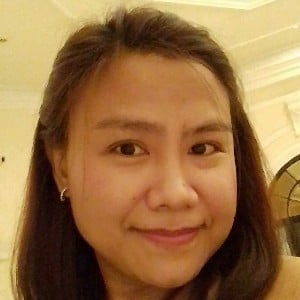 Jane Eslabra is a Content Marketing Specialist at Appetiser Apps. She has 14+ years of experience producing traditional and digital content. When she's not busy being a wordsmith, she's out swimming, taking a long walk, or trying new activities that will keep her eyes away from the screen and her body moving.
Dominate the App Store.
Get the latest industry news first.