What Are Push Notifications? [And the 5 Ways They Can Help You in 2023]
Picture this: You're excited about the fact that you just launched your app or website.
At first, many people view your site or download your app. But months passed, and people started dropping out.
You've tried all sorts of marketing strategies, like search engine optimization and app store optimization, to keep users and visitors interested.
But you are somehow coming short.
There might be one crucial piece missing in your overall marketing strategy.
Have you explored using push notifications?
If you doubt how effective notifications are, look at these stats.
A study shows that users who enabled notifications used apps 50% more often in a month than non-notified users. Another study even highlights that visitors spend around 70% more time on an e-commerce site thanks to push notifications.
Given these stats, you might wonder: How can I use push notifications to my advantage?
Read this article to learn more about push notifications, how they work, and what you can gain from using them.
Let's jump right in!
What are push notifications?
Push notifications are short messages on electronic devices designed to get users' attention, relay reminders, provide important updates, or promote something. They could pop up in any of the following pieces of hardware:
A desktop or laptop
A mobile phone
A wearable device
I will discuss shortly the various types of push notifications based on the four devices mentioned. But for a better overall perspective, let's look at the basic parts of a notification message.
What are the parts of a push notification?
There is no one-size-fits-all push notification. However, I observed the following elements in the average push notification:
Title. This could be a salutation (like "Hi, Fiona!") or a short statement that summarizes the body
Body. The main content of a push notification that contains a message to buy something or any important updates relevant to the user
Icon. The logo of the website or app promoting the push notification
Big image. Any picture or graphic directly related to the specific message in the body
An additional element called the action box might be added for special types of notifications, called rich push notifications. This box may contain buttons that enable users to act on the push message. For example, action buttons allow users to open an app, buy a specific item, etc.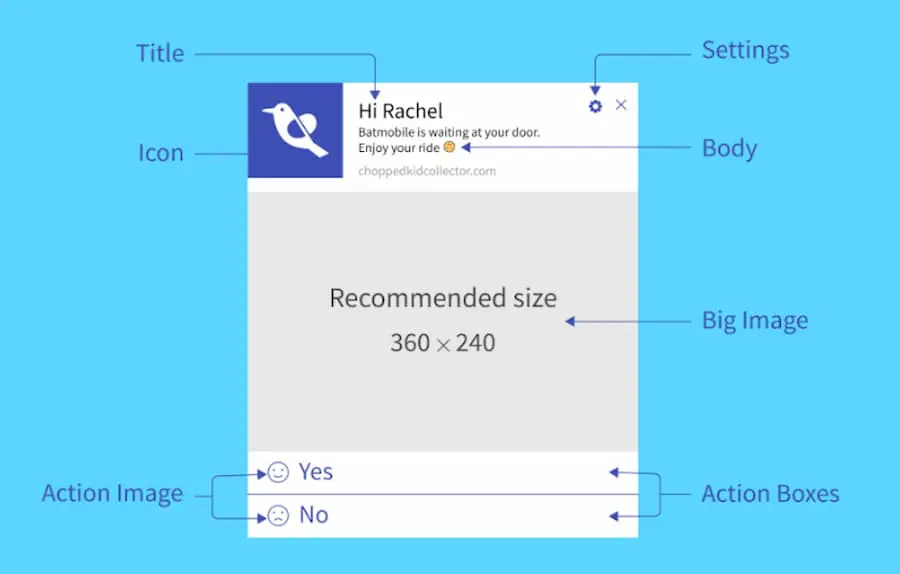 Source: WebEngage.com
Types of push notifications
There is a push notification for every purpose and device.
Knowing how and where push notifications are used is vital to maximize the reach of your app or website and ensure an effective push notification campaign.
Push notifications are classified based on two main categories: platform and purpose. Let's take a look at each one.
Notifications according to the platform involved
In the course of their extensive research and development, our app experts have come across the following types of push notifications based on the notifications' host hardware or software:
Web browsers. Users see web push notifications while their browsers are open either on their mobile devices or desktops. A website owner who wants to encourage more visitors to return to their website uses these notifications. Source: Omnisend.com
Mobile phones. Mobile push notifications are seen by users of mobile apps. App publishers often use these notifications to increase customer or user engagement with their developed apps.

Source: Orangesoft.co

Desktops or laptops. People who install certain programs on their desktops or laptops see notifications about those apps. Push campaigns that use these notifications often aim to keep customers interested in their installed software.

Source: Forums.McAfee.com

Wearables. Electronic devices that look like fashion accessories, like smartwatches, closely resemble smartphones' interface and function. These watches also have features that enable them to connect to mobile devices. This cross-device integration enables smartwatch users to see notifications from their mobile apps.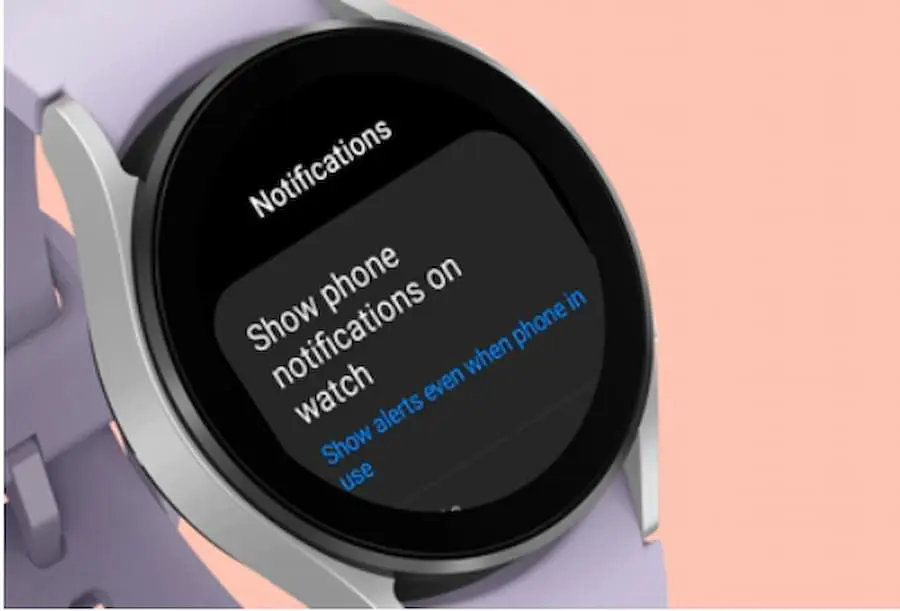 Source: Samsung.com
Notifications according to function
Push notifications could also promote products or services OR facilitate transactions. Let's have a look at each of these functions.
Marketing products and services
As mentioned before, keeping users engaged is key to the success of any app or website. The more users open an app or a website for a longer period, the larger the revenue from these assets tends to be.
This is where push notifications are a lifesaver.
Push notifications have been used to spread information about things like special promos, new products or services, or a recently published blog. Messages like these tend to keep users interested since the notifications fulfill their need to save money or find important information or offerings.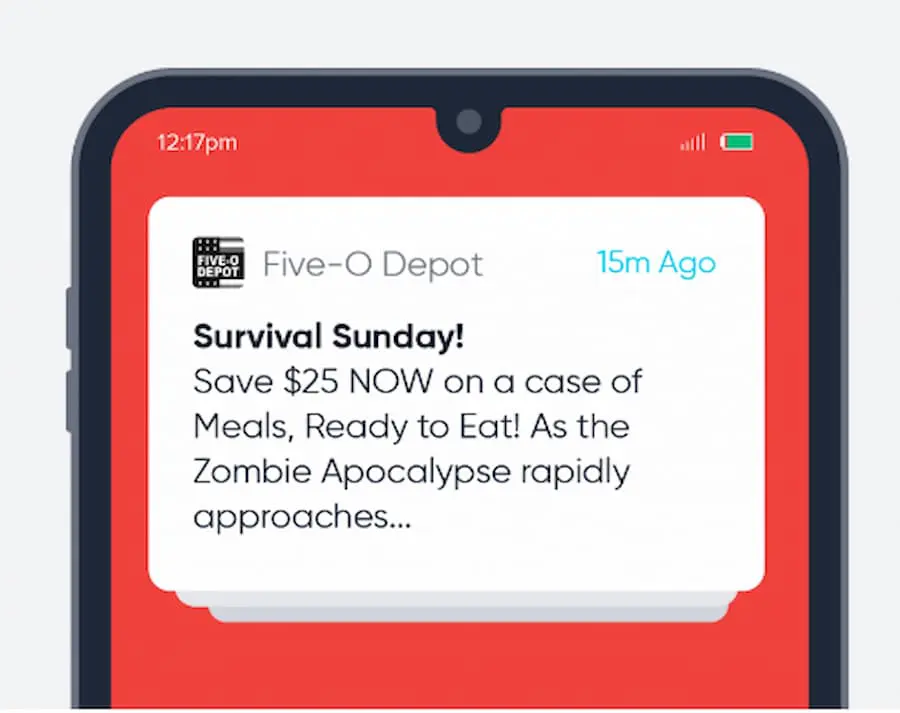 Source: CleverTap.com
Making transactions easier
Push notifications can also serve as good "customer service reps," especially for apps or sites that act as online stores.
These notifications make life easier for users by:
Providing them a quick way to continue a paused or interrupted process, like signups or cart purchases
Updating users regarding transactional information, such as order confirmations or delivery updates
Verifying user information as an added layer of data security

Source: Taplytics.com
As you can see, push notifications help provide a smoother buying process for e-commerce patrons. In the U.S., this convenience helps retain around 17% more shoppers, who would otherwise abandon their carts due to an inconvenient checkout process.
A seamless online shopping experience is also the dream of MyDeal's founder, Sean Senvirtne. He sought our expertise in developing an app to help customers buy from his website, whether they're using desktops or smartphones. You may check out MyDeal's case study to learn how we helped the company make online purchases more convenient for a greater number of people.
Dominate the App Store.
Get the latest industry news first.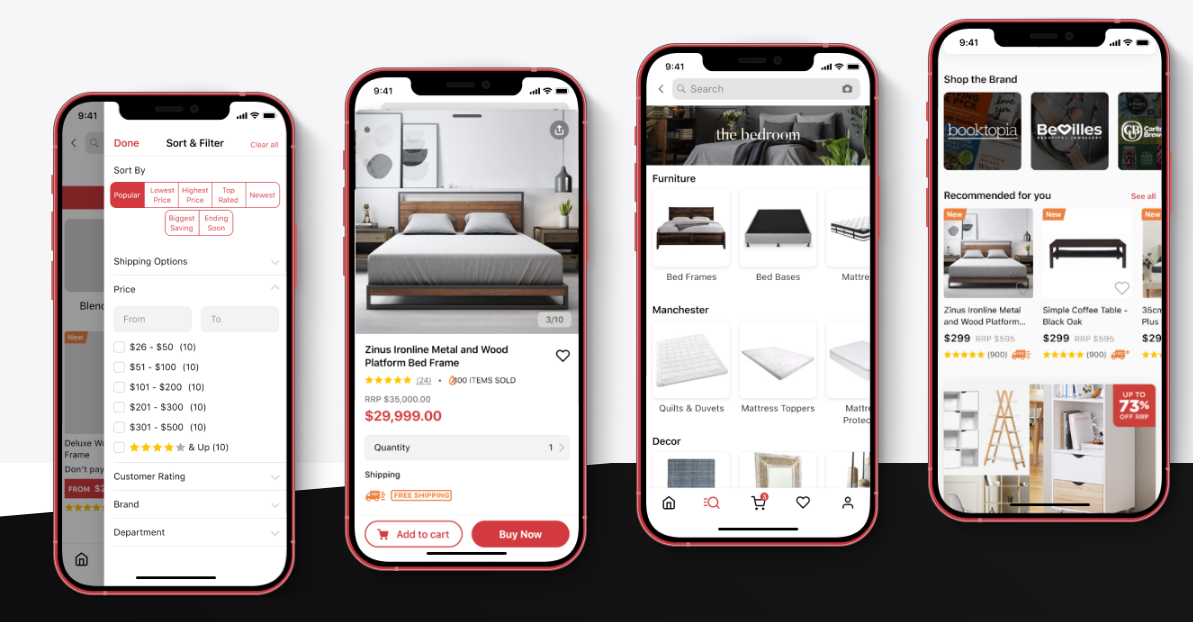 Now that you know the nature, parts, and types of push notifications, it's time to have a quick look at how they work.
How push notifications work
So you'll better appreciate the technology behind push notifications and gauge whether they are right for you; I came up with a simplified explanation of the push message communication process.
A notification travels from the source to a user's device through the following three-step process:
An app or website publisher creates a push notification message through an application programming interface (API) provided by a push notification service (PNS).
The PNS sends the message to the user's device.
The user opens their mobile device or desktop. They could see notifications from any of the following parts of their device:

An open app
The home or default screen
An open browser
In some cases, a user may want to see past notifications. iOS phone users may do this through their devices' feature called the Notification Center. This is where Apple iPhone users can see their notification history.
How to enable push notifications
If you're an app publisher or website owner, you need to register with your target operating system's PNS providers so they can transmit your push notifications.
For example, if you publish an app for Android users, you need to contact Google's Firebase Cloud Messaging PNS to give you the ability to send push notifications. To service iPhone users, you need to get in touch with Apple Push Notification (APN) service.
Aside from Firebase and APN, other PNS providers can also enable you to send mobile app push notifications to all users, regardless of their operating system.
The basic process of using the services of PNS providers is similar for website owners. However, though web push notifications are compatible with most devices, checking whether a device's operating system supports notifications is highly recommended.
That pretty much covers the basics of push notifications. Now it's time to get to the meaty part, the gains you can enjoy from push notifications.
5 Benefits of Push Notifications
Our product strategists have successfully launched and marketed many mobile and web apps for our clients. This extensive marketing experience has taught our product experts that push messages provide the following advantages:
Increased message visibility
Improved user retention
Boost in conversions
Easier management of massive growth
Enhanced social impact
Let's take a closer look at each.
1. Increased message visibility
The beauty of push notifications is that users can see them even when they are not using your app (as long as they've opted in to receive notifications). Other marketing methods, like email, require users to do something before learning about your message.
In fact, push notifications are so effective that around 1 to 2% more users act on messages found in notifications versus email messages.
2. Improved user retention
As I mentioned, maintaining user engagement is crucial so your audience won't delete your app or stop visiting your website. To do this, you can remind users to come back and use your app or website through your push messages.
One study reflects a negative effect of not using push notifications. It turns out that 95% of users stop using apps if they don't receive a push notification within 90 days.
Also, push notifications' short and sweet format are more appealing to most users these days. Humans today have an average attention span of around 8 seconds, a second less than the humble goldfish.
All these show that push notifications are good tools to advance your agenda in a world where it's increasingly difficult to get and sustain people's attention.
3. Boost in conversions
Conversion is all about finding leads and turning them into customers.
Push notifications are a good way to reel in leads because they make it easier for first-time visitors to signup for your content, product, or service. For example, instead of having visitors fill out time-consuming forms, you can design one-tap or one-click registration processes using push notifications.
Once you've caught your leads, it's easier to convert them into customers by gently pushing them to buy more from you or patronize your content more often. You can accomplish these by sending push information about promos, rewards, and other similar developments.
The effectiveness of push notification campaigns in improving conversion rates is backed by research. One study found that highly segmented push strategies can increase conversion rates by around 40%.
4. Easier management of massive business growth
Scaling is about massively increasing business income while minimizing costs through advanced technology or techniques. You can read our article on startup scaling to discover more about this business strategy.
One factor affecting scaling is a significant jump in your user base. When thousands of new users download your app or visit your website, it will be harder to use some marketing methods, like email newsletters, to keep them engaged.
The short-form format of push notifications tends to be easier to write than the typically lengthier newsletters. Hence, push notifications can help you retain a great number of users without using too much time, energy, and other resources.
5. Greater and better social impact
Push notifications for apps and websites are not only used to serve paying customers. Sometimes, they are also used to serve and protect the general public.
For instance, governments use push notifications to inform people of the following:
Severe weather conditions
News and updates about the local community's projects and activities
Missing persons or crime incidents
As you can see, push notifications also do their bit to make the world a better place. But serving society is not the monopoly of governments that send push notifications.
For instance, a business called Good Empire has mobilized people to creatively solve some of the planet's biggest social and environmental problems. Our app developers and product strategists helped push Good Empire from idea to impact.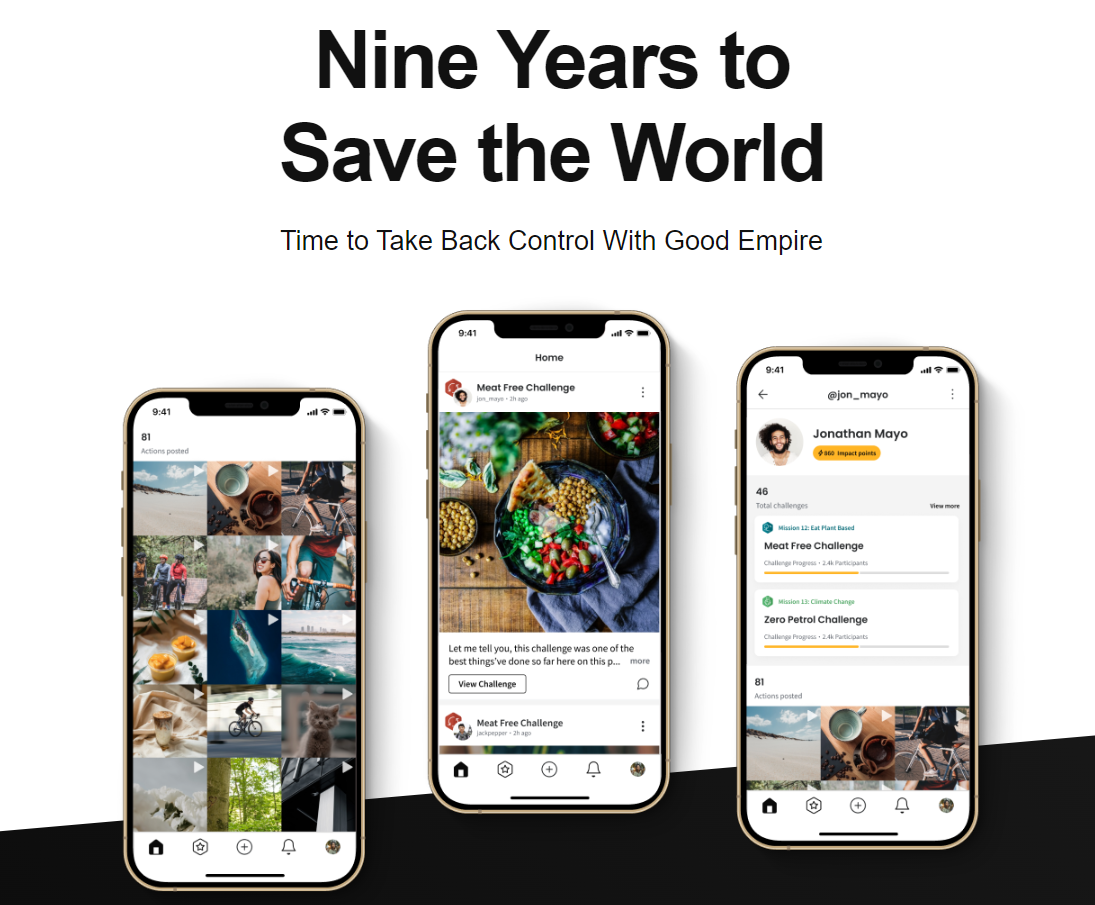 Final push
All in all, push messages help greatly in maintaining business growth momentum and keep society thriving.
However, it's best to use push notifications in moderation and combine them with other marketing strategies. Research shows there is an optimal number of weekly notifications to ensure app users won't opt out of push notifications.
A holistic marketing strategy that includes push notifications can effectively increase the income or impact of your app or website. Making these digital assets work for you is something our experts can definitely help you with, even if it means customizing your app or turning your website into a web app for improved outcomes.
Whether you already have an app or website that needs improvement or you're starting from sheer vision, don't hesitate to contact us for a free consultation. Let's talk about how we can work together toward success and greater impact.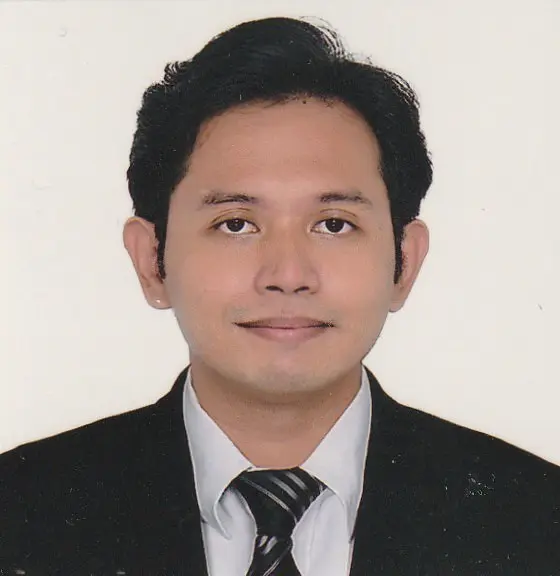 Jesus Carmelo Arguelles, aka Mel, is a Content Marketing Specialist by profession. Though he holds a bachelor's degree in business administration, he also took courses in fields like computer troubleshooting and data analytics. He also has a wealth of experience in content writing, marketing, education, and customer support. Outside office hours, he finds deep joy in reading, traveling, and photography.
Dominate the App Store.
Get the latest industry news first.