How Mobile Apps Can Spark Digital Innovation and 5 Best Examples
Do you remember life before smartphones and mobile apps? It's hard to imagine functioning without them now, right? Let's face it, life would be different today without them both.
These days, mobile apps offer a new dimension to your routine, whether tracking steps using a health and fitness app or ordering a healthy meal.
Believe it or not, an average person actually uses 9 mobile apps a day and has 80 installed apps.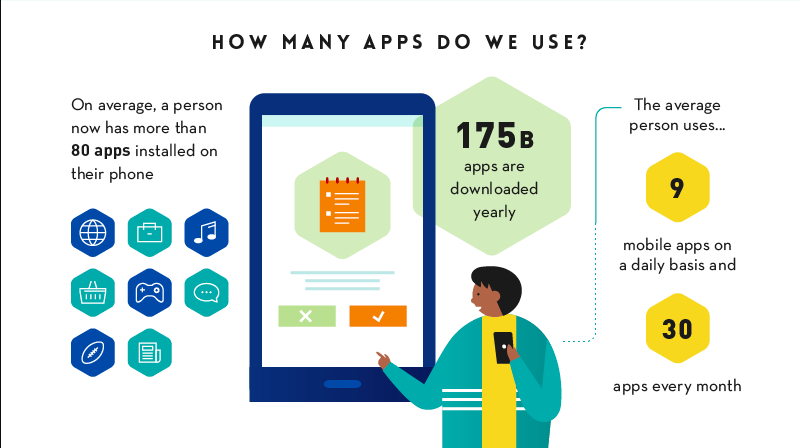 Source: Social Media Today
This shows their ability to spark digital innovation across different markets when implemented correctly, as they become indispensable in a gamut of daily tasks.
So, what happens when digital innovation crosses paths with mobile apps? Before diving deep into the best examples and implementation, let's define digital innovation first.
What Is Digital Innovation?
Digital innovation involves creating digital technologies and applications to solve problems efficiently. These new technologies can impact processes, products, or services as you deliver new solutions.
When used correctly, the effect of digital innovation in mobile apps will improve customer experience, create new business models and processes, and increase revenue streams.
You have also encountered the buzzwords digital innovation and digital transformation, often used interchangeably. But did you know they refer to different things?
The former focuses on problem-solving efforts, while digital transformation involves adopting existing digital strategies and tools for a more digitally-focused company and supporting business goals.
Always remember that when we're referring to digital innovation. There's a constant creation of new and improved products and services, and mobile applications are a conduit to make this happen.
What Is the Role of Mobile Apps in Digital Innovation
Smartphones and mobile apps are constantly solving most users' problems and paradoxically deliver what people need – whether it's a lonely senior at homecare far away from the family having the opportunity to video chat with loved ones or someone who wants to explore romantic relationships online. There's an app for nearly everything.
Mobile apps provide brands with innovative ways to deliver marketing campaigns, improve customer experience, and from an internal perspective, collaborate with team members remotely.
With digital mobile apps' exponential growth and popularity, it's projected that by the end of 2026, users will download 143 billion apps from Google Play Store alone.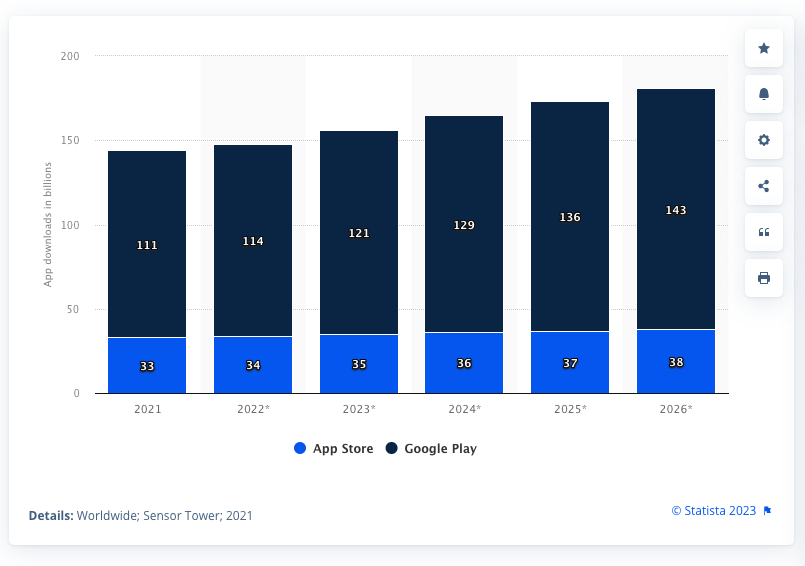 Source: Statista
So, now let's go beyond the numbers and data and see mobile app platforms and digital innovation in action.
5 Best Examples of Digital Innovation Through Mobile Apps
The nuggets of information from these living examples give you a broader perspective of how mobile applications can spark digital innovation in different industries.
1. Roamni – Monetize local stories that are otherwise lost
Roamni is changing the game with its groundbreaking audio-sharing and storytelling app. It's simple to use – users can upload, listen, rate, and share audio content through localized tours and stories.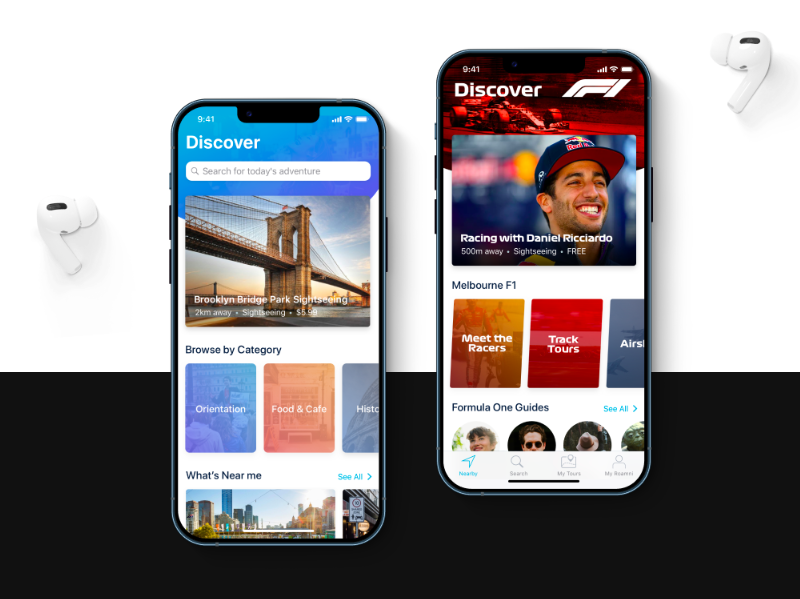 The mobile app seamlessly blends technology and human interaction by connecting users with residents and local guides who provide personalized tours to both famous and lesser-known destinations. Simply put, it's exploring a place through the eyes of a local without leaving your room.
It provides perks to content creators, the opportunity to monetize their stories, and in return, travelers enjoy unique stories exclusively for them. What could have been lost – stories and photos – is now made available.
What can we learn from Roamni? First, it adopts a user-centric approach to laying out its features. Rather than delivering generic, run-of-the-mill tourist information usually found on travel websites, this mobile app presents a customized and personalized experience.
Roamni's success can be attributed to several factors, and being one of Appetiser's partners is just one of them. With the brand's unique features, it has become a partner of high-profile companies like Formula 1 and the Australian Grand Prix.
🏆 Read our case study on how Appetiser's mobile app development helped Roamni revolutionize tour content creation.
2. Good Empire – Using gamification for social good
Good Empire is a social video challenge app driving change across the world. Users take direct action on 17 missions in 9 years, supporting the UN's Sustainability Goals for meaningful impact. It is a shining example of the power of technology to initiate positive change.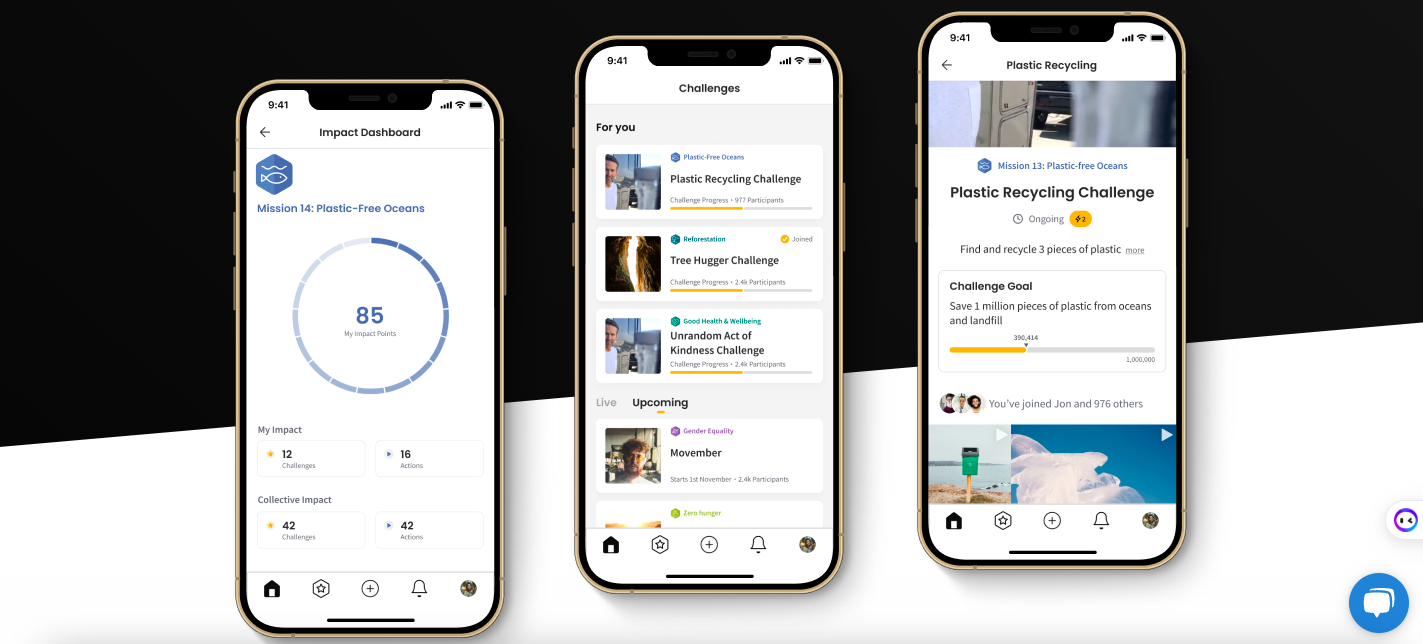 What sets Good Empire apart from other sustainable apps is combining gamification elements to incentivize mobile users to adopt eco-friendly habits and take action in contributing to global issues. Users earn points, rewards, and badges for completing challenges and achieving sustainability goals.
Combining technology and people can contribute to the betterment of the planet by reducing waste and carbon emissions.
What we can learn from this is that digital innovation starts when you have a bigger vision than making profits. It's impacting the world, like in this case, addressing global issues.
In fact, 69% of people say they are less likely to support a company whose primary goal is just making money. In contrast, Good Empire went beyond profits and embraced action. That said, by harnessing the power of digital innovation, you can make a difference in advancing environmental sustainability and social good.
🏆 If you want to know how Good Empire started with its mobile app journey with Appetiser's app developers, here's the case study for more inspiration.
Dominate the App Store.
Get the latest industry news first.
3. YouFoodz – Ordering Healthy Food in Just a Tap of a Button
Let's take a closer look at YouFoodz. This mobile app is a fantastic example of digital innovation in action. This mobile application has revolutionized the way people approach meal planning and preparation, and it has quickly become a game changer in the food industry.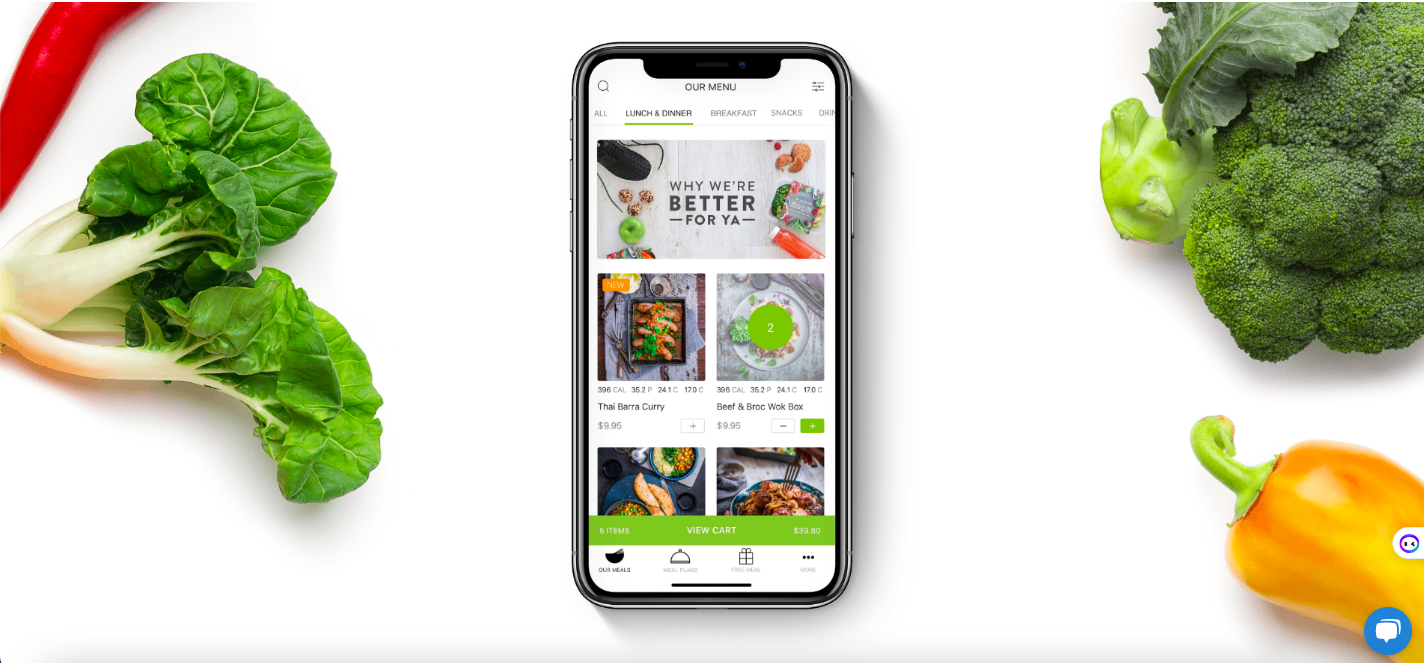 So, what is YouFoodz? It's a meal delivery service that makes healthy eating easy and convenient. With YouFoodz, users can browse an extensive menu of fresh, healthy meals and snacks, select their favorite options, and have the food delivered straight to their doorstep.
The innovation behind YouFoodz is its ability to bring healthy eating into the realm of convenience. Rather than forcing users to cook their meals or resort to unhealthy fast food options, YouFoodz offers a simple, easy-to-use solution that makes healthy eating a no-brainer.
This mobile application's seamless integration of meal delivery has made it an instant hit with health-conscious individuals who are always on the go.
Not only is YouFoodz incredibly convenient, but it's also affordable for anyone who wants to eat healthily. The app's commitment to using fresh, locally sourced ingredients ensures that existing and potential customers get the highest quality meals possible, all while supporting local farmers and businesses.
So, what can we learn from YouFoodz's business strategy? That innovation doesn't have to be complicated. Sometimes the most effective solutions are the simplest, especially when addressing a common problem or need.
YouFoodz's success proves a massive demand for meal-prepping and healthy food solutions, and it shows that entrepreneurs and startups who think outside the box can create incredible things.
🏆 Read our case study to learn about YouFoodz's digital transformation success and how it generated $100,000 of revenue daily.
4. Ikea Place – Utilizing Augmented Reality for a Stellar Shopping Experience
Ikea Place has taken the world by storm with its smart use of augmented reality (AR) technology in its mobile app. With this app, users can have an immersive shopping experience from the comfort of their own homes.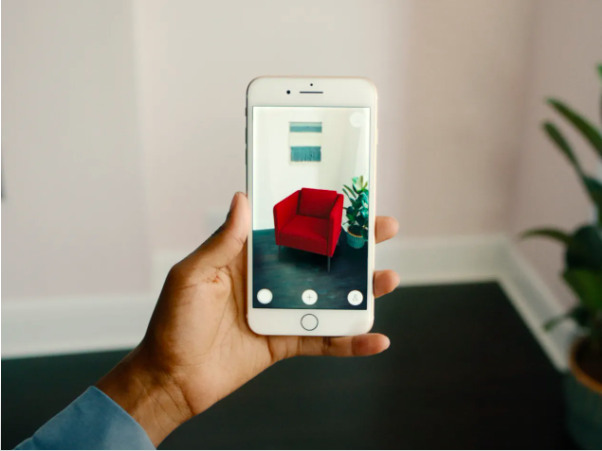 Source: Wired
How does it work? Open the app, select the piece of furniture you want to purchase, and use your phone's camera to visualize it in your living room. This means you can see how the new couch will look. Talk about a game changer.
The digital innovation of Ikea Place has completely transformed the way we shop for furniture. By utilizing AR technology, they have bridged the gap between online and in-store shopping.
Customers can now make more informed purchasing decisions and are empowered to see how a piece of furniture will look in their home before purchasing.
The key takeaway from their innovation is that AR technology has opened up endless possibilities for innovative shopping experiences and making informed decisions even without visiting the store. Everything is done on the mobile application.
🏆 Augmented reality is one of the most unique concepts startups have developed in recent years. Read our article on other trending tech startup ideas to discover relevant developments.
5. Walgreens – Capitalizing on the Power of Mobile Apps for Better Processes
Walgreens has taken its customer service to the next level with its mobile app. With a simple tap on their phones, users can refill prescriptions, order photos, and scan products for more information. The app has also incorporated its loyalty program, allowing customers to earn and redeem rewards.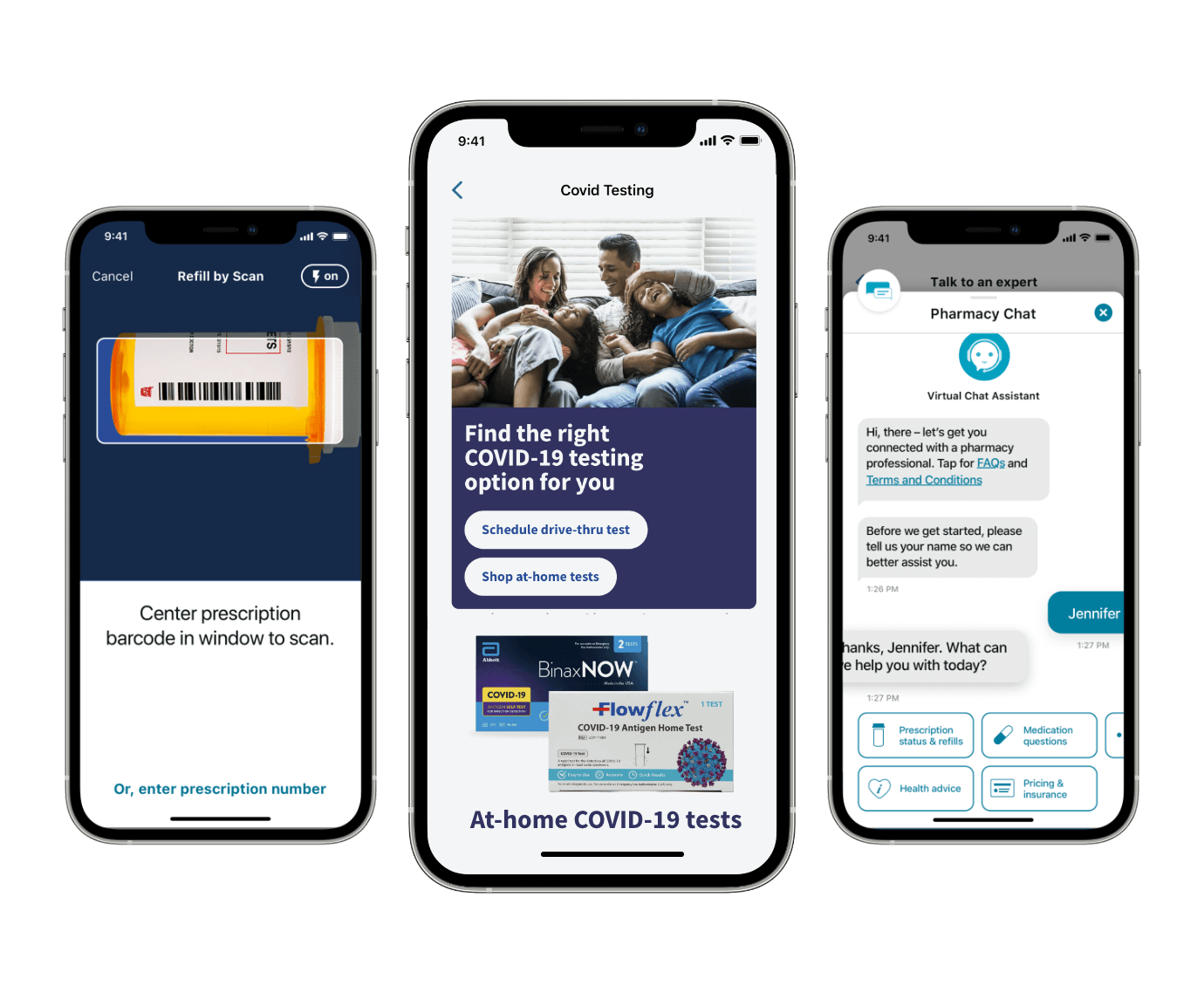 Source: Walgreens
The digital innovation of Walgreens' mobile app streamlines its processes and improves the overall customer experience.
By putting the power of convenience in the hands of their customers, they have created a more efficient and effective system.
Walgreens' digital innovation intersects offline and online shopping experiences through its mobile app. It has embraced customer-led innovation, ensuring they meet their needs and expectations.
🏆 The result? 70% of customers are engaged in the app, and half of the digital sales come from the mobile app.
All in all, these brands made a huge dent in their respective industries by embracing new technology and ways of thinking.
And that's digital innovation – thanks to mobile apps.
Turn Your App Idea Into a Tangible Innovative Solution with an MVP
Finally, you have seen the best examples of digital innovation demonstrating different facets of mobile app features.
At its core, innovation starts from you – from ideation and ends with near-perfect execution. So, you have a mobile app idea but don't know how to get started, and that's where Appetiser can become your partner in developing it.
Our team of experts knows what it takes to turn an app idea into a successful one. We can help you by starting with a minimum viable product (MVP), which is a basic and functional version of your app that allows for testing and user feedback.
With an MVP, you can quickly validate your idea and make crucial improvements before investing all your resources in one go.
Our team has a wealth of experience in creating innovative solutions and building user-first mobile apps that are both successful and profitable. We're here to guide you every step of the way, from ideation to launch and beyond.
So why wait? Get in touch with us today, and together, let's spell success through an MVP app.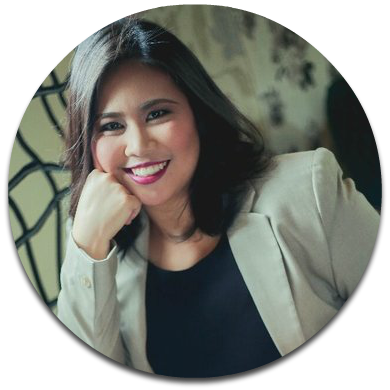 Maria Krisette Lim is a Content Marketing Specialist at Appetiser Apps. She has more than 12 years experience in producing content on the web and print ads. Krisette has a BSBA degree major in Business Management and Entrepreneurship. When she's not tinkering with words and punctuation, she's either curled up with a book while sipping hot tea, playing with her toddler or tinkering website builders.
Dominate the App Store.
Get the latest industry news first.