The 16 Hottest Tech Startup Ideas in 2023
What does the person next to you and Jeff Bezos have in common?
Believe it or not, both can cook up the next big tech idea.
We're living in the age of tech startups. Ideas that are new and workable could become the next life-changing app, device, or service — especially with investor money flowing into tech startups. Nowadays, even non-techies can come up with brilliant high-tech ideas.
As a result of this invention-friendly business ecosystem, millions of fresh concepts come up every year. Unfortunately, this makes it quite hard to keep track of the latest tech developments that are making money and impacting many lives.
To keep things simple, I have bundled the profitable tech startup ideas into 16 main industries, which are (click any of the numbered items below to immediately access the relevant startup idea):
Let's discover the exciting possibilities that each of these fields holds.
1. Software development
Software is the set of instructions and other data types that allow people to perform tasks using computers and other similar devices.
Developing software is one of the most lucrative and useful industries out there. As you will see below, many opportunities exist to establish a software development startup.
Mobile apps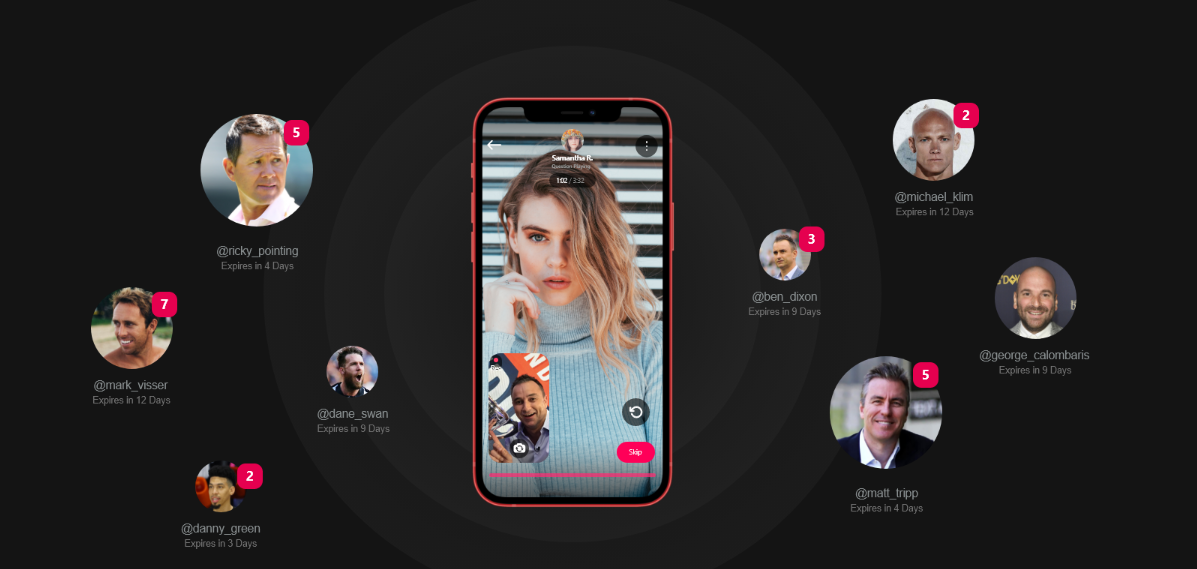 Software powers devices of all types, from cabinet-sized corporate mainframes to the ubiquitous laptop.
But perhaps one of the smallest devices containing software is the mobile phone.
The invention of the Internet-compatible smartphone made applications for mobile devices almost common. These pieces of software enable phone owners to play games, communicate, learn, etc.
It's a good idea to invest in or think of concepts for apps designed for mobile devices. Worldwide revenue from app-based ads alone totals almost $600 billion. Aside from that, apps provide the opportunity to set up a business in a high-growth sector.
Do you have an original mobile app idea that you want to turn into a business? Feel free to contact our team of product strategists and learn about your chance of success.
Business software
Creating, sharing, and maintaining the software that businesses use daily forms the basis of this type of startup. With global revenue totaling around $500 billion in 2022, this industry offers tremendous growth potential.
The key question to coming up with a good business software startup is this: "What software will enable businesses to improve the way they produce goods or provide services?"
Video games
Life is not just about meaning business every single time. Sometimes, people just want to have fun.
This is where video game startups come to the rescue.
With around $200 billion spent on video games in 2023, it's clear that many people love gaming. One of the easiest ways to innovate in this space is to create a game that combines popular gaming methods and content with a unique twist.
If you're not skilled at game development, think about teaming up with experienced developers and visual artists who share your vision.
2. Internet-based software and services
Many new tech business ideas blossomed from the fertile ground of the Internet and its business and technological ecosystem.
Let's have a look at each element of the Internet-driven startup industry.
Website development
Website development is essentially building the nuts and bolts that make up a website.
This kind of service is in demand these days. A new business needs a website in order to remain competitive. After all, the percentage of businesses with websites jumped to around 70% in 2023. This increase is mainly due to the COVID-driven migration of many transactions online. Even post-pandemic, online financial services are expected to increase in momentum.
A web development company uses coding techniques to build the software that drives a website.
And if you're not a techie, don't worry. You can do any of the following to establish a web development startup quickly:
Learn web development from learning bootcamps that last only a few weeks to a few months
Study the subject through online course providers
Hire web developers from freelancing platforms
Now freelancers could be the easy way out among the three options mentioned. However, some freelance web developers can be unscrupulous. If you're going the freelancer route, make sure you arm yourself with at least basic information on web development. That way, you can verify whether the claims of your freelancers are legitimate.
Website development should not be confused with web design, which focuses more on crafting visual layouts for site owners. If a website is a house, web developers are akin to civil engineers, while web designers are interior designers.
Whatever industry websites are used for, form and function are necessary for success. Our web design and development experts ensure our clients' websites not only look good but also bring in much-needed growth. We've done this successfully for PointsBet, where the sports betting company was able to expand from Australia to the United States.
Check out our case study to discover how we helped grow PointsBet's valuation from around $100 million to a little over $3 billion.
Content creation
Web content has come a long way from the simple text-and-images template of many 1990s websites.
Now, websites are filled with GIFs, videos, animations, and other types of multimedia. Aside from these, blogs and articles have increased in substance and beauty. The people behind these site elements are called content creators. And there's a big financial potential for entrepreneurs who establish a startup based on what these creators make.
Here are some sample types of online content to give you an idea of what startup you should set up.
Podcasting
Video hasn't killed the radio star, contrary to a famous 1970s song.
Radio stars have just "migrated" online, thanks to podcasts.
Podcasts are essentially audio programs you can access only when connected to the Internet. You could either listen to them live or download their recorded versions.
If you're an expert at something and love to talk about it, why not speak your mind and create a podcast? It's not as complex as uploading on YouTube (since it's easier just to record your voice than make a video) and can be a good source of income.
You can financially gain from podcasts by hooking up with ad networks or soliciting donations from your listeners.
Just like in almost all media content, the body of content consumers makes income possible. In America alone, there are around 140 million podcast listeners. That's just a slice of the English-speaking world where you could base your podcast income.
And the more languages you speak, the better!
Video streaming
Now if you've always dreamed of being a TV star, perhaps now more than ever is the chance!
Video streaming services like YouTube have made stardom (and income) easier by facilitating the creation and curation of online video content. And unlike breaking into the television industry, uploading videos is much less expensive.
When creating video content, it's best to make videos about topics you're good at or interested in. After all, the world is your audience. As long as your content is not socially deviant, you can likely hook a healthy number of viewers with the right marketing strategy. On YouTube, getting at least 1,000 subscribers can earn you money.
Curating requires less leg work than creating videos. Have you seen compilations of videos on YouTube? Sometimes, all you have to do to make compilations are the following:
Splice videos with similar themes or categories together
Provide your original commentary or insights on them
Upload your compiled content as a single video file.
One caveat on curation, though. Consider copyright laws or ensure videos are part of the public domain before uploading your curated creation. Otherwise, you might be exposed to expensive lawsuits or loss of reputation.
Digital Marketing
Digital marketing is basically promoting products, services, or causes to consumers and other stakeholders through the Internet. In other words, it's content creation to promote the organizational agenda.
Since there are many online businesses nowadays, there is good demand for experts in digital marketing. If you have the right creative team, digital marketing is a great idea for a tech startup.
To establish a successful digital marketing agency, follow these steps:
Enhance your knowledge and self-esteem.
Form a skilled digital marketing team.
Determine your services and business approach.
Register your company.
Create a strong online presence.
Display your expertise through a portfolio of past successes in promoting businesses and organizations.
Social media marketing
Social media marketing is another hot field you can venture into that's closely related to digital marketing. Around 1 in 4 social media users consider buying goods and services after seeing ads. In other words, businesses and organizations need social media to maximize sales.
Social media influencer
Another way to achieve Internet fame is by becoming a social media influencer.
If you're the type who enjoys the limelight, perhaps establishing a startup along these lines is more your speed.
Many famous brands have tapped influencers who have millions of followers on social media. The least of these influencers could earn from $40,000 to $100,000 per year.
Social media influencers succeed mostly by promoting brands that resonate with their unique personality and lifestyle. Aside from this, they also do the following:
Create original, captivating, and marketable content.
Continuously foster connections with brands, followers, and fellow influencers.
Cloud technology
Nowadays, it's not only nations that produce trillions of dollars a year.
The cloud technology industry could be worth almost $2 trillion by 2029. This cost-effective technology allows computer or smartphone users to accomplish tasks through Internet-based services instead of built-in hardware and software.
Cloud services share many similarities with web applications. Feel free to contact us to learn how to build a business with web apps.
Search engine optimization (SEO)
Another way to market goods and services is through search engines like Google.
Organizations and businesses are looking for search engine optimization (SEO) experts who can put their websites at the top of search engine results. The higher the search ranking, the greater the chance to attract more potential customers or readers. This could then lead to higher sales or greater impact.
Setting up an SEO agency could give you a huge return on investment. Research indicates this industry could be worth around $100 billion by 2025.
Customer relationship management (CRM)
Businesses also reach out to potential customers (leads) through customer relationship management platforms.
Tech entrepreneurs designing these platforms empower companies by allowing them to communicate with customers, conduct marketing campaigns, and perform data analysis all in one interface.
You could make it big if you thought of a tech startup idea involving CRM. The industry is expected to be worth over $100 billion by 2026.
Live chat services
One particularly avant-garde CRM method is using live chat services to respond to customer concerns.
We are currently living in an era of instant gratification. Hence, even instant replies from businesses are expected. Failing to reply promptly to customers could result in financial and reputational losses.
This is where live chat services become important.
If you can assemble a competent technical and customer service team, you can set up a live chat startup. Once you have established this startup, reach out to organizations willing to outsource their customer inquiries to you.
Chatbots
Still along the lines of live chat, chatbots are essentially automated versions of live chat personnel.
More technically, they are computer programs that use artificial intelligence to respond to human questions effectively and credibly.
Chatbot development startups help businesses cut costs by making customer service teams leaner and more efficient. Specifically, chatbots help organizations make better use of their resources by:
Answering basic questions about the business
Guiding customers to the right products or services
There are chatbot-building tools for both non-techies and professional developers. Read articles, visit developer forums, or take courses on these tools to give yourself a basic foundation on the subject.
When running a chatbot development startup, ensure you produce a top-notch product. Also, don't forget to be transparent with your clients on what your chatbot can and cannot answer well.
Travel and tourism agency
Establishing an online travel agency has become a popular trend. It's all because Internet technology has enabled tour companies to:
Book tickets
Map travel routes
Enhance the overall travel experience.
Despite these innovations, there is room yet for a unique travel agency startup. If you want to carve your niche in this industry successfully, follow these key steps:
Study your competitors and target market.
Based on your findings in step one, find other ways to improve the travel booking or experience management process.
Develop a robust overall strategy based on step two.
Address any legal considerations.
Build a capable team to support your operations.
Forge meaningful connections within the industry.
Maintain an active travel blog.
Value customer reviews and testimonials to continuously improve your services.
Launch new or repackaged offers and destinations to attract more customers.
Online job board
An increasing number of individuals search the Internet for job hunting or advertising career opportunities.
But before you get intimidated by Indeed and other established job boards, think of this. There is always a way to improve almost anything, even a little bit.
To successfully ideate on a job board startup concept, you can do any of the following:
Find a way to simplify current job hiring and search procedures through Internet technology.
Create a job board for an industry with highly specific and unconventional recruitment procedures.
Online coach
At some point in life, you have probably given sound advice to a friend or family member.
If you enjoy doing this, why not expand your coaching audience globally?
Thanks to Internet technology, it is easier now to help more people reach their personal and professional goals. You can do this by creating an online coaching startup. The beauty of an online coaching startup is that there are limitless possibilities for the type of coaching you can do. Whatever your specialty is, there are most likely people looking for help in that area.
The goal is simply to give customers the tools and support they need to reach important life or career milestones.
And contrary to what some may think, coaching is not psychotherapy. Therefore, you don't need a psychology-related degree to get certifications in this field!
3. UX services
A major factor in the success of software and other products is the user experience (UX).
The main focus of a UX services startup is creating a pleasant, reliable, and seamless interaction between users and products. These positive UX characteristics are crucial to ensuring that digital platforms and other products have a large and loyal user base.
Aside from this, good UX helps businesses improve how they convert leads to customers or buyers. For example, well-designed websites can easily turn visitors into buyers or subscribers. To learn more about this and other conversion-related tips and tricks, check out our article on conversion rate optimization for mobile users.
If you're into designing products like software, etc., to make them easy to use, this tech startup idea might be the perfect match for you. A UX designer in the U.S. earns around $100,000 annually, on average. Once you have a UX services startup, this is the ballpark figure of your potential income (or even more) if you have a good business model.
4. Health and environment
A thriving Mother Nature leads to healthier and wealthier human beings.
Many startups took this principle to heart. That is why innovative businesses are making it big in the biotech, food tech, and telehealth sectors.
Biotech
Biology has gone from the lab to the marketplace.
Thanks to biotechnology, the study of living organisms has greatly improved human health and society through better products, processes, and methods.
Despite the high capital requirements typically associated with the biotech industry, there is a consistent influx of new startups each year. Interestingly, it is now possible to establish a biotech company with a relatively modest initial investment ranging from $0 to $200,000.
To embark on your journey of starting a biotech business, it is crucial to do the following:
Get inspired by the stories of young venture capital-backed founders who have successfully launched their biotech startups.
Come up with an idea that effectively addresses a genuine market need. For example, what original medicine or mechanical device can heal people or alleviate their disabilities? Do many people need that? Can they afford your solution?
Reach out to and assemble founders, investors, and key personnel. Be particularly careful choosing your research scientists, engineers, and lawyers. They are the linchpins of your biotech startup.
Engage the services of a reputable attorney with litigation experience in the biotech industry to navigate the legal waters of the industry better. Many biotech products could cause harm to health and the environment when not made properly. Though you'd avoid making shoddy products, it pays to be legally protected when lawsuits come in.
Once you have garnered investor interest, incorporate your company as a C Corporation, especially if your startup is based in the U.S. This form of corporation is attractive to many big-ticket investors like angels and venture capitalists. These investors can provide the massive initial funding needed for many biotech startups.
Instead of buying all the necessary lab and production equipment, consider leasing some to reduce expenses and make better use of investor funding.
Develop a well-thought-out marketing and business strategy to promote your biotech business effectively.
In the rapidly evolving landscape of biotech startups, many companies gain recognition and support from angel investors and governments due to their potential to enhance human life sustainably.
Entrepreneurs, executives, and investors are also attracted to the sector because of the significant potential rewards associated with breakthrough discoveries. However, it is important to note that the challenges faced in this industry are not insignificant.
With careful planning, innovative ideas, and meticulous execution, you can seize the tremendous opportunity the biotech sector presents. If you hit it big, you can enjoy a big slice of the industry, which could have a total global value of around $4 trillion by 2030.
Food tech
This specific application of biotech is closer to the heart (and stomach) for many. After all, food is a basic need.
The intersection of people, planet, and profit makes the modern-day food tech sector unique. In other words, food tech startups aim to make wholesome and healthy food for people without harming the environment.
The global food tech industry could be worth around $350 billion by 2026. With the right strategy and execution, a food tech startup could propel you to the head of the earnings table.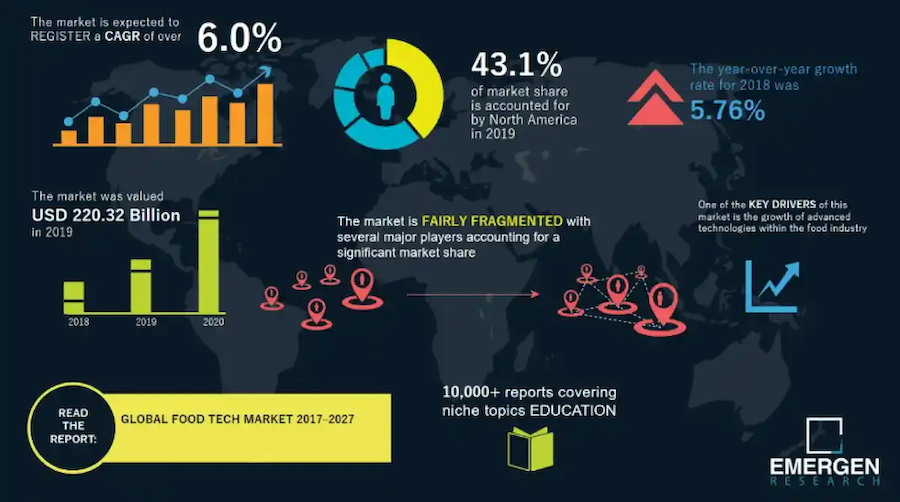 Source: Emergen Research
For example, companies like Beyond Meat and Bowery Farming have reaped success by providing healthy and environment-friendly diet alternatives to many consumers.
In Australia, Grill'd has moved in the same direction. This giant restaurant chain offers delicious fast food favorites using all-natural and locally-sourced ingredients. It even serves vegan burgers. Grill'd tapped our product success experts to pursue its healthy mission while growing exponentially.
Dominate the App Store.
Get the latest industry news first.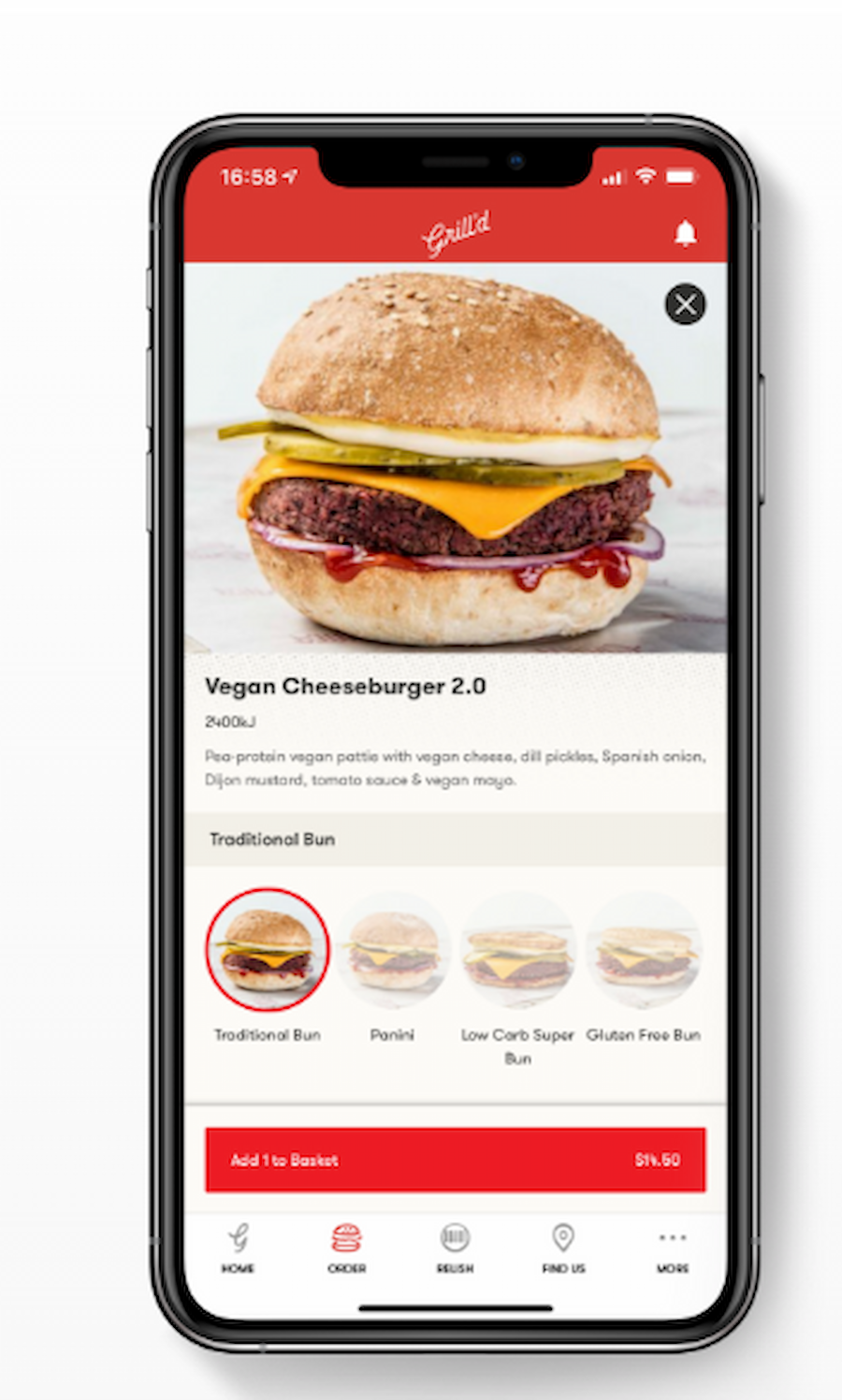 Telehealth
Aside from the frying pan, the pandemic also saw its fair share of creativity. In particular, the contagious nature of COVID-19 inspired tech companies to develop platforms where doctors could serve patients far away through telehealth.
Despite the predicted end of the pandemic, the telehealth industry is anticipated to grow to around $200 billion by 2025. So setting up a telehealth startup is a good idea even beyond the nightmare called COVID.
Both big shots and newcomers are getting into telehealth. For example, tech giants like Zoom and Cisco Systems have developed innovations in this space. Even our client BarbCare has left its mark on telehealth. With our help, this startup designed an app to help people monitor their loved ones in aged care facilities.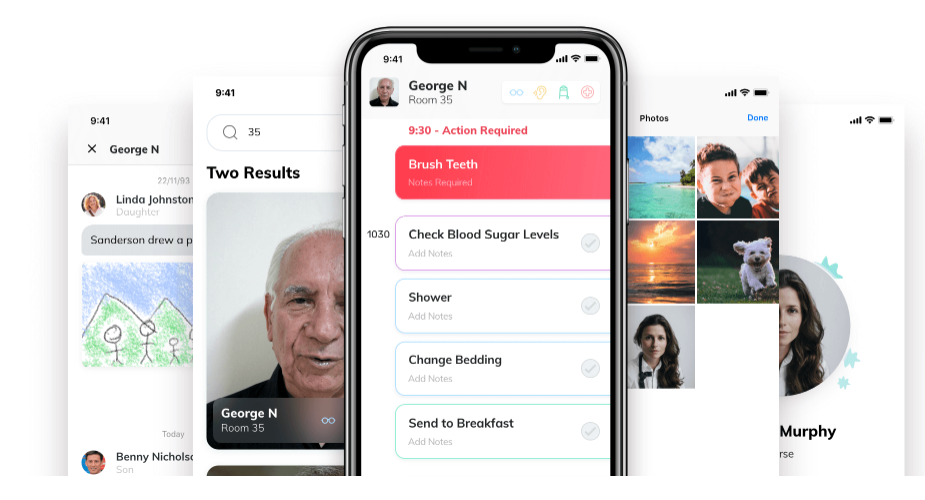 5. E-commerce
Despite the dominance of e-commerce giants like Shopify and Amazon, this industry still has space for innovators.
One way to overcome big rivals in this sector is through unique offerings. For example, if you sold handicrafts through an e-commerce platform, you could benefit greatly from this industry. After all, there is a strong demand for handcrafted items for the foreseeable future.
Another way to conquer the e-commerce space is consulting our product strategy experts. They could help you understand how our app developers helped Australian e-commerce giant MyDeal expand its customer base through a bespoke mobile app. And the best part? The consultation is 100% on us.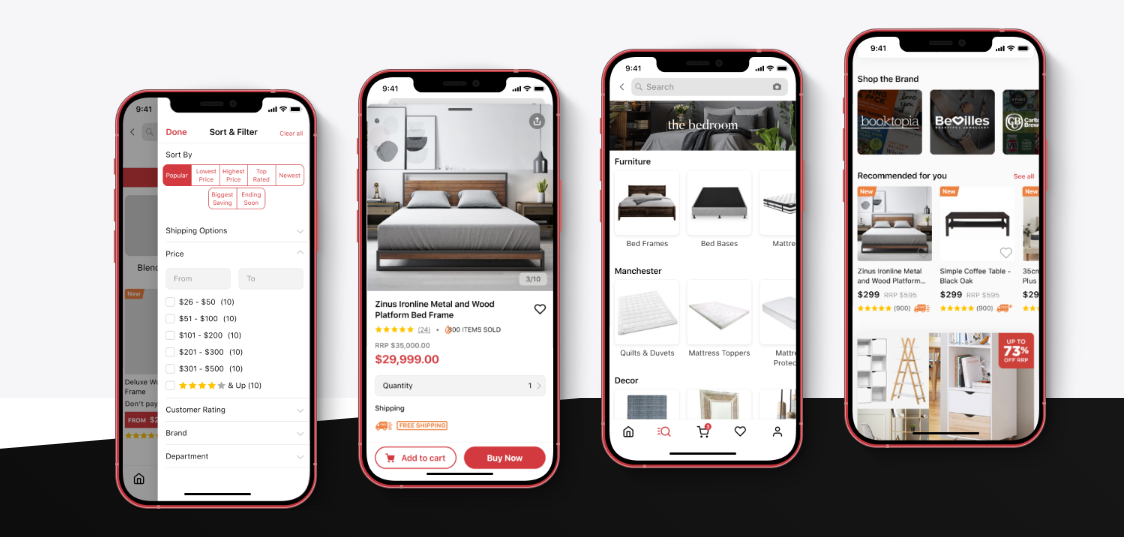 6. Fintech
The value of the fintech market is expected to grow to around $700 billion by 2030.
This comes as no surprise since an increasing number of people are enjoying the convenience of paying bills, investing, and doing other similar things with their money within the comfort of their own homes or offices.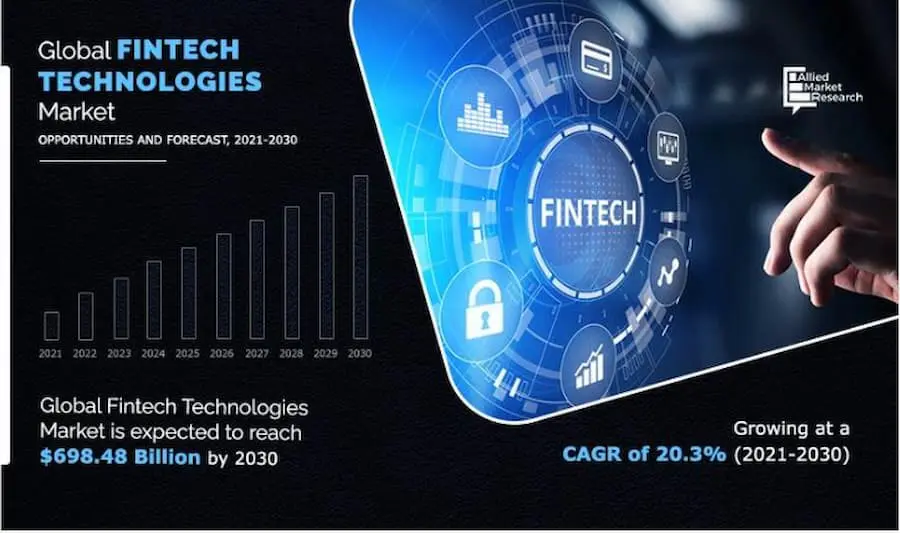 Source: Allied Market Research
If you find better ways for people to move and grow their money online, you could make it big in this industry.
Something to consider, though….
Though profitable, fintech has its downsides.
Tech startups in this space possess highly advanced technical skills. This is because fintech companies could lose up to around $20 million annually if they didn't know how to protect customer data from hackers and device-damaging malware.
7. Artificial intelligence (AI)
You can also bet your money or ideas on the rapidly growing industry of AI. With a market size of around $90 billion in 2021, it is expected to grow by 38.1% annually until 2030.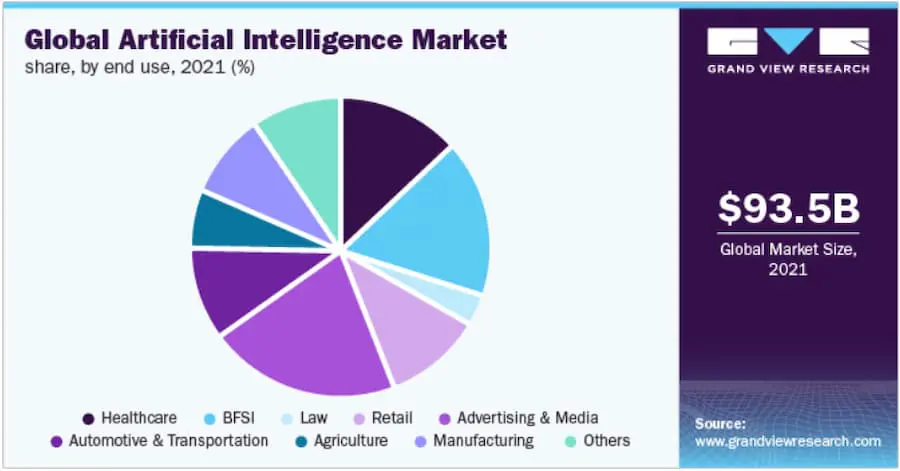 Source: Grand View Research
But what is AI?
AI involves training machines to do complex or cognitive human tasks so they can be accomplished faster and more efficiently.
For example, companies use an AI technique called natural language processing to analyze customer sentiments from millions of comments and feedback. From this quick analysis, businesses can improve their offerings or marketing strategy.
Another AI-related field you could delve into is machine learning. Specialists in this field have designed programs that can write convincing articles and"paint" original works of art. One piece of AI art even won a competition, sparking both cheers and tears (check out the image below).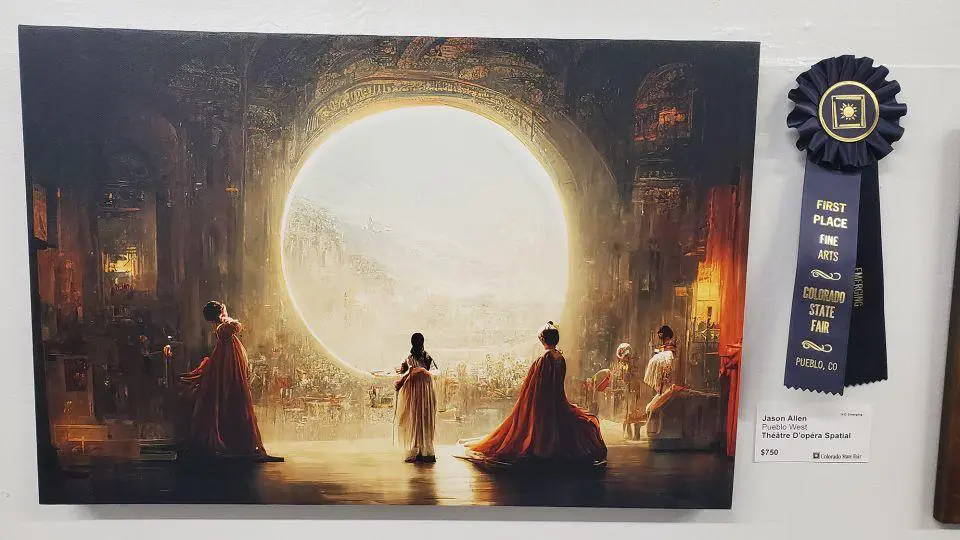 Source: CNN
8. Data analytics
This exciting field creates insights out of big data to help organizations grow and achieve their objectives.
For example, data analysts can determine why a company is losing money by analyzing massive datasets like sales figures, customer information, etc.
Another relevant development within the analytics space is the use of web analytics tools. These systems analyze data on how visitors interact with websites. Data analysts use this information to improve the ability of a website to attract more readers or increase sales.
If you planned to set up a data analytics startup, your business model could have great success potential. The data analytics industry could grow beyond $300 billion by 2030.
9. Cybersecurity
Though the Internet is the virtual land of opportunity, it is also a jungle filled with danger.
Many hackers use the Internet as a hunting ground to damage devices and get unauthorized access to sensitive information. In the first half of 2022 alone, hackers launched around 3 billion malware and ransomware attacks.
Due to this massive threat, most businesses are increasing spending on cybersecurity. It's clear from this development that a cyber security startup will not run out of clients anytime soon — so it's definitely a rewarding field to consider.
10. Consultancy
Three of the hottest fields within this broad category are tech consultancy, legal tech, and social media consultancy.
Let's have a look at each in more detail.
Tech consultancy
A tech consulting startup is a profitable business you could consider. Many companies have consulted digitalization experts in the wake of COVID.
In fact, Deloitte mentions that 69% of executives surveyed in 2021 admit that COVID accelerated the digital transformation of their companies. Beyond these statistics, the latest digital transformation trends have massively shifted how businesses use technology to grow and scale.
Legal tech
A legal tech startup is also something you could keep in mind.
Startups in this space use advanced technology to make legal services less expensive and easier to avail. For example, AI and videoconferencing have streamlined law firm processes like converting contacts into clients, interpreting contracts, and even providing legal advice.
If you set up a legal tech startup, your pursuit of justice could pay dividends. This tech sector could grow to around $8 billion by 2029.
Social media consultancy
Aside from marketing goods and services, building and maintaining goodwill is another way to use social media. To ensure sustainable operations, businesses and other organizations must maintain their reputation and desirability among their customers and stakeholders.
If you're into this kind of work, you could set up a social media consultancy startup. It offers a promising opportunity with potential earnings ranging from $15 to $20 per hour per client.
To set up a social media consultancy startup, follow these steps as a guide:
Conduct thorough research and select a specific niche to focus on.
Continue your education by enrolling in online courses to enhance your knowledge and skills.
Build your credibility and reputation within the industry.
Gain initial experience and expand your portfolio gradually.
Actively participate in various social media platforms to stay connected and engaged.
Create compelling content that resonates with your target audience.
Establish meaningful connections with potential clients and industry professionals.
11. Leading-edge hardware and related engineering
It's hard not to think of advanced hardware when considering ideas that have revolutionized how people work, study, and live.
Let's look at the most recently engineered machines and devices that have taken the world by storm.
Internet of Things (IoT)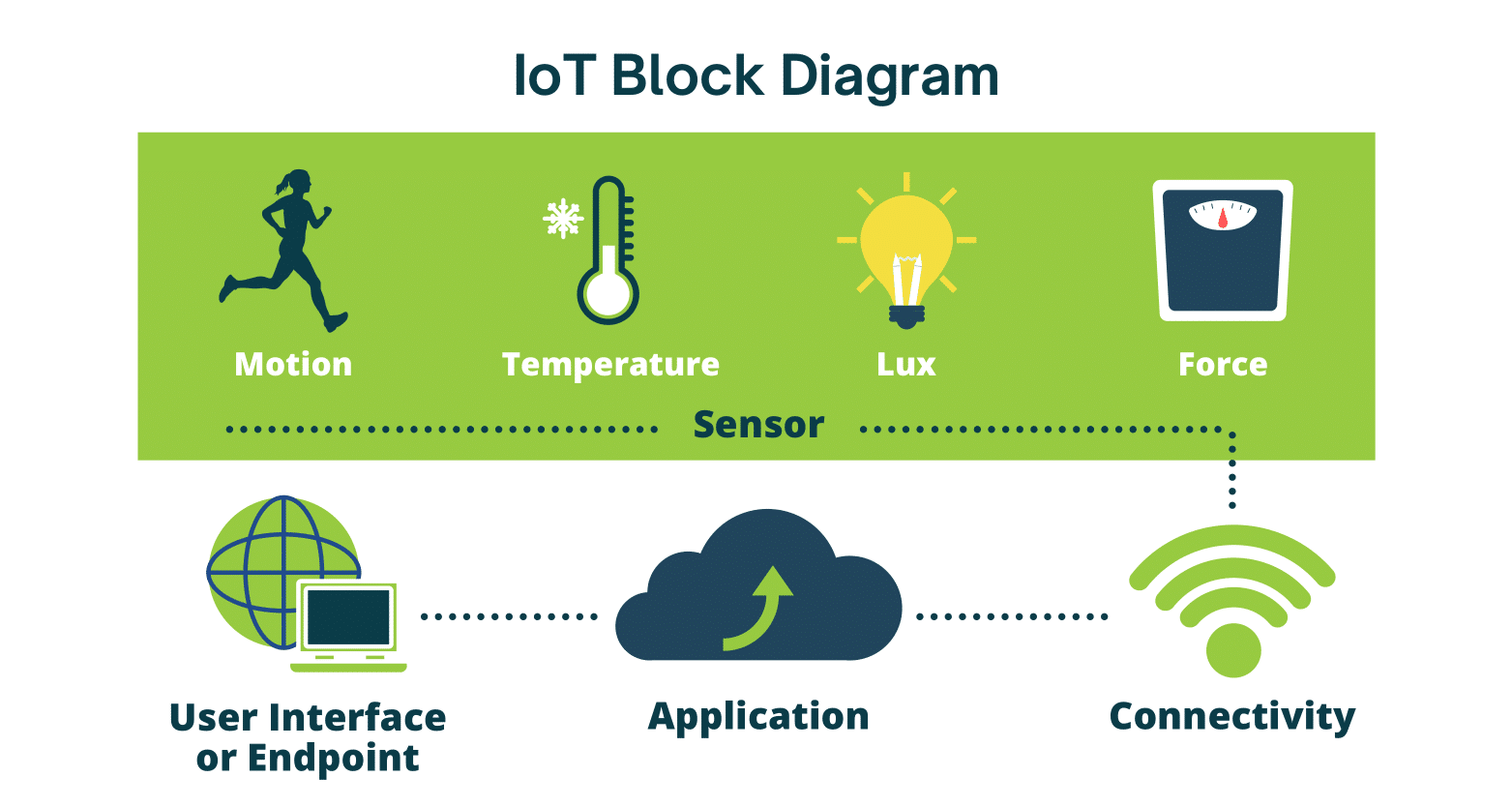 Source: Tacuna Systems
The Internet of Things encompasses a network of physical objects equipped with software, sensors, and similar technologies.
These technologies enable them to connect and share information with other systems and devices via the internet. For instance, local camera and door lock systems utilize mobile phones to communicate with devices in your home, enhancing safety measures and preventing miscommunication.
Startups in this field are diverse and focus on interconnecting various items across multiple industries. If you can think of a problem in your line of business where IoT can help, that's a possible idea around which you can build an IoT startup.
Smart home technology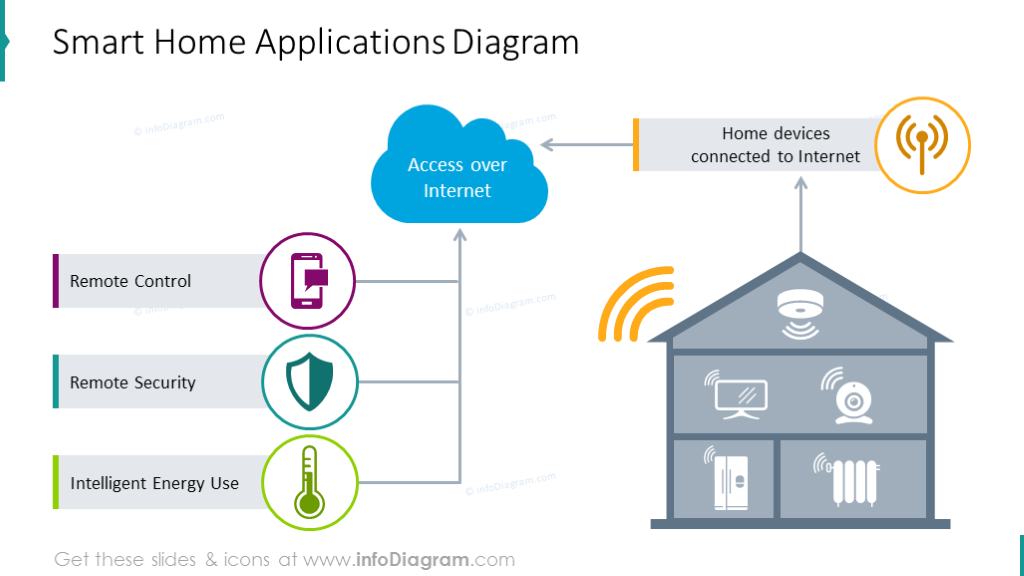 Source: infoDiagram
One interesting application of IoT is the design and implementation of a smart home. This type of house has lights, temperature control appliances, and other electronic devices that can be controlled using a phone or computer, even when its residents are not there.
The demand for smart home technology is on the rise as consumers seek convenient solutions for their domestic lives. Startups in this field have the opportunity to offer products that simplify various tasks, such as phone charging and music playback.
To ensure the success of a smart home technology startup, it is crucial to first read or watch videos on the latest innovations in the space. From your research database, try to find other ways people can use their devices to control home appliances for entertainment, safety, and cost savings.
For example, can phones be used to know if a house is on fire and remotely activate sprinkler systems? If such technology does not exist yet, build a startup to address this market gap. If the fire protection system is already available in the market, do your research and think about how you can improve it.
When developing your smart home product, create a prototype first and conduct usability tests to ensure the effectiveness of your smart accessories. Make sure your product is as effective as it is user-friendly. Once you are satisfied with the performance of your product, your startup is ready to be launched into the market.
Autonomous transportation
Self-driving vehicles, once considered fictional, are now becoming a reality in our daily lives.
Many cities are actively integrating this technology into their public transportation systems. Starting a startup in this field would require prior experience. However, if you possess the necessary skills or connect with the right experts, it has the potential for lucrative and rapid expansion.
You don't have to conceptualize an entire vehicle to establish a startup in this industry. You could start with an autonomous car element, like the software that enables the vehicle to drive itself. Once you develop good software for the purpose, you could attract clients that make autonomous vehicles and earn sustainable amounts.
Augmented reality (AR) / virtual reality (VR)
Various forms of hardware have either augmented reality or immersed people in virtual ones.
AR combines digital elements with the real world. Think Pokemon Go and Jurassic Park Alive. In these games, you can see virtual creatures running around in your area whenever you use your smartphone camera.
This seamless merging of the virtual and real is also used in businesses like home improvements. For example, furniture companies like IKEA use AR to show you how your purchase could look in your home or office. Check out the video below to see how this technology works.
Source: Marxent via YouTube
The AR industry is anticipated to reel in almost $100 billion in gross revenue by 2026. So naturally, this makes augmented reality an awesome field to consider.
Now let's move to virtual reality. Unlike AR, which modifies the real world, VR is a completely different world. Specifically, VR is a computer-generated, three-dimensional environment that users can engage and interact with in a manner that closely resembles their real-life experiences.
Like AR, VR involves modified hardware such as headsets with monitors, body sensors, etc. These pieces of equipment give users the illusion that they can move in and act in a virtual world, with varying levels of immersion and realism. Check out the video below to see the power of VR in helping seniors stay physically and mentally healthy.
Source: CBC Nova Scotia via YouTube
Establishing a technology startup in this space can be sustainably profitable. In fact, the VR industry is projected to experience significant market growth, expanding from $19.2 billion in 2022 to around $170 billion by 2030.
If this idea appeals to you as a potential startup opportunity to capitalize on, you can do the following:
Consider the three main categories of the VR industry: those that sell VR products, create immersive VR experiences, or follow community-centered startup models.
Select which category you would venture into depending on your assessment of the level of interest in your specific location and research of existing VR companies operating in the area.
There you have it. As you can see, the hardware startup industry is as diverse as it is exciting. But on a realistic note, hardware-oriented startups face the unique challenge of combining advanced materials and software. If you want to establish a successful tech startup in this space, you should possess or pursue any of the following:
Formal training in engineering, materials science, or other related fields
12. Robot-powered delivery service
Once considered the stuff of science fiction, delivering goods using robots is already a reality in some areas. Check out the video below to see these machines in action.
Source: Starship Technologies via YouTube
To establish a startup in this industry, you can either build your own robots or rent/buy them. Building a robot can cost anywhere from $5000 to $175,000, depending on the desired features. However, renting robots is a viable option with similar costs. The emergence of Robot-as-a-Service (RaaS) has made it easier for entrepreneurs to utilize robotic technology for their delivery operations.
While running a robotics startup may pose challenges, the number of startups focusing on innovative technologies in this field is increasing. The growth of robotics has been significant in recent years, and the COVID-19 pandemic has further accelerated this trend by emphasizing the need for reduced human-to-human interaction.
If you are considering a robotics startup, it is essential to familiarize yourself with the dos and don'ts of building and scaling such a venture. The opportunities in this field are vast, and learning the necessary strategies and approaches will help your startup thrive as it matures.
13. Drone services company
Our list of the best tech startup ideas continues with the suggestion to serve customers using drones.
Technically speaking, drones are flying robots that can either be remotely controlled or navigate independently by following pre-programmed flight paths. Drones can carry various objects, including missiles and cameras.
Given that drones are essentially flying platforms, the drone industry presents a multitude of prospects for aspiring tech entrepreneurs. These opportunities include offering services like drone photography or videography and work-site inspections.
Selecting the most suitable drone startup for you depends on factors such as your skill set, available investment capital, your area's legal landscape, and the existing demand in the market.
14. Tech repair services
Unlike humans, hardware like drones and robots can't "heal" themselves. At least, not yet.
Until then, where advanced machines and devices work hard like humans, tech repair services are indispensable. This is a good startup idea, especially if you like getting your hands dirty fixing things.
The demand for tech repair services becomes equally crucial with the rapid growth of technology startups across various sectors. These tech businesses need machines that function well to ensure seamless operations and cost efficiency. Once the machines break down, the startups need access to prompt and affordable repair solutions.
If you are considering establishing a startup in the tech repair industry, you can follow these steps:
Start repairing basic electronic equipment like laptops or computers just to learn the ropes of the tech repair business.
Move on to fixing more advanced machines like drones or robots, so you'll have less competition. The less competition you have, the more you have control over the fees you could charge.
Whatever the stage of the tech repair business you are in, focus on repairing one or two types of machines or devices. You could even concentrate on fixing particular systems of highly-advanced machines, such as the hydraulics of an industrial robot. By narrowing down your services, you can offer quality services while minimizing operational costs.
15. Edtech startup
As the pandemic raged on, students, teachers, and families moved from classrooms to the online space. This surge in distance learning helped EdTech companies make a killing.
Despite the weakening of the COVID health crisis and the return to brick-and-mortar classrooms, the EdTech sector is still expected to grow mainly due to the following trends:
Big companies are seeking to upgrade the knowledge and skills of their workforce
Career shifters want to learn new skills without undergoing the usually lengthy college programs
Any of these trends could serve as your inspiration if you wanted to set up an EdTech startup.
16. Ebook writing
Some people want to learn through EdTech, while others want to study independently through books. There are even readers who do so for pleasure.
Whatever the case, ebook writing is a startup niche you might want to explore.
Writing and selling ebooks online costs only a fraction of what you would spend if you published through traditional means. And if you don't have a knack for writing despite your love for books, you can always hire freelance writers and subject matter experts.
Success starts with inspiration
Regardless of your definition of success, you will only get far if you're inspired by something.
Whether you're an inventor or a dreamer, your tech startup ideas could only bear fruit if you were immersed in the fertile ground of inspiration, the right education, and talented people.
We hope this article covered the inspiration bit. To learn more from seasoned yet friendly tech startup experts, all it takes is one simple act.
Reach out to us so we can discuss how to turn your vision into the next best tech startup.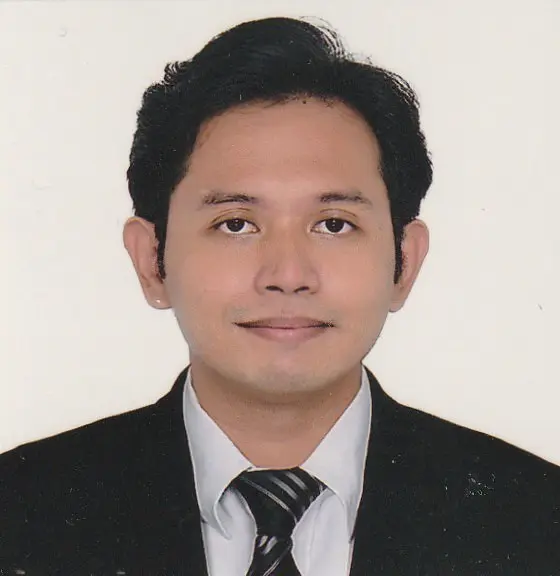 Jesus Carmelo Arguelles, aka Mel, is a Content Marketing Specialist by profession. Though he holds a bachelor's degree in business administration, he also took courses in fields like computer troubleshooting and data analytics. He also has a wealth of experience in content writing, marketing, education, and customer support. Outside office hours, he finds deep joy in reading, traveling, and photography.
Dominate the App Store.
Get the latest industry news first.