How to Develop an App Idea: 7 Steps from Vision to Value in 2023
Did you know that Apple founder Steve Jobs never invented anything in his life? He didn't even finish college.
But his innovative ideas greatly changed how people live through the smartphones and desktops he helped develop. His original concepts turned Apple from a garage business to the two trillion-dollar company we know today.
Like him, do you also have an idea that could improve people's lives? Do you want to benefit greatly from this idea? If your answer is yes to either question, app development is a route we strongly recommend.
This article will help you succeed by teaching you how to develop an app idea, from the conceptual stage through to design and final income-earning product.
But why all the excitement about app development? A glance at some stats below will show why this industry is something to look out for.
A quick overview of the app market
There is nowhere to go but up for the app industry.
According to consultancy firm Emergen Research, the web app market is expected to be worth around $10 billion by 2027.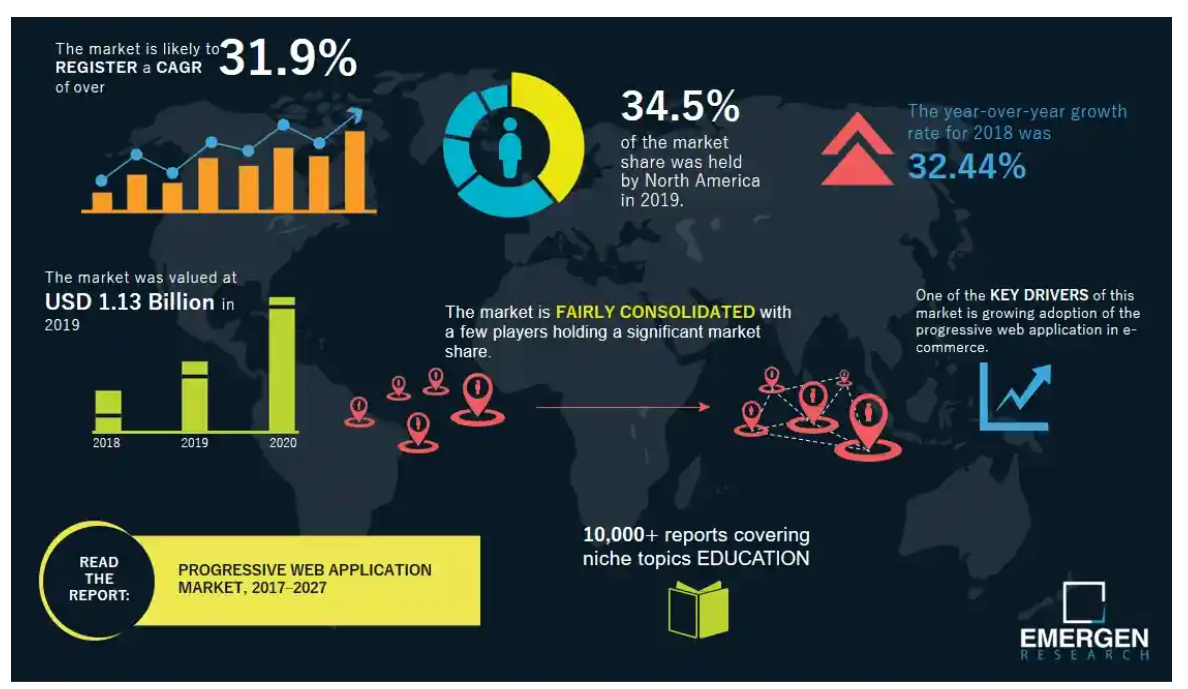 Source: Emergen Research
For mobile apps, the market is expected to grow by around $960 billion by 2026. Forbes even highlighted that many major industries need mobile apps.
Based on these statistics, it is clear that mobile apps have a huge commercial advantage over web apps. Therefore, this article will focus on transforming your idea into a killer mobile application so you can get the most out of every dollar of investment in app development.
Taking a slice of the global mobile app business pie is possible if you have the right mindset, know what to do first, and connect with the right people. Discover how to do all these by reading on.
7 Easy Steps on How to Develop an App Idea
There is no one-size-fits-all way of developing an app idea.
Despite this, our app development experts have observed that the following steps have led to our clients' success:
Step 1: Think big but start small
We 100% get it. You have a grand vision and want to leave a lasting impact. But in our experience helping entrepreneurs develop their app ideas, the giant leap of success only comes after small methodical steps.
In our experience growing the app ideas of businesses and nonprofits, we have realized that starting with a basic app concept and gradually improving it is the most time- and cost-effective strategy.
Did you know that Airbnb started as a single apartment room rented out by broke friends? But, after gradually improving their service offering and marketing strategy, the company's founders eventually attracted billion-dollar investments. Now, millions of people book their vacation rentals through the Airbnb app.
Our client, MyDeal, also built its business slowly but surely. Founder Sean Senvirtne wanted to expand his e-commerce startup into the mobile user market. After a few trials and experiments, we eventually developed an app to realize Sean's vision. Check out the MyDeal case study to learn how our mobile app development team turned Sean's business into a company worth millions.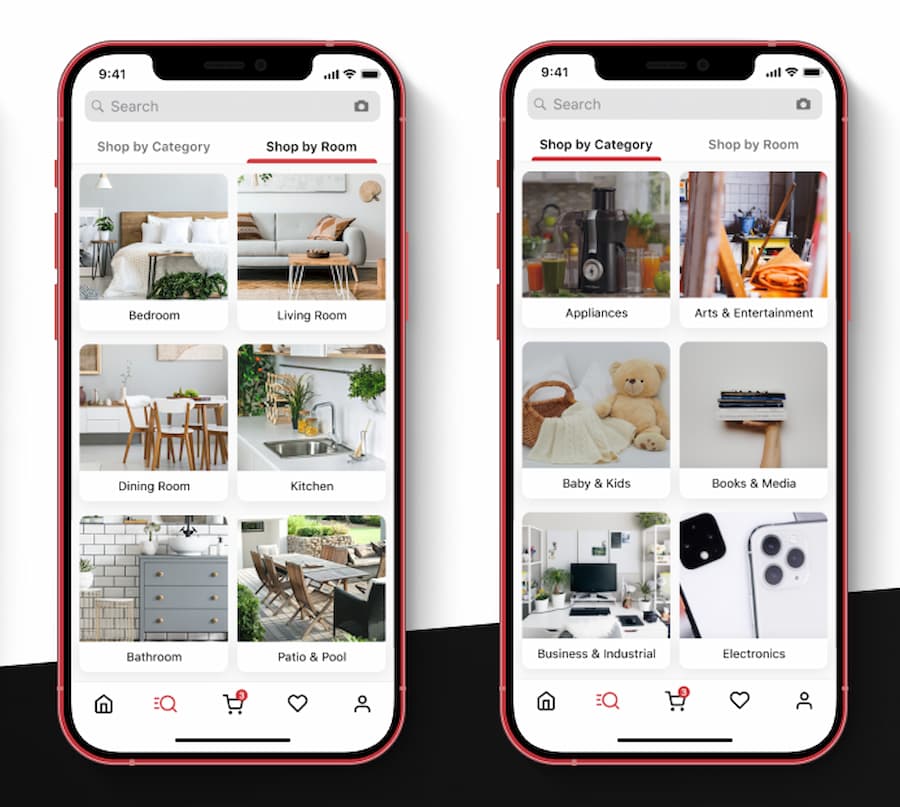 If you have an app idea that you think is as small as a mustard seed, have a chat with us and let's see how we can grow your concept into a fruitful app.
Step 2: Spend time brainstorming your app ideas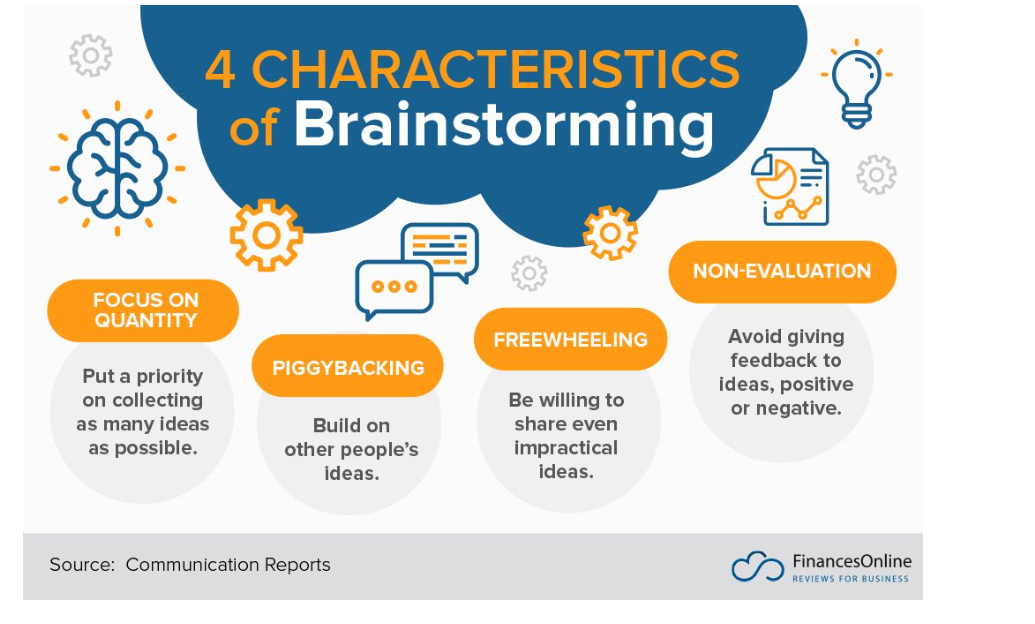 Source: FinancesOnline
Brainstorming was originally about one group listing all possible solutions to a problem. Even seemingly silly or wrong ideas are welcome in a brainstorming session.
Experts have recommended brainstorming to enhance creativity and relieve anxiety.
It's also good practice brainstorming to ensure you don't waste too much time and opportunity while overthinking "the perfect app."
When developing your app idea, you can brainstorm by yourself or with others.
Inspiration can come from almost anywhere. Bring a small notebook or phone with a note-taking app wherever you go. That brilliant app concept can come when you least expect it, like when you're eating out or hanging out at a park.
Take note of your thoughts whenever you see something wrong with current apps or think of a mobile app idea to help the people you care about.
A chat over books or coffee with friends can also be a fun venue for brainstorming even seemingly crazy app ideas. Remember, there is no right or wrong concept when it comes to brainstorming.
Once you have gathered a lot of app concepts, you can proceed with the next step.
Step 3: Study your rivals and target market
When choosing the best app idea from your notes, it is vital to do the following:
Take stock of your competitors
Conduct market research
Examining existing apps that solve real-life problems you encounter helps you pick the best app idea from your brainstorming notes. Finding ways to improve rival apps can also enhance the focus of your app idea.
Regarding market research, one way you could do this is through online or in-person surveys. You can enlist the help of your friends, colleagues, or family to conduct these surveys so you can answer the following questions:
User persona and user experience (UX): What kind of users would I like to help with my app? What are their genders, ages, and professions?
Potential demand: What are the problems my potential users are encountering? How are they dealing with these concerns? What features do they want from my app? Would enough people want to use my app to the point that my app could earn enough money?
Service location: Would my app serve my local neighborhood best, or could I launch it globally?
Competition: Are there existing apps in my chosen geographical area? What features do these apps have?
Market research works hand in hand with competitor analysis to ensure your app idea will be as successful and original as possible. In addition, learning about your potential market will help you develop the right basic features, which we will tackle later in Step 5 of this article.
Studying your target audience will also help you gauge whether or not people like your app idea. The more people like your idea, the more successful it could be.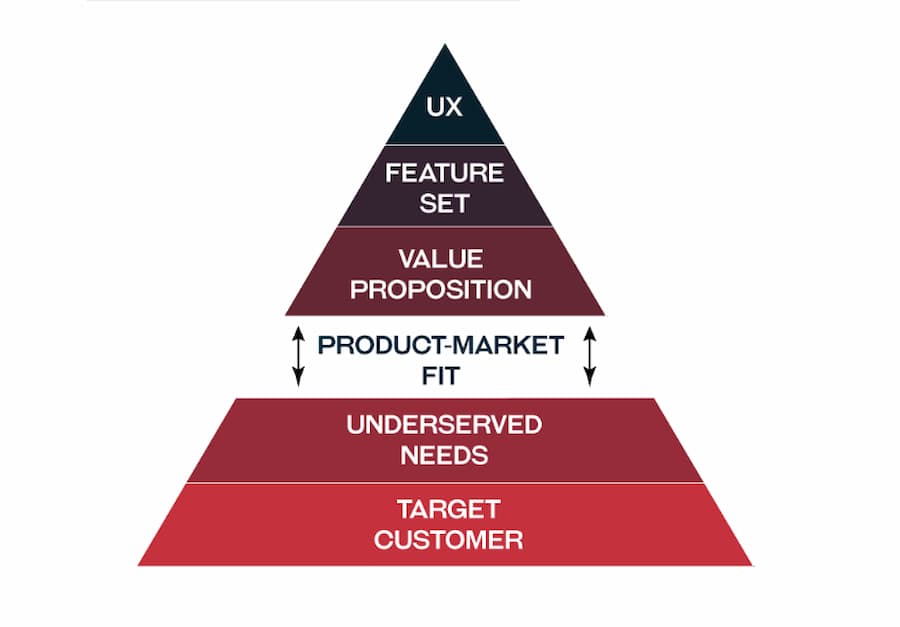 Source: Pagepro.co
Pro Tip: There is a shortcut if you don't have time for competitor analysis and market research. You can contact our industry-leading team to learn how your app idea stacks up against a potential target audience and rival apps.
Step 4: Choose your app development path
App development is a high-stakes business despite the potential for making it big.
Each method of app development has its quality-cost tradeoffs. For your app idea to succeed, choose carefully among the following options:
Outsourcing
Hiring an in-house team
Using drag-and-drop app builders
1. Outsourcing
Sometimes, it's best to leave complex projects like building apps to the experts.
One benefit of outsourcing is access to a diverse and less expensive talent pool. Given the advancements in Internet technology, you can outsource your app project to developers from many countries. This is a plus, given that studies highlight the intelligence of diverse teams. Some regions are also famous for producing quality developers who don't charge as much.
A downside, though, is some companies or developers are not good at keeping information confidential. So this could expose your original app idea to people who shouldn't know about it.
Dominate the App Store.
Get the latest industry news first.
Another disadvantage of this mode of app development is some developers don't know how to best express your vision into a successful app. This could be due to many factors, including a lack of communication between you and your outsourcing team during the app development process.
If you want to avail of outsourcing as a development option, verify the following first before moving forward:
Many of our Australian and international clients can attest to our app developers' clear communication, cost-efficiency, competence, credibility, and confidentiality. That's a lot of C's to digest, but it could be fun to learn by giving us a free call. You might also want to discuss how we can help you succeed in your app project during the call.
2. Building your own development team
An in-house team is good if you want complete control over the entire app process. Having your own developers enables you to build a business culture they can align with. The more these developers like the culture, the more motivated they are to create an awesome app for you.
Another advantage of having a development team is that you can communicate more closely with it.
But maintaining an in-house team has its downsides. For one thing, it's more expensive. Employee salaries and additional office equipment cost a lot of money in the long run. Time and cash also bleed out when most of the developers you interview during recruitment resign soon after. The longer it takes to interview these candidates, the more resources you lose.
Given the disadvantages mentioned, be careful when considering growing your own development team. You will know that an in-house developer squad is optimal IF most of your team members have:
A software skillset diverse and good enough for your app development requirements
Stayed a long time with your company
3. Building apps drag-and-drop style
Drag-and-drop app builders give anyone without any technical knowledge the opportunity to develop an app cheaply through, you guessed it, dragging and dropping buttons and other app components.
This is a really easy and cost-effective way to build an app, but apps made this way also tend to be unreliable and have lower quality. They also lack comprehensive technical and marketing support, lowering app income through failure to retain users effectively.
Whatever app development process you choose, carefully weigh the pros and cons before proceeding with the next steps below.
Step 5: Flesh out your chosen app idea
Now, it's time to mold your app concept so you can move on with either app design or app development.
In our experience turning app ideas into million-dollar businesses, we shape our clients' app concepts based on the following information from Step 3:
How the potential users interviewed deal with the chosen problem
How existing apps are addressing the problem
From the ideas of your potential users and rivals, come up with a few basic features for your app concept. If your market research and competitor analysis have yielded too many features for your app idea, archive the non-basic features for future reference.
If your app idea ends up having features that closely resemble other apps, there is still a way to make your app special. You can make your concept as unique as possible by using the following questions to guide your app design and development:
Is your app significantly cheaper?
Does it have a superior user interface?
Does it feature unique technology (for example, faster loading times, compatibility with more phones or laptops, etc.)?
You or your app developers should aim to "make your app say yes" to any of these questions. Doing so would make your app idea unique enough to add value even if it closely resembles competitor apps.
Integrating your Step 3 findings in fleshing out your app idea is crucial to ensure your app solves an actual problem and is special. A unique app that fulfills the real-world needs of its target market has a higher chance of success than an app that does otherwise.
Now you know how to refine your app idea to make it market-ready and special, the next two steps can help you turn it into a tangible and financially-beneficial output. For a more detailed discussion of these two steps and other relevant matters, we have an in-depth guide to building a successful app.
Step 6: Turn your app idea into a design prototype
After you have fleshed out your app idea, it's time to turn it into a prototype.
Basically, a prototype is a tangible output that lets people know how your app will look and feel like.
Prototypes come in many forms, ranging from sketches to designs that closely resemble functioning apps. In any case, a prototype highlights the basic app features you outlined in Step 5.
Design prototypes have proven effective in attracting investor funding at a fraction of the cost of full-fledged mobile applications. In fact, our clients Roamni and Vello got financed through our bespoke designs (shown respectively in the images below).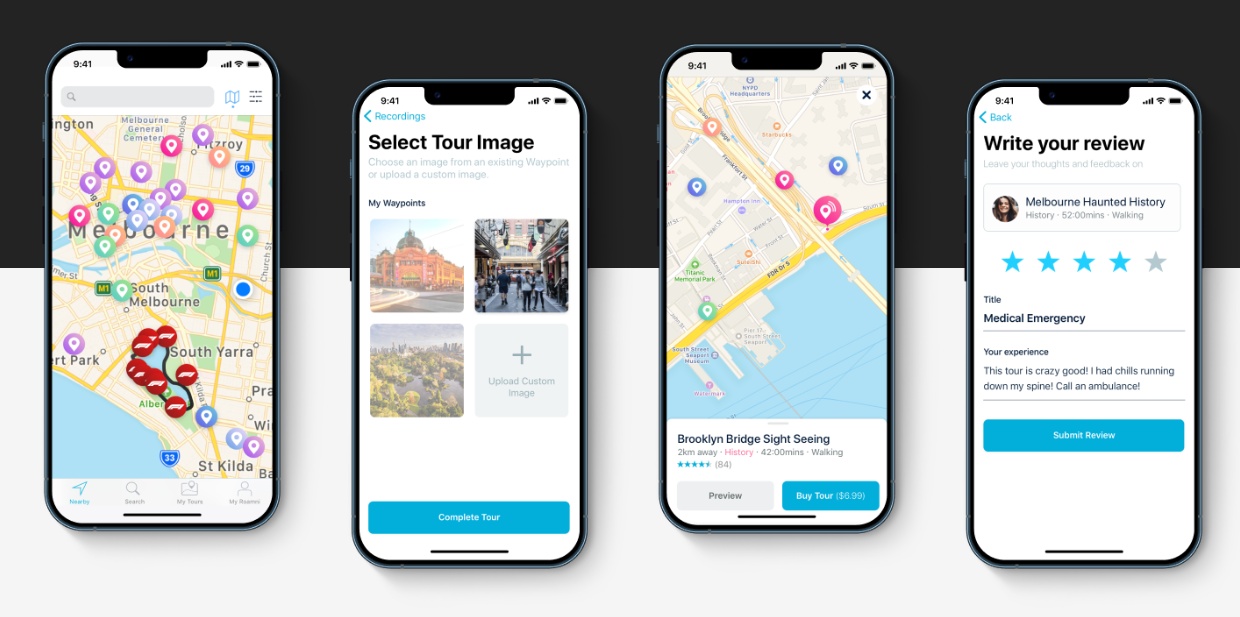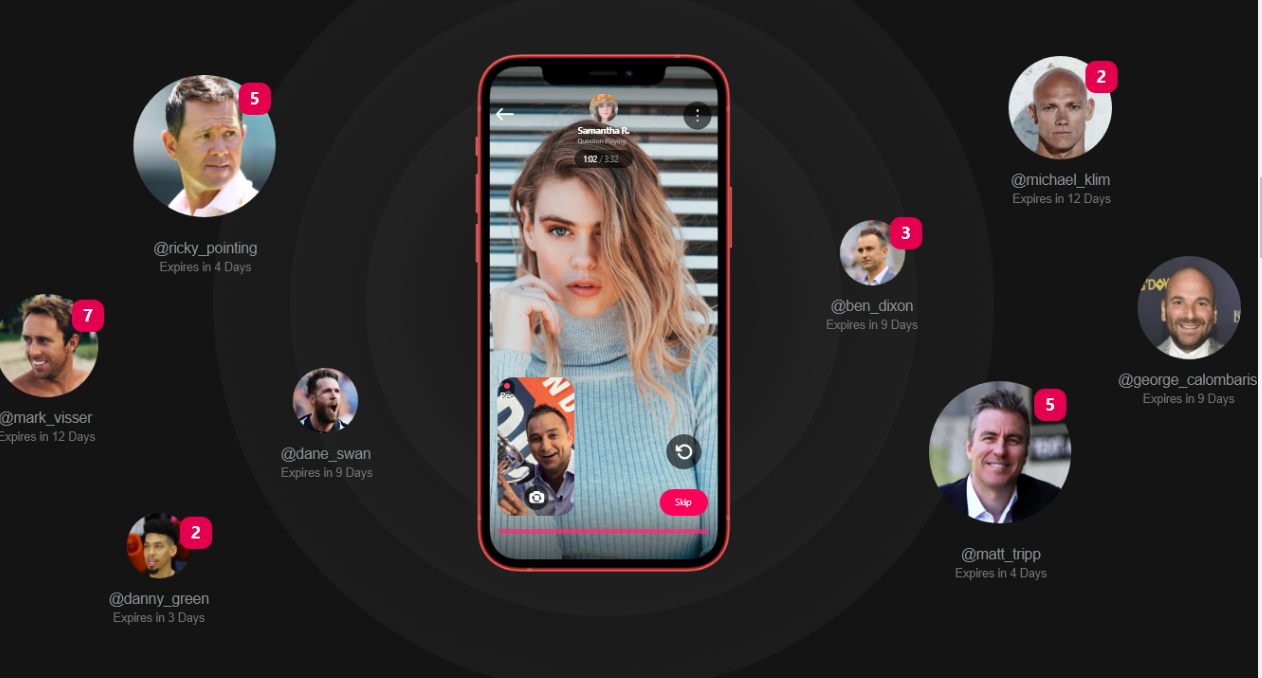 Best of all, a basics-only prototype works well with a minimum viable product (see Step 7 for further discussion) to ensure speed and cost-effectiveness from app idea to app launch.
Step 7: Fund and develop your app
After turning your app idea into a prototype, the next phase is realizing your vision through a fully-functioning app.
Find funding
With great returns come great expenses. Therefore, unlocking funding sources that match your needs and capabilities is important.
Among the many ways to finance your mobile app development include "free ones," like winning prize money in competitions, getting government grants, or crowdfunding. To learn more about this topic, we recommend our article on powerful ways to fund your app business.
Once you get your funding, you can build a minimum viable product (MVP) more easily.
Develop an MVP
An MVP is an app with only the bare minimum features.
This MVP contains the basic features that were:
Selected in Step 5
Incorporated into the prototype of Step 6.
This MVP may not contain all the fancy bells and whistles. But an MVP enjoys the following advantages over a fully-developed app because an MVP:
Quickly launches your app idea to a wider pool of users
Enables you to save time and money as you gradually improve your app based on what the market actually wants
In developing an MVP, you should choose which mobile devices it will run on. Will your MVP be a cross-platform app that functions on both Android and iOS? Though cross-platform apps offer the flexibility of being uploadable to various app stores like Google Play Store and the Apple App Store, they also have disadvantages.
For more information, check out our article on the pros and cons of native, cross-platform, and web apps.
Once you're finished developing your MVP, it's time to publish it. Then, you can start informing the potential users you questioned in Step 3 to download and test your app. Other users will follow suit from this initial group, especially if you published your MVP on app stores like the Apple App Store and Google Play Store.
How the users react to your app will determine the business viability and desirability of your MVP.
Once you've determined your app is good for business, you can start planning your monetization strategy. You can plan to earn money from your app on your own or with an app development partner.
Pro Tip: Many iconic companies began with MVPs. Contact us to learn whether your app idea could become the next big thing in the world of business.
Unleash your great app idea
Successfully developing an app idea is about unleashing your creativity, choosing the best concept based on market realities, and realizing that idea through a cost-effective and industry-leading app development process.
The famous French writer Victor Hugo once said that no army or force in the world could stop an idea whose time has come.
That's why though developing an app can be quite difficult, it's not beyond your reach. Conquering the mobile app market and other app verticals becomes possible through the right partner who can best turn your vision into good business.
Book a free consult with us today and let's work to turn your idea into that amazing app that both you and Hugo could celebrate.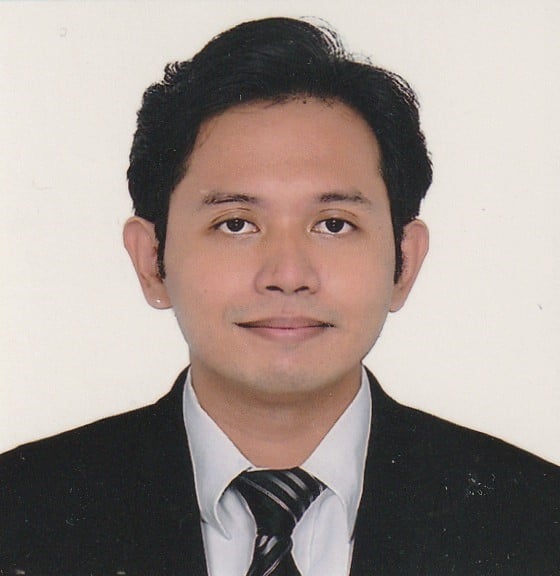 Jesus Carmelo Arguelles, aka Mel, is a Content Marketing Specialist by profession. Though he holds a bachelor's degree in business administration, he also took courses in fields like computer troubleshooting and data analytics. He also has a wealth of experience in content writing, marketing, education, and customer support. Outside office hours, he finds deep joy in reading, traveling, and photography.
Dominate the App Store.
Get the latest industry news first.