Top 5 Mobile App Development Trends Set to Rule 2020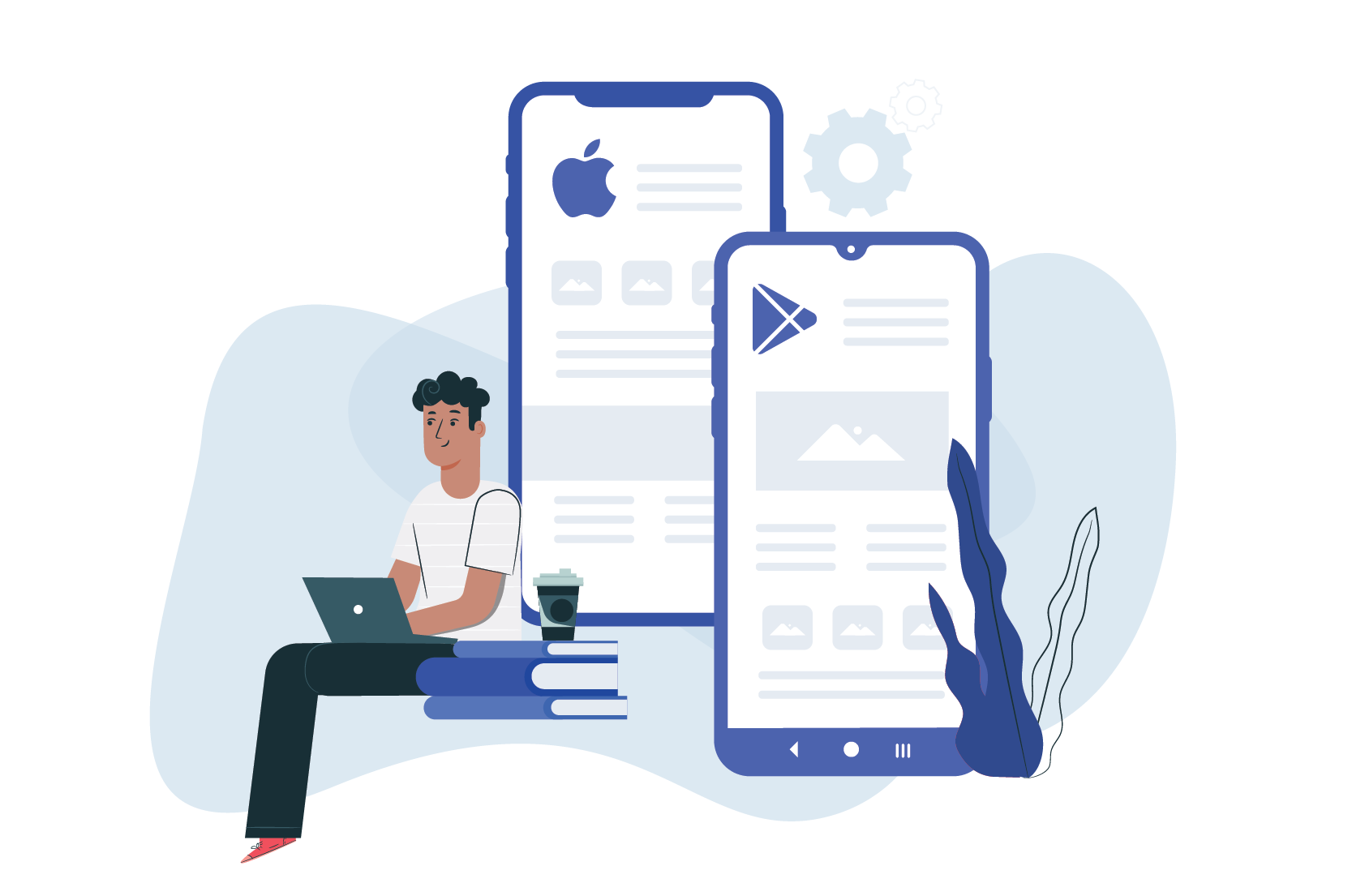 Remember the last time you left the house without your phone? What about the last time you rented a movie? Questions like these highlight to us just how far consumer technology has evolved in the last decade. From just contributing to our lives, tech has fundamentally changed the way we live.
Just a little over 10 years ago, the mobile phone was merely a device used to make and receive calls. Today, it has become the smartphone — a crucial tool that many can't last a day without.
But why is this so?
Alongside the development of smartphones, mobile apps are also becoming increasingly sophisticated. You are no longer carrying just a phone in your pocket. Apps have allowed phones to evolve from a communication device to a powerful tool that can provide multiple services, such as flight bookings and meeting reminders. The possibilities are endless and they begin with a tap of a finger!
From the first 500 or so apps when the App Store launched in 2008 to today's millions for both Android and iOS devices, mobile app development  is fast becoming a multibillion-dollar industry.
Through the years, we have become progressively dependent on our smartphones not because of the device itself, but because of the apps within them that help simplify and enhance the way we live. So much so that many of us rely on these apps to entertain us, keep us organised, and to a great extent, run our lives.
Knowing this, many businesses unsurprisingly try to capture a share of the global mobile consumer market. But before doing so, it's important to stay on top of the upcoming trends.
Here are the top 5 mobile app development trends set to rule in 2020:
5G Technology
Telecommunication providers worldwide have been priming for the rollout of 5G wireless services since the technology's initial introduction to the public. Once 5G technology is out in the market, we can expect massive changes in how mobile apps are being built.
The speed of 5G is said to go as fast as over 2 GBps — 100 times faster than 4G. Developers must prepare to optimise existing apps for this huge change.
Streaming apps will be one of the major categories affected as users will experience clearer media and user interfaces. Knowing this, developers might have to consider revisiting and tweaking the UI for a richer experience.
Having a 5G-capable device will also mean uninterrupted, real-time communication, whether that is through voice, video, or chat. This development means a whole new realm of possibilities for new apps to win in the 5G race.
Since the complete rollout across countries is likely to take a few years, developers will have to create and maintain multiple versions of these apps for devices that still run on slower networks.
Chatbots
These days, more and more people use apps such as Messenger and Whatsapp to communicate with their peers. Businesses, such as e-commerce companies, have also taken advantage of that space, making real-time connections with their customers possible by using chatbots. These chatbots exist either within these instant-messaging apps under the company's name, or as built-in chatbots native to their own app.
This year, expect to see the rise of in-app chatbots, as customers now expect instant responses. Experts suspect that over 85% of customer-to-business interactions will be made via chatbots.
This innovation drastically improves the customer support process: automated responses are given to repetitive questions, and anything requiring a more custom response can be forwarded to a human representative. As a result, employees can save time and focus their attention on more pressing tasks, while customers no longer have to endure long waits.
We will also be seeing more chatbots on e-commerce platforms as they can expedite online purchases.
On-demand services
Since its beta launch in 2010, Uber has paved the way for other on-demand apps. From ride-sharing to travel, food, and even dating — nearly every industry now has its own on-demand version on the App Store and Play Store. And it has only just begun.
Dominate the App Store.
Get the latest industry news first.
The previous year saw over 20 million active on-demand app users who spent a combined total of $57.6 billion. Such stats show that people are willing to pay a little extra to get at-door services.
This year, we are going to see more businesses jumping on the trend, as the revenue for on-demand apps is predicted to spike to over $300 billion in five years' time.
Augmented Reality (AR) and Virtual Reality (VR)
Aside from apps like Pokemon Go — which caused quite a stir for being one of the first mobile games to bring AR features to the masses — AR technologies are being integrated into all kinds of apps.
In late 2019, Google launched Google Maps Live View, a beta version of their AR map with walking directions. The app allows select users of the Google Pixel to get real-time walking directions via the phone's camera. Its full launch is expected to happen this 2020 for other smartphone brands.
While VR hasn't been as mainstream as AR because of the need for wearable devices, 2019 has seen a few new apps that showcase the technology. Google's Expeditions, for instance, is a travel app that allows users to take VR tours around the world's most famous landmarks.
Companies like Nintendo are also looking into transitioning gameplay from the real world to VR with the help of devices such as the Oculus Rift and the Samsung Gear VR.
AR and VR technologies are still in the process of being fully developed. Having seen what these technologies can do to enhance the user experience, we anticipate AR and VR to be one of the top mobile app development trends this year and for many years to come.
Expect to see them integrated into shopping apps, real estate apps, gaming, and more.
Internet of Things
Companies like Amazon and Google have capitalised on the fact that people have become so reliant on their mobile phones and the internet to perform simple tasks for them.
From searching the internet for information to controlling an entire home through a network of smart gadgets, it seems like technology has made the impossible possible.
Internet of Things or IoT devices are only just in its early stages, and 2020 will definitely see more companies getting into IoT app development, especially with the advent of 5G. By 2021, we expect to have nearly 20 billion active IoT devices in the world.
Popular IoT devices today include:
Google Home Voice Controller – A device that lets you control things around your home.
August Doorbell Cam – An app that allows you to answer and see who's at your door from a remote location, anywhere in the world.
Belkin WeMo Smart Light Switch – A smart light switch that lets you control your lights: either through the switch itself, your mobile phone, or via voice command.
Kuri Mobile Robot – A robot designed to entertain and capture moments around your home through its HD camera.
Flow by Plume Labs Air Pollution Monitor – A handheld device that monitors the air quality of your home.
Conclusion
App development has grown by leaps and bounds in the last decade. We saw more people adopting new technologies, such as shifting to mobile wallets, biometrics enhancements, social media apps, and more. With many of these apps and development trends likely to carry into 2020, mobile app developers should keep their skills up to date. This effort is crucial as apps continue to evolve with enhanced features.
As people rely increasingly on their smartphones, they also become more discerning of finding apps with the best user experience. With the rapid growth of the mobile app development industry, being in the know is now more important than ever.
Let these mobile app development trends guide you in developing your apps for the year ahead and coming up with the next big thing to hit the market.
Rolly is an experienced software engineer focused on both web and Android Development. His notable works include developing a multi-awarded mobile app for the Philippines' Department of Science and Technology called UP NOAH and the most comprehensive Philippine weather app called PH Weather. Leveraging his experience working with multiple startups, he founded PageSnapp, a mobile app generator that used contents from a given Facebook page to 'Create an App in a Snap'. Together with his team from PageSnapp, he competed in the esteemed AngelHack competition in the United States.
Dominate the App Store.
Get the latest industry news first.