The Ultimate Guide to Mobile Commerce (+ Hottest M-Commerce Trends)
Have you ever bought something online using a mobile device?
If you have, then you've become a mobile commerce customer. Mobile commerce has been so huge it amassed gross earnings of around $400 billion in the U.S. alone in 2022.
Think about it. That's almost half a trillion dollars in mobile commerce sales!
These mind-boggling mobile commerce statistics have influenced many to bet on mobile commerce (also known as mobile ecommerce). If you're one of these people or merely curious about this industry, this blog is tailor-made for you.
In this article, I'll touch on (click on any link below to fast-forward to that particular section):
Read on to explore the exciting and lucrative world of mobile commerce.
To kick things off, let me define and differentiate mobile commerce from similar sectors.
What is mobile commerce?
Mobile commerce, often called m-commerce or mobile e-commerce, is a subset of electronic commerce (e-commerce) that involves business transactions on mobile devices like smartphones or tablets. It allows customers to conveniently access online shopping platforms, browse products, and make purchases using these devices.
Related m-commerce activities include the following:
Social commerce
Mobile banking
Mobile payments
Mobile ticketing
Marketplace apps
In-app purchasing
In-app purchasing is one of the many ways apps earn. To learn more about other app income sources, check out our articles on mobile app monetization models and how free apps make money.
What is the difference between m-commerce and e-commerce?
The main difference between m-commerce and e-commerce is that mobile commerce is a more specific type of e-commerce.
Buying and selling goods and services through desktops or laptops is mainly under the domain of e-commerce. On the other hand, m-commerce involves online marketplaces accessible via smartphones or tablets. Usually, customers participate in m-commerce through mobile apps on their devices.
A company's story could better illustrate what makes m-commerce different from e-commerce.
Australian retail giant MyDeal began operating a website in 2012 to help SME businesses sell online. Back then, it was an e-commerce business since its customers mostly used desktops or laptops to make their purchases.
However, smartphone sales started to skyrocket. MyDeal founder Sean Senvirtne wanted to capitalize on this trend by asking us to customize a mobile app to augment his website.
Soon after we launched the app in 2020, MyDeal became a mobile commerce enterprise and a large one at that. The same app was instrumental in attracting investment worth around $150 million from another retail giant.
Check out the MyDeal case study to learn about our part in the company's growth.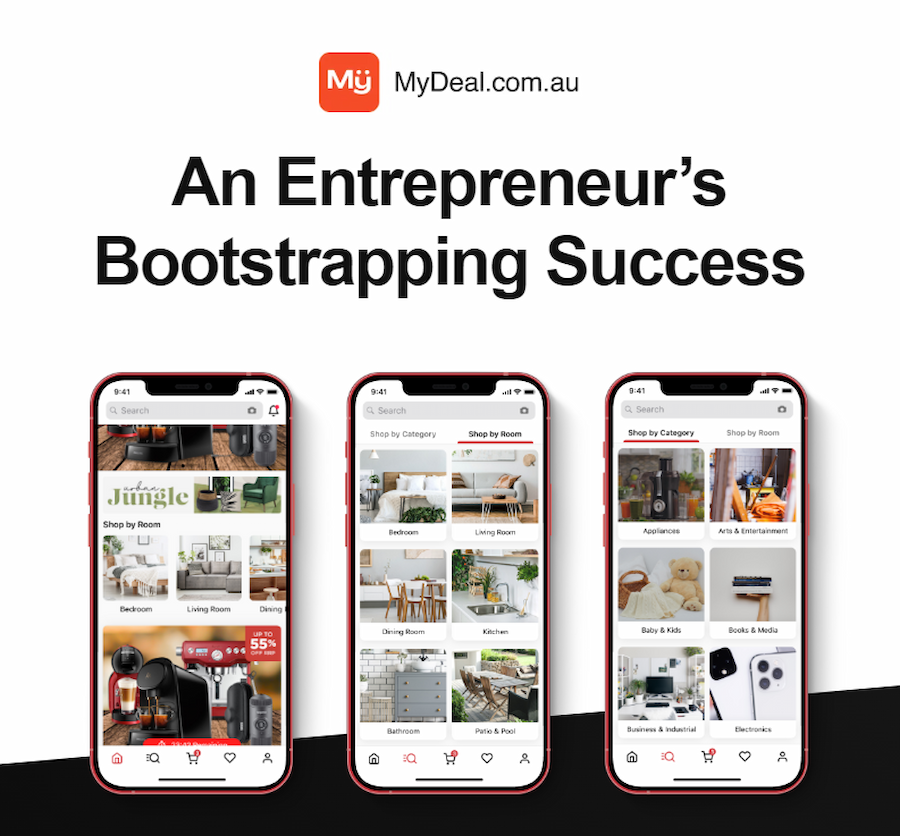 What is the difference between e-business and mobile commerce?
What makes e-business different from mobile commerce is the extent to which they use the Internet.
An e-business is any business that uses the Internet and other networking technologies to improve overall operations, not just selling products or services. Meanwhile, mobile commerce focuses on merchandise and service delivery through Internet-connected smartphones and tablets.
For example, a brick-and-mortar shoe store that uses social media to attract customers IS an e-business. This is true even if the store doesn't have a website or app where customers can order or buy shoes. And even if that store has a mobile commerce app, it's still an e-business but with mobile ecommerce capabilities.
In general, e-businesses use networked software and hardware to improve aspects of operations like supply chain management and customer relationship management. These businesses enhance operations by using tools that work like retail apps which improve online store management.
Meanwhile, mobile commerce mainly focuses on making money from online transactions.
Now that you know what mobile commerce is all about, it's time to learn the benefits and challenges of operating in this industry.
The 3 major benefits of mobile commerce
In helping m-commerce startups and other clients scale their organizations through custom app development, our product strategists and developers have noted the following advantages of mobile commerce:
Access to valuable customer information
A good complement to brick-and-mortar establishments
Better customer retention
Benefit #1: Access to valuable customer information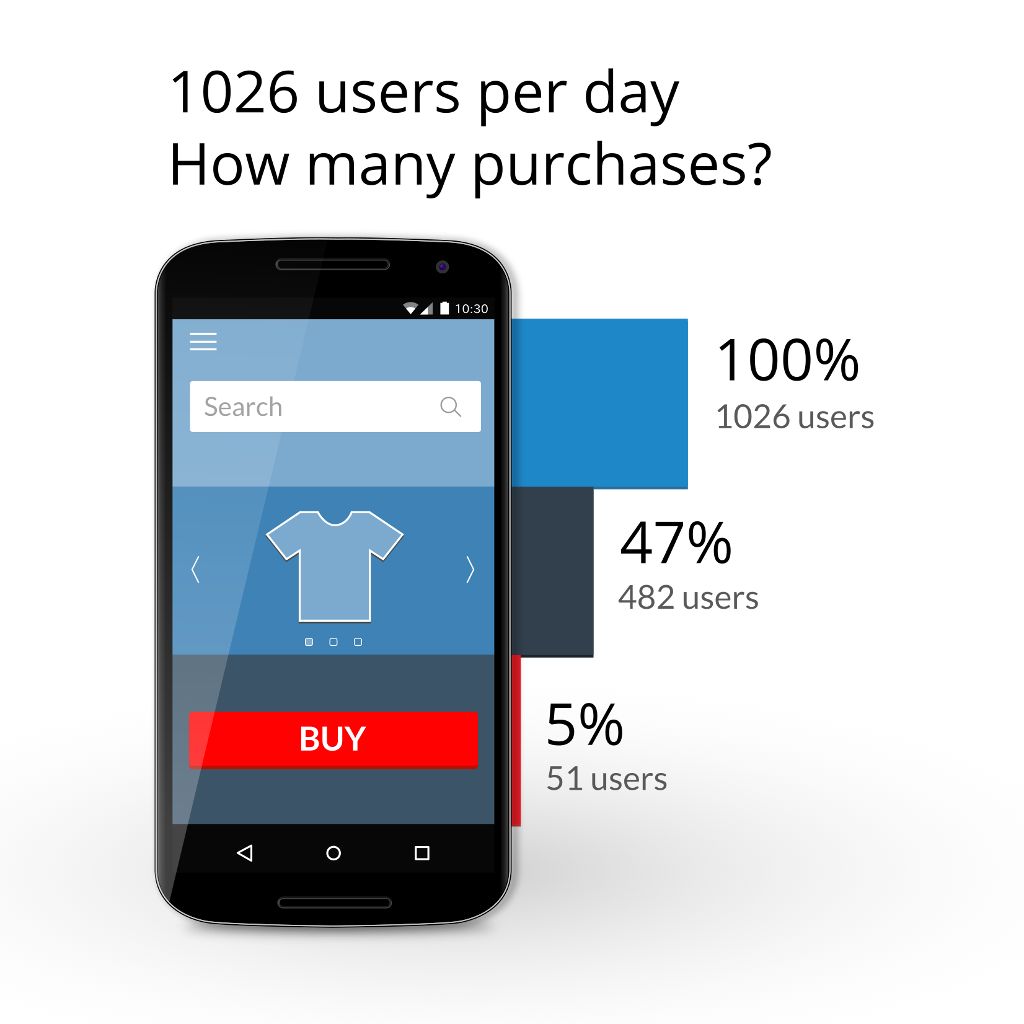 Source: Xtremepush
In traditional brick-and-mortar retail, customers visit the store, buy, and leave. There is usually minimal information about what customers want (or don't want) for statistical analysis.
But mobile commerce enables retailers to track customers' digital "footprints." From the moment customers open their m-commerce apps to when they purchase, mobile app analytic tools track their behavior and preferences. These types of information are especially valuable for things like:
Due to the opportunity to extract more customer data, many traditional and website-based stores are slowly seeing the wisdom of pursuing shopping app development.
Benefit #2: A good complement to brick-and-mortar establishments
Mobile commerce need not demolish the mom-and-pop store. In fact, m-commerce can enhance the prospects of big or small traditional businesses by:
Casting the customer net wider through mobile apps
Catering to "hybrid" shoppers
Casting the customer net wider through mobile apps
Brick-and-mortar establishments used to distribute flyers or set up billboards to bring in more customers.
Now, there's a more scalable way to do that. Enter the world of mobile commerce apps.
Traditional businesses worldwide are using mobile apps to increase their number of customers. For example, a Vietnamese company has developed an m-commerce app to revitalize small-scale stores. In the U.S., the traditionally on-site grocer Walmart has also used mobile apps for growth since 2011.
If the American retail titan Walmart developed an app despite its secure position in the industry, perhaps you should also consider retail app development as a way to secure a good market share.
We have successfully expanded organizations through app design and development. Do you have a business you want to grow through a mobile app? Book a free consultation with us and let's talk about your success prospects.
Catering to "hybrid" shoppers
I call "hybrids" those customers who shop in the same store partly through mobile apps and partly through on-site store visits.
For example, many customers go on-site to select products but seek additional online reviews before purchasing. Conversely, some customers use mobile devices to browse products, customize options, and check stock availability at nearby brick-and-mortar stores.
In essence, mobile commerce is a solid support for retailers and brands, including traditional ones. M-commerce enables them to boost sales in both online and physical outlets by reaching a wider and more diverse range of customers.
Benefit #3: Better customer retention
Keeping customers loyal to your business is easier through mobile commerce, mainly by providing them with the following:
An improved customer experience
Did you know that more than half of global Internet traffic comes from mobile devices?
This means there is more than one smartphone for every laptop or desktop connected online. In this context, mobile commerce has more opportunities to enhance the customer experience by:
Providing more opportunities to purchase offerings
Improving access to promo updates
Mobile commerce provides more opportunities to buy goods and services online. After all, mobile devices are more portable than laptop or desktop PCs. This means smartphone and tablet users can more easily make online purchases than if they used PCs.
M-commerce customers also have easier access to promo information through push notifications. When set correctly, these notifications could inform customers of discounts or special offers even when their m-commerce apps are inactive. Check out our guide on push notifications and their uses if you want to learn more about this communication technology.
More payment options
Mobile commerce customers enjoy payment methods beyond the usual debit or credit card. Among these special payment options include:
Dominate the App Store.
Get the latest industry news first.
Apple Pay
Samsung Pay
Google Pay
Amazon Pay
Paypal Express
Shop Pay
In essence, mobile commerce provides customers with more reasons to stay and do business due to the convenience m-commerce brings and the larger buffet of payment alternatives. M-commerce adaptations are so effective in growing businesses, even some Shopify store owners are converting their retail websites to mobile apps.
The 3 challenges of mobile commerce
Despite our passion for growing m-commerce app businesses and other enterprises, we are aware that mobile commerce has the following challenges:
Security issues
High level of competition
Need for constant app improvement
Challenge #1: Security issues
Mobile commerce poses unique security challenges for app users due to its reliance on multiple factors to function well, such as:
The Internet connection
The mobile device in question
The mobile app concerned
In effect, m-commerce has a lot of moving parts, making it vulnerable to threats like unwarranted exposure of customer data.
Due to these potential threats, m-commerce retailers and brands must be more responsible for protecting customers' personal information and handling it responsibly. This entails adhering to various data protection regulations and ensuring transparency with customers regarding the collection and use of their data.
Implementing these and other measures is vital to building stakeholders' trust and ensuring a sustainable mobile commerce business.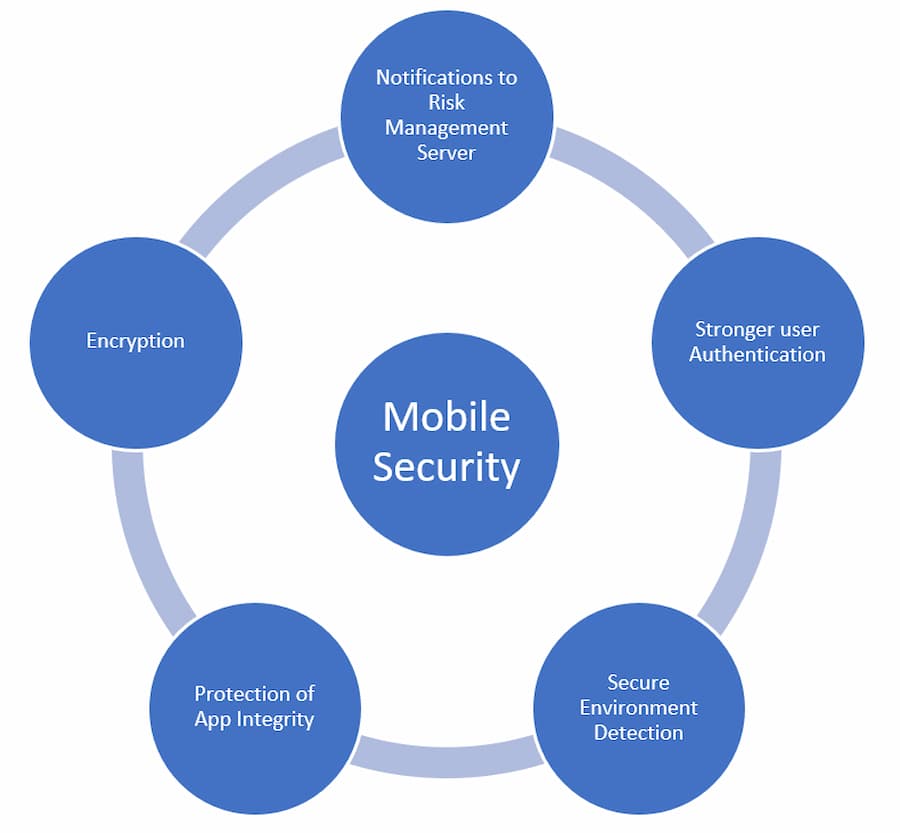 Source: Xorlogics
Challenge #2: High level of competition
In recent years, the mobile commerce sector has seen many companies investing in and striving for success. As a result, entering this arena today means encountering thousands of existing competitors along the way. If you're aiming to set up an m-commerce business, you must define your target market or niche well to gain a competitive edge.
App store optimization (ASO) is one effective strategy to inch ahead of rival apps. ASO is basically ensuring users can more easily discover your mobile commerce application in app stores.
Another good strategy to leapfrog the competition is to choose a good mobile commerce app development partner. There are hundreds to choose from worldwide, but we've made the selection process easier for you by rounding up the best ecommerce app development companies.
Challenge #3: Need for constant app improvement
Mobile commerce could be challenging, given that m-commerce apps need constant updates. Regular app improvements are necessary due to the following:
Changing consumer preferences
The influx of new app users
Cybersecurity threats like hackers or device-damaging malware
Competitor apps that offer a better user experience
Mainly, keeping yourself updated on the industry as a whole could help keep your m-commerce app relevant. But another effective way to keep your app up to par is by monitoring and optimizing app performance.
The latest mobile commerce trends
A lot of m-commerce innovations were once tech startup ideas in the minds of entrepreneurial visionaries. But now, they have made shopping through phones and tablets much easier than ever before. The following have especially impacted the mobile commerce industry:
One-click ordering
Virtual reality and augmented reality
Voice commerce
Mobile commerce trend #1: One-click ordering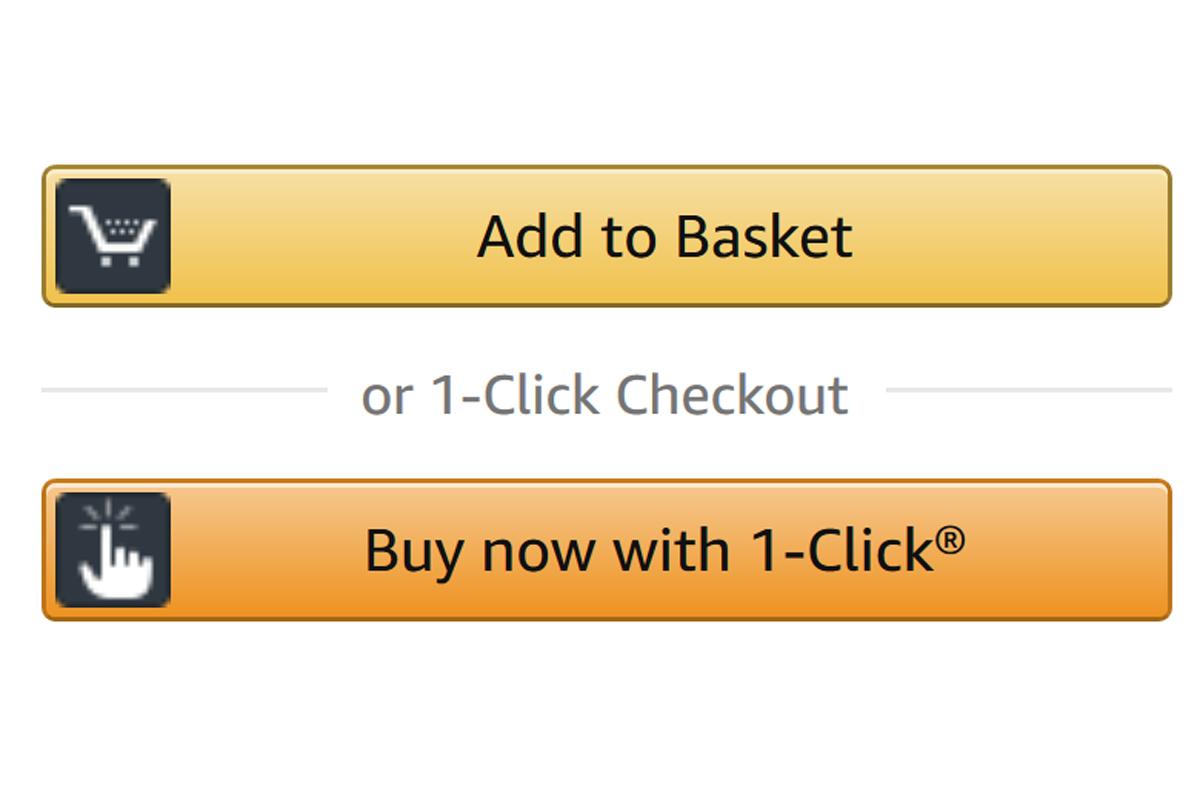 Source: Amazon via Tech in Asia
One-click ordering, also referred to as one-click buying, is a mobile commerce trend pioneered by Amazon, the world's largest eCommerce platform.
How does this technology work? One-click ordering cuts the time-consuming filling out of information during every single purchase. Instead, the system stores data from previous transactions. All essential information like customer name, shipping address, and payment information is automatically filled in the mobile eCommerce checkout form.
This convenient feature significantly improves the checkout experience and reduces cart abandonment rates. In turn, this streamlining of the ordering process boosts mobile conversion rates and revenue for store owners.
While there is a potential risk of data breaches, many customers are still willing to trade some security for the convenience of one-click purchasing.
Since Amazon's exclusive patent for one-click technology expired in 2017, other service providers like Bolt and PeachPay now offer similar solutions.
It's evident that businesses seeking to future-proof themselves should consider one-click ordering in the design and development of their ecommerce apps.
Mobile commerce trend #2: Virtual reality and augmented reality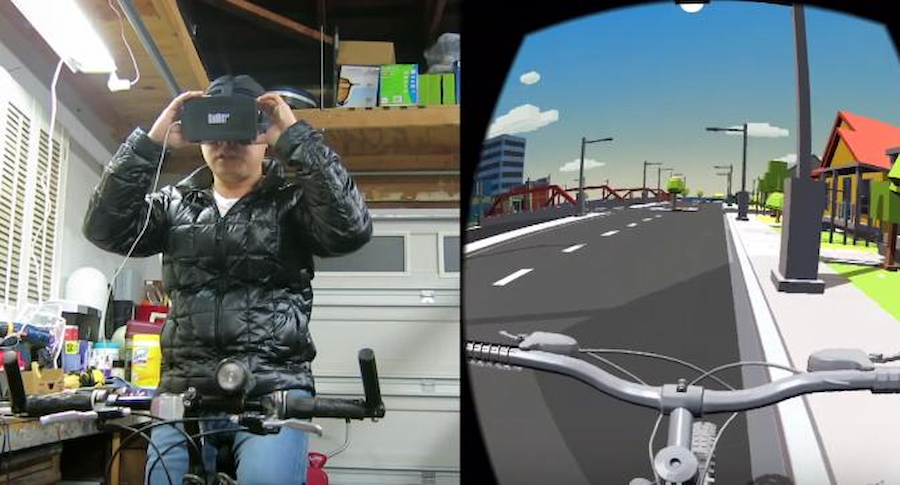 Source: road.cc
Have you seen people playing games while wearing these oversized goggles that look like blindfolds? Have you ever played Pokemon Go using your mobile phone?
If you encountered both, you saw virtual reality (VR) and augmented reality (AR) in action.
Virtual reality (VR) and augmented reality (AR) basically do one thing: they make the world of graphics feel and look as genuine as the real world.
The melding of graphics and reality has a lot of amazing applications for m-commerce.
For instance, customers can use AR to try out oversized items before buying them. IKEA is a home improvement retailer that uses AR well for this purpose. Through its IKEA Place app, customers could visualize how furniture could fit and look in their own homes before purchasing. This immersive shopping experience reduces return rates, which is good for a retailer's bottom line.
Source: IKEA YouTube Channel
Another great application of virtual reality is the enabling of potential customers to tour facilities without actually being there. For instance, gyms can showcase their facilities to potential members without disrupting existing gym-goers. VR is also useful for new store openings, giving customers a glimpse of the establishment before its completion.
The world of virtual reality allows potential customers to check out almost any piece of real estate (as long as it has been synthesized into graphics or 3D photos) without actually going there. This capability to move into a place without the discomfort of travel increases the likelihood that potential customers become paying patrons.
However, VR experiences require specialized headsets. In contrast, AR technology could run on many smartphones. Despite the moderate adoption of VR relative to AR, VR tours are expected to have a more significant impact in the near future.
Mobile commerce trend #3: Voice commerce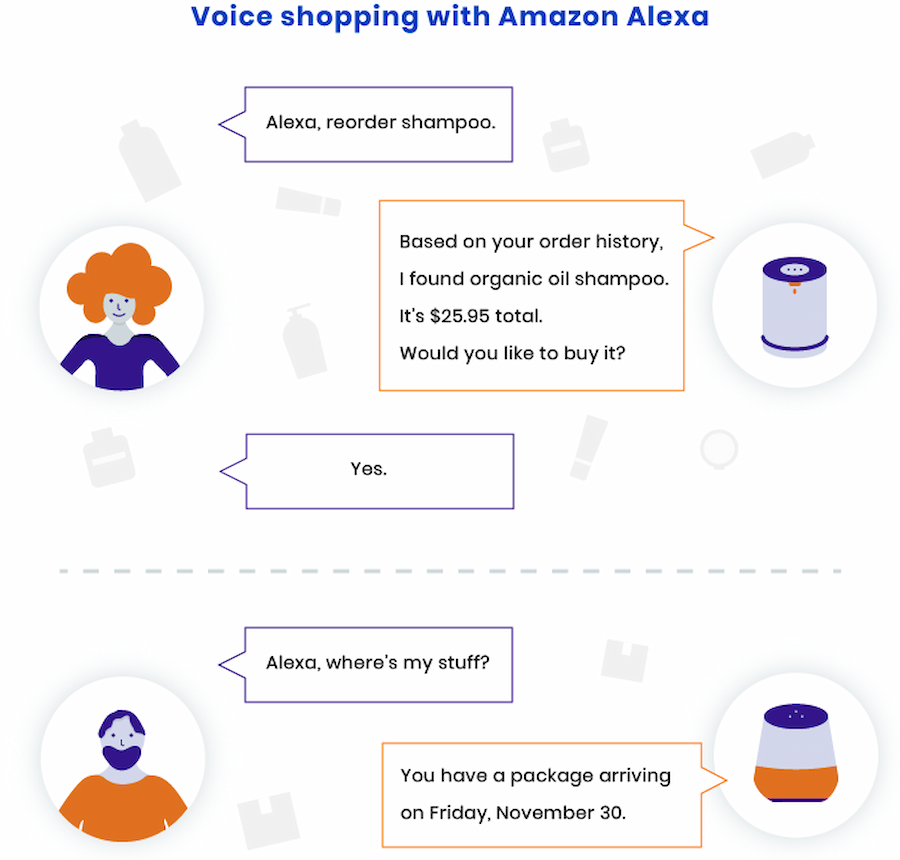 Source: RubyGarage
What if you could search for products and buy them on your mobile app by just saying a few words?
Voice commerce, a rapidly growing mobile commerce trend, involves using voice commands to browse items online and place orders. Software like Google's Assistant and Amazon's Alexa have enabled certain devices to receive and act on spoken instructions, including voice prompts related to mobile commerce.
In 2022, around $40 billion worth of online transactions were conducted through voice-activated devices in the U.S. and the U.K. This was a substantial increase from the $2 billion worth of transactions in 2017. Since many countries usually follow Britain's and America's lead regarding business trends, these figures show that voice commerce is something m-commerce retailers should look out for.
Move on up with mobile commerce
Online businesses will do better if they add mobile devices as an extra access point to their products and services. After all, more and more people worldwide are owning smartphones and getting Internet access.
But just like any business, mobile commerce has its risks and rewards. Fortunately, m-commerce trendsetters have also shown that with the right business model and technology, retailers in this space could enjoy massive success and contribute to the ever-burgeoning pool of fascinating innovations.
At Appetiser, we have all the tools and skills necessary to help you come up with the right business model and the appropriate m-commerce app for your growth needs. We're as quick as we're quality-obsessed thanks to our patented baseplate that reduces development times by 50%. And with reduced app production time comes more manageable app development costs.
But do you know what costs nothing? Booking a consultation with us. Drop us a line and let's find out how we can work together to help you succeed through app design and development.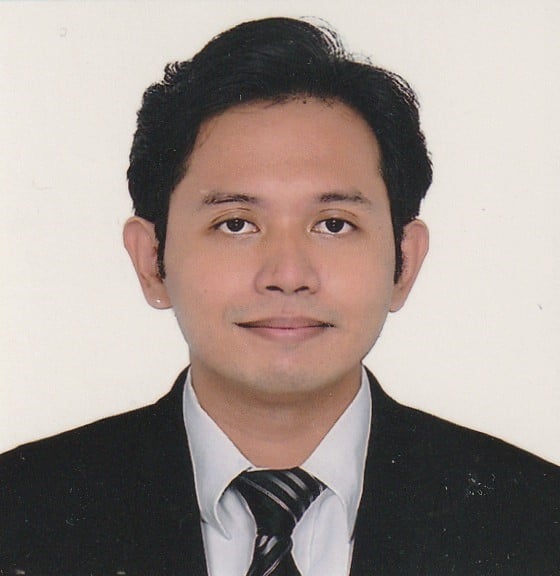 Jesus Carmelo Arguelles, aka Mel, is a Content Marketing Specialist by profession. Though he holds a bachelor's degree in business administration, he also took courses in fields like computer troubleshooting and data analytics. He also has a wealth of experience in content writing, marketing, education, and customer support. Outside office hours, he finds deep joy in reading, traveling, and photography.
Dominate the App Store.
Get the latest industry news first.