16 B2B eCommerce Trends and Statistics in 2023 (eCommerce Apps, Market Size & Revenue)
For any B2B business looking to sustain growth, it pays to be equipped with the right knowledge — knowing what trends are shaping your industry, how customers interact online, and where your market is headed.
For example, you might wonder why your website has significantly dropped in visitors over the past three months, even if you already optimized it.
Or you saw that most potential B2B buyers had abandoned items in the carts, so you missed a large chunk of sales.
📣 It's because B2B buyers also think like end consumers.
For one, the load speed of a website matters to them. 60% of global B2B buyers said they stopped completing the purchases if the website was too slow.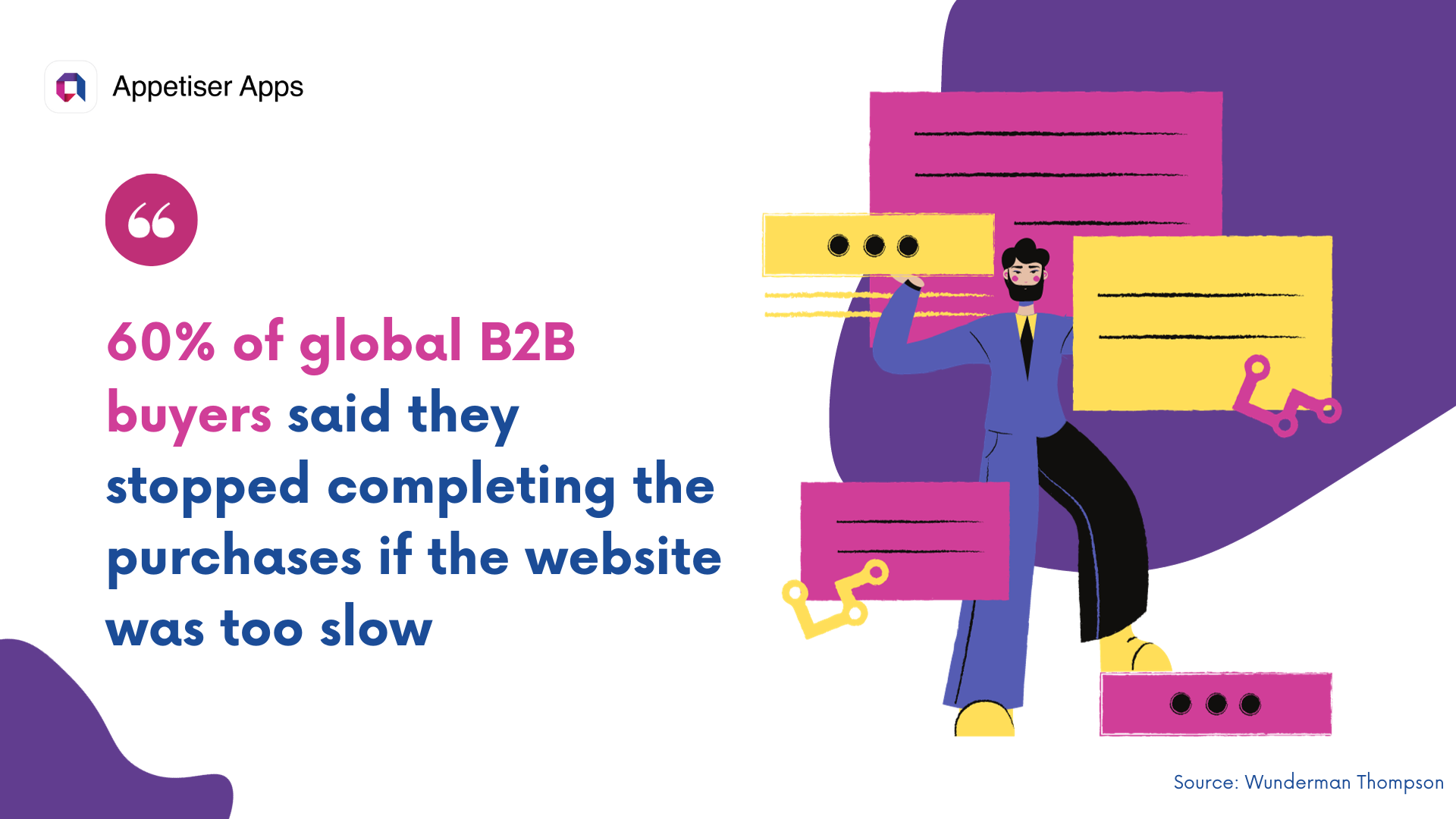 So, that's the last thing you want to happen.
By staying up-to-date on all trends and mobile ecommerce statistics, you can ensure that your business will keep up and surpass current standards for success.
This article looks at some of the most significant B2B eCommerce trends, providing insights into B2B eCommerce market size across regions and B2B buyers' purchasing behavior.
But first, let's look at the market size of different regions.
Overview of the B2B eCommerce market across regions

A bird's eye view of the current landscape gives you a broader perspective across various regions, from North America to Asia Pacific.
Let's see the contributing factors that drive growth for each region.
B2B ecommerce sales in the US grew by 19% in 2022, accounting for 13% of all manufacturing and distribution sales
The B2B eCommerce sales growth can be directly attributed to the COVID-19 pandemic, which shifted the business landscape and catapulted B2B ecommerce from a minor sales channel to a mainstream necessity.
As businesses were forced to close their offices, branches, and factories, work-from-home purchasing managers turned to online channels to sustain their operations remotely.
Even businesses that have hesitated to adopt B2B eCommerce are now acknowledging its significance, investing significantly in fresh initiatives, and modernizing their strategies and technology for eCommerce.
Asia Pacific market size was valued at $3,559 billion in 2021 and is projected to reach $26,417 billion by 2030
Asia Pacific is one of the fastest growing B2B markets, registering a Compound Annual Growth Rate (CAGR) of 25% during the forecast period, 2022 – 2030.
This growth will not taper off anytime soon due to various factors, such as increasing internet penetration, the digitalization of businesses, and the rise of eCommerce platforms.
As businesses shift towards online platforms, the B2B eCommerce market will only continue to grow. With a medium market concentration, the major players in the B2B eCommerce market in Asia are Amazon, Flipkart, B2W Companhia Digital, and Alibaba Group Holding Ltd.,
European B2B ecommerce market is expected to reach $1.8 trillion by 2025
The surge in B2B online consumption in Europe can be attributed to the growing demand for various purchases, including spare machine parts, complex products, business and digital services, and packaged and bulk products.
B2B cross-border ecommerce in Europe primarily occurs within its geographical borders, with only 30% happening outside the region. When acquiring new customers and driving sales in Europe, businesses overwhelmingly prefer their website as the main channel.
In terms of international shipping, 45% of B2C companies ship to customers outside of Europe, while 30% of B2B-focused companies engage in cross-border shipping within the EU. This represents a significant missed opportunity for B2B-focused companies to reach new customers outside their traditional markets.
The Middle East ecommerce market size is expected to reach US$27 billion by 2025.
The Middle East's ecommerce industry has experienced remarkable growth. Notably, widespread internet access among adults in the region, nearing 100%, has facilitated easier reach to broader audiences and enhanced convenience in online shopping for consumers.
The region also has increasingly captured the attention of foreign entrepreneurs and investors seeking opportunities in the thriving ecommerce market. Consequently, numerous ecommerce companies have emerged, intensifying competition and fueling industry growth.
Across the region, prominent players have distinguished themselves as industry leaders. Some notable examples include Souq (owned by Amazon), Trendyol, Ounass.ae, Noon, Mumzworld, and Basharacare.com.
B2B ecommerce sales in the UK were valued at $371 billion in 2021 and are expected to reach $2,364 by 2030
The UK has been a key player in generating revenue, contributing to the growth of various sectors in the global market.
According to forecasts, during the coming years, the UK is anticipated to grow at a CAGR of 22.9%. This shows that the UK is poised for a great leap forward in the global market.
Online retailing has gained significant traction as consumers shift their purchasing habits to digital platforms. This shift has opened up new opportunities for internet-focused businesses and sellers, expanding their reach to domestic and international markets.
Key sectors, such as fashion, health and beauty, consumer electronics, home and garden, and travel services, are now preferentially sought after through online channels.
Now, let's move on to B2B eCommerce trends to help you better understand how B2B companies interact with new technologies and opportunities.
B2B eCommerce trends in 2023 and beyond
As we look toward the future of B2B, it is critical to highlight eCommerce trends shaping the industry's landscape in 2023 and beyond.
As B2B buyers increasingly rely on digital platforms, adapting to the ever-changing behavior is critical for your company's growth.
Here are some of the key B2B eCommerce trends this year and beyond to watch out for.
1. Seamless B2C-like shopping experience
In recent years, there has been a shift in the B2B sector as buyers now prefer a B2C (Business-to-consumer) shopping experience. This may come as a surprise to some who are more inclined to traditional face-to-face transactions.
But upon closer examination, it makes perfect sense as 73% of B2B buying decision-makers are millennials.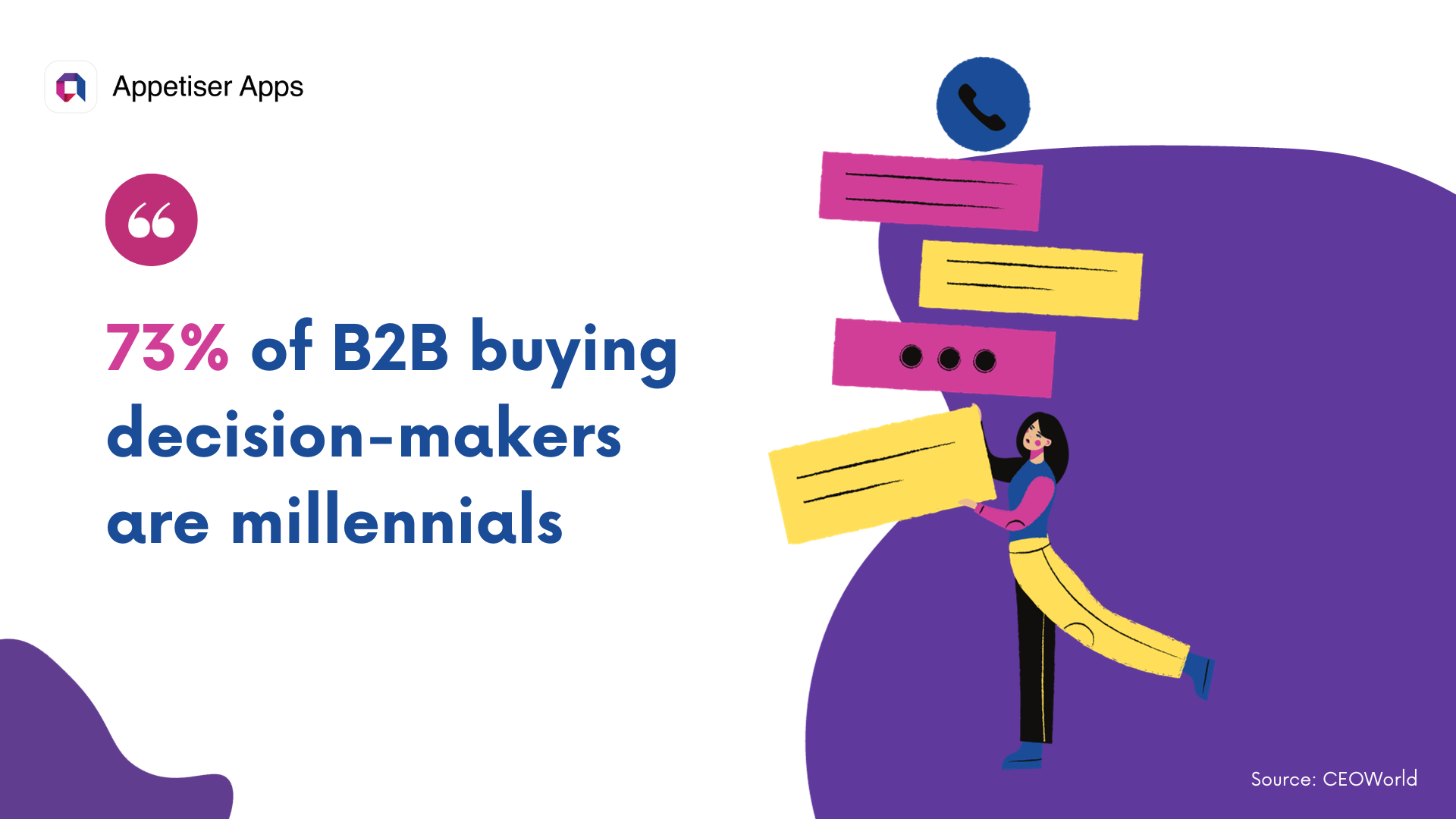 B2C companies have long focused on providing a seamless, user-friendly shopping experience that puts the customer's needs first. Now, B2B buyers expect the same level of convenience and personalized attention that they have grown accustomed to as consumers.
In fact, according to the Wunderman Thomson report, a staggering 90% of B2B buyers from the UK, US, and China expect a similar shopping experience when purchasing on B2B sites.
Additionally, the aspects of their B2C experience they want to have in the B2B context is that, on average, 41% want more convenient delivery, repeat ordering via subscriptions, and faster delivery.
Here are practical strategies worth considering to meet the evolving demands of existing customers:
 ✅ Improve delivery options. Offer flexible delivery options to cater to the needs of different customers. This could include express shipping, scheduled deliveries, or pick-up points.
 ✅ Offer personalization. Use data analytics to understand your customer's needs and preferences better. This will allow you to offer a personalized shopping experience through product recommendations and targeted content and promotions.
 ✅ Provide excellent customer service: Invest in customer service to address queries and resolve issues promptly through multiple communication channels like email, phone, and social media. You can even elevate your mobile app customer service through in app messaging and live chats, features available through a custom eCommerce app development.
An epitome of exemplary personalized customer experience and improved delivery service is Youfoodz.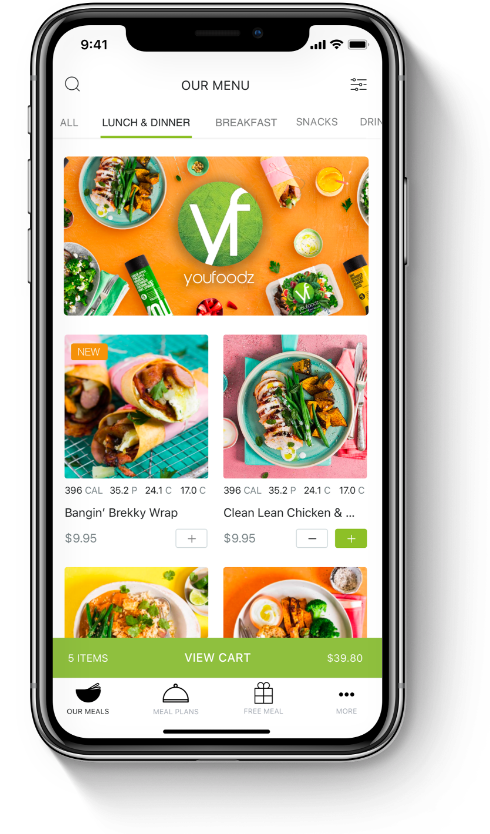 Youfoodz required a dynamic mobile app to expand its success in Australia and reach a broader smartphone user base. We developed a mobile app capable of efficiently handling thousands of weekly orders.
As a testament to its superiority, Youfoodz has consecutively earned the title of Australia's #1 Healthy Food Delivery Service for three years. The app now generates significant daily revenue in the $100,000s, driving continuous growth for this Australian company in the competitive healthy food delivery market.
2. Selling through third-party online marketplaces
B2B ecommerce sales through leading online marketplaces, like Amazon Business and Alibaba, are experiencing continuous growth. This expansion allows businesses to extend their reach and tap into new sales channels, empowering them with enhanced market opportunities.
Gartner's survey revealed that a staggering n impressive 83% of B2B buyers express a strong preference for digital ordering and payment methods.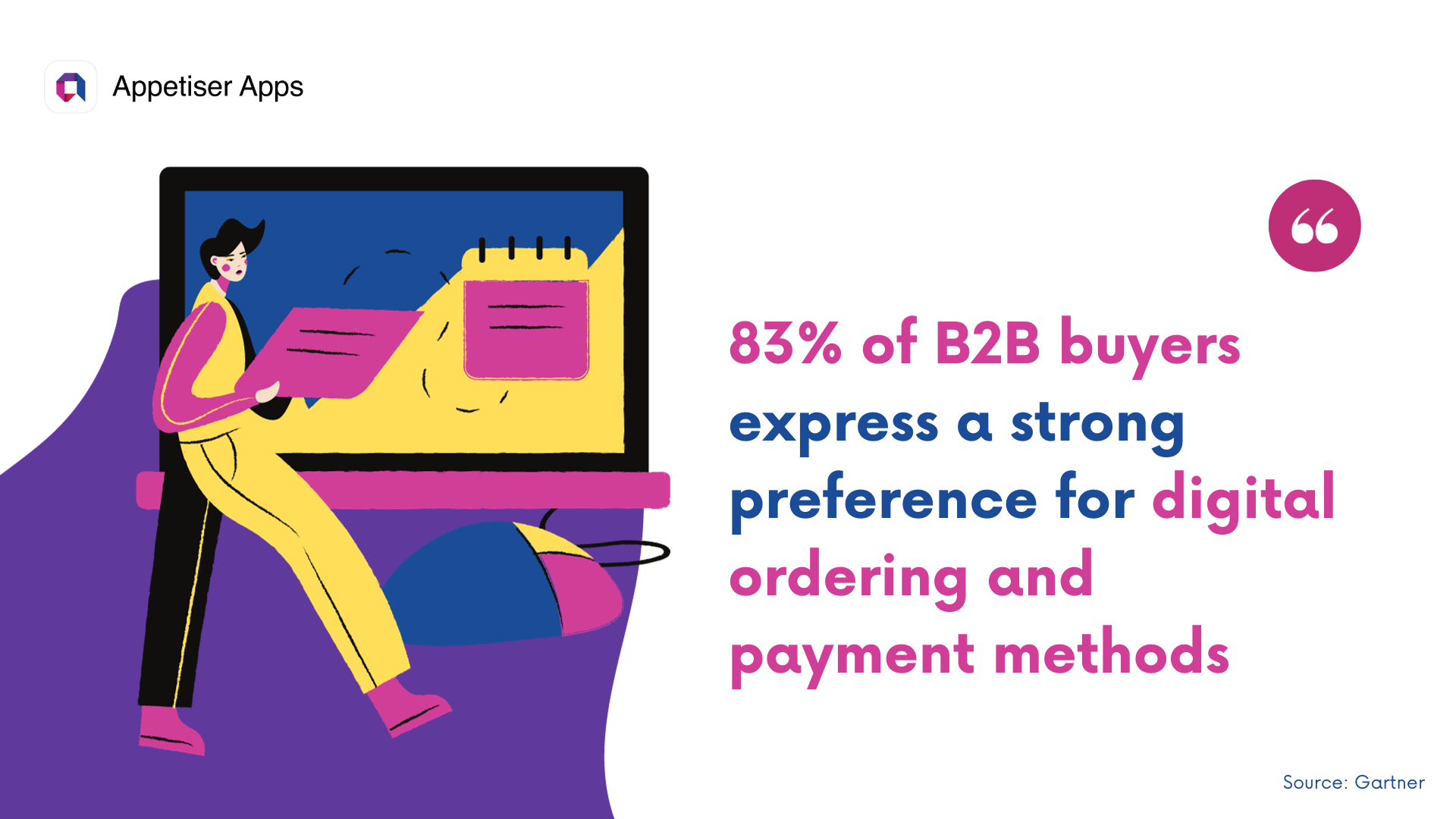 This statistic highlights the growing demand for online marketplaces to help buyers find the right products and navigate the checkout process.
When discussing user experience, there's always room for improvement to ensure that B2B buyers have a smooth checkout process. With such an enhancement of the checkout experience, you can effectively reduce the cart abandonment rate.
Here are key practice strategies to implement:
 ✅ Enhance the online experience. Create a user-friendly website or an eCommerce app that's easy to navigate, offers detailed product information, and provides a simple and secure checkout process.
 ✅ Explore subscription models. Implement subscription models for repeat orders and by-volume orders. This not only offers convenience to your customers but also ensures recurring revenue for your business.
 ✅ Partner with marketplaces.: Leverage popular online marketplaces to increase your product visibility if you are in the B2C. For instance, MyDeal provides an excellent platform for businesses to reach a wider audience by listing their products on their storefront.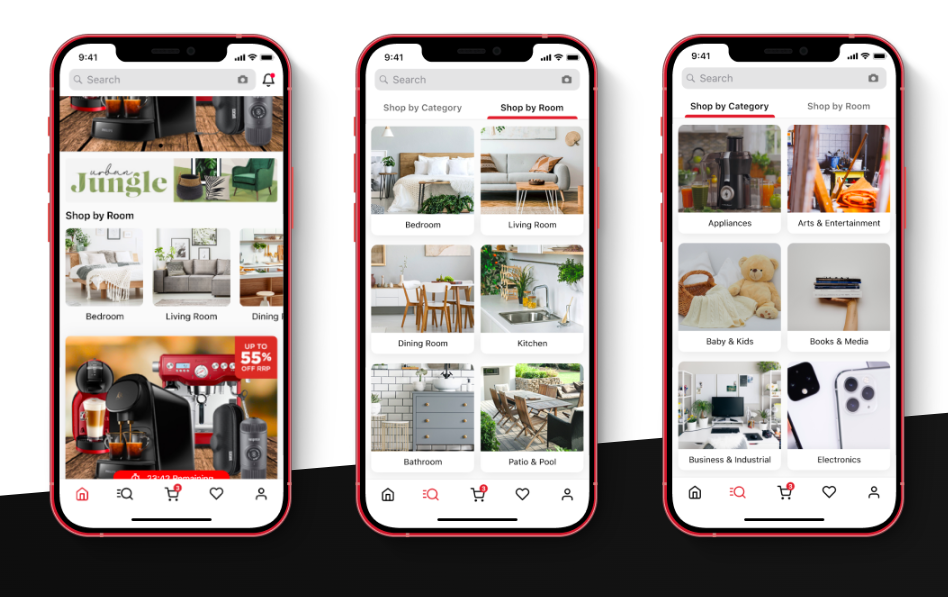 As an app development partner of MyDeal, we have witnessed the brand's tremendous growth after building its mobile app, which dominated popular brands like H&M and IKEA across app stores. I encourage you to read further on MyDeal's case study and be inspired by the company's bootstrap success story.
3. Hybrid approach through omnichannel experience is the future
Omnichannel experience is a multi-channel approach to sales strategies that creates a seamless customer experience across all platforms and channels. It's about meeting your client's needs and demands, from web apps to social media platforms and face-to-face engagements.
75% of B2B customers will not hesitate to repurchase from their trusted supplier if the company possesses cutting-edge omnichannel capabilities. demanded in today's dynamic business landscape.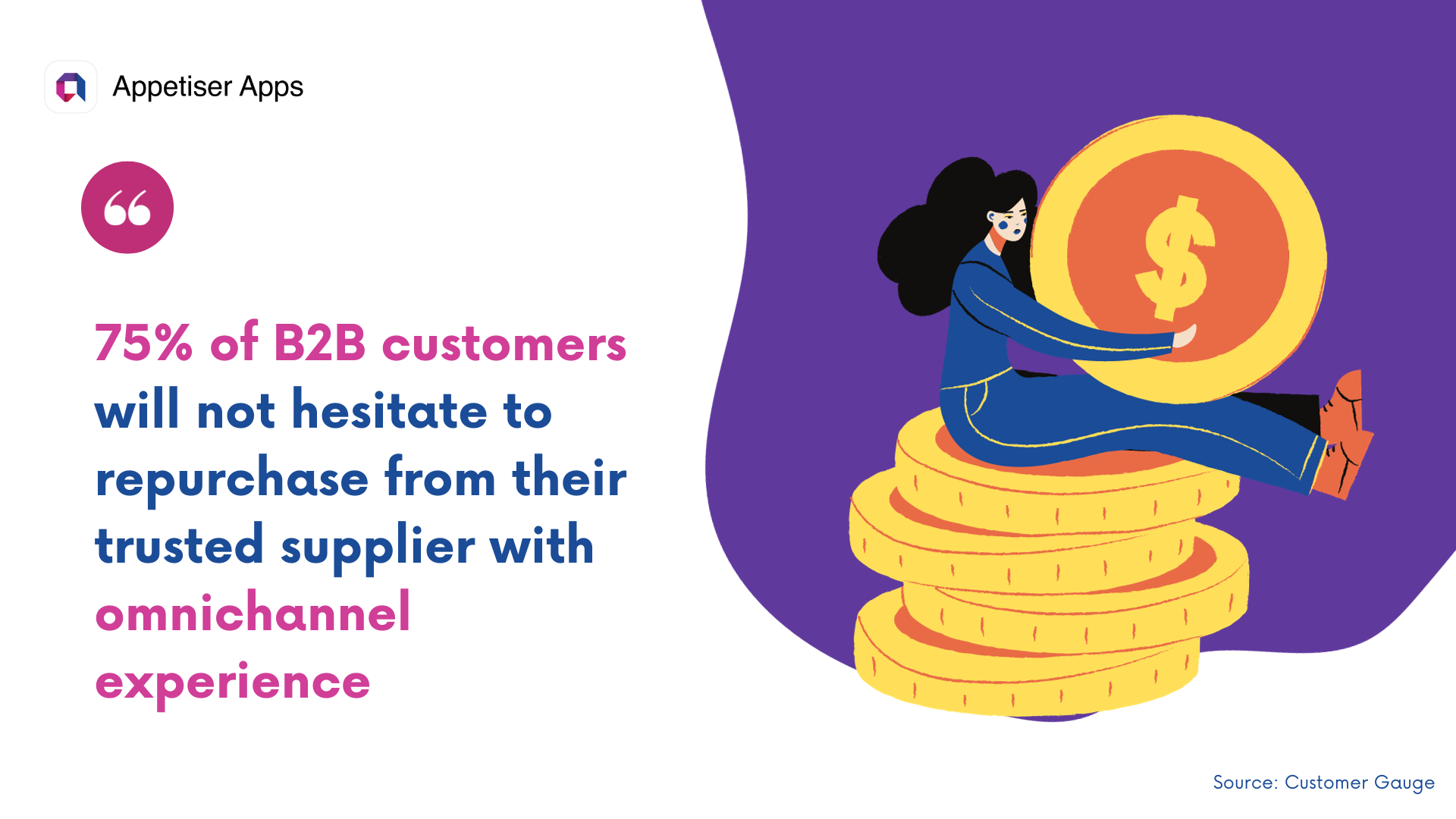 Moreover, according to a recent study by McKinsey, B2B buyers are eager to invest significantly in remote or self-service transactions. Remarkably, 71% of buyers are willing to spend over $50,000 in a single transaction, while 27% would not hesitate to spend $500,000 or more.
Dominate the App Store.
Get the latest industry news first.
Does this mean we say goodbye to sales representatives? Not so, but with self-service buying, the demand for hybrid selling can't be overlooked.
Some action points you can incorporate into your strategy are:
 ✅ Invest in self-service tools. Equip your website or mobile app with tools that allow customers to serve themselves. This could include FAQ sections, chatbots, product comparison tools, and customer reviews. A customer experience automation (CXA) strategy can take the shopping experience to new heights if you have integrated the right platforms that match your existing tools.
 ✅ Adopt hybrid selling. While self-service is on the rise, there's still a need for sales representatives in complex transactions. Train your sales team to work in conjunction with digital tools, providing personal assistance when needed.
 ✅ Develop a seamless omnichannel strategy. Ensure your customers can interact with your brand consistently across all platforms —- from your website and mobile app to social media channels and physical stores. You should also This includes maintaining consistent product information, pricing, and customer service across all channels.
Here's an example. Vitality Medical is a B2B company that provides quality home medical supplies and has implemented an omnichannel marketing strategy that allows customers to access their profile and information through various channels, such as their website, mobile application, and smartwatches.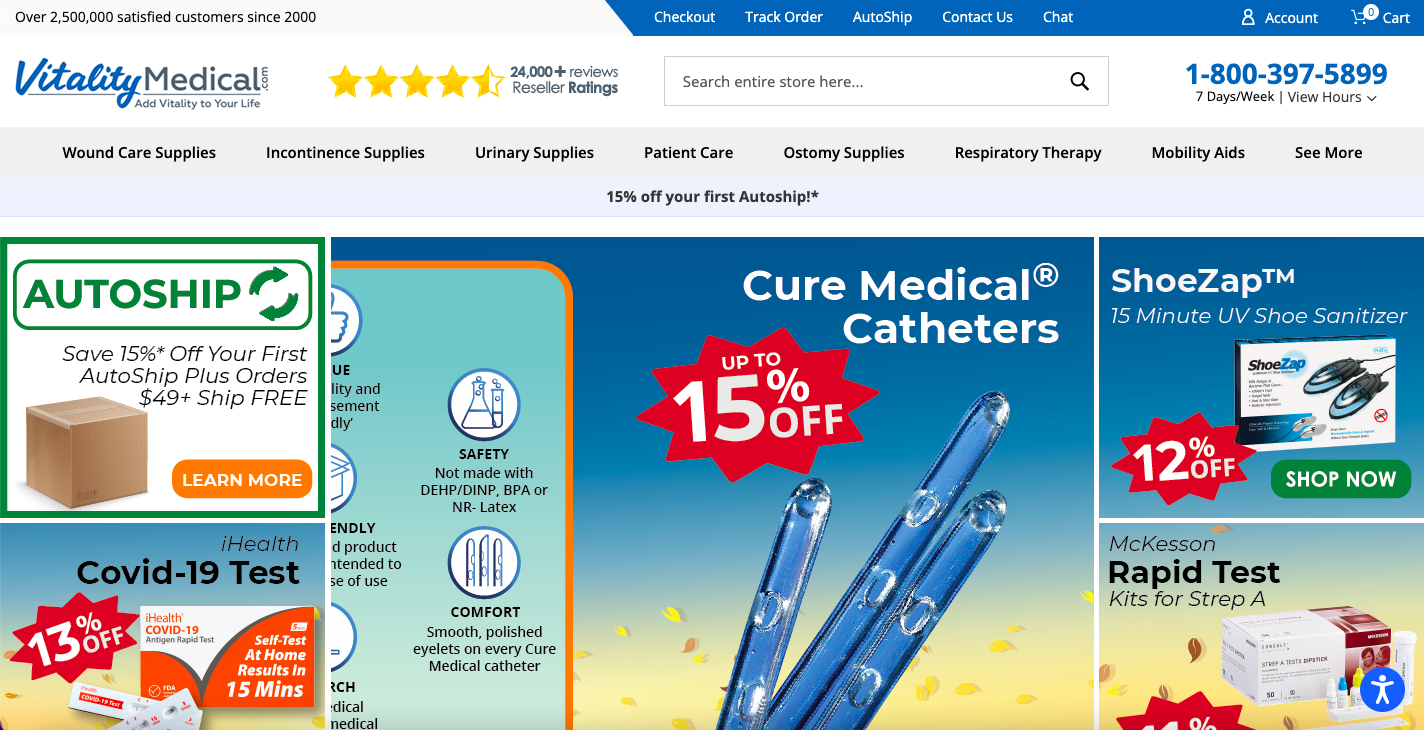 Source: Vitality Medical
The eCommerce website caters specifically to sophisticated B2B enterprises in the medical supplies industry. It is a convenient solution that optimizes efficiency and ROI while fostering and strengthening customer relationships.
4. Adoption of innovative technologies
B2B businesses can use emerging technologies, such as augmented and virtual reality, to enhance their social commerce strategies and offer unique, immersive experiences to their customers.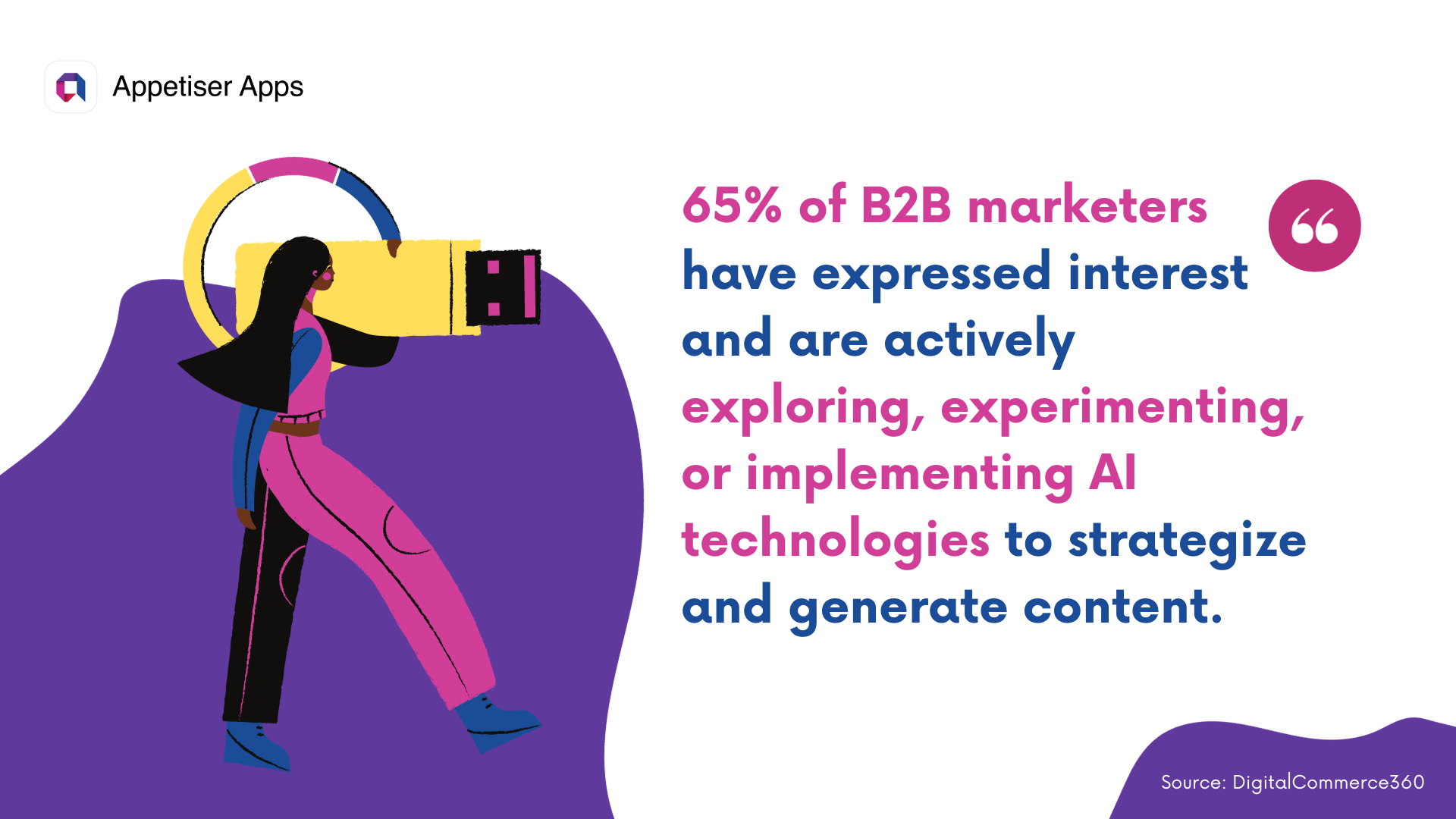 A considerable 65% of B2B marketers have expressed interest and are actively exploring, experimenting, or implementing AI technologies to strategize and generate content. Such initiatives signify a deep understanding and willingness to harness the power of AI in business.
Here are actionable pointers to consider when you implement emerging technologies:
 ✅Experiment with Internet of Things (IoT). IoT can improve inventory management, supply chain efficiency, and customer service. For example, smart shelves can automatically reorder stock when levels are low, while IoT devices can provide real-time tracking information to customers.
 ✅ Invest in Artificial Intelligence (AI). AI can be used to automate repetitive tasks, analyze customer data, and personalize the customer experience. For instance, chatbots can provide 24/7 customer service, while machine learning algorithms can offer personalized product recommendations.
 ✅ Optimize for mobile. With more B2B buyers using mobile devices for business purchases, ensuring your website and emails are mobile-friendly is a wise decision. Consider developing a mobile app to provide a more seamless shopping experience.
One company that has adopted innovative technology is GE Healthcare. It used VR technology to demonstrate its medical equipment to potential customers, allowing them to see how it works in a virtual environment before purchasing.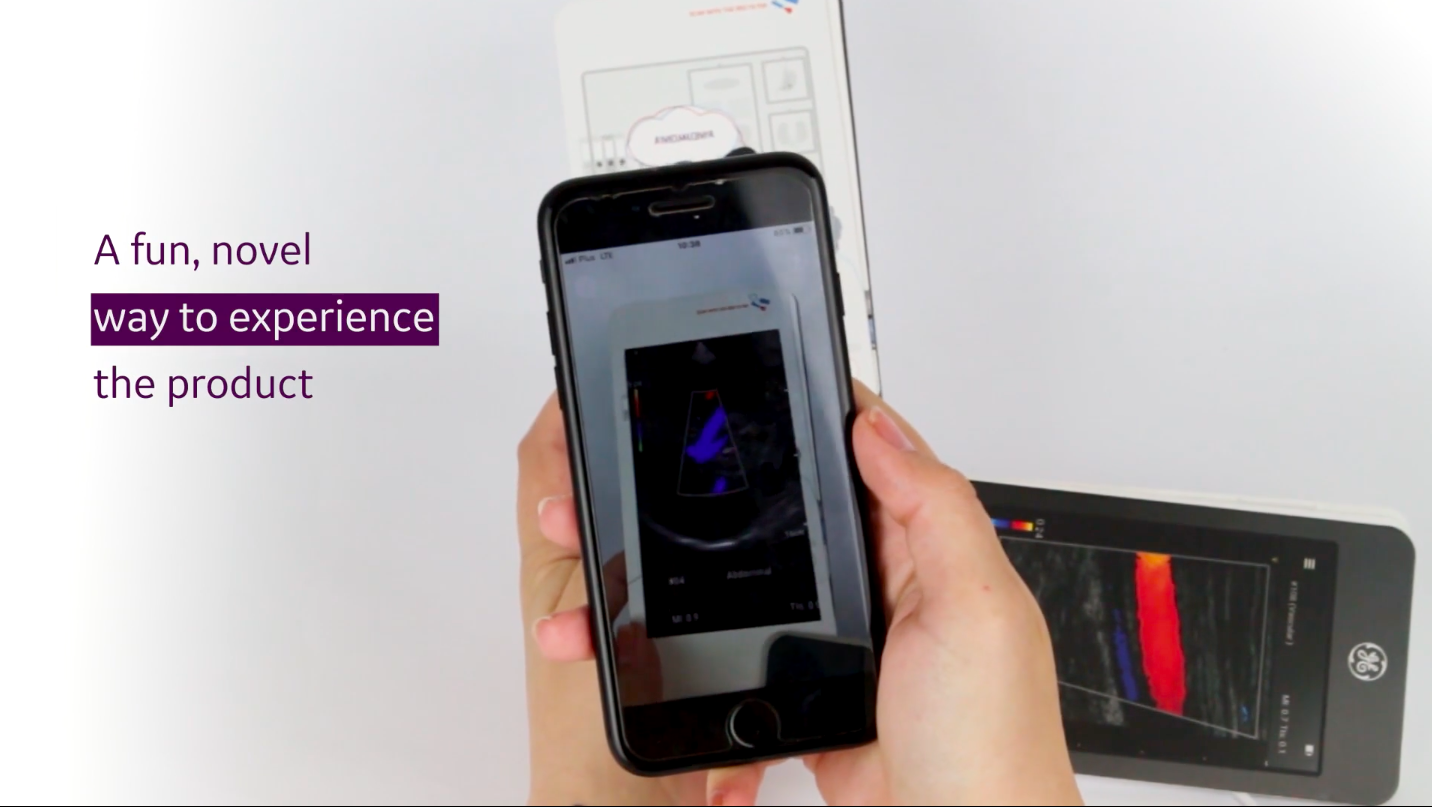 Source: Clipatize
This innovative approach has led to an increase in customer engagement and sales. GE Healthcare's virtual showroom was created in response to the limitations imposed by the pandemic on traditional medical device marketing activities.
Using VR technology, GE Healthcare has showcased its product portfolio in an immersive 3D environment, enhancing the customer experience, increasing engagement, and driving sales.
Overall, these trends, together with actionable points to implement, can help you customize your B2B marketing and sales campaigns to match your buyers' preferences.
📣 On top of these trends, we also dedicated a roundup of B2B eCommerce statistics below for supplemental information, from market size and mobile app preference to the purchasing habits of B2B buyers.
Global B2B ecommerce market size is expected to reach $18,771.4 billion by 2027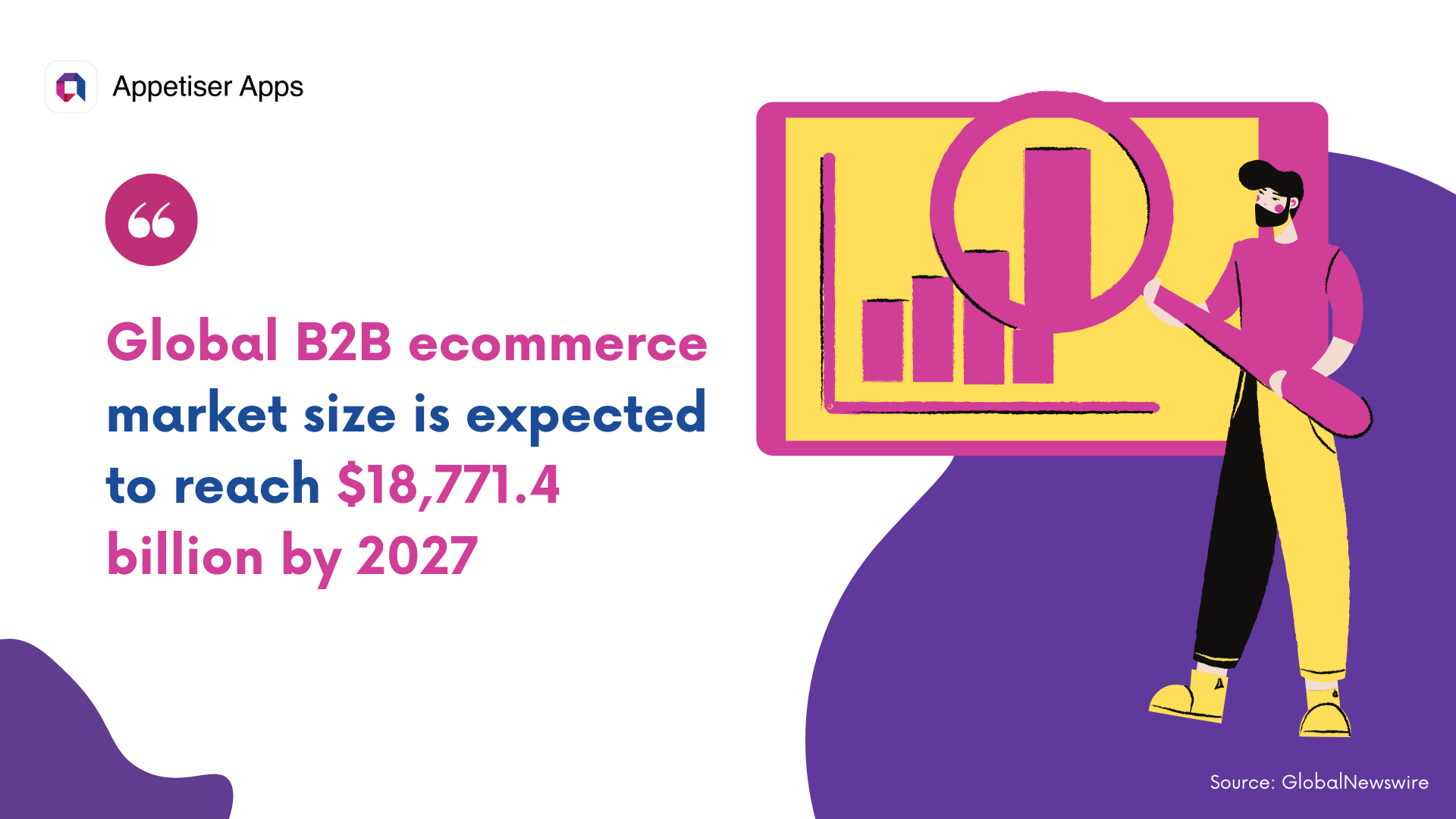 One of the most significant factors behind the global B2B eCommerce growth is the increased focus on digital experiences.
With businesses embracing digitalization, more and more B2B transactions are happening online. This shift is helping companies to cater to a broader audience and extend their reach beyond physical boundaries.
Another contributing factor propelling the growth is the rising popularity of specialized online marketplaces. These marketplaces offer a one-stop solution for buyers seeking specific products or services.
Such platforms act as intermediaries between B2B sellers and buyers, providing a conducive environment for trade.
62% of global B2B buyers want suppliers to use more smartphone apps
Wunderman Thompson's report shows that a significant percentage of buyers want their suppliers to offer a better mobile experience. What is even more revealing is that the desire for a better smartphone experience is significantly higher compared to other mobile platforms, such as tablets.
Here's the breakdown of B2B buyer's preferences:
62% smartphone apps
56% smartphone website
49% desktop or laptop
43% tablet app
43% tablet website
This trend is driven by larger organizations and teams, indicating that businesses that provide a superior mobile app experience have a clear advantage in capturing the attention of their target audience.
Furthermore, it highlights that B2B buyers are increasingly considering mobile devices and mobile apps as viable platforms for conducting business, underscoring the need for companies to adapt to the changing needs of their customers.
50% of B2B inquiries were placed on mobile devices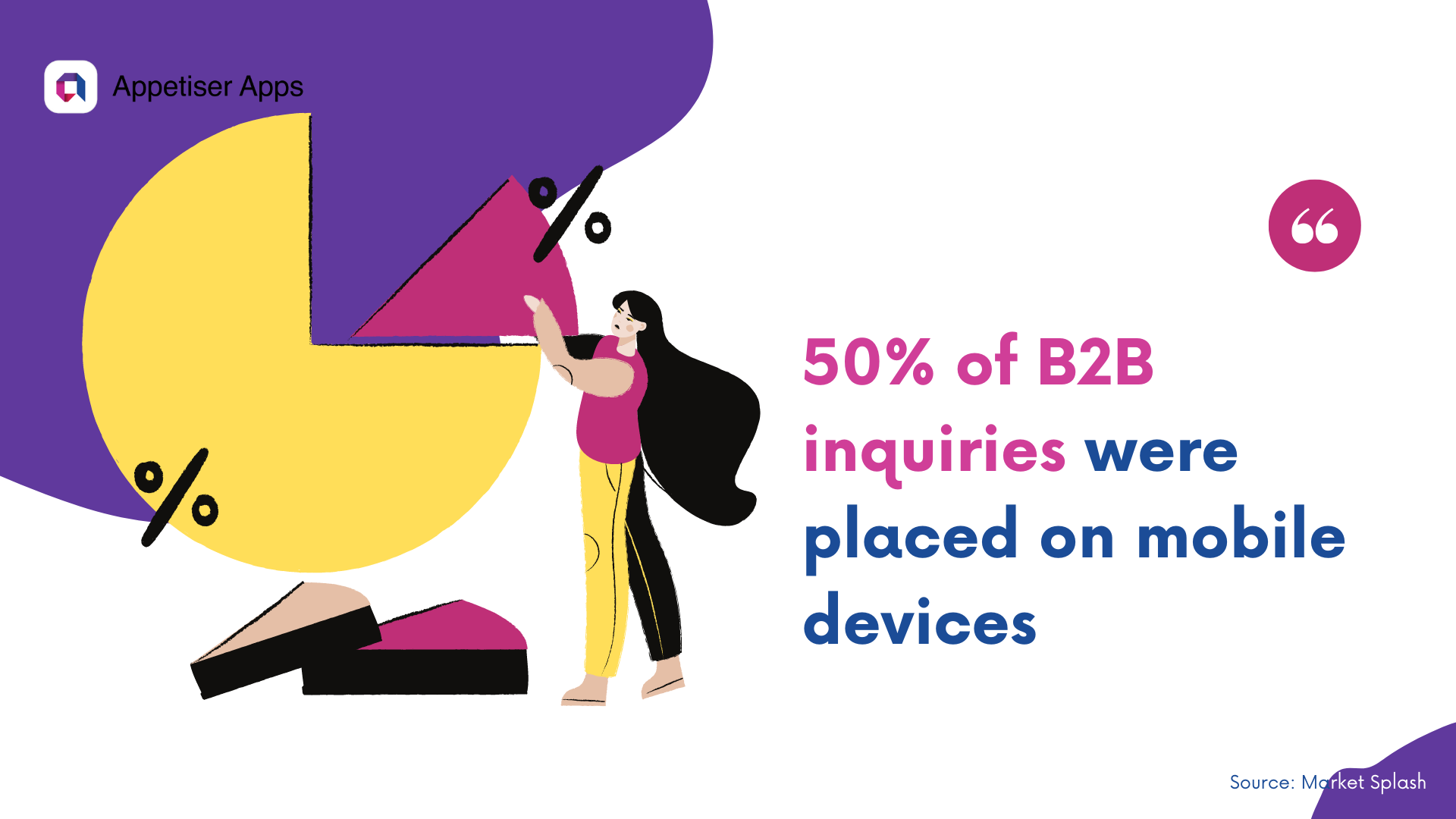 Mobile devices play a pivotal role in driving growth in the B2B sector, catering to the preferences of B2B buyers increasingly relying on mobile platforms. Research shows that 50% of B2B inquiries originated from mobile devices.
With the global mobile app market projected to reach an impressive $140 billion by 2023, B2B ecommerce brands must invest in mobile eCommerce apps to stay competitive and meet the evolving needs of their discerning customers.
For supplemental information, we have a list of the best eCommerce app development companies should you consider outsourcing app development.
In 2021, B2B online sales came from eCommerce sites and marketplaces and increased by 17.8% to $1.63 trillion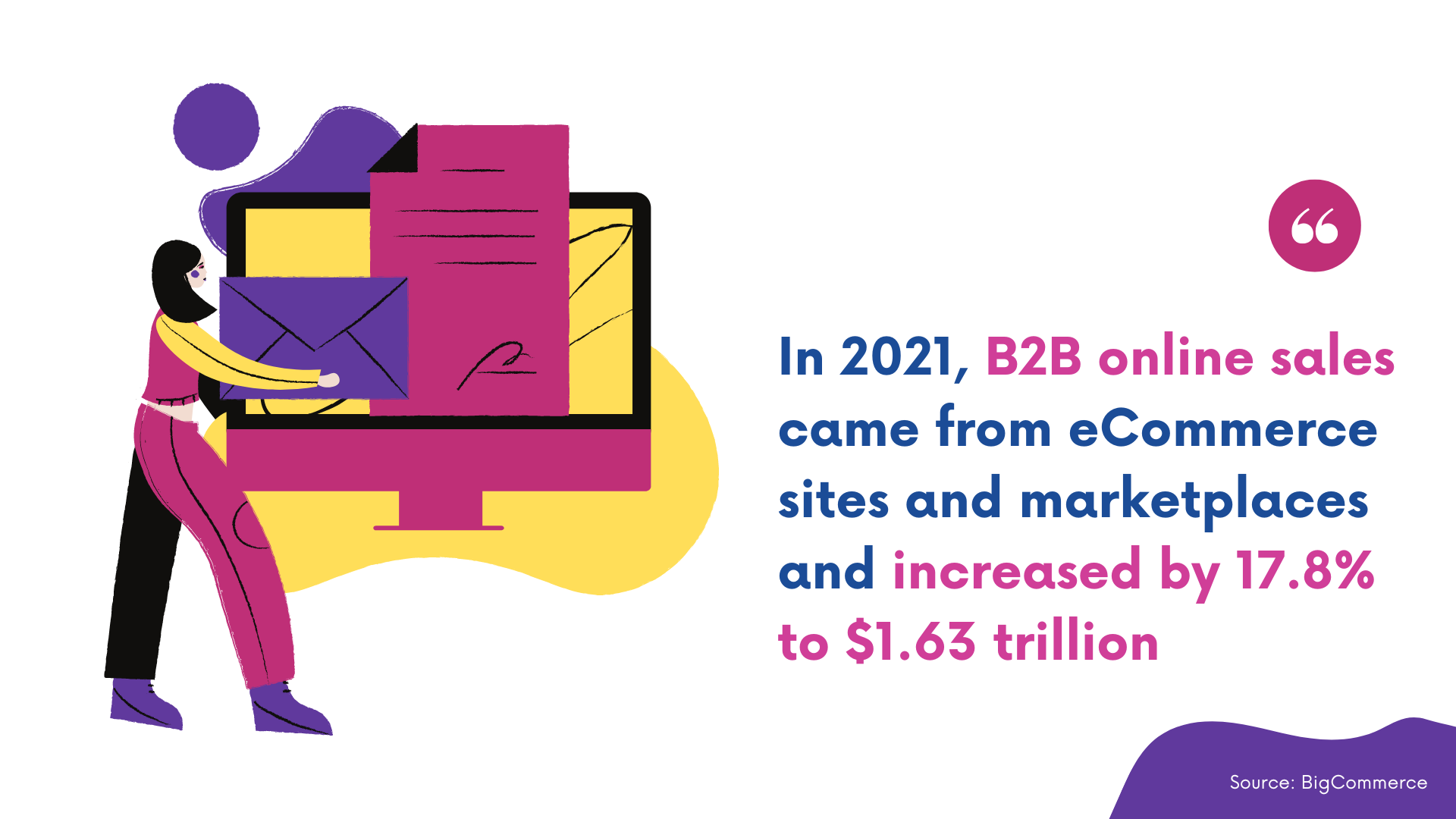 eCommerce is no longer just a passing trend that 65% of B2B companies in different sectors prefer to transact online.
Additionally, B2Bs are more likely to prioritize online transactions over traditional in-person sales. This shift reflects the changing landscape of the B2B sector and the growing importance of online channels like eCommerce websites and mobile apps.
B2B ecommerce sales are projected to reach $1.8 trillion in 2023, accounting for 17% of all B2B sales in the United States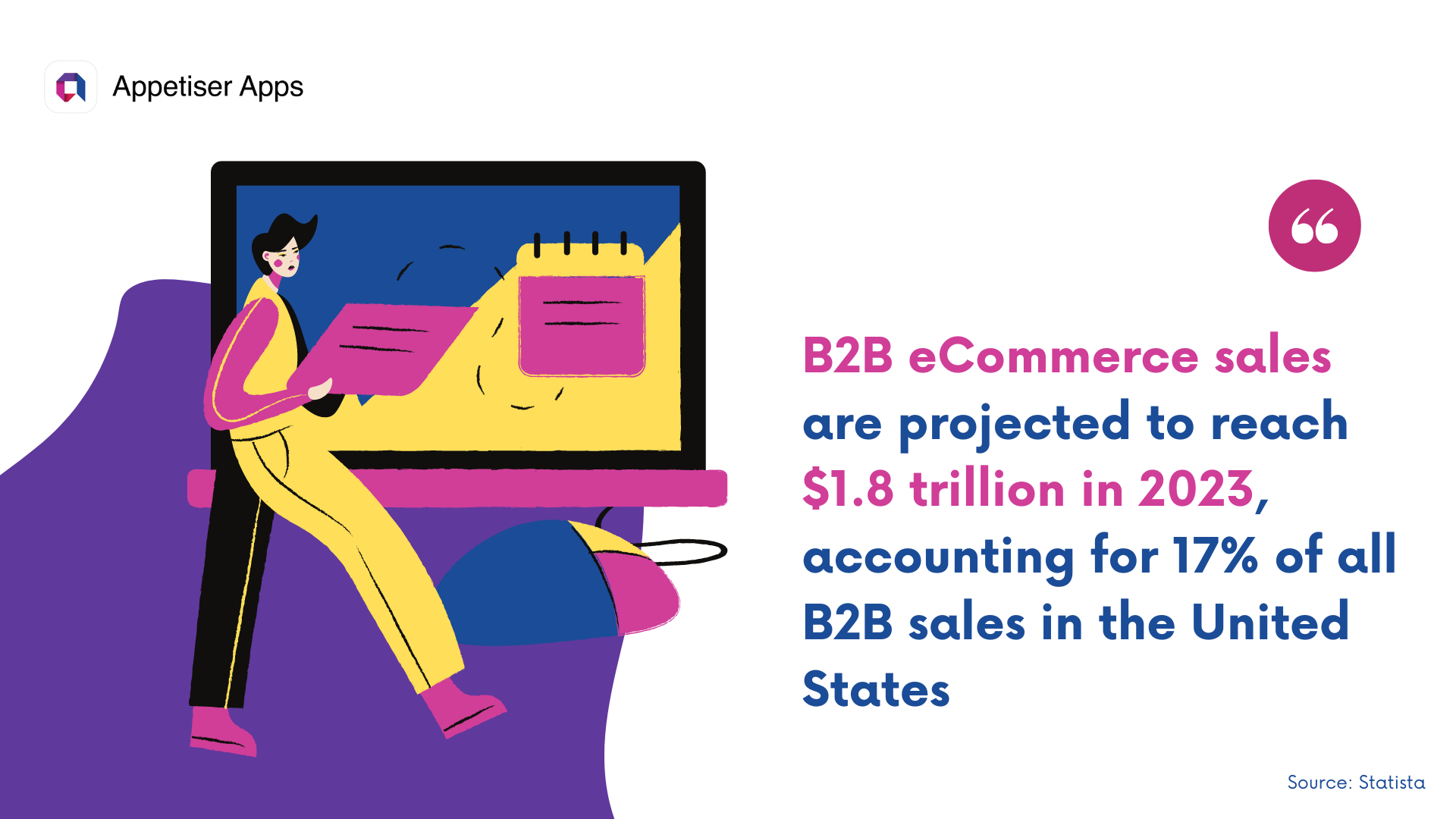 The pandemic has only accelerated the preference towards digital commerce, making it the go-to channel for researching products before purchasing.
In fact, 74% of B2B buyers conduct their research online, and 67% make purchases digitally, according to Forrester. But other channels are also valuable in B2B commerce, like email, telephone, store visits, and face-to-face meetings of representatives, which all form part of a practical omnichannel experience.
53% of B2B sellers want to accept more electronic payment methods

B2B companies exploring international markets must understand the challenges and opportunities in cross-border payments. In analyzing invoices received from B2B organizations, a significant trend in payment methods emerges:
Credit card payments account for 21% of total transactions.
Local bank transfers or ACH payments constitute 12% of total transactions.
Wire transfers make up 13% of total transactions.
For successful cross-border payments, businesses must embrace technology and modernize their legacy systems and outdated payment methods. According to a Payments Journal's survey, 95% of B2B executives recognize the importance of investing in AR automation and digital payment technologies to thrive in the marketplace.
52% of B2B leaders see the value of personalization in marketing strategies

Personalization isn't an option, nor it's a "nice to have" in B2B marketing strategies — it's indispensable for B2B leaders to create personalized interactions by delivering the right message at the right time and people.
B2B market leaders will prioritize investing in content marketing and personalization technologies like customer relationship management (CRM) systems and customer experience automation platforms.
Elevate B2B online strategies with bespoke eCommerce solutions
B2B eCommerce statistics for 2023 and beyond show the limitless opportunities for companies.
The numbers don't lie — Forrester's research shows that 74% of B2B buyers conduct their research online, and 67% purchase digitally.
These figures testify to the growing importance of digital transformation in the B2B sector and highlight the urgent need for brands to embrace cutting-edge tools and technologies to thrive in a competitive landscape.
Investing in digital transformation efforts like having a B2B ecommerce app is an excellent place to get started.
Mobile commerce is the future, and B2B buyers are looking for personalized shopping experiences that only bespoke eCommerce apps can deliver.
For B2B eCommerce customization features to come to life, you need to work with the right partner who can help you navigate through the entire development process.
Investing in world-class app development is one of the best ways for B2B companies to replicate the B2C online shopping experience that most buyers demand.
Our clients include some of the most successful brands in the world, such as MyDeal and Youfoodz — all chose us because of our ability to hit tight timelines and deliver exceptional results.
But it's not just about hitting deadlines and delivering results. At Appetiser, we understand the actual value of a high-performing B2B eCommerce app — that's polished, reliable, and built to win.
We have witnessed our clients' successful journeys, and we can't wait to replicate the process with your brand.
So, if you're ready to take your growth strategy to the next level, contact us for a free consultation.
Let's unlock the full potential of your business.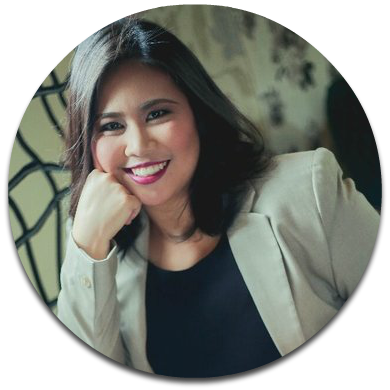 Maria Krisette Lim is a Content Marketing Specialist at Appetiser Apps. She has more than 12 years experience in producing content on the web and print ads. Krisette has a BSBA degree major in Business Management and Entrepreneurship. When she's not tinkering with words and punctuation, she's either curled up with a book while sipping hot tea, playing with her toddler or tinkering website builders.
Dominate the App Store.
Get the latest industry news first.