5 Powerful Mobile App User Acquisition Strategies You Can Practically Do Free
In today's mobile-first world, ensuring your app is visible to as many potential users as possible is more important than ever.
But as the mobile app landscape becomes increasingly competitive, acquiring new users has become just as expensive.
The price of a single ad click can vary anywhere from a few cents to $20, depending on your industry and the budget you set.
And if you're like most app startups, these figures are likely beyond your shoestring budget.
Fortunately, paid advertising isn't the only effective app marketing strategy you can employ. With a little creativity and elbow grease, you can acquire new users without breaking the bank.
Want to know how?
Continue reading this article to discover some effective mobile user acquisition hacks for startups.
What is mobile user acquisition?
Mobile app user acquisition is the process of attracting and converting users to download and use a mobile app. The goal is to drive more traffic to your app and convert that traffic into users. There are various ways to do this, so it's important to figure out what works best for your target users.
5 Free Mobile App User Acquisition Ideas to Build Up Your Business
At Appetiser, we're fond of working with startups with exciting visions and aspire to make an impact with technology. We've helped numerous apps grow from zero to multi-million dollars with users worldwide — and we'd love to see the same happen for your mobile app!
Below are some mobile user acquisition strategies that have empowered our startup partners to gain valuable users. Keep them in mind as you plan your user acquisition campaigns to boost mobile growth and success.
#1 Optimize app store pages
One effective way to acquire new users for your app is to ensure that your app's page in the Apple App Store or Google Play Store is as optimized as possible. This process is known as app store optimization (ASO).
ASO works similarly to search engine optimization (SEO) for websites. Just as businesses try to rank high on Google's search engine results pages (SERPs), mobile app developers strive to rank high on app stores' results pages.
The higher the app store ranking, the greater the chance of app downloads.
Optimizing your app store page can significantly increase your chances of acquiring new users for your iOS or Android app.
But how do you optimize an app store page?
Here are some best practices we've tested with and have worked for many of our partners:
Make your title keyword rich and descriptive. This means using the right keywords so that your app shows up when potential customers search for something related to your product or service.
Add keyword-rich metadata to your description. Include an enticing description and high-quality screenshots so potential users can understand what your app is all about.
Use high-quality visuals. Show off your app's best features using clear, engaging screenshots and videos. According to the book, "Brain Rules," we remember 10% of the information we heard three days earlier; we remember 65% if visuals were present.
Strive for positive reviews and ratings. Research shows that 93% of consumers read online reviews before purchasing. Reviews and ratings also affect app rankings in the Apple App Store.
But how do you encourage users to leave positive reviews for your app?
You can try many ways, but the best and most effective is ensuring your app delivers a great user experience.
In other words, you should design to inspire app usage.
#2 Implement best SEO practices
If you want people to find your app online, you must ensure you're implementing the best SEO practices. But with so many different ranking factors and ever-changing algorithms, it can be difficult to know where to start.
If you're looking to improve your mobile user acquisition, here are a few best practices our app developers often advise our partners:
Make sure your website is technically sound. This means having a crash-free, responsive design that scales to fit any screen size. Search engines favor websites that load quickly and are free of glitches since they are easier to crawl.
Design a rich user experience. Search engines no longer rank sites based solely on keywords. To improve visibility in search results, design your site to meet your audience's search intent. This means ensuring all elements, from navigation and headers to buttons and content structure, are utilized effectively to create a frictionless experience.
Focus on creating high-quality content. Avoid stuffing keywords into your content just for the sake of it. Remember, all search engines aim to provide users with the best answer to their questions. Creating high-quality pieces will help users find your content and increase organic traffic.
Don't forget about link building. Link building is one of the most important ranking factors for mobile search, so reach out to other websites in your industry and try to guest blog or get featured on their site. This will help improve your SEO and increase mobile users' traffic.
#3 Utilize social media channels
With 59.3% of the global population using social media, leveraging the platform is a great way to spread the word about your app and attract new users. Social media networks also offer opportunities to build relationships with potential users and create a community around your app.
There are several ways to promote apps on social media. Among those proven most effective by our mobile app development partners are the following:
Create informative content. This can be done through blog posts, infographics, videos, or even helpful tweets or Facebook posts. The key is to ensure that your content is interesting and useful, so people will want to learn more about your app and be encouraged to share your post simultaneously.
Add engaging visuals. People are more likely to pay attention to a post that includes an eye-catching image or video. Make sure your visuals are high quality and relevant to your brand.
Use hashtags. Hashtags can help you reach a wider audience by making your content discoverable. When using hashtags, be strategic and use ones that are relevant to your business and have low competition.
Post regularly. Consistency is key when promoting on social media. Posting regularly will keep your audience engaged and more likely to remember your brand when they need your products or services.
Run contests and giveaways. Everyone loves a good competition or giveaway, so this is a great way to drum up interest in your business. Just make sure the prize is something that would interest your target audience.
#4 Invite loyal customers to refer your app
Word-of-mouth will always be one of the most powerful forms of mobile user acquisition. A great deal of research has found word-of-mouth marketing to be the most effective way of promoting any services or products, including mobile apps.
Have a look at the following data:

Source: Engenius
Dominate the App Store.
Get the latest industry news first.
Indeed, word-of-mouth marketing will always be in style.
Speaking of style, you should also check out our article on the 6 Biggest Mobile Marketing Trends That Will Continue in 2023. You'll surely pick up some valuable insights for promoting your app.
In the meantime, let's discuss a few ways you can encourage your loyal users to promote your app:
Make sharing your app easy. You can do this by adding a built-in social sharing feature on your mobile app. Another option is to include a link on your website, directing app users to the referral program.
Utilize email and social media. You may also email blast or create a social media campaign with a unique referral code or link. Make sure to use captivating images and compelling copy to grab attention and encourage people to click through to your referral page.
Offer incentives. Keep an eye on who's referring the most people. To thank them for their loyalty, offer an incentive for every successful referral. This will encourage users to refer and stick around longer.
With a bit of creativity, you can tap into the power of your most loyal customers to acquire more users without overshooting your budget.
#5 Feature user-generated content
Another effective yet pocket-friendly way to acquire mobile users is to feature user-generated content (UGC) on your website or social media.
UGC is any content created and published by users on mobile devices rather than by professionals or brands. This could be a review, a video testimonial, or even a post with photos of people using your mobile app.
The great thing about user-generated content is that it's highly trusted. After all, it's coming from a real person and not a paid advertisement. Therefore, it's often seen as independent and objective.
Additionally, UGC allows users to feel like they are part of a community. And when app users feel like they are part of a community, they are more likely to stick around.
There are a few things to keep in mind when featuring UGC:
Secure the rights to use the content. Before using UGC for promotional purposes, obtain permission from the content creator. This is to avoid legal complications and ensure a hassle-free app marketing campaign.
Curate the content carefully. This means picking the best pieces of user-generated content to feature prominently on your promotional materials. It also involves choosing the most appropriate channels to showcase user-generated content.
Give credit to the original creator. Not only is it the right thing to do, but it also helps build goodwill among potential users. After all, if you're happy to give credit to the people who help promote your app, users are more likely to trust and download your app.
One example of a brand that effectively uses UGC for app marketing is Airbnb.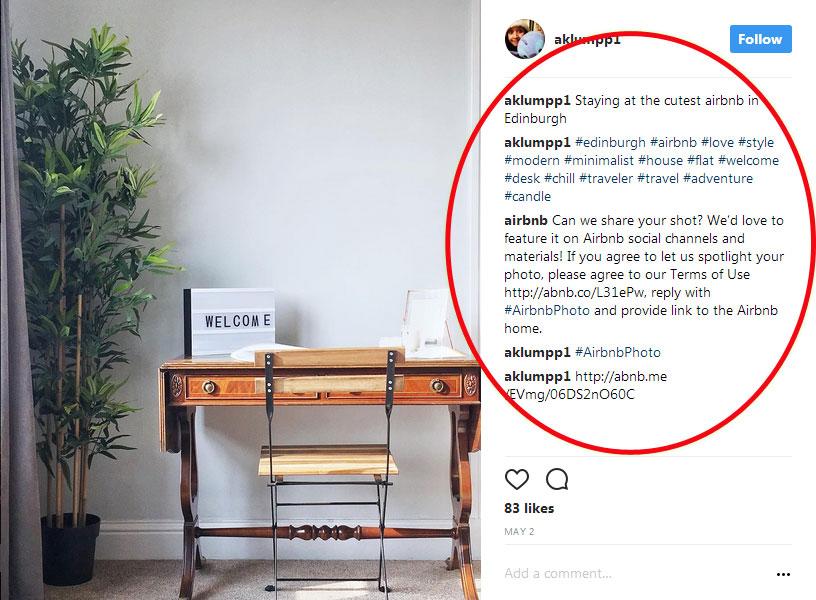 Source: Social Samosa
The vacation rental company encourages users to share photos and trip experiences on social media using the hashtag #Airbnb. This helps to generate buzz around the brand and drive traffic to the Airbnb mobile website.
Mobile app metrics startups should track
Part of ensuring a successful mobile user acquisition strategy is keeping tabs on your app's performance. To make sound decisions, pay attention to the following key metrics:
📱 Cost per acquisition (CPA)
To gauge how effectively you're able to acquire new mobile users, you must calculate your cost per acquisition (CPA) or how much you spend to acquire new users. Calculating CPA follows this straightforward formula:
CPA = Total user acquisition cost per channel / Number of new app installs in a given timeframe
📱 Engagement rate. This metric measures how often users interact with your mobile app. It indicates how interested users are in what your app has to offer. To gauge user engagement, you need to track the following:
Daily Active Users (DAU) and Monthly Active Users (MAU): How many use your mobile app daily and monthly
Average Session Length & Frequency: How often and long app users interact with your mobile app
📱 Churn rate. App churn rate is the percentage of users who stop using your mobile app within a given period. This metric gives you insight into how well your app is in keeping users. Here's the simplest way to calculate your app churn rate:
Churn rate = Total app uninstalls on a specific timeframe / Total app installs at the start of the specified timeframe
📱 Retention rate. App retention indicates users' continued use of your mobile product or service. It reflects your mobile app's ability to keep users interested over time. Calculating app retention can be done using any of the following formulas:
Aggregate retention rate = Total monthly active users / Total app installs
Retention rate for cohort = Total users retained at the end of a given timeframe / Total app installs at the start of a given timeframe
The key to a solid user acquisition strategy
Like most things in the ever-changing world of app marketing, user acquisition is an ongoing process. Therefore, the key to an effective user acquisition strategy is consistency.
While some user acquisition hacks I've mentioned may be more effective than others, they all require ongoing effort and attention to produce results. So, don't be discouraged if you don't see positive impacts immediately.
Continue to measure crucial mobile app metrics and pivot strategies accordingly. As long as you're consistent with your efforts, you should start seeing a difference in your app's popularity and engagement levels.
You may also check out an article written by one of our founders for a comprehensive, step-by-step guide to promoting your app before and after launch.
Happy marketing!
And if you're ever looking to start or re-vamp your mobile app business, hit us up, and let's chat!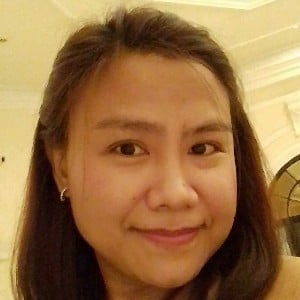 Jane Eslabra is a Content Marketing Specialist at Appetiser Apps. She has 14+ years of experience producing traditional and digital content. When she's not busy being a wordsmith, she's out swimming, taking a long walk, or trying new activities that will keep her eyes away from the screen and her body moving.
Dominate the App Store.
Get the latest industry news first.