Mobile Ecommerce Statistics: Usage, Revenue, Growth, and Trends
Our smartphones have become indispensable in daily tasks.
From buying groceries to booking a flight, all these are swiftly done with just a few swipes on mobile devices. But have you ever thought how mobile eCommerce started?
Interestingly, in 1997, mobile-commerce services started with Coca-Cola vending machines in Helsinki. What's special about them? They accepted mobile payments via SMS text message.
From a simple SMS transaction, consumers now use smartphones to buy items, making mobile eCommerce worth $2.2 trillion in a span of more than two decades.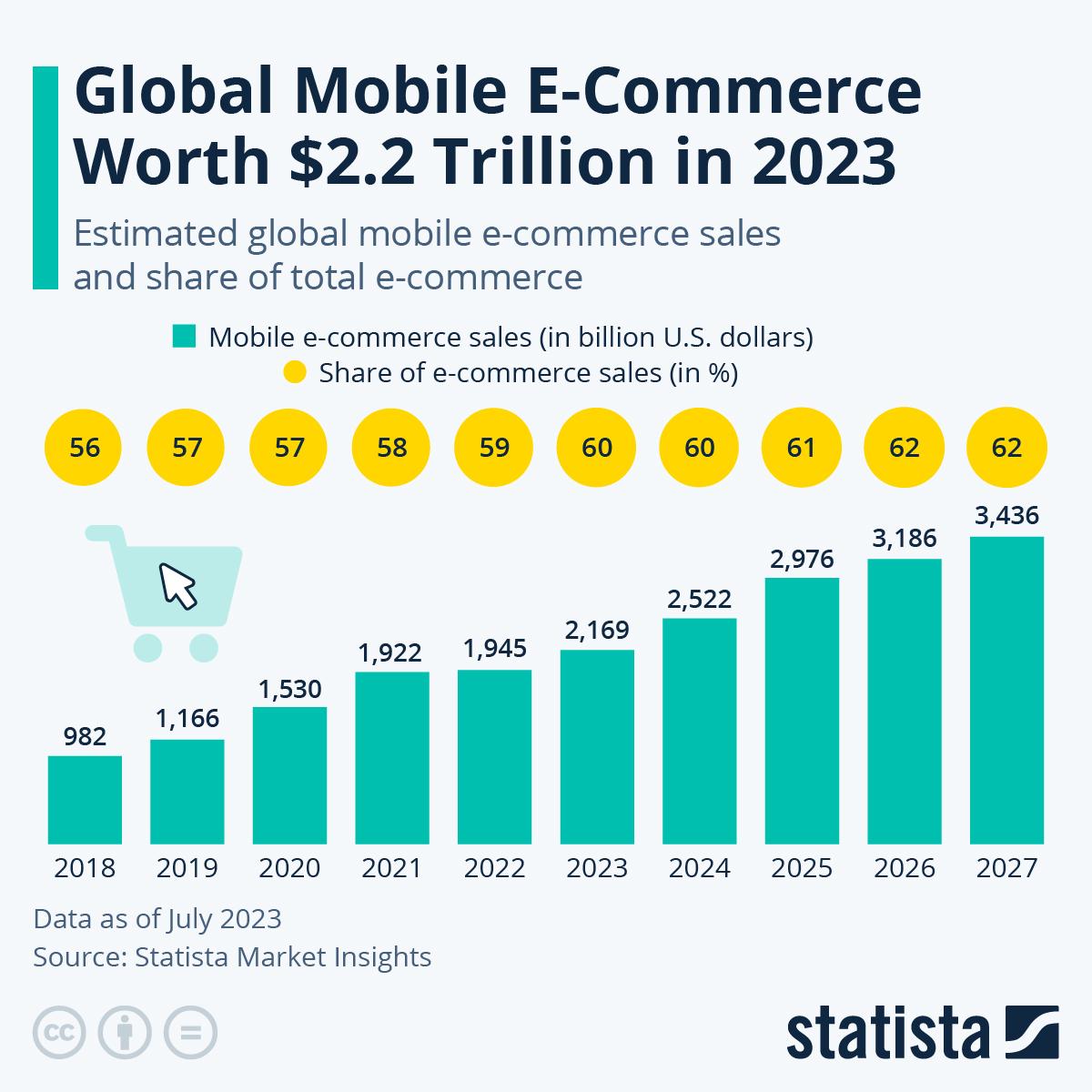 Source: Statista
Having worked with companies that have grown from 0 to multimillion dollars, we understand how important it is to provide stellar customer experience with mobile apps.
So, we have prepared this article and looked at some of the most relevant figures that enable brands and merchants to better understand what makes their customers tick for maximum app ROI from marketing strategies.
Mobile commerce sales were expected to grow to $511.8 billion in 2023, $604.5 billion in 2024, and reach $728.28 billion by 2025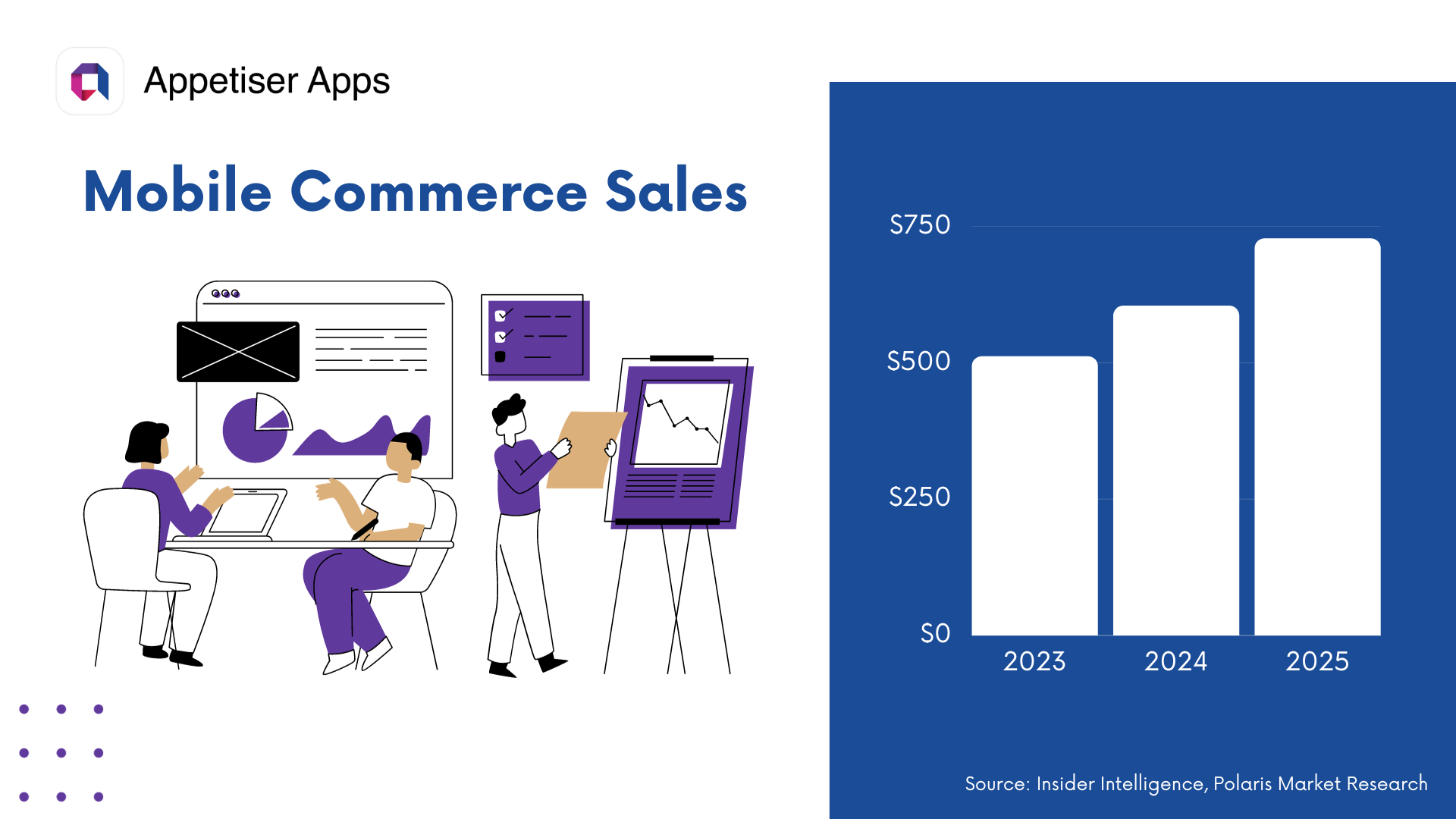 This staggering growth can be attributed to several factors, including digital innovations in apps and enhancements of mobile technologies like 5G networks, which offer faster data transmissions compared to 4G.
With faster internet speeds and better mobile devices, online shoppers find it easier to shop online using their smartphones and tablets. As such, they can purchase products and services on a mobile device from the comfort of their couch or while on the go.
8% of retail purchases will take place on mobile devices in 2023 and will increase to 10% by 2025.
While the pandemic has primarily driven the shift towards m-commerce, the improved shopping experience, widespread adoption of click-and-collect, and overall convenience of mobile shopping, like payments on mobile wallets, are all factors that will likely increase more mobile eCommerce around for the long haul.
Retailers who prioritize product-led growth strategies and commit to providing an exceptional mobile shopping experience stand to benefit significantly from this trend. Should you consider developing a retail app, this is an exceptional investment for exponential growth like how MyDeal went public using our mobile app, valuing the company at an impressive $350 million.
85% of US adults own a smartphone, 53% own a tablet in 2021, and smartphone penetration is expected to reach 87.08% by 2025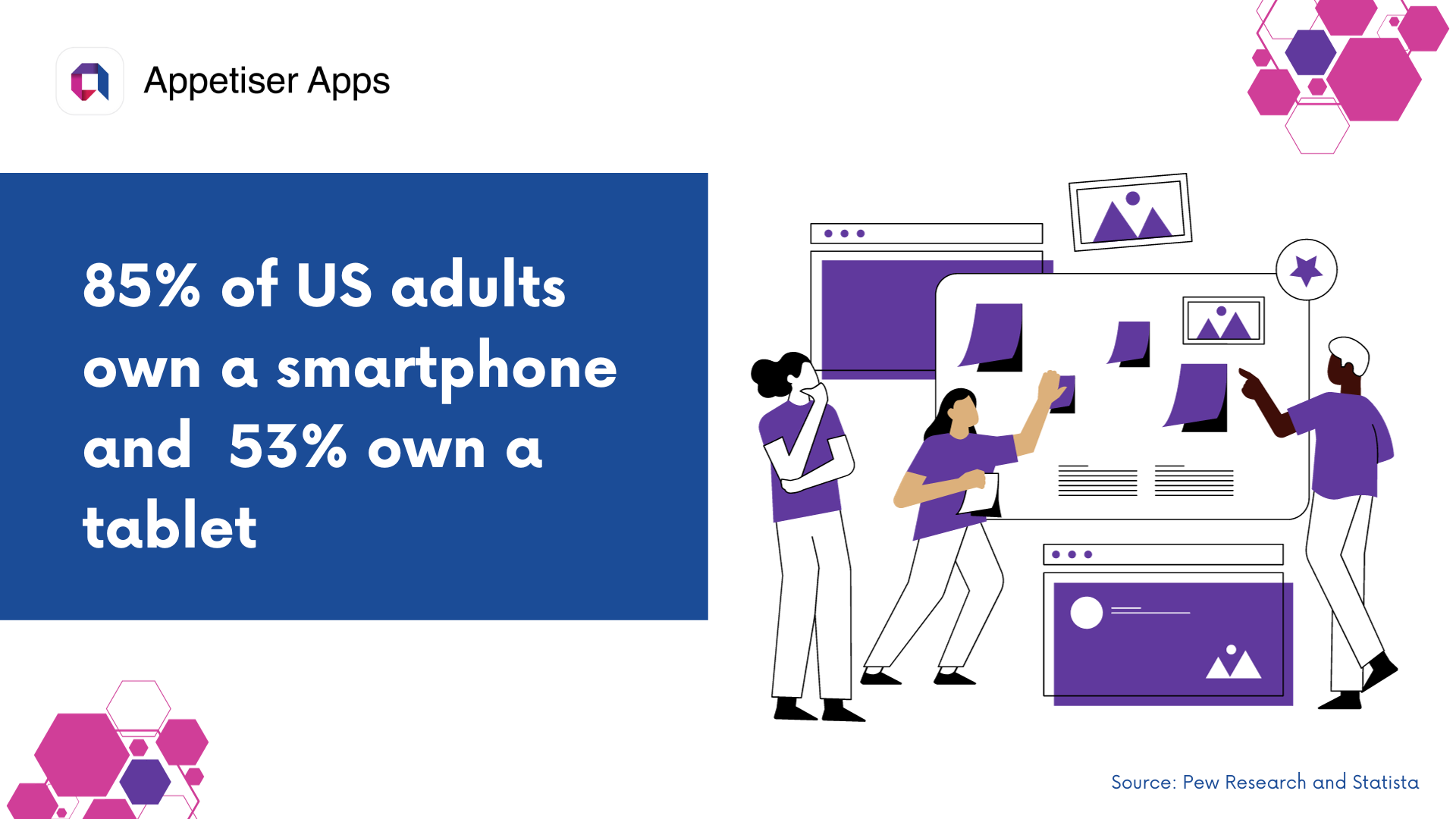 More and more people are using their phones to browse the web, shop via online store, and connect with friends and family on social media platforms.
The prevalence of smartphone usage as the primary mode of online access at home has consistently decreased in recent years. Approximately 15% of American adults are categorized as "smartphone-only" internet users, implying that they possess smartphones but lack conventional home broadband services.
An estimated 307 million users, roughly 92% of the U.S. population, are smartphone users in 2022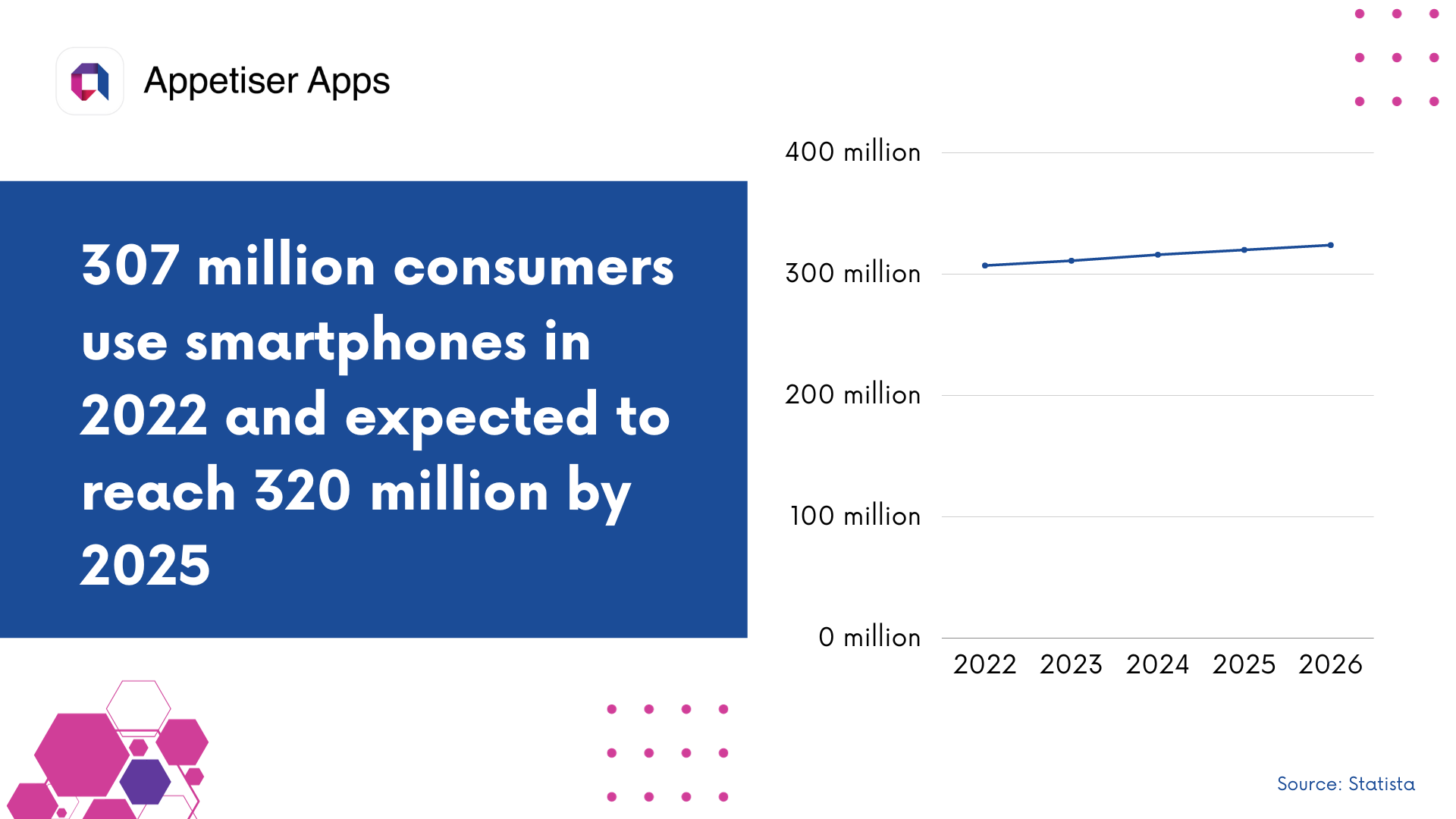 Mobile phone penetration is increasing steadily, with more mobile users relying on their phones more than ever. In 2023, it's projected to reach 311 million users and, by 2025, to reach 320 million users.
The United States leads the world in smartphone technology adoption, with Samsung and Apple emerging as the top brands, leaving competitors far behind. The extensive media coverage of these brands highlights their dominance.
In terms of operating systems, Google's Android and Apple's iOS reign supreme, capturing the majority of market share in the smartphone industry. Both Android and iOS have established their distinct positions, prioritizing user-friendly app interfaces.
38% of men expect their mobile shopping will increase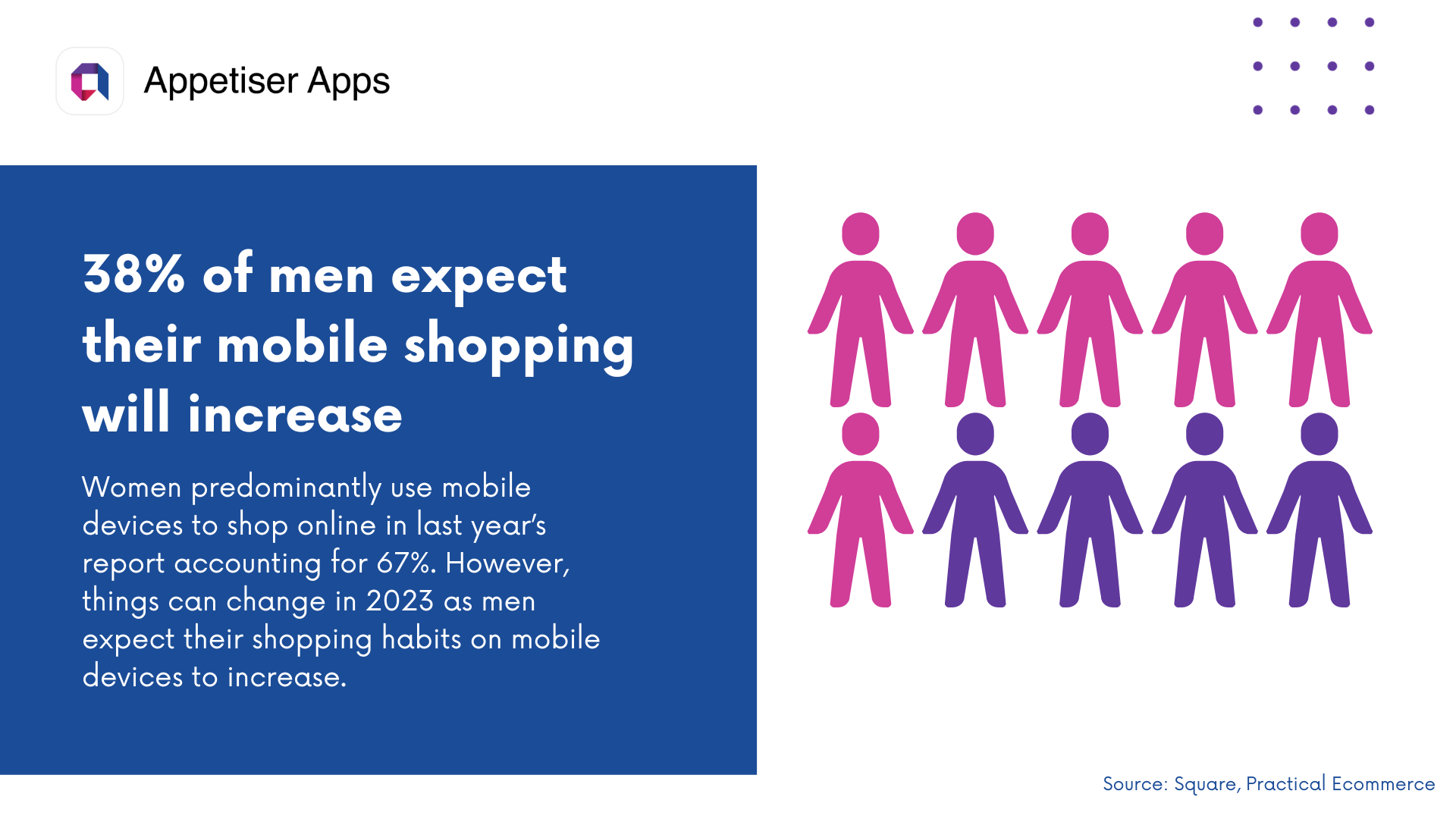 Women predominantly use mobile devices to shop online in last year's report, accounting for 67%. However, things can change in 2023 as men expect their shopping habits on mobile devices to increase. This data suggests a potential shift in mobile shopping behavior between genders.
Mobile shopping is becoming increasingly convenient and easy, attracting more men to shop on smartphones. This shift in behavior is also linked to a study, which indicates that men are typically more goal-oriented with online purchases.
Men diligently examine every aspect and visual element on the landing page, like viewing product descriptions, specifications, and images and conducting thorough research. Conversely, women scan the product page, moving on to the next product of interest.
60.66% of online traffic came from mobile phones, 39.34% from desktops and tablets in 2022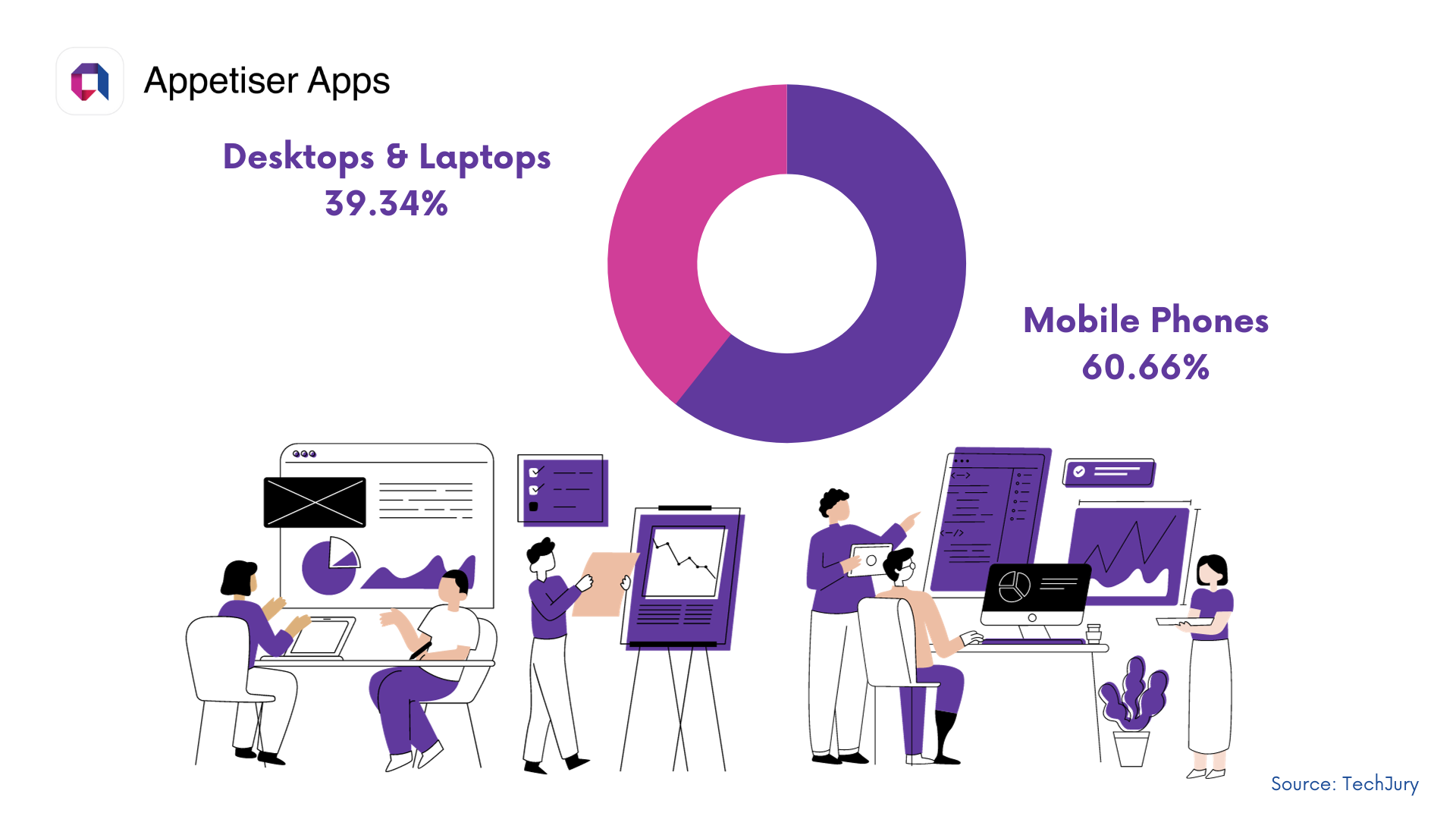 This establishes the staggering dominance of mobile phones as a significant source of mobile website online traffic. Furthermore, it is essential to note that mobile phones have come a long way from just being a device to make calls and messages.
Smartphones possess every conceivable feature that one could imagine — from mobile commerce to social media, entertainment to education, and much more. This has made them a go-to device for browsing the internet.
By contrast, desktops and tablets are now more often used for specialized purposes, such as graphic design, gaming, video editing, and other professional activities. That said, desktops and tablets will still be crucial in generating online traffic, especially regarding business-to-business transactions.
79% of smartphone users have used mobile devices to make a purchase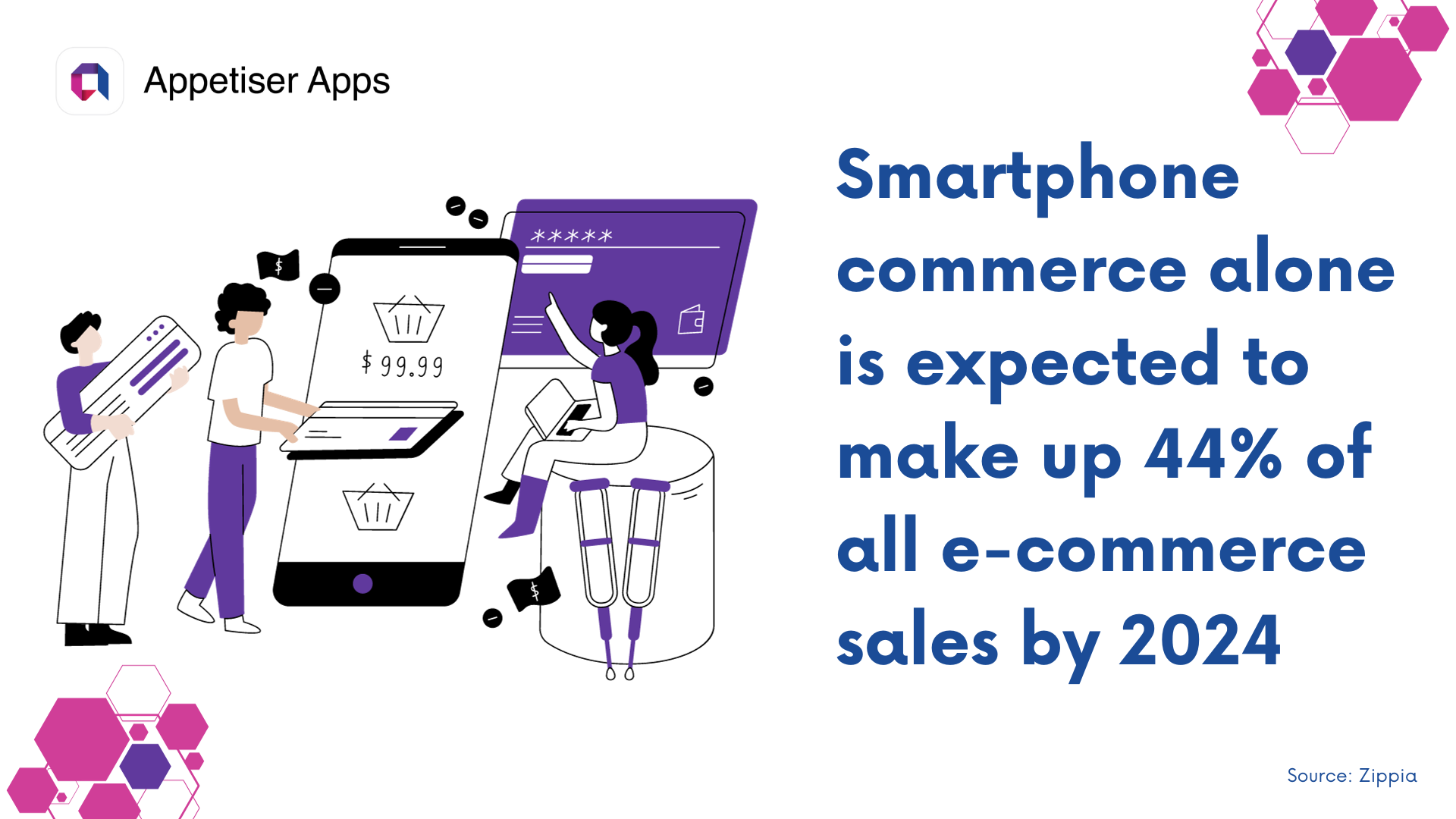 The growing reliance of consumers on mobile devices for shopping highlights the crucial need for retailers and online marketplaces to establish user-friendly and visually appealing experiences on their web apps and mobile apps.
Ensuring seamless navigation and captivating UX designs will ultimately drive customer satisfaction and enhance sales performance in this mobile-driven era.
Smartphone commerce alone is expected to make up 44% of all e-commerce sales by 2024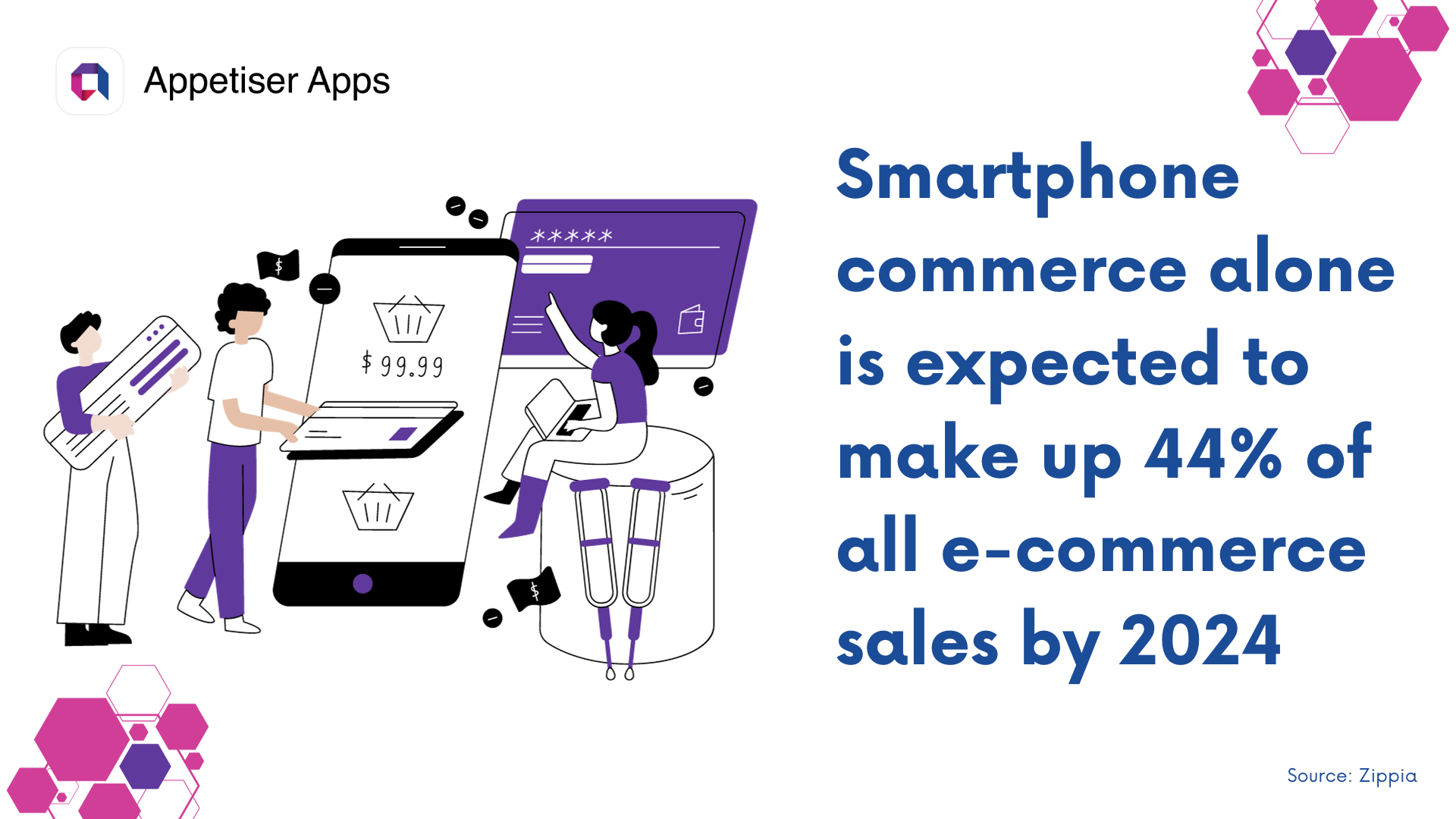 Dominate the App Store.
Get the latest industry news first.
Customers are looking for simple, hassle-free shopping experiences that fit into their busy lives, and the smartphone provides just that.
Offering instant access to thousands of products and services and the ability to pay on mobile wallets like Google Pay and Apple Pay, smartphone commerce brings undeniable ease and efficiency.
So what does this mean for businesses? If you're not already investing in a shopping app, now is the time to start. Whether you're a mom-and-pop shop or a massive multinational corporation, mobile commerce is no longer optional — it's a necessity.
Ultra-responsive mobile site design is a trend in 2023 and beyond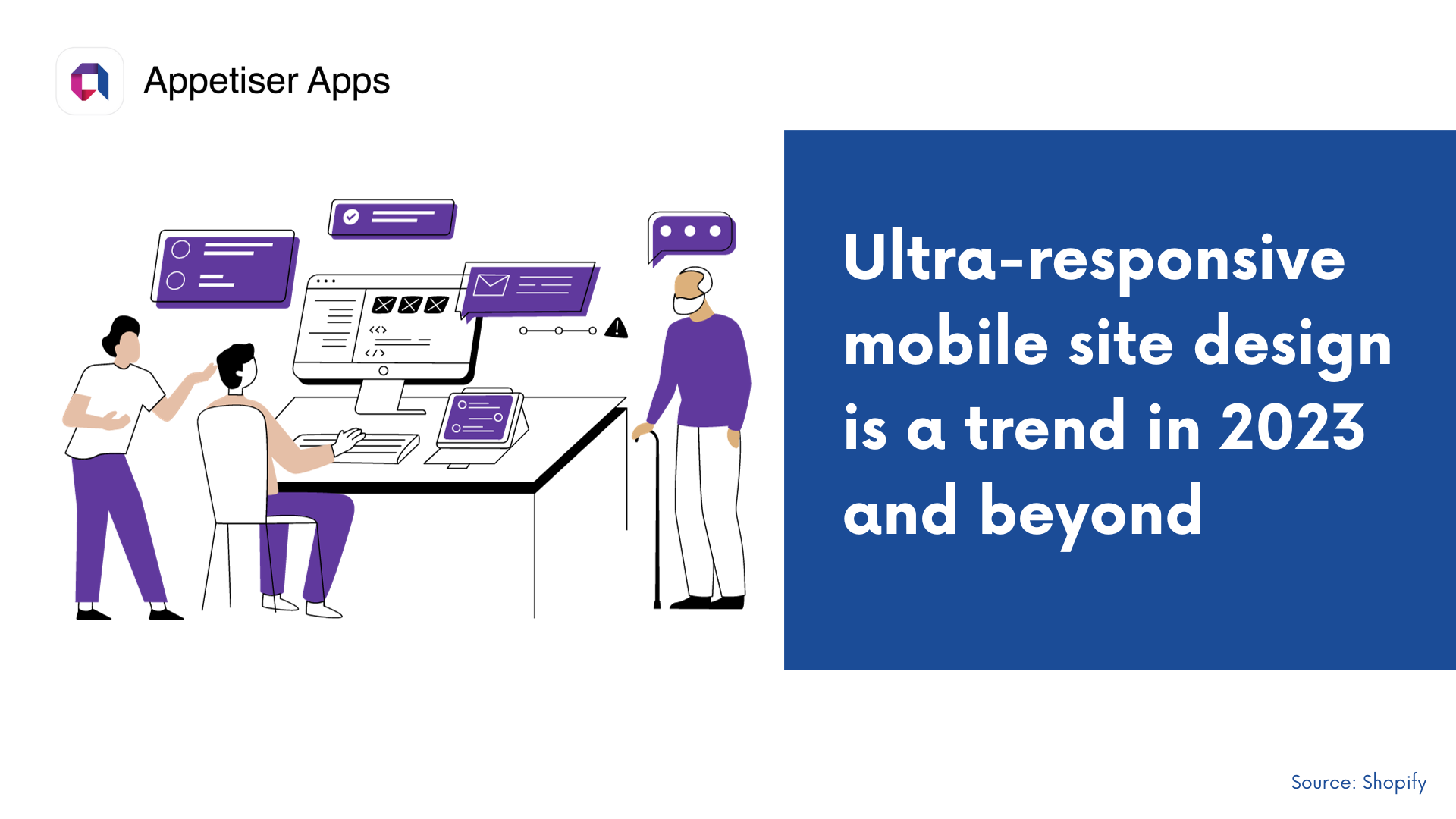 When it comes to mobile site design trends in the future, ultra-responsiveness is taking center stage. With more and more people using their smartphones and tablets to access the internet, it only makes sense that website developers and designers focus on creating websites optimized for mobile devices.
Simply put, ultra-responsive means that your website is designed to be not just mobile-friendly but mobile-first. This means that the design and layout of your website are optimized specifically for smaller screens, focusing on quick load times, app performance, and easy navigation.
This involves designing and coding your website using the latest layouts, technologies, and best practices, such as responsive design and mobile-first, custom app development.
Mobile eCommerce trends to watch out for in 2023 and beyond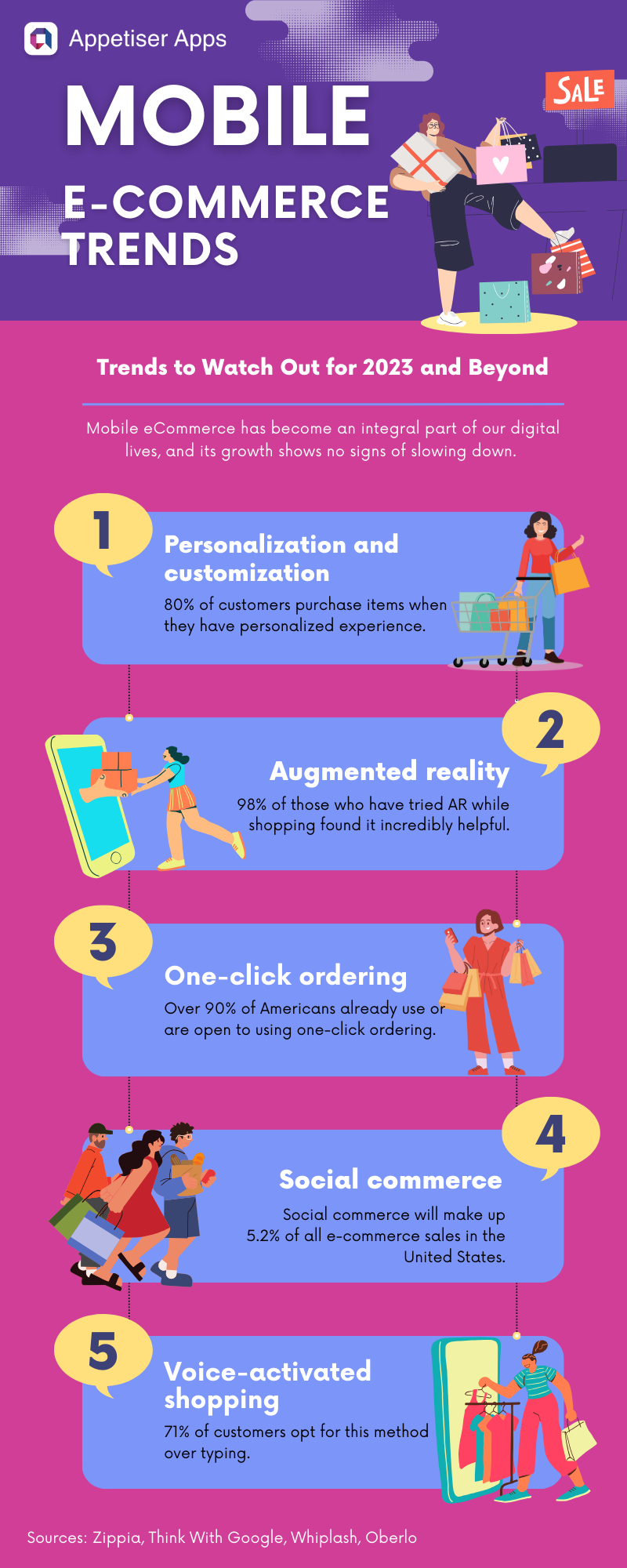 Mobile eCommerce has become an integral part of our digital lives, and its growth shows no signs of slowing down. Explore the current and upcoming trends that will unlock new possibilities and transform how we engage with mobile shoppers.
1. Personalization and customization
In 2023, mobile ecommerce will embrace personalization and customization. Businesses leverage data to craft tailored experiences for app users.
Companies that provide personalized experiences have a distinct advantage, as 80% of consumers are more inclined to purchase such businesses.
Personalization and customization are two approaches to tailor user experiences and customer service in mobile commerce. Let's make a distinction between the two concepts:
Personalization involves using customer data to create a unique experience tailored to their preferences and interests
Customization allows customers to actively shape their experience by making choices and adjustments.
Investing in personalization is crucial. — 88% of marketers agree that an improved customer experience is the primary catalyst for this investment.
2. Augmented reality in shopping
Augmented reality is a trend that is expected to continue in 2023 and beyond. This digital innovation allows customers to visualize products in their own environment before purchasing.
Over 90% of Americans use or are open to using AR for shopping. And a staggering 98% of those who have tried AR while shopping found it incredibly helpful.
3. One-click ordering for seamless checkouts
This feature allows customers to purchase with just a single click, making the checkout process faster and more convenient.
One-click ordering boosts sales conversion rates significantly. It accelerates and simplifies the checkout process for customers, resulting in higher satisfaction and increased sales. Over 90% of Americans already use or are open to using one-click ordering for their shopping needs.
4. Social commerce
Social commerce is the fusion of e-commerce and social media, enabling streamlined online buying and selling. Users can make purchases seamlessly within their social media experience. A great example of this is through live selling or live streaming.
Social commerce, a rapidly growing sector, generated a massive $724 billion in 2022. This figure is projected to climb even higher in the coming years.
In the United States alone, $37 billion worth of goods and services were purchased through social-commerce channels in 2021, and this number is expected to reach nearly $80 billion by 2025.
By that same year, it is estimated that social commerce will make up 5.2% of all e-commerce sales in the country, representing an impressive market value of approximately $80 billion.
5. Voice-activated shopping
Voice-activated shopping, or voice commerce, enables users to search, order, and pay using voice commands via devices like smartphones, smart speakers, and other voice-enabled gadgets. It leverages AI and voice recognition for convenient, efficient online shopping.
Consumer preferences have shifted towards voice-based queries, with a substantial 71% opting for this method over typing.
Furthermore, an impressive 51% of m-commerce customers are utilizing voice assistants for product research. It is worth noting that the value of voice-activated shopping is projected to skyrocket from approximately $5 billion in 2021 to an astounding $19.4 billion by 2023.
The future is bright for this trillion-dollar industry
So, now we're done crunching numbers. And they speak so much about the bright future of the mobile eCommerce industry.
Consumers are increasingly turning to their mobile devices to shop, and brands that fail to capitalize on this trend risk being left behind.
That's why investing in a retail mobile app is critical for any brand looking to succeed in today's market – this is all possible with the right app development partner on your side.
At Appetiser, we provide world-class app development, helping clients like MyDeal and YouFoodz hit their timelines and scale up with ease.
Our approach sets us apart from other companies, providing transparent, achievable estimates, and saving our clients millions in the long run.
Whether you're looking to develop eCommerce app or simply get to market quickly, our team has the expertise and experience to get you there.
Contact us today for a free consultation to get a clear direction for your app idea.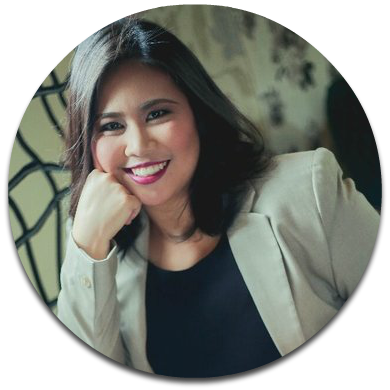 Maria Krisette Lim is a Content Marketing Specialist at Appetiser Apps. She has more than 12 years experience in producing content on the web and print ads. Krisette has a BSBA degree major in Business Management and Entrepreneurship. When she's not tinkering with words and punctuation, she's either curled up with a book while sipping hot tea, playing with her toddler or tinkering website builders.
Dominate the App Store.
Get the latest industry news first.