Top 5 Best Mobile App Builders for Shopify in 2023
Shopping isn't bound by space and time.
With a few taps on a smartphone, you can buy anything and everything. That's how the internet has transformed how consumers shop.
Shopping malls and boutiques are available right in front of your screen.
They are also presented through Shopify eCommerce stores that you simply can't ignore.
Let me tell you why. In the United States, 28% of eCommerce websites use Shopify to sell products.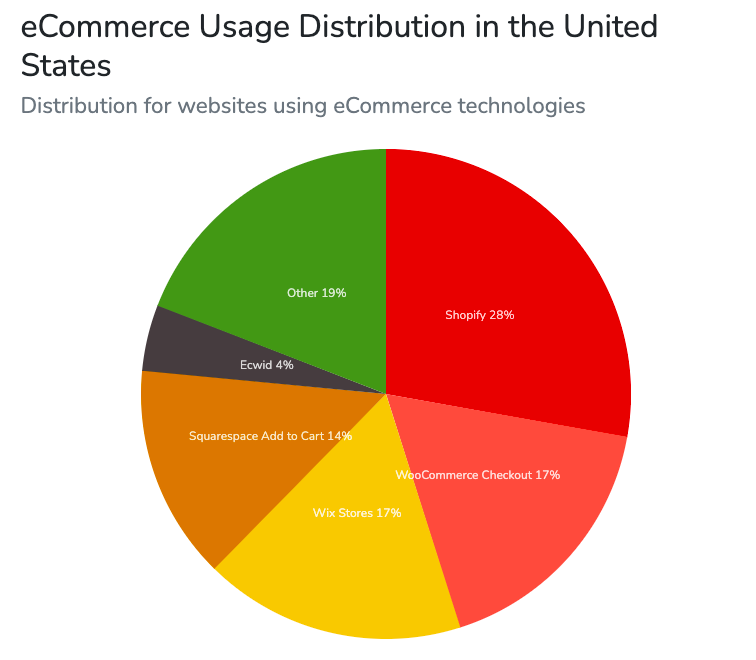 Source: Builtwith
Without Shopify as your eCommerce multi-channel selling arsenal, you can miss out on a huge (and at large, online) portion of your target market, especially those who purchase on a native mobile app.
In the United States, for example, about one-third of consumers like buying things online using a smartphone.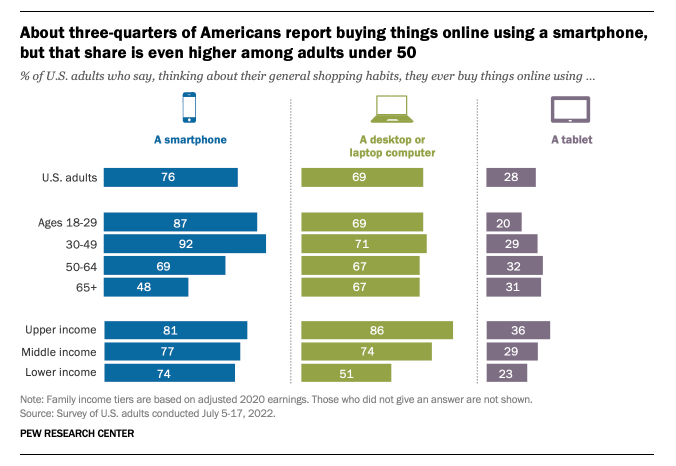 Source: Pew Research Center
But if you're concerned about the tedious process of shopping app development, there are actually other tools to turn your Shopify store into a mobile app.
If you treat statistics with care and believe a Shopify mobile app is indispensable, then this list of the top five best Shopify app builders is for you.
Top 5 Shopify App Builders
Shopify mobile app builder appsare not designed equally. Here's a list of our top five picks:
Vajro
MageNative
Plobal
Shopney
Topcart
1. Vajro: Optimized for live selling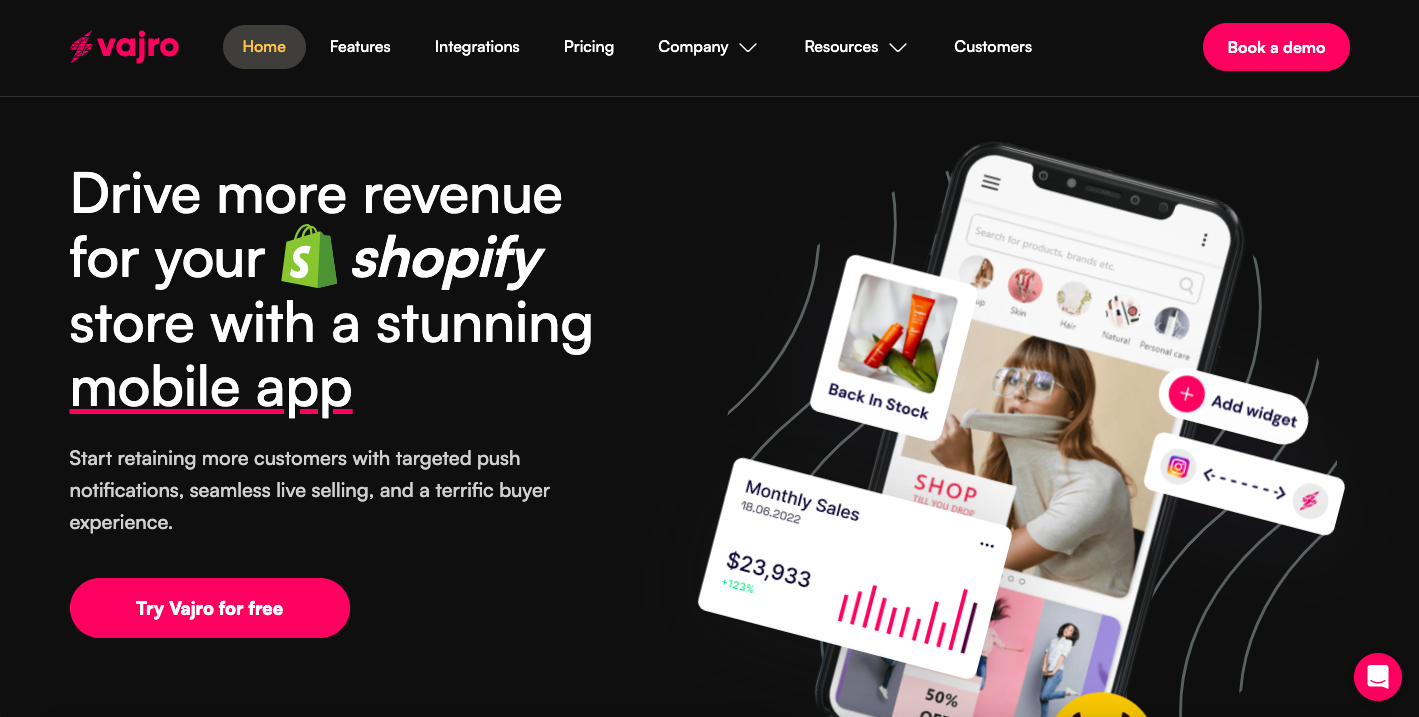 Source: Vajro
Vajro is a Shopify mobile app builder that lets businesses effortlessly create and manage their own native mobile apps — all without the need for coding knowledge. The brand claims you can create a functional mobile app in just 60 minutes.
It offers a highly responsive and sleek mobile app for your Shopify app store for mobile users to navigate your products. It comes with optimized features for both iOS and Android apps, such as live video selling on the app and Facebook page.
Here's what to expect on features should you consider Vajro mobile app builder:
Drag-and-drop interface. The intuitive interface lets non-technical users easily create mobile apps from start to finish.
Pre-built templates. From fashion to food, Vajro provides four ready-to-use templates to match different businesses' unique needs and branding.
Push notifications. Send push notifications to your mobile app's users to inform them of new products, sales, and promotions.
Multiple login options. Customers can log in on iOS and Android apps via Apple ID, Facebook, Gmail, and even OTP.
Localization for location and prices. It supports 18 languages and 82 global currencies, allowing you more customization options based on your target audience.
While Vajro is a comprehensive mobile app builder that offers Shopify stores a variety of benefits, there are a few pros and cons to consider:
Pros:
✅ User-friendly interface
✅ Great customer service and support
✅ Syncs with the Shopify app store
✅ Various options for setting up push notifications
Cons:
❌ Initial set up may take a few days longer, depending on your products
❌ Not all app integrations work seamlessly as they claim
❌ Need to add products manually if you want to see them in the app immediately
❌ Syncing products from the website to your Shopify store mobile app takes around an hour or so
How much does Vajro Shopify app builder cost?
Vajro comes with a four-tiered pricing structure in a monthly or annual subscription. The plans below are in USD, and I mapped them out in a table for comparison.
| | Starter | Core | Premium | Plus |
| --- | --- | --- | --- | --- |
| Monthly | $99 | $249 | $499 | $999 |
| Annual | $89 | $224 | $449 | $899 |
2. MageNative: Immersive shopping experience with augmented reality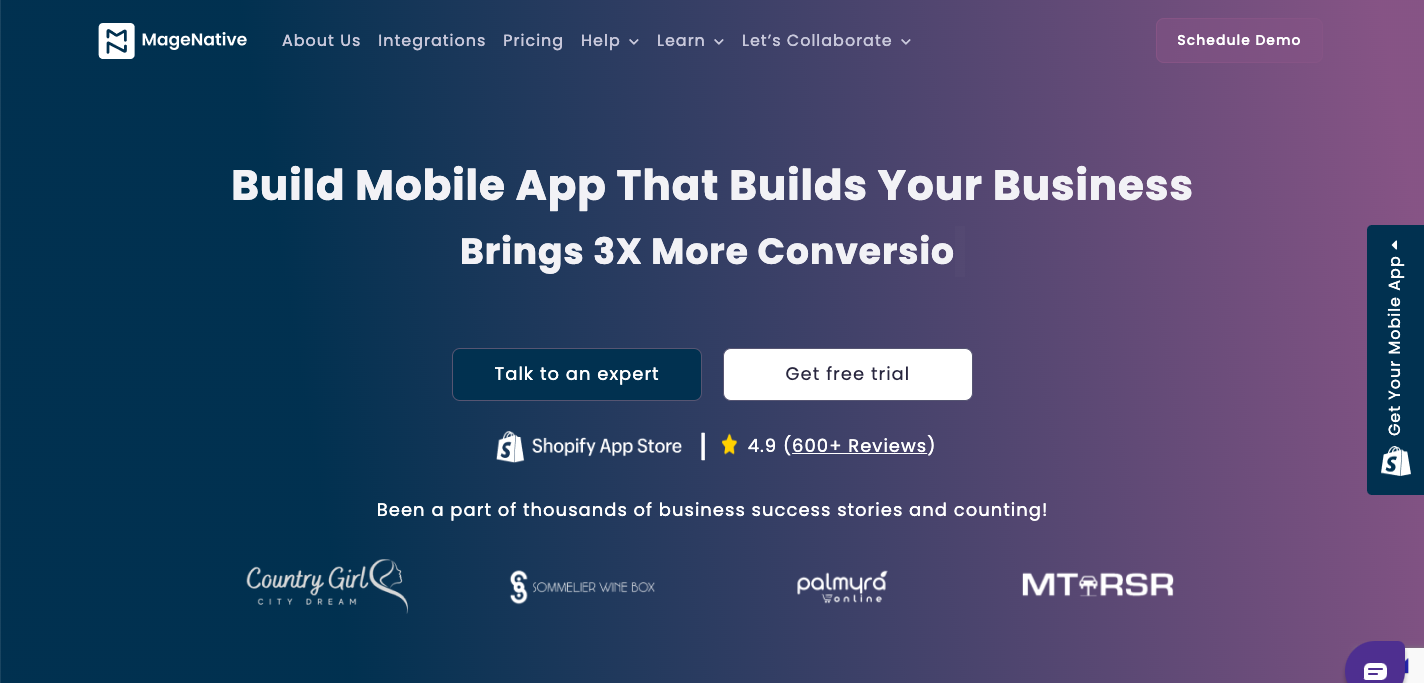 Source: MageNative
MageNative is another Shopify app builder that enables businesses to convert an online store into a professionally-looking mobile app. Merchants and brands using it can build an app that possesses the same functionalities and features as their web store. You can go even further on its augmented reality for a 360-degree view of a product.
Like most Shopify mobile app builders, it has a drag-and-drop option where you can position the elements of your site as you wish. It lets you preview your mobile website and see what the storefront looks like on Android and iOS apps.
Here's a list of key features to consider if you plan to use this service:
Customizable templates. Choose from pre-made templates and customize the mobile app's look and feel to match the branding, like changing the colors and fonts.
Two-factor authentication. Offers two-factor authentication (2FA) as a security measure to protect user accounts and ensure secure access to the mobile app.
Scheduled push notifications. Merchants can send targeted messages, promotions, or updates to app users.
Augmented reality. Provide a new level of shopping experience with this feature to enhance product viewing, whether on iOS or Android mobile app.
App store optimization suggestion. Experts share tips on improving your Apple App Store or Google Play Store rankings. This feature is available on premium tiered plans.
What's great about MageNative is that you can also work with its developers to customize your mobile app. Still, make sure you also weigh in the pros and cons below.
Pros:
✅ Affordable pricing for entry-level plan
✅ Responsive and professional developers ready to assist
✅ Supports in-app wish list
✅ Common payment gateways are available
Cons:
❌ Advanced features related to other Shopify apps are only available in higher-tiered plans
❌ Limited themes and banner designs to choose from in the library
❌ Requires time and effort to navigate through the interface and follow instructions
❌ Basic plan doesn't support app integrations
How much does MageNative Shopify app builder cost?
MageNative comes in three pricing plans, as shown below paid monthly, bi-annually, and annually.
| | Basic | Growth | Enterprise |
| --- | --- | --- | --- |
| Monthly | $49 | $69 | $99 |
| Half-Yearly | $294 | $414 | $594 |
| Annually | $529 | $663 | $999 |
3. Plobal Apps: White-label app builder built exclusively for Shopify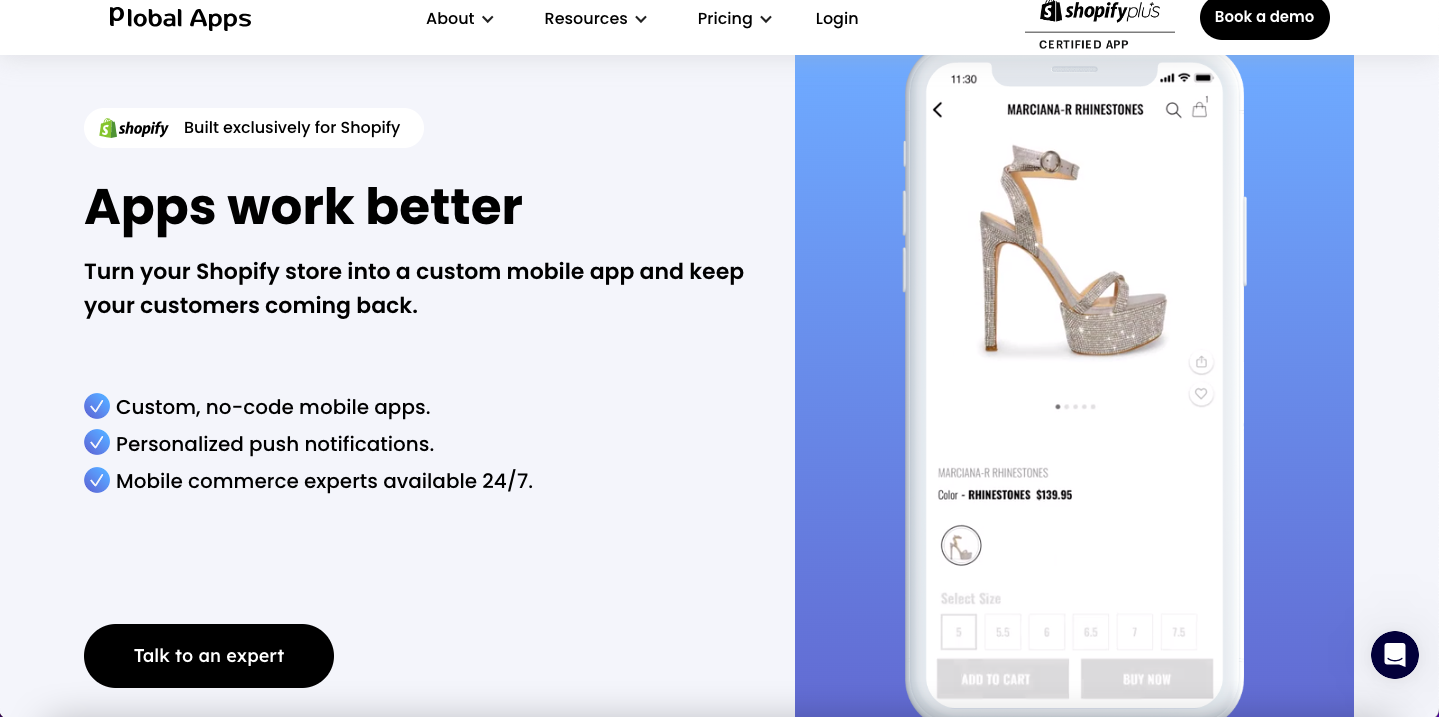 Source: Plobal
Plobal is an AI-powered mobile app builder for Shopify online stores. You can create custom mobile apps that perfectly match the look and feel of your Shopify store. The company claims they have developed over 1,000 native apps with 500 clients.
This mobile app builder is a certified app partner for Shopify Plus, the enterprise-level version of Shopify. This certification guarantees that Plobal meets the highest quality and compatibility standards required by Shopify.
If you think Plobal matches your requirements, here's a list of key features to consider:
Dominate the App Store.
Get the latest industry news first.
Upsell and cross-sell capabilities. Allows businesses to add personalized upsell and cross-sell recommendations to their checkout pages. This feature maximizes the average order value and increases revenue — a must-have for e-commerce businesses.
Seamless integration with existing platforms. Integrates with multiple e-commerce platforms like Shopify, Magento, and WooCommerce, making it easy to set up and use.
Customizable design and layout. It comes with various customizable design templates, colors, and layouts that you can choose from to match the brand's aesthetic and style.
Push notifications and personalization. Plobal's app allows businesses to send push notifications to customers based on their interests, purchase history, and location.
Analytics and insights. It helps you gain valuable insights into the customers' preferences, enabling you to make data-driven decisions that improve the overall store's performance.
While Plobal is packed with amazing features, it also comes with a fair share of pros and cons, like the following:
Pros:
✅ Easy to navigate and make changes
✅ Real-time syncing on Shopify store
✅Integration of marketing images into push notifications for enhanced personalization
✅ Basic plan comes with email support, priority live chat support, and a dedicated onboard manager
Cons:
❌ Plans are quite expensive on the side
❌ Unsuitable for large stores that require complex requirements
How much does Plobal Shopify app builder cost?
Plobal offers three pricing plans that are billed monthly or annually.
| | Growth | Essential | Enterprise |
| --- | --- | --- | --- |
| Monthly | $199 | $499 | $1,199 |
| Annually | $1990 | $4,990 | $11,990 |
4. Shopney: Personalized shopping experience with in-app chats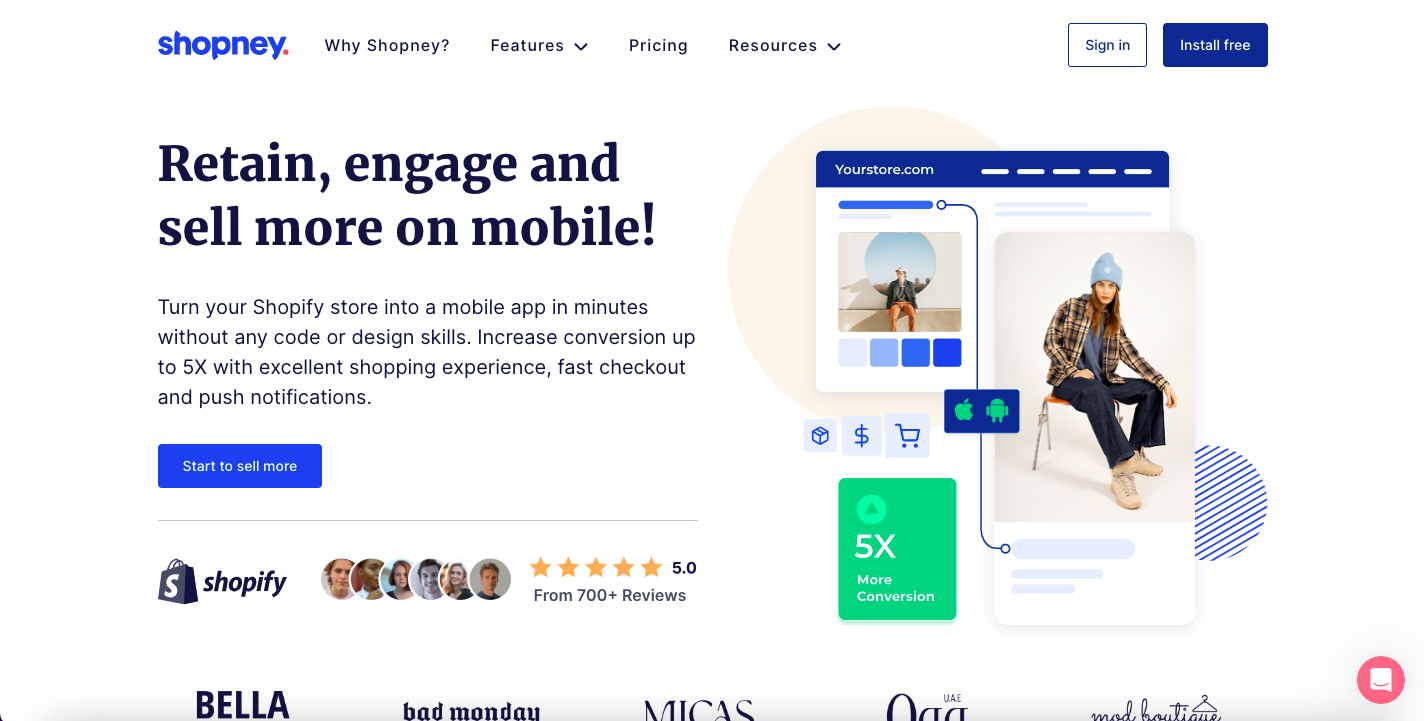 Source: Shopney
Shopney is a comprehensive Shopify app builder that aims to help online business owners create a seamless mobile shopping experience. Its user-friendly, drag-and-drop interface makes it popular for brands looking to optimize their mobile e-commerce presence.
What's unique about this app builder is the in-app chat feature where shoppers don't need to wait for answers via email regarding their concerns. You can respond to the questions and elevate the quality of your customer service.
On top of the in-app chat option for customized marketing conversations, you'll also find these useful features:
Customizable theme options. Regardless of your industry and store types, Shopney's layouts allow customization options to create a mobile app that perfectly matches your brand image.
Intuitive drag-and-drop interface. The user-friendly drag-and-drop interface makes it easy for anyone to build a mobile app without any coding or design experience required.
White-label app branding. Brands can customize the app name, logo, and colors to reflect their unique business identity. This creates a more professional and cohesive user experience for customers and ensures that the app is fully integrated with the business's website and other marketing materials.
Unlimited push notifications. You don't have to pay extra fees or upgrade a plan to top up your push notifications credits, as this feature is available to all plans for free.
Easy integration with other apps. Connect your favorite apps to your Shopify store, like Google, Facebook, and Klaviyo, to unify your digital marketing activities.
Shopney may be a darling in terms of store designs and layouts. But always remember to weigh the pros and cons.
Pros:
✅ First-time users can quickly adapt to the drag-and-drop editor
✅ Generous and full-packed features even for a basic plan
✅ Easy scheduling of push notifications
✅ Responsive customer support team
Cons:
❌ Limited number of apps for integration
❌ Pricing plans may not be suitable for starting businesses
How much does Shopney Shopify app builder cost?
Shopney comes with four pricing plans billed every month.
| | Silver | Gold | Platinum | Enterprise |
| --- | --- | --- | --- | --- |
| Monthly | $99 | $199 | $499 | $999 |
5. Tapcart: Push notifications and proprietary analytics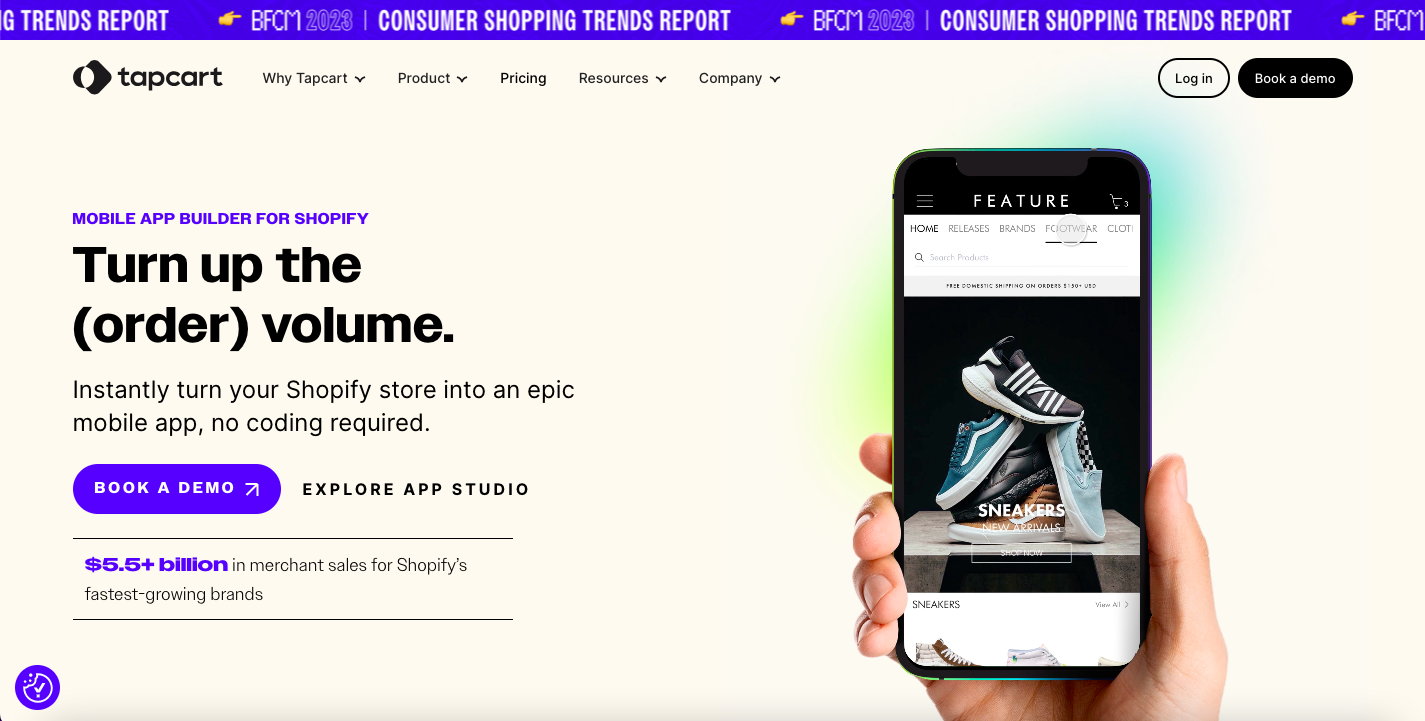 Source: Tapcart
Tapcart is a mobile app builder designed exclusively for Shopify merchants. Shopify store owners can easily create and launch iOS and Android mobile apps without coding.
This Shopify app builder supports a full suite of tools to enhance the shopping experience. Connect your favorite eCommerce apps like Firebase, AppsFlyer, Facebook, and Klaviyo.
Tapcart has a comprehensive set of features to turn your Shopify store into a mobile app, and the ones below are worth mentioning:
iOS and Android app compatibility. Build apps that work seamlessly on both iOS and Android devices, ensuring that your customers can access your store from any mobile device.
Automated sync of your Shopify store. Tapcart's platform automatically syncs with your Shopify store, meaning that any changes or updates you make on your Shopify store will be available in your mobile app in real-time.
Quick checkout for shoppers. Comes with a streamlined checkout process, with prefilled shipping info, multiple payment providers, and a user-friendly single-page layout, ensuring seamless conversions for customers on mobile devices.
Editable custom blocks. Design unique mobile app elements using HTML, CSS, and JavaScript. Custom Blocks allows you to create a mobile app that truly reflects your vision.
Custom-branded QR code. Increase app installs and offer an immersive omnichannel experience for your customers through custom-branded QR Code widgets.
Tapcart is a fantastic platform for businesses looking to create a mobile app, but make sure you also check the pros and cons of using it.
Pros:
✅ Aesthetically professional-looking interface and store designs
✅ Developer tools are available for advanced customization
✅ Automation features are available for an enhanced shopping experience
Cons:
❌ Subscription plans are expensive
❌  Limited number of custom blocks and plugins for the basic plan
❌  Requires a high monthly fee to unlock specific features
How much does Tapcart Shopify app builder cost?
Tapcart has three subscription plans but offers custom rates according to your annual revenue. Unfortunately, Tapcart can only give you two weeks to try their platform.
| | Core | Ultimate | Enterprise |
| --- | --- | --- | --- |
| Monthly | $200 | $400 | $1,000 |
Which is the best Shopify app builder?
There is no one-size-fits-all answer to the question of which is the best Shopify mobile app builder, as each option has unique strengths and limitations.
But with the presented information above, we had the opportunity to compare and contrast the top contenders in the market to make an informed decision.
So, you may contemplate these thoughts and observations:
The MageNative is a good choice if you opt for affordability, given that it offers the lowest monthly plan. But remember that you must upgrade to unlock advanced features like augmented reality.
If you're after the fundamental elements of an eCommerce mobile app, you'd go for Vajro, Plobal Apps, and Shopney. Drag-and-drop editor, push notifications, payment gateway integration, and customizable templates are available in their plans. But Shopney may have an edge since it gives clients more access to features, including the in-app chat option, even in their entry-level plan.
For comprehensive mobile app requirements, Tapcart is the darling with its fantastic user interface and designs. But its hefty monthly pricing plan is a caveat. You might be bleeding pockets for the upfront fees if you're just starting your business.
However, app development might be a better option if you're looking for a more versatile and comprehensive eCommerce solution.
When you work with an eCommerce app development company, it will offer a more personalized user experience with advanced features that can handle a large traffic volume. Ultimately, the decision depends on your budget, timeline, and business needs.
Take the plunge and build an MVP eCommerce app
With an eCommerce app, you can create a seamless, user-friendly interface that provides a streamlined process for customers to purchase your products.
A Minimum Viable Product (MVP) mobile app is the best approach to keep going.
An MVP is the simplest version of a mobile app that delivers value to users. It includes essential features to solve their problems. By starting with an MVP, you gain insight into your audience's needs and preferences before investing in advanced features.
In contrast to using these popular Shopify apps, building your eCommerce app allows you more control over your online store, manage your inventory, and customize the shopping experience for your customers.
YouFoodz, one of our clients, understood that. That's why even if their online store is on Shopify Plus, they wanted to attract more users by having a mobile app. Our team worked hard to deliver what YouFoodz envisioned and developed a fully customized app and integrated e-commerce APIs like Shopify Plus.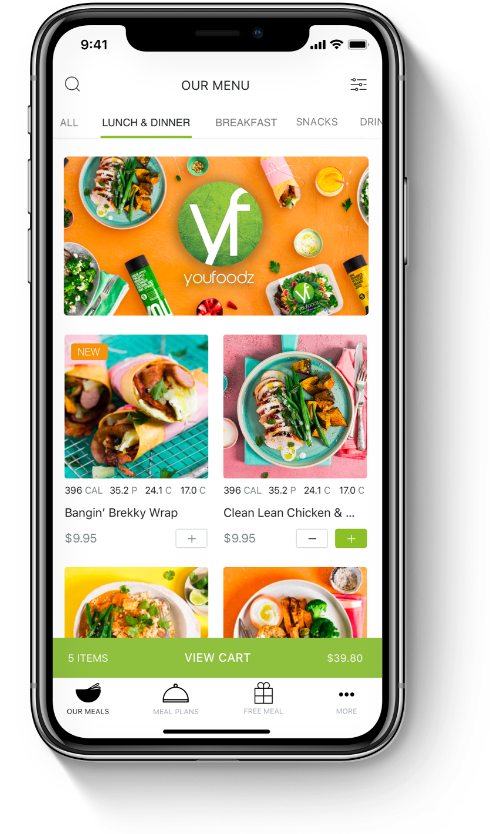 The story doesn't end there. You can read the YouFoodz case study on how the mobile food delivery app runs like a money-making machine.
So, what's the point?
What if a bespoke mobile shopping app can unlock more customers for you? There's nothing to lose in developing an MVP app. You can scale anytime as your sales grow.
Together, let's explore the possibilities of working together – consult with our team about eCommerce app development costs and processes.
Don't wait any longer. Take the first step and contact us today.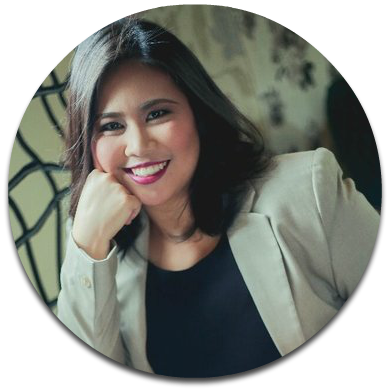 Maria Krisette Lim is a Content Marketing Specialist at Appetiser Apps. She has more than 12 years experience in producing content on the web and print ads. Krisette has a BSBA degree major in Business Management and Entrepreneurship. When she's not tinkering with words and punctuation, she's either curled up with a book while sipping hot tea, playing with her toddler or tinkering website builders.
Dominate the App Store.
Get the latest industry news first.