Turn Shopify Store Into a Mobile App to Boost Sales and Revenue
Do you have a Shopify store that's not reaching its full potential?
That can be really frustrating. But there's one amazingly simple solution to elevate the shopping experience: turn your Shopify store into a mobile app.
Mobile apps are becoming complementary platforms of web stores. When used correctly, they can be an incredibly powerful tool to boost sales and app revenue.
In fact, 60% of Newstore surveyed customers prefer mobile apps because of the improved user experience. Plus, when it comes to types of consumers, shoppers from 18 to 44 years of age like to do their shopping sprees on mobile shopping apps.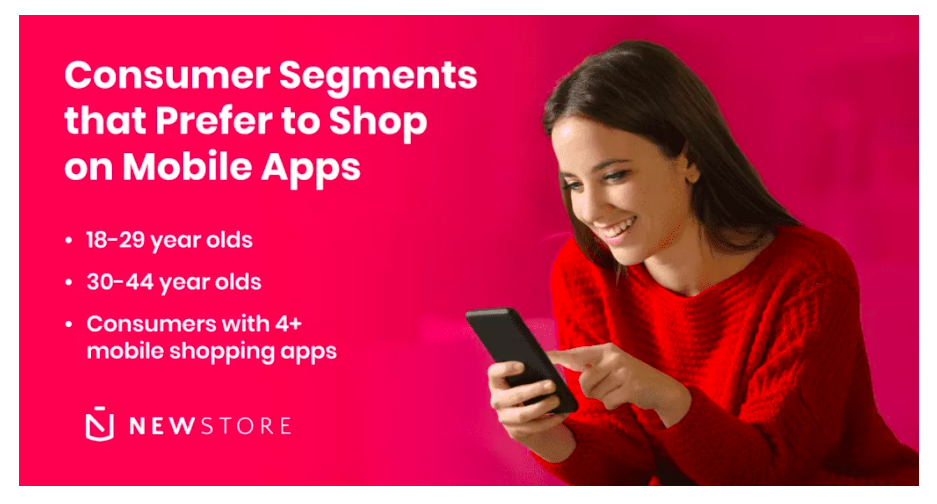 Source: Newstore
When you turn your Shopify store into a mobile app, you open yourself up to brand new opportunities to engage with customers and grow your sales.
With the launch of countless features made specifically for eCommerce businesses, there has never been a better time to have native mobile apps.
In this article, you will find three insightful approaches on how to do it. Each method has its pros and cons.
And all the more, you can choose the best one for your brand that matches your long-term goals.
Why should you turn Shopify store into a mobile app?
Before going to the meatiest part of this article, let's dive deeper into the importance of turning your Shopify website into a mobile app as we crunch these numbers.
Why should you even do this in the first place, anyway?
🏆 Better conversion rates than mobile websites – The average mobile app conversion rate across app stores is 30-31%. In comparison, the average conversion rate for mobile websites is only 1.82% – meaning mobile apps generally convert better.
🏆 Increased user engagement and more opportunity for personalization – Around 70% of apps doubled their user engagement after implementing an in-app chat. Additionally, push notifications, available only on mobile apps, allow personalization of interactions, including in-app messaging.
🏆 Higher retention rates – eCommerce and retail apps are the best at keeping users engaged for over 30 days, with a whopping 39% of people hanging onto these apps on their devices. Even after 90 days, the app retention rate for ecommerce and retail apps stays strong at 22%, leading to customer loyalty.
Beyond these mobile ecommerce statistics, online shoppers are not just mobile-first these days. Many of them are mobile-only when purchasing items.
Mobile apps provide a host of features that make the shopping experience more native and much more straightforward, which can be summarized in three easy steps – Browse. Shop. Pay.
Prerequisites for turning a Shopify store into an app?
Knowing how valuable a mobile app shopping experience is, you may wonder if there are prerequisites to consider before you convert your Shopify store into an app. The truth is, you need these three core elements.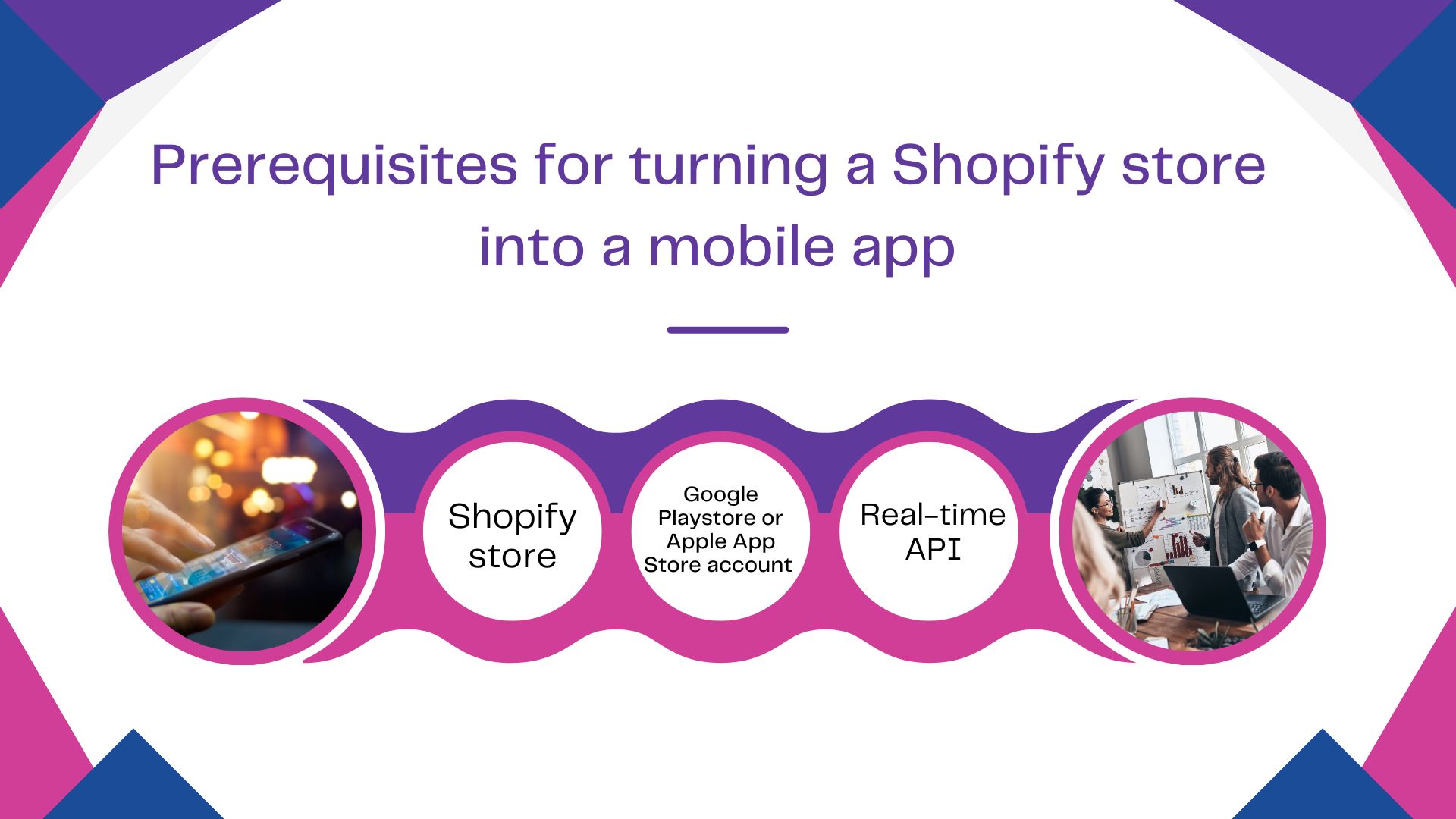 1. A Shopify store or the online Shopify store
Your Shopify app store should be already configured and ready for trade. It's the foundation of your mobile application, as it is necessary to have an existing online store for your Shopify mobile app to be functional and efficient.
2. A valid Google PlayStore (Android) and Apple AppStore (iOS) account
To distribute your app, you need valid accounts with the Google Play Store (Android apps) and the Apple AppStore (iOS apps). Remember, each platform has its own specific requirements and guidelines for app submission. So, do your research and make sure your app meets all the necessary guidelines.
3. Real-time API
You'll need a real-time API (Application Programming Interface) to connect your Shopify store with your mobile app. This API will enable the real-time exchange of information between your store and app, ensuring that any updates or changes made to your store will also reflect on your app in real time.
A reliable API will also ensure that your eCommerce app can make necessary updates to your store, such as inventory management and order fulfillment, directly from the app without human intervention.
3 methods to convert Shopify store into a mobile app
Assuming you have complete requirements to convert Shopify store into a mobile app. Now it's time for some action.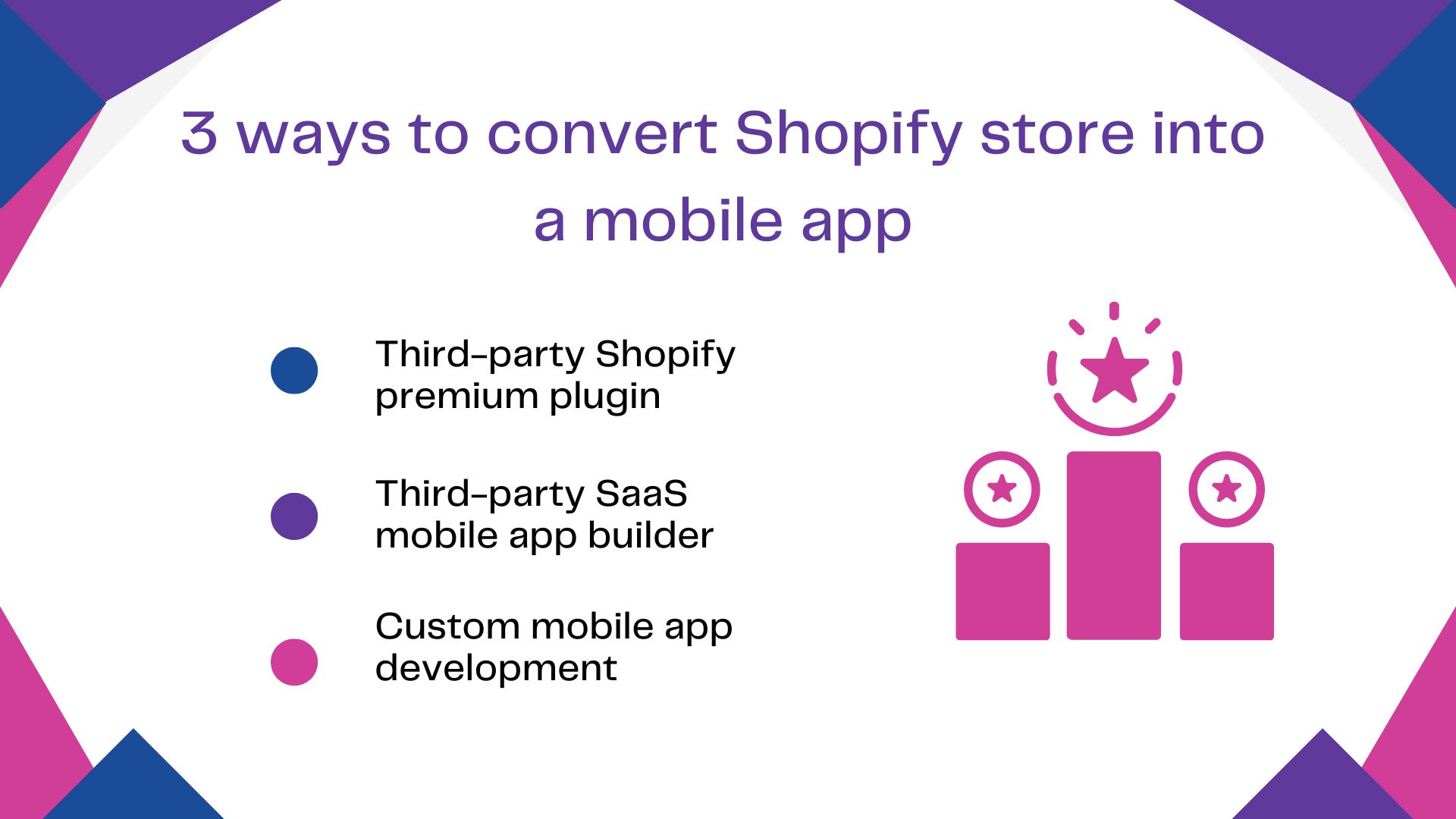 Depending on your Shopify stores' needs and goals, the approaches below are ranked from the simplest to the most complex shopping app development process.
1. Use a third-party Shopify premium plugin.
If you want a quick and easy solution to turn your Shopify store into a mobile app, a third-party Shopify premium plugin might be the best option.
But first, let's define what a Shopify plugin is.
A Shopify plugin is a software tool that integrates with the Shopify platform. It provides additional functionalities that are not available in the default package.
There are third-party Shopify plugins available in the app store that cater specifically to creating Shopify store mobile app like the ones below.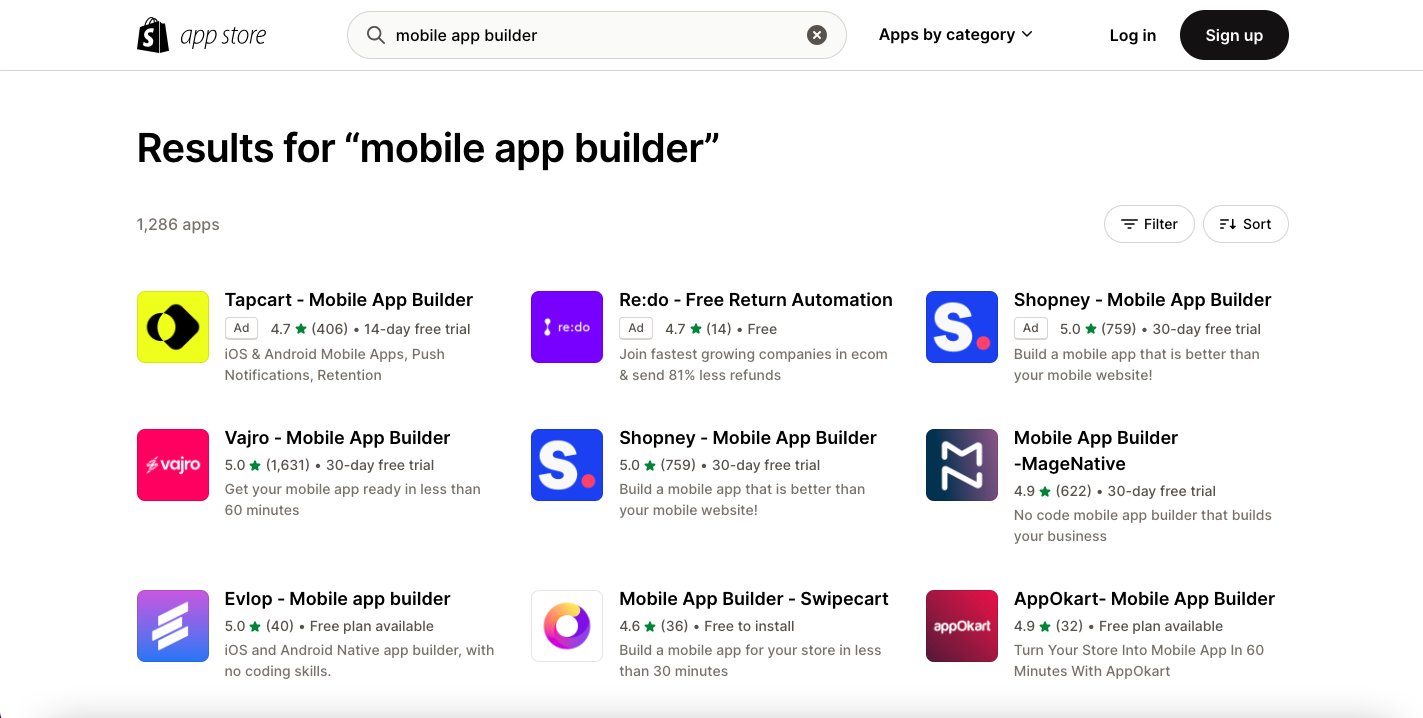 Source: Shopify
Here are the advantages of using a Shopify premium plugin:
✅ No coding skills required – One of the advantages of using a Shopify plugin is its convenience. You don't have to start from scratch. There's no need to learn how to code or build an app from the ground up.
✅ Saves more time – Premium plugins can save time and effort by providing customizable pre-built templates and features.
✅ Improves customer experience – Since most shoppers prefer to shop on mobile phones, the browsing experience provides convenience and a better user experience, leading to increased engagement and a higher conversion rate.
But not all third-party Shopify premium plugins are equally designed, so there are limitations when you take this route, such as the following:
❌ Accumulated recurring costs – Premium plugins often charge you via subscription plans. The costs may increase if you purchase multiple plugins to apply advanced features, additional integrations, and customizations.
❌ Possible compatibility issues – Some premium plugins may not be compatible with your Shopify mobile app theme or other plugins, leading to technical issues.
❌ Dependence on the provider – You remain dependent on the provider's services, including maintenance, updates, and support. If their server is down, it may also affect your mobile app performance.
That said, the key feature you can maximize when using a third-party Shopify plugin is its simplicity. It's great for small to medium-sized businesses just starting to penetrate the mobile market and want to own mobile app.
If you accept its limitations, a third-party Shopify plugin might fit your mobile app needs. Otherwise, you can check the next option.
Dominate the App Store.
Get the latest industry news first.
2. Use a third-party SaaS mobile app builder
A third-party SaaS app builder is a software service provider that hosts and maintains a software application centrally, enabling businesses to use such software without running it on their premises.
In other words, it is a cloud-based service that provides mobile users with various tools and features to design, develop, and deploy mobile apps. It's a standalone builder that you can access on your web browser. Most of all, these mobile app builders also have Shopify plugins for easy integration into your store.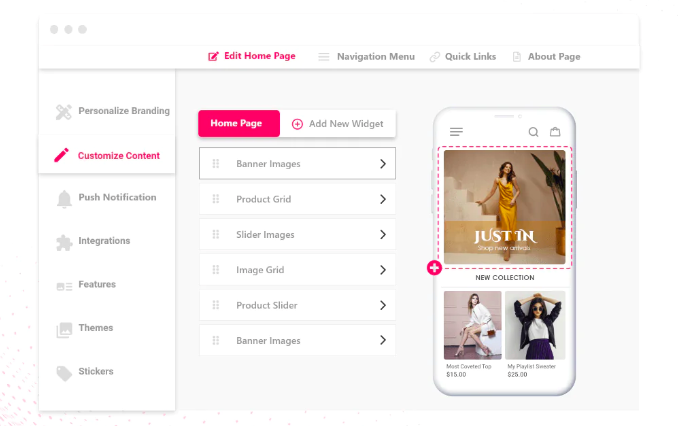 Source: Vajro
Should you decide to use one with your Shopify mobile app, here are the advantages:
✅ Cost-effective – Building a Shopify app using this method is generally less expensive than hiring a developer to build a bespoke online shopping mobile app.
✅ Save you time and resources – Most SaaS builders provide pre-built templates and basic to advanced, easily customizable features. You can launch your mobile app in just weeks using zero code app builder.
✅ User-friendly features – Fortunately, SaaS mobile app builders are designed to be user-friendly, with drag-and-drop interfaces and intuitive navigation.
If you choose this route to convert your Shopify store into a mobile app. In that case, the limitations are almost the same as selecting a premium plugin, like the following:
❌ Recurring fees for services – You may face additional costs on top of your monthly subscription if you use advanced features like unlimited push notifications or exceed app quota limits.
❌ Possible security concerns – Most app builders are cloud-based. Thus they are not spared from security risks like cyberattacks, phishing, data breach, and downtimes.
❌Dependence on the service provider – You may depend on the provider's updates, maintenance, and support. Thus, this also removes your liberty to upgrade technical infrastructure if needed.
Using a Shopify mobile app builder shortens the time spent you turn your Shopify store into an app. You can also integrate other third-party platforms to enhance functionalities. Since most of these builders use drag-and-drop interfaces, you can launch your mobile app store in a few days or weeks.
Now, the last option is worth considering if you wish more freedom in developing out-of-this-world features and designing a bespoke mobile app for online shopping.
The best part? You don't have to depend excessively on external providers.
3. Mobile app development from scratch
If you're looking for the best mobile shopping experience for your customers, then a custom mobile app development from scratch could be the right choice for you.
By building your iOS app or Android app entirely from the ground up, you can tailor it to your exact specifications, ensuring it meets all your unique requirements.
One of this method's key advantages includes:
✅ Enhanced customization – You get complete control over every aspect of the eCommerce app design and functionality. This means you can tailor it to your needs, ensuring it accurately reflects your brand, products, and target audience.
✅ Scalability – As you add more products or services to your store, you can customize your app to accommodate these changes without worrying about the limitations of pre-built templates. You can use a Minimum Viable Product (MVP) app with basic functionalities presented in a delightful user experience.
✅ Competitive advantage – You have the freedom to create a truly unique and differentiated customer shopping experience. It can help you stand out from your competitors, attract new customers, and build brand loyalty.
One great example of a company that has successfully used a custom mobile app development is YouFoodz, Australia's #1 healthy food delivery service. Initially, they already have a Shopify store as their primary sales channel.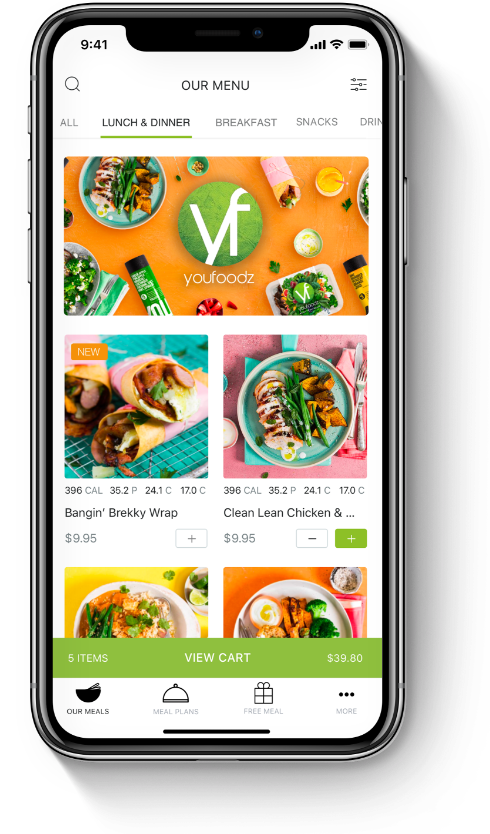 Youfoodz approached us with a pressing challenge. They wanted to keep their customers, drive growth, and make a mark in a highly competitive market. So, the Appetiser team built a fully customized mobile app filled with unique features to acquire new customers, and increase app engagement and brand loyalty.
The team customized and integrated the mobile app with various e-commerce APIs, including Shopify Plus. The result? In just six months, the YouFoodz app became the top-rated mobile app and started generating $100,000 in revenue – daily.
🏆 Read Youfoodz case study further to learn more about its success story.
An unparalleled mobile shopping experience is possible with an MVP app.
When choosing the appropriate method to turn your Shopify store into a mobile app, it's essential to understand and consider the pros and cons of your decision. Each method has its strengths and limitations.
Shopify third-party plugins and SaaS app builders deliver a fast output of your store's mobile app version. However, you can't ignore the limitations that may hinder the deployment of advanced features or restrict your app's functionality.
In terms of app development, the benefits are clear. With the widespread use of smartphones and the increasing demand for mobile solutions, investing in a full custom mobile app is wise for businesses looking to scale for more sales and revenue.
You can start with an MVP app version of your online store to get the ball rolling.
In essence, an MVP mobile app is a pared-down version of a full-blown app that contains only the essential features needed to provide value to users. This approach allows businesses to test their idea without committing too many resources upfront while still providing a meaningful experience for early adopters.
Developing an app requires significant time and resources, including talented developers, designers, and marketers. The secret to success is you need the right shopping app development partner to execute your plans.
That's where Appetiser comes in.
With our team of talented developers, designers, and project managers, we've helped businesses in various industries bring their app ideas to life. Our focus on quality and user experience ensures that your app will be functional and enjoyable.
Additionally, our experience working with businesses of all sizes means we can provide custom solutions that meet your needs and budget.
When you work with Appetiser, you can trust that your retail app development project is in good hands.
From app ideation to launch and beyond, we'll work closely with you to ensure your mobile shopping app succeeds.
So why wait? Contact us today to get started.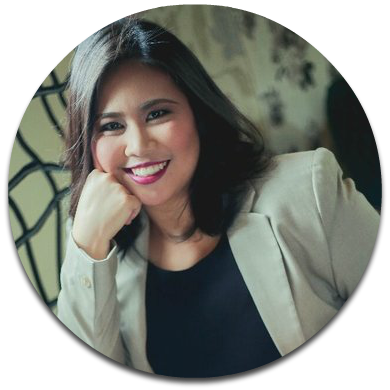 Maria Krisette Lim is a Content Marketing Specialist at Appetiser Apps. She has more than 12 years experience in producing content on the web and print ads. Krisette has a BSBA degree major in Business Management and Entrepreneurship. When she's not tinkering with words and punctuation, she's either curled up with a book while sipping hot tea, playing with her toddler or tinkering website builders.
Dominate the App Store.
Get the latest industry news first.