6 Biggest Mobile Marketing Trends That Will Continue in 2023
Mobile marketing is one of the most important aspects of success for any business today.
As of 2022, a staggering 6.6 billion people — or 86% of the global population — are smartphone users. That population is expected to surge further and reach 7.7 billion by 2027.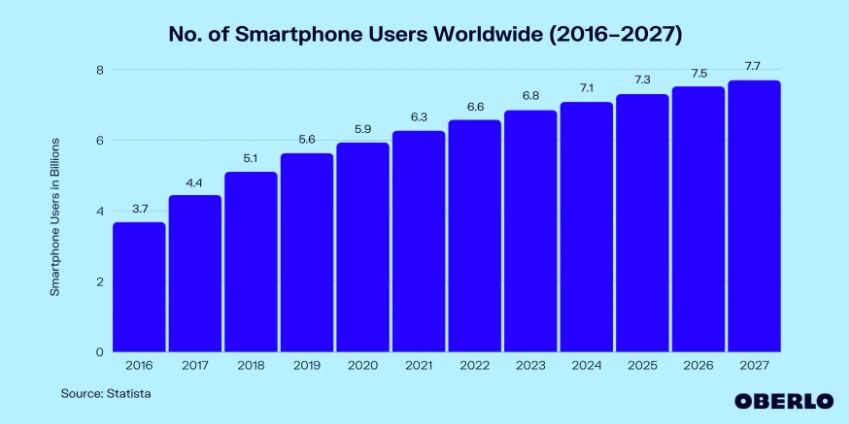 Source: Oberlo
As mobile usage continues to grow, so does the need for brands to develop mobile-friendly marketing strategies.
But with the rapidly evolving mobile users' preferences, knowing where to best focus mobile marketing efforts has become increasingly challenging for many mobile apps and businesses.
Fortunately, Appetiser is here to help make things easier.
Based on available market data and insights, I've rounded up six mobile marketing trends that will continue to make a huge impact in 2023 and beyond. Read on to learn how to stay up-to-date and ahead of the curve as you plan your next big mobile marketing campaigns!
What is mobile marketing?
Mobile marketing is the process of reaching and engaging your consumers via their mobile devices. When crafting an effective mobile marketing strategy, it's crucial to understand the latest trends to reach your target audience where they're most active.
6 Mobile Marketing Trends That Will Shape 2023 and Beyond
#1 Mobile Commerce
If you're a smartphone user, you've likely experienced making a mobile commerce transaction. This trend involves buying and selling goods and services using mobile devices.
Mobile commerce often occurs on digital shopping platforms like Amazon, eBay, and Shopify, but you can also complete it through social media. This trend is called social commerce, a subset of mobile commerce.
While mobile commerce has been around for quite some time, the trend took off during the early months of the COVID-19 pandemic when most physical stores had to close.
But now that the global economy has reopened, will mobile commerce continue to gain traction? Judging by the continuous popularity of mobile shopping, I believe the trend is here to stay.
Take a look at the following data: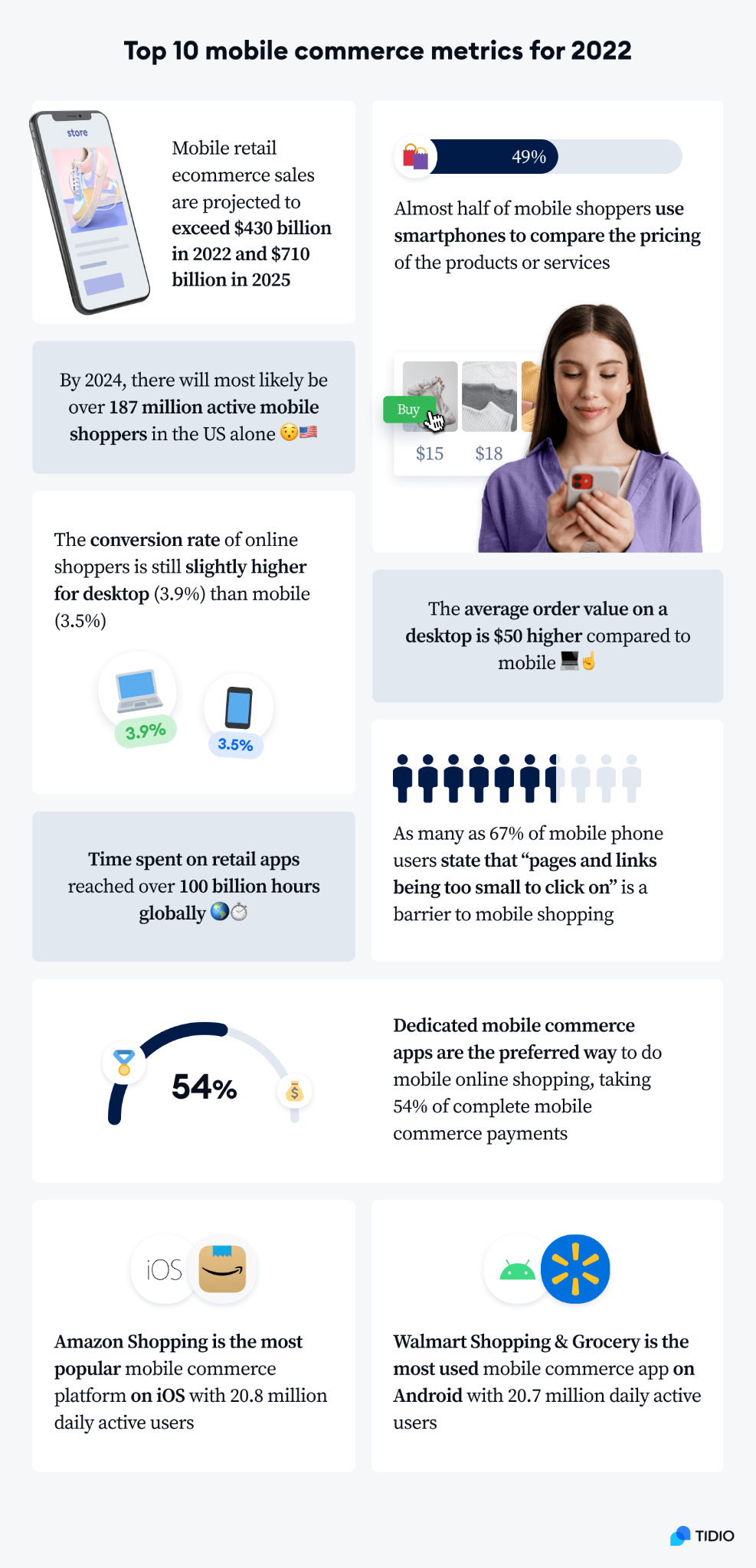 Source: Tidio
Additionally, mobile phone users accounted for about 71% of global retail site traffic and 61% of online shopping orders (as of the second quarter of 2022).
These figures indicate one crucial mobile marketing insight:
Consumers worldwide have embraced the comfort, convenience, and pleasure of mobile shopping. And I don't see any reason for that to change anytime soon, especially as mobile users continue to grow exponentially worldwide.
So, if you want your business to make an impact, leverage the power of mobile commerce to reach and engage many consumers.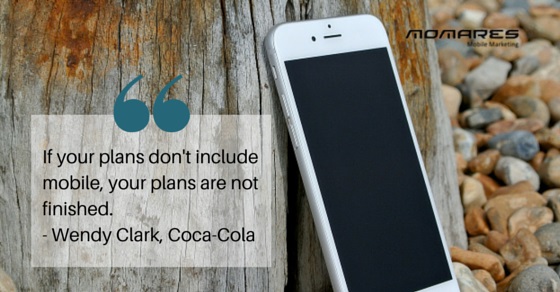 Source: Sweeppea
Don't have the platform yet?
Our team at Appetisers can build you a fully adaptable and scalable custom mobile app to fuel your business's growth.
We've done this for numerous partners, including Youfoodz — Australia's #1 Healthy Food Delivery Service!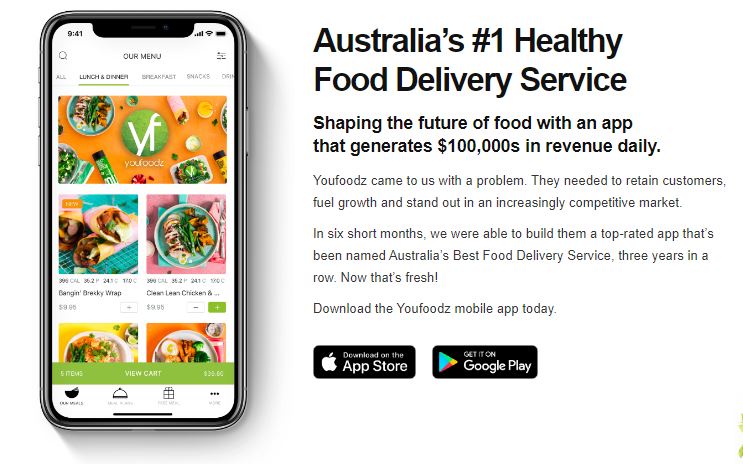 In six short months, we built Youfoodz a top-rated app that drives hundreds of thousands in revenue daily!
Find out how we did it and how we can make the same happen for you by exploring the Youfoodz case study.
#2 Mobile Streaming Video Content
Over the past few years, there's been a dramatic shift in the way people consume content. Many are far more likely to watch videos on mobile devices than read texts.
According to a Cisco study, online video streaming and downloads accounted for 82% of internet traffic in 2022.
There are several reasons for this trend, but among those that stand out are the following:
First, mobile videos provide a rich, immersive experience that captures users' attention.
Second, mobile videos are easily shareable.
Third, internet speed and mobile technology have improved significantly in recent years.
Lastly, there's TikTok.
Yes, TikTok!
When it comes to mobile marketing trends, TikTok is a clear winner. The short-form video content app has been downloaded more than 3 billion times and is currently the most downloaded app in the world.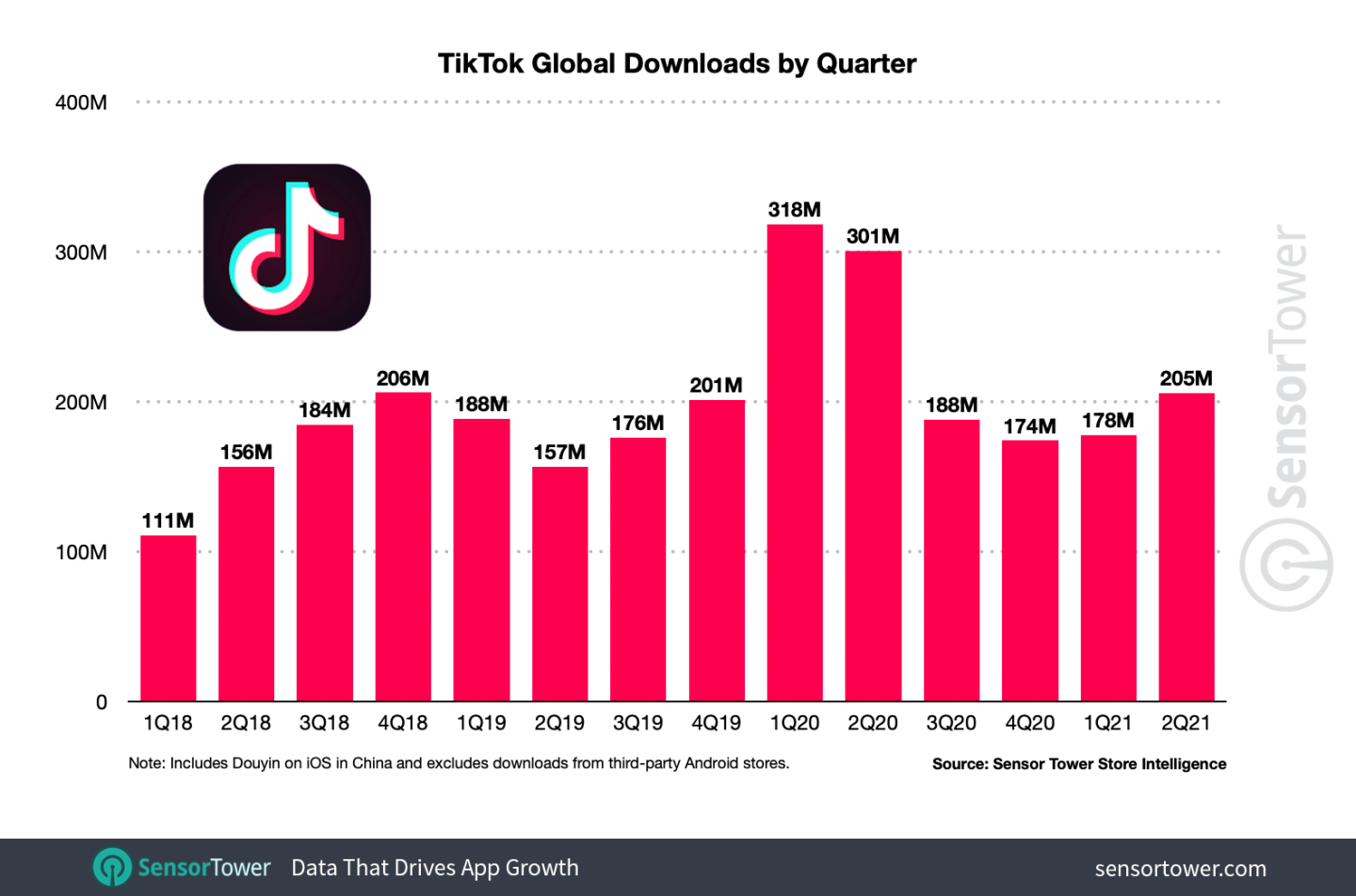 Source: Sensor Tower
Thanks to its algorithm that serves up a never-ending stream of content, TikTok has become so irresistible that it's poised to become one of the world's most powerful mobile marketing channels.
Other platforms, such as YouTube and Instagram, have even followed suit and adopted similar short-form video content strategies.
But before you think of jumping onto the TikTok bandwagon, let me stress a few crucial points.
As good as TikTok is at driving user engagement, it doesn't automatically mean that it makes an ideal video content marketing platform for all industries and app genres. TikTok's visual appeal may attract e-commerce customers, but its campiness may turn off B2B clients.
When sourcing TikTok content, keep your consumers and business goals in mind. Look for videos that align with your brand identity and messaging.
For example, if you're targeting young professionals, find content that features users in their 20s or 30s to resonate with your consumers.
Another good way to look at it is to wear the hat of TikTok users. Think about why people use the platform and what they expect to get from it. Then, see if these align with what your target consumers are looking for.
For more helpful tips for promoting your app, check out our article on practical video marketing hacks for small businesses.
#3 Augmented Reality
Augmented reality (AR) is one of the newest and most exciting mobile marketing trends. The technology allows users to interact with digital content in a real-world environment.
Dominate the App Store.
Get the latest industry news first.
While AR is still in its early stages, some brands have already impressively used it to create engaging experiences. One of which is Ikea.
The furniture retail giant has developed an app that allows users to see how furnishings would look in their homes before they buy them.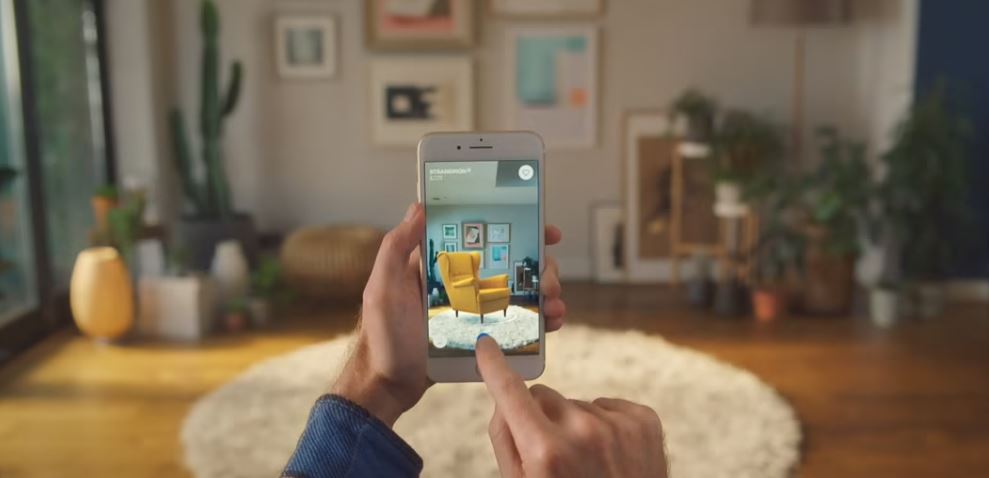 Source: Ikea
Another brand that has used augmented reality as a marketing strategy is Sephora. The personal care and beauty product company has an AR mirror app that lets shoppers try on makeup before making a purchase.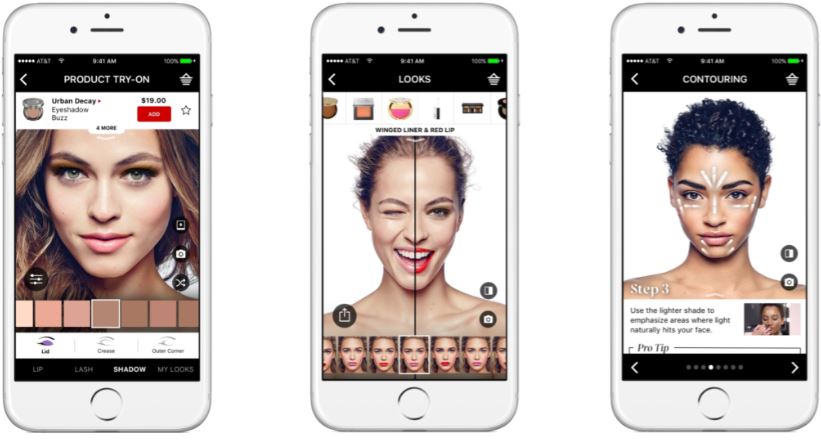 Source: VRScout
Many other brands and industries have adopted AR to improve user experience and customer satisfaction. And with the nearly endless possibilities for mobile marketing with AR, we'll likely see even more creative and innovative uses for the technology in the future.
💡Fun fact: Did you know that the first commercial application of AR was via a print ad?
In 2008, BMW launched a magazine ad with a Mini Cabrio convertible model. When placed in front of a webcam, the ad turns into a 3D computer screen image that moves as you turn the ad around. Pretty cool, isn't it?
Do you have a groundbreaking mobile app idea, too?
We can help you test the viability of your vision. Our MVP app development solution lets you go from concept to launch quickly without expending your resources.
Check out our article on the benefits of starting lean with MVP app development and how to go about the process.
#4 User-Generated Content
User-Generated Content (UGC) is any content created by everyday mobile users rather than businesses, professional marketers, or influencers. It includes anything from photos and videos to reviews and blog posts.
In a world where users are bombarded with commercial messages daily, it's increasingly difficult for businesses to cut through the noise and reach consumers meaningfully. UGC helps brands connect with their audience on a personal level.
Unlike traditional marketing strategies, UGC is created by regular people, and most mobile users find them more relatable, authentic, and trustworthy. This is among the reasons why brands flock to TikTok.
In TikTok, everyone can be a content creator, making it an effective platform to source user-generated content and connect with potential customers.
According to research, about 90% of consumers say UGC holds more influence over their buying decisions than promotional emails and search engine results. Another study found that 70% of shoppers read one to six reviews before making a purchase.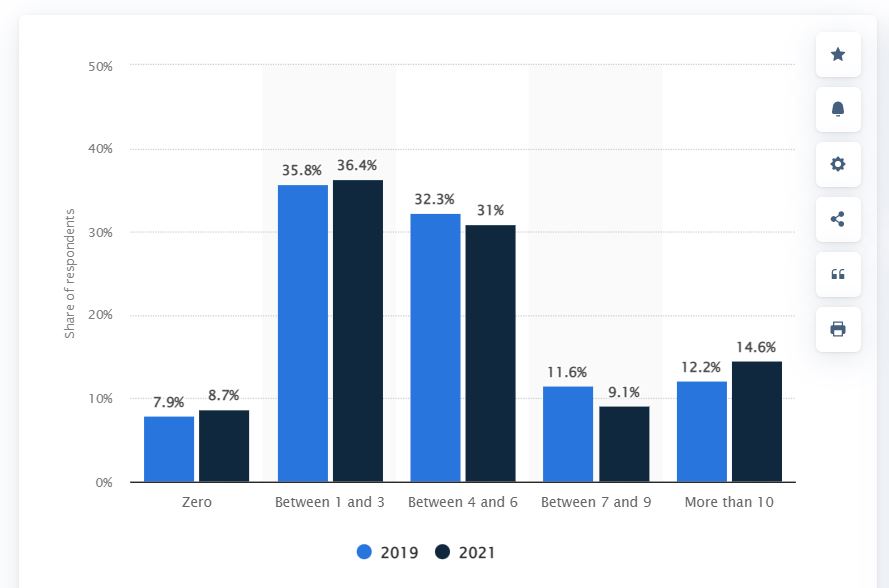 Source: Statista
These figures indicate that mobile businesses that effectively leverage UGC will be in a strong position to succeed in the coming years.
#5 Personalization
In the early days of mobile marketing, businesses would simply send out mass texts or put up a generic mobile website and call it a day.
But as mobile usage has continued to grow, consumers have become more savvy and demanding — expecting personalized experiences tailored to their specific needs.
This expectation will likely remain high in the coming years as the global consumer population is expected to have more digital natives.
I'm talking about Generation Z (Gen Z) or those who have grown up with constant access to the internet and mobile devices.
As of 2020, Gen Z consumers already accounted for 40% of global consumers and are expected to make up more than 41 million U.S. digital buyers by the end of 2022.
These consumers seek authentic, personalized experiences that align with their individual values, preferences, and interests.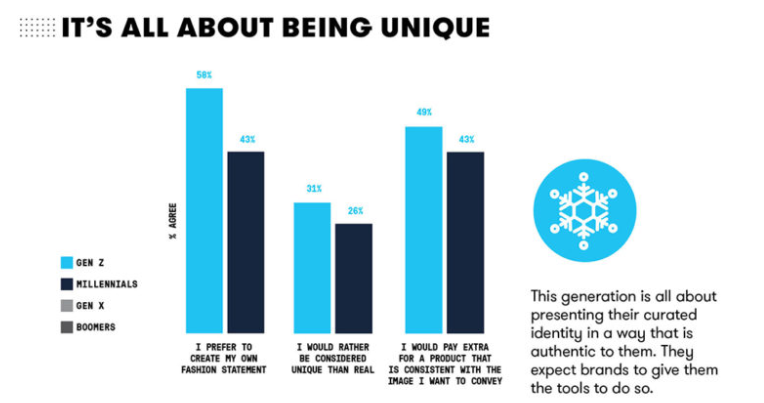 Source: PushPushGo
How do you deliver a personalized digital marketing experience?
Here are some tips we've tested with our partners that have worked great in delivering a personalized digital marketing experience:
Creating a customer persona and mapping out the buyer's journey
Providing purchase recommendations based on past preferences
Using chatbots and other AI-powered tools to deliver more tailored content
Showing targeted in-app ads and push notifications based on mobile user behavior
#6 Mobile Games as Social Networks
Mobile gaming has come a long way since the early days of mobile devices. Today, mobile games are enjoyed by billions of people worldwide and are becoming increasingly social.
Among the primary drivers of the trend is the wide-scale adoption of 5G networks and cloud data. These two technological advancements have made playing mobile games more immersive, with less lag and better synchronization and interaction for multiple gamers in different locations.
According to research, the mobile gaming industry can make up more than 60% of the global in-game advertising market share in 2022. The sector is also predicted to reach more than $136 billion in revenue in the same year.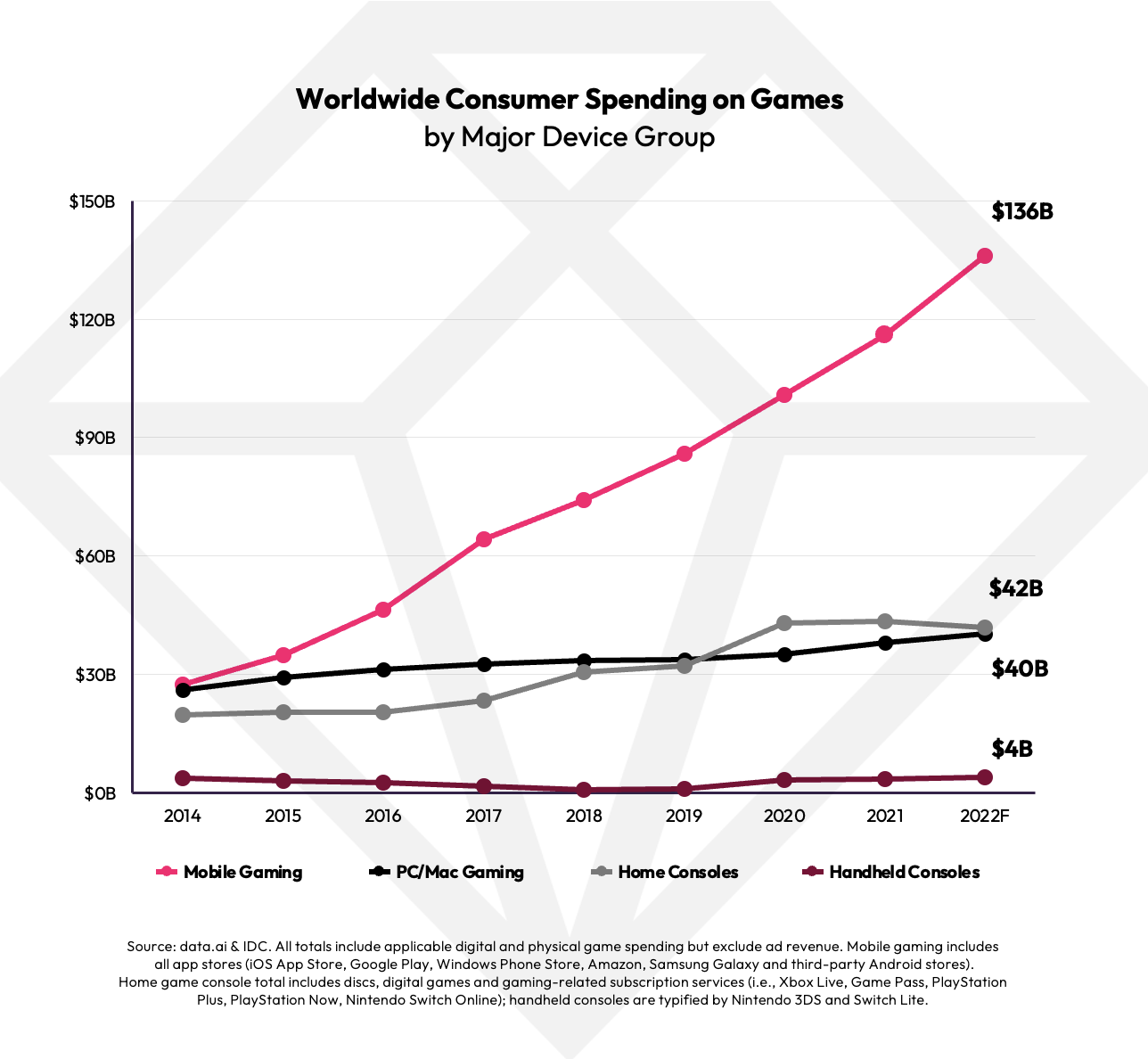 Source: data.ai
Unsurprisingly, businesses are looking for ways to cash in on this rapidly growing industry. According to Allied Market Research, the global in-game advertising market value is poised to reach $17.6 billion by 2030.
Considering how sophisticated and engaging mobile games are becoming year after year, I won't be surprised if more marketers and businesses will tap into the potential of the mobile gaming market in the coming years.
The future of marketing is mobile
It's time to face the fact: marketing is going mobile. As we move ever closer to a future where mobile phones are ubiquitous, it's more important than ever for your brand to have an effective mobile marketing strategy.
Keep the above trends in mind as you plan your campaigns to enhance user engagement, boost conversion rates, and gain an overall competitive edge.
But if you're yet to establish a mobile presence, now is the time. Book a free consultation with our app developers and take advantage of the opportunities that come with this exciting new era in business and marketing.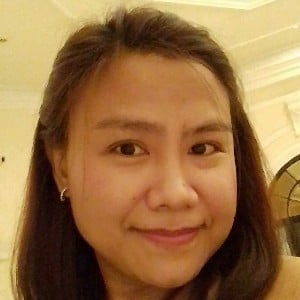 Jane Eslabra is a Content Marketing Specialist at Appetiser Apps. She has 14+ years of experience producing traditional and digital content. When she's not busy being a wordsmith, she's out swimming, taking a long walk, or trying new activities that will keep her eyes away from the screen and her body moving.
Dominate the App Store.
Get the latest industry news first.