How In-App Ads Can Propel Your Mobile App's Success (2023)
Starting a mobile app business can be equally rewarding and daunting. In some cases, it can also be pocket-draining.
Depending on the complexity and features you envision, building an app can cost between $40,000 to $300,000.
Fortunately, there are numerous proven ways to generate revenue for apps. One of which is through in-app advertising.
Find out more about this app monetization model and how it can boost your mobile app's business growth and success.
Let's jump in!
What is in-app advertising?
In-app advertising is an app monetization strategy wherein app developers allow seamless integration of ads into their platforms. This model is a key revenue stream for most free apps, including 25% of U.S. and 37% of global apps.
How does in-app advertising work?
Most in-app advertising campaigns follow this straightforward process:
First, mobile marketers choose an app to run ad campaigns on.
Afterward, marketers and app publishers discuss how to execute the campaigns best to maximize ad revenue without compromising user experience.
Once all details are finalized, the ad enters an ad network or a tech platform that mediates app publishers and advertisers.
Once the ad passes the ad network's quality standard, it is then queued for release to targeted users.
After running the campaign, app publishers receive payouts based on the in-app ads' performance.
Popular in-app ad formats
Here are some of the most widely used in-app ad formats and their examples:
Video ads. This in-app ad format refers to any mobile ad that appears in a video. Gaming apps commonly use it to encourage users to watch video ads in exchange for rewards.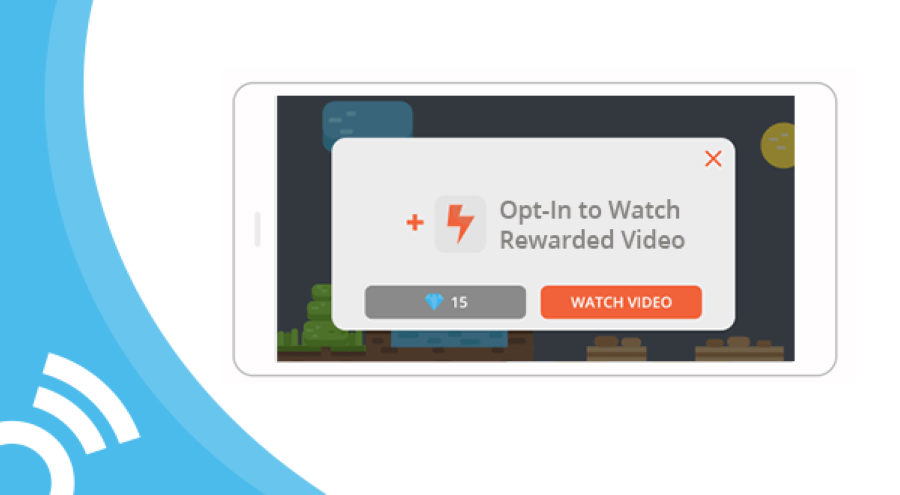 Source: Smaato
Native ads. Also called sponsored content, native ads are designed to resemble or blend naturally or "natively" with the page where they appear.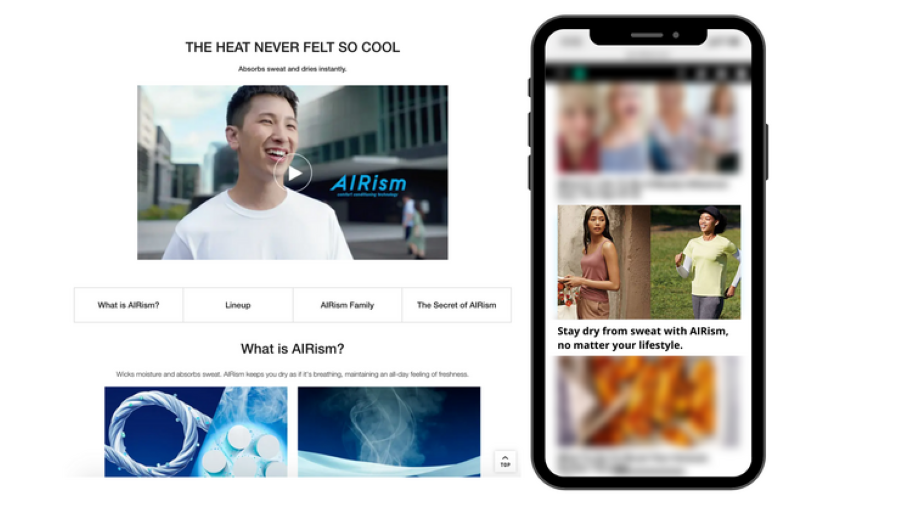 Source: Joinative
Interstitial ads. Interstitial ads often cover the entire app screen. To avoid disrupting the user experience, marketers must ensure that the ad's placement adapts to the flow of the app's usage.
One is example is how mobile games use interstitial ads as breaks in between levels.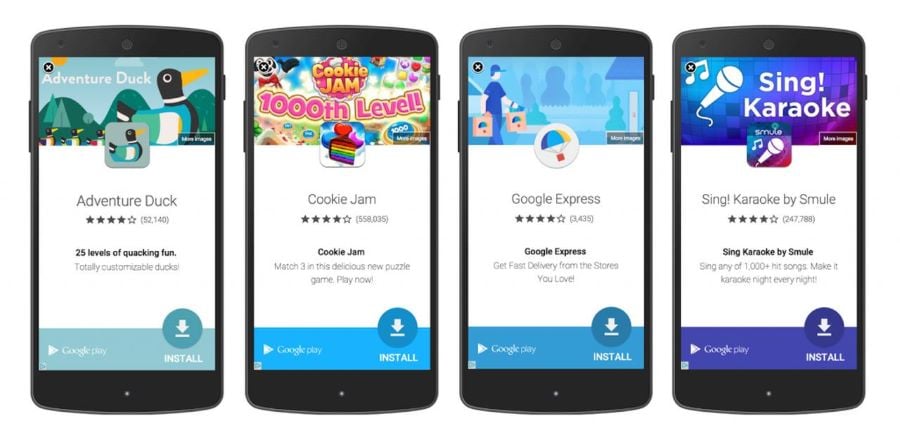 Source: Business of Apps
Playable ads. Playable ads are interactive video ads that allow users to have a mini-trial of your app's features. It's also commonly used in mobile games.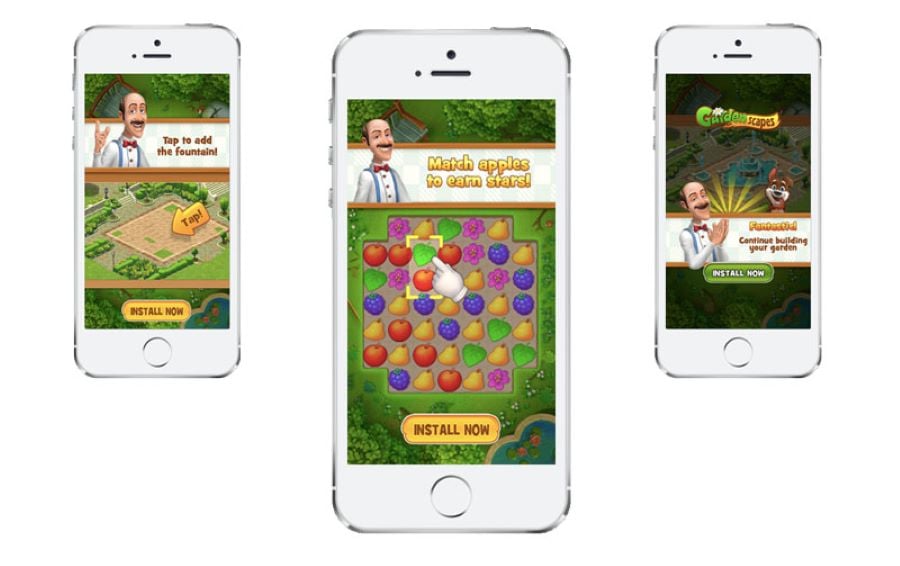 Source: MarketJS
How In-App Ads Can Boost Your Startup Mobile App's Growth and Success
Now that you know the basics of in-app ads, let's talk about how the app monetization model can drive your mobile app's growth.
#1 Exposes your app to a larger audience
Lack of brand awareness is a common pain point among app startups. Many find it challenging to build and expand their user base in a competitive market dominated by big players.
Does this scenario sound familiar? Perhaps, you should consider in-app advertising.
According to the highly celebrated tech analyst and venture capitalist Mary Meeker, more than half of the human population is online and spends 89% of their phone usage time on mobile apps.
What do these figures indicate?
Adopting the in-app ad model is an excellent way to increase brand recall.
By relying on app advertising as a primary revenue source, you can offer your mobile app free and, in turn, encourage more users to download and interact with your app.
In-app advertising also allows for a steadier cash flow, which you can use to elevate user experience and engagement continuously. And once user engagement starts to flow, positive recommendations follow.
We've witnessed this happen to many of our mobile app development partners here at Appetiser Apps — and we believe the same can happen to you!
#2 Increases your revenue potential
With the overall mobile app market projected to reach a staggering $935 billion in revenue in 2023, global marketers — including Forbes 500 companies — continue to allocate bigger budgets for mobile advertising.
Why wouldn't they when data show that in-app advertising works?
Studies found that in-app purchases drove around 48% of all mobile app earnings. If your app adopts the in-app purchase model, in-app ads can greatly complement sales.
If you're still not sold on the revenue-generating potential of in-app advertising, perhaps, the following data have more convincing power:
According to Statista, global mobile ad spending continues to increase and is expected to reach nearly $399.6 billion by 2024.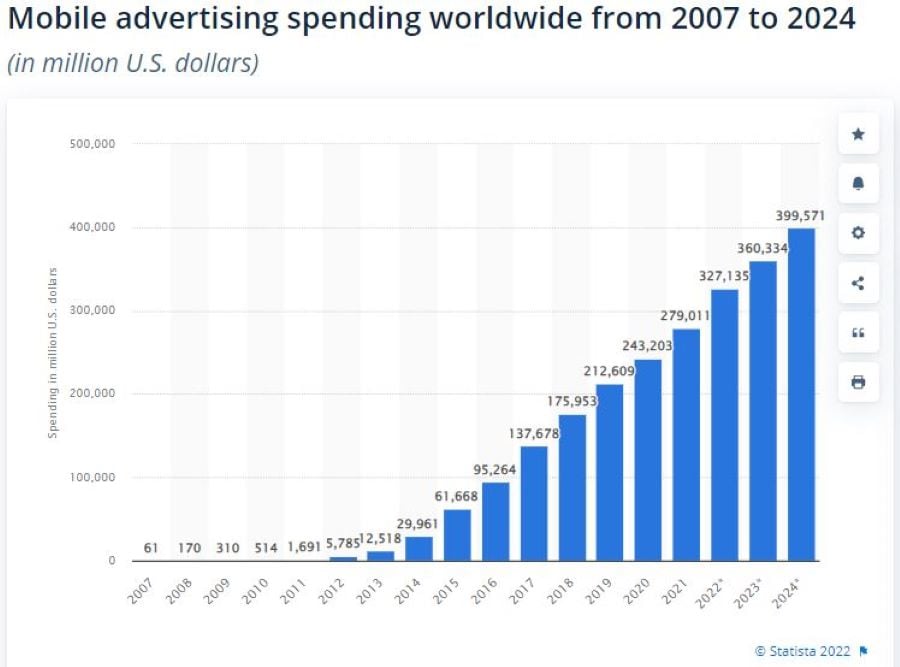 Source: Statista
As global mobile usage increases, app advertising will continue to bring rewarding opportunities for startups and custom mobile app publishers.
#3 Offers more targeted and efficient marketing opportunities
App downloads and user engagement don't happen organically, especially in an industry as competitive as mobile apps. Instead, you must draw out suitable marketing and app store optimization strategies to stand out.
Even the biggest and most established brands invest significant time, money, and effort in developing effective mobile app marketing strategies.
And for a mobile app marketing campaign to be effective, it has to meet one crucial expectation of modern consumers: personalization .
Dominate the App Store.
Get the latest industry news first.
Research conducted by McKinsey & Company found that 71% of consumers expect companies to deliver personalized interactions. In other words, your app users want you to show that you know them on a personal level.
Here's what this should look like from a marketing standpoint: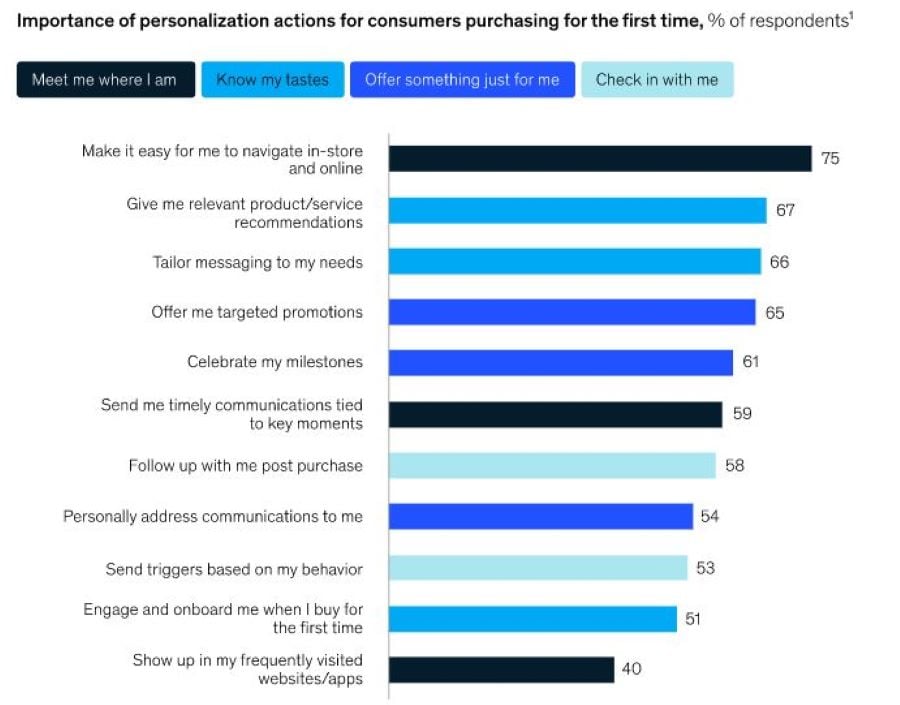 Source: McKinsey & Company
But for personalization to work, you must first gain enough understanding of your target audience. This is where in-app advertising comes in.
In-app advertisers collect and analyze mobile users' demographic and behavioral data to create in-app ads that resonate with their market (which, in this context, are your app users).
By showing relevant ads on your platform, you can make your users feel you know and care for them. And they will reward you for it!
How? Have a look at the following statistics: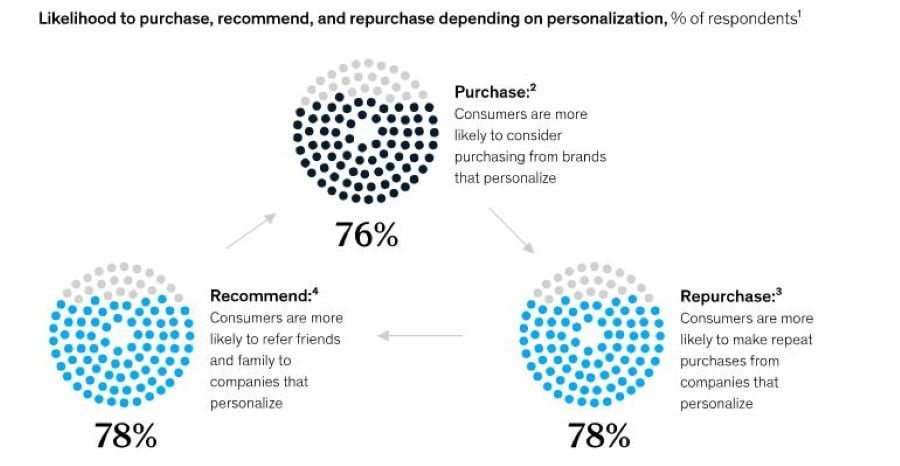 Source: McKinsey & Company
Personalization encourages users to engage repeatedly with your mobile app. And the more they interact with your product, the more you gain valuable insights that you can use to personalize further and enhance their app experience.
TL;DR, in-app ads done right can create a flywheel that delivers a win-win situation for you, your users, and your in-app advertisers.
#4 Enhances user experience
In-app advertising can be a double-edged sword. It can either enhance or disrupt your mobile users' experience.
The good news is you have the power to steer the wheel in a favorable direction.
As an app developer, you have control over the timing, placement, frequency, form, and even content of the ads you allow on your platform.
Mobile advertisers and app publishers often work hand-in-hand to execute in-app ads in the most effective and least disruptive manner. With enough creativity, this is easily achieved since mobile app ads blend naturally with most mobile platforms and content.
Video ads and other ad formats also fit the mobile screen and thus allow for a better visual and interactive user experience than web app ads.
#5 Allows easier, more streamlined performance tracking
Every penny counts in business. This is especially true for mobile app startups.
To make the most out of limited resources, you must ensure that the processes and strategies you have invested in yield tangible or intangible returns.
This is something you can easily do for your in-app advertising strategy.
Compared to its website advertising predecessor, tracking the performance of mobile app advertising is simpler. You don't need to juggle through multiple sites, platforms, and formats.
Additionally, since the ads are integrated into your mobile app's framework, you can see how the mobile ads perform and how your users react and interact with the content.
Having access to these crucial insights allows you to pivot quickly and more sensibly when needed.
The key to a successful in-app advertising campaign
Let me end this article with a nugget of wisdom from Matt Haig, author of Mobile Marketing – The Message Revolution, and other helpful marketing resources.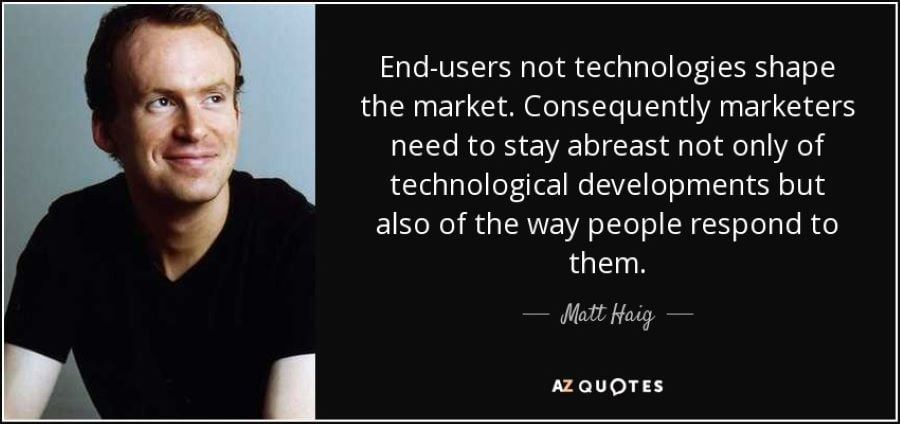 Source: AZ Quotes
In the era of modern mobile devices, in-app advertising gives startup mobile publishers vast opportunities to reach a large audience.
But, in the end, those who make a real impact are the ones who take the time to understand their users and craft a well-thought-out strategy that suits their needs.
Are you a startup business with an exciting mobile app idea?
Let's jumpstart your journey today!
Here at Appetiser Apps, we take great pride in our ability to help our partners crush their growth goals — just like how we did it for PointsBet.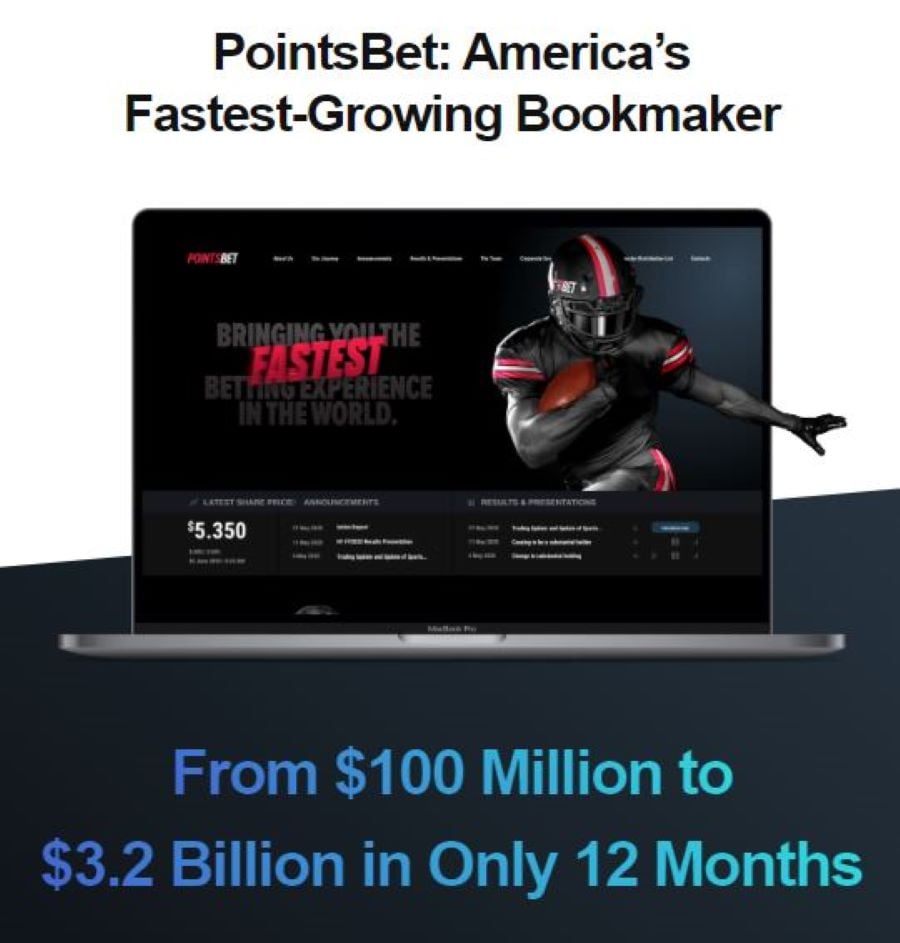 In 12 short months, our team helped transform the brand from a sport and racing betting newbie worth only $100 million into a brand signing NBA Hall of Famers — with a stock market value of $3.2 billion!
Discover how we pulled this off by browsing the PointsBet case study.
We can do the same for you!
Schedule a free consultation with our app experts today!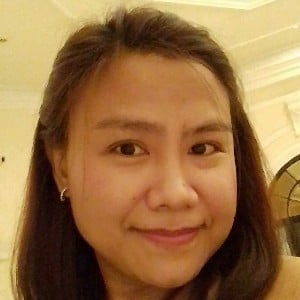 Jane Eslabra is a Content Marketing Specialist at Appetiser Apps. She has 14+ years of experience producing traditional and digital content. When she's not busy being a wordsmith, she's out swimming, taking a long walk, or trying new activities that will keep her eyes away from the screen and her body moving.
Dominate the App Store.
Get the latest industry news first.