Web App vs Mobile App: Which Should You Choose?
With the dizzying array of considerations and options involved in making an app, choosing the right platform for your project can be daunting.
Do you invest in a web application or go down the mobile road?
Both options offer benefits and drawbacks depending on your goals, target audience, budget, and other factors – so how do you know what will work best for your project?
In this article, I'll discuss the pros and cons of building web and mobile apps to help you decide which one will make more sense for you.
Read on to equip yourself with valuable information and insights to boost your app's success.
Let's dive right in!
Mobile App vs Web App: Let's Weigh in the Pros and the Cons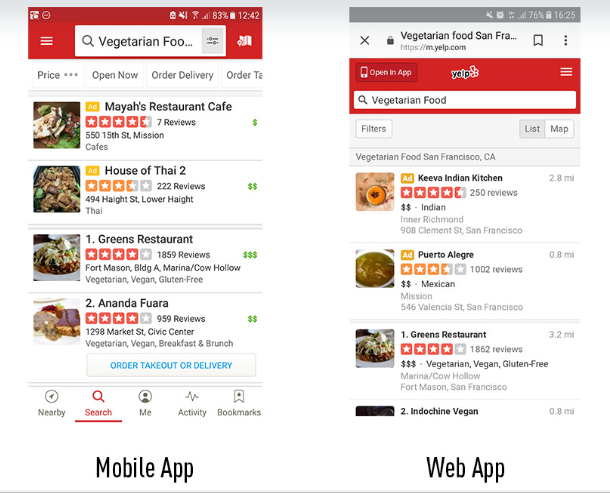 Source: CareerFoundry
What are mobile apps?
A mobile app is an application specifically made to run on a mobile device, such as a smartphone or an iPad. Depending on your needs and goals, you can build a native or hybrid mobile app.
Native apps are designed using coding languages specific to the operating system they will be used on. In other words, native apps are built using the standard software development kits required by either Google (if you're developing Android apps) or Apple (if you're building iOS apps).
On the other hand, hybrid mobile apps are created using web technologies such as HTML5 and JavaScript, allowing them to be operated across multiple mobile platforms without needing to adjust coding.
Our in-depth guide comparing a native and a hybrid app is a good resource for delving deeper into this subject. But in the meantime, let's focus on mobile and web apps.
Advantages of mobile apps
Allow ease of access. One of the biggest benefits of mobile apps is that they can be used offline. Users don't need to open an internet browser to access app content or features, boosting engagement and retention.
Load and perform faster. Mobile apps also tend to run faster and offer better overall performance than web apps. This is because these types of apps use native codes that are optimized for a specific device.
Enhance the user experience. Many mobile apps leverage the built-in features available to the specific user's device, such as cameras, to offer greater functionality and personalization. They also store data locally, making it easier to provide users with a personalized experience.
Offer better security. Since native mobile apps require app store approval before publishing, they are often safer and more secure than standard web apps. The additional layer of protection that app stores provide may not always be available with web-based applications.
Disadvantages of mobile apps
Higher entry barrier. Native mobile apps must meet app stores' rigid standards before publishing. Aside from meeting the platforms' technical and security requirements, you have to prove your app offers lasting value. Major app stores also charge a fee for listing your app.
Harder to update and maintain. Unlike web apps, mobile apps require constant, user-participated updates to meet the latest operating system features and function optimally. And again, these updates require the app stores' approval before release.
Time-consuming and costly development. Mobile apps are built using platform-specific languages. This requires native app developers to create separate versions for different platforms, resulting in a longer and more costly mobile app development process.
Considering all these downsides, is it even worth investing in mobile apps?
Definitely!
With more than 6.3 billion smartphone users worldwide, mobile apps offer exponential growth opportunities to app publishers.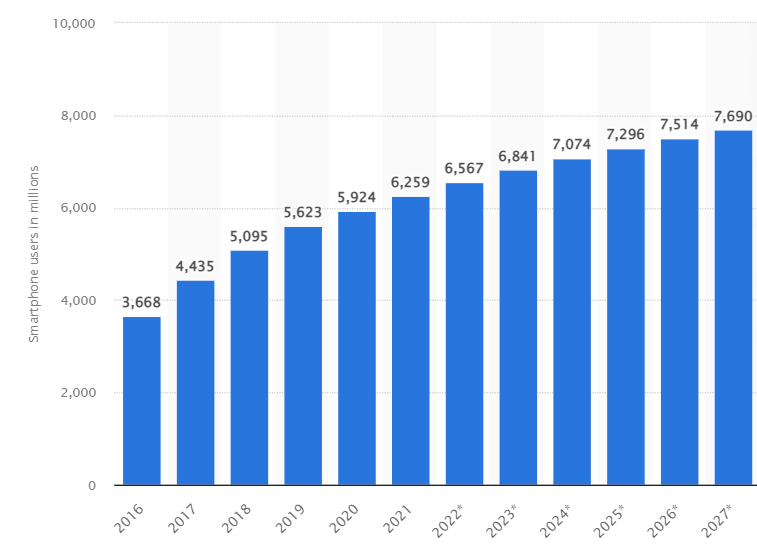 Source: Statista
In fact, the overall mobile app market is projected to generate a staggering $613 billion in revenue by 2025.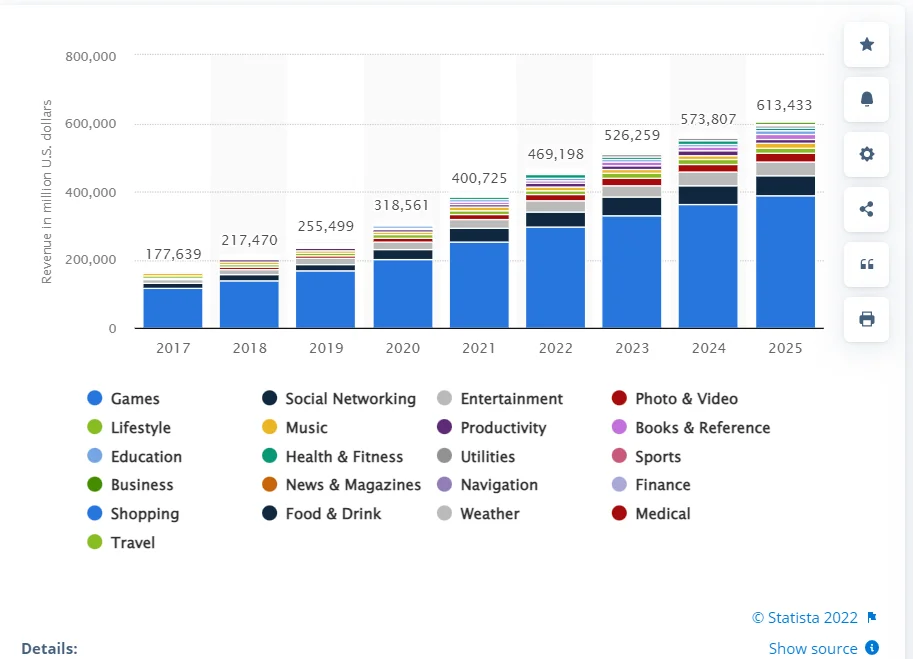 Source: Statista
The key to making the most of your investment is to play your cards right. This primarily requires two things.
Dominate the App Store.
Get the latest industry news first.
First, mitigate the risks by validating your idea with a minimum viable product (MVP). An MVP is a version of your app with just enough features to satisfy early adopters.
By starting with the leanest version of your product, you can save time and money by channeling resources to features that your target audience will likely use. Many MVP examples that once started lean are now the world's biggest names.
Second, choose a mobile app development partner capable of delivering excellent results at shorter timeframes.
Now that you know more about mobile apps, let's take a closer look at the characteristics, advantages, and disadvantages of web apps.
What are web apps?
Web apps are applications built to serve a specific purpose for users across multiple web browsers and platforms. Instead of being installed on a local device, web apps run in the web browser, accessing data through an internet connection.
Most web apps today are progressive web apps (PWS) or apps that function using a web browser but share similar interface elements as their mobile app counterparts. Some of the most popular examples of PWS are Slack, Facebook, and Viber.
Advantages of web apps
Work across platforms. Web apps are easily accessible across various devices and operating systems, as webpages don't require downloads to run on multiple devices.
Faster and cheaper to develop. Unlike mobile apps, web apps don't require developers to create multiple versions for different operating systems. Instead, you can create one version of your application that works across all platforms.
Require less memory space. Most web apps tend to require less memory space since they are not stored locally on users' devices; instead, they are accessed through a browser window, so users won't have to worry about running out of storage space when using them.
Easier to update and maintain. Most web applications can be updated without requiring additional effort from the users. You can easily address a bug or other issues by updating the application in one fell swoop instead of having users download individual updates on different devices.
Disadvantages of web apps
Load longer than a native app. The performance and speed of web apps are subject to the conditions of users' internet connections, meaning that web app users may have difficulty experiencing web app features when speeds are slow or inconsistent.
Offer less advanced features. Unlike a native mobile app, a web app often doesn't store data locally. This means that device-specific features, which may be essential to user engagement and even app monetization, may be unavailable.
Harder to discover. Unlike mobile apps, web-based apps don't need to be listed in the Apple App Store or Google Play Store. While this may allow you to skip the listing process and speed up the launch, it can make user acquisition challenging as your app will be less visible to billions of weekly app store visitors worldwide.
So, how do you get the most out of web app development?
The key is to scale quickly and efficiently through a data-driven design — something you can accomplish by collaborating with a full-journey app developer like Appetiser.
But instead of taking my word for it, take it from one of our web app development partners, OneRaise.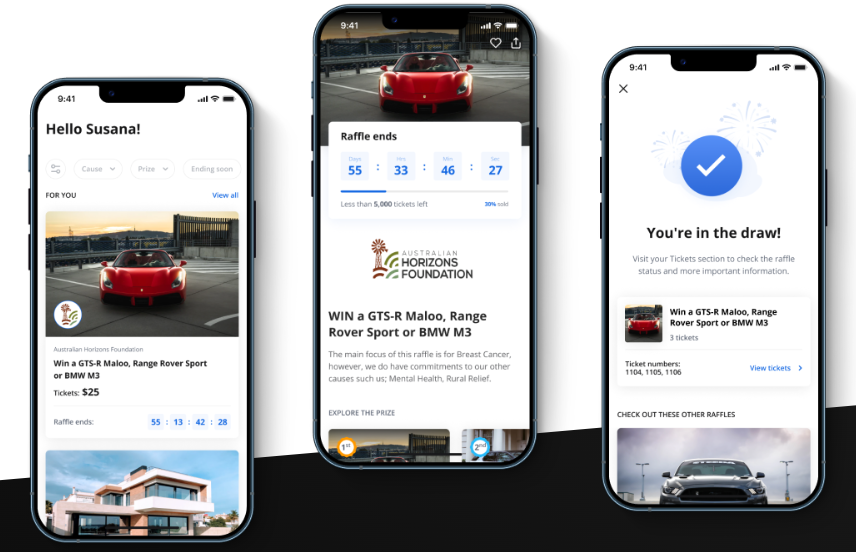 In less than 3 months, we turned the founder's vision into a dynamic web-based fundraising platform that raised almost $1 million for the Australian Horizon Foundation (AHF) within 24 hours of launch!
Check out the OneRaise case study to find out how we did it.
It all comes down to your app development goals
Ultimately, the best decision for your business will come down to what you want to accomplish and who your target market is.
Generally, if you're looking to build something fast and cheap with a low barrier to entry, then a web app is probably right for you.
But if you want better engagement rates and are willing to spend more time and money upfront, then a native mobile app might be worth considering.
Take the time to understand your users, their needs, and your business goals, and you'll be well on your way to taking the best step for your company.
All the best!
If you need an app development partner that specializes in multiple platforms, contact Appetiser. Be it for a web, iOS, or Android app, you can count on us to help you make an incredible impact with technology.
Schedule a consultation today.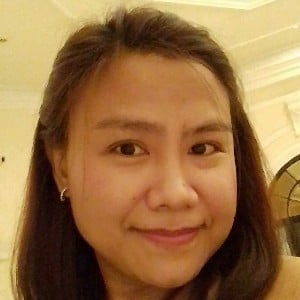 Jane Eslabra is a Content Marketing Specialist at Appetiser Apps. She has 14+ years of experience producing traditional and digital content. When she's not busy being a wordsmith, she's out swimming, taking a long walk, or trying new activities that will keep her eyes away from the screen and her body moving.
Dominate the App Store.
Get the latest industry news first.