What Makes a Good App? 5 Killer Mobile App Features and Examples in 2023
App design and development have improved lives through conveniences like quick messaging, safe online bill payments, and even games that both educate and entertain.
A Texas A&M University study even highlights the impact apps have on businesses. It reveals that app users buy 34% more items than non-app users.
Regardless of how you benefit from apps, have you ever wondered what makes them just so fun, addictive, or easy to use?
Read this article and discover what features are common to all killer apps. But first, a little introduction on what apps are.
What is an app?
An app or "application" is a computer program that performs a special task or a particular group of related functions for users. Apps have helped people with many things, like networking with businesses, discovering exciting experiences, socializing, and even positively impacting the planet.
Though apps are computer programs, they can run on mobile devices because many of today's phones perform as well as most laptops or desktops. That is why you can find apps across all electronic devices, big or small.
This article will focus mainly on mobile apps since this industry is experiencing relatively faster growth in recent years.
Now that you know what apps are, let's find out what makes a good app.
5 Features of a Killer Mobile App
Does a successful app look good or have fancy effects?
Well, that's partly true. Good apps should ultimately make life easier for both their users and their creators. They should also be able to perform the tasks they are designed to do well.
More specifically, successful apps…
1. Are user-centric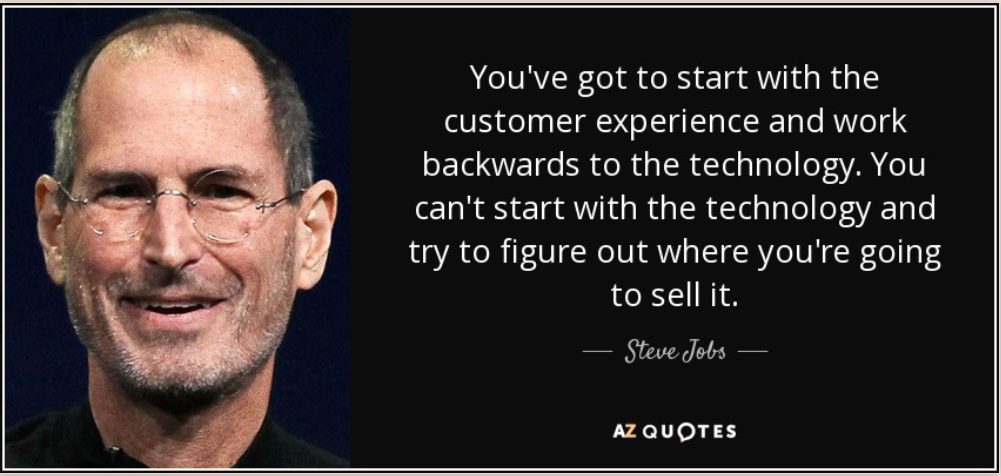 Source: AZ Quotes
Apple founder Steve Jobs once said that customer (or user) experience should be the basis of any piece of consumer tech.
Jobs' theory is validated by a study where around 80% of users quit their apps within a week of downloading due partly to complex onboarding.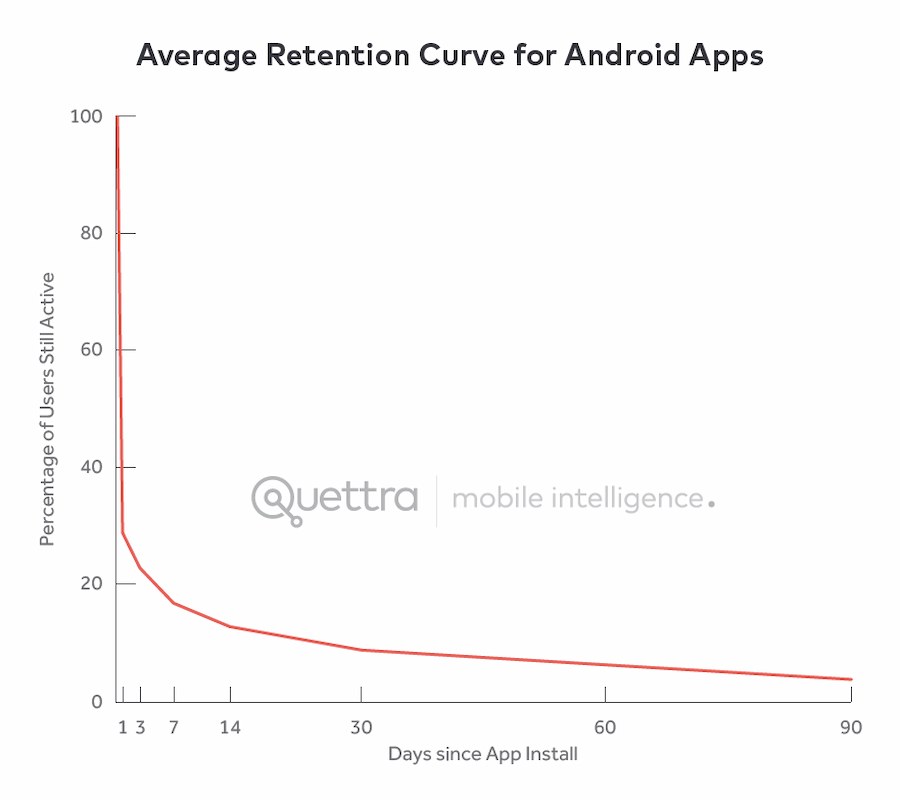 Source: AndrewChen.com
In short, users just want to have an easy time using apps.
This is why businesses that build successful mobile apps always aim to create a better user experience (UX). After all, fewer user dropouts mean more income. This is how Facebook and Google's UX designs are partly one of the reasons why they're able to beat their rivals.
These tech giants are not alone in having a winning UX strategy. Our clients also similarly rose to the top due to our world-class designers' integration of the following user-centered features:
Visually appealing design through the right choice of colors and optimal font styles and sizes
App analytics tools to process user feedback and pain points for continuous app improvements
Built-in compatibility with major operating systems like Android and iOS
Adaptability to different screen sizes
All these characteristics of a user-centered app boil down to making it easier for users to navigate and benefit from it, regardless of their mobile device or operating system.
Example of an app with a user-centered philosophy
Online retailer MyDeal has a mobile app where buyers can find products more easily. With just a few taps on the screen, users can filter products according to categories like price, ratings, and popularity. We helped develop this app, which became crucial in MyDeal's bid to trade on the Australian Stock Exchange.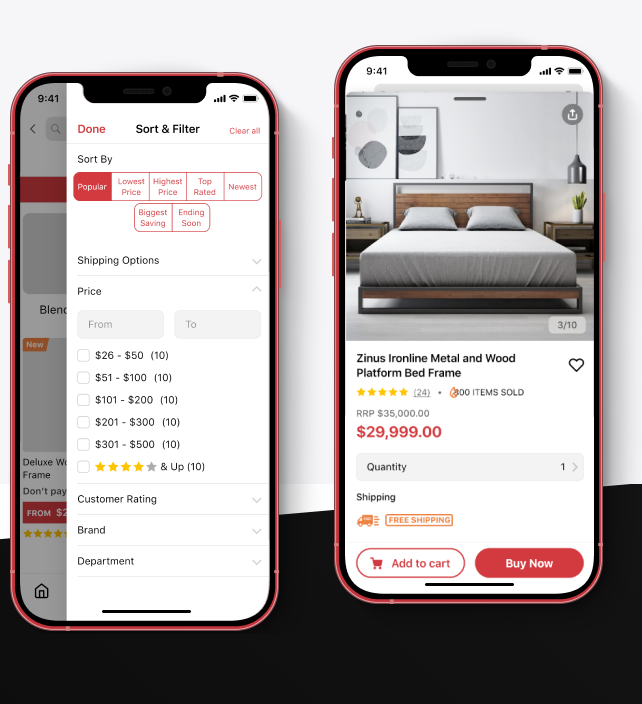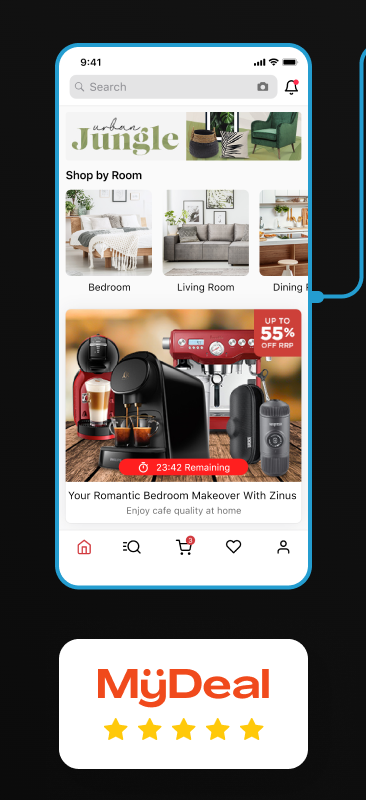 MyDeal's app is a classic example of user-centered design. The e-commerce app goes beyond merely listing items for sale and adds something extra, like helping buyers easily discover what they want to order.
2. Perform quickly and reliably
No one enjoys using apps that load too slowly or are prone to hanging or freezing.
According to a Google report, 70% of users switch to another mobile app because of slow load times — significantly impacting app user retention rates and earnings.
In their extensive professional experience, our app development experts have noticed that high-performance apps usually:
Load within 1 to 3 seconds after tapping a button or any similar user action WHILE displaying quality graphics.
Undergo constant testing to fix bugs that may prevent it from running smoothly or functioning properly.
Example of a reliable and stable app
Grill'd, a restaurant specializing in healthy burgers, has a food delivery app that rarely freezes or hangs. Before we intervened, the app was crash-prone and had around 50% fewer monthly active users.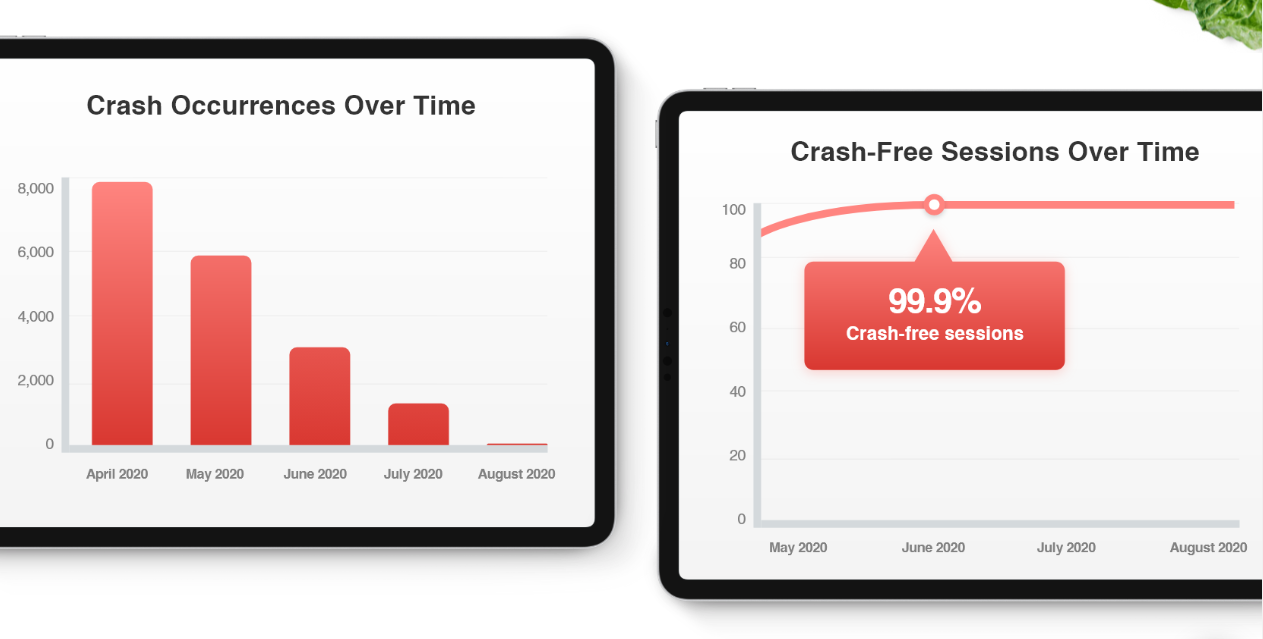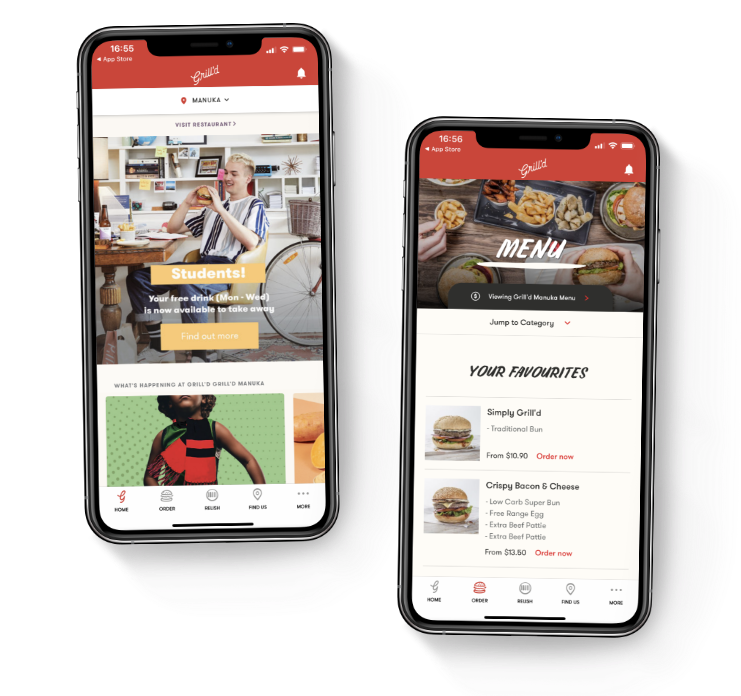 This great mobile app shows that reliability makes good business sense, and connecting with the right app design and development experts can turn problems into profits. You may read more about the related case study here.
3. Protect users from cybersecurity threats
Did you know that threats from the Internet have harmed billions of computer and mobile users?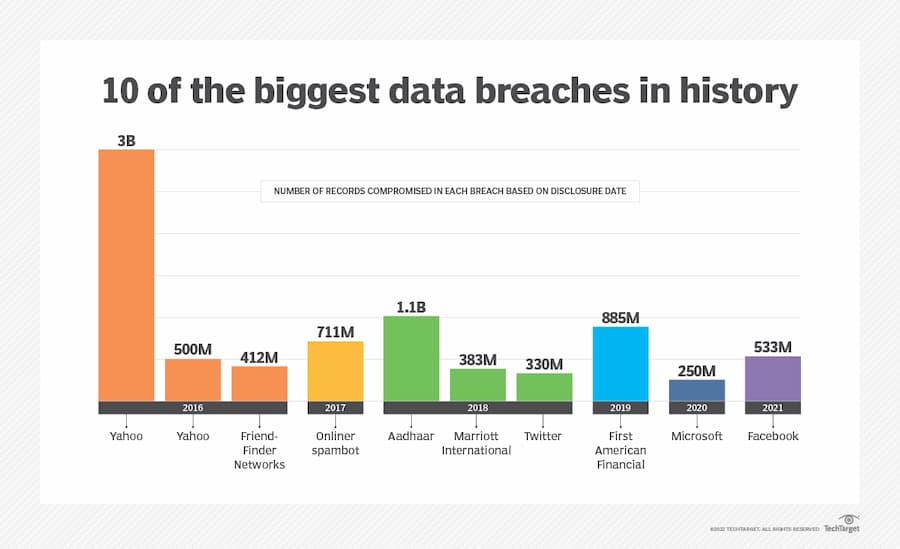 Source: TechTarget
Dominate the App Store.
Get the latest industry news first.
Despite their technological prowess, even tech giants like Facebook and Yahoo! could not stop hackers from gaining access to the sensitive data of their 3.5 billion account holders.
Since most people today surf the Internet through their mobile devices, a successful mobile application with strong cybersecurity features is a must for every smartphone user that needs protection from hackers and device-damaging programs called malware.
If app businesses fail to protect their users from such threats, they will likely lose income or even suffer lawsuits. In a related study by the Internet Society, around 80% of surveyed users demanded high security and privacy standards from their Internet device manufacturers.
Therefore, the following app security features are vital to shield businesses and their app users from massive inconveniences:
Routine security testing to ensure an app is constantly updated to deal with ever-growing malware and hacker threats
Optional data collection policies that give users the freedom to withhold certain personal or business information
Multifactor authentication, which is a way of verifying user identity before providing access to sensitive accounts like those used for online banking or work emails
Example of a highly secure app
Among all the mobile payment apps examined in a study, New York Times tagged Zelle as having both multifactor authentication and great privacy options. It is also a plus that Zelle doesn't transfer user data to marketing third parties.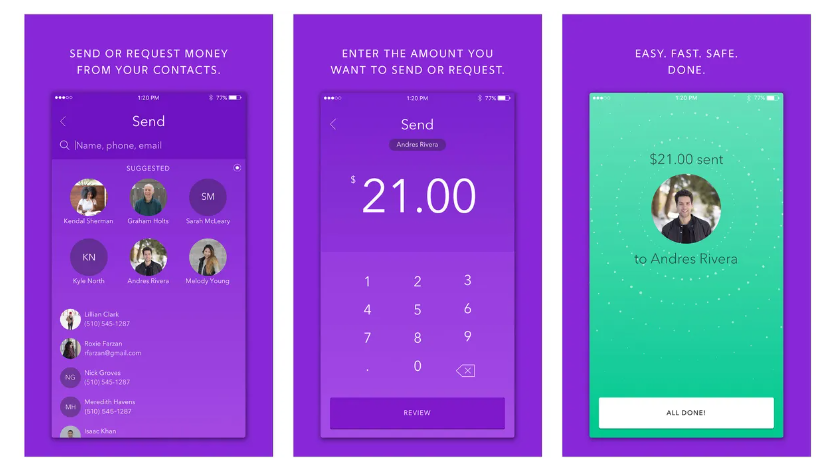 Source: CNET
Along with measures that shield users from unauthorized account access and the leaking of personal data, this app is an excellent example of best security practices in action.
4. Feature a sustainable monetization model
Almost any investor in apps for growth or social impact aims for a return on their investment. After all, app development could be costly despite the many ways to fund it.
Therefore, apps need to have an integrated and sustainable monetization model. A good app income model provides a steady and adequately large cash inflow for the long term. Otherwise, the chance of success in the high-stakes world of app development shrinks.
Though there are many ways to earn money sustainably from mobile apps, it is crucial to note that some industries make more money from apps than others. But for anybody who wants to make up for their investment in mobile app development, we recommend the following to ensure a sustainable app income model:
Analyzing competitors and their best practices for earning from apps
Correctly identifying the most profitable or financially sustainable target users
Targeting users with the right push notifications and personalized in-app messaging to increase user retention
Offering free apps while integrating smart monetization models
Pro Tip: Finished versions of apps are not the only ones bringing in money. Athlete Ben Dixon raised funding for his innovative Vello app mainly through a less expensive app design prototype. Let's have a chat if you want to see how far your app idea can go in terms of design and earning potential!
Example of an app with a good monetization model
First-person shooter Call of Duty is one of the best examples of free apps with an effective monetization model. The game earned a little over $1.5 billion in revenue just two years after its launch. The app owes its success to a hybrid monetization model composed of in-app purchases, subscriptions, and in-app ads.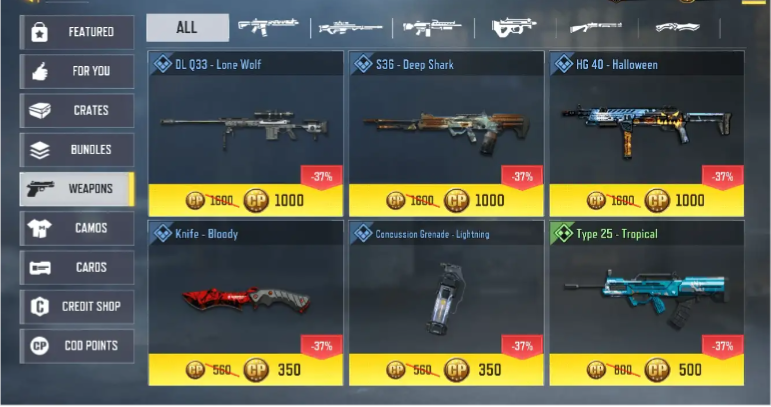 Source: Medium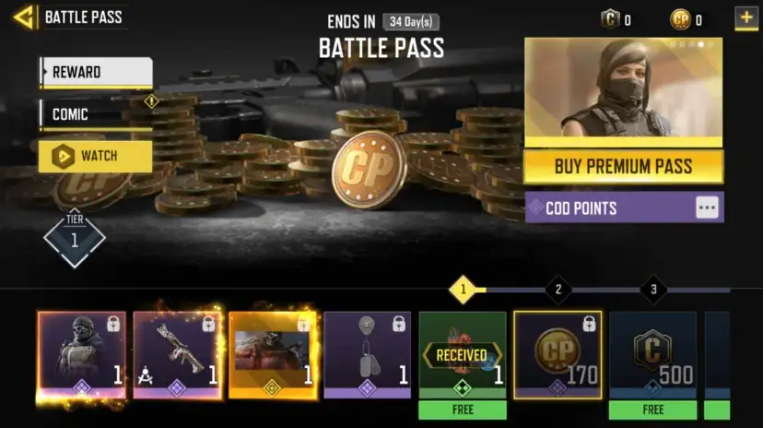 Source: Medium
Gamers can first access the game for free, but subscriptions are necessary to unlock certain features like buying new weapons, etc. This unique free-to-subscription income model and other revenue streams ensure that Call of Duty earns in the long run. After all, the game's free feature ensures a constant pool of users, guaranteeing sustainable ad income.
5. Tackle a single problem
Too many features in an app turn off users. UX Matters mentions that two iconic apps in the 1990s and early 2000s lost their user base because they tried to solve too many problems.
On the app business side, excessive features often lead to higher costs due to a lengthier development cycle and reduced income due to frustrated users.
The key to minimizing the set of available app features is finding a specific need that the app seeks to fulfill and concentrating on that need.
In other words, an awesome app does not try to please everybody but concentrates on helping a specific target audience deal with a particular problem to make their life easier.
Our team of experts recommends the following to ensure that an app maintains focus:
Conducting extensive research on the needs and purchasing power of potential users or target audiences (generally, the narrower the target market, the better)
Analyzing competitors to come up with a bare-bones version of an app, called a minimum viable product, that is slightly better than rivals in one or two main features
Keeping up to date with the latest business and technology trends related to the app being developed
Incorporating the findings from the three steps above to create an app that focuses on one thing
In general, the best apps tend to focus on fulfilling any of the following needs:
Providing entertainment (like games or social media apps)
Source of information (for example, book summary and educational apps)
Completing specific tasks conveniently (like ordering a pizza or booking a room)
Example of an app that focuses on one main problem
Facebook founder Mark Zuckerberg created the Messenger mobile app because he said, "Messaging is becoming increasingly important. On mobile, each app can only focus on doing one thing well…".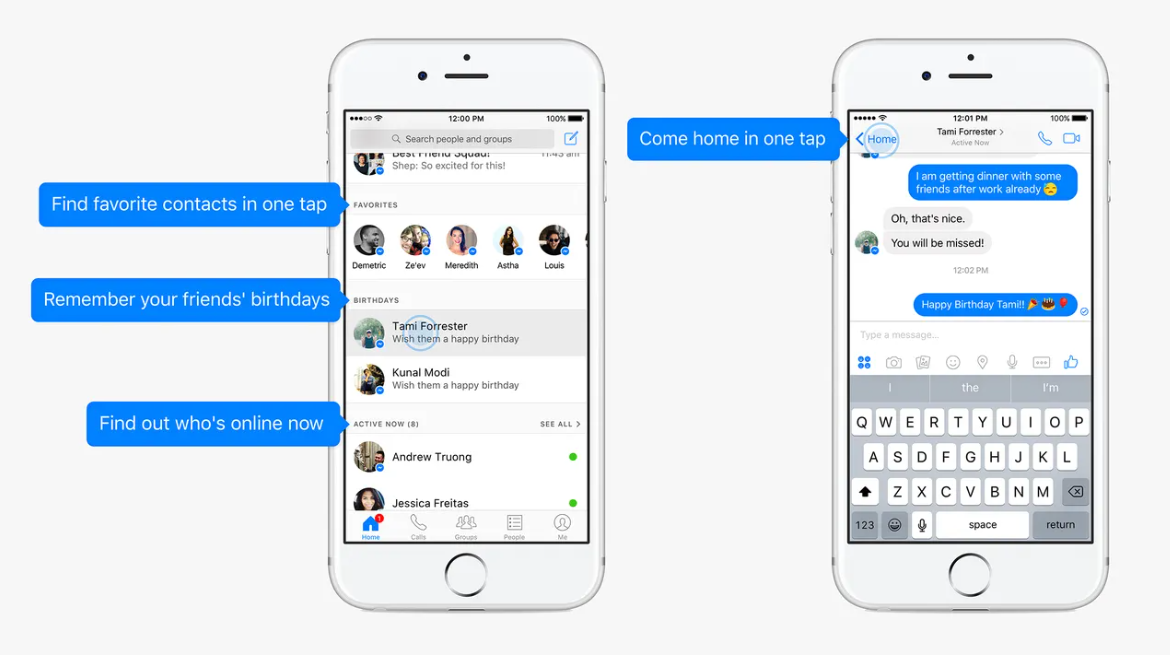 Source: Wired
This proves that even a tech giant like Facebook can still find small but meaningful improvements. By focusing on just one single problem, Facebook affords its users a more seamless experience and allows them to appreciate its value better.
Are you also having challenges keeping your app simple? Check out our article on how to start lean with MVP app development to get more eye-opening insights.
A good app for a good life
Though it takes some effort to develop features that make up a successful mobile app, creating an effective solution while ensuring sustainable income is all worth it.
In the modern age, many of the world's 4 billion smartphone owners are app users. And with modern tech comes modern problems – problems which, with the right app development partner, your app can help solve.
Our product and marketing experts have helped numerous clients grow from zero to multi-million brands.
Do you have an app idea that you're dying to share and benefit from? Let's chat and figure out your strategy for conquering the world through your killer app.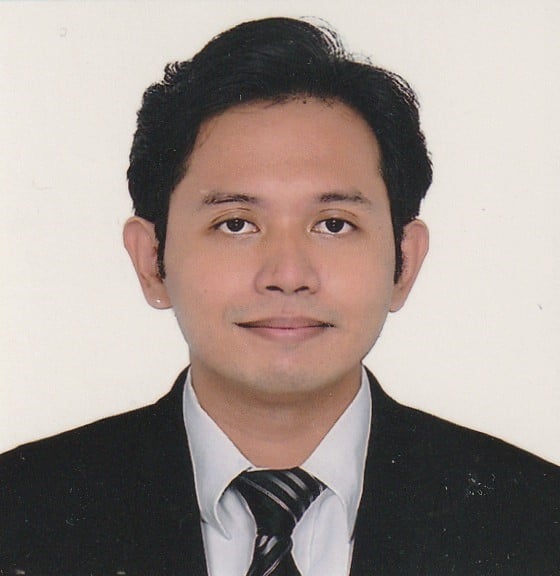 Jesus Carmelo Arguelles, aka Mel, is a Content Marketing Specialist by profession. Though he holds a bachelor's degree in business administration, he also took courses in fields like computer troubleshooting and data analytics. He also has a wealth of experience in content writing, marketing, education, and customer support. Outside office hours, he finds deep joy in reading, traveling, and photography.
Dominate the App Store.
Get the latest industry news first.