7 Best Retail Apps to Run Your Store Efficiently
Retail has come to mobile devices. From bulky cash registers to cashless payments, the industry has come a long way. All the more, it becomes convenient to sell anything and anywhere.
Thanks to retail mobile apps, you can run your retail business with a few taps, whether on a smartphone or tablet.
Need to check the daily sales? There's a sales tracking app for that. Do you want to know if you still have a few stocks left for an item that sells like hot pancakes? An inventory management app can check that in a breeze.
Retail apps are designed to simplify and automate various aspects of your retail store, including customer experience. Using retail mobile apps in your daily routine saves time, reduces errors, and improves app engagement.
So, without further ado, let's look at the 7 best retail apps to help you run your store efficiently and effectively.
7 Best Retail Apps According to Use Cases
In their experience helping companies in the ecommerce and mobile commerce space, our product strategists and app developers know that running a retail business involves activities ranging from responding to customer queries to payment processing.
Our experts also know that the following mobile retail apps could elevate your business in those operational areas.
1. Shopify: best retail app to run a storefront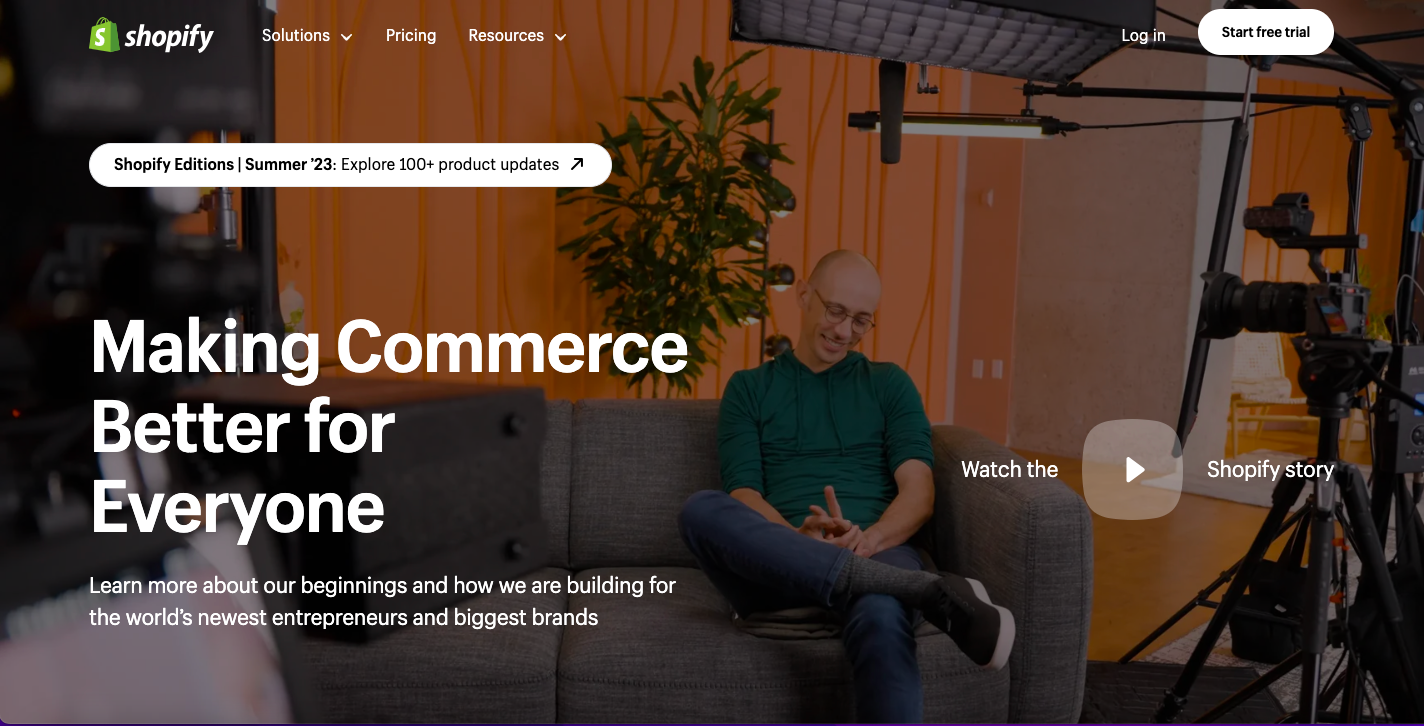 Source: Shopify
Shopify is one of the best retail mobile apps for retailers looking to create a stunning, professionally-looking online storefront. Since its inception in 2006, Shopify has provided a comprehensive platform for businesses to run their online shopping operations effortlessly.
This cloud-based platform offers a variety of features that are designed to meet the needs of online retail stores. In fact, 4.12 million eCommerce sites are built with Shopify, dominating the retail marketplace landscape.
Here are a few noteworthy Shopify features you will love:
✅ User-friendly interface. Enables retailers to easily create and customize their storefronts. The platform provides a wide array of templates, so you can design websites that reflect their brand values and style.
✅ Flexible payment processing. The platform supports all major payment gateways, including PayPal, Apple Pay, and Google Pay, allowing businesses to transact with their customers without hassle.
✅ Multichannel selling. Merchants can sell everywhere they choose while seamlessly integrating all sales, customers, products, and business data into one central platform. From an online store, they can add sales channels like Facebook, Instagram, Amazon, physical stores, or in-person mobile sales.
Should you consider using Shopify to run your store, here's a table of Shopify plans in the U.S. dollars:
| Plan | Basic | Shopify | Advanced |
| --- | --- | --- | --- |
| Monthly | $25 | $65 | $399 |
| Annually | $228 | $588 | $3,588 |
Shopify's popularity has earned it a spot among the top retailer apps globally, and its portfolio of clients is nothing short of impressive.
Example: Youfoodz
Youfoodz, Australia's #1 healthy meal delivery service, is a great example.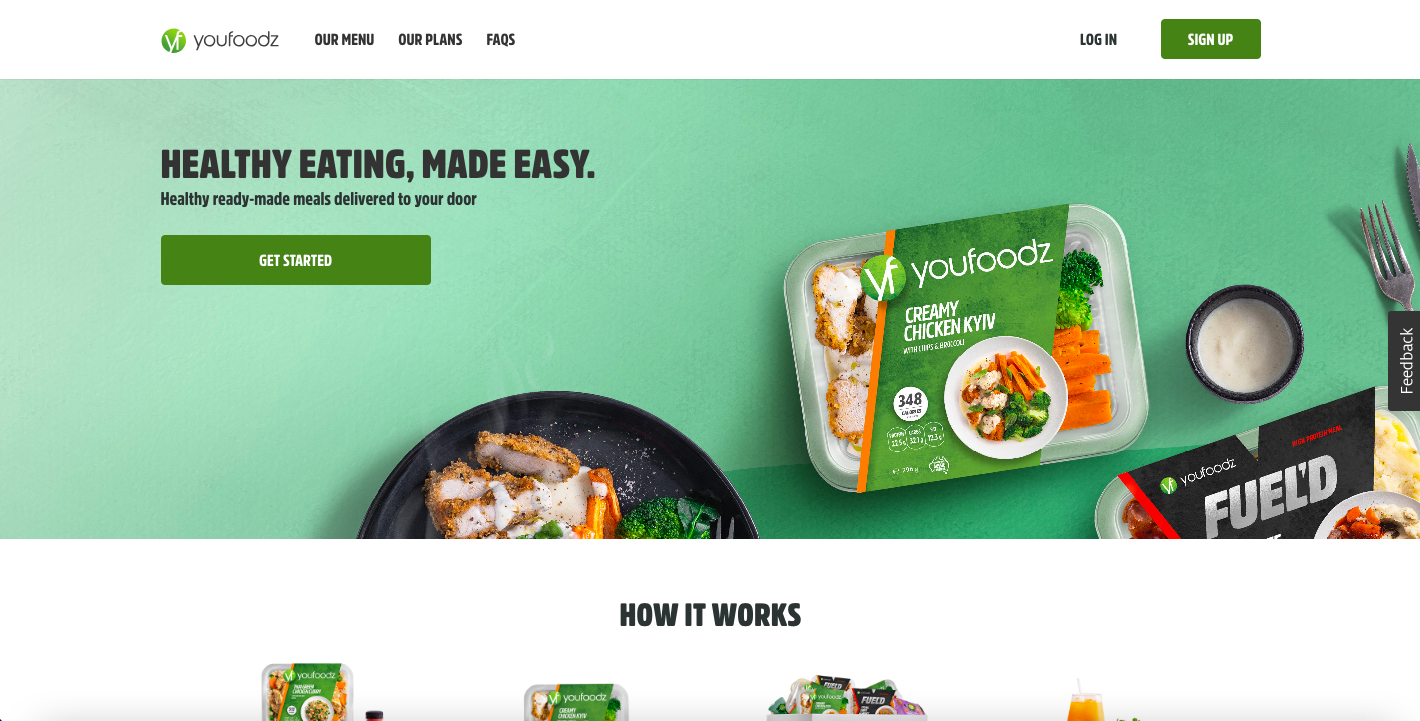 Source: Youfoodz
Youfoodz achieved success through TV and radio ads in the past. However, in 2017, they decided to go digital. They used Shopify and Facebook ads and have now transitioned to Shopify Plus. This strategic move has propelled their brand forward confidently and continues to drive positive results.
But the story doesn't end here. Youfoodz took it up a notch when it decided to build a mobile app with Appetiser to meet the growing demands of its customers.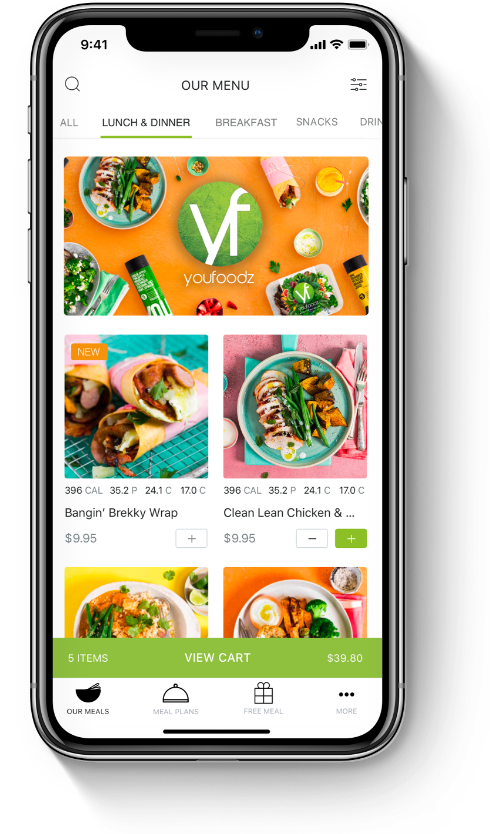 Read the Youfoodz case study and find out how our mobile app helps the company generate six figures in revenue – daily.
2. Zendesk: best retail app for customer service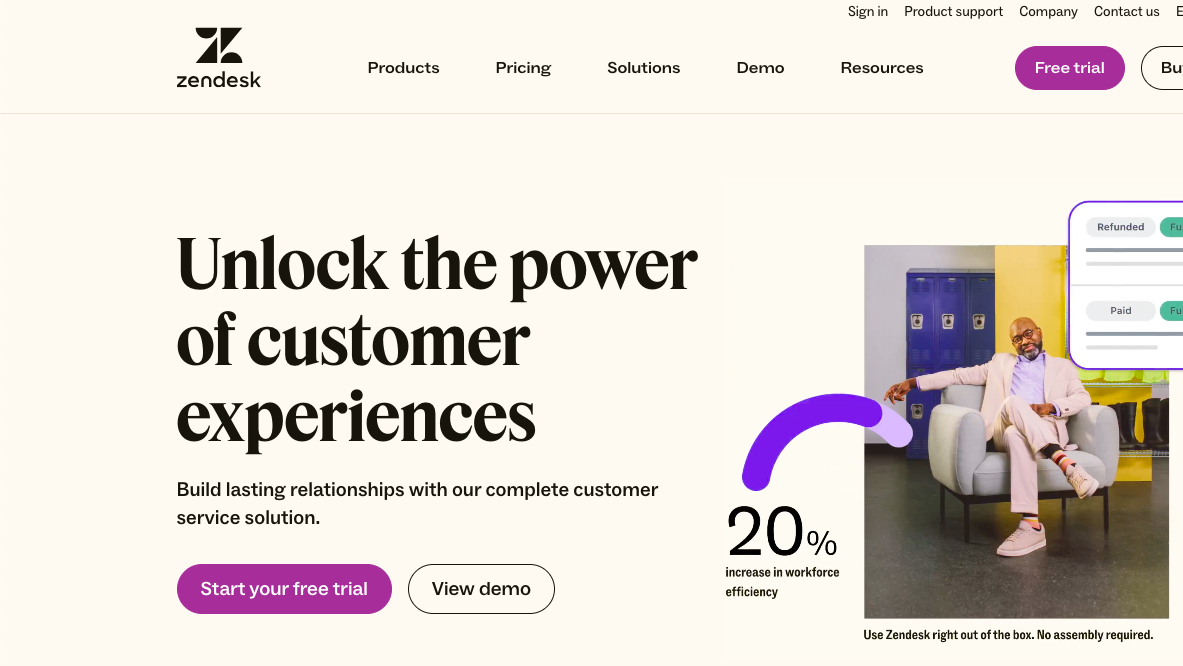 Source: Zendesk
Zendesk is a comprehensive customer service platform that has been helping businesses of all sizes deliver exceptional customer service since 2007. With a considerable customer base of over 170,000 companies worldwide, it has proven itself as an invaluable tool for businesses looking to enhance customer experience automation (CXA).
Retail businesses can use its main services like integrating the Help Center, ticketing system, community forums, messaging, and live chats to answer customer questions. Even non-retail companies have experienced an incredible 268% increase in ROI – thanks to a customer support tool like Zendesk.
Let's check out the other key features below that will benefit your retail store.
✅ Comprehensive suite of reporting and analytics. It empowers retail businesses to enhance customer service and sales data with Zendesk Explore. Companies that leverage data achieve 36% faster resolutions, reduce customer wait time by 79%, and successfully address four times more customer requests. The value of data analytics even goes beyond the realm of a retailer app. For instance, any business reliant on mobile apps for income needs to know what their app users like, dislike, or are struggling with. To learn how app businesses monitor their users, check out our article on the most powerful mobile app analytics tools.
✅ Prebuilt dashboards to view data. It offers prebuilt dashboards with comprehensive information on product metrics, agent activity, and more. The dashboards consist of versatile widgets that include reports, images, text, and other essential components.
✅ Mobile app access. Zendesk's mobile apps allow businesses to manage customer inquiries and support requests on the go, a good approach for customer experience automation while using a mobile device.
Customer support is an integral part of running an online shopping store. If you're considering availing a Zendesk basic plan for a ticket system managed via emails, here's a table of the rates in U.S. dollars for one agent only.
For an additional agent, you pay an extra $25 each.
| Plan | Support Team | Support Professional | Support Enterprise |
| --- | --- | --- | --- |
| Monthly | $25 | $69 | $149 |
| Annually | $228 | $660 | $1,380 |
Zendesk's unified platform simplifies the management of customer queries. There's actually a retail company that does it well, especially in the use of a Help Center.
Example: MyDeal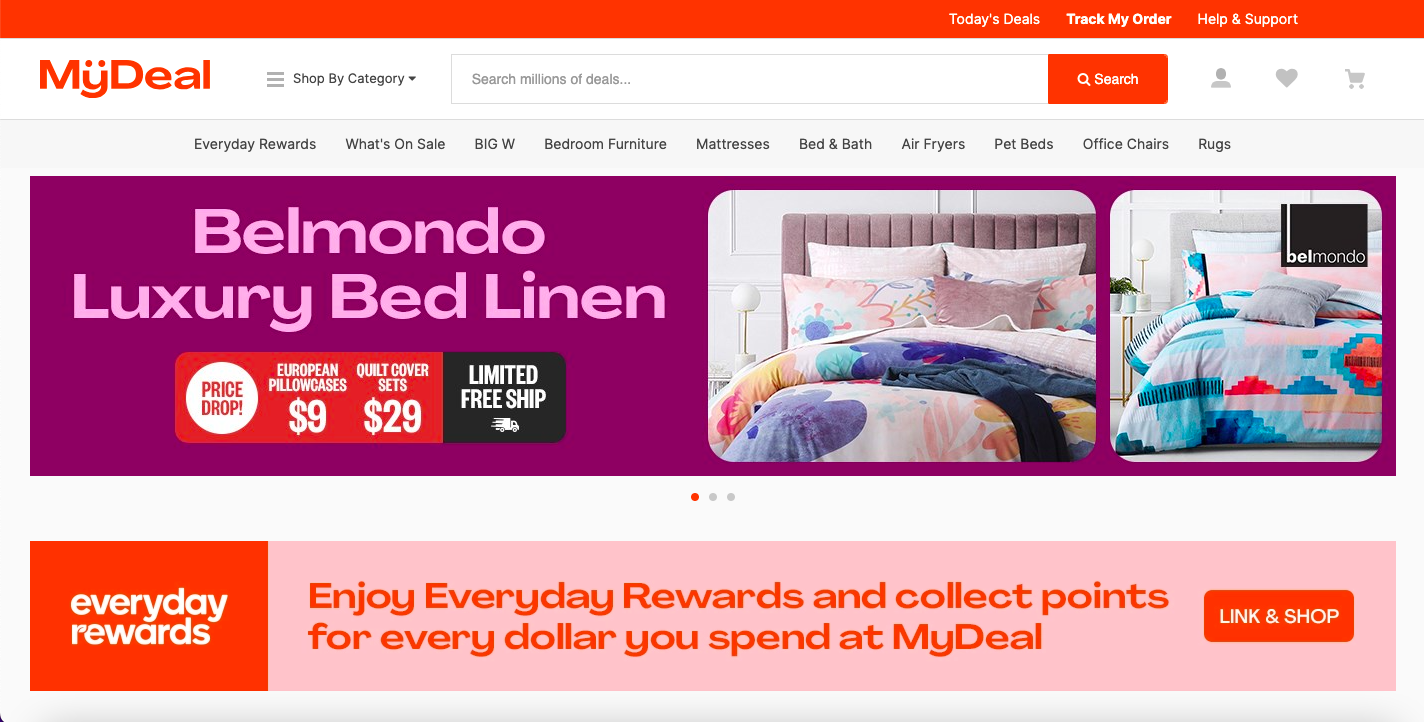 Source: MyDeal
This leading Australian retail online marketplace capitalizes on Zendesk services like the Help Center. Solving the loyal customers' and sellers' concerns is a gargantuan task, so they set up a Help Center with FAQs that cover queries on orders, shipping, and returns, to name a few.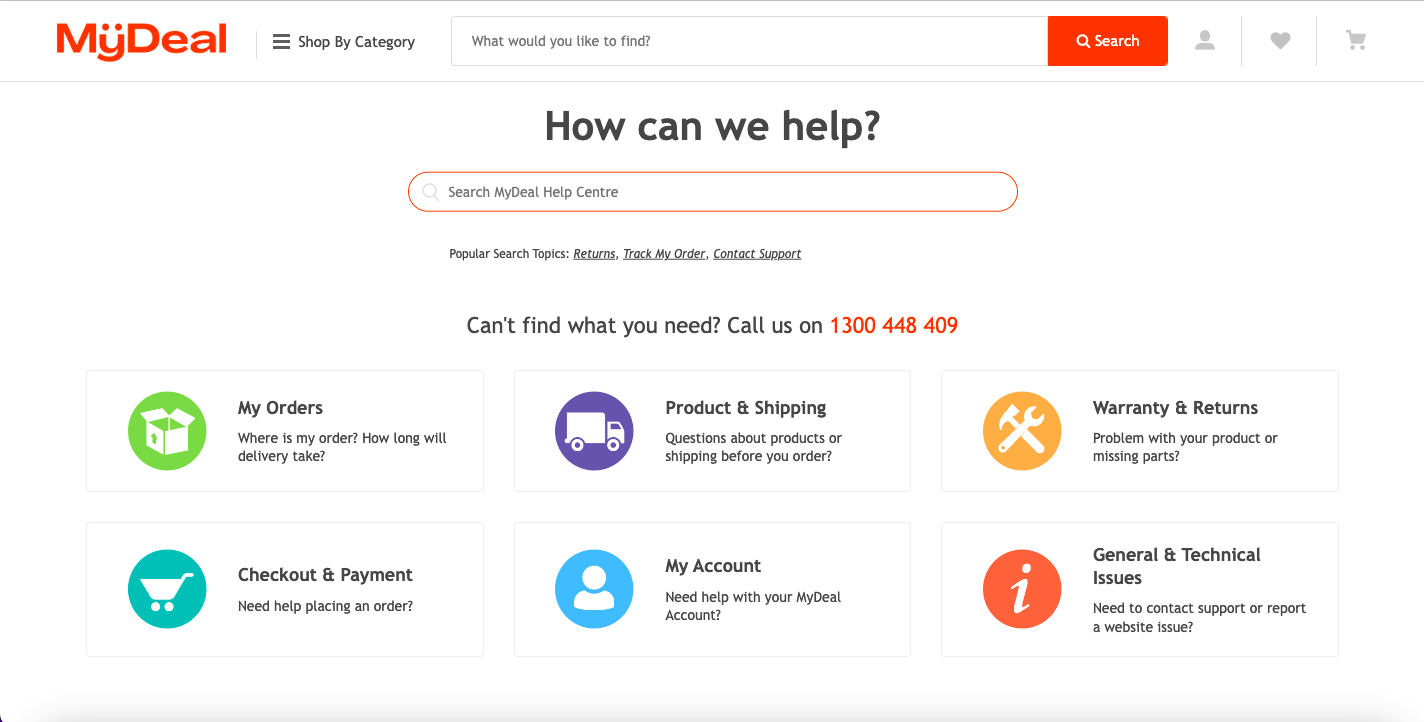 Source: MyDeal
MyDeal also managed to set up direct communication between customers and sellers through a ticketing system – all tickets are directed to the Zendesk platform, which solves issues as quickly as possible.
Serving more than one million active customers is no small feat, and we're also fortunate to have witnessed MyDeal's success. The founder saw the changing trajectory of retail in the market, and it was clear that they needed a mobile app to capture the smartphone audience.
Read the MyDeal case study on how our mobile app became a key tool for the company to go public in 2020 – as it was listed on the Australian Stock Exchange.
3. Square: best retail app for POS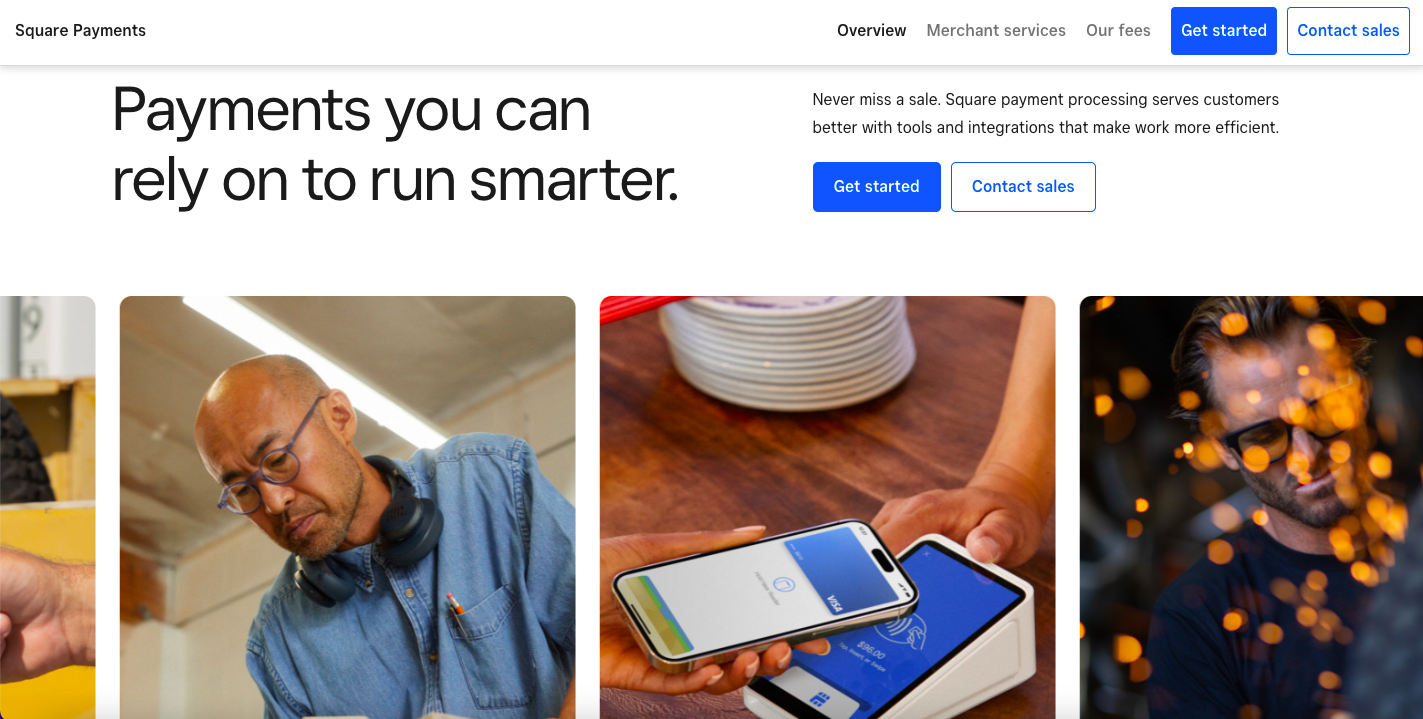 Source: Square
Square is one of the most efficient and popular point of sale (POS) retail business apps in the market. It provides a smooth and straightforward process for physical store and online transactions and boasts various features like sales tracking and reporting and a customizable interface.
This retailer app charges a flat rate of 2.6% + $0.10 per transaction for in-person and 2.6% + $0.30 per transaction for online purchases with zero monthly subscription fee, unless you avail of the Plus and Premium plans.
Square's app is incredibly user-friendly and streamlined, allowing users to add items to their cart, send invoices, manage inventory, and view sales reports from one platform.
Its capability to process payments through credit cards is also a bonus, especially for small businesses.
In addition, here are some key features worth mentioning:
✅ Sell online and in-store. It allows you to sell online and in-store, with seamless inventory management and reporting at your fingertips. You can also use Square Online to build a free online store or eCommerce website that syncs with your brick-and-mortar store.
✅ Inventory management. It comes with built-in tools for advanced inventory management, allowing you to manage your inventory across multiple locations. You can also use the bulk import tool to upload and manage multiple items at once from the online Square Dashboard.
✅ Staff management. It has built-in tools for staffing management, allowing you to manage your staff and their access to your POS system.
Though Square has a wide array of features that can overwhelm those who are not digitally savvy, this app is a good bet for businesses that are looking for a comprehensive retail tool.
To ensure you're on top of your prices and markups, here's a table of how much Square charges.
Dominate the App Store.
Get the latest industry news first.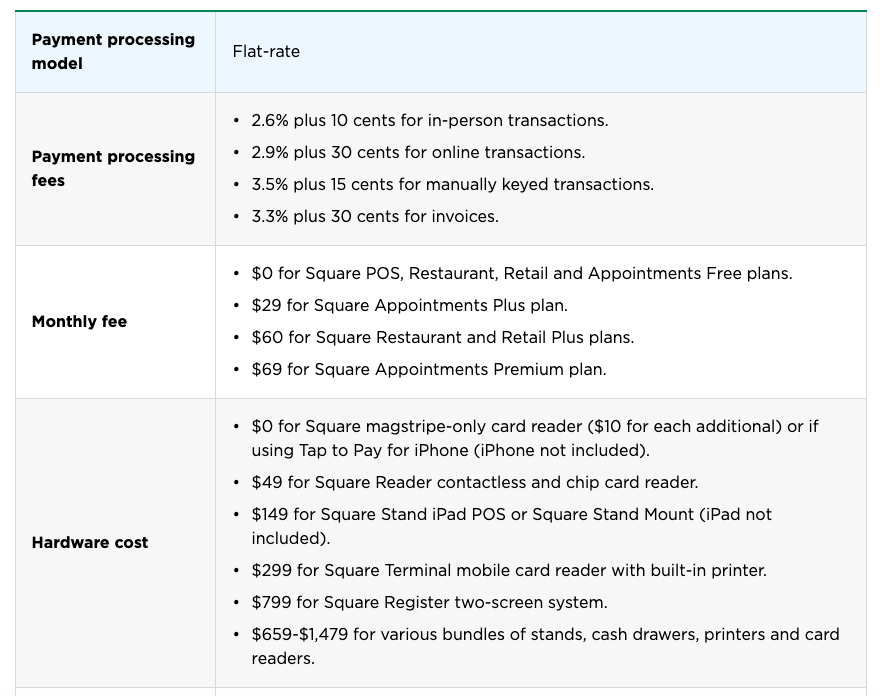 Source: NerdWallet
Square is better suited for brick-and-mortar businesses that need POS hardware and simultaneously run an online store.
However, if you're looking for a payment gateway processing ideal for online retailers, read along to see which retail app has this feature.
4. Stripe: best retail app for online payment processing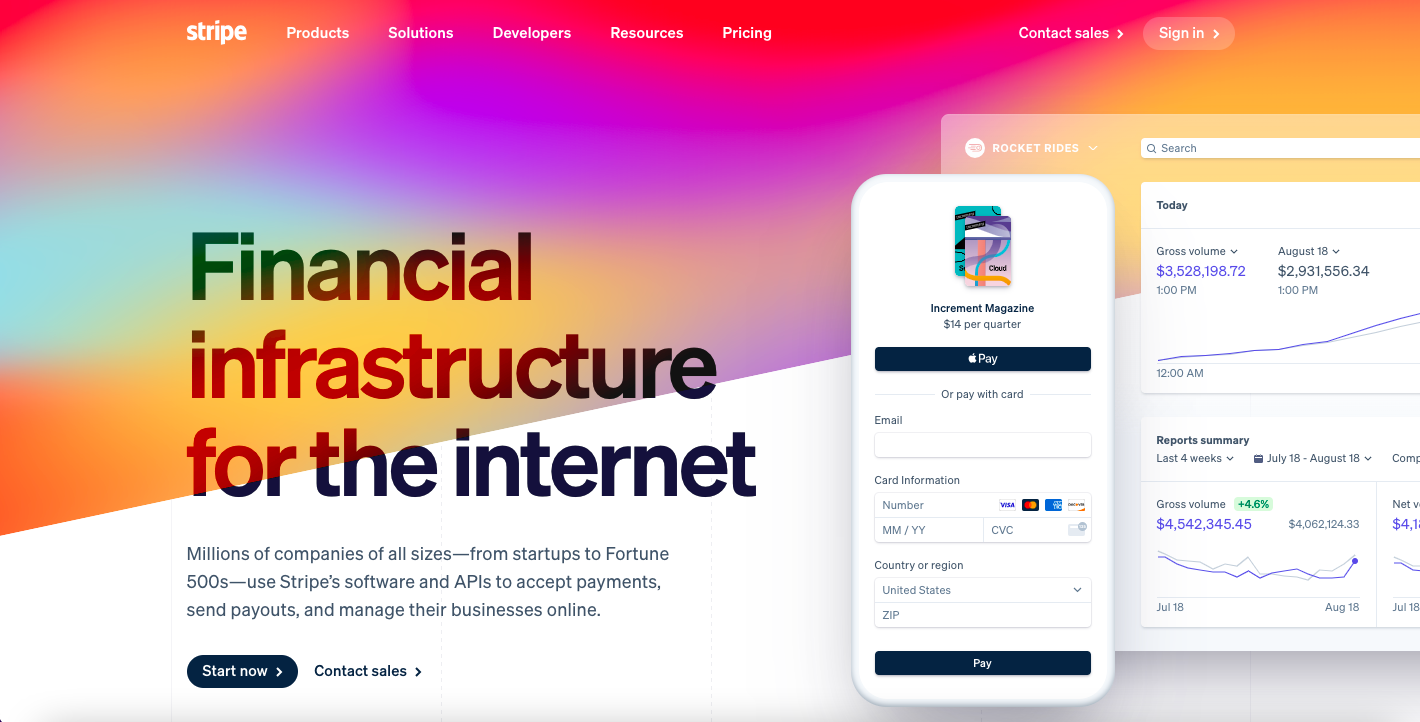 Source: Stripe
Stripe is one of the most renowned payment processing companies, trusted by leading brands like Etsy, Samsung, and ASOS. This robust mobile app makes online payment processing for businesses of all scales simple and manageable.
With a user-friendly interface and cutting-edge technology, Stripe offers a world-class platform for online transactions. It's currently valued at over $94.4 billion, with over 3.1 million active users. It has earned a reputation for providing exceptional security and compliance measures to protect your business and its customers' information.
Stripe's list of features is extensive, catering to all business types and sizes. Still, we'd like to emphasize the following useful for retailers:
✅ Supports major card networks and mobile payment services. With over 135 currencies supported and easy set-up, businesses can accept payments from anywhere in the world, boosting their revenue considerably.
✅ Advanced fraud detection system. Stripe uses machine learning algorithms to identify and flag potentially fraudulent transactions, safeguarding the business's reputation and finances. The fraud radar system is highly customizable, allowing businesses to tailor it to their needs.
✅ Easy integration with other eCommerce platforms. Connect major eCommerce platforms like Shopify, Bigcommerce, and Magento. This allows even non-techie merchants to easily set up online payment processing for their online stores with minimal effort.
Stripe doesn't charge monthly fees and setup costs. It only charges retailers 2.9% + $0.30 per successful transaction.
5. Vend by Lightspeed: best retail app for inventory management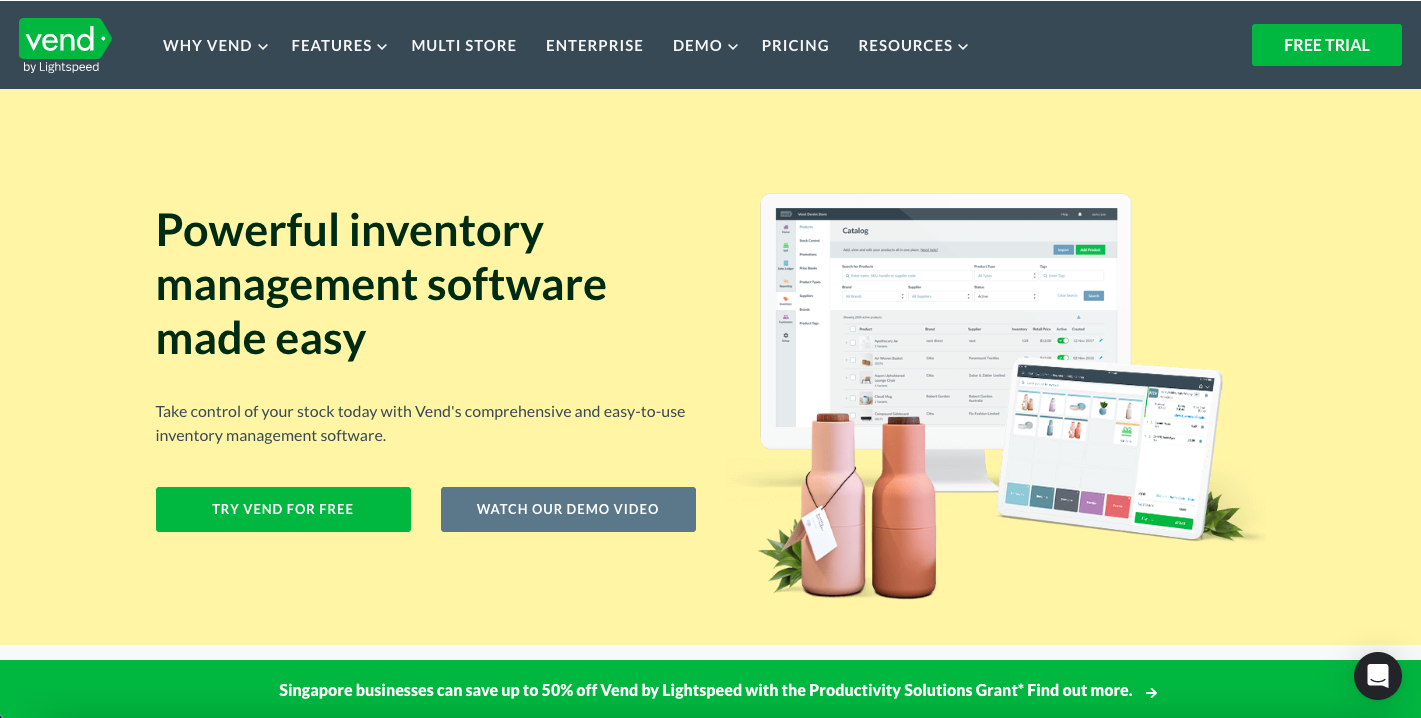 Source: Vend
Vend is a powerful retail app designed to revolutionize inventory management for businesses of all sizes. With its intuitive interface and advanced features, this cloud-based POS has quickly become one of the top solutions for retailers seeking to modernize their businesses.
According to a Vend client, an eCommerce manager at Sennheiser, you can literally launch a store in just five minutes, add 20 registers, and set up multiple locations wherever you are in the world.
While Vend also specializes in POS, it also offers retailers a host of other features accessible in a unified platform.
✅ Real-time inventory management system. Track stock levels and sales data in real-time to help you make informed purchasing decisions and reduce the risk of stockouts. Vend also has an advanced reporting system, giving users insight into their sales performance, customer behavior, and more.
✅ Versatile payment processing system. The app supports multiple payment types, including cash, credit, and debit, and even integrates with popular payment providers like PayPal and Apple Pay. This flexibility means that Vend can cater to a wide range of businesses, from small mom-and-pop shops to large-scale retail enterprises.
✅ Multi-store functionality. Manage multiple stores from a single account. You can transfer stock between stores, view sales performance across all locations, and manage staff permissions.
Vend's diverse and practical features provide you with the retailing tools to succeed. You may opt for a free trial to see how it works. Check the pricing plans below if you're considering subscribing.
| Plan | Lean | Standard | Advanced |
| --- | --- | --- | --- |
| Monthly | $139 | $199 | $319 |
| Annually | $119 x 12 = $1,428 | $169 x 12 = $2,028 | $249 x 12 = $2,988 |
The subscriptions are quite steep, so make sure you compare the features and packages before committing.
6. Xero: best retail app for accounting and bookkeeping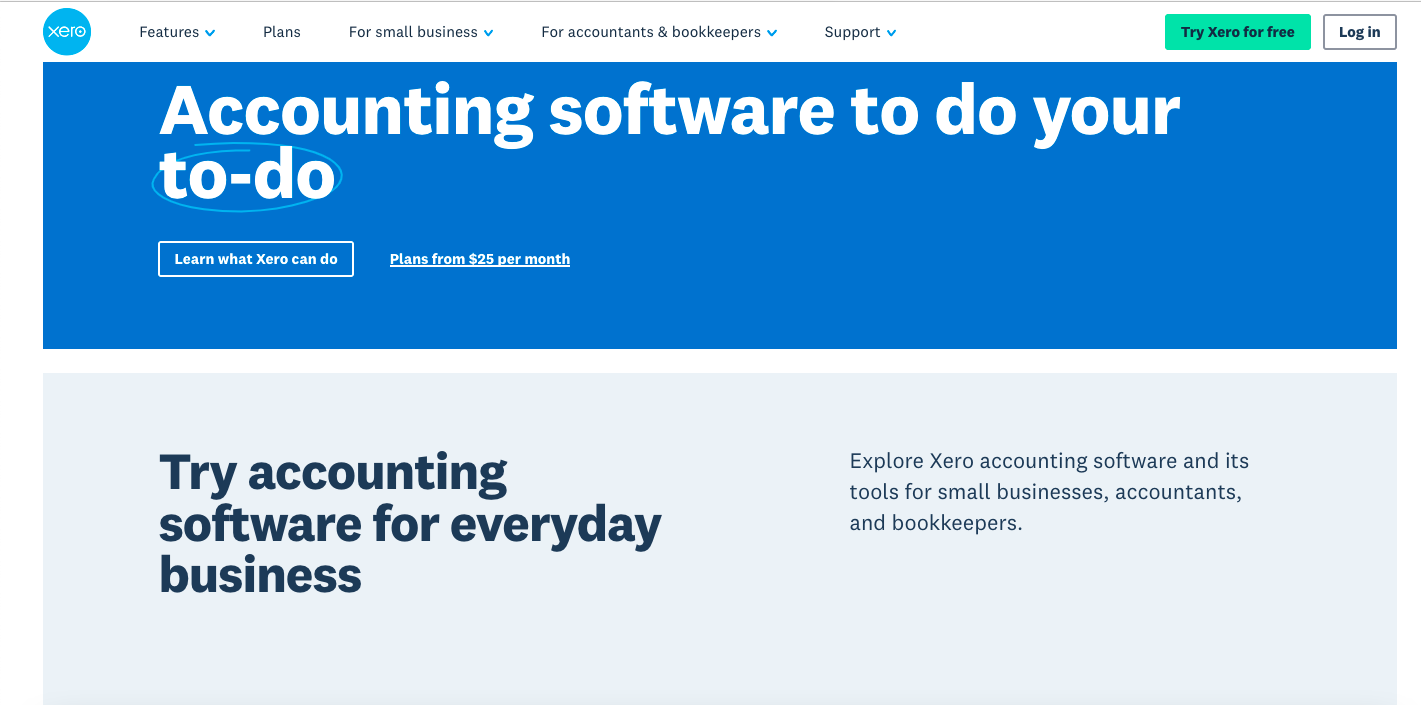 Source: Xero
Xero is a cloud-based software that offers a simplified method of accounting and bookkeeping. It allows small businesses, retailers, and freelancers to organize financial transactions while letting accountants manage data without complications.
Using digital accounting software like Xero can help businesses save an average of 25% on time spent entering bill information. This translates to an additional 2.5 hours for you to concentrate on the crucial aspects of your business while reducing manual work when extracting information from suppliers.
Let's take a closer look at Xero's key features:
✅ Invoicing. This feature allows you to send professional-looking invoices to their customers in just a few clicks. It also enables retailers to set up automatic payment reminders, reducing the number of unpaid bills.
✅ Bank reconciliation. It automatically imports and categorizes bank transactions, making it easier for retailers to reconcile their accounts. This feature is especially useful for retailers who have multiple bank accounts.
✅ Inventory management. Retailers can easily manage their inventory levels, track stock movements, and receive alerts when supplies run low. This feature helps retailers avoid stockouts, ensuring they take advantage of every sales opportunity.
Fiddling with numbers and reports doesn't need to be cumbersome, thanks to Xero. Should you wish to subscribe to their plans, here's a table below summarizing the three plans.
| Plan | Starter | Standard | Premium |
| --- | --- | --- | --- |
| Monthly | $25 | $40 | $54 |
If you're a growing small business, the Standard plan is recommended, but there are optional add-ons that also require extra charges. For example, Claim Expenses has an additional $4 per month, while Track Projects add-on will charge you an extra $7 monthly.
Having an accounting and bookkeeping tool is indispensable in running a retail business. Although you can also do some of the tasks manually, it's much easier to rely on retail apps to automate the process.
Last but not least, there's another retail app worth using to track and monitor your sales online.
What's good about this retail app is – it's free to use.
7. Google Analytics: best retail app for monitoring traffic
When it comes to tracking the traffic of your retail website or app, Google Analytics reigns supreme. As one of the most widely-used web analytics services, Google Analytics provides critical insights into user behavior, site performance, and more.
Retail websites make up around 6% of Google Analytics users. It's one of the most popular tools among retailers for monitoring traffic.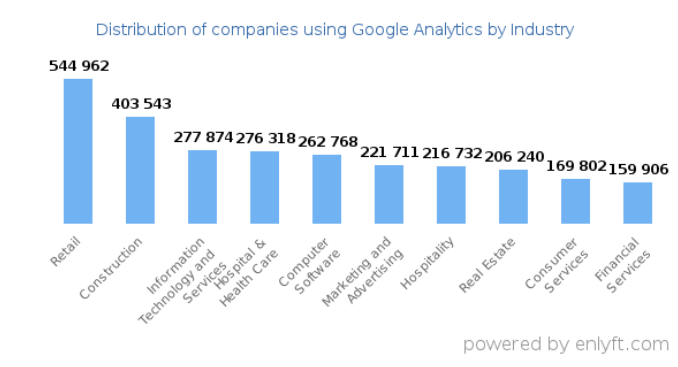 Source: Enlyft
But that's not all.
Google Analytics also offers many features to help retail companies optimize their websites and apps for maximum success. Let's look at some of its key features:
✅ Customizable dashboard. Lets you create personalized dashboards that display the metrics and data most important to you. This feature allows you to quickly and easily keep track of the metrics that matter and make informed decisions based on the insights you uncover.
✅ Real-time data. With Google Analytics, you can get real-time data about what's happening on your website or app. This feature is handy for retail companies that rely on flash sales, limited-time offers, or other time-sensitive promotions.
✅ Ecommerce tracking. Track ecommerce transactions and revenue on your website or mobile app. This feature provides valuable insights into your customers' buying behavior, allowing you to adjust your strategy accordingly.
If you plan to set up pay-per-click campaigns, you can also access data on the dashboard to track your app conversation rate.
With a wealth of features, you can understand your customers' purchasing habits with this powerful tool.
A bespoke eCommerce app is a game-changer
Running an online store is like running a village because it requires constant attention to various aspects such as marketing, inventory management, and customer service. However, with the right tools, it becomes more manageable and profitable.
That's why we've compiled a list of the seven best retail apps to optimize your business operations.
But if you're looking to take your online store to the next level and tap into the vast market of mobile app users, Appetiser can help. Our app development team are experts in crafting custom mobile apps that cater to your unique business needs.
An eCommerce app is a game-changer for any online store. It not only offers an additional channel for sales but also provides a personalized shopping experience for customers. You can request advanced features that can go beyond what regular retail apps offer.
With our proven track record of building successful mobile apps, we can help you increase your sales, attract new customers, and enhance your brand image.
Don't miss out on the opportunity to grow your business with a mobile eCommerce app.
Let Appetiser be your partner in success. Contact us today, and let's talk about your vision.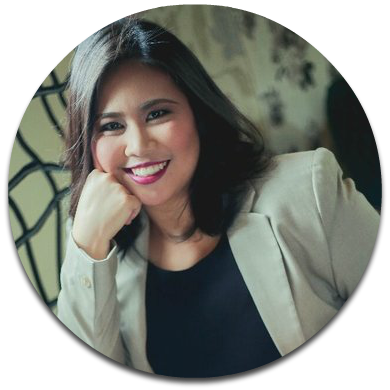 Maria Krisette Lim is a Content Marketing Specialist at Appetiser Apps. She has more than 12 years experience in producing content on the web and print ads. Krisette has a BSBA degree major in Business Management and Entrepreneurship. When she's not tinkering with words and punctuation, she's either curled up with a book while sipping hot tea, playing with her toddler or tinkering website builders.
Dominate the App Store.
Get the latest industry news first.