Why App Retargeting Should Be Part of Your Mobile Marketing Strategy in 2023
What do modern dating and app downloads have in common?
Both can be done in a few taps (or swipes) 📲.
Sadly, both can also be easily undone — without clear warning or reason.
It has become increasingly common for a potential partner or app user to one day be giddy and engaged, then suddenly turn quiet weeks or even days after.
Does this scenario ring a bell?
Yes, I'm talking about ghosting.
And yes, mobile apps get ghosted, too — and more frequently than you may have imagined. Research shows that 21% of users abandon an app after just a single use (ouch)!
What happens to these apps after?
Best-case scenario, they just sit on mobile users' screens, quietly waiting for them to come around. Worst, they get dumped into the uninstall bin.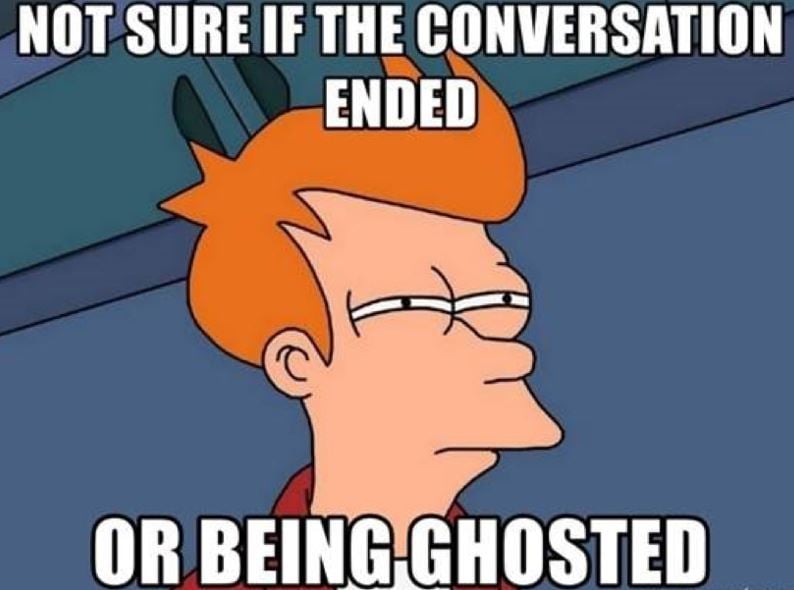 Source: Memes
Now, in saying that…
Why do users ghost or stop using apps?
There are several reasons why app users disengage, but some of the common ones are the following:
🐟 There's plenty of fish in the sea. The mobile app industry is super competitive. Users have virtually endless options, with more than 5.6 million apps in the Apple App Store and Google Play Store.
🤔 It's complicated. Mobile users want their app experience to be as easy and frictionless as possible. If your app fails to deliver on this end (e.g., complex signups, slow-loading pages, non-user-friendly interface), they'll abandon it without batting an eyelash.
💔 They're just not that into your app. Sometimes, you just have to accept that users simply don't use your app. According to a Clevertap study, this is the top reason people uninstall apps.
🍣 It isn't irresistible enough. Meaning you haven't worked hard enough to make your mobile app sticky. App engagement rarely happens without outside influence. If you want users to stick around, give them compelling reasons to.
If your app is among those that have experienced the sting of user abandonment, I urge you to don't give up just yet.
There's a way to rekindle the excitement and interest of disengaged users: mobile app retargeting.
I'll tell you more about this strategy and why it should be part of your app advertising campaign, so read on!
What is app retargeting?
App retargeting is a form of marketing that allows you to re-engage existing users who have already shown an interest in your products or services but didn't complete the user journey for some reason. The goal is to get these users to return and use your app again.
How app retargeting works
Mobile app retargeting works by collecting user behavior data online and using the information to serve ads relevant to users' interests.
For example, if a user regularly searches for restaurants on their app, you may target them with ads for restaurants in their area. Or, if someone searches for travel deals on a flight booking app, you may retarget them with ads for hotel discounts when they use a hotel app.
Here's an even simpler and more visual explanation: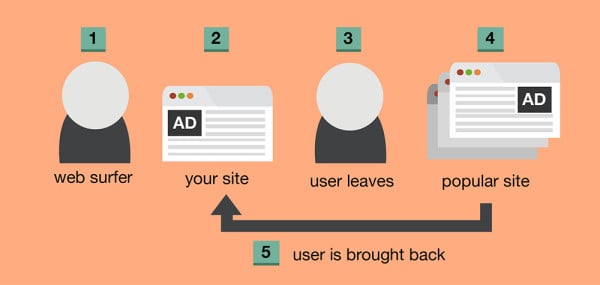 Source: Spiralytics
Why App Retargeting Is a Must in Your Mobile Marketing Strategy
There are a lot of benefits to app retargeting. Here are some of the most compelling reasons why you should bother re-engaging lapsed users:
#1 App retargeting offers significantly greater ROI than standard campaigns
When done correctly, mobile app retargeting campaigns provide an excellent return on investment.
Just how excellent?
Research showed that users who saw a retargeting ad are 70% more likely to convert. In fact, a mere 5% hike in your app user retention rate can increase your business's profitability by up to 95%.
Another study found that retargeted ads drive more conversion than any other type of ad — beating all other ad campaigns by a staggering 1,046% efficiency rate.
With such a huge potential impact, app retargeting can be among your business' most powerful revenue-driving arsenals.
Speaking of revenue, you might also want to check out this article I've written about 5 Proven Mobile App Monetization Models for ideas on generating income for your app business.
#2 App retargeting drives user engagement and retention
Ever heard of the three-month mark in dating?
It's an unspoken (and unofficial) rule that once a relationship reaches the third month, it's time to take it to the next level or end things.
This rule does not apply at all to app users.
Over the last three years, the average Day 1-30 retention lifespan of most Android and iOS apps have steadily declined.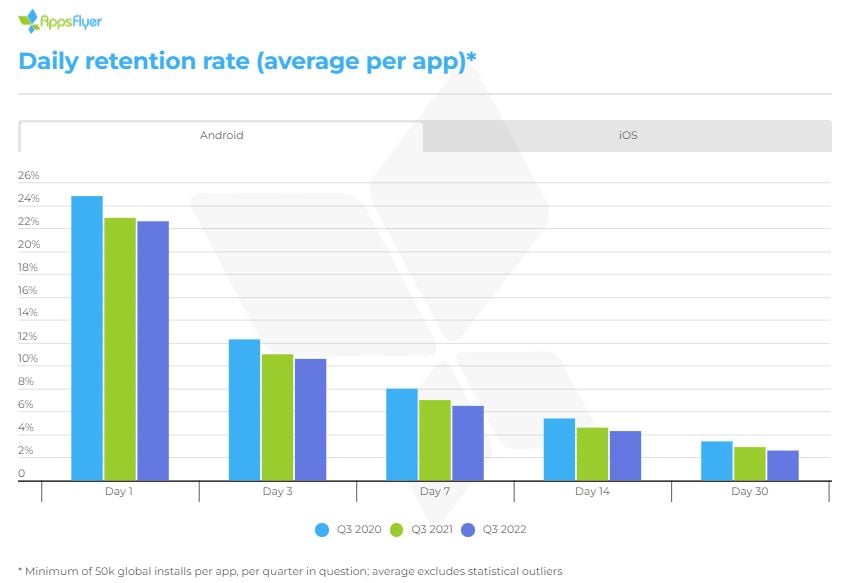 Source: AppsFlyer
Launching retargeting campaigns can effectively boost user engagement and encourage people to keep coming back to your app — even from users who actively interact with your mobile app.
According to research, effective retargeting efforts can drive a 400% increase in click-through rates.
This is because consumers who previously had the intent of buying from you will likely have a certain level of familiarity with your brand. As such, your ads will appear less intrusive or creepy, increasing their chances of getting a click.
App retargeting allows you to personalize your ad messaging, placement, and timing, making them more likely to be seen by those who have already shown interest in your offer.
Personalization is an important part of a successful retargeting, or any marketing, campaign today. Consumers do not simply want brands to deliver a personalized experience — they expect it.
Dominate the App Store.
Get the latest industry news first.
According to Twilio's 2022 State of Personalization Report, 49% of consumers are likely to become repeat buyers following a personalized experience from a brand. Meanwhile, 62% say delivering a less personalized experience will result in losing their loyalty.
But to execute a successful personalized app retargeting strategy, you must have access to one crucial element: consumer data.
And when consumer data is involved, concerns about data privacy and ethics almost always follow.
It's a well-known fact that marketers acquire consumer behavior insights through the data collected by most commercial websites. And according to a Pew Research study, a handful of users are not aware of this practice.
So, how do you reconcile consumers' demand for personalization and data privacy concerns?
It's a tricky road to navigate, but, in our experience, the best workaround is transparency.
Let your users know about your privacy policies and how you obtain and intend to use their information, and always ask their permission.
Judging by the findings of this Accenture research, consumers who are aware of how brands leverage data to create personalized, targeted experiences respond positively.
💡 Interesting fact:
83% of shoppers would be willing to exchange data for a more personalized experience. (Accenture)
#3 App retargeting requires less time, money, and effort than user acquisition
A modern dating expert named Barney Stinson (a character in the infamous sitcom "How I Met Your Mother") once said: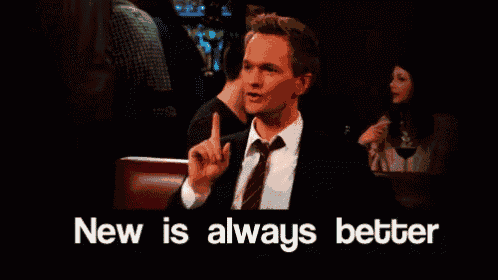 Source: Tenor
The same can't be said for app users. Arguably, not even for potential dates, but let's not go there 😬. I'm not really here to give dating advice.
I can, however, point you in the right direction if you're looking for app development experts to build your dating app: 👉 Appetiser.
We're behind some apps that found success in the competitive dating market. One of which is Concha.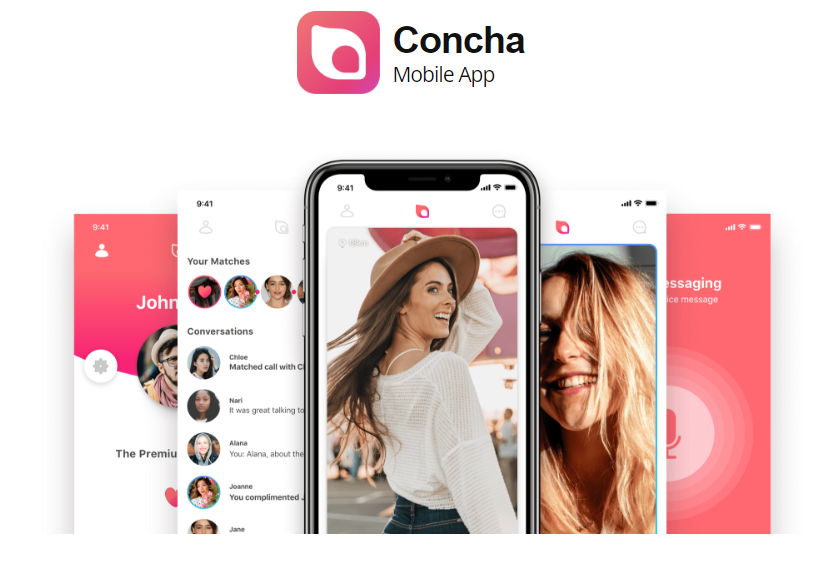 By putting together attractive design, quality coding, and unmatched support from experts who deeply care for our partners' vision, we created an app that people love to use.
To learn more about Concha, check out our portfolio. And if you see something you want to happen for your app, give us a hey, and let's see if we're a perfect match!
Now, back to our actual topic…
There are no definite numbers on how many times more new user acquisition costs than retention. Some reports say up to seven times more; others even say up to 25 times.
But one thing is sure: attracting new users cuts a bigger hole in your pocket than keeping existing ones.
Mobile app retargeting also requires less time and effort than user acquisition. After all, you are focusing the same effort on people who already showed interest in what you offer.
In our experience, people who have already downloaded an app are more likely to be interested in using it again — if you give them enough reasons to re-engage.
#4 App retargeting channels are abundant and effective
There are several channels to re-engage users. This means you don't have to invest additional resources for platforms to retarget users.
You can simply leverage the existing tools, analytics, user behavior data, processes, and many other resources crucial to the success of mobile retargeting campaigns.
Today's biggest web and app platforms also have expansive ecosystems, enabling mobile marketers to retarget users on multiple touchpoints. And as you may already know, constant ad retargeting exposure creates familiarity and brand recognition among consumers.
Examples of these platforms are Facebook (Meta), which also owns Messenger and Instagram, and Google (Alphabet), which also owns YouTube.
Google and Facebook have even shared ad guidelines and tips to retarget and re-engage lapsed users.
But if those channels don't suit your target audience or app genre, don't worry. There are many other options available to place your mobile retargeting ads.
Here are some best app retargeting platforms according to the digital marketing agency Reliablesoft: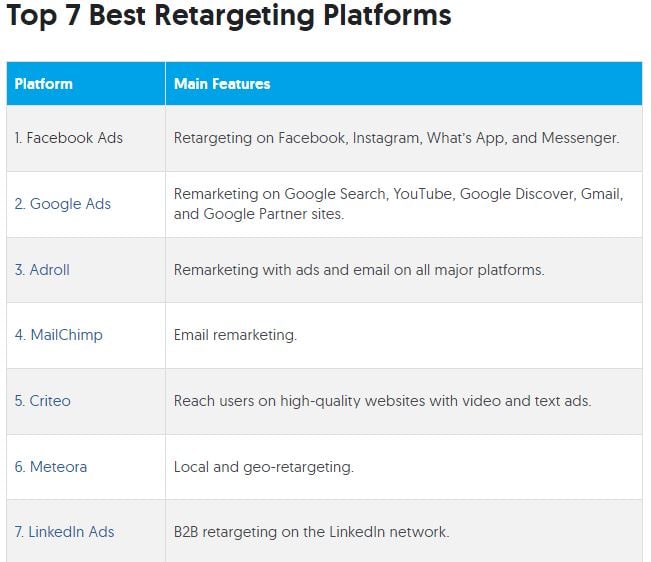 Source: Reliablesoft
#5 App retargeting can boost your competitive advantage
Mobile retargeting is a fairly new concept. Only a few app marketers have adopted the strategy, allowing you to reap the benefits of being an early adopter.
When it comes to app marketing, being the first to try a new trend before it goes mainstream can be a big advantage.
You'll be able to get feedback from users quickly, work out any kinks to improve your strategy, and get a head start on your competitors before they jump on the bandwagon.
It's all about building meaningful relationships with your app users
User engagement and loyalty don't happen overnight. Instead, they are the results of building long-term rewarding relationships with your customers.
Achieving them requires giving your app users constant attention, effort, and communication — just like any relationship.
If you believe your app deserves a second chance at winning loyal users, include mobile retargeting in your next marketing campaign.
Best of luck!
And if you need an app development partner equally passionate about making an impact through technology, give us a ring at Appetiser today!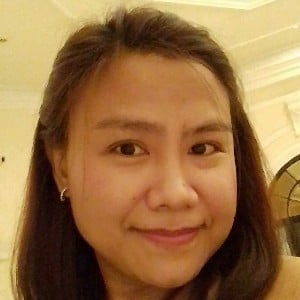 Jane Eslabra is a Content Marketing Specialist at Appetiser Apps. She has 14+ years of experience producing traditional and digital content. When she's not busy being a wordsmith, she's out swimming, taking a long walk, or trying new activities that will keep her eyes away from the screen and her body moving.
Dominate the App Store.
Get the latest industry news first.