7 Best Shopify Mobile Apps to Supercharge Your Online Store
Smartphones have become an extension of ourselves, serving as our personal assistants, entertainment hubs, and shopping companions.
In fact, 79% of smartphone users rely on mobile devices for online shopping.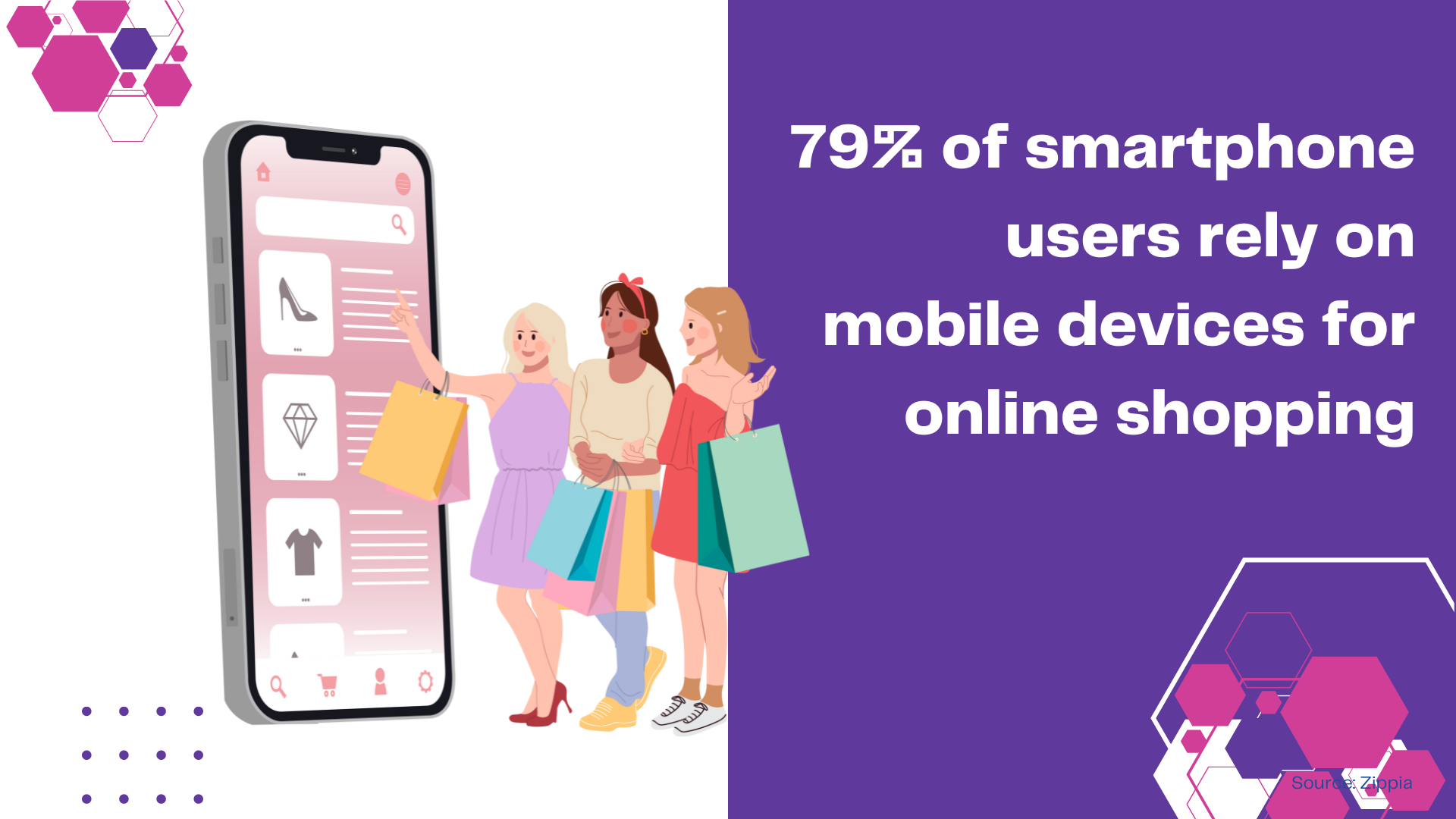 With a shopping app, shoppers bid goodbye to rushing during lunch breaks and navigating crowded aisles. For instance, they can compare prices and find the ideal gift in minutes for a friend's birthday – all on the smartphone.
For companies to run an online store, they need an eCommerce platform. That's where Shopify comes in. There are actually 4.15 million active online stores using it.
Now, let's connect the dots. 79% of smartphone users, that's about 5.45 billion people out of 6.9 billion worldwide. Then, we have 4.15 million Shopify stores.
If you're not yet using Shopify, let alone a Shopify store mobile app, you're missing a lot. Since we don't want you to do the guesswork, we already compiled the best Shopify mobile apps to turn your website into app.
7 Best Shopify mobile apps to build your online store
Our app developers and product strategists have garnered industry awards partly by learning from other mobile apps, including those connected to Shopify. The following are among the best-performing Shopify apps they've encountered:
Vajro
Plobal Apps
Tapcart
Shopney
MageNative
AppMaker
Drobile
1. Vajro: Supports live selling for interactive shopping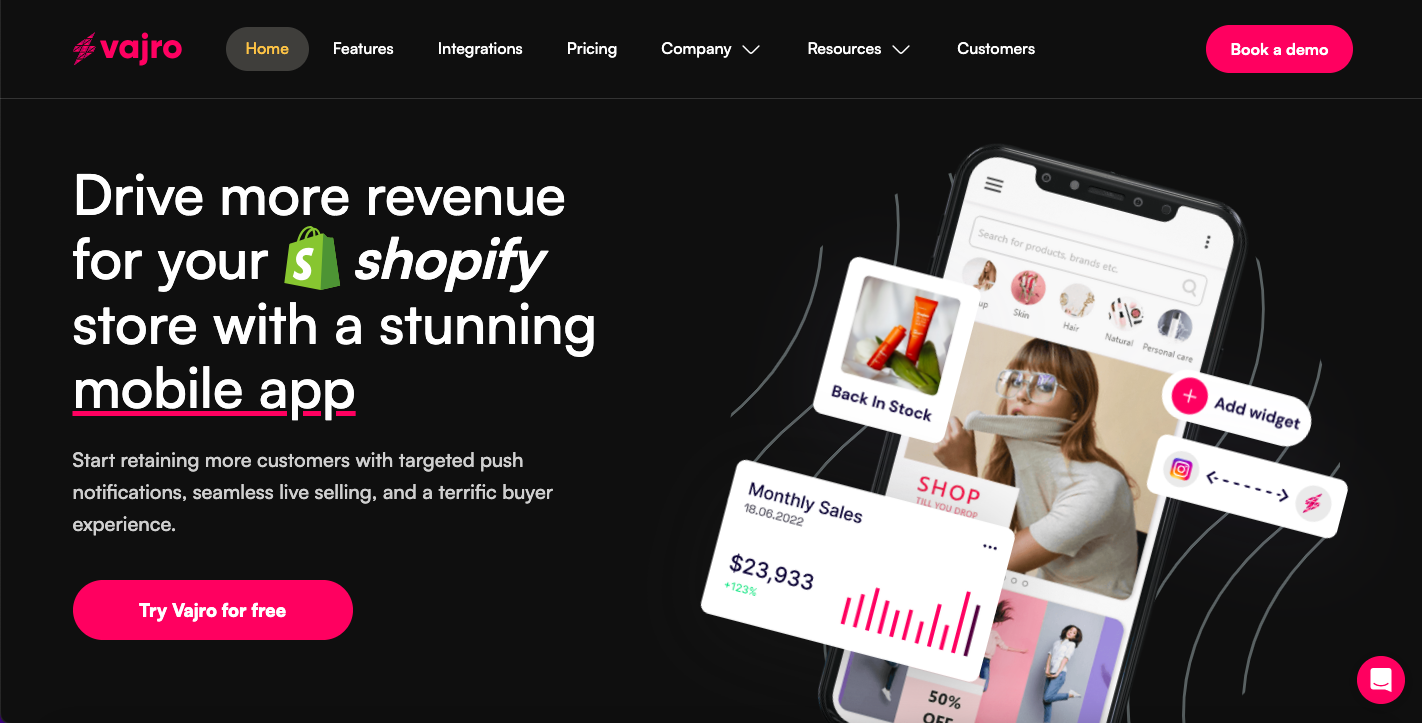 Source: Vajro
Vajro is a Shopify app builder designed for e-commerce brands that want to create native iOS and Android apps for their online stores without the need for coding or design skills. This Shopify mobile app builder supports in-app live selling, allowing customers to buy products in real time.
Here are the notable features to help you grow your online store:
✅ Customizable themes: Choose an industry-specific theme to reflect your brand's color and image and see real-time changes as you personalize your app. The admin dashboard lets you access the settings for easy editing, like the Customize Content and Personalize Branding sections.
✅ Live Instagram feed: This feature lets you showcase and connect your Instagram feed on your app homepage, allowing customers to stay updated with the latest content and promotions.
✅ Live video streaming: Vajro lets merchants stream live video sales events directly from their mobile app, allowing customers to interact with the seller and purchase during the live event.
Vajro boasts that it can help you build an app using its drag-and-drop builder in just 60 minutes. While other Vajro users commend the aesthetic appeal of its app designs, some users claim the initial setup is a bit cumbersome to non-techie users.
💰How much does the Vajro Shopify mobile app builder cost?
Vajro offers four pricing plans available in monthly or annual payments. As your reference, I've mapped out the rates in the table below.
| | Starter | Core | Premium | Plus |
| --- | --- | --- | --- | --- |
| Monthly | $99 | $249 | $499 | $999 |
| Annual | $89 | $224 | $449 | $899 |
2. Plobal Apps: AI-powered mobile commerce builder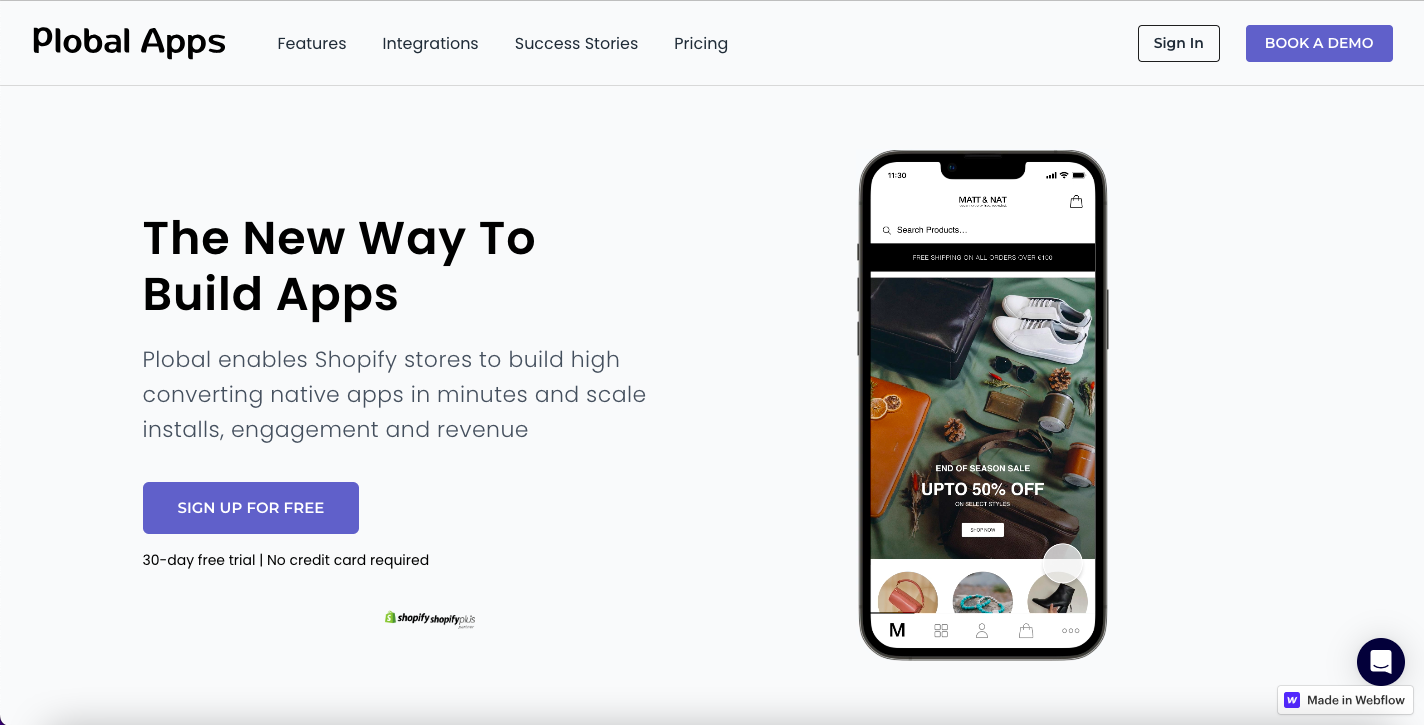 Source: Plobal Apps
Plobal Apps is an AI-powered mobile commerce platform for Shopify stores. It helps create high-converting native apps, boosting installs, app engagement, and revenue. This Shopify mobile app builder optimizes app performance and provides advanced mobile analytics to track metrics.
Here are some key features you can compare with other Shopify mobile app builders:
✅ Personalized push notifications: Use push notifications to dynamically segment your audience based on gender, location, time zone, product preferences, and buying history. This empowers you to send highly relevant and targeted in-app messages, maximizing the customer experience automation (CXA) strategy.
✅ Real-time data tracking: Merchants can efficiently monitor real-time app performance and user interactions. This empowers you to identify trends and adjust, ensuring optimal results.
✅ Collaboration with in-house customer success team: It boasts a committed customer success team that collaborates closely with merchants, the Essential plan has a shared success manager, while the Enterprise plan has a dedicated one onboard.
Plobal Apps prides itself on leveraging innovative technologies like AI and machine learning. However, it also comes with a few caveats. Some users think their designs are outdated, and the pages have limited customization features.
💰How much does Plobal Apps Shopify mobile app builder cost?
Plobal offers three pricing plans: Growth, Essential, and Enterprise, billed monthly or annually.
| | Growth | Essential | Enterprise |
| --- | --- | --- | --- |
| Monthly | $199 | $499 | $1,199 |
| Annually | $1990 | $4,990 | $11,990 |
3. Tapcart: Beautifully designed mobile app for your Shopify store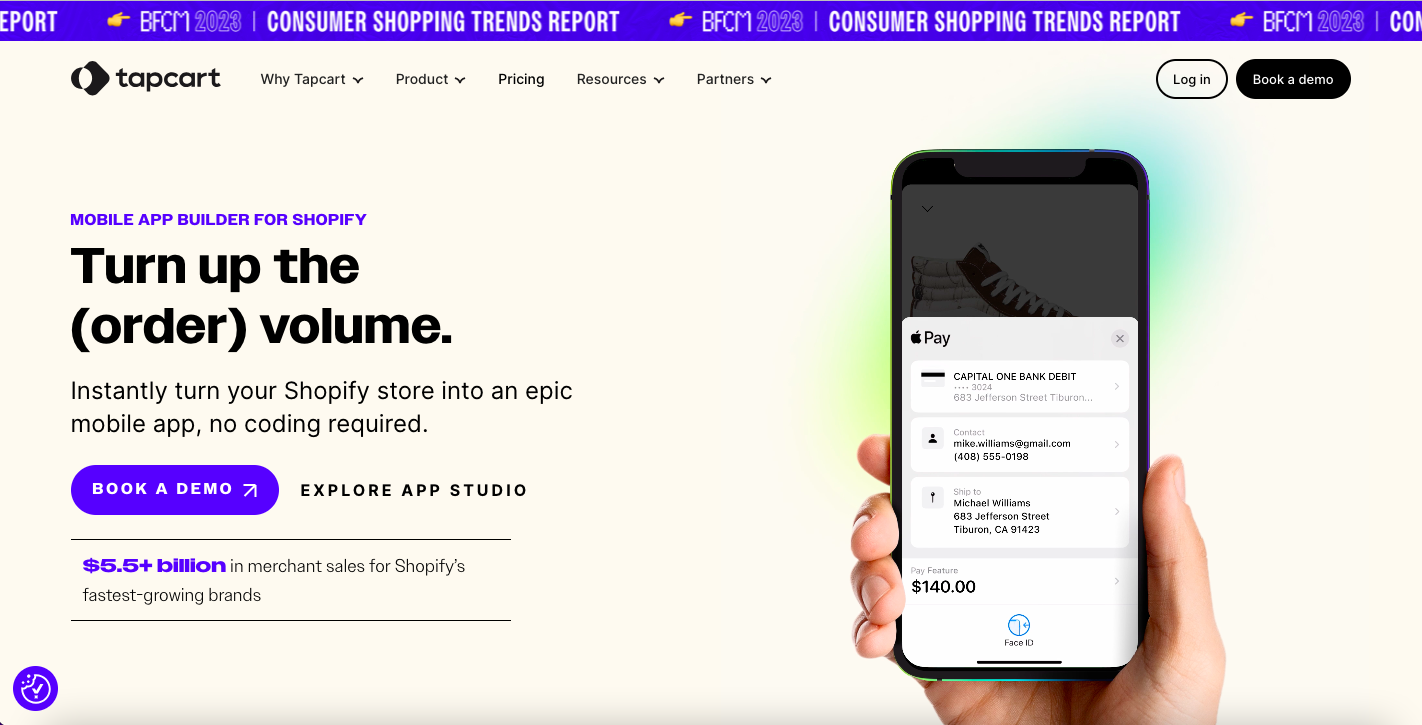 Source: Tapcart
Tapcart is a top mobile commerce platform empowering Shopify merchants to create, launch, and oversee high-performance native mobile apps, all without any coding necessary. With Shopify integration, merchants can focus on the unique aspects of their brand, such as branding, content, and design, while Tapcart takes care of the e-commerce infrastructure.
Should you consider this Shopify mobile app, here are the features to watch out for:
✅ Drag-and-drop editor: Tapcart offers a user-friendly drag-and-drop editor, allowing you to easily customize their mobile apps, including layout, product details, and more.
✅ Real-time sync with Shopify: The platform ensures real-time synchronization with Shopify stores, keeping the app up-to-date with the latest product information and inventory.
✅ Push notifications: Send unlimited push notifications to your customers to increase engagement and push new promos and discount deals.
Tapcart has amazingly beautiful mobile app designs for Shopify online stores and helps you create automation on your marketing strategies. However, some users claim it has limited integrations, and the monthly pricing plans are quite expensive for starters.
💰How much does Tapcart Shopify mobile app builder cost?
Tapcart offers three subscription plans, but businesses can choose custom rates according to their needs.
| | Core | Ultimate | Enterprise |
| --- | --- | --- | --- |
| Monthly | $200 | $400 | $1,000 |
4. Shopney: In-app chat for interactive shopping experience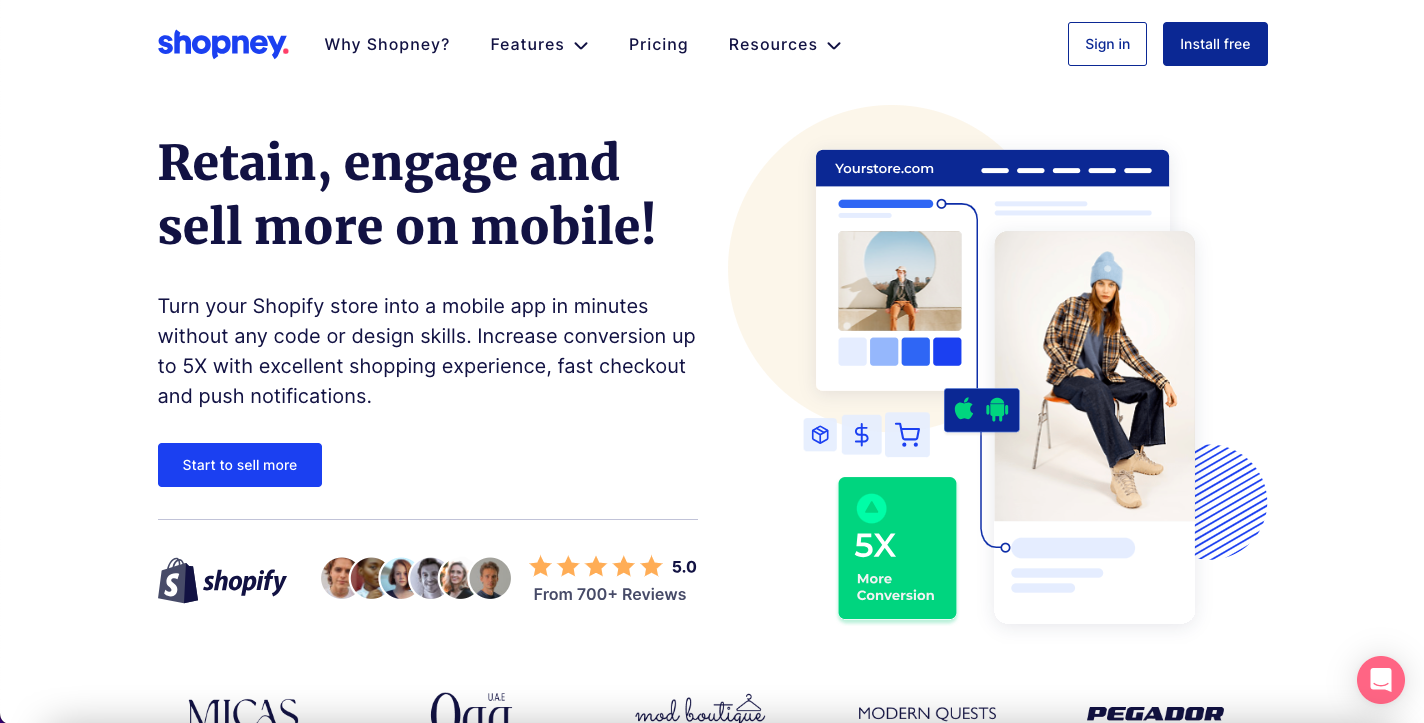 Source: Shopney
Shopney is a mobile app builder designed specifically for Shopify and Shopify Plus brands, allowing them to create native iOS apps and Android apps for their online stores without the technical skills required.
On top of Shopney's unlimited push notifications, here are the features worth looking into:
✅ Business-related themes: Shopney provides industry-specific, visually appealing pre-designed themes for you to create an on-brand app that captivates customers.
✅ In-app live chat: Empowers merchants to connect with customers instantly and provide tailored assistance.
✅ Integration with other Shopify apps: You can seamlessly integrate a wide range of Shopify apps like Storifyme for store design, Facebook and Google for advertisements and analytics. Gain access to powerful tools and features, enhancing your mobile device functionality.
 💰How much does Shopney Shopify mobile app builder cost?
Pricing for Shopney varies depending on the chosen plan and is billed per month.
| | Silver | Gold | Platinum | Enterprise |
| --- | --- | --- | --- | --- |
| Monthly | $99 | $199 | $499 | $999 |
5. MageNative: Immersive virtual shopping experience powered by augmented reality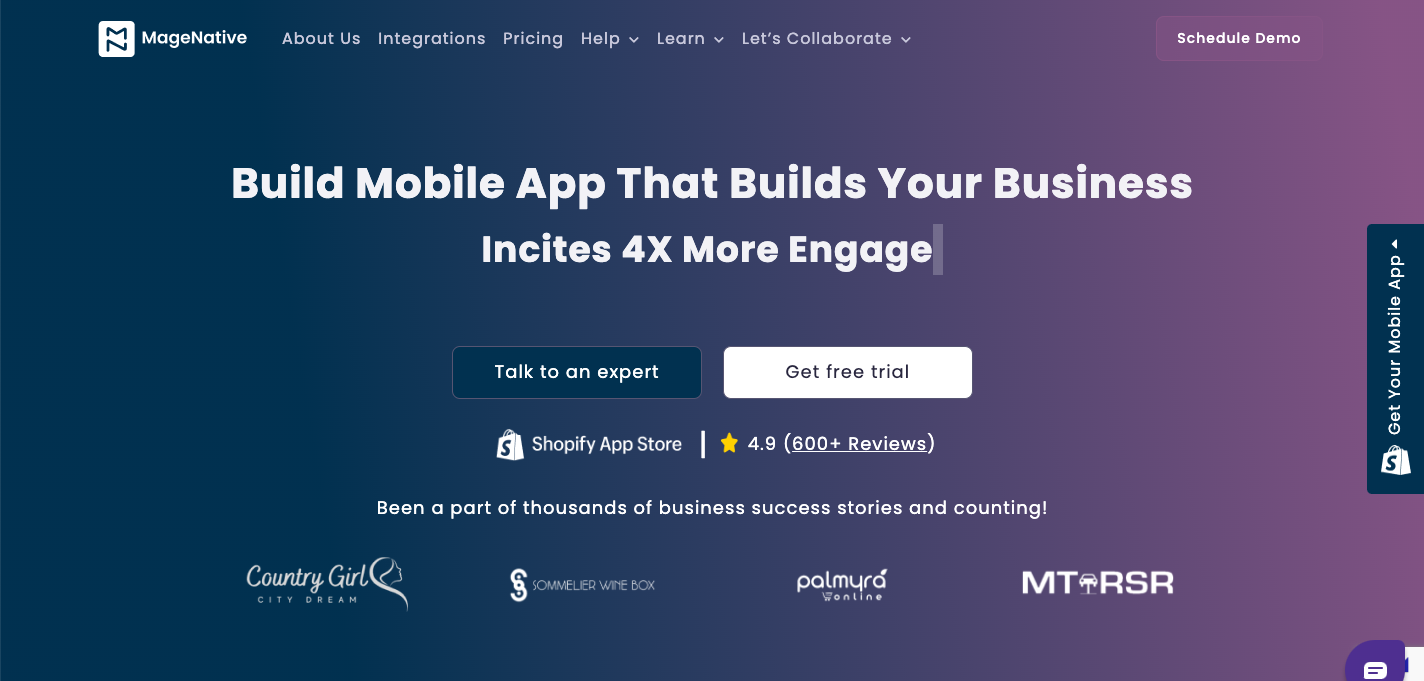 Source: MageNative
Dominate the App Store.
Get the latest industry news first.
MageNative empowers Shopify merchants with a mobile app builder that seamlessly turns Shopify store into mobile app. Brands can customize the theme according to their style and brand image.
Some unique features of MageNative for merchants include:
✅ Augmented reality. MageNative offers an augmented reality feature to create a more immersive shopping experience for customers, making it easy to visualize how a product appears in real space, providing a more realistic and engaging experience.
✅ Multiple languages and currencies. The platform supports multiple languages, including right-to-left ones, and multiple currencies (although not in all subscription plans). Customers can view the prices based on their preferred currency.
✅ AI-based product recommendations. MageNative enables you to use AI-based product recommendations for a personalized shopping experience.
MageNative also syncs your products live, ensuring all items on the mobile app match what's on your Shopify store. This data synchronization is crucial for brands with retail stores to prevent any customer complaints due to poor inventory management.
However, there are also a few disadvantages to using it, like limited flexibility on customization and requiring a steep learning curve for beginners.
💰How much does MageNative Shopify mobile app builder cost?
MageNative has three pricing plans with three different payment options.
| | Basic | Growth | Enterprise |
| --- | --- | --- | --- |
| Monthly | $49 | $69 | $99 |
| Half-Yearly | $294 | $414 | $594 |
| Annually | $529 | $663 | $999 |
6. AppMaker: Customizable themes and plugins for native iOS and Android apps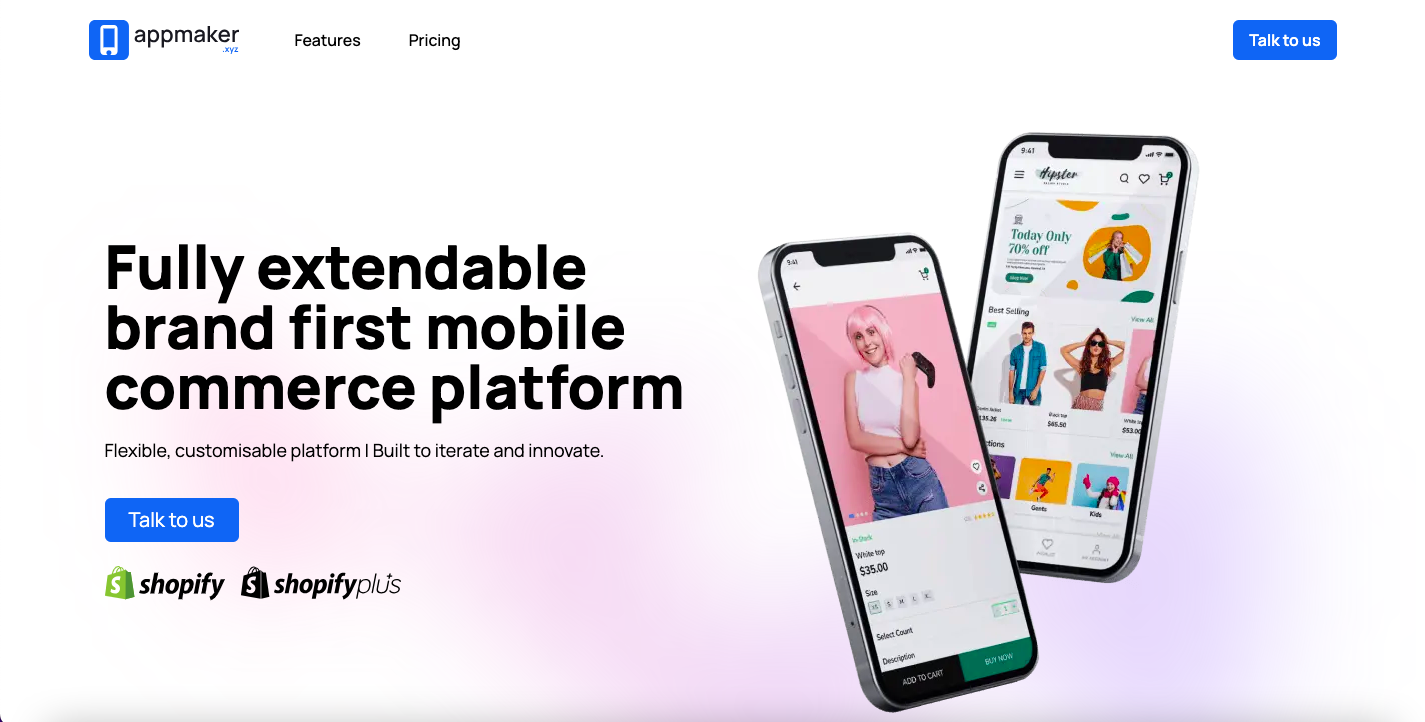 Source: AppMaker
AppMaker is another mobile app builder for Shopify eCommerce app stores that allows merchants to create native Android and iOS apps for their Shopify stores. Appmaker offers seamless synchronization with Shopify, fully customizable app settings, push notifications, and integration with over 2000 plugins.
If you plan to use AppMaker, you may check these features and compare them with other Shopify mobile app builders.
✅ Integration with other platforms: AppMaker integrates with platforms like MoEngage for improved customer engagement and SearchTap for enhanced search solutions. With these features, shoppers could more easily find what they are looking for in the store.
✅ Automatic synchronization with the Shopify store: This Shopify app builder keeps your mobile app in sync with your Shopify store, providing real-time updates on stocks and products.
✅ Customizable mobile app settings: Customize your app with unique themes and designs that perfectly reflect your brand identity. Elevate your app's visual appeal and stand out from the competition.
AppMaker provides a unified dashboard for users to control all changes and updates, but its entry-level pricing plan is too steep for small businesses.
💰How much does AppMaker Shopify mobile app builder cost?
AppMaker offers two price points that are billed monthly or annually.
| | Pro | Plus |
| --- | --- | --- |
| Monthly | $1,000 | $2,000 |
| Annual | $750 | $1,500 |
7. Drobile: Simplified drag-and-drop app builder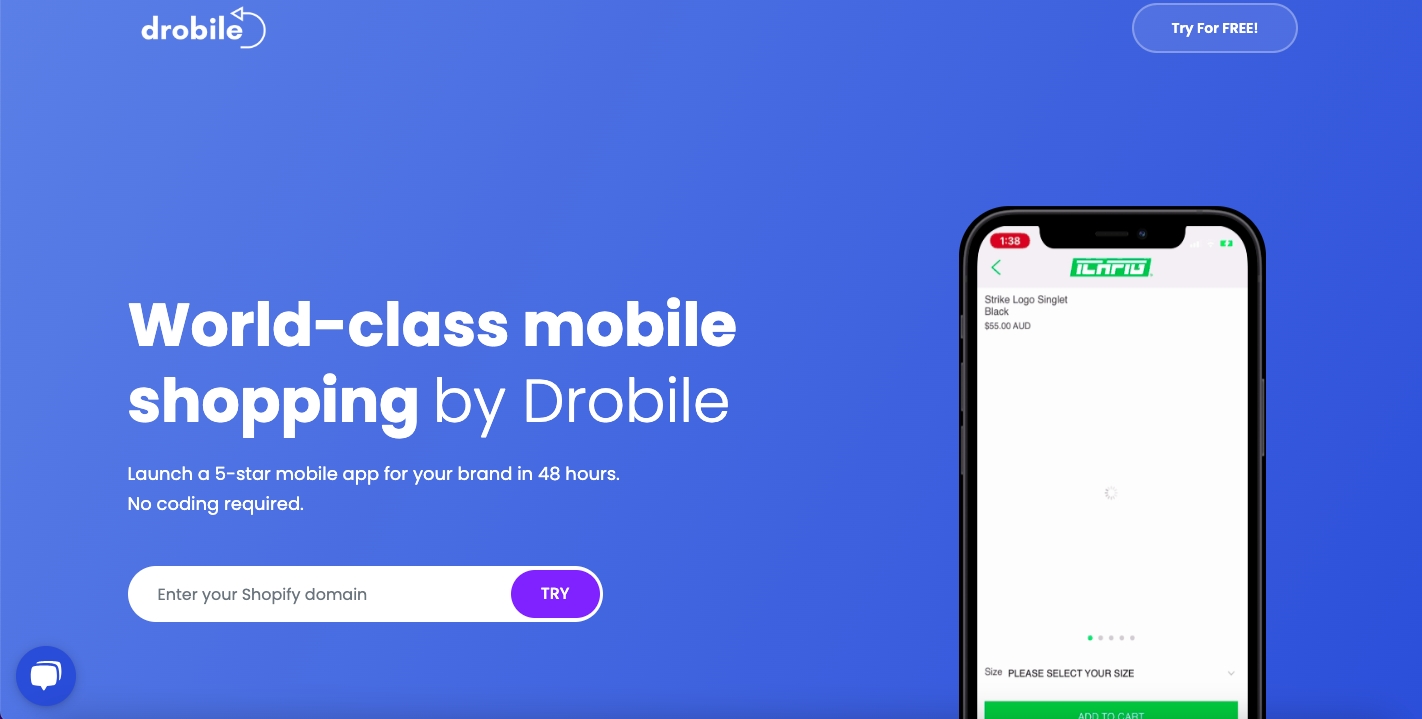 Source: Drobile
Drobile empowers Shopify store owners with a versatile mobile app builder. Easily create fully branded mobile apps that perfectly align with your Shopify theme and branding. Track and optimize your app's performance with custom design services and app analytics.
Drobile offers several unique selling points and features that set it apart from its competitors:
✅ Integration with unlimited payment gateways: Drobile enables you to integrate multiple payment methods, giving customers diverse options for a seamless checkout.
✅ App analytics and performance tracking: This platform features an analytics dashboard that enables merchants to track their app's performance, helping you make data-driven decisions to improve your mobile app.
✅ Easy to use editor: This Shopify mobile app builder offers a simple drag-and-drop editor for creating an app for your Shopify store. You can also ask help from the support team to customize the app in line with your store, from login to checkout.
Drobile has the essential features to help you create a functional mobile app for your Shopify store. However, although some users praise its team's responsiveness in dealing with issues, they also have a fair share of negative reviews about the app's frequent crashes and bugs.
Frequent crashes hinder many apps from bringing in optimal growth for their businesses. That's why we jumped at the chance to help Grill'd turn their app from crash-prone to highly reliable. With our help, the Australian multi-chain restaurant was able to attract 51% more app users.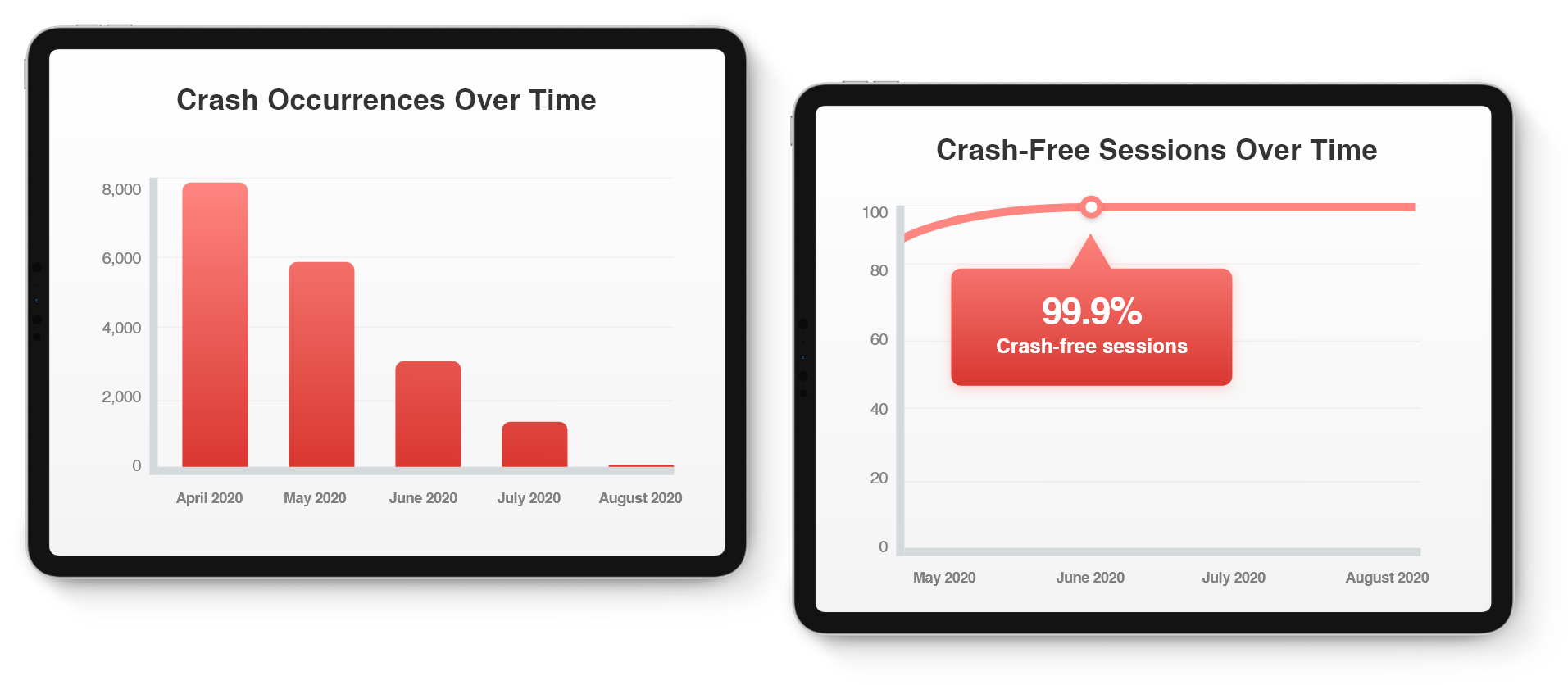 💰How much does Drobile Shopify mobile app builder cost?
Drobile comes with three pricing plans that are billable every month.
| | Basic | Pro | Plus |
| --- | --- | --- | --- |
| Monthly | $50 | $80 | $150 |
Which Shopify mobile app is for you?
When running your online store, having the right tools and platforms is a lifesaver. You can't cut corners, especially if you want to grow your business.
Now that you know what these Shopify mobile apps can do for your store, deciding which Shopify mobile app builder to use can be overwhelming. But here are some pointers for you to think about:
💡 You may consider Vajro, Drobile, Plobal, and Shopney for drag-and-drop, push notifications, payment gateway, and customizable templates – these are useful for a fully functional mobile store. But remember that Vajro only offers limited push notifications if you're in the entry-level plan.
💡 But of course, Drobile is affordable, starting at $50 per month, definitely a good deal for starters. Shopney offers in-app chat in its basic plan, which is ideal for an interactive shopping experience, a bonus for those who want to drive engagement with its unlimited push notifications.
💡 For comprehensive features, think about Tapcart, AppMaker, and MageNative. Tapcart provides a simple drag-and-drop builder, real-time synchronization with Shopify, and unlimited push notifications. If you're after a dedicated team to help you set up your store, Plobal Apps offers it on its premium plan.
💡 AppMaker provides a no-code solution for Android and iOS apps with customer engagement and performance analysis.
💡 Meanwhile, MageNative has a mobile app builder with features like live selling, push alerts, and automation, boosting Shopify sales.
We hope this roundup has helped you glean some insights should you commit to subscribing to a monthly plan from these Shopify mobile apps.
But suppose you're not ready to commit to any of these and think you want to go beyond the basics. In that case, there's a better option: a fully customized online store designed through the Shopify mobile app development process.
Custom Shopify mobile app development for business growth
While Shopify mobile apps offer convenience and speed in building a mobile app, there are some drawbacks, which you can't overlook.
❌ One of the biggest cons is the monthly subscription plans and additional charges that can accumulate quickly, adding significant costs to your business. You need to be mindful of the hidden costs before committing to a plan.
❌ Second, app builders can have the tendencies of downtimes. Since you lack control over the infrastructure, this may also affect your mobile app performance and visibility.
❌ And for this final and obvious reason, you can only do so much with Shopify mobile app builders – as they won't allow you to be on the edge of full customization on advanced features you want, unlike a custom mobile app.
eCommerce app development costs vary from one project to another, but you can start by considering an MVP (Minimum Viable Product) app.
🏆 An MVP app is a basic version of your shopping app that allows you to test the market and collect user feedback before investing heavily in app development. For a shopping app, an MVP can help you understand consumer behavior and preferences, allowing you to offer customized products and experiences that align with their needs.
All these are achievable with the right app development partner on your side.
We have a proven track record of working with some of Australia's well-known brands, such as MyDeal and YouFoodz, delivering top-notch mobile apps that were pivotal in growing their businesses in a crowded app market.
We work with clients and brainstorm to understand their business vision and goals to develop a customized app solution built to last.
With Appetiser, you can rest assured knowing that your mobile app development journey is in the hands of seasoned professionals committed to delivering excellence – day in and out.
Contact us today, and let's develop your app idea in full blast.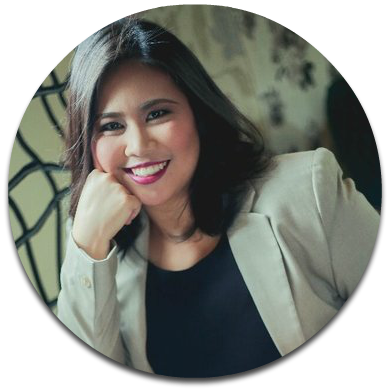 Maria Krisette Lim is a Content Marketing Specialist at Appetiser Apps. She has more than 12 years experience in producing content on the web and print ads. Krisette has a BSBA degree major in Business Management and Entrepreneurship. When she's not tinkering with words and punctuation, she's either curled up with a book while sipping hot tea, playing with her toddler or tinkering website builders.
Dominate the App Store.
Get the latest industry news first.