The 7 Best Apps for Magento in 2023
Many online stores have successfully used Magento to set up shop on the Internet.
But in an increasingly mobile world, website-based merchandise sales are not enough to grow sustainably.
Statista says more than 50% of the world's Internet traffic comes from mobile devices like smartphones and tablets. Similarly, mobile commerce earnings could be as high as around $500 billion by 2024.
These numbers show that online store owners must pay attention to their phone-based customers if they want to remain financially sustainable. But the rising tide of mobile commerce has exposed a key weakness of ecommerce sites: they don't always provide the optimal experience for phone-based shoppers.
The solution that many online merchants have sought for this hiccup is mobile app development. Some of them especially go for mobile apps that integrate well with e-commerce websites built using the Magento platform.
This article will tackle these apps for Magento, their key features, and compatible mobile platforms. If you're more of a Shopify fan than a Magento loyalist, check out our articles on turning a Shopify store into a mobile app and the best Shopify app builders.
Before we go into the top 7 apps for Magento, let me specify what I mean by a Magento app.
What is an app for Magento?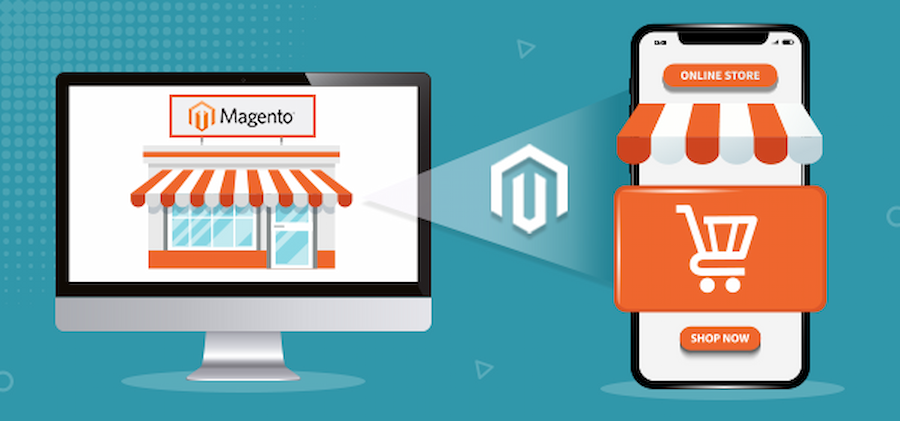 Source: AppJetty
An app for Magento is a program used to build customized mobile applications that are compatible with online stores. These Magento mobile app builders offer a convenient solution for ecommerce business owners by providing an additional "doorway" to their merchandise's website.
This type of app builder provides solutions enabling phone or tablet users to access an ecommerce site built using the Magento platform. Without this builder, only desktop or laptop users can access online stores.
Ecommerce store owners typically use an app for Magento to cover as large an audience pool as possible. To do this, they must build two native mobile apps for each store: one for Android and another for iOS. Making apps for both these mobile platforms ensures footholds in the world's biggest app stores: the Google Play Store and the Apple App Store.
Covering the planet's biggest app stores also enables online merchants to best take advantage of the upbeat trend underlying the latest mobile e-commerce statistics.
If you're thinking of developing Android and iOS apps, there are other ways besides using Magento app builders. For instance, you could avail of ecommerce app development services from companies like Appetiser.
We are one of the world's top ecommerce app development companies, partly because our app developers are good at Kotlin and Swift. These future-proof programming languages fit Android and iOS to a T, respectively. Check out what else we have to offer by booking a free consultation with us.
Now that you've learned the nature of Magento app builders, it's time to know more about the benefits you could enjoy from them.
Advantages of Magento mobile app builders
Using Magento mobile app builders offers significant advantages for growth-hungry ecommerce businesses.
Firstly, these builders usually have a user-friendly tech stack. This makes app builders particularly appealing to non-technical users as these tools simplify the e-commerce app development process and ensures ease of use.
Secondly, the resulting mobile apps built with Magento app builders boast high-performance capabilities. This is crucial as it enhances the overall customer experience, increasing eCommerce store conversion rate.
Thirdly, these app development tools enable a quick and efficient development process, leading to a shorter time to market. With minimal effort, businesses can easily convert their Magento website into a full-fledged mobile app. The ease of developing apps provides e-commerce companies a leg up against their rivals.
Now that you have a good idea of what Magento app builders are, it's time to know the industry's best Magento app development tools.
The Top 7 Magento App Builders
Our product experts maintain our company's industry leadership partly by objectively assessing the whole market, including competitors. Here are some Magento app builders that have caught our product strategists' eye:
#1: Magento 2 Mobile App Builder for iOS & Android by AppJetty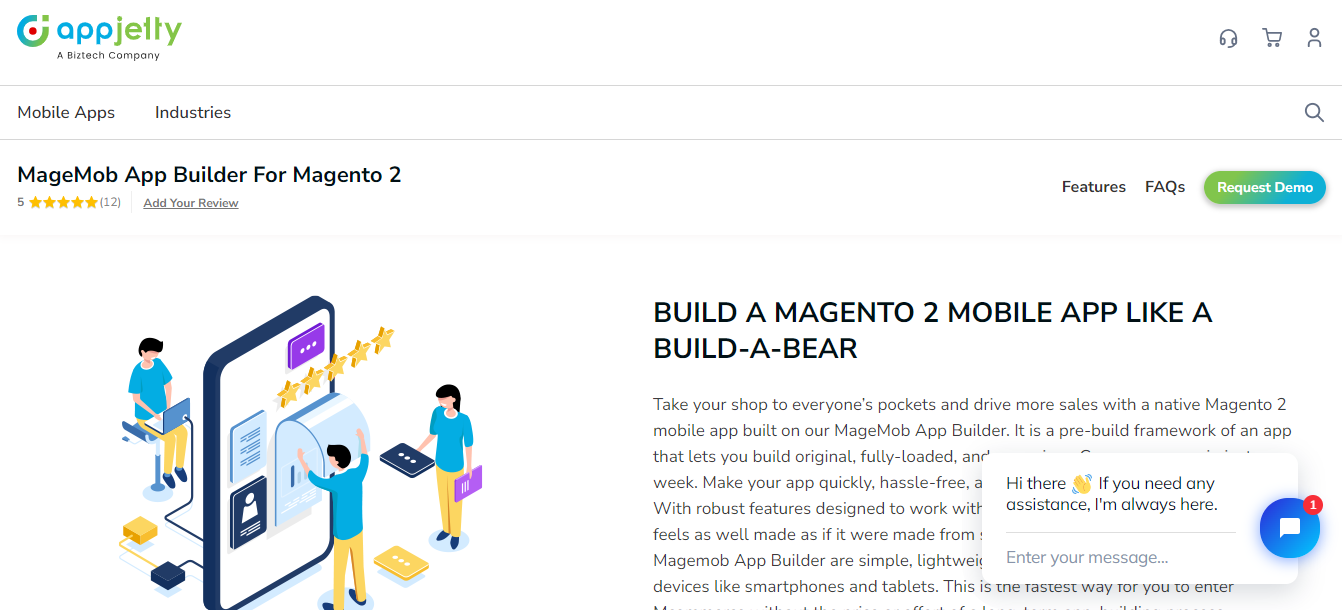 Source: AppJetty
Overview:
AppJetty has been developing Magento extensions for a little over a decade.
Their MageMob App Builder allows businesses to create customized iOS and Android mobile apps for Magento 2 in about a week. This Magento mobile app builder comes with a variety of features, ensuring a seamless buying experience for customers and simplified store management.
With MageMob, businesses can tap into mobile commerce quickly and effectively.
Outstanding features:
A single page/form where customers can add/remove products, change quantities, and make payments with fewer interruptions
Multiple payment gateways
Seamless and user-friendly offer displays that increase customer engagement
Extensive store view and banner selections
Highly customizable home screen through dynamic widgets, templates, and drag-and-drop functionality
Compatible mobile platforms:
#2: Mobikul Mobile App Builder for Magento 2 by Webkul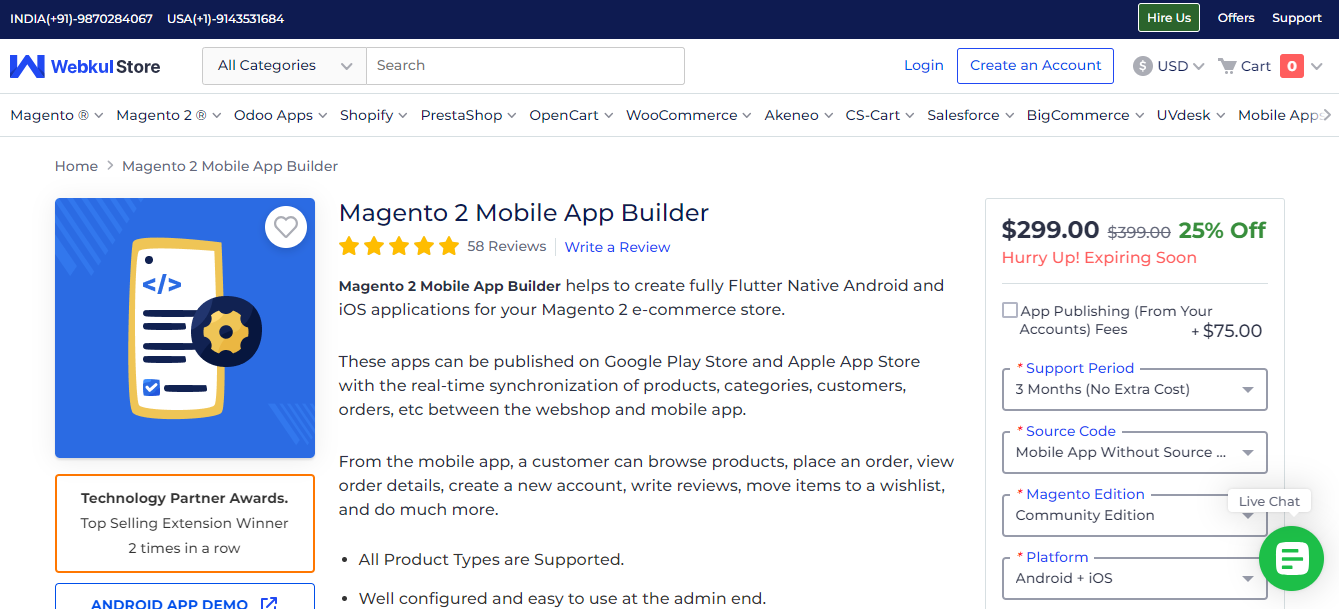 Source: Webkul
Overview:
Another apt app for those who have explored Magento ecommerce store development is the one built by Webkul. The application ensures real-time synchronization between the mobile app and its corresponding website, making a Magento store easier to manage.
For instance, any change in the product inventory on the site will quickly reflect on the Webkul-developed app. This means no mismatch between the number of items in the app and the online store, ensuring a more pleasant customer experience.
Keeping tabs on inventory and other aspects of store operations is indeed crucial to keep the customer experience positive. Beyond the Webkul app for Magento, other tools help online merchants keep customers smiling through better store management. Check out our article on the best retail apps for running stores efficiently to delve deeper into the subject.
Webkul has been featured in major trade shows like Imagine 2019.
Outstanding features:
Total migration of all Magento site features to the mobile app being built
Provisions for live chat with transcription capabilities for enhanced customer service
Courier tracking to ensure the secure delivery of products
Compatible mobile platforms:
#3: Magento Mobile App Builder by Magetop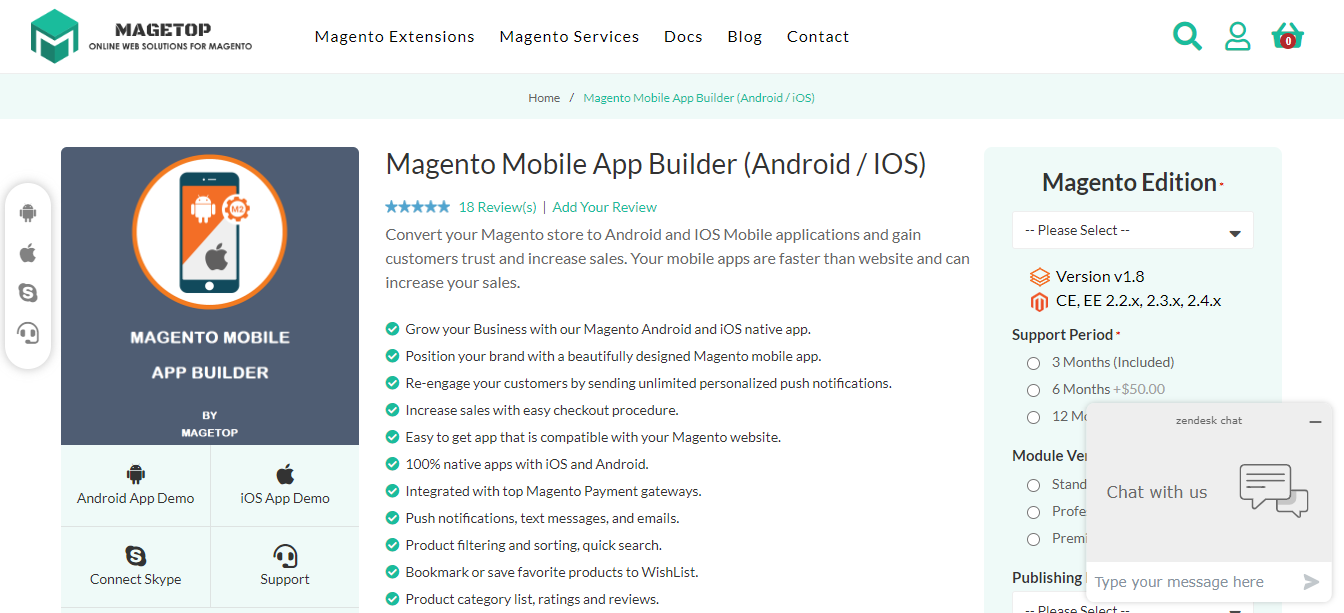 Source: Magetop
Dominate the App Store.
Get the latest industry news first.
Overview:
Magetop's app builder offers a swift and efficient solution to transform Magento stores into Android and iOS mobile apps.
Using a technology called REST API, Magetop's Mobile App Builder establishes a seamless connection between a Magento store and its mobile app counterpart. REST API empowers customers to do more within the app while providing the store owner maximum freedom in iterating their mobile application.
App iterations or improvements are necessary to keep mobile apps relevant in the fast-changing world of digital commerce. Similarly, the MVP way of creating apps involves starting with simple features and gradually improving them. To learn more about this cost-efficient way of building apps from scratch, check out our article on starting lean with MVP app development.
Outstanding features:
A single body of code for both iOS and Android through React Native and Expo
A seamless connection with leading payment gateways
A suite of communications tools that include push notifications, text messages, emails
Freedom to incorporate multiple languages within the app
Compatible mobile platforms:
#4: Magento Mobile App Builder by SimiCart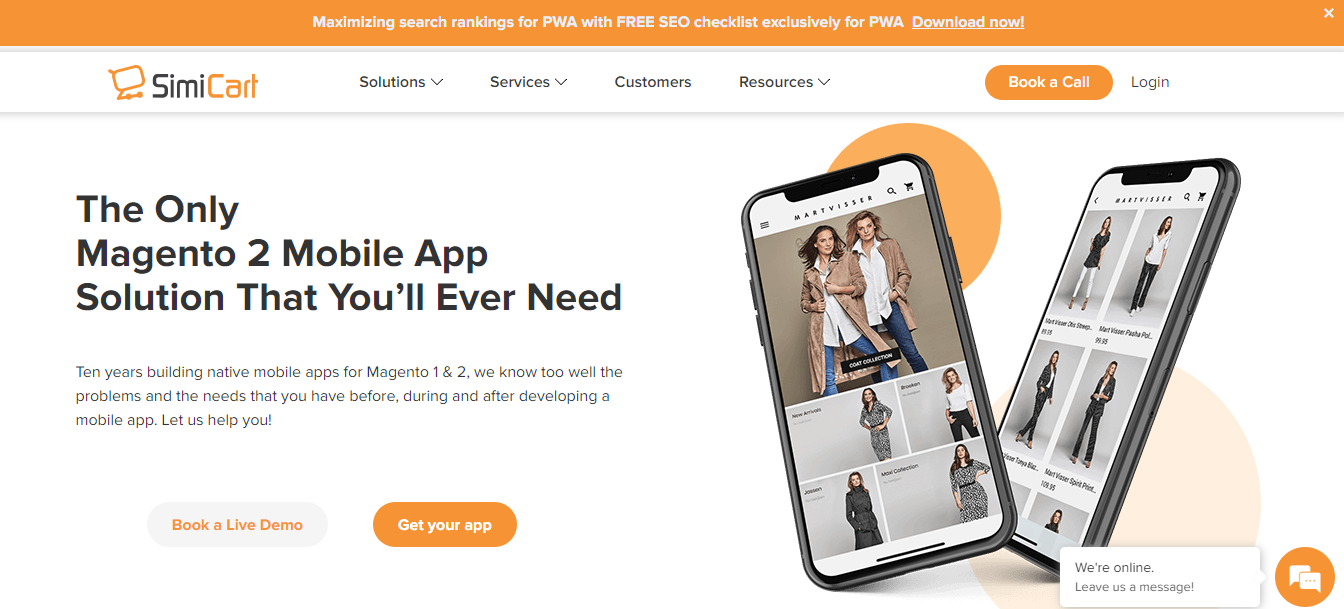 Source: SimiCart
Overview:
The SimiCart app builder empowers ecommerce stores with innovative sales and marketing tools. Through unique user-messaging features and SEO capabilities, this native mobile app builder could create mobile apps that efficiently reach as wide an audience as possible. Getting a large pool of potential customers increases the likelihood of financial viability.
Aside from this, the app development tool requires minimal coding skills. This user-friendly characteristic enables online merchants to efficiently enhance the mobile shopping experience.
Outstanding features:
Customized messages for users, tailored according to their location, interests, and in-app activities
Barcode scanner for seamless connection between a piece of merchandise and the store's online database
Voice and image search for easier retrieval of information about a product
Google app indexing which increases the mobile app's visibility on the world's largest search engine
App indexing is closely related to app store optimization since both aim to improve an app's discoverability. Check out our article on app store optimization to learn more about this app marketing technique.
Compatible mobile platforms:
#5: Magento 2 Mobile App Builder by MageComp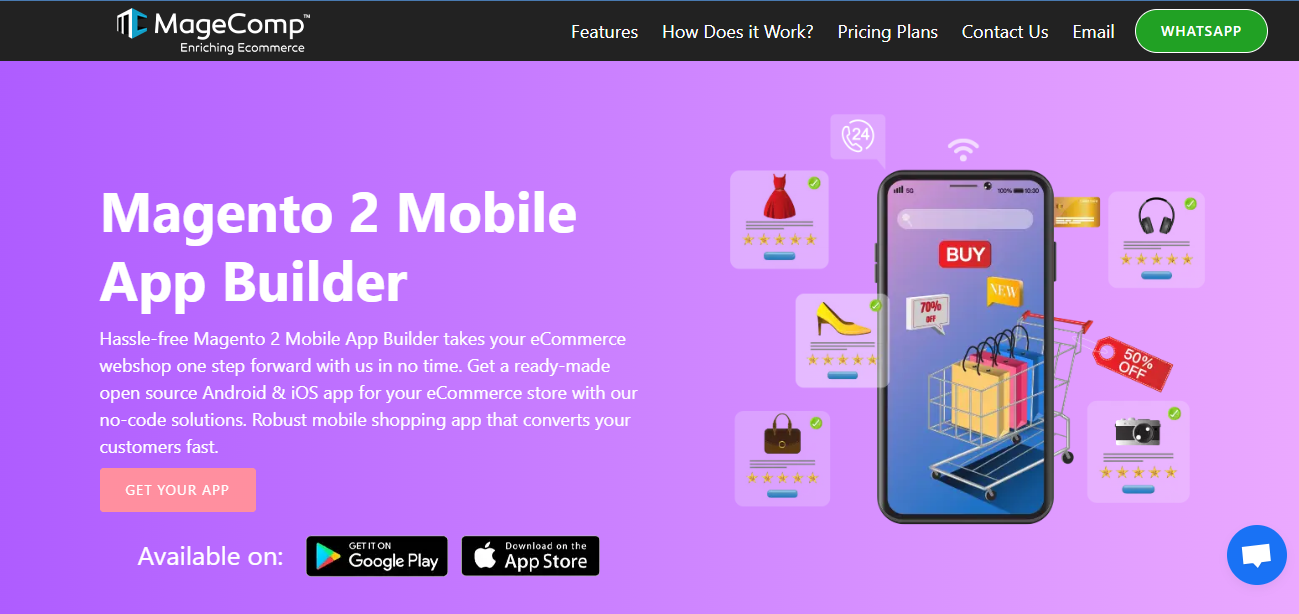 Source: MageComp
Overview:
MageComp is a leading player in the Magento niche, with 10+ years of experience providing eCommerce solutions, design, and mobile app development.
Just like Simicart's mobile app builder, MageComp's solution provides a relatively easy way to transform online stores into mobile applications without the need for any coding background. The creative layout of merchandise information, faster loading times, personalized content, and user-friendliness of the app help enhance brand recognition and build better customer relations.
Outstanding features:
Banner sliders to highlight deals
Above-the-fold displays of top brands
One-click login with Facebook and Google accounts
Coupon code support
Capability to display the most popular products
It's a good UX principle to enable mobile commerce apps to display the most popular products. After all, studies show that the average human brain is hardwired to trust products that many people buy.
Smartly, Australian retail giant MyDeal banked on this principle. The company enables its app users to filter product search results based on popularity (see image below). This feature makes the MyDeal app at par with the most successful ecommerce apps out there.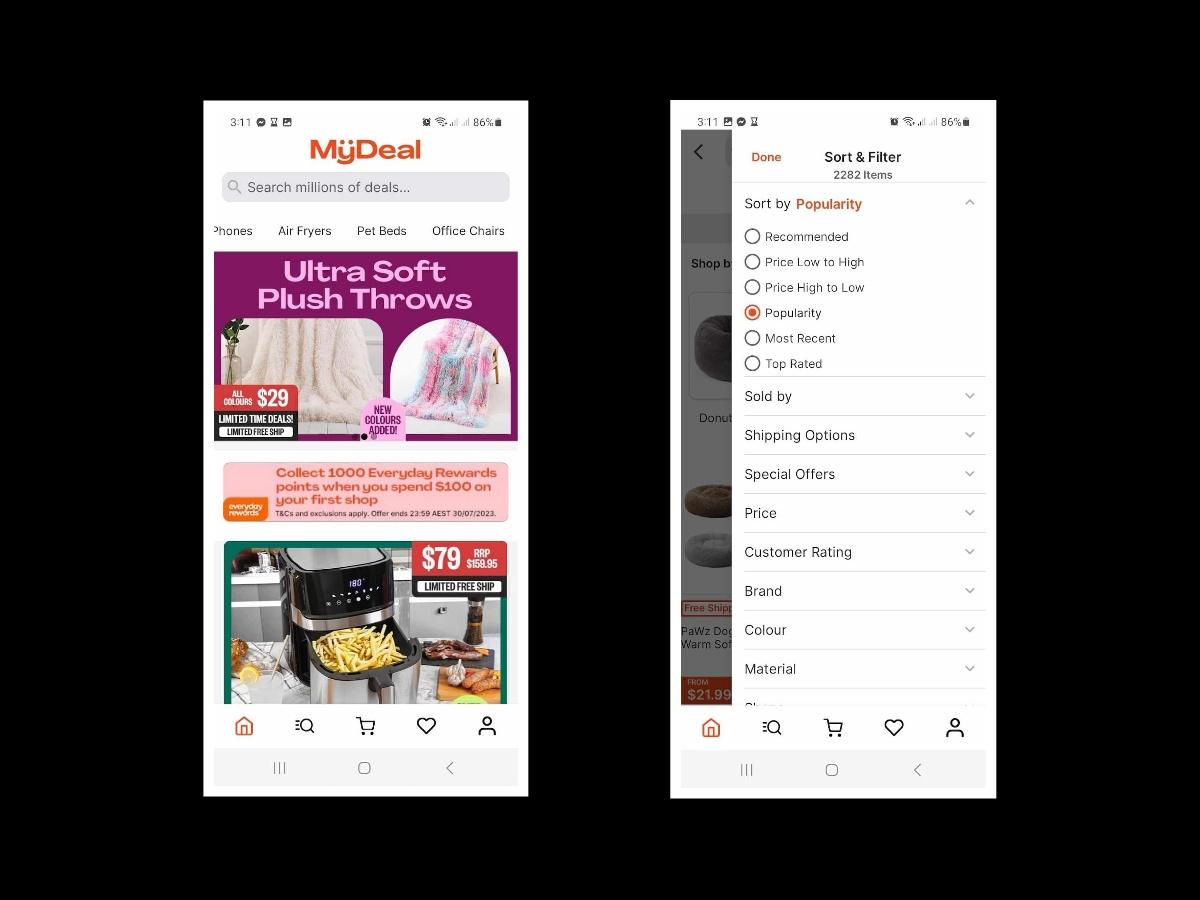 Source: MyDeal mobile app
But instead of purchasing an app builder, MyDeal collaborated with us to augment their ecommerce site with a mobile application.
The result?
The company acquired around $160 million in investments and saw a huge increase in sales thanks to the app.
Check out the MyDeal case study to learn about our role in building the company up with an app.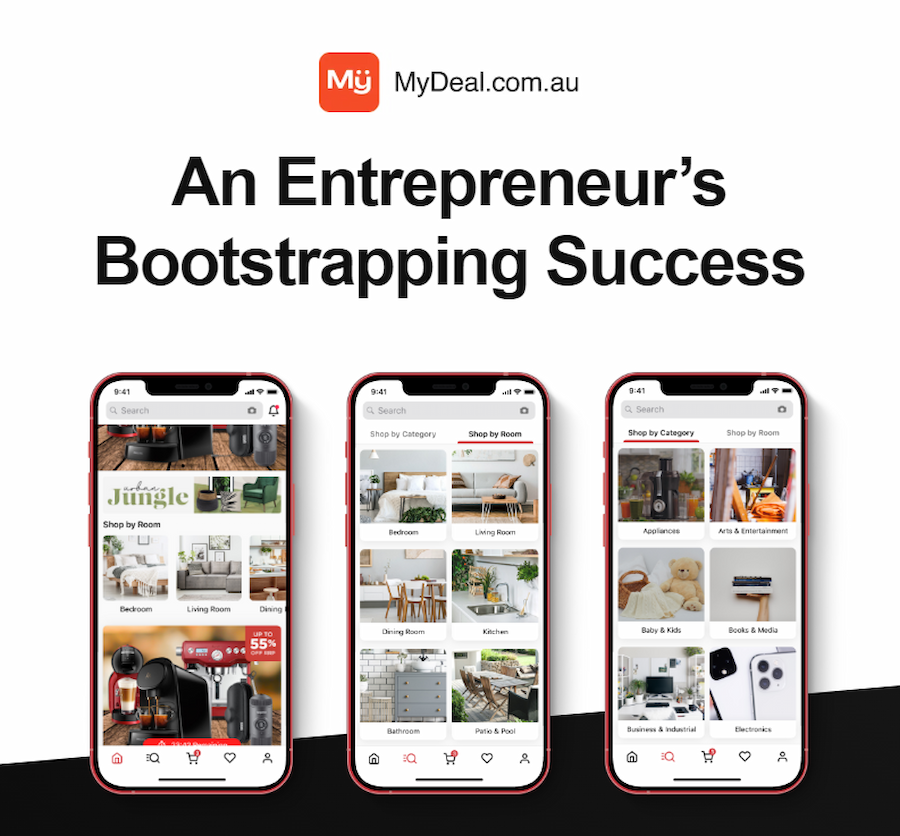 Compatible mobile platforms:
#6: Mobile App Builder for Magento 2 by Mofluid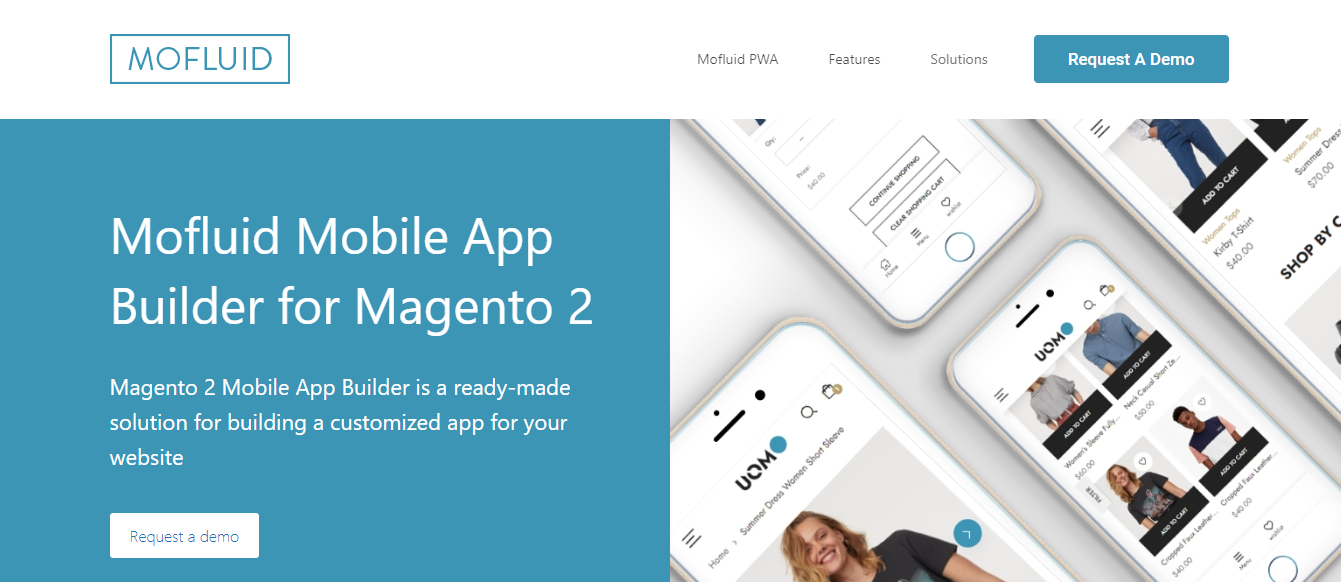 Source: Mofluid
Overview:
Mofluid was founded with the core principle of helping transform businesses from eCommerce to m-commerce swiftly and effortlessly. Based on this core value, Mofluid's builder creates high-performance apps with enough baseline features to facilitate financial growth.
Outstanding features:
Integration with payment gateways like PayPal and EBS
Among the industry's fastest loading speeds
A 24/7 mobile app support team
Delivery tracking for customers through push notification technology
Compatible mobile platforms:
#7: Magento 2 Mobile App Builder by KnowBand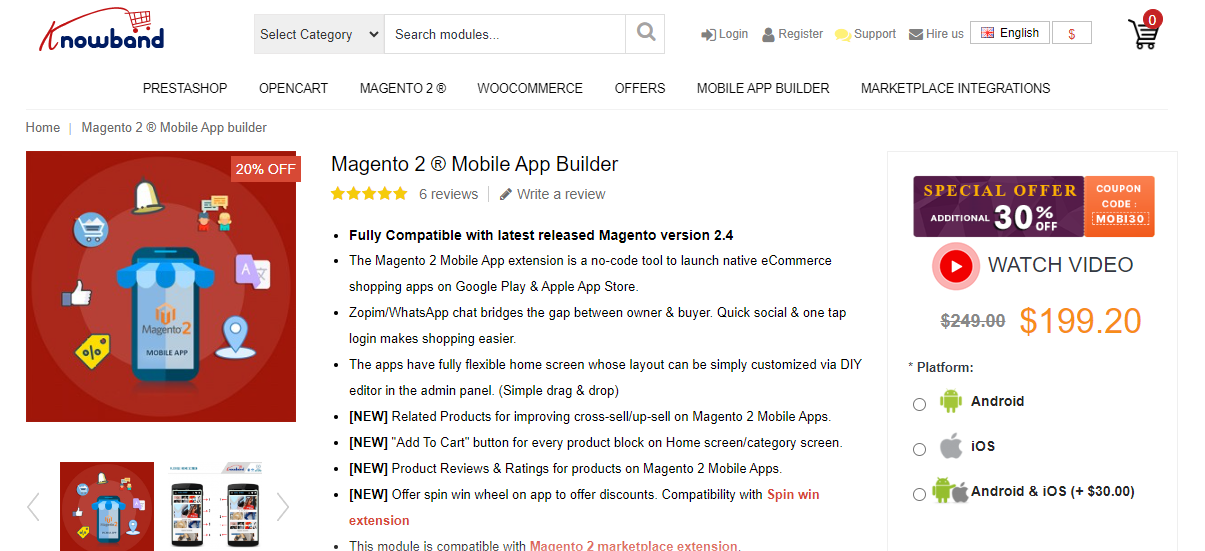 Source: KnowBand
Overview:
KnowBand's Magento 2 Mobile App builder has a lot of innovations that enable effective customer communications and enhance promotional activities. It is also a no-code development tool that allows even the most non-technical store owners to customize the app's theme, font schemes, etc.
Notably, the builder supports multiple shipping and payment methods. It also enables smooth synchronization between websites and mobile apps. This synchronicity ensures consistent and up-to-date content across platforms, ultimately leading to a better customer experience.
Outstanding features:
Product reviews and ratings capability
One-tap login
WhatsApp chat integration for customer service endeavors
Accommodations for a "spin-a-wheel" extension for a unique presentation of merchandise discounts
Compatible mobile platforms:
The apt alternative to apps for Magento
The list above shows that apps for Magento add avenues by which ecommerce websites could scale their operations. These tools allow online store owners to develop their own mobile apps for added income, regardless of their technical proficiency.
However, out-of-the-box solutions usually hit this wall: missing the mark on actual market needs.
Apps that don't have the critical mass of users needed for sustainable growth ARE failures, no matter how beautiful or technically superior they are.
At Appetiser, we are not just home to technically proficient app developers. We also have product strategists who ensure your app whets the appetite of many potential customers.
Though Magento app builders are simple solutions, they lack the human expert touch. So, why not book a free consultation with us and discover how we can grow your organization through mobile and web apps?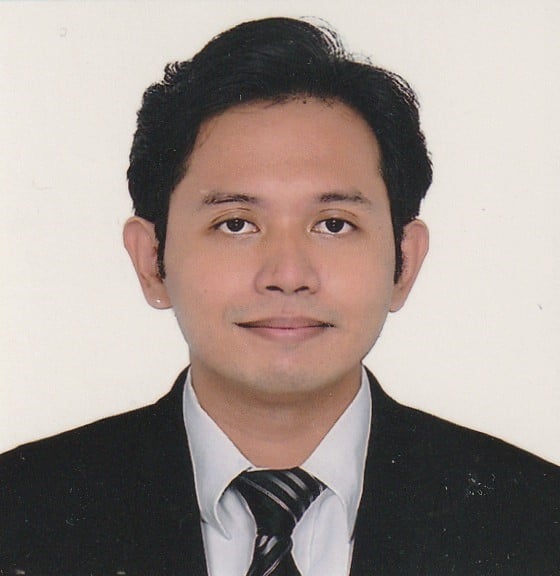 Jesus Carmelo Arguelles, aka Mel, is a Content Marketing Specialist by profession. Though he holds a bachelor's degree in business administration, he also took courses in fields like computer troubleshooting and data analytics. He also has a wealth of experience in content writing, marketing, education, and customer support. Outside office hours, he finds deep joy in reading, traveling, and photography.
Dominate the App Store.
Get the latest industry news first.